The Cultured Biker: Mixing Biking & the Arts in Bentonville, AR
Is it possible to turn a rough and ready mountain biker into a culture vulture? I had my doubts when the trip to Bentonville, Arkansas was first proposed to me. However, much to my surprise, the amazing trails and hot arts scene in Bentonville made the transition easy.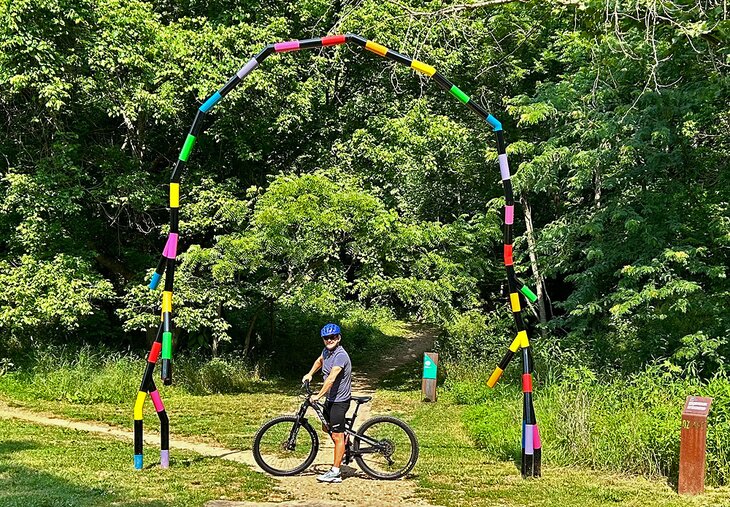 This charming city, known for being the birthplace of Wal-Mart, is fast becoming a mountain biking hotspot. The rolling hills of the picturesque Ozark Mountains provide a perfect canvas for some of the nation's best trail makers and designers. Couple that with one of Arkansas' best art institutions, Crystal Bridges Museum of American Art, and the industrial-chic vibe of The Momentary, and it becomes a heady mix of adrenaline-fuelled fun and art appreciation that's hard to resist.
"It is an immersive experience that provides a connection to art, people, places, and community."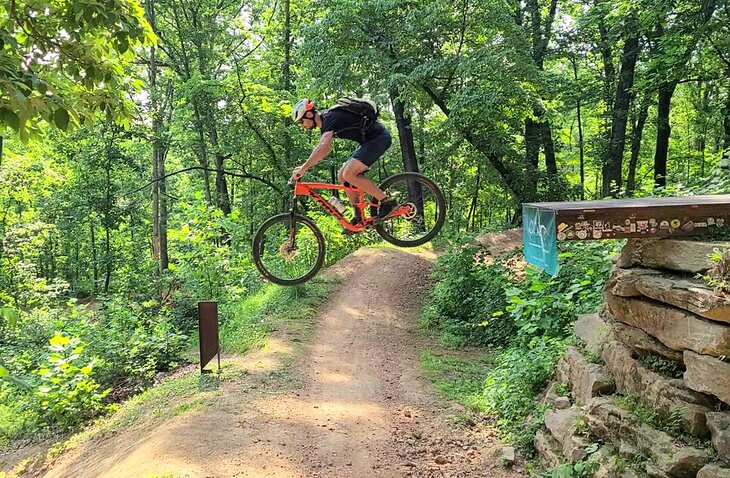 The art in Bentonville isn't confined to the galleries, and that's how the transition from sweaty two-wheeler to an enlightened cultural patron of the arts starts. I was tutored by Scott Dirksen, Senior Program Manager at Coler Mountain Bike Preserve, who explained "Riding at Coler, and in Bentonville in general, is more than just cycling through the woods. It is an immersive experience that provides a connection to art, people, places, and community."
As we ripped through the trails at Coler, my hooting and hollering on the trail became a stunned silence as we passed awe-inspiring works of art. It's out on the trails where the desire to see more interesting art snuck into my subconscious.
Coler Mountain Bike Preserve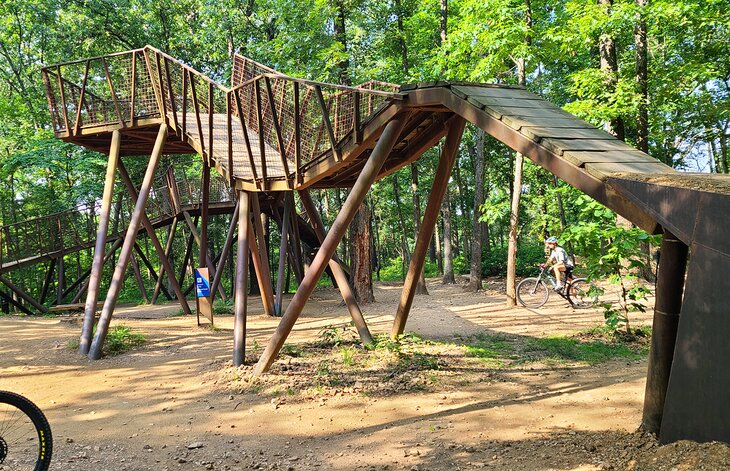 Coler, beloved by residents and visitors alike for the steep, flowy descents of Fireline and Thunder Dome trails is considered by many as one of the best places to ride in Arkansas. If you have the guts, soar 15 feet through the air off Drop the Hammer into a seemingly bottomless valley. Not that adventurous? Coler has plenty of options to suit any level of mountain biker, from beginners to families out for a ride.
Rip and ride the trails, cool off with a splash of ice-cold water from a hidden spring, then rest your legs at The Airship coffee shop, accessible only by biking or walking. Want to crank up the sessions? Set up camp at the brand-new urban campground and bike morning, noon, and night.
Slaughter Pen Trail
Once the idea of mixing art and biking took root, I wanted to see more art. Fortunately, it was easy, Bentonville is crisscrossed with miles of trails, including the 40-mile-long Razorback Parkway that intersects with some of the best galleries. I pointed my handlebars towards the Slaughter Pen trail system about 15 minutes away along protected bike lanes on city streets. This area has 40 miles of flowy single track with all kinds of interesting public art in the forest including a giant axe, a huge turtle, a rhinoceros, and a massive grasshopper perched on a tree.
Crystal Bridges Museum of American Art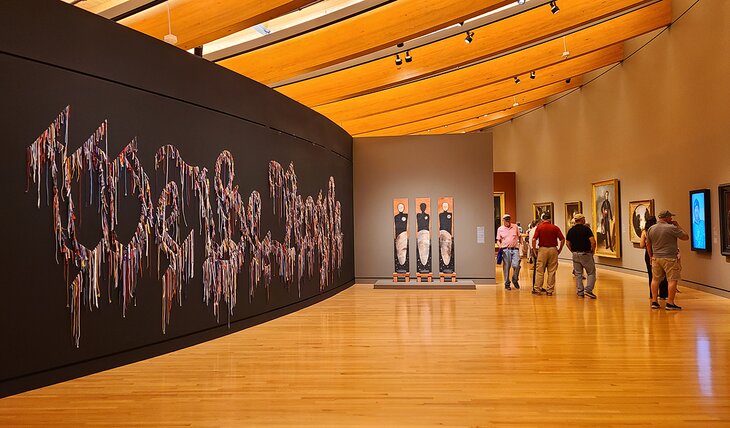 From Slaughter Pen, it is mere minutes to the trails of the Crystal Bridges Museum of American Art. Funded by Alice Walton, of the Wal-Mart family, this architecturally stunning art museum is a must-do and went a long way towards my final transition to a cultured biker.
Five trails on the property are lined with stunning outdoor artwork that had me stopping in my tracks. One of the highlights is the North Forest Trail where the rolling track takes you past towering pine trees and spectacular larger-than-life sculptures. Take a short jaunt down the Orchard Trail to see the completely bizarre Buckminster Fuller's Fly Eye Dome.
All this outdoor art whetted my appetite to see what was inside the museum building and once I stepped through the doors my transition was complete, my life solely as a two-wheeled grunt-miester was officially over.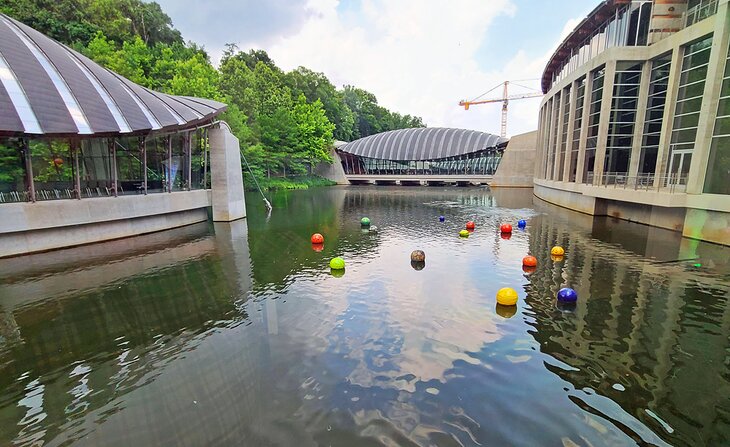 The galleries house a collection that focuses on American art from the 16th Century through today. Works of art range across all mediums and styles and surprises are around each corner. In addition to the permanent collection, traveling temporary exhibits are regularly featured. No need to pack your wallet when riding, the gallery is free and is accessible to all.
Plus, don't worry, the museum staff doesn't mind if you show up all sweaty and muddy, they'll still let you in. Crystal Bridges is bike-friendly with lots of places to store your two-wheeled chariot, in fact, you can bike right to the front door.
The Momentary
After Crystal Bridges, I was completely hooked on this whole art thing and was up for more. Amanda Horn, Senior PR Director at Crystal Bridges, suggested a visit to The Momentary. Housed in a repurposed cheese factory this art hotspot is the place to see the latest contemporary art and also a perfect place to catch a concert on the outdoor grounds.
At the end of the day of riding, I thought I was done with the arts and culture, however, that was incorrect. My hotel, The 21C even had its own set of galleries, however, they wouldn't let me ride my bike in the hotel!
When to Visit: I visited Bentonville in June, and although it was hot, the trails are primarily under a forest canopy. June is also a fun month to visit with festivals and outdoor performances taking place throughout the city.
Bike Rental: Don't worry if you don't have your own wheels, Encore Bike Rentals will deliver and pick up a mountain bike to Coler for you.