14 Top-Rated Things to Do in Oklahoma City
We may earn a commission from affiliate links ()
State capital Oklahoma City is a bustling hub on the southern Great Plains, roughly in the center of the oil-rich state. Known as "The Big Friendly," the city was settled during the 1889 "Land Run," though Native Americans lived in the region long before. In 1995, the capital sadly became famous when a bomb attack claimed 168 lives. A national memorial now remembers the victims and survivors of that tragedy.
Many of Oklahoma City's top attractions and things to do are set in the historic former warehouse district of Bricktown. Museums, event venues, and restaurants create a picturesque neighborhood on the Bricktown Canal with its small water taxis. And for a true taste of ranchland life, you can plan your trip to catch a stockyard auction.
Plan your next trip to the Oklahoma state capitol with our list of the best tourist attractions in Oklahoma City
See also: Where to Stay in Oklahoma City
1. Oklahoma City Zoo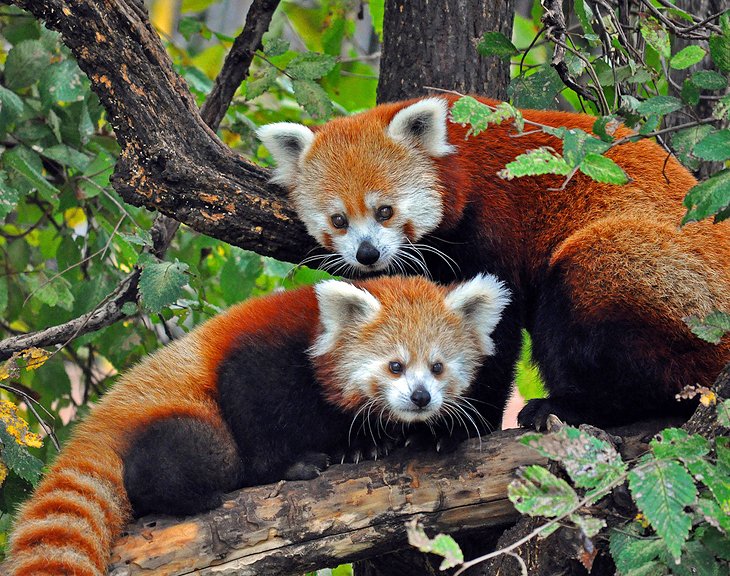 In operation for more than a century, the Oklahoma City Zoo and Botanical Garden engages tourists and families with more than 500 animal species, including rhinos, gorillas, lions, and tigers. Throughout the grounds, you can also see impressive displays of plants from Oklahoma and around the world.
Both kids and adults enjoy interactive experiences, such as lorikeet and giraffe feedings, sea lion shows, elephant demonstrations, a walk-through wallaby enclosure, and a stingray touch tank.
2. Science Museum Oklahoma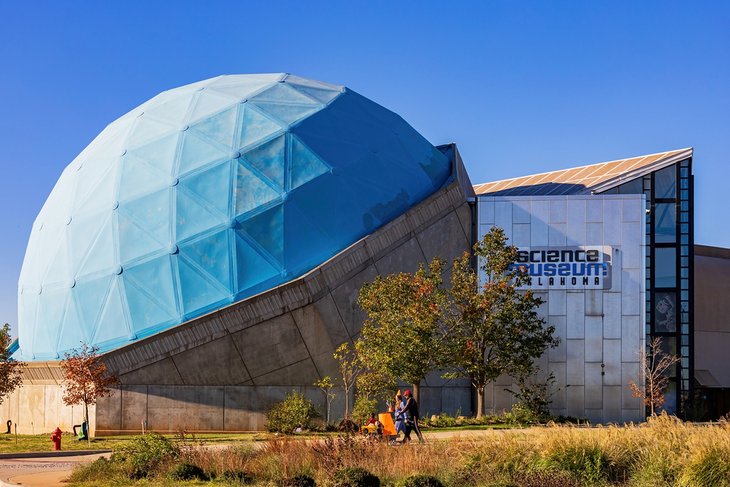 Packed with interactive exhibits, Science Museum Oklahoma presents ever-changing displays of science-themed topics intended to engage, entertain, and educate. Though kids are the main audience, adults, too, love learning and exploring here. Step into a tornado simulator, build with giant Legos, invent and test your own creations, walk a tightrope, and even learn to ride a Segway.
3. Myriad Botanical Gardens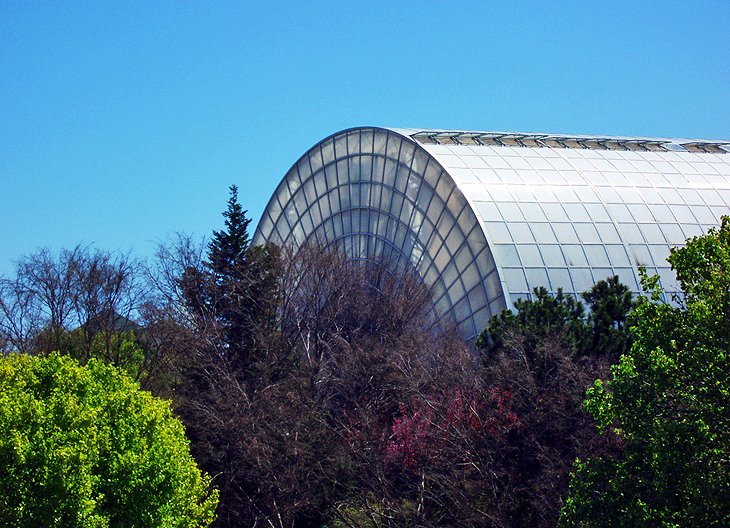 Covering 15 lush acres near the downtown center, Myriad Gardens is a wonderful place to visit for a quiet outdoor stroll amid flowerbeds and horticultural displays. Other features at these beautiful gardens are a children's playground, bubbling fountains, and jogging and walking paths. Even Fido is welcome at the off-leash dog park.
After a walk, dine at the garden restaurant and patio, or go ice-skating at the wintertime Devon Ice Rink.
One of the most stunning spaces is the Crystal Bridge Conservatory, an indoor tropical garden that features separate areas for wet and dry tropical flora. A $9.7-million renovation during the summer of 2022 added rotating exhibits and a second-story terrace with overhead views of the gardens.
4. Oklahoma City Museum of Art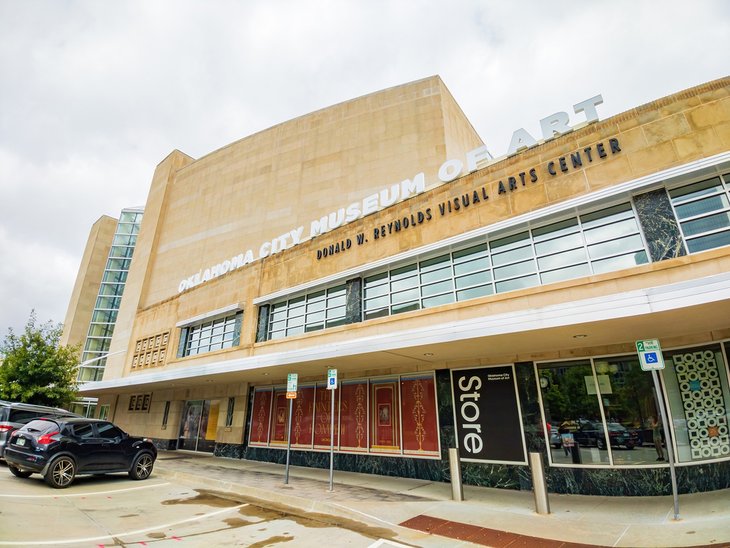 The core collection at this Oklahoma gallery focuses on 19th- and 20th-century European and American art, but visiting works widen the scope. Touring national and international exhibitions complement permanent displays, like the bright art-glass work of the Seattle-area's Dale Chihuly.
5. National Cowboy and Western Heritage Museum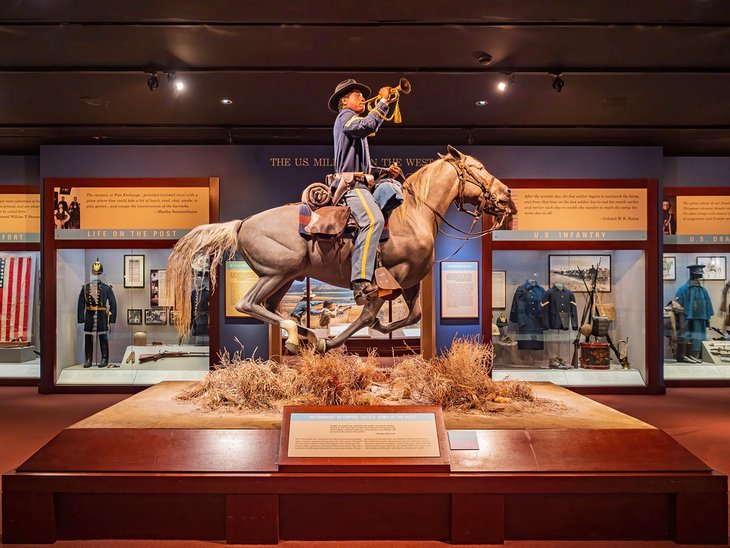 Also known as the National Cowboy Hall of Fame, this large museum uncovers life in the Wild West with its large collections of historical materials, pictures, and sculptures. The Rodeo Hall of Fame features rodeo champions, but on-screen cowboys are also given a tip of the hat in their own hall of fame.
Children can test the ranch-readiness of their skills in the Children's Cowboy Corral.
6. Shop or Dine in Bricktown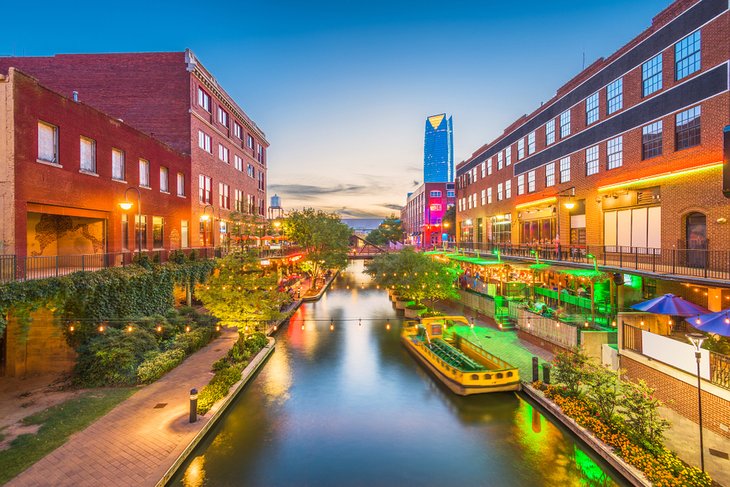 A fantastic example of a successful urban renewal project, Bricktown is the city's premier entertainment hub. The once-abandoned red-brick warehouses are now converted into funky shops, restaurants, entertainment venues, and attractions. In addition to enjoying all the fabulous shopping and dining opportunities, you can catch a baseball or basketball game at one of the sporting venues, attend a concert, see a movie, stroll along the river walk, or explore the American Banjo Museum.
Narrated cruises and dinner cruises along the canal are other popular things to do here. Be sure to stop by the impressive Centennial Land Run Monument, which commemorates the state's heroic settlers. Bricktown also makes a great base for exploring the city, with plenty of hotels nearby.
7. Oklahoma City National Memorial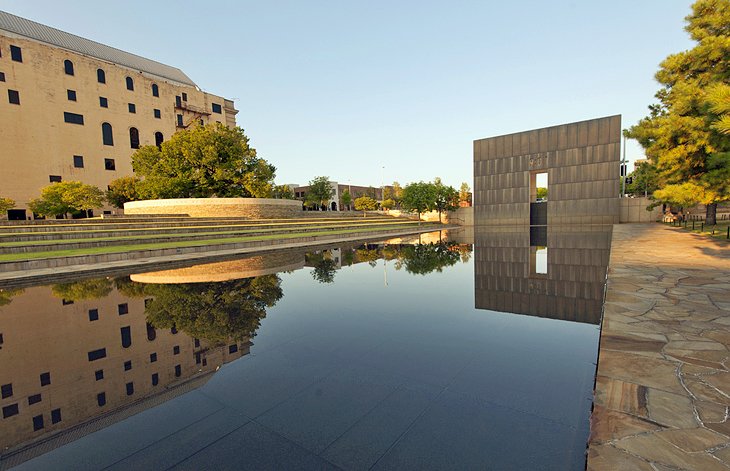 This outdoor memorial is a tribute to the victims, survivors, rescuers, and others affected by the events of April 19, 1995, when the Alfred P. Murrah Federal Building was bombed. The reflecting pool and field of empty chairs have become well-known symbols of the city, and visitors can walk through the solemn setting.
8. Museum of Osteology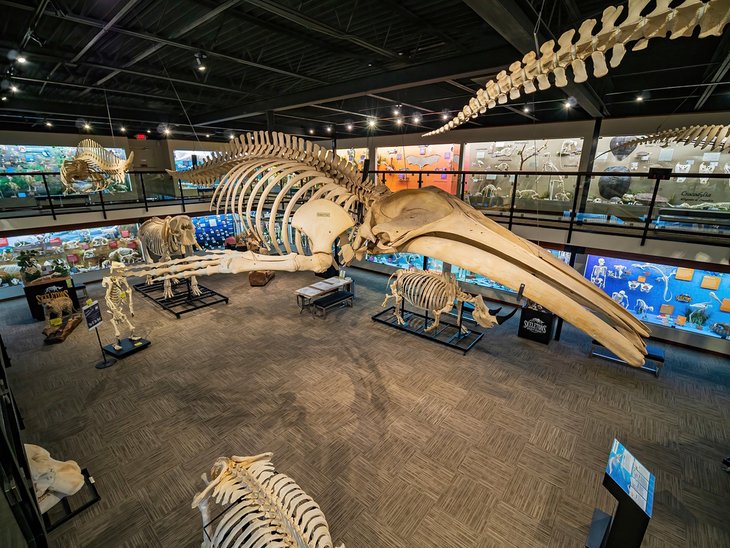 If this tourist attraction seems unusual, it's because it is. The bones of hundreds of animals make up the displays at the only skeleton museum in the United States.
9. Oklahoma History Center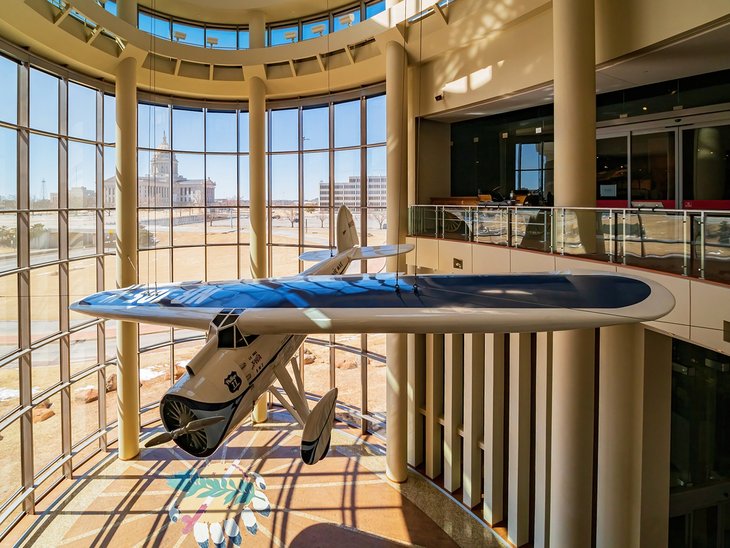 The Smithsonian-affiliated Oklahoma History Center displays an astounding diversity of fascinating exhibits covering all facets of Oklahoma history. It's also a hub for archival and research materials.
Exhibits cover everything from Native American history, pioneer life, and cowboys to the Crossroads of Commerce and even Oklahomans and Space. Excellent traveling exhibitions round out the collection, and plenty of interactive features keep little hands busy.
10. Take the Kids to Frontier City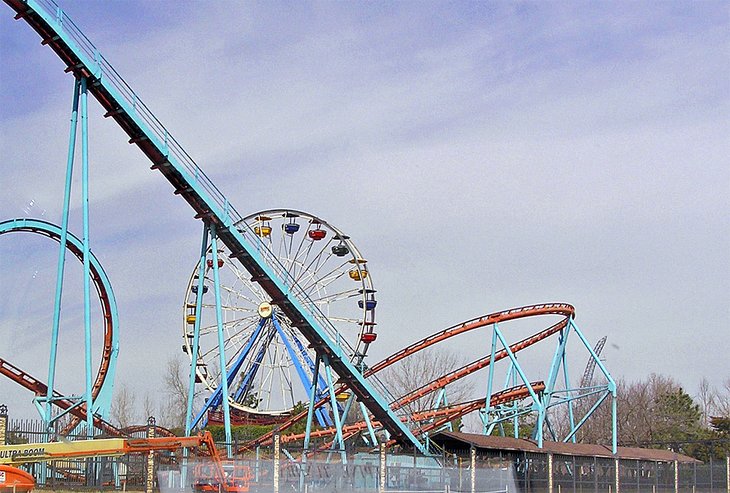 Operated by Six Flags theme parks, Frontier City is a favorite tourist attraction for families visiting Oklahoma City. The park offers a full range of rides, from high-thrill to kiddie, with a "Wild West" theme throughout.
Kids and kids-at-heart can watch a "gunfight" stunt show and check out a special behind-the-scenes look at how they perform their stunts, and all ages can test how quick their draw is at the electronic "shooting" gallery.
Thrill rides include several roller coasters, with two huge steel courses and a classic wooden coaster, as well as the crazy Gunslinger and other wild rides. Family rides include the classic Ferris Wheel and a carousel, as well as a flume ride and a mining train.
11. The Oklahoma Railway Museum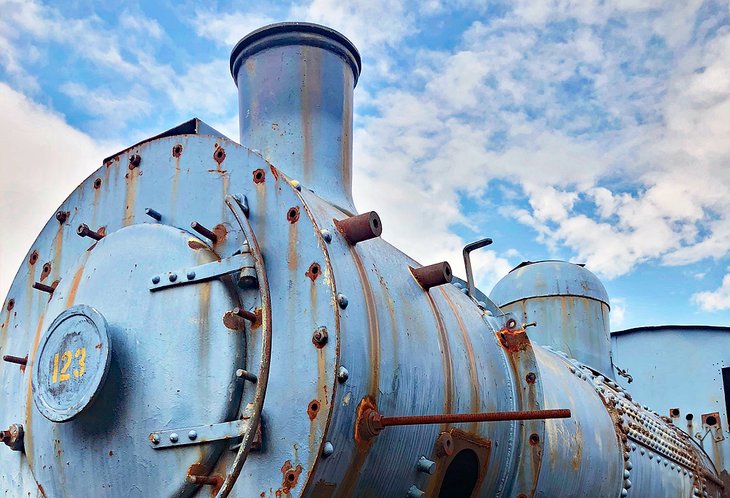 Train lovers of all ages will enjoy the Oklahoma Railway Museum, which features a steam engine and dozens of examples of passenger cars, freight cars, locomotives, and cabooses that visitors can explore. The oldest equipment on-site is an 1878 CB&Q caboose, a Hinkley 2-8-0 locomotive built in 1879, and a Velocipede made in the late 1800s.
The museum also features several historic train depots, which were moved to the property; a 100-foot Frisco Turntable built in 1920; and an impressive model train layout that is, of course, housed in one of the train cars.
Exhibits are housed in a former Pullman sleeper car originally used on the Saint Louis-San Francisco RR, which was saved from becoming scrap metal in 2001.
12. 45th Infantry Division Museum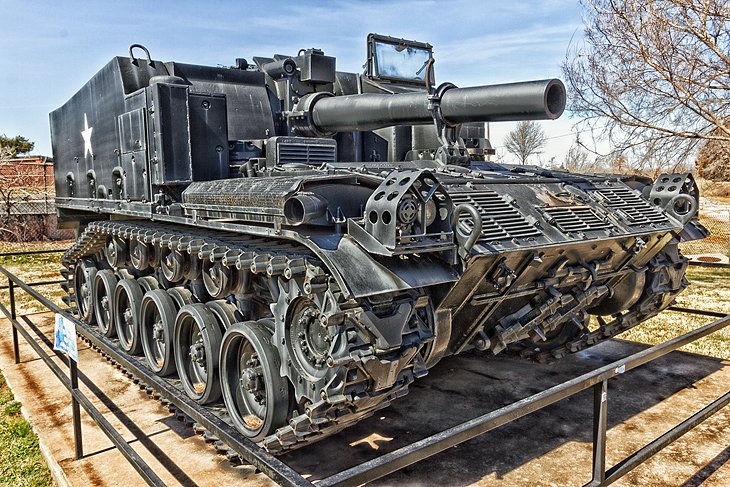 The 45th Infantry Division Museum in Oklahoma City is a must-see for military history buffs. It's located in the Lincoln Park Armory, which dates to 1937.
13. Tour the State Capitol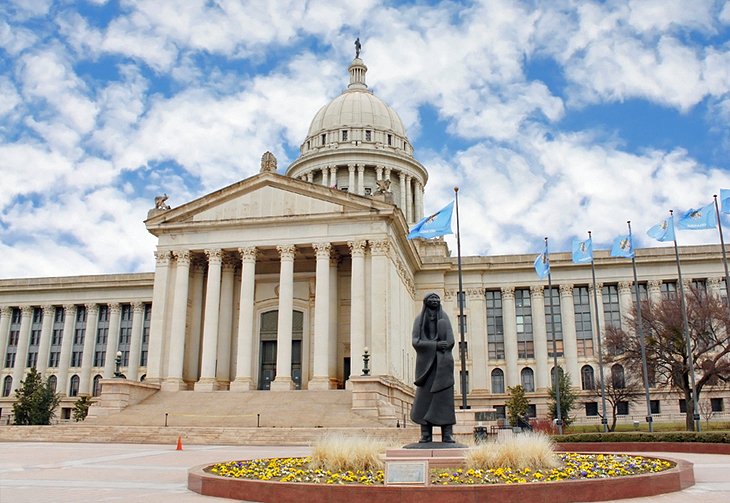 The seat of government for the state, the Oklahoma State Capitol building was designed and built between 1914 and 1917, though its grand central dome wasn't completed until 2002. The classic Greco-Roman structure has an Indiana limestone exterior and an Oklahoma pink and black granite base.
14. Overholser Mansion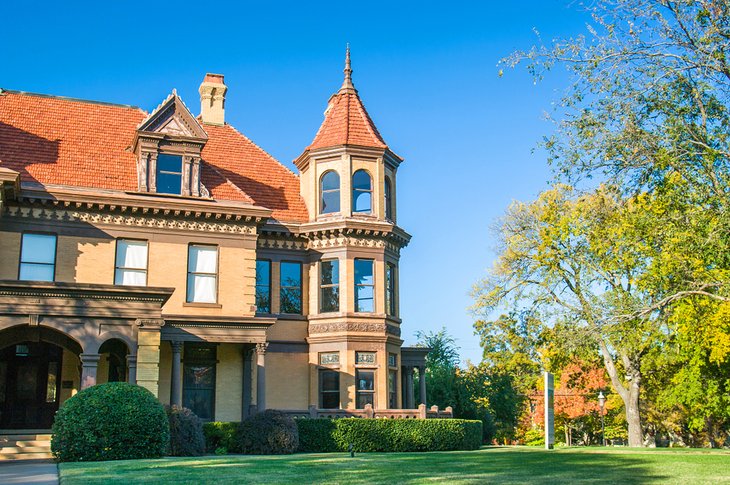 Founder of Oklahoma City, Henry Overholser built the first grand home in the city, and the lovely 1903 structure still stands as the Overholser Mansion. The three-story French chateau-style house features English carpets, French stained glass, and Antwerp fine oak paneling.
Where to Stay in Oklahoma City for Sightseeing
To explore the sights, the best place to stay in Oklahoma City is the city center, where there are several upscale neighborhoods, including Bricktown and the Business District. This is also where many of the city's attractions are located. Below are some highly rated hotels in convenient locations:
More Must-See Destinations near Oklahoma City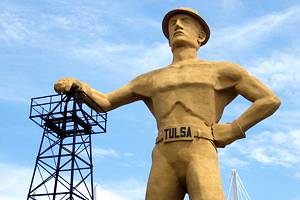 Oklahoma is the heartland of America, with charming small towns, as well as big-city bustle. About a 90-minute drive away from Oklahoma City, Tulsa lies on a legendary portion of Route 66. This iconic American driving route also runs through small towns and cities in Missouri, Texas, New Mexico, and Arizona. For more big-city excitement, Dallas lies about three hours south of Oklahoma City, and Wichita in Kansas is only 160 miles to the north, with a multitude of museums, shops, festivals, and fabulous restaurants.