13 Best Ski Resorts in Wisconsin, 2023
Wisconsin is a hot spot for skiing in the northern states. The state is surprisingly hilly, with all kinds of ski resorts available, in fact you may be surprised to learn that nearly 30 operations spring to life when the snow flies.
Ski resorts in Wisconsin come in all shapes and sizes, and many feature tube parks and night skiing. Several of the resorts are close to the major population centers of Milwaukee, Chicago, and Madison, making them ideal for day trips or easy weekend getaways.
All the resorts feature snowmaking, which is a critical component to their operations considering the average winter snowfall in Wisconsin is only about four feet. Skiing in Wisconsin is affordable, making it a perfect thing to do in winter for families. Most resorts offer room deals with local or on-hill hotels that feature deeply discounted lift tickets.
Plan your ski adventure with our list of the top ski resorts in Wisconsin.
1. Granite Peak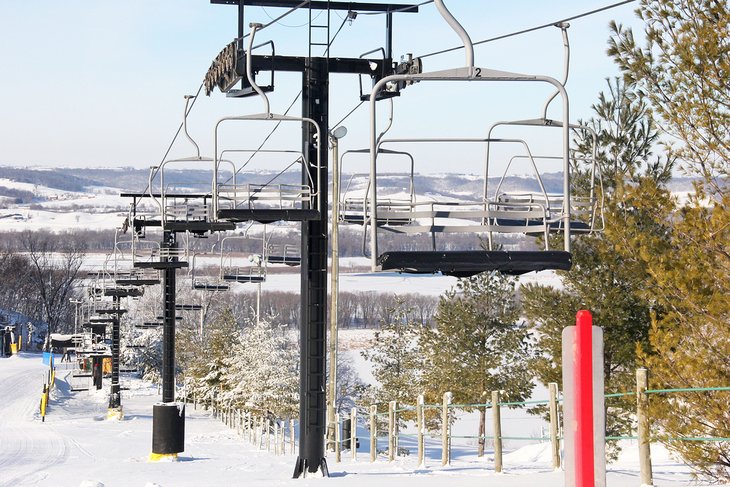 The granddaddy of all resorts in Wisconsin, Granite Peak takes the number one honors for sheer size and vertical drop. The resort has 58 runs that drop down off 700-foot Rib Mountain. All this fantastic terrain is serviced by the state's most modern and efficient lift system, including the state's only six-person high-speed chair plus four other chairs and two surface lifts.
In addition to all the great skiing, Granite Peak boasts four terrain parks with a wide variety of rails, bumps, jumps, and jibs. The cold temperatures of Wisconsin coupled with a recent $2.5-million-dollar investment in snowmaking equipment ensure 100 percent mountain coverage, and mean that you'll always have a carpet of white to shred.
For boarders and freestylers, four progression parks are spread across the mountain with ever changing features, allowing you to be as bold and daring as you feel.
Also new in 2022/23 is a revamp to the historic Chalet outdoor deck. Completely reimagined, the new deck now has outdoor fire pits, large glass windbreaks, and new tables.
The resort is located near the fun ski town of Wausau, where you'll be able to find accommodation and restaurants.
Granite Peak is part of the Indy Pass program.
Official site: https://www.skigranitepeak.com/
2. Cascade Mountain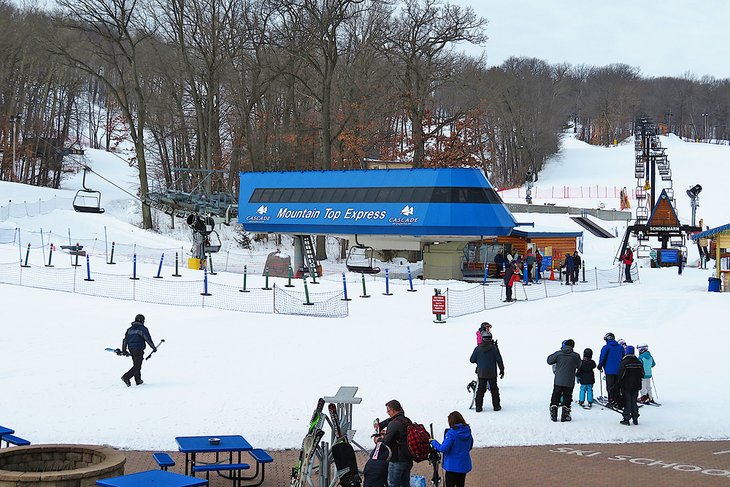 Wisconsin's second highest ski resort is located near the town of Portage in the Wisconsin Dells. Cascade Mountain is a well-equipped resort boasting a 450-foot vertical drop. Couple that with 47 trails snaking down through the trees — it's a wonderful place to hit the slopes. Cascade Mountain has an impressive 11 lifts that will get you right back up to the top for some more downhill fun.
Throughout 2022/23, Cascade will be celebrating its 60th anniversary with events throughout the season. Perhaps the greatest cause for joy of the anniversary celebration is that skiers will find that a brand new fixed-grip quad chair has replaced the old Mogul Monster triple chair. This new chair will increase uphill capacity, and it's hoped that it will relieve some of the current congestion at the base.
In addition to the ski runs, Cascade Mountain has invested significantly in their multiple terrain parks. Here, you'll find a wonderful assortment of jumps, jibs, humps, rails, and whatever crazy things the park builders can dream up.
If you've had your fill of skiing or boarding or have young children and are looking for something fun, head on over to the tube park. The tubes are included in the ticket price, and all you need to do is flop down and ride the chute to the bottom nearly 900 feet below. To get back up to the top, just hop on the lift and effortlessly ride back up for more slip-sliding fun.
Cascade Mountain also offers night skiing if you want to extend your day or are arriving late after work.
Official site: https://www.cascademountain.com/
3. Devil's Head Resort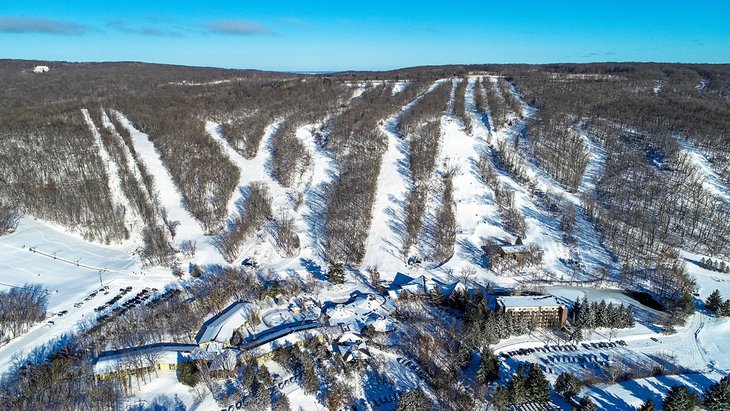 Devil's Head is the third largest ski resort in Wisconsin. With 30 named runs spread out over 300 acres of skiable terrain, this resort never fails to deliver. A vertical drop of 500 feet is respectable for this part of the country, and with nine lifts ready and willing to get 16,500 people back to the top per hour, it's fairly easy to crush some serious vertical.
The resort, like its competitors, is well set up to make snow, and lots of it. The mountain has 100 percent coverage, ensuring that the season starts early and ends late. For the snowboard and freestyle crowd, two terrain parks are on offer with the latest features to test your skills. For flat land skiers, also known as cross-country or Nordic enthusiasts, a 3.5-mile groomed loop winds its way through the forest.
Devil's Head Resort is only 20 minutes away from Cascade Resort, so if you are staying nearby in the Wisconsin Dells, it's easy to hit both mountains in a weekend.
Official site: https://www.devilsheadresort.com/
4. Whitecap Mountains Resort
If you are looking for a low key, laid-back Midwestern ski experience without the crowds, head north to Whitecap Resort. Up on the Penokee Range, this local mountain has 43 named trails and five chairlifts spread out over 400 acres.
Whitecap Resort's location makes it ideally positioned to catch lake effect snow, and when this natural snowmaking machine kicks into high gear, the snowfall totals can be impressive. On average, the resort receives 16 feet of snow, and with virtually no crowds, the powder sticks around for quite some time.
In addition to ski trails, you'll also find snowshoe routes and groomed cross-country (Nordic) tracks through the forest.
Official site: https://whitecapresort.com/
5. Wilmot Mountain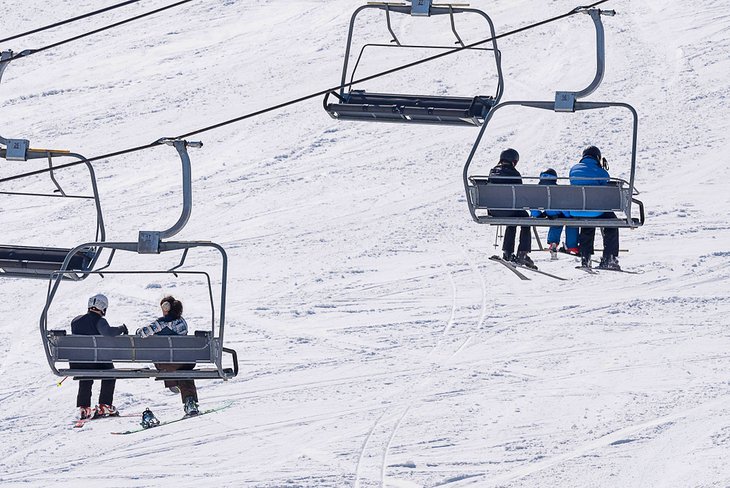 If you are looking for a ski hill within an hour of the greater Chicago and Milwaukee areas, Wilmot is the place to go. It's a great place to round up the kids and pile them into the car for an afternoon and, possibly, an evening of skiing.
The resort was purchased by Vail Resorts, and they have made significant investments to the tune of $13.2 million dollars to make the skiing and boarding experience even better. This includes three brand-new quad chairlifts, a high-speed double rope tow, and two new conveyers plus a new base area with seating for 400 people. As the resort is owned by Vail Resorts, it now becomes part of the EPIC Pass program.
Wilmot has 11 lifts that will get you back to the top of the hill or terrain park, so you can blast back down one of the 25 named runs. Boarders and freestylers should head to the Gully, Pasture, or Rope terrain parks, or if you are just beginning, start at the progression park.
You'll likely work up a hunger from all the on-hill activities. Fortunately, Wilmot has you covered, with five dining options ranging from grab-and-go through to sit down table service.
Wilmot Mountain is owned by Vail Resorts and as per the parent company's resorts policy, for 2022/23 Wilmot will be limiting the number of day lift tickets sold to avoid overcrowding on the hill. EPIC season pass holders and EPIC day pass holders are exempt from capacity limits as are clients of the ski school. The number of day tickets available per day will be posted on the resort's website and continually updated.
Official site: https://www.wilmotmountain.com/
6. Trollhaugen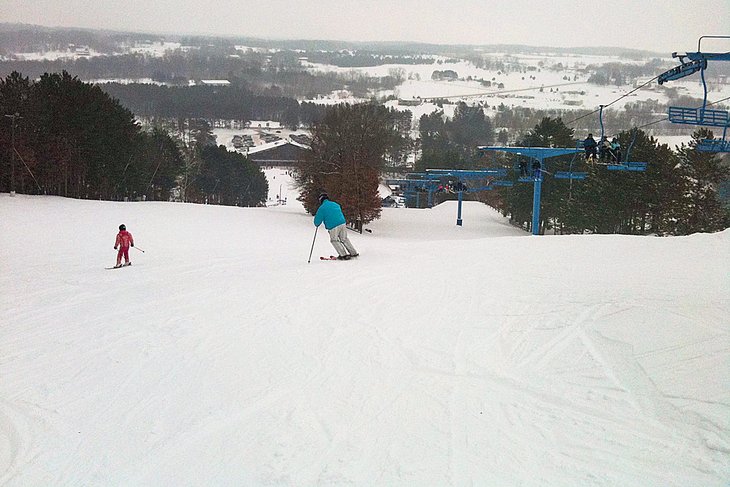 The vertical drop at Trollhaugen is a respectable 280 feet, making it well worth a trip. The 24 named runs spread out across 90 acres provide plenty of challenge, even for the most advanced of skiers. With 10 lifts, you'll be back to the top in no time flat.
In addition to the ski runs, three very well-regarded terrain parks are on offer. Considered by many to be some of the best in the state, these parks offer the features that boarders and freestylers crave.
Snowmaking and grooming is a priority here, with 100 percent coverage across the mountain, ensuring that the early birds have miles of corduroy to shred each morning. In addition, a tubing park with an astounding 10 chutes provides endless fun for families.
Trollhaugen is part of the Indy Pass program.
Official site: https://trollhaugen.com/
7. Mt. La Crosse Ski Area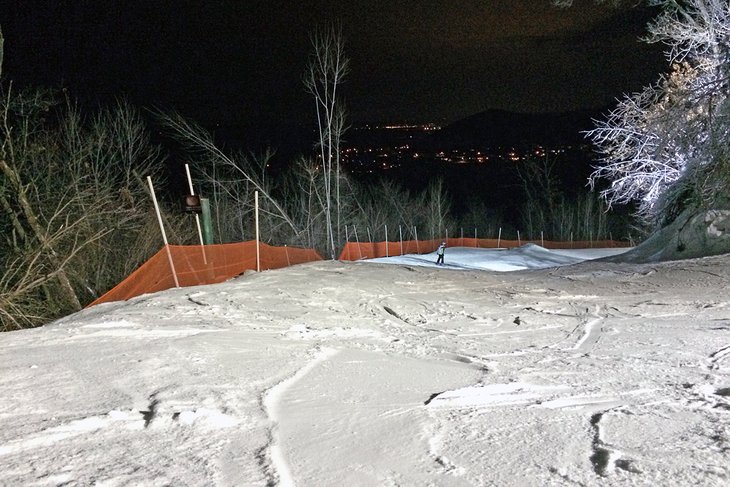 Mt. La Crosse has one of the higher vertical drops in the state at an impressive 516 feet. You might think this would lead to nice long cruiser runs, but you would be mistaken. Instead, Mount La Crosse takes that vertical and makes it steep, with fear-inducing black diamond runs with names like Damnation and Salvation.
But don't let that dissuade you from a visit to this small resort. It's rarely crowded, and spread around the resort are 16 other named runs that fall well within the ability of the intermediate and beginner skier. These runs are serviced by three double chairs and a rope tow, and with few crowds, you'll hardly ever wait in line.
The resort is right along the Minnesota border in the far eastern area of Wisconsin, making it a bit of a drive from most major population centers. However, the more time in the car means less time in line for the chair.
Official site: https://www.mtlacrosse.com/
8. Christie Mountain
Located in the northwestern area of the state near the pleasant city of Eau Claire, Christie Mountain is easily accessible for those living in Minneapolis. It's unique among Wisconsin ski resorts for its wonderful chalet perched at the top of the mountain (instead of at the bottom), providing a cozy hideout and great views.
Christie Mountain has 30 runs serviced by six lifts consisting of one double chair and five surface lifts. The eleven beginner trails are perfect for those just starting out or families with small children. For those looking for a more extreme experience, two double black diamond runs are available complete with a cliff jump!
Christie Mountain is also an excellent place to brush up on your tree skiing. Well-spaced trees provide an oasis of untracked powder when Mother Nature decides to bestow a big dump of snow.
Four terrain parks and a snow tubing area with six chutes of varying intensity round out the things to do at Christie Mountain.
Official site: https://www.christiemountain.com/
9. Nordic Mountain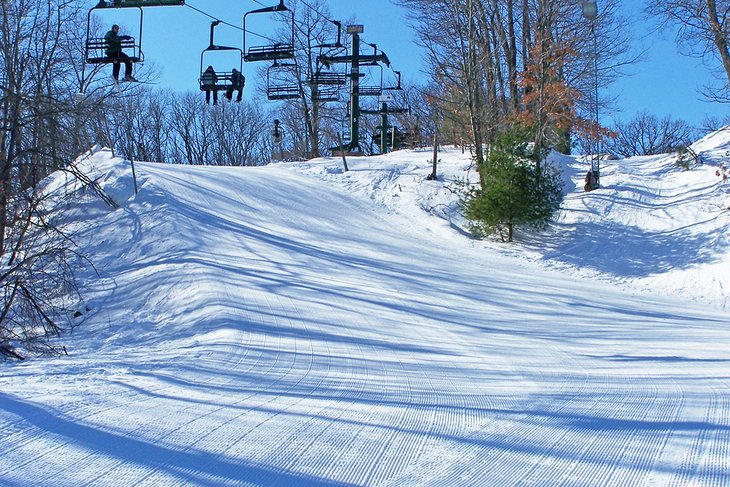 Nordic Mountain, located about an hour straight west of Oshkosh, is one of the best ski resorts in Wisconsin to learn how to ski. An area of gentle inclines is ideal for taking lessons in order to get proficient on skis or a snowboard.
With a 265-foot vertical, the runs are not long, but they are well groomed and spread nicely across the 60 skiable acres. Seven lifts, including one devoted to the tubing park, are a mix of double and triple chairs and handle tows. Most of the beginner and intermediate terrain is off the double chair, while more advanced runs can be found at the top of the triple chair.
Three terrain parks vary in size from small and medium to large and are serviced by their very own handle tow.
Nordic Mountain is part of the Indy Pass program.
Official site: https://www.nordicmountain.com/
10. Camp 10 Ski Area
Camp 10 is all about family skiing. Devoted almost exclusively to parents and children, this small operation has a chairlift, two T-Bars, and a handle tow servicing 15 runs. Recently, the ski resort has made some significant investments in snowmaking, major infrastructure repairs on the main lodge, along with upgrades to their grooming equipment in an effort to make Camp 10 better than ever.
Pack a lunch and enjoy it in the base lodge or grab a bite at the on-site cafeteria. Night skiing is available as are lessons and equipment rentals.
Located near Rhinelander, about a 2.5-hour drive northwest of Green Bay, the resort is an affordable ski destination. Lift tickets are a bargain, and hotel rooms in nearby towns are very reasonably priced. Camp 10 only operates on the weekends.
11. Little Switzerland Ski Resort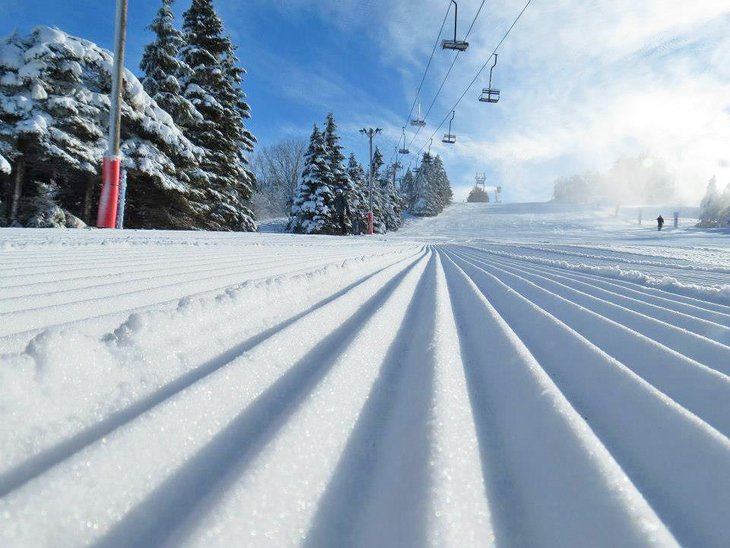 In operation for over 80 years, Little Switzerland, affectionately known as Little Switz, is a delightful small resort with a strong and loyal following. Somewhat unique among Wisconsin ski resorts, Little Switz has both a front side and a back side. This spreads the skiing around and makes for less crowded trails.
The resort has snowmaking across the entire mountain, ensuring that the 18 named runs and three terrain parks are blanketed with wonderful white stuff all winter long.
The base lodge is a great place to hang out and swap ski stories. The large picture windows allow you to warm up inside and watch the skiers descend. In the spring, the massive outdoor patio area is the place to soak up the warm spring sunshine.
Little Switzerland is part of the Indy Pass program.
Official site: https://www.littleswitz.com/
12. Christmas Mountain Village
Christmas Mountain Village delivers a gift of great ski runs and good times every time you visit. The resort has 15 named runs that are primarily targeted at beginner and intermediate skiers making it a perfect family destination. The resort is located in the Wisconsin Dells, not far from Cascade and Devil's Mountain resorts.
Two chairlifts and two handle tows service the approximately 250-foot vertical drop. The ski area is part of the larger Christmas Village resort area, which features condominiums and a recreation center with an indoor pool.
13. Tyrol Basin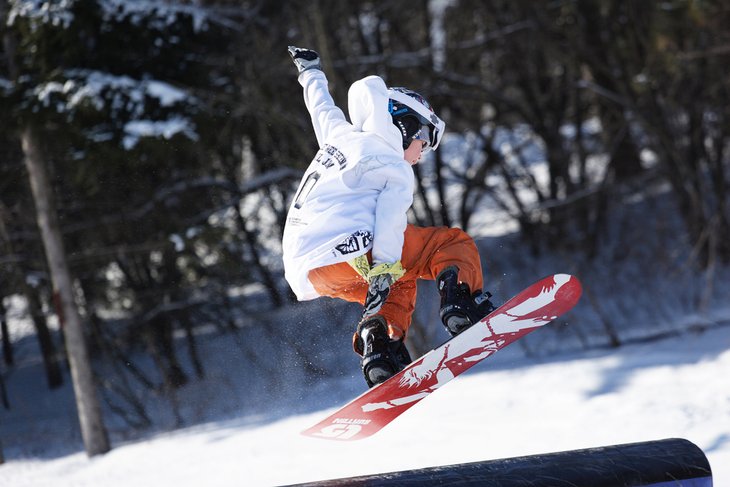 Located only 20 miles from Madison, this small resort punches above its weight. With a vertical drop of 280 feet, 21 runs, and four terrain parks, Tyrol Basin offers something for everyone. Although the vertical may not be eye-popping, the fact that night skiing is on offer means you can start early and finish late. The hill has three chairlifts, a rope tow, and a magic carpet.
One thing that sets Tyrol Basin apart from other Wisconsin ski hills are the glades. Hidden between the trees are fun downhill lines with secret stashes of untracked snow. On the groomed runs, the best of the white stuff is always on offer on every run with Tyrol Basin's 100 percent snowmaking coverage.
The ski resort has recently built a brand-new tubing park complete with 12 lanes.
Map of Ski Resorts in Wisconsin