16 Top-Rated Things to Do in Madison, WI
We may earn a commission from affiliate links ()
Madison, the state capital of Wisconsin, is said to be one of the most quintessentially American cities. It's also home to a vibrant cultural scene, with popular events such as a huge annual firework and music festival that includes fly-pasts by air force jets. It also boasts numerous first-rate museums and art galleries, as well as a diversity of attractions and things to do for tourists.
In the summer months, the city's extensive bike trail network is busy with cyclists. Other visitors (and locals) prefer sailing on lakes Mendota, Monona, and Waubesa. Come winter, it's all about outdoor activities, including skating, hockey, Nordic skiing, and ice fishing.
One of the city's major claims to fame is its long association with famed American architect Frank Lloyd Wright. Born in Wisconsin, Wright designed many of Madison's most notable buildings, including the headquarters of the First Unitarian Society and several private houses.
Discover the very best sightseeing opportunities and the most unique places to visit in and around the city with our list of the top tourist attractions and fun things to do in Madison, Wisconsin.
See also: Where to Stay in Madison
1. Wisconsin State Capitol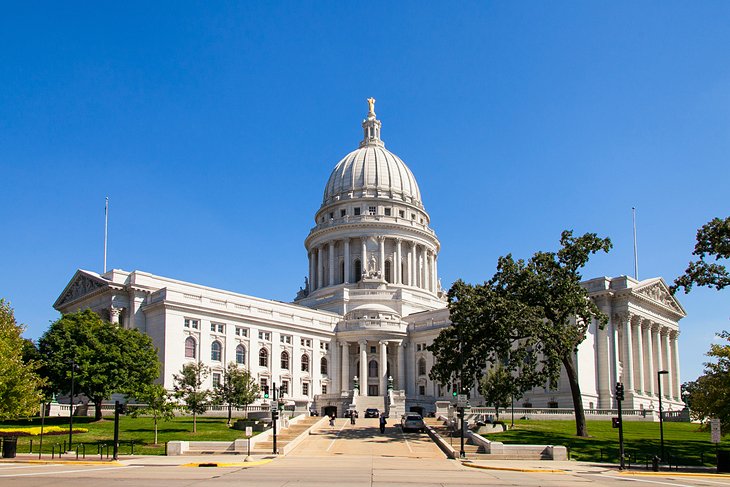 Standing majestically just a few blocks from the lakeshore in Madison's downtown (and not swamped by soaring skyscrapers thanks to forward-thinking city planners) is the Wisconsin State Capitol Building. Finished in 1917, the building is adorned with a 284-foot-high dome that's just three feet shy of Washington's Capitol building. Two large wings adorn either side of the building.
2. Henry Vilas Zoo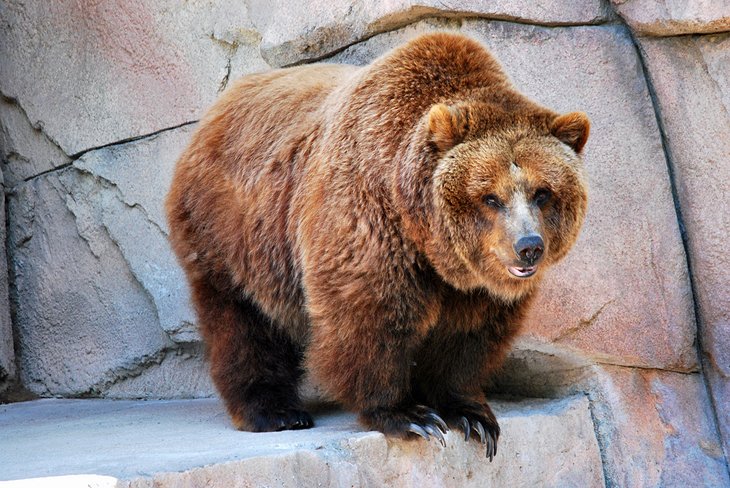 Opened in 1924 and owned by the City of Madison, the 28-acre Henry Vilas Zoo is a favorite with locals and visitors alike, and one of the best things to do in Madison if you are traveling with kids. It attracts close to a million visitors each year, and is home to a wide variety of animals from tropical, arctic, savannah, plains, and other habitats.
The tropical rainforest exhibit includes a combination of fish, rainforest plants, and a free-flight aviary where visitors are surrounded by birds. The Arctic Passage exhibit features an underwater viewing area for its harbor seals and polar bears, as well as a stream where the grizzly bears fish.
Other popular residents include Amur tigers, African lions, reticulated giraffes, red pandas, and alpaca. For younger visitors, there is a children's zoo with animals, a carousel, and an electric train.
3. Olbrich Botanical Gardens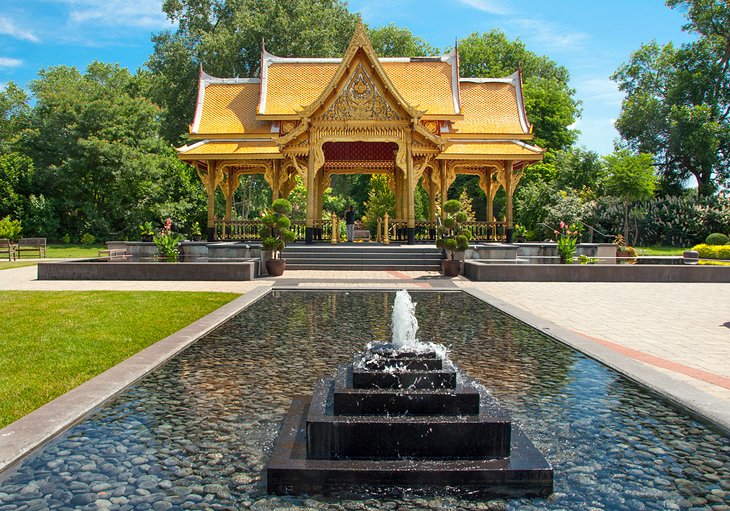 Situated on Madison's splendid waterfront, the sixteen acres of Olbrich Botanical Gardens are a feast for the senses. Depending on the time of year, a variety of plants will likely be in bloom, from exotic foliage to fragrant flowers.
Started in 1952, the gardens are noted for their collection of roses and the glass-enclosed Bolz Conservatory. Another highlight is the "sala," an elaborate pavilion donated by the government of Thailand and one of only four such buildings outside Asia. The gardens and conservatory are open daily and are free to the public.
4. Visit the University of Wisconsin's Memorial Union Terrace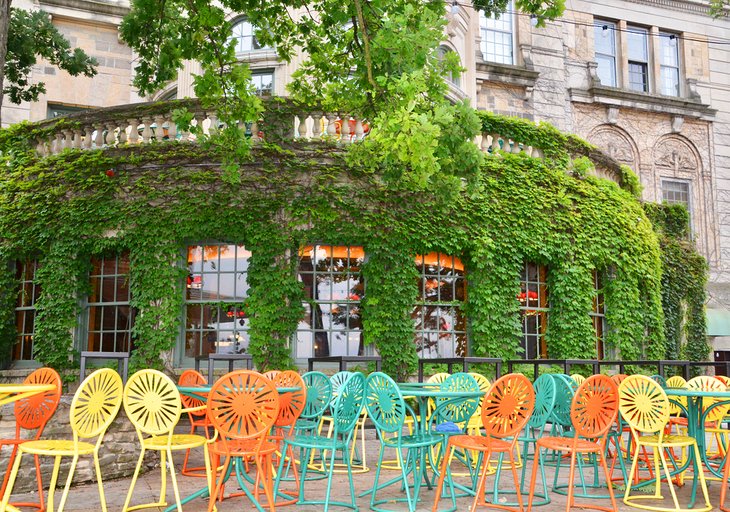 Memorial Union Terrace on the University of Wisconsin campus is not just a favorite hangout for students - it is known as one of the best spots in the city for people-watching and relaxing. Although it is restricted to Union members, tourists can easily obtain a single day guest pass, which can be used to access the Terrace, as well as attend any of the free activities hosted here.
5. Frank Lloyd Wright's Monona Terrace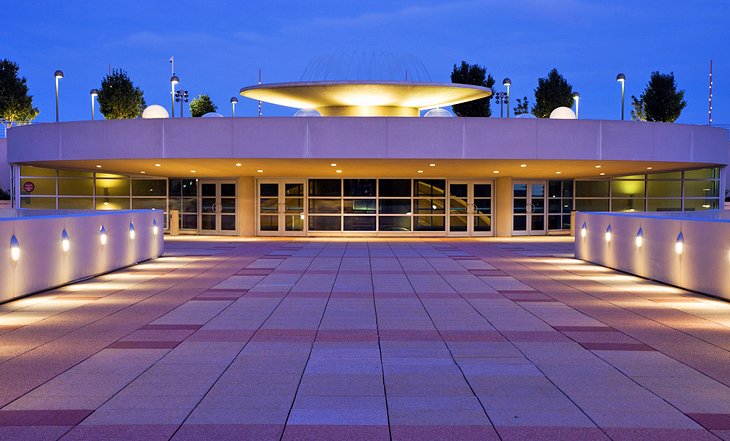 Fans of Frank Lloyd Wright won't want to miss the building he proposed back in 1938, but never saw built: the Monona Terrace Community and Convention Center. This visually stunning building on Madison's waterfront was finally built to Wright's exterior design in 1997 and includes his original curved glass façade.
6. Summer Recreation on Lakes Monona & Mendota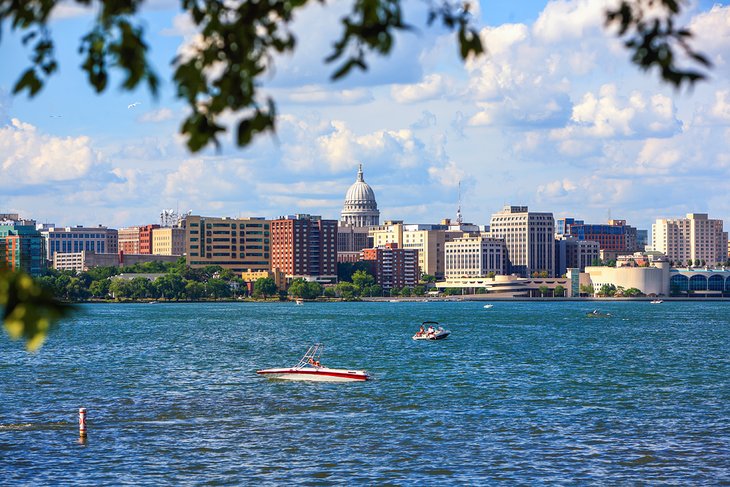 Lake Monona and Lake Mendota, which accentuate the Madison landscape, are two of the top lakes in Wisconsin and where summer fun happens by the water.
Enjoy a leisurely paddle in a kayak on Lake Monona with the state capitol in the background. The large lake is great for swimming at the public beaches, windsurfing, fishing, or just sitting quietly with a book on a park bench. It is surrounded by paved bike and walking trails and plenty of public green space, popular for summer games of frisbee and family picnics.
Lake Mendota is another summer destination for water recreation in Madison, with seven public beaches and almost a dozen boat ramps. There are several miles of walking trails along the lake on the Lake Mendota Path, a section of the larger Lakeshore Path that connects popular sites and neighborhoods throughout the city.
7. Get Your Art Fix at Chazen Museum of Art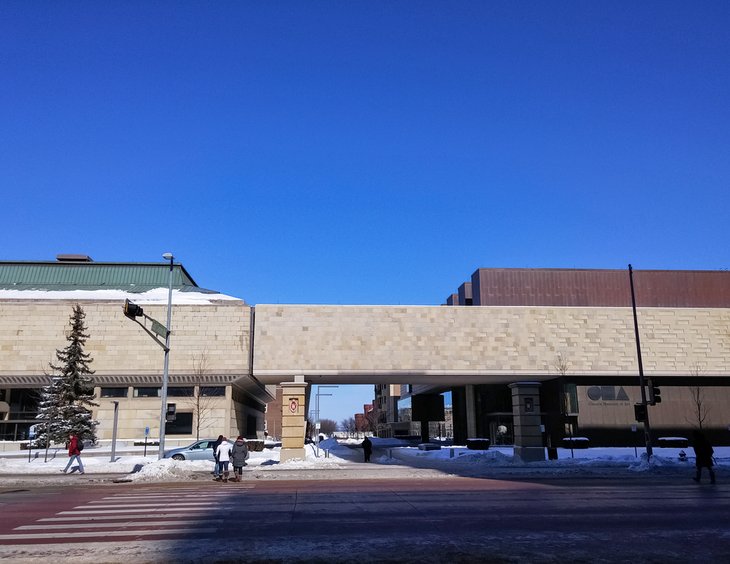 The Chazen Museum of Art features a wide range of art in a variety of mediums and is another must-see University of Wisconsin attraction. Permanent exhibits include paintings, sculptures, drawings, and watercolors, as well as prints, photography, and applied/decorative arts.
European artists in its extensive collection include Rodin and Gainsborough, while its American collection includes works by Shusaku Arakawa.
8. The Madison Children's Museum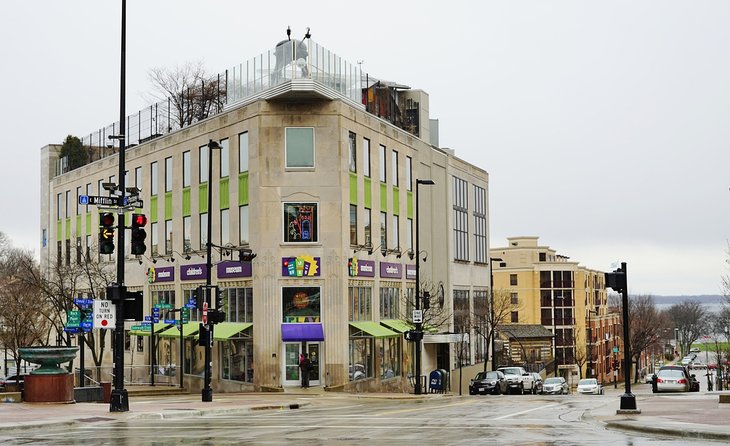 The Madison Children's Museum contains a fun selection of exhibits and activities for kids up to 10 years old. The museum hosts a wide variety of year-long changing exhibits with educational themes, like the interactive "Coops to Cathedrals" area, where kids can explore the creative process of Frank Lloyd Wright and learn by experimenting with their own creations.
The museum's permanent exhibit, Rooftop Ramble, is akin to a farm perched high above the city. The area includes a pond, greenhouse, chicken coop, and even a roost for homing pigeons.
9. The Madison Museum of Contemporary Art (MMoCA)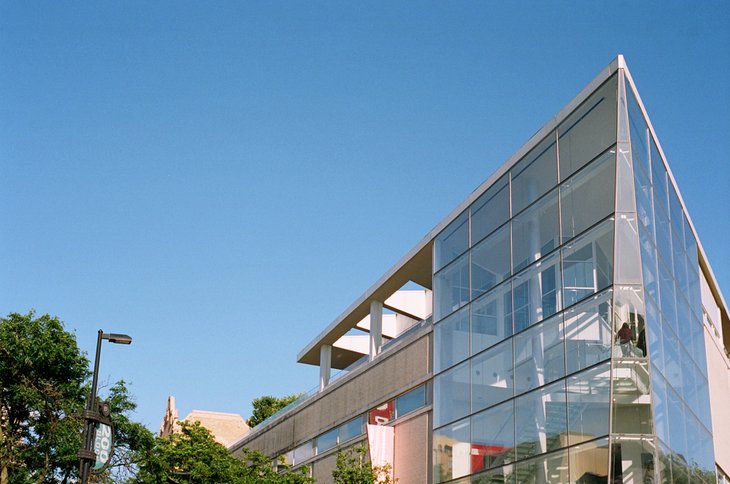 The Madison Museum of Contemporary Art (MMoCA) is the lifeblood of arts and entertainment in the city and is in many ways a piece of art itself. Jutting out of the corner of State and Henry Streets like the bow of a ship, this splendid three-story glass structure is undoubtedly one of the city's most impressive architectural landmarks.
Inside, the center has a large display area and is constantly rotating through local and international art exhibits. It also hosts a variety of regular events and fun things to do for all ages.
For a fun visit to MMoCA, plan an evening out at the Rooftop Cinema, where you can catch critically acclaimed films shown beneath the stars, with summer and fall lineups.
10. University of Wisconsin: Arboretum and Geology Museum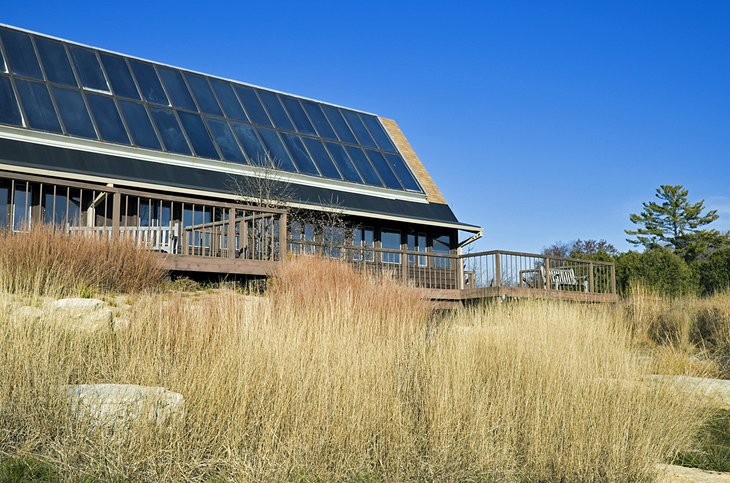 The 170-year-old University of Wisconsin in Madison covers more than 1,260 acres and is well worth exploring. Highlights include the Arboretum (the UW Arboretum), home to the oldest and most varied collection of restored ecological communities in the world, including tallgrass prairies, savannas, several forest types, and wetlands. It also houses many flowering trees, shrubs, and a world-famous lilac collection.
11. Take a Day Trip to Tour of Frank Lloyd Wright's Taliesin Estate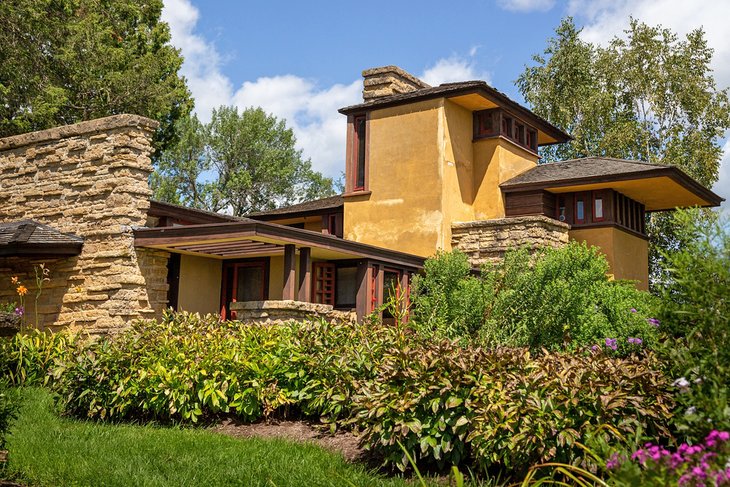 Located just outside the village of Spring Green, 35 miles west of Madison, is Frank Lloyd Wright's masterpiece, Taliesin. Also known as Taliesin East, this stunning structure has long been a place of pilgrimage for fans of the groundbreaking architect.
Started in 1911, this remarkable property covers more than 600 acres of beautiful rolling countryside and was to remain a work in progress as Wright tweaked his designs right up to the architect's death in 1959. Wright spent his summers at Taliesin in Wisconsin, and winters at Taliesin West, one of the top attractions in Scottsdale, Arizona.
Visitors can enjoy excellent guided tours of the property that take in the home, as well as its adjoining structures, including a theater, studio, gallery, and school. Other highlights include the Romeo and Juliet Windmill and Midway Farms, a dam and waterfalls, and an informative visitor center with a café.
12. See the Unique House on the Rock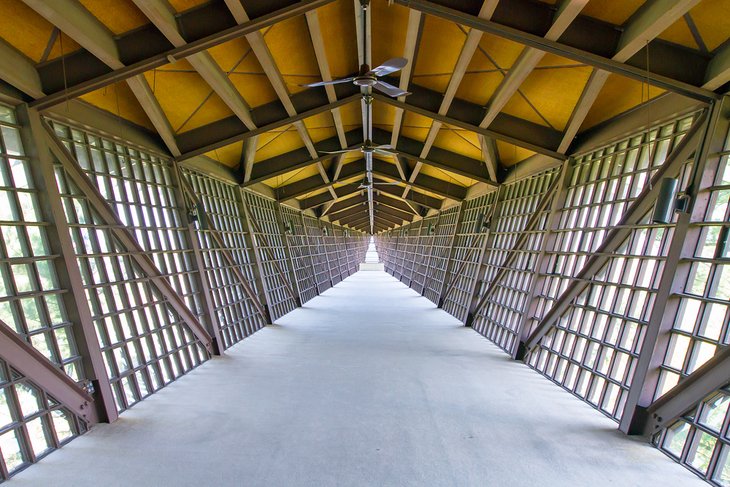 After seeing Frank Lloyd Wright's Taliesin Estate, another Spring Rock attraction worthy of a visit is the unusual House on the Rock. Perched high atop an outcropping of Deer Shelter Rock, this sprawling site contains more than 3,200 windows and is a testament to one man's desire to follow in the footsteps of Wright (whether he succeeded depends upon one's tastes).
There's no denying it's a fun place to visit. Highlights include the world famous 218-foot-long Infinity Room, which projects over a cliff like a knife. The attraction has been added to in recent years and also features a number of unique "rooms" dedicated to a variety of interesting themes such as aviation, circus acts, nostalgia, and the streets of yesteryear.
13. Wisconsin Veterans Museum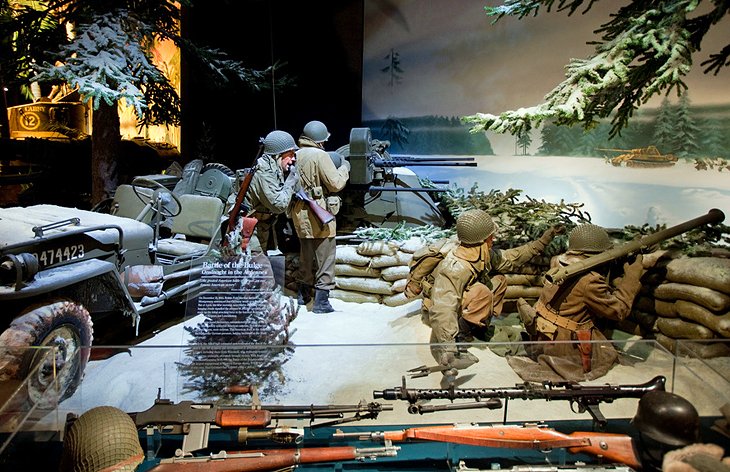 The award-winning Wisconsin Veterans Museum showcases the history of the many citizens who participated in military struggles from the Civil War to the Gulf War. Displays include a great deal of military paraphernalia, much of it set up in fascinating and informative dioramas.
14. Allen Centennial Gardens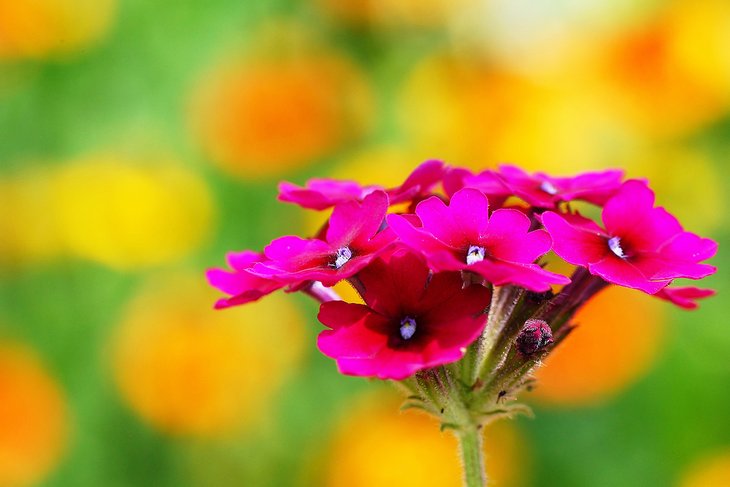 The Allen Centennial Gardens are the living classroom for the University of Wisconsin-Madison horticulture program, and are designed to educate visitors of all ages. Highlights include the Sustainability Garden, where you can learn about sustainable practices; an edible garden; and several themed decorative gardens, including the English Cottage, Italian, French, and Japanese.
There is also a pond garden, rock garden, and several more. At the center of the gardens stands the Dean's Residence, a Gothic Victorian house, which was home to the university's first four deans. Today, it is uninhabited and preserved as a landmark in the National Register of Historic Places.
15. Take a Drive to Blue Mounds State Park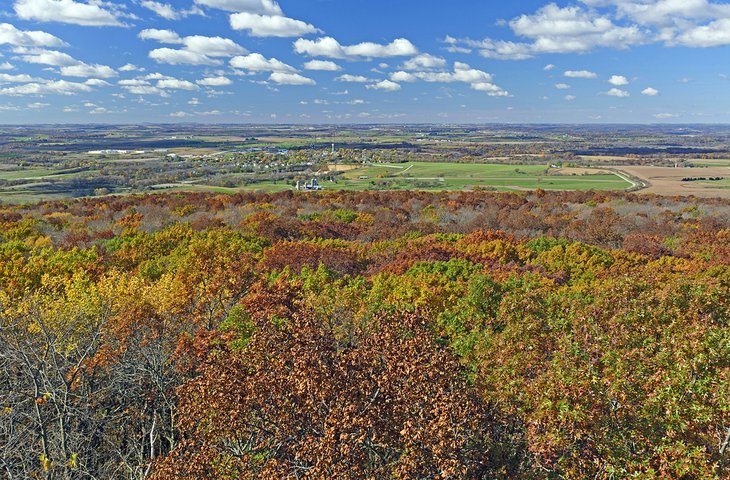 Located an easy 30-minute drive west of Madison, the Blue Mounds are the highest hills in Southern Wisconsin. This area of stunning natural beauty is popular for hikers looking for trails near Madison, mountain bikers, and campers. It's also popular among nature lovers, drawn here for the diverse flora, fauna, and geology of the area.
Also worth visiting is the Cave of the Mounds, with its large caverns, stalactites, and stalagmites (guided tours are available). Above ground, the property features pleasant walking trails through fields and woods. Afterwards, visit the town of Blue Mounds itself, home to Little Norway, a recreation of a household and church from the early 19th century.
16. Pendarvis State Historic Site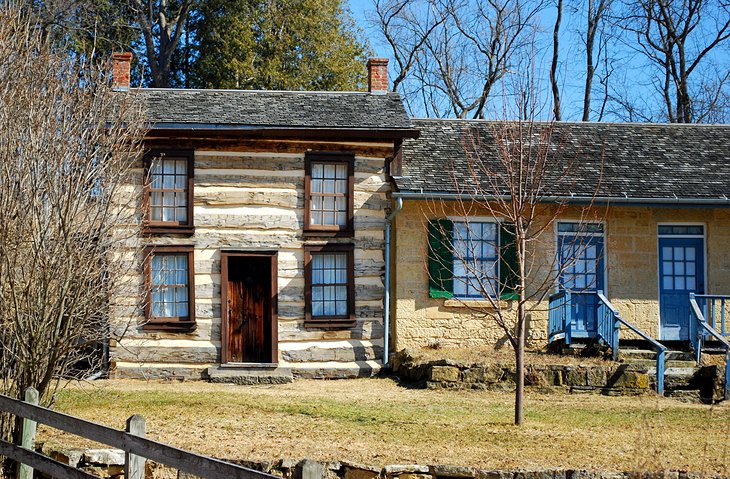 Although an hour's drive west of Madison – but one that can easily be combined with an outing to the Blue Mounds – the Pendarvis Historic Site consists of buildings from the mid 19th century that have been restored to their original state.
In the 1830s and 1840s, settlers from other parts of the US and Europe flooded into Wisconsin, lured by the prospect of plentiful lead in shallow diggings throughout the region. As the easy lead became scarce and greater skills were needed to work the earth, immigrants from Cornwall, England filled the need.
Where to Stay in Madison for Sightseeing
Downtown Madison is the place to stay, with attractions radiating outward from the State Capitol. The downtown area is very compact and home to attractions that include the Children's Museum, trendy Monroe Ave, a skating rink in winter, and the Henry Vilas Zoo, all within a mile or two. Below are some highly rated hotels in convenient locations: