15 Top-Rated Tourist Attractions in Wisconsin
Bordered by Lakes Michigan and Superior, Wisconsin offers diverse landscapes and attractions that are a delight to explore. To the north and west are large expanses of hills that are perfect for hiking, mountain biking, and areas of lowlands to the south and east have proven excellent for dairy farming. In summer, the beaches are some of the most popular places to visit.
While many of Wisconsin's top things to do are in its two largest cities, Madison and Milwaukee, smaller communities such as Spring Green, home to architect Frank Lloyd Wright's famous Taliesin, are also worth exploring. The state also offers many exceptional cultural activities and events, too, from the huge Oshkosh Airshow to Milwaukee's popular Summerfest.
Outdoor enthusiasts can choose from great fishing lakes and lakes to enjoy boating and leisure activities, as well as some of the best hiking and biking trails to be found anywhere in the country.
Learn about these and other interesting places to visit with our list of the top attractions in Wisconsin.
1. Oshkosh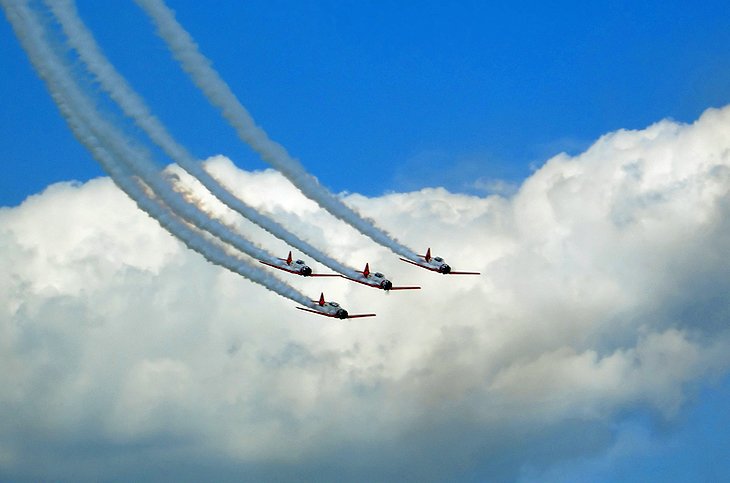 The small town of Oshkosh on Lake Winnebago, northwest of Milwaukee, is famous for two things: the popular line of kids' clothing and its place on the world's airshow circuit. The world's largest meeting of aviators, EAA AirVenture Oshkosh has been held here every summer since 1970.
During the weeklong event, the Oshkosh control tower becomes the busiest on the planet as up to 15,000 aircraft of all shapes and sizes descend upon the airport. They're joined by an estimated half a million visitors, all here to catch thrilling aerobatic displays, as well as flybys from vintage and contemporary military aircraft.
Also fun to experience are the nighttime flying displays, evening movie shows and theatrical performances, and educational workshops. For those with the budget, a variety of aircraft rides, including aboard a huge B-17 bomber, are available. Also of note is the superb EAA AirVenture Museum with its collection of 200-plus aircraft.
Address: EAA Aviation Center, 3000 Poberezny Road, Oshkosh, Wisconsin
Official site: www.eaa.org/en/airventure
2. Taliesin: Frank Lloyd Wright's Perfect Country Home
One of the most influential individuals to have called Wisconsin home was Frank Lloyd Wright. Numerous examples of the great architect's designs can still be seen across the state in which he was born and where he lived for much of his life.
But it's to Taliesin East in Spring Green — usually referred to simply as "Taliesen" — that most people flock. Set amid 600 acres of beautiful rolling countryside, this spectacular home was started in 1911 and was a work in progress right up to Wright's death in 1959.
Wright spent his summers here and then packed up and headed to Taliesin West, one of the top attractions in Scottsdale, Arizona, in winter. Students at The School of Architecture at Taliesin still do this each year. Guided tours are available, taking in the home, theater, studio, gallery, and school. Other highlights include an informative visitor center with a restaurant.
Other Frank Lloyd Wright buildings include the spectacular Monona Terrace Community and Convention Center on Madison's lakeshore (it was actually built long after his death but was based on his original plans) and Milwaukee's Annunciation Greek Orthodox Church.
Address: 5481 County Road C, Spring Green Wisconsin
Official site: www.taliesinpreservation.org/visitors-guide
3. Wisconsin State Capitol, Madison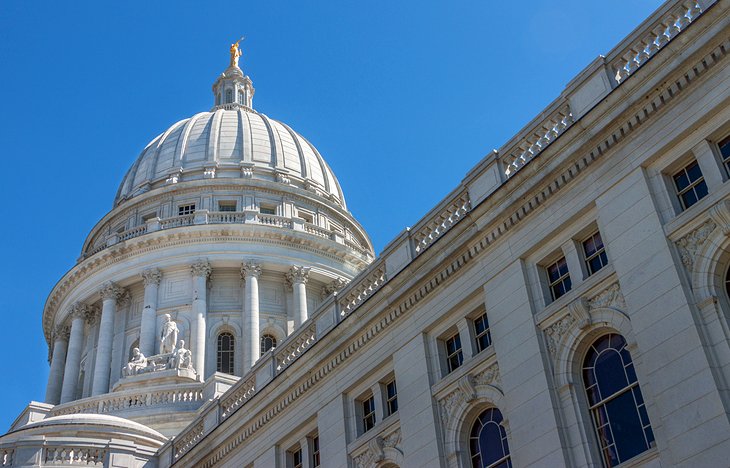 Madison has numerous great reasons to visit, with many of its top attractions found in the downtown core. One of the most attractive is the Wisconsin State Capitol. Completed in 1917, it's decorated with a 284-foot-high dome that's just three feet shy of Washington's Capitol building.
Free hour-long tours are available daily and take in many of the building's best interior features, including its large murals, exquisite marble work, and elegant rotunda with its states and monuments.
There's also an interesting museum about the building's history located on the sixth floor, which is well worth a look. One of the best views of the capitol is from the Frank Lloyd Wright designed Monona Terrace Community and Convention Center - it's simply stunning.
Address: 2 E Main Street, Madison, Wisconsin
4. The Harley-Davidson Museum, Milwaukee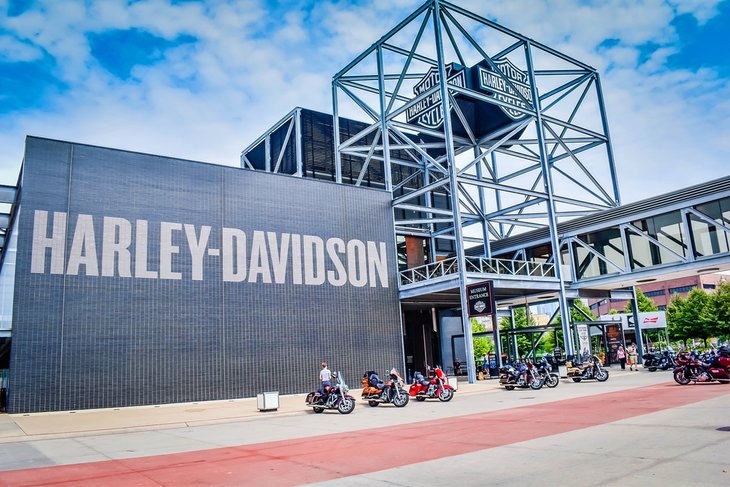 Nothing says "freedom" quite like a Harley-Davidson motorcycle, a fact that is not lost on visitors to Milwaukee, the birthplace of the famous "Hog." The best place to find out more about this iconic machine is the city's Harley-Davidson Museum, home to more than 450 classic motorcycles.
This fun family attraction also has excellent displays of the brand's famous teardrop tanks, as well as exhibits telling the story of the people and places behind the machines. There's also a fun Harley-themed restaurant. If you can, try to time your visit to coincide with one of the museum's busy "bike nights," when fans and owners arrive in their droves to show off and admire these classic machines.
There are several self-guided tours available at the museum to give you more insight and a behind-the-scenes look at this iconic American company. You can tour the full 20-acre Harley Davidson complex by downloading a map to see buildings like the original shed where the company started in 1903, and the H-D archives houses documents, clothing, and marketing materials. A self-guided audio tour is available.
Address: 400 W. Canal Street, Milwaukee, Wisconsin
Official site: www.harley-davidson.com/us/en/museum.html
5. Circus World Museum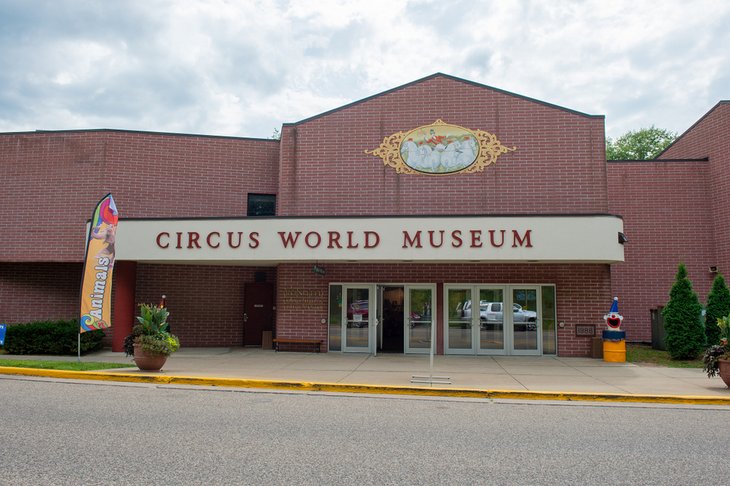 Located in the small town of Baraboo, Circus World Museum is an excellent attraction for kids of all ages to learn about the day-to-day activities of a working circus. With its focus on the country's rich circus history - it was once upon a time one of the nation's leading entertainment industries - the museum features numerous fascinating displays and exhibits.
The museum is reputedly home to the world's largest collection of circus-related artifacts, from posters to parade wagons. In summer, there's a Big Top with regular shows including traditional circus acts (check their website for scheduled performances). Baraboo is well qualified to host this museum given its former role as the headquarters of the huge Ringling Brothers Circus.
Address: 550 Water Street, Baraboo, Wisconsin
Official site: www.circusworldbaraboo.org
6. The Dells of the Wisconsin River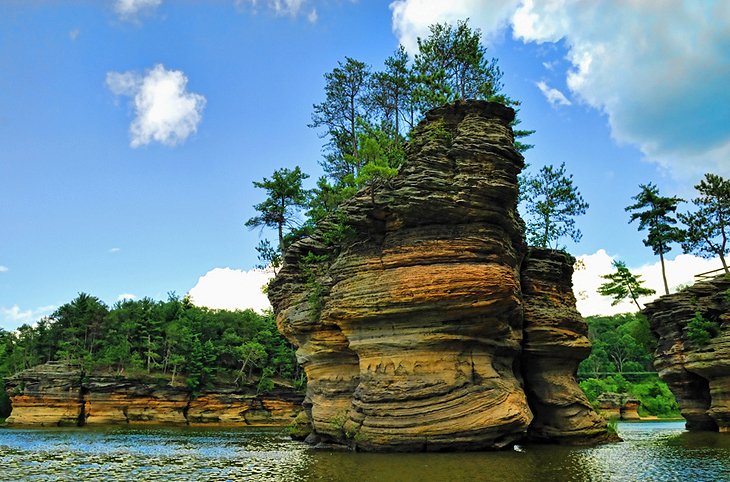 Sometimes called the Wisconsin Dells - though this is often confused with the touristy town of the same name - the Dells of the Wisconsin River is a spectacular five-mile gorge on the state's largest river. This area of outstanding natural beauty, much of it located in the state park of the same name, boasts many unique sandstone rock formations, canyons, and cliffs, some as high as 100 feet.
The Dells area is also home to an abundance of unique flora and fauna, such as cliff cudweed, found in only one other location on the planet, and six species of dragonfly. Given its fragile ecological state, it's not the easiest place to access, and those wanting to experience its beauty must do so by boat.
A variety of regular boat tours and excursions are available, taking in both the upper and lower areas of this spectacularly beautiful region.
7. The Great Outdoors: Door County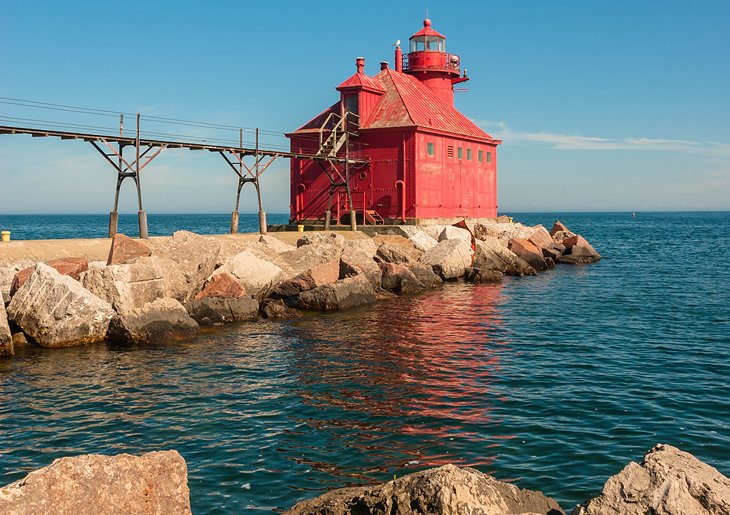 One of the prettiest corners of Wisconsin is Door County. Located some 46 miles northeast of Green Bay, this area of outstanding natural beauty lies on a peninsula overlooking Lake Michigan and has become a popular vacation spot for its many charming hotels, as well as its plentiful campsites.
This pleasant rural countryside draws numerous visitors each year for its many outdoor activities. These include fun things to do such as trout fishing, sailing, diving, and swimming, as well as hiking and biking. This is also a great place for kayaking.
Some of Wisconsin's best small towns are found in Door County, including picturesque Sturgeon Bay, with its lovely old lighthouse (one of numerous such buildings sprinkled across the state), and Ephraim, with is old harbor and historic buildings. Washington Island is also worth visiting and has the country's oldest Icelandic settlement.
Accommodation: Top-Rated Resorts in Door County
8. The Green Bay Packers: Lambeau Field and the Walk of Legends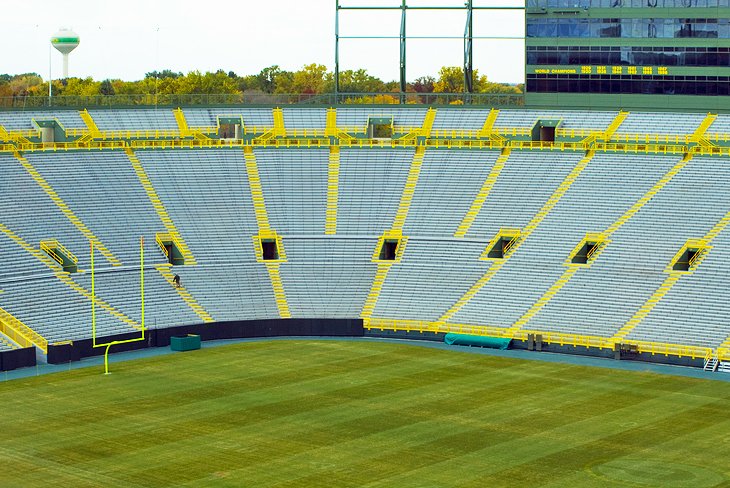 The story of the Green Bay Packers is a remarkable tale of a small town's ability to host a major league professional sports team. Take the team's stadium. Nearly large enough to house the city's entire population of 72,000, Lambeau Field opened in 1957 and is the longest continuously occupied stadium in the league.
Formed in 1919, the team is the third oldest in the NFL, and the league's only non-profit team (it's owned by the city of Green Bay). Whether you're a sports fan or not, you'll enjoy a tour of the stadium with its behind-the-scenes look at how a major league team operates.
Two superb self-guided sightseeing tours of Packers-related landmarks are also worth checking out: the Walk of Legends is an art walkway of 24 statues celebrating the history of football in Green Bay between 1895 and the present (and fun to explore at night), and the Packers Heritage Trail is a walking tour taking in city landmarks associated with the team.
Address: 1265 Lombardi Ave, Green Bay, Wisconsin
Official site: www.packers.com
9. Exploring the Land O' Lakes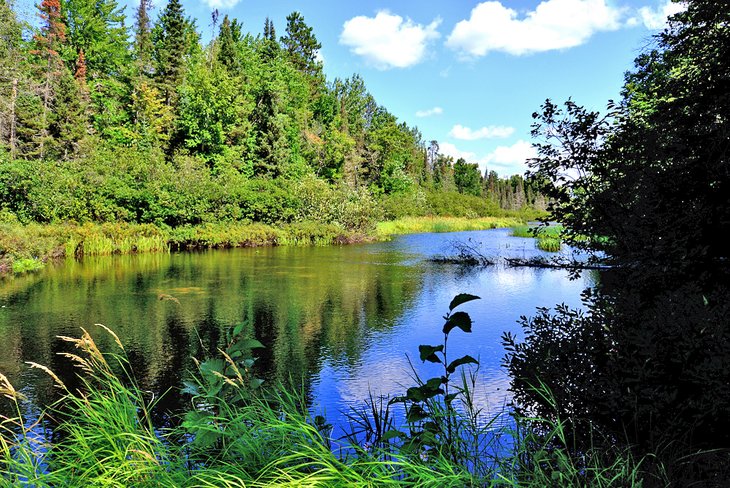 The lovely Land o' Lakes region is tucked away between Boulder Junction, Eagle River, and Rhinelander in the northern part of Wisconsin. Hugely popular with water sports enthusiasts, it boasts more than 200 unspoiled lakes of various sizes.
Campers and backpackers are particularly fond of the region, which is wonderful to explore by canoe or kayak. Highlights are its abundant flora and fauna, with good fishing and bird-watching, including an opportunity to catch a glimpse of some of the few remaining white-tailed eagles in the area.
The town of Eagle River is a good place to begin exploring the region and offers a variety of things to do, from fishing, boating, hiking, biking, and swimming in summer, to cross-country skiing and snowshoeing in winter.
Address: 6484 Hwy 45, Land O' Lakes, Wisconsin
10. Copper Falls State Park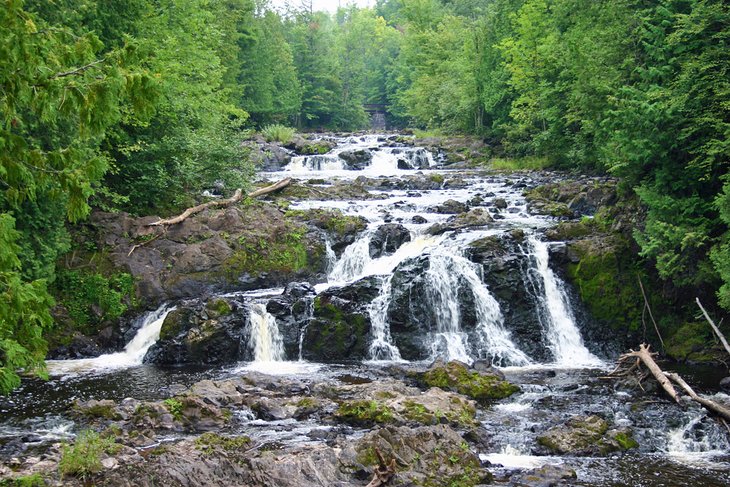 While the Badger State is known for many things — in particular its dairy products and cheese — it's certainly not short of natural wonders, either. It's especially popular with hikers and outdoor enthusiasts thanks to its numerous lovely waterfalls. While some of the most attractive are set in relatively remote locations, many are within easy reach of major urban centers.
One of the most popular Wisconsin destinations for waterfalls is Copper Falls State Park. Just a few minutes' drive north of the small town of Mellen, this beautiful park is, in fact, home to no less than three waterfalls. Two of the most visited, Copper Falls itself and Brownstone Falls in the park's north end, are each accessible via the Waterfall Trail, an easy trek that's suitable for even the casual hiker.
The third falls, Red Granite Falls, is located at the park's southern end and is also worth seeing. For those wanting to make a full day of it, a total 17 miles of hiking trails is ready to be explored within Copper Falls State Park.
Address: 36764 Copper Falls Road, Mellen, Wisconsin
Official site: https://dnr.wisconsin.gov/topic/parks/copperfalls
11. All Steamed Up at the National Railroad Museum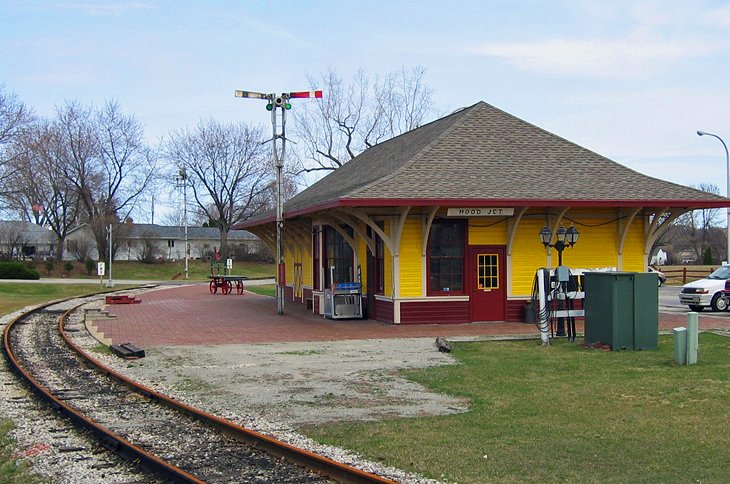 There's no better family outing than the excellent National Railroad Museum in Green Bay. Home to more than 20 steam and diesel engines, plus numerous items of rolling stock, the museum houses a variety of railroad artifacts and memorabilia.
A highlight is the Eisenhower collection, which includes the Dwight D. Eisenhower, a streamlined vintage British engine used to pull the leader's military train across Europe during WWII. Fun events include excursions aboard a train decked out like the famous Thomas the Tank Engine, and haunted train rides at Halloween. An 80-foot-tall observation tower offers great views of the museum's collection and the surrounding area.
Address: 2285 South Broadway, Green Bay, Wisconsin
Official site: https://nationalrrmuseum.org
12. Take a Hike on Wisconsin's Wonderful Trails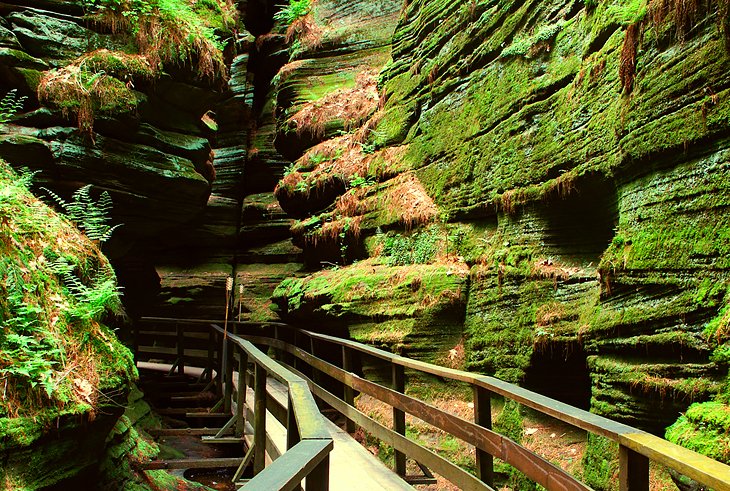 One of the best ways to explore wonderful Wisconsin is to hike or bike across the state's extensive trail networks, an activity that's becoming increasingly popular with backpackers looking for an exciting outdoor adventure.
Many of the trails that cross the state provide a look at how landscapes have been shaped by glaciation, including the Ice Age Trail, an epic 1,000-mile-long National Scenic Trail stretching from Potawatomi State Park to St. Croix Dalles.
Then there's the North Country National Scenic Trail encompassing states from North Dakota to New York, 117 miles of it passing right through the heart of Wisconsin. A gentler and extremely pleasant hike is the Geneva Lake Shore Path, a 21-mile walking trail that crosses many of the state's classiest country estates (allow at least a full day if you're planning to walk the entire route).
Official site: www.iceagetrail.org
13. Winter Activities in Northwest Wisconsin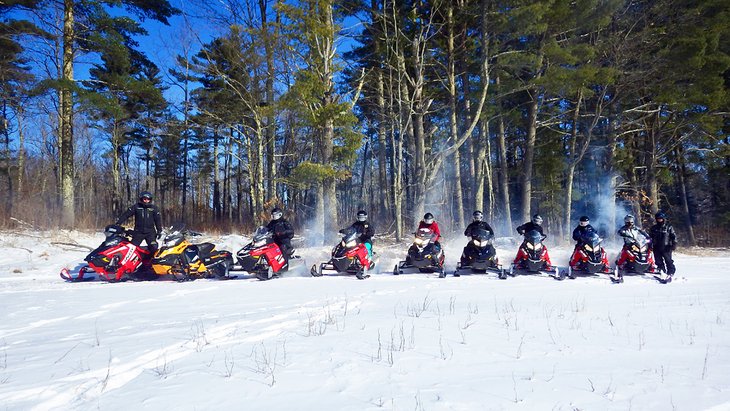 For the outdoor winter enthusiast there are few places that offer the variety and access of cold weather sports then the Northwest region of Wisconsin. The Northwoods (comprised of Langdale, Lincoln, Forest, Vilas, and Oneida counties) and the towns of Cable and Hayward, among others in the region, make for an interconnected outdoor winter playground.
It is easy to rent equipment from local outfitters and enjoy cross-country skiing, snowshoeing, and fat-tire biking. There are more than 200 miles of cross-country skiing trails and 80 miles of fat-tire biking trails just in the Hayward/Cable region. There are more than 600 miles of snowmobile trails in the area and hundreds of miles more that connect the many small towns in the Northwoods.
You could make a full vacation just traveling from town to town by snowmobile and staying in a different area each night. What makes the northwest region spectacular for outdoor winter sports it that there are trails for every skill level, and it is easy to find guides, equipment, and instruction.
Trails are always maintained in the winter. The town of Hayward has the largest fleet of snow- and trail-grooming equipment in the United States.
14. Cheesehead Factory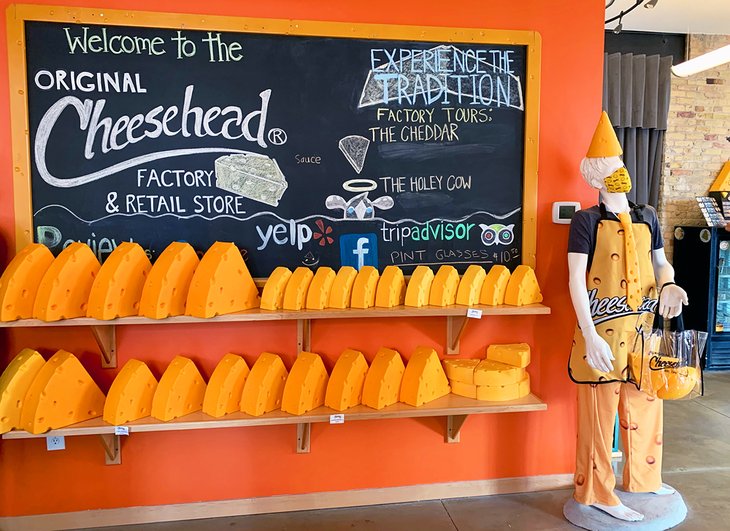 Wisconsin is synonymous with cheese, and Wisconsin sports fans are synonymous with the famous Cheesehead. The term is a nickname referring to fans of the Green Bay Packers NFL team, and it has developed its own cult following. Cheeseheads are easily identified by the oversized foam cheese slice that is worn as a hat.
You do not have to be a Cheesehead to enjoy a visit to the original Cheesehead Factory in Milwaukee. The factory and store are located inside a warehouse and have everything related to the Cheesehead brand, along with history about its humble beginnings.
The Cheesehead store features products like ornaments and foam cheese earrings, as well as clothing bearing the brand's name. You can even take your own foam cheese hat or head to a Packer's game and feel like a local.
Address: 1120 S. Barclay Street, Milwaukee, Wisconsin
15. The House on the Rock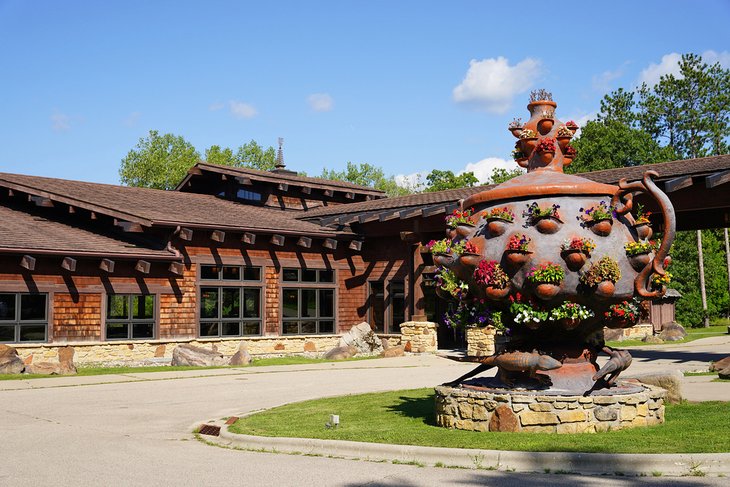 The curious House on the Rock is one of Wisconsin's most unusual tourist attractions. Set high atop Deer Shelter Rock in Spring Green, it's a fascinating mix of oddities and antiques housed in a sprawling complex of structures built to mimic the work of Frank Lloyd Wright, whose famous Taliesin East home is nearby.
A highlight of a visit is the 218-foot-long Infinity Room, which seems to disappear into the distance when you stand in it. This fun attraction is also part of a larger complex that includes a resort and an inn.
Address: 5754 State Road 23, Spring Green, Wisconsin
Official site: www.thehouseontherock.com