19 Top-Rated Attractions & Things to Do in Wisconsin Dells
We may earn a commission from affiliate links ()
Wisconsin Dells, in central Wisconsin, is a destination that ignites your inner child. With the largest concentration of water parks in the world and an abundance of theaters and museums, your vacation can center on as much water or land as you like. If you prefer a little of both, take a trip on the famous Original Wisconsin Ducks Tours, which provides one of the most iconic experiences of the area on board an amphibious vehicle.
The region, which includes Lake Delton, is collectively known as the Dells, and it is one of the best places to visit in Wisconsin, especially for families. You can easily find tourist activities, like ziplining, skiing, and live entertainment, but it is difficult not to notice the natural sandstone bluffs, wildlife, and canyons that surround you.
One of the most notable areas, while difficult to get to on foot, is the Dells of the Wisconsin River State Natural Area. Views of some of the sandstone skyscrapers can be seen from the Wisconsin Dells River Walk, but the best way to observe the State Natural Area is on a sightseeing tour along the Wisconsin River.
There are other ways to experience the natural side of the Wisconsin Dells, with wildlife viewing opportunities at attractions like the Wisconsin Deer Park; a hike through the Dell Creek State Wildlife Area; or the conservation refuge of the International Crane Foundation, where you can observe all 15 species of cranes in the world.
The other attractions and sightseeing excursions here are easily accessible, which means you can start your day on waterslides and end it watching the sunset in a canyon. For more ideas, see our list of the top things to do in Wisconsin Dells.
1. Original Wisconsin Ducks Tour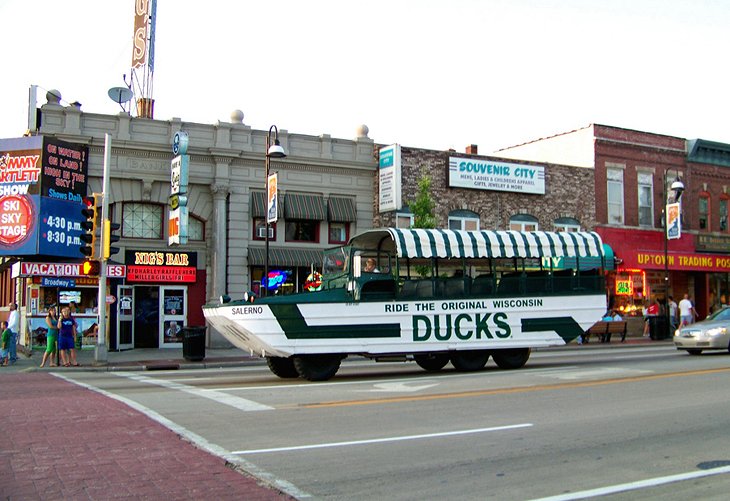 One of the top things to do in Wisconsin Dells is taking a tour with the Original Wisconsin Ducks. Splash into the Wisconsin River and Lake Delton for part of your excursion in the water, then enjoy a drive through four miles of wilderness without ever leaving the vehicle. This is an iconic attraction in Wisconsin Dells and it's also a unique way to see the city.
2. Noah's Ark Waterpark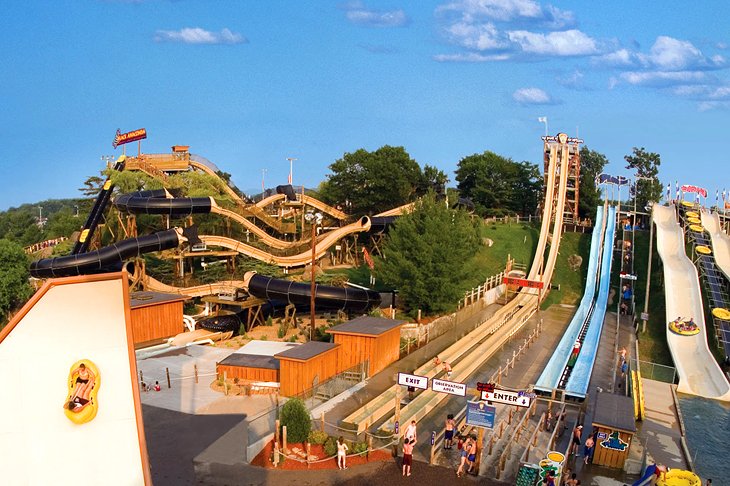 You will have to start the day early or plan for several days at the Noah's Ark Water Park. It is America's largest water park, with more than 70 acres of water rides, entertainment, and activities. The park caters to all ages and has four separate children's play areas.
Some of the popular features and rides include the two rivers; two large wave pools; and tube rides like the Bermuda Triangle, Dark Voyage, and Time Warp that spins you inside of a giant bowl while in the raft. There are several group rides, which are fun for families, and dry activities like an arcade and 4-D theater.
3. Wisconsin Deer Park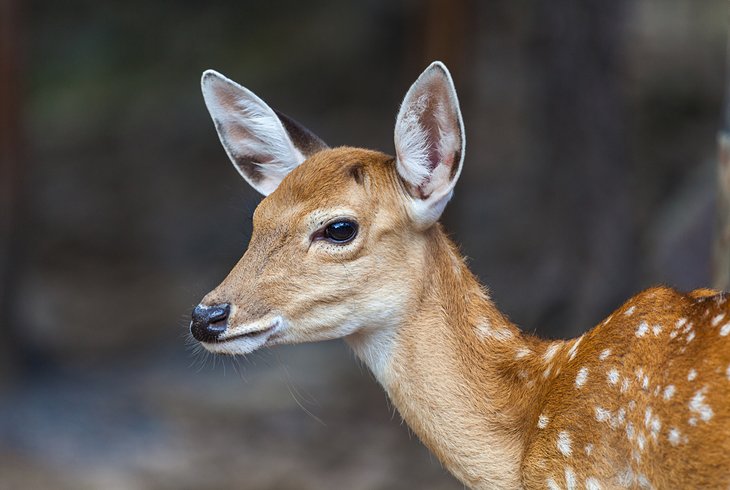 As one of the original attractions in the Wisconsin Dells area, the Wisconsin Deer Park is still a family favorite after more than 50 years. This interactive park is one of the best places to visit in Wisconsin Dells, with more than 40 acres of wooded trails and feeding areas.
The most recognized resident of the park is the white-tailed deer, a common species in Wisconsin and the upper Midwest. As you stroll through the park, be sure to take in some of the other exhibits that have bison, Japanese sika deer, and elk.
4. Rick Wilcox Magic Theater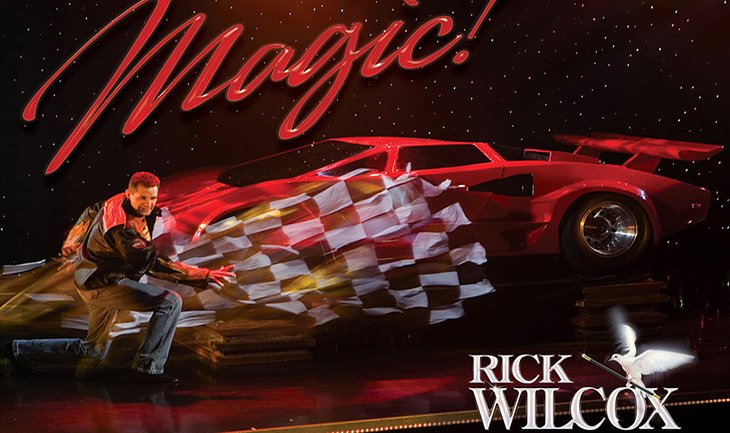 The Wisconsin Dells has no shortage of indoor theater attractions, but one of the most popular is the Rick Wilcox Magic Theater. The grand illusion show is a combination of magic, live entertainment, and comedy all in one 90-minute performance.
5. Christmas Mountain Village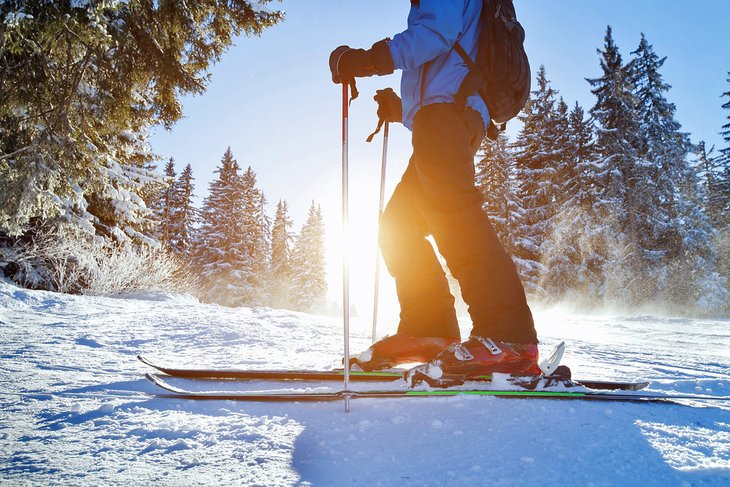 For some winter outdoor activities in Wisconsin Dells, the Christmas Mountain Village offers a wide range of snow sports. The resort has 16 ski slopes that are designated as beginner, intermediate, and advanced, as well as cross-country ski trails and snow tubing. Christmas Mountain Village also offers backcountry skiing for experienced skiers.
Christmas Mountain Village is a full-service resort that you can visit year-round. There is a 27-hole championship golf course, outdoor activities like paddling, and several indoor and outdoor pools. Dining is available on-site with a restaurant and market.
6. Wilderness Resort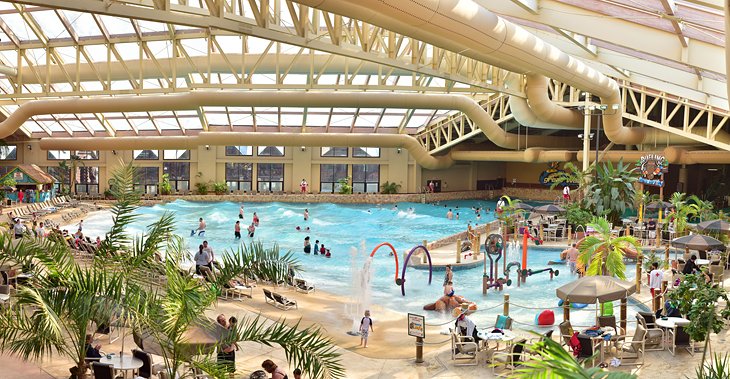 The Wilderness Resort in Wisconsin Dells is a sprawling resort with four indoor and four outdoor water parks. The Klondike Kavern Indoor Waterpark has a lazy river, body slides, and a popular dumping bucket for kids of all ages.
One of the most impressive areas of the resort is at the Wild WaterDome. It is a 70,000 square-foot indoor water park with the country's largest wave pool, featuring five-foot waves and a dome skylight that covers the entire facility. There are two other indoor water parks: the Wild West, with thrill rides, and Cubby's Cove, which has a sports pool with basketball hoops.
There are four outdoor water parks to choose from, including New Frontier, Lake Wilderness, Lost World with adventure water rides, and Cubby's Outdoor. If you can't decide between indoor or outdoor, you can try a little of both at the indoor/outdoor hot spa.
7. The Palace Theater in the Dells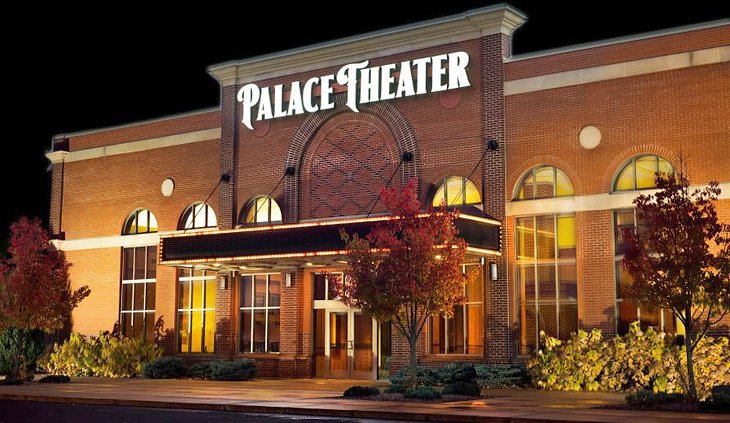 If you are spending time in Wisconsin Dells, you should plan at least one evening out at The Palace Theater in the Dells. You can enjoy dinner and a show or just attend a performance.
8. International Crane Foundation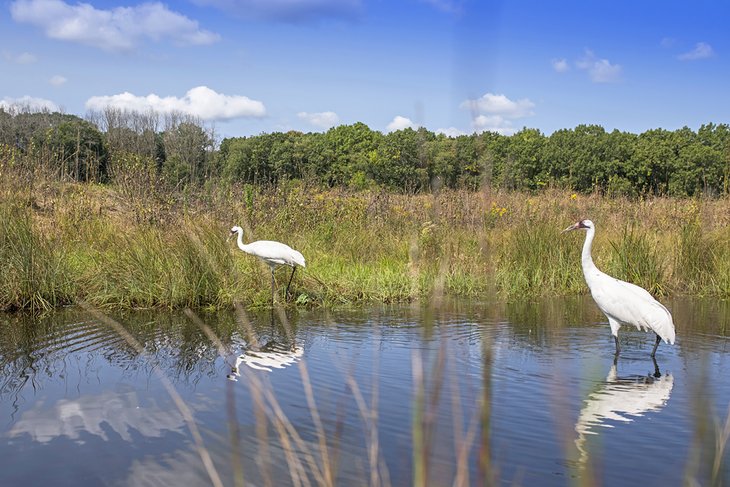 Just 10 minutes from Wisconsin Dells in Baraboo is the International Crane Foundation, which is a fantastic and educational place to visit on your trip. This is the only place in the world where you can view all 15 species of cranes, including the endangered grey crowned crane, Siberian crane and whooping crane.
9. H.H. Bennett Studio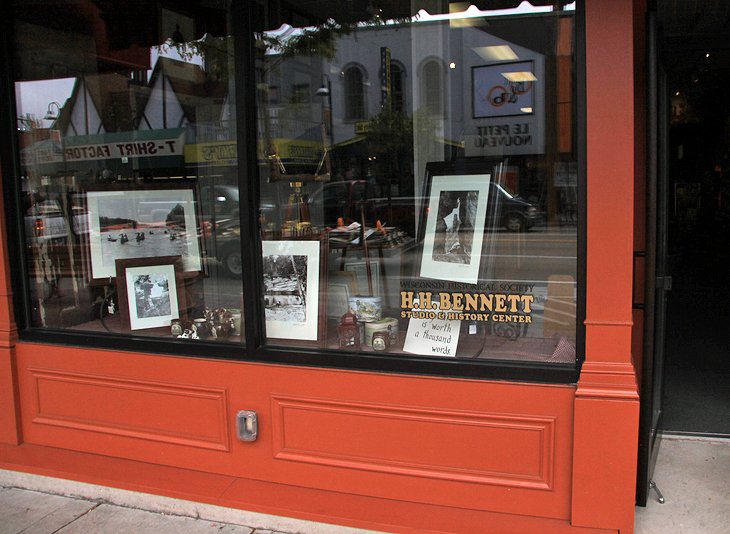 While there are a number of museums to explore in Wisconsin Dells, one of the most interesting is the H.H. Bennett Studio, which is also the oldest operating business in the area. H.H. Bennett is considered one of the best landscape photographers of the 19th century. The photography studio opened in 1875 and is considered to be the oldest operating studio of its kind in the United States.
10. Bigfoot Zipline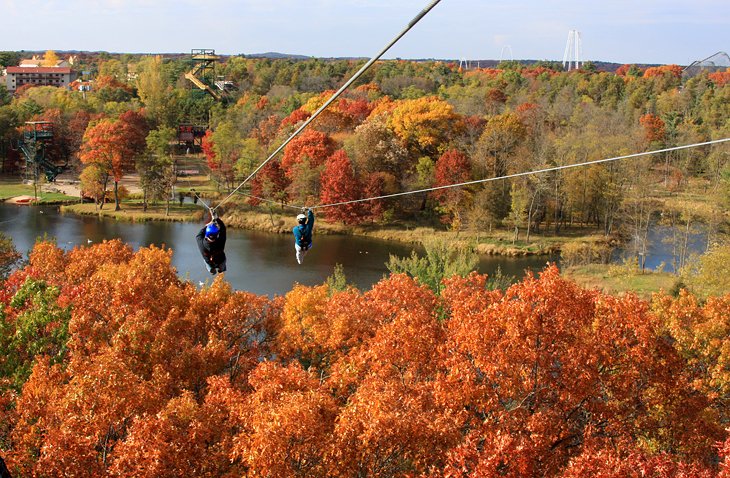 If you are looking for an aerial view of the Dells, a zipline adventure is a fantastic option and one of the best places to visit for adrenaline seekers. Bigfoot Zipline Tours is one of the top outdoor adventure attractions in Wisconsin Dells. Tours generally last 2.5 hours and take you through seven ziplines that soar above trees and lakes.
11. Dell Creek State Wildlife Area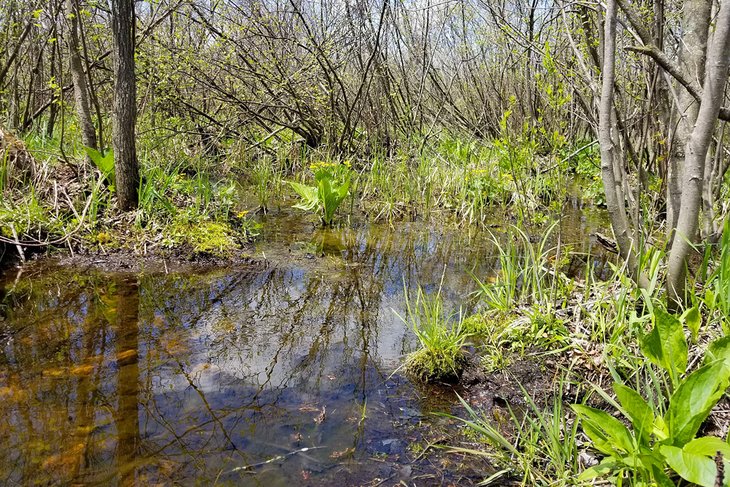 There are so many attractions along the Wisconsin Dells Parkway that it is nice to get away from the lights and sounds for a half or full day and visit the Dell Creek State Wildlife Area to see the more natural side of Wisconsin.
12. Kalahari Resorts and Conventions

Wisconsin's largest indoor water park, Kalahari is one-stop shopping when it comes to lodging and things to do. The 125,000-square-foot water park and indoor theme park will keep you busy for several days. Popular rides in the park include the lazy river raft ride; Flowrider, where you can surf waves; the wave pool; and the winding Zig Zag Zebra waterslide.
Since the water park is indoors, you can visit year-round. Try booking a private indoor cabana, so you can sit back and watch the kids. They come with a flat-screen TV, refrigerator, and chaise lounge.
13. River Walk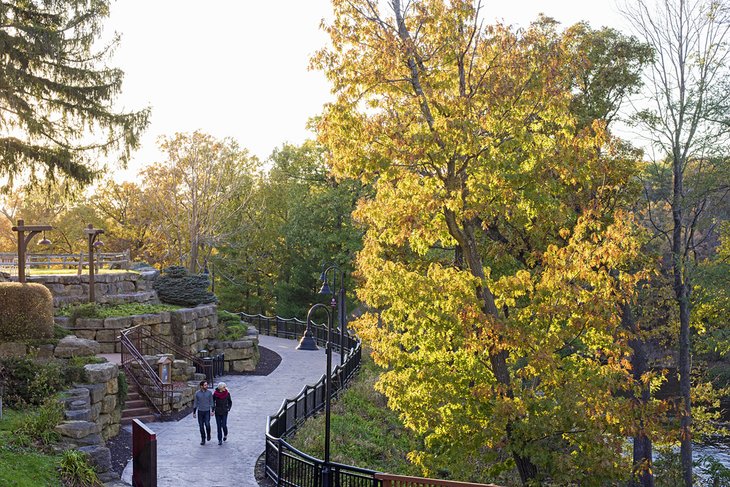 A scenic stroll along the Wisconsin Dells River Walk is a memorable experience. The sandstone bluffs that mark this area have not always been accessible to visitors, but the quarter-mile paved River Walk gives you the most scenic views by foot of the Wisconsin River.
14. Lost Canyon Tours

You can explore the deepest canyon in Wisconsin by horse and carriage during a Lost Canyon Tour. The mile-long path that cuts through cliff-walled gorges gives you private access to one of the most scenic areas in the state. Your tour through the narrow passages by carriage is a unique experience.
15. Mt. Olympus Water and Theme Park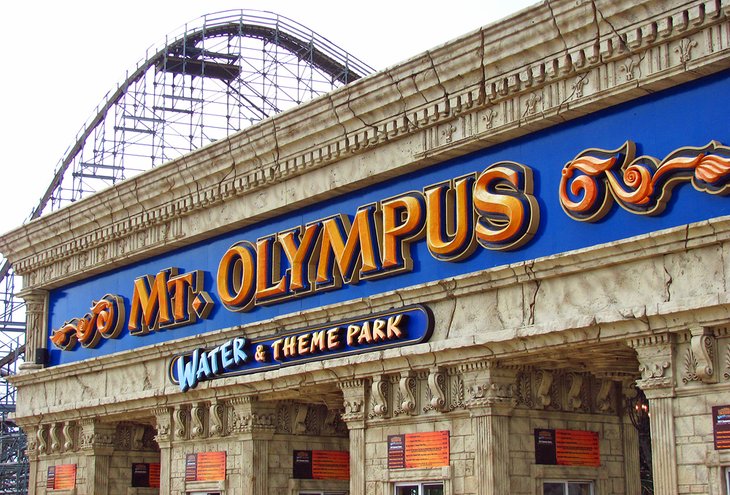 With so many water parks to choose from in Wisconsin Dells, it is tough to narrow it down, but Mt. Olympus Water & Theme Park is one of the most popular. There are both indoor and outdoor water parks and theme parks. The indoor water park has slides, a lazy river, and whirlpools. The outdoor water park has a wave pool; large-scale waterslides; and the Lost City of Atlantis, which has six-stories of water adventures in one location.
16. Ripley's Believe It or Not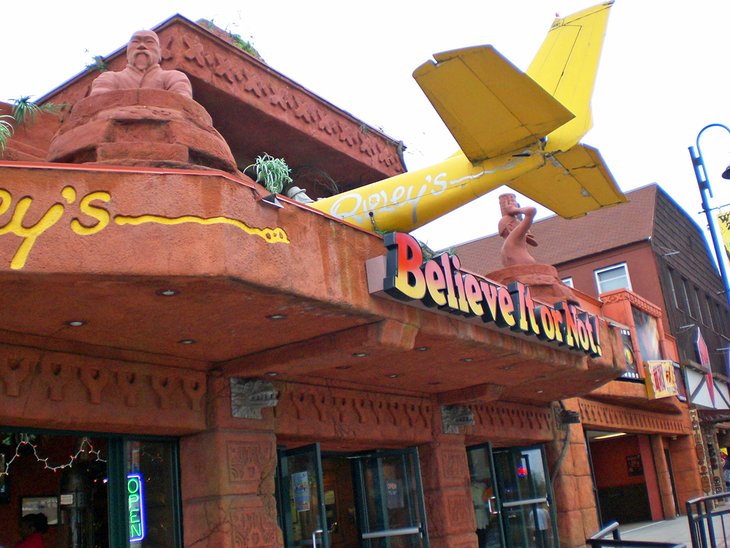 The Ripley's Believe It or Not in Wisconsin Dells is a fun adventure for all ages given the collection of odd and unusual items in the museum. With three floors of galleries to explore, you will need to plan several hours to get through it.
17. Timbavati Wildlife Park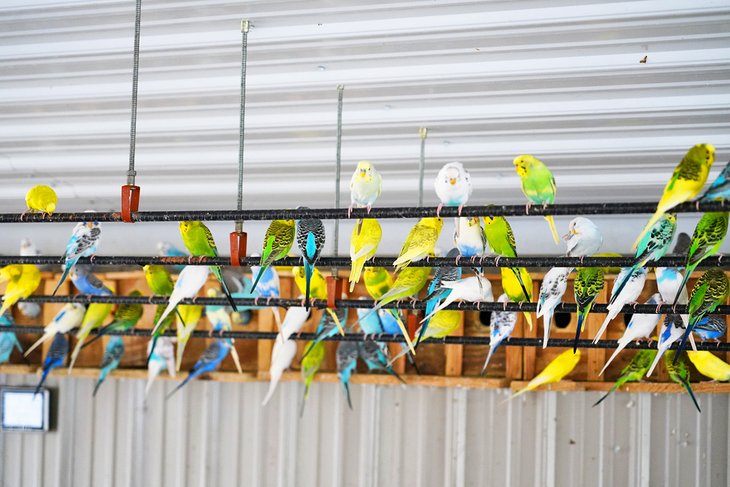 The Timbavati Wildlife Park is a family-friendly animal park in Wisconsin Dells and can be a nice break from the water parks. The facility has more than 70 species of animals from around the world. Visit the Grasslands Area to see zebras, giraffes, and antelope. The Woodlands Area has kangaroos, tortoises, and emus.
18. Tommy Bartlett Exploratory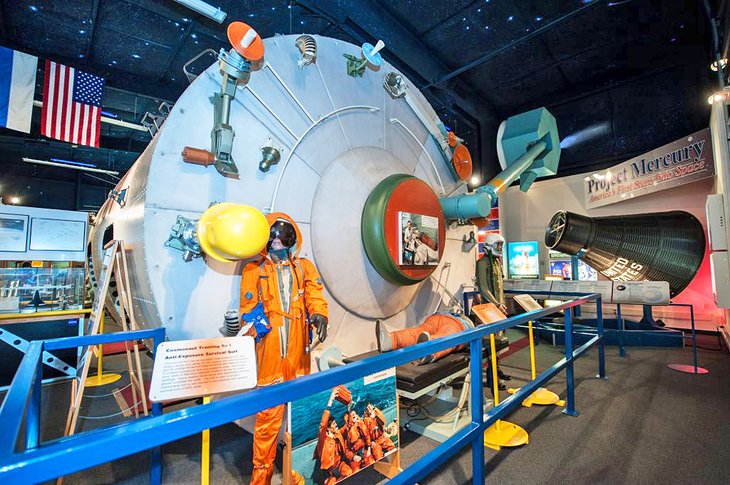 The interactive family attraction Tommy Bartlett Exploratory is an easy way to burn off some energy for a few hours and engage in science adventures. The center has hands-on exhibits that explore the limits of technology, space, and science through experiments.
Get a glimpse of a Mercury Space Capsule, or try your strength at lifting a 5,000-pound vehicle off the ground with the Giant Lever.
19. Wizard Quest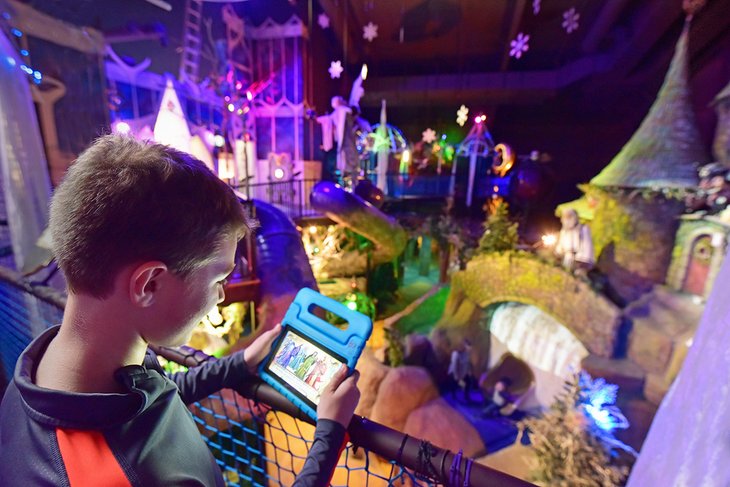 Where to Stay for Sightseeing in Wisconsin Dells
More Related Articles on PlanetWare.com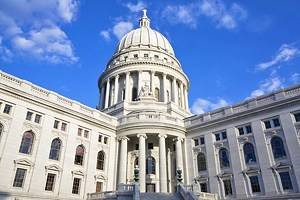 Exploring Madison: If you are spending time in Wisconsin, you may want to schedule a few more days and explore Madison, only 42 miles away. There are museums and attractions around the state capital, as well as hiking trails in and around the city. Madison has many hotels in the downtown area, where you can stay in the heart of the action. For families on a budget, there are also a number of cheap hotels in Madison.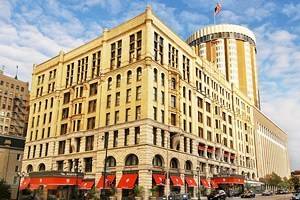 Exploring Milwaukee: If you are up for a longer drive, Milwaukee is about two hours away from Wisconsin Dells and worth the additional time. The Mitchell Park Conservatory and Discovery World are fun attractions for families and kids, and Milwaukee's best hotels put you right near the action.