13 Top-Rated Things to Do in Door County, WI
It is easy to get lost in Door County, where lighthouses, harbors, and historic villages invite you to kick back and explore more than 300 miles of shoreline and 19 unique communities in the Wisconsin peninsula. It is one of the best places to visit in Wisconsin for its waterfront access along the peninsula and its pure natural beauty, from limestone cliffs to caves.
Nestled between the bluffs of Green Bay to the west and the sand dunes of Lake Michigan to the east, Door County has no shortage of things to do, and no two visits are the same.
In the summer, Door county is a water sports destination, where boating, kayaking, fishing, and shipwreck diving is commonplace. The frozen paradise of winter brings its own reasons to visit. You can cross-country ski, try ice fishing in the bay, or ride an ice-breaker ferry to Washington Island.
If you're looking for year-round activities, you can always enjoy the 66-mile Door County Scenic Byway, which runs through the communities around the peninsula. No matter when you plan your visit, your stay is not complete without an authentic Door County fish boil.
The peacefulness of Door County makes it ideal for romantic Wisconsin getaways or a laid-back family vacation focused on small local businesses and the outdoor environment. Since all the communities are connected, it is easy to stay at one of the many Door County resorts and make day trips up and down the peninsula for activities.
For sightseeing ideas, read our list of the top attractions and things to do in Door County, Wisconsin.
1. Relax by the Beach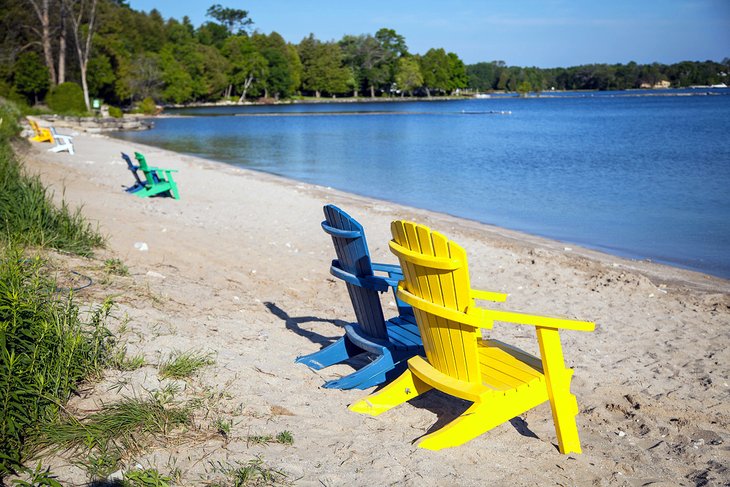 Door County is home to 53 beaches, so it is easy to spend a vacation experiencing the unique flavor of several during one stay. The Door County peninsula has some of the best beaches in Wisconsin. Watch kite boarders at Anclam Park in Baileys Harbor as you soak up the summer sun or take a stroll on the boardwalk at Ellison Bay Bluff Park to observe some of the state's protected natural areas.
One of the best picnic beaches in the area is at Waterfront Park in Sister Bay, which is home to the largest public beach in Door County. If you plan on spending many days at the beach, you may want to stay in one of the hotels in Sister Bay to make access easier.
For a unique beach visit, take a ferry to Washington Island, where you can rent a moped to get to Schoolhouse Beach, with its unusual pebble shoreline. The perfectly smooth limestone rocks on the beach are illegal to take, but memorable to see in person.
2. Explore Maritime Roots at the Door County Maritime Museum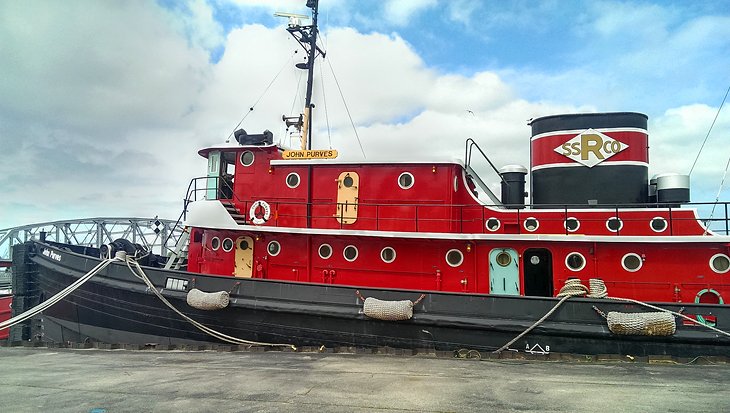 A visit to Door County is not complete without a stop at the Maritime Museum in Sturgeon Bay. This tourist attraction pays homage to the region's rich maritime history, spotlighting the life and influence of local fishermen, ship captains, and lighthouse keepers.
The galleries in the museum include the Baumgartner Gallery, with 30 model ships, and the Horton Gallery, which shows how lighthouses work, and an interactive exhibit that puts you behind the wheel of a 1907 steamship.
Outside the museum, you can step on board a 149-foot tugboat, the John Purves, with a guided tour and full access to see how these boats operate. While the museum is open year-round, access to the tugboat is seasonal.
Try to spend some time at the Jim Press Maritime Tower, which has 10 floors of exhibits and experiences related to Door County's maritime history. This is also a great place to view the working waterfront of Sturgeon Bay.
After your visit, stop by the nearby Door County Coffee & Tea Company for a gourmet cup of coffee and specialty pastry. Since Sturgeon Bay is a gateway to the Door County peninsula and one of the best small towns in Wisconsin, it is a nice place to stay as you get acclimated to the area and plot your routes.
Address: 120 N. Madison Avenue, Sturgeon Bay, Wisconsin
Official site: http://www.dcmm.org/
3. Kayaking and Stand Up Paddleboarding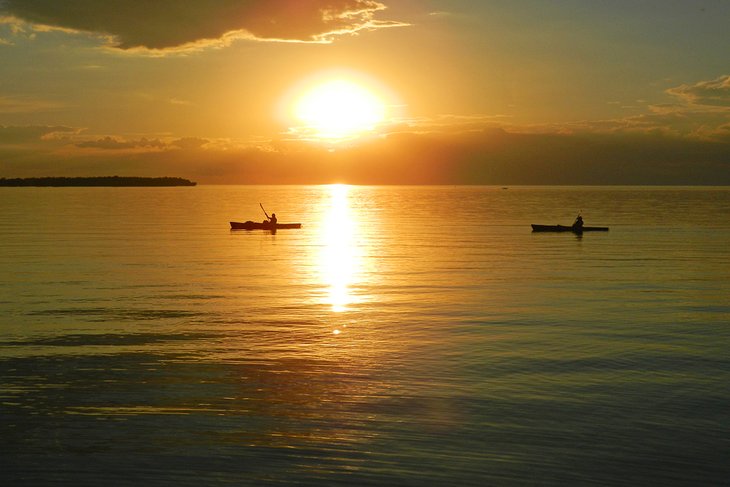 Outdoor enthusiasts enjoy Door County for kayaking and stand up paddleboarding, which often takes place in the same areas. The biodiversity that you will find in the county's five inland lakes and 300 miles of shoreline is unmatched.
Some of the best kayaking in Door County takes place near the sea caves at Cave Point County Park. Since the Lake Michigan waters in this area can go from calm to chaotic very quickly, it is best to hire a local guide to aid in your navigation.
In the summer, you can jump from the cliffs into the Devil's Bathtub at Cave Point Park and plunge into the deep pool of water below.
Kayaking in the open water of Green Bay is another top experience in Door County, where you can see shipwrecks in the clear water below you. There are plenty of outfitters throughout the county that offer guided tours and rent kayaks and stand up paddleboard equipment.
4. Hike Waterfront Trails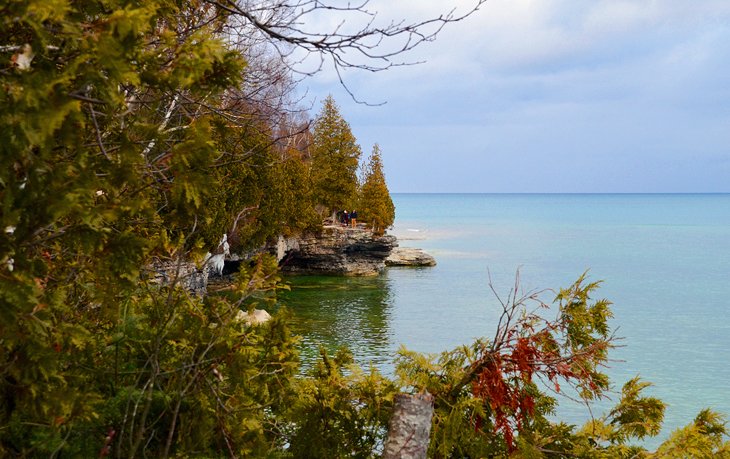 Door County has a stunning natural landscape, and it is no surprise that hiking is one of the top things to do in the area. With five state parks and 19 unique county parks, hiking trails are always nearby regardless of where you stay.
Hike along the Ahnapee Trail to access untouched natural beauty, or make your way to Ephraim, which forms the eastern border of the 3,700-acre Peninsula State Park, where you can explore trails for several days. The county parks are some of the best places to visit for hiking since they are mildly underdeveloped, giving you the most authentic perspective of this naturally diverse part of Wisconsin.
The most popular county park is Cave Point, with cliffs protruding out over picturesque sea caves. Follow the hiking path along the sea and occasionally step out on the cliffside to look at the changing view along the way.
5. Cast a Fishing Line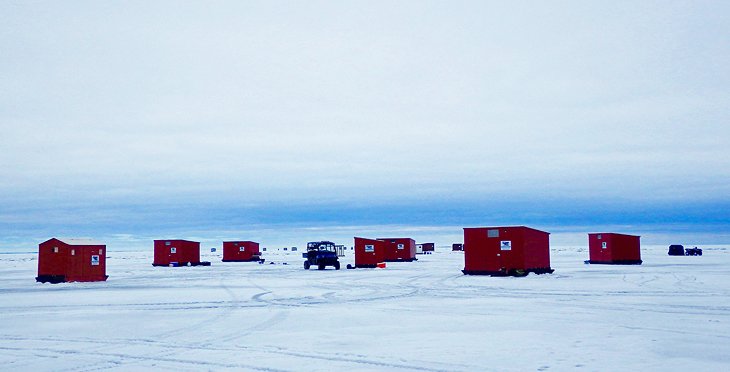 Fishing in Door County is a year-round endeavor since it is surrounded by water. The kind of fishing that you can do and the kinds of species that you can catch change by the season.
In the warmer months, you can enjoy fishing for smallmouth bass, salmon, walleye, and various species of trout. You will find nearly 50 charter boats for deep-water fishing that leave from the peninsula.
In the winter, you can go ice fishing from a shanty on Green Bay as you target whitefish. The buggy trip to the shanty for two-miles across the vast frozen lake is a journey all its own. The waiting shanty is warm and comfortable enough to spend the day catching dinner, and a few restaurants can cook your catch. It is wise to call ahead before your visit to check ice conditions.
Since the Door County peninsula is surrounded by water, it is fairly easy to find fishing guides in every community. There are many small family-owned lodges and cabins that specifically cater to anglers who are coming to the area and need either basic accommodations or require lodging that can support multiple anglers traveling together.
6. Ride the Door County Trolley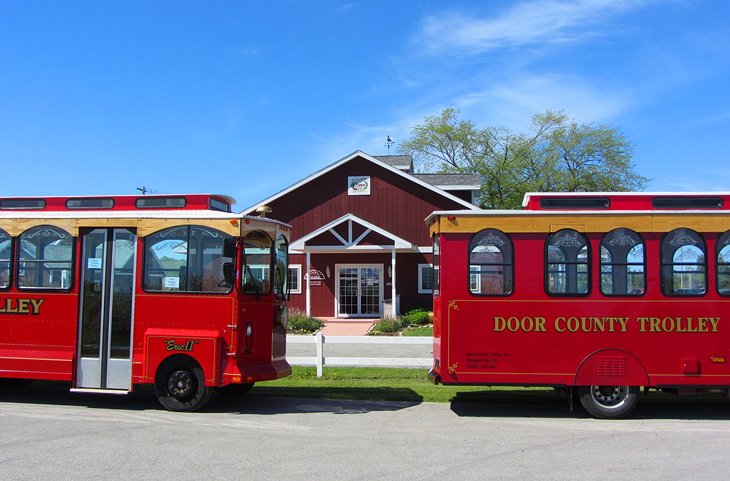 One of the best ways to make your way around Door County communities is with the Door County Trolley, which has its depot in Egg Harbor. Hop on board one of the 15 themed trolley tours for an engaging way to experience the area based on your interests.
Popular tours include the Lighthouse Tour, Ghost Tour, Culinary Tour, and the Spring Blossom Tour when cherry blossoms are blooming in the orchards. The trolley has a long history in the area and can provide a fun introduction to spots you may want to revisit on your own to spend more time.
Address: 8030 WI-42, Egg Harbor, Wisconsin
Official site: http://www.doorcountytrolley.com/
7. Bike the Scenic Backroads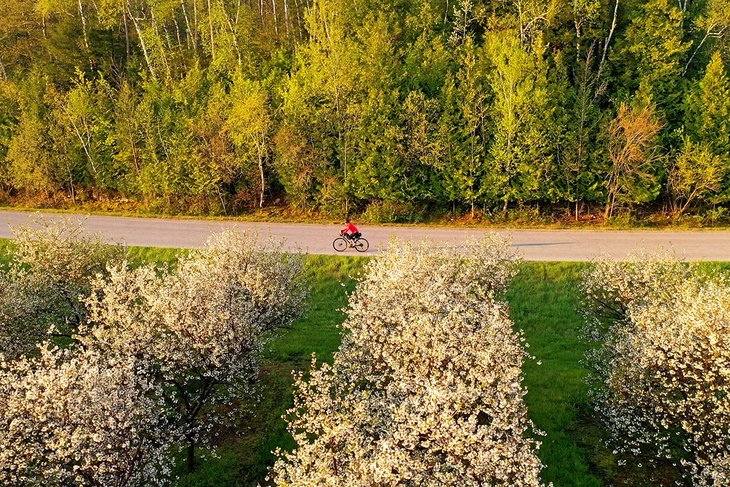 Biking is one of the top things to do in Door County because there are plenty of opportunities for both road biking and trail biking. Backcountry roads that run throughout the peninsula are popular. Many of these roads follow the waterways, making for a scenic ride.
Door County is known for major organized road biking events throughout the year that attract serious riders to the region. If wooded trails are more your style, you will find designated biking trails in the state and county parks in every community.
There are several designated bike trails in Door County. One of the easiest to access and use is Sunset Bike Path in Peninsula State Park. You will get a great ride and be able to stop at many scenic overlooks in the park.
The Ahnapee State Trail, which starts in Sturgeon Bay, is a long path that was built on top of an old railroad track and extends 48 miles to Luxemburg. Another nice bike path is Hotz Trail, a three-mile loop, in Newport State Park.
8. Play a Round of Golf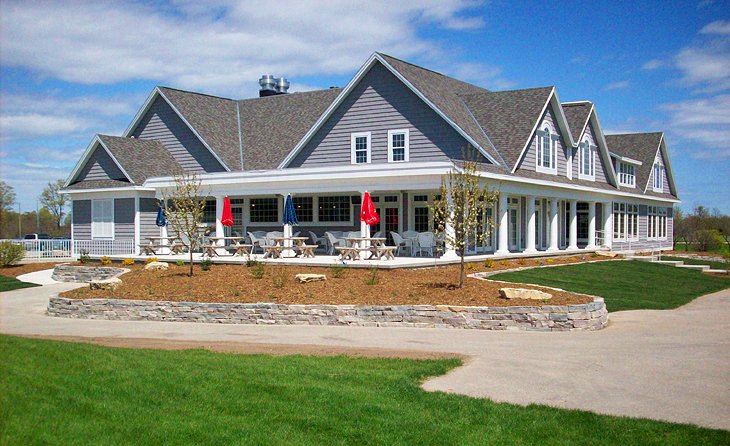 Hit the links with views of the water, the woods, or cherry orchards in Door County. There are 11 golf courses throughout the county, with varying degrees of difficulty.
Besides the breathtaking natural scenery that changes throughout the year, golfers can enjoy hitting a different course every day because there are so many in close proximity.
Test your skills on the bent grass course at The Orchards Golf Course in Egg Harbor or set up a morning tee time at the most scenic golf course in the heart of Peninsula State Park. Some golf courses stay open throughout the year, even on winter weekends.
9. Go Camping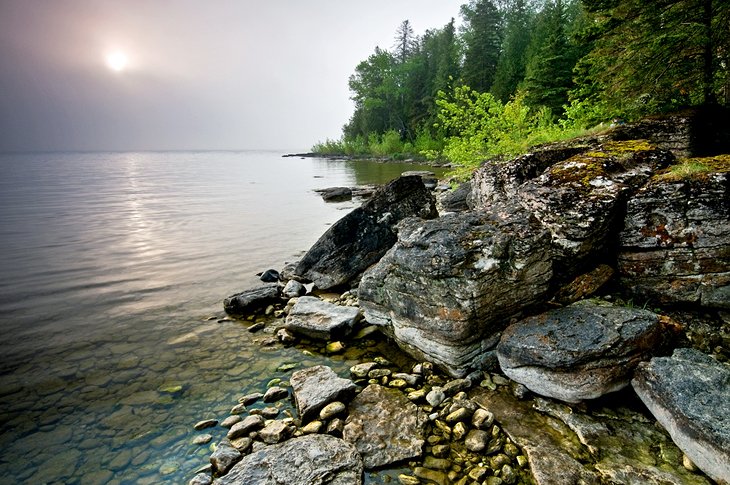 If you are looking for the best kind of outdoor getaway Door County has to offer, set up camp in one of the many public or private campgrounds in the region. Whether you want to enjoy lakefront views or the quiet countryside, you'll find options for every interest.
Four state parks in Door County have campsites, including Peninsula State Park (with five campgrounds), one of the most popular in the region. There are many private campgrounds available and one in almost every Door County community.
One of the most unique and most remote camping experiences is at Rock Island State Park, home of the oldest lighthouse in Wisconsin. It requires two boat rides to get here. No cars are on the island, so hiking is a must.
10. Enjoy Horseback Riding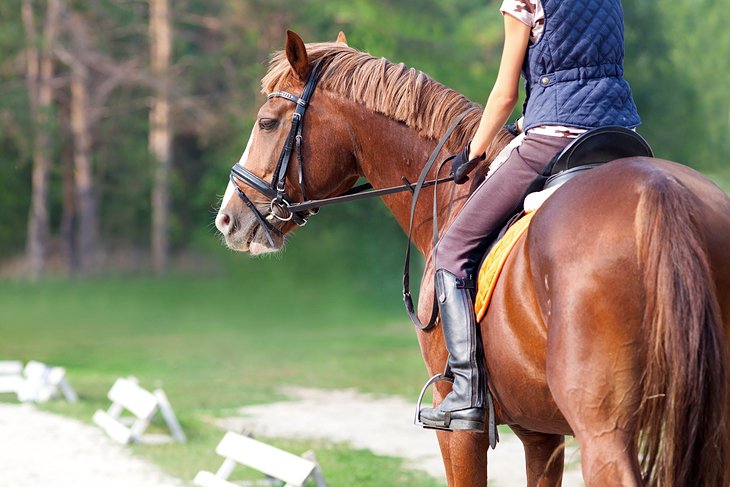 Horseback riding in Door County is one of the most breathtaking ways to enjoy the pristine woods and serenity of the Wisconsin peninsula. Kurtz Corral in Sturgeon Bay has been in the area for more than 50 years and offers year-round trail riding on 500 acres.
If you are a casual equestrian, you will enjoy the relaxed guided rides along wooded trails, and trips are also available for advanced riders. You can find several riding stables in Door County that offer lessons and excursions, even in the winter months. The Kurtz Corral is one stable that offers trail rides year-round and has been operating in Door County since 1960.
11. Shipwreck Diving
Door County is just as exciting below the water as it is above due to the many shipwrecks here for divers and snorkelers to explore. There are 240 identified shipwrecks in Door County waters. The wrecks available to explore by diving range from 60 to more than 100 feet deep, and some can be viewed with snorkeling gear.
Boats are available to take you diving in deeper waters, but those dives will require more substantial equipment and experience to explore the shipwrecks. If you are not quite ready for diving, you can also see some of the shipwrecks by kayaking or taking a boat trip.
The Wisconsin Historical Society has a Maritime Trails program that offers thorough information on the locations of shipwrecks and what you will find near them.
12. Pick Produce in Local Orchards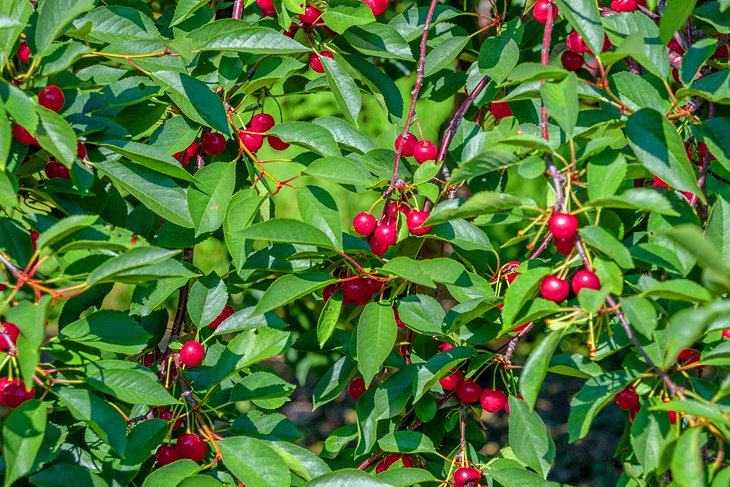 Nowhere will you find a concentration of orchards like Door County. With more than 2,500 acres of cherry orchards across the county and 500 acres of apple orchards, you have no shortage of farms to visit. The orchards are an important part of Door County history, dating back to the 1800s, so visiting one during your stay is a must-experience.
Whether you stop by one of the farms or markets to buy fresh produce, or spend an afternoon picking your own cherries, it is one of the best ways to indulge in this unique feature of the county.
Wrap up a day in the orchard at the White Gull Inn restaurant in Fish Creek for a traditional Door County fish boil followed by a delicious slice of homemade cherry pie with fresh, tart local cherries.
13. Walk in Fragrant Lavender Fields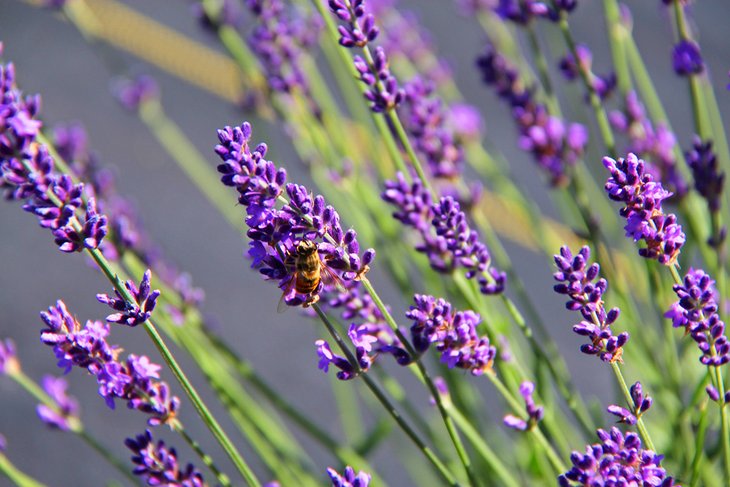 The scent of fresh lavender is so relaxing, so imagine being surrounded by more than 30,000 plants in bloom. The Fragrant Isle Lavender Farm on Washington Island in Door County is a special experience, especially during the peak blooms in July and August.
The Fragrant Isle Lavender Farm is the largest lavender grower in the Midwest operating a single site. You can walk through the rows of lavender fields and talk to the growers about the processes involved in maintaining the fields and extracting the pure lavender for soaps, oils, and other products.
The gift shop located in the center of the farm has lavender products for the home and personal use. There is outdoor seating and a demonstration gazebo, as well as a café, where you can pick up a sandwich, croissant, or fresh-made lavender treat.
Address: 1350 Airport Road, Washington Island, Wisconsin
Official site: https://fragrantisle.com
Map of Things to Do in Door County, WI
More Related Articles on PlanetWare.com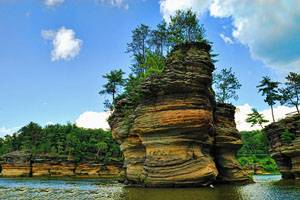 Exploring Wisconsin: Door County is one of the most unique regions in Wisconsin to visit, but there are a few others worth noting. The Northwoods in Wisconsin is a remote area that is ideal for romantic getaways, visiting some of the top fishing lakes in the state, and for quiet cottage vacations.
The Northwoods region is one of the best winter vacations in the U.S. with activities like fat tire biking, cross-county skiing, and ice fishing.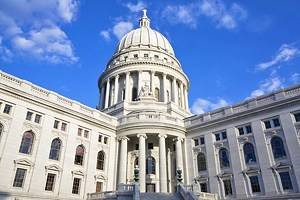 Exploring Madison: Another great area to experience is around the state capital of Madison. The city is walkable, so you can stay in one of the downtown hotels and explore the nice neighborhoods and attractions there, or make day trips to other parts of the state. There are many outdoor activities in the city, including biking and walking trails around the lakefront. There are also a number of hiking trails near Madison that you can do for day activities outdoors.