A Visitor's Guide to Exploring Downtown Madison, WI
The locals in Madison like to brag that they come from one of the happiest cities in the United States, so it is no surprise that visitors to the capital city find that same joy. Perhaps it is because Madison is nestled between two lakes so there is a constant breeze of fresh air. Or maybe that enlightenment comes from the hundreds of miles of biking and hiking trails around the city, or the fact that most everything downtown is within walking distance.
Downtown Madison is a central hub for business and government but it is a playful city that caters to the little moments in between: enjoying a sunset on a lakeside bench, a first taste of Wisconsin cheese curds, or the nostalgic vibe of a college campus. Madison has a little bit of it all.
Where is Madison, Wisconsin?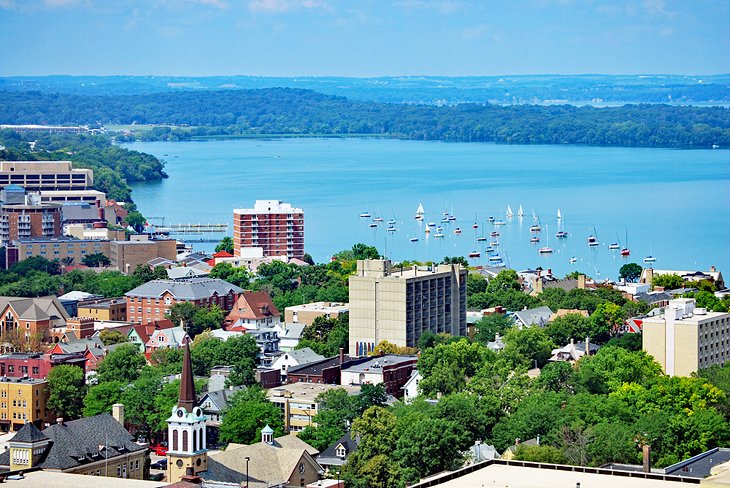 Madison is the capital city of Wisconsin, located in the center of the state. The downtown area sits between Lake Mendota and Lake Monona, with five lakes in the Madison vicinity and several preserved natural areas around it.
It is a city that takes the balance of business and pleasure seriously as you will notice from the moment you arrive. Getting to Madison is easy by air into the Dane County Regional Airport, or by bus from Milwaukee or Chicago.
Things to Do in Downtown Madison
The best way to explore downtown Madison is to start at the Wisconsin State Capitol Building and work your way out from here. The State Capitol sits in the center block of downtown with a 284-foot-high dome that is stunning when it is lit up at night. The Wisconsin State Capitol Building features one of the largest domes in the world.
You can take a free guided sightseeing tour of the building to see the detailed marble interior and get a close-up look at the various ethnic influences on the painted murals and the breathtaking skylight. One of the best views in Madison is from the capitol building's observation deck, where you can capture a 360-degree view of downtown.
Make your way to the 150-year-old University of Wisconsin-Madison campus to see the elaborate 1,260-acre complex and research institution. There is a visitor center that can provide maps and tour information of the campus.
A must-see on campus is the University of Wisconsin Arboretum. It houses the most diverse ecological collection in the world, comprised of wetlands, tall grass prairies, forests, savannas, and a renowned collection of lilacs.
Another highlight at the university is the Allen Centennial Gardens. It is used as a living classroom for students in the horticulture program but it is free and open to the public. See examples of gardens from around the world including Japanese, Italian, English Cottage, French, Italian, and even a rock garden display. The university also has the Madison Geology Museum, with exhibits on fossils and minerals, that is worth a visit.
Spend some time on the waterfronts of Lake Monona and Lake Mendota, where you can take a bike ride, walk the paths, or just sit in the parks to watch the water activities. Rent a kayak or stand up paddleboard and spend a morning on one of the lakes to get a different view of the city. Some of the best views of the lakes are from the Memorial Union Terrace or from the lakefront parks of Olbrich Park and Olin Park.
One of the best things to experience during your time in downtown Madison is the famous Dane County Farmers' Market, which covers Capitol Square every Saturday. It is the largest farmers market in America, with producer-only vendors. There are more than 300 vendors selling locally produced cheeses, flowers, meats, and vegetables, and the market has been a weekend tradition in the city since 1972.
The Monona Terrace community and convention center is a fun place to visit even if you don't have official business in Madison. The Monona Terrace is a Frank Lloyd Wright inspiration that has a rooftop terrace with the best views of downtown and Lake Monona. You can take a guided tour of the building to learn about its history, or just stop by on your own to enjoy the sunset from the open-air terrace.
Getting around Downtown Madison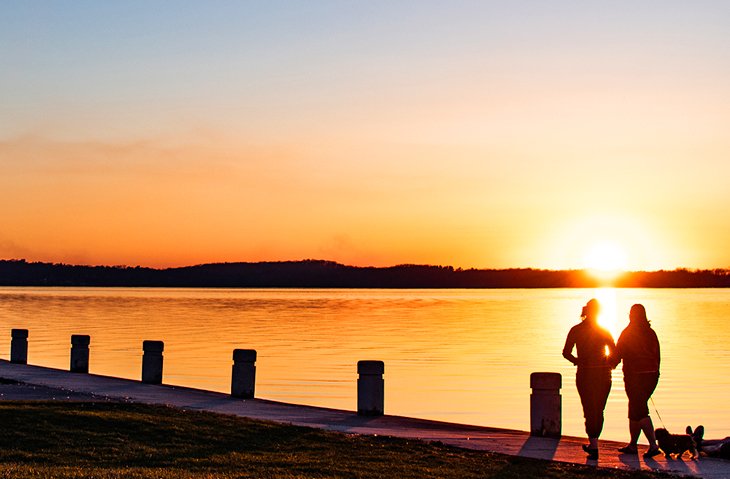 As the bike capital of the Midwest, you are likely to see more bikes than cars in Madison. There are more than 200 miles of scenic biking and hiking trails around the city, and for many locals it is a lifestyle. As a visitor, it is easy for you to enjoy cycling around the city on your own.
You can pick up a B-cycle at one of the bike-sharing stations in downtown Madison and take an afternoon bike ride along the lake. Madison is a bike-friendly city, so you might want to ride around on two wheels and get a sense of the area with a preview of the tourist attractions that you can go back to on your own to visit later.
Madison B-cycle is a Wisconsin-based company that has 350 Trek bikes available throughout downtown. B-cycle is the first full e-bike fleet in the country, and Madison caters to bicyclists throughout the city.
Walking is one of the best ways to get around Madison. Most downtown attractions are within one to two miles. In addition to the walking trails around the lakes, local neighborhoods have parks and walking paths of varying lengths. When you get tired of walking, you can catch the bus and take the Madison Metro Transit around town.
Art & Culture in Downtown Madison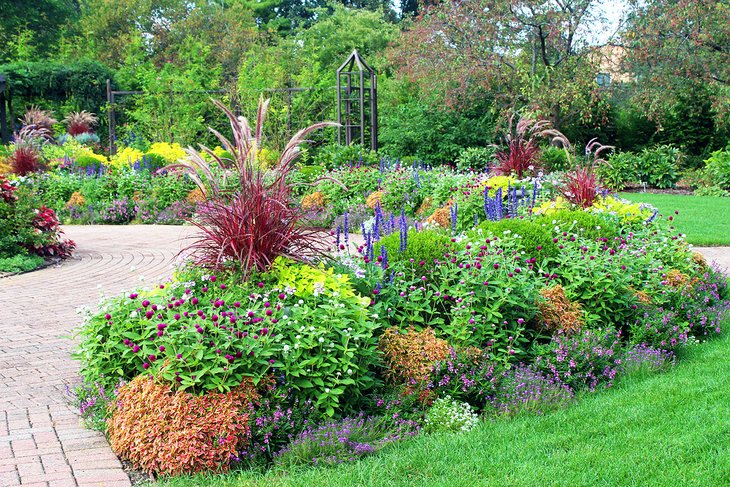 Madison has a range of arts and culture attractions, but one of the best ways to learn about the city is just walking the downtown area and taking in the unique architecture, music, and food that tell quite a bit of Madison's cultural story.
Take a guided tour of the Chazen Museum of Art that features sculptures, paintings, photographs, and drawings from around the world in its collection. There is always a featured traveling exhibit and music programs that are open to the public. Admission is free. You can make an arts day in Madison and also visit the Madison Museum of Contemporary Art.
The three-story Cesar Pelli-designed glass building is impressive even from the street. The free exhibits and programs focus on modern art and often feature up-and-coming artists. Make your way through the four galleries as you head to the sculpture garden on the rooftop.
History buffs can enjoy several museums in downtown Madison. The Wisconsin Veterans Museum has a collection of exhibits that highlight military service from the Civil War to the present day.
There are vintage vehicles and aircraft in the free museum and engaging displays. For those interested in the history of the state, the Wisconsin Historical Museum has a nice collection covering the European and Native American settlements in Wisconsin and the modern-day influences on society.
An evening out in Madison might include a performance at the Overture Center for the Arts, which attracts a variety of acts from opera and dance to musicals.
One of Madison's top attractions is Olbrich Botanical Gardens. The gardens opened in 1952 as a rose collection and conservatory and have evolved into a grand botanical garden that is free for the public to visit. There is a new learning center on-site to expand family and educational programs offered at Olbrich Botanical Gardens and new greenhouses to visit.
Families traveling to Madison will enjoy the Madison Children's Museum. Plan several hours to play in the interactive exhibits displayed on several floors of the museum. Kids can engage in an art studio or learn about sustainability in the outdoor Urb Garden or explore the Wonderground space, which is a 10,000-square-foot outdoor play space recently added to the museum. There are always special events and programs happening.
A fun, free venue to visit in Madison is the University of Wisconsin-Madison Arboretum. The arboretum's 1,200 acres of gardens, woodlands, wetlands, and eco-habitats are open year-round. You can walk around on your own, or schedule a guided tour. There are 20 miles of trails around the arboretum that can be used for biking, hiking, and skiing or snowshoeing in the winter.
Entertainment in Downtown Madison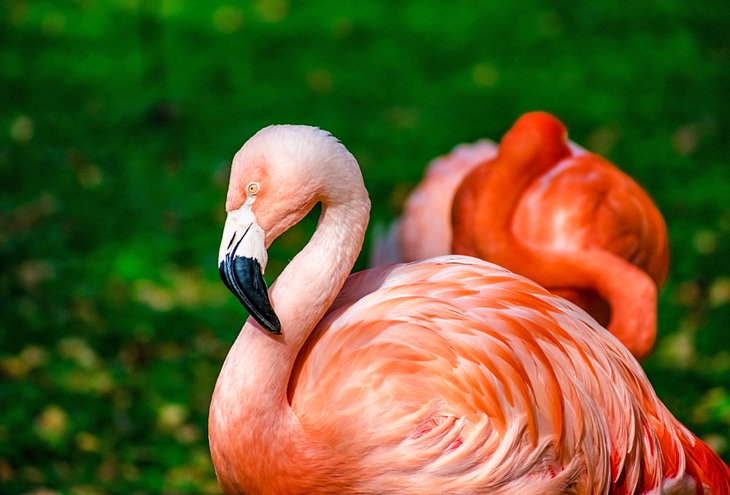 For relaxing entertainment in Madison head to the Memorial Union Terrace. Yes, it is technically a student hangout at the University of Wisconsin-Madison but it is open to the public and one of the most laid-back ways to enjoy the local scene. Have a bite to eat while you look out over Lake Mendota and enjoy live local music.
Summer is a great time to visit Madison, when you can enjoy nearly endless outdoor music options. From Concerts on the Square to opera in the park, Madison has a full slate of outdoor music concerts that are a fun way to enjoy the lakefront backdrop.
The Henry Vilas Zoo is one of the top attractions in the city and it is free. In fact, it is one of the only zoos in the country with free admission. There are hundreds of animals and exhibits representative of the Arctic, desert, and African regions, among others. Indoor exhibits like the Herpetarium and Primate Building are nice back-ups on rainy days. There is a fun zoo train and carousel open during the summer.
Sports fans will love the live game opportunities in Madison, including some you probably did not know existed. Become a temporary University of Wisconsin Badgers football fan when you take in a home game at Camp Randall Stadium or a basketball game at the Kohl Center. Soccer fans can catch a game with the Forward Madison FC professional team at Breese Stevens Field close to the Wisconsin State Capitol.
Some of the lesser-known sporting events around Madison are exciting to check out if you are in town, including the Madison Mallards collegiate baseball team, Madison Capitols amateur hockey team, and the Madison Radicals professional disc-league team.
Shopping in Downtown Madison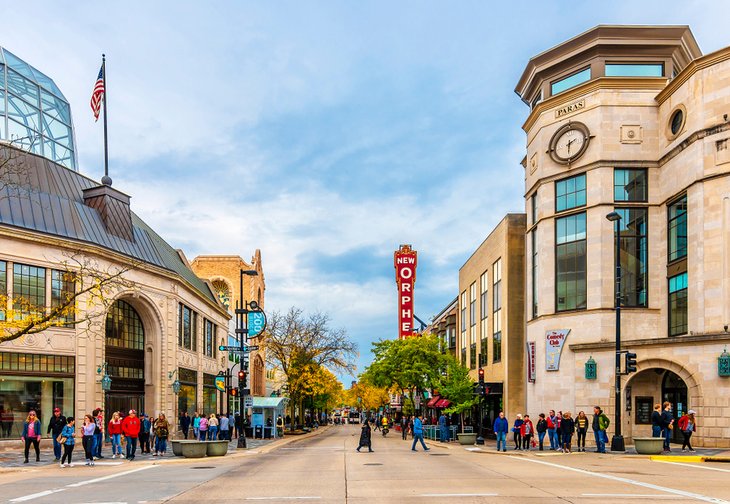 Nothing beats the State Street pedestrian mall for shopping in Madison. There are more than 135 shops selling unique items, from specialty women's clothing to chocolate, crafts, artwork, and jewelry.
A few other specialty stores in the downtown area that are fun to visit are Fromagination, an artisan cheese store, and A Room of One's Own, an independent bookstore that has been a Madison staple since 1975. There are more traditional shopping options in town at the East Towne Mall, Hilldale Shopping Center, and nearby Greenway Station Shopping Center in Middleton.
Getting Outdoors and Active in Madison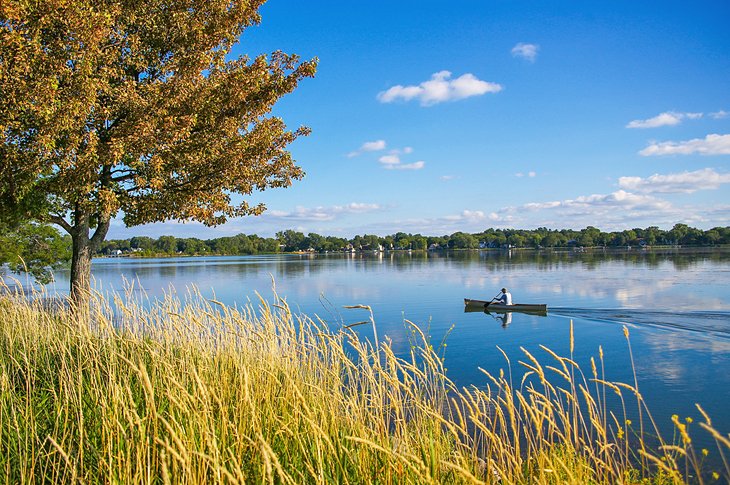 Getting active outside is easy in Madison with several lakes, parks, and bike paths available. With hundreds of miles of bike trails and more than 260 parks and beaches in Madison, you can tackle every outdoor activity, from swimming, windsurfing, and ice fishing on the lakes to golf, hiking, and snowshoeing in the public green spaces.
Walk or bike the Lake Monona Loop, which goes for 13.8 miles or the Lakeshore Path along Lake Mendota, which connects the sections of the Lakeshore Nature Preserve. The Lakeshore Nature Preserve is also a popular birding location.
More than 255 bird species have been identified in that location. There is even a birding checklist available to identify species, and it highlights the best time of year to see migrating species and waterfowl.
Madison has several public beaches to enjoy in the middle of the urban neighborhoods that are generally open from June through September. Lake Monona has Olbrich Beach and three beach parks; Lake Mendota has Tenney Beach, Warner Beach, and several beach parks; Lake Wingra has Henry Vilas Beach; and Lake Waubesa has Goodland County Park Beach. The beaches have sandy areas for relaxing and are recreational sanctuaries for a day of swimming or enjoying water sports.
You will notice that biking and hiking are popular past-times in Madison for both residents and visitors. There are more than 200 miles of trails to choose from depending on your time schedule. The Capital City Trail is a paved trail that is nice for biking or walking, and it takes you to several areas, including the picturesque Capital Springs State Recreation Area. The Sugar River State Trail and Badger State Trail are also convenient walkways to consider.
There are a number of private and public golf and disc golf courses around Madison, so you do not have to go far to hit the links. One of the most accessible public courses is the University Ridge Golf Course, which is where the UW-Madison teams practice.
There are four other city courses: Glenway Golf Course, Odana Hills, Monona Golf Course, and Yahara Hills. There are disc golf courses at many of the Madison parks, but two of the most popular and largest are at Elver Park and Heistand Park.
Dining in Downtown Madison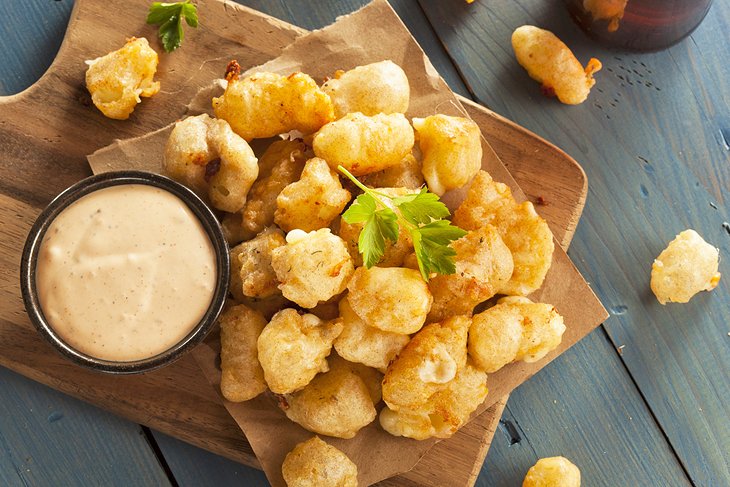 It is almost a rite of passage in Madison to try the cheese curds that Wisconsin is so famous for. You can find them on the appetizer list at almost any restaurant. For an added food excursion during your trip to Madison take the Madison Eats Food Tours, which take you around Capitol Square to sample traditional Wisconsin dishes. You can also take one of the Bike n' Bites food tours with a guided B-Cycle tour that takes you to five culinary locations.
If you are looking for something quirky to do, you will want to consider taking a 10-minute drive to Middleton to the National Mustard Museum, which has more than 5,300 types of mustards, classic mustard memorabilia, and plenty of samples.
You will notice that many of the Madison restaurants feature farm-to-table and organic ingredients. For a taste of Wisconsin try Graze, which uses ingredients from local farmers to create globally inspired dishes. L'Etoile is another local favorite, serving customers for more than 40 years using locally sourced ingredients for its seasonal menus.
If you are looking for comfort food in Madison, you will enjoy selecting from more than 30 types of tacos at Tex Tubb's Taco Palace or indulging in the blue-plate specials at Monty's Blue Plate Diner, which is a favorite place to visit for locals. They also have an extensive vegetarian menu. The casual A Pig in a Fur Coat is another favorite serving Mediterranean comfort food and bringing the flavors and mood of Italy, Spain, and France to Madison.
Al fresco dining in Madison is a relaxing way to enjoy a meal and the downtown view, so many restaurants have patio and rooftop tables. For lunch or coffee, the outdoor tables at Everly were some of the first in the city. For dinner, try Buck & Honey's Restaurant Monona, which has outdoor dining space along the Yahara River.
More Related Articles on PlanetWare.com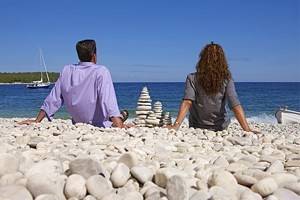 Wisconsin Getaways: Wisconsin is an exciting state to explore beyond just the capital city of Madison. If you are looking for romantic getaways or top resorts that offer multiple experiences during your stay, there are quite a few options around the state. Outdoor getaways can center on Wisconsin beaches, fishing, or exploring the hiking and kayaking in Door County.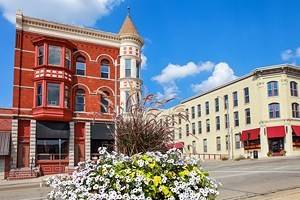 Wisconsin Cities and Small Towns: If you are up for a little bit of adventure and do not have to stick to a tight itinerary, you might want to visit some of the small towns that give Wisconsin so much character, from the cherry orchards to the mom-and-pop restaurants. If you would rather stick to the bigger cities, some of the best getaway options are in Green Bay, the Wisconsin Dells, and Milwaukee.