15 Top-Rated Romantic Getaways in Wisconsin
Author Anietra Hamper has traveled throughout Wisconsin researching some of the best spots and experiences for romantic getaways.
The natural backdrop of Wisconsin is perfect for romantic getaways, whether you're looking for quiet cabin seclusion in the Northwoods or active urban excitement on the waterfront. The state has plenty of things to do, from hiking, biking, and beaches to professional sports.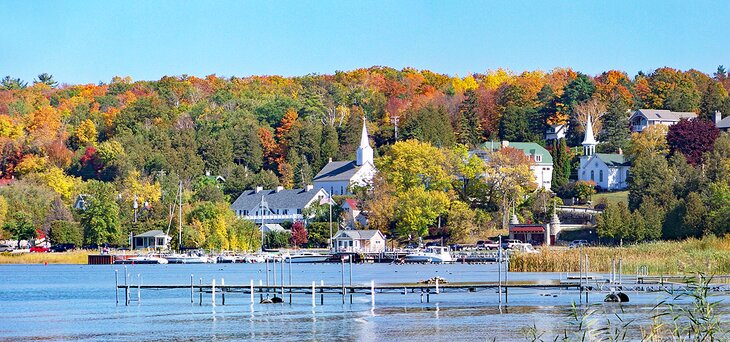 Summer romantic getaways mean you can experience the dramatic Wisconsin sunsets on a cabin porch surrounded by natural beauty. Winters in remote regions like the Northwoods mean the ability to take advantage of Mother Nature's playground for one of the best winter vacations in the United States. Each of Wisconsin's regions is unique and because the state experiences four distinct seasons, you get flexibility on how you want to create the ideal romantic weekend.
For ideas, see our list of the top romantic getaways in Wisconsin.
1. Door County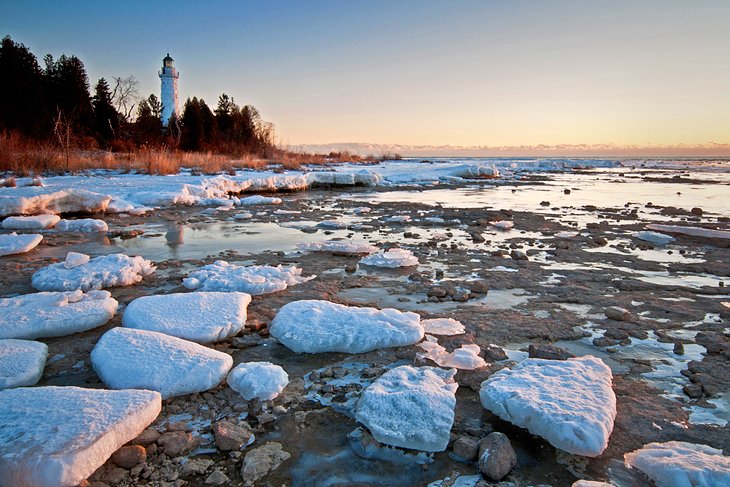 Couples who love the outdoors as much as they do each other can enjoy the best of both in Door County in Wisconsin's eastern peninsula. With 300 miles of shoreline, historic lighthouses, quaint eateries, and beautiful scenery, a romantic itinerary is easy to make.
Choose from outdoor activities like kayaking, scuba diving, hiking, and paddleboarding in nearly any community you choose, since water and parks surround the county. Spend an afternoon picking cherries in the summer at one of the area's orchards or picnic at one of 19 county parks, each with its own unique appeal.
Wind down your evenings at a traditional supper club, like the Sister Bay Bowl family-owned historic restaurant, or enjoy upscale dining at the Whistling Swan Inn. Be sure to work in at least one traditional Door County Fish Boil during your stay.
No matter where you stay in Door County's 13 communities along the peninsula, it is easy to get from one to another and will make for fun drives as you explore the unique and simplistic vibe of each one. Plan at least one day of your getaway to take the ferry from the tip of the Door County peninsula to Washington Island.
Here, you can rent bikes to get around to experience a working lavender farm in the summer (which smells so tranquil in full bloom) and have a picnic lunch at Schoolhouse Beach, which is notable for its pebbles instead of sand.
While Door County is spectacular in the summer, it is also a great destination for a romantic winter getaway. Take advantage of the snowy outdoor playground on the peninsula with activities like cross-country skiing, fat tire biking, and quiet winter hikes. It is a perfect couples getaway, especially when you can hunker down in the evening by a fire at a local resort or bed and breakfast.
Accommodation: Top-Rated Resorts in Door County
2. Road Trip on Wisconsin's Scenic Byways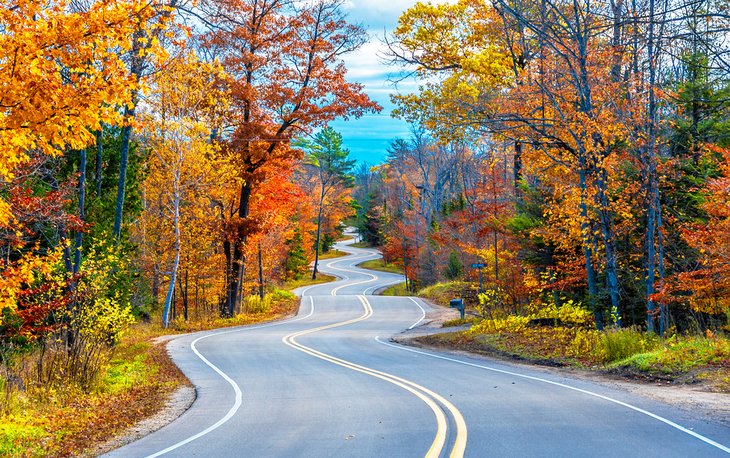 Hit the road for a romantic getaway by following one of Wisconsin's five scenic byways, and stay at bed-and-breakfasts along the way. The Great River Road National Scenic Byway, which runs along the western border of Wisconsin, is part of a multi-state byway that begins in Minnesota and ends in New Orleans, Louisiana.
The drive along this road is romantic because it takes you through many small towns and villages where you can stop along the way. Wisconsin Lake Superior Scenic Byway is in the northern part of the state. The Lower Wisconsin River Road runs 100 miles along Highway 60, and the Door County Coastal Byway is 66 scenic miles along the peninsula.
The newest scenic byway in the state is the Nicolet-Wolf River Scenic Byway, which is a 145-mile route that twists and turns through some of the most natural landscapes in northern Wisconsin including Vilas, Oneida, Langlade, and Forest counties. The byway goes through the Chequamegon-Nicolet National Forest, where along the way, you will find small family-owned restaurants, stunning vistas and overlooks, and some of the best fall foliage in the state.
During your drives, be sure to plan extra time to stop and enjoy some famous Wisconsin cheese curds that are served at almost every restaurant and eatery in the state.
3. Madison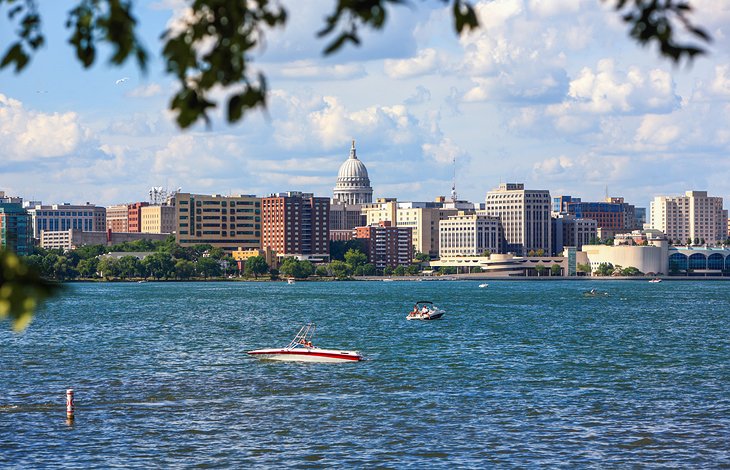 The state capital of Madison gets high marks for romance, with plenty of tourist attractions and things to do year-round. Madison is an easily walkable city, and bike rentals are available on most streets. No building is taller than the Wisconsin State Capitol building, so you always have a point of reference as you wander.
A great couples retreat is at The Edgewater, where you can plan a day at the spa, including a couple's massage and a romantic dinner at The Statehouse restaurant on-site. There are a number of great hiking trails near Madison if you want to spend some time outdoors.
You can also take advantage of lakefront activities just outside your door, like kayaking and stand up paddleboarding on any of the five connected lakes in the Yahara Lakes Chain.
If you enjoy architecture, take a Frank Lloyd Wright Tour. Madison has many farm-to-table restaurants, so you can plan a romantic foodie weekend with delicious meals at places like Marigold Kitchen for brunch.
4. Cedarburg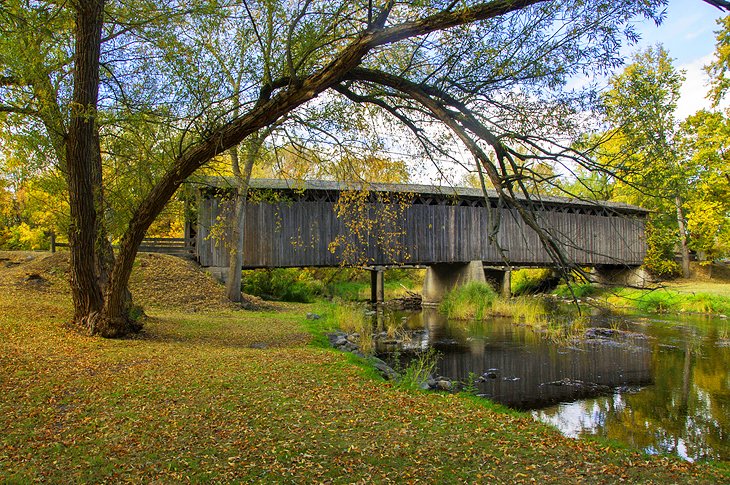 One the most charming small towns in Wisconsin is Cedarburg. This quaint historic town is flush with scenic landscapes, decorative details, and brick buildings that date back to the 1800s. Stroll down Washington Avenue for a dose of nostalgia as you browse antique shops, historic inns, and art galleries.
Stop for scenic photos at the Cedarburg Grist Mill or on the Cedarburg Bridge, which is one of the only remaining covered bridges in Wisconsin. Satisfy your culinary curiosity at PJ Piper Pancake House or share a jumbo apple (that serves 8-10 people) at Amy's Gourmet Apples.
You can catch an evening performance at the Cedarburg Performing Arts Center and settle in for quiet time together at The Stagecoach Inn Bed and Breakfast, a restored historic stagecoach hotel from 1853.
Since it is only 20 minutes north of Milwaukee, you can make a day trip to the big city and return to small-town USA in the evening.
5. Green Bay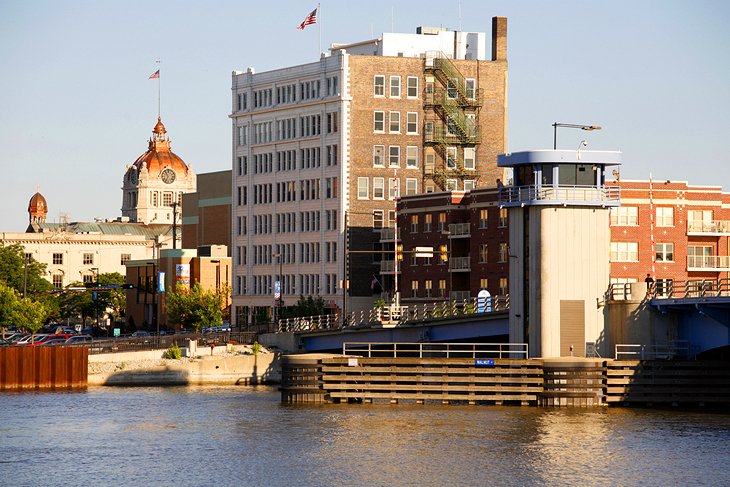 If you are looking for an active romantic getaway, the city of Green Bay has non-stop action. It is Wisconsin's oldest community and one of the most recognizable cities in the state as the home of the NFL's Green Bay Packers. Spend a day together with a Packers theme at Lambeau Field. Take in a Packers game or take a behind-the-scenes tour to learn about the rich history of the stadium and the team.
On the ground floor of the Lambeau Field Atrium stop by the Green Bay Packers Hall of Fame, which showcases 15,000 square feet of memorabilia and history. Spend a day exploring the museums and entertainment in Green Bay like the Neville Public Museum, Automobile Gallery, or Green Bay Botanical Garden. Be sure to leave time during your stay for a day to satisfy your inner child at the Bay Beach Amusement Park.
If you want a luxury local experience, you can stay at the Lodge Kohler, which has romantic suites and a great view of the downtown stadium.
6. Milwaukee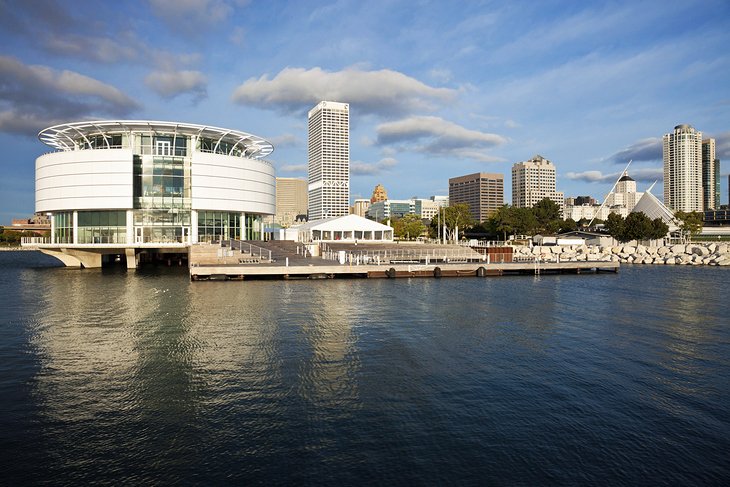 A big-city romantic getaway awaits in Milwaukee, Wisconsin's largest city. During the day, take in the art scene with a visit to the Milwaukee Art Museum - the architecture outside is as interesting as the masterpieces inside. You can easily pack in several museum visits by including Discovery World and the Harley-Davidson Museum.
In the evening, enjoy romantic dinners at some of Milwaukee's farm-to-table eateries and wind down with a romantic stroll along the two-mile RiverWalk that buzzes with waterfront nightlife. Since Milwaukee is known as the city of festivals, be sure to see what is taking place during your visit.
If you are looking to explore more than one city in Wisconsin during your getaway, you can make day trips from Milwaukee to places like Racine which has nautical, historical, and artistic attractions.
7. Bayfield and the Apostle Islands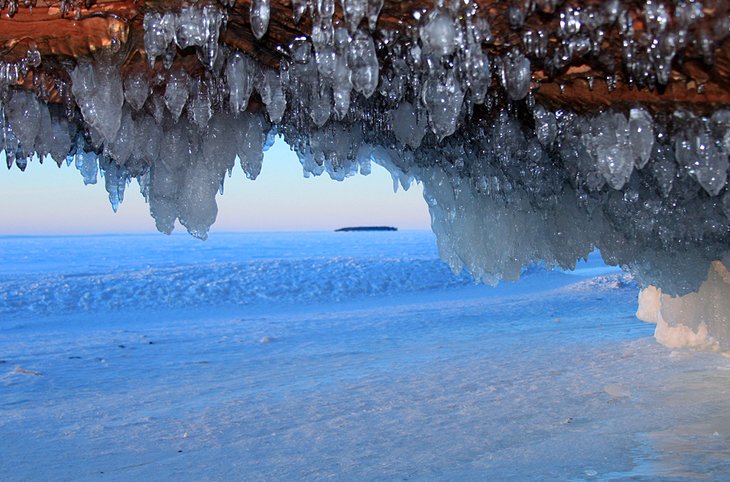 Few things are more romantic than the stunning natural beauty of Bayfield and the Apostle Islands. This iconic harbor town has orchards, golf courses, boutique shops, and a maritime museum.
Bayfield serves as a gateway to the Apostle Islands National Lakeshore, which is a series of 21 coastal islands with endless jaw-dropping scenery and outdoor activities that you can do together.
Visit several of the islands to capture some of the most beautiful places to photograph in Wisconsin, especially in the winter, as lake-effect snow creates a dramatic frozen landscape. During the summer, you can kayak on Lake Superior or take the three-mile ferry trip to Madeline Island, where you can spend time visiting Big Bay State Park or the museums on the island.
8. Lake Geneva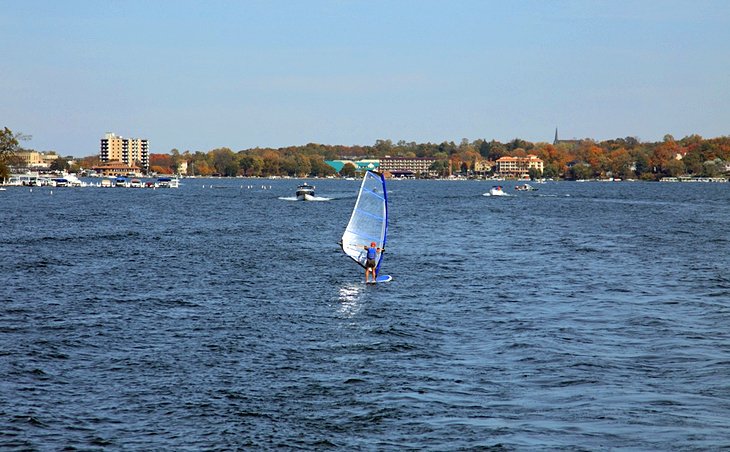 Watching a romantic sunset along the shores of Lake Geneva will be a moment you never forget. The sunsets are just one of the many reasons this city is perfect for couples. The lake is more than 5,000 acres making it one of the top lakes in the state for fishing, water recreation, and waterfront relaxation, which is also why it is a popular resort community.
From horseback riding through the snow and sleigh rides in the winter to a romantic boat cruise in the summer, there are things to do year-round.
Stay at one of Lake Geneva's quaint bed and breakfasts or resorts and head out on your own each day to explore by renting kayaks or hitting the hiking trails. You can spend a day skiing or at the waterpark on the premises and wrap up the day with a luxury spa treatment and a romantic dinner at the resort.
Accommodation: Top-Rated Resorts in Lake Geneva, Wisconsin
9. Vilas County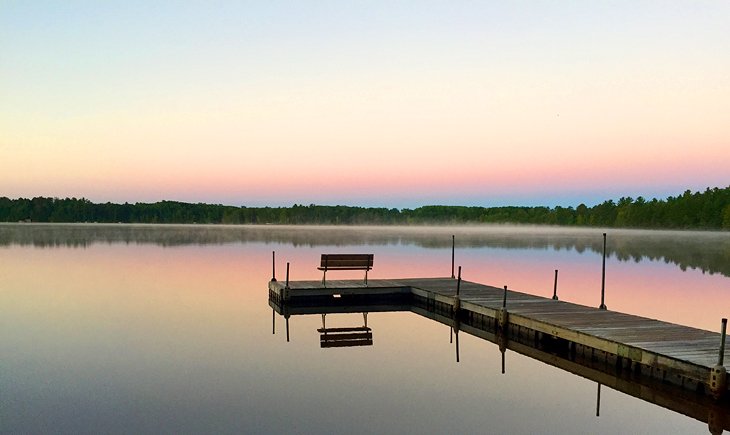 The serenity of the Northwoods in Vilas County, Wisconsin makes this a great spot to reconnect with your partner. Cabin lodging is the norm in this secluded part of the state, and the location is perfect for couples who want to be surrounded by nature.
More than 1,300 lakes are in this small region, with endless opportunities to kayak, swim, hike, or just sit on a bench and watch the eagles during the lavender sunrise. This region is home to one of the best fishing lakes in Wisconsin, where you can hire a guide and try your hand at catching the elusive musky.
You can enjoy the wilderness together, with more than 60 multi-use trails and 700 miles of snowmobile trails throughout the county. Settle in at night around a fire pit to enjoy a clear view of the stars in the dark northern Wisconsin skies.
10. Kohler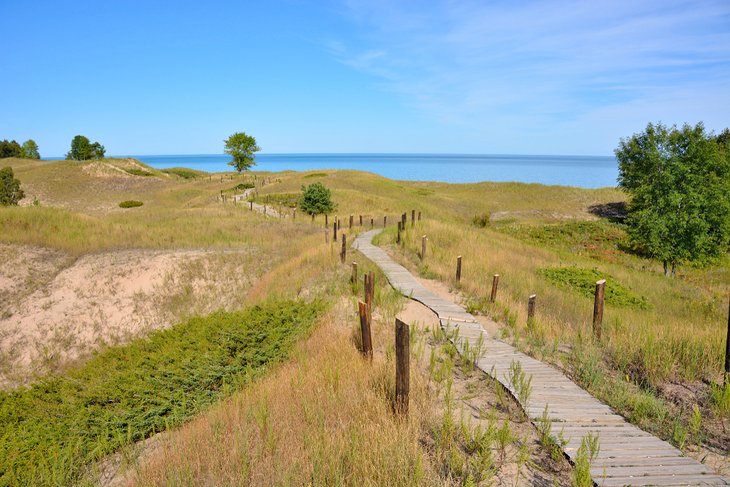 The city of Kohler is best known for the Kohler Design Center and the premier golf courses in the community. Take a Kohler factory tour through the three-level showroom featuring innovative design and technology for the home. Walk through the village or take in a round of golf at one of the world-class golf courses.
You can plan a day together at Kohler-Andrae State Park and hit the beaches of Lake Michigan or settle in for a picnic near the sand dunes. The American Club resort in Kohler is an option for couples who do not want to go far for relaxation and amenities or who want to enjoy a spa getaway.
11. Eau Claire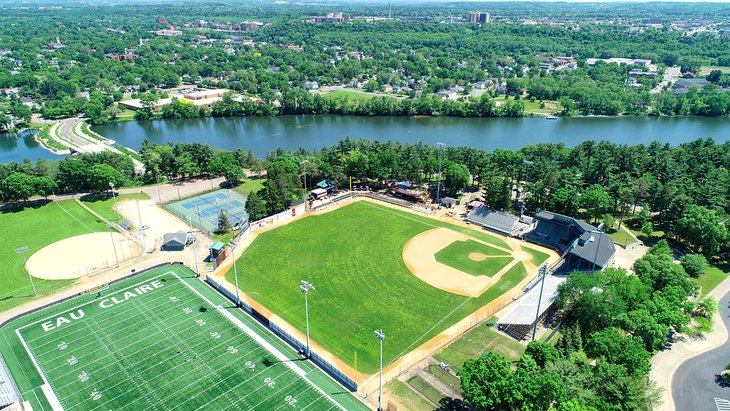 The waterfront beauty of Eau Claire, in western Wisconsin, gives you plenty of romantic options. Eau Claire, which is the French term for "clear water," sits at the junction of the Chippewa River and the Eau Claire River. The Chippewa River Recreation Trail has 30 miles for biking and walking if you want to indulge in the outdoors.
You can spend a day on a self-guided sightseeing tour following the Timber Trails, which takes you through Eau Claire, La Fayette, Augusta, Fall Creek, and Altoona. Or, you can stay in the area to enjoy the Chippewa Valley Museum and the Paul Bunyan Logging Camp Museum. You can also relax at a summer concert at the Sarge Boyd Bandshell in Owen Park.
12. Wisconsin Dells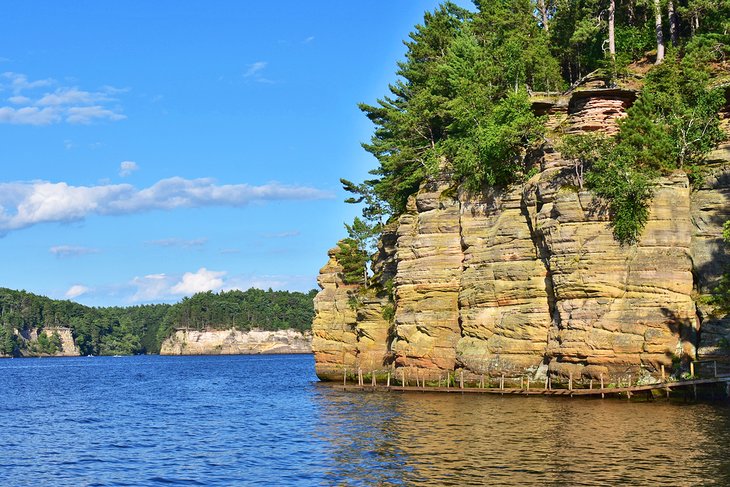 Indeed Wisconsin Dells is a family-friendly destination, but it has some great options for a romantic getaway. There are several highly rated spas in Wisconsin Dells, where you can book couples massages and relax. Most offer couples packages that combine lodging, spa treatments, and fine dining.
If you are an outdoorsy couple, you can go to one of the nearby state parks for hiking, biking, and kayaking. Mirror Lake State Park, Rocky Arbor State Park, and Devil's Lake State Park are all a short drive from Wisconsin Dells. You can spend evenings walking along the Dells River Walk or taking in local dishes at a variety of downtown restaurants and a music or comedy show.
Accommodation: Top-Rated Resorts in Wisconsin Dells
13. De Soto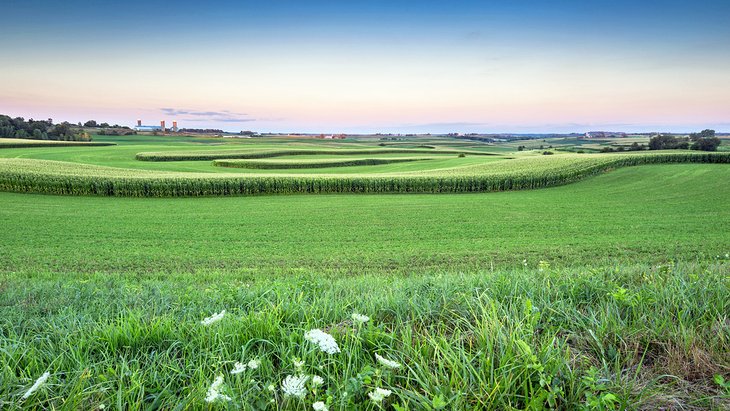 For a more secluded getaway, you should consider De Soto, which sits in Wisconsin's Driftless Region. The village is in southeast Wisconsin and nestled between wooded, rolling hills and the Mississippi River. It is ideal for romantic weekends that call for a slower pace.
You can spend a day driving through the region along the Great River Road, which is a National Scenic Byway. On your way through the Driftless Region stop at the Taliesin Estate and Frank Lloyd Wright Visitor Center in Spring Green before heading back for the night.
Plan a romantic dinner at the Driftless Cafe, which serves creative seasonal dishes focusing on farm-to-table principals sourcing fresh ingredients from the 200 certified organic farms in the county. Top off a perfect evening with a good night's sleep at the Coulee Junction Caboose, a renovated 1954 caboose that is now a romantic cottage with a fireplace and deck overlooking five scenic acres.
14. Ski Weekend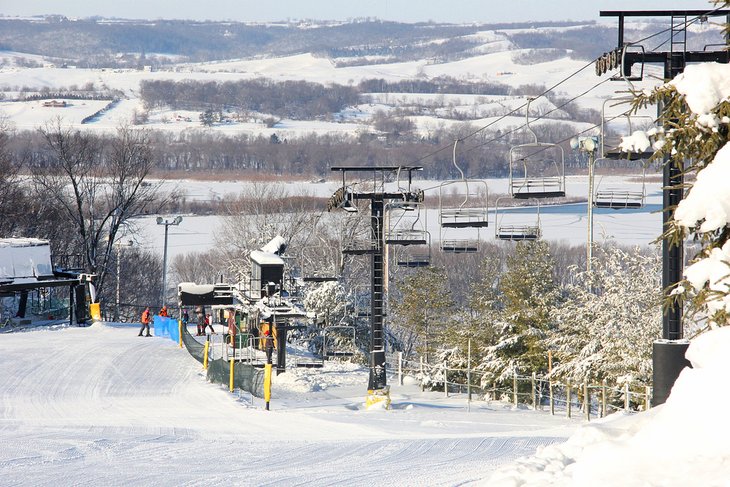 There are several ski resorts in Wisconsin for a romantic winter getaway, and one of the best is Granite Peak in Wausau. The ski resort is in Central Wisconsin, with 55 trails and impressive terrain for avid skiers, including the longest vertical drop in Wisconsin at 700 feet, if you are up for the adrenaline rush.
There are also four terrain parks with challenging jumps. The resort has ski-and-stay packages with a variety of options to tailor the weekend.
Granite Peak is in the small town of Wausau, which also has lodging options like bed and breakfasts. Be sure to stroll through downtown Wausau, where you will also find nice dining options and small boutique shops.
15. Colorful Fall Getaway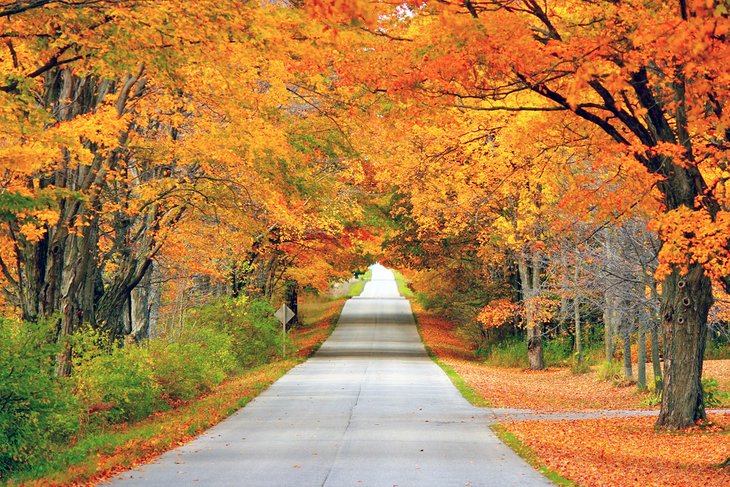 Since Wisconsin has such abundant foliage around the state, it makes an easy choice for a romantic fall getaway, as all those leaves begin to change color. While the dates for peak colors change from year to year, generally targeting the second week of October is a good option.
You can base yourself in a city like Milwaukee and make day trips to places like Grant Park, just 10 miles away, to see the best of fall colors. Trails in the park such as the Seven Bridges Trail have great views of the changing leaves.
Lake Geneva is another popular place to visit to see fall colors. You can walk any of the trails around the lake for great leaf-peeping, or just stay in your car and drive around the area.
Anywhere in Door County is a great option for a romantic fall weekend. The peninsula is brimming with color. You might want to start or base yourself in Sturgeon Bay at the base of Door County and work your way north. All the villages are in close proximity, so you can stop at state parks along the way and enjoy homemade meals and desserts in local restaurants.
Map of Romantic Getaways in Wisconsin
More Related Articles on PlanetWare.com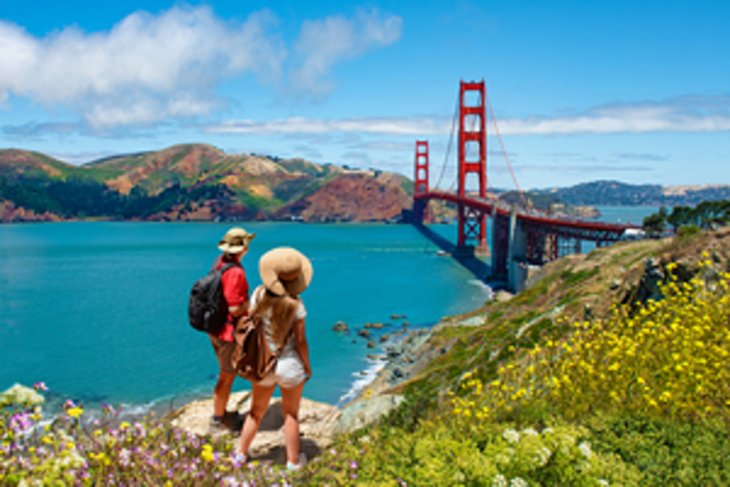 More Romantic Getaways: If you are keeping your couples getaway options open, you will want to review some of the top romantic vacation spots for couples in the U.S. like New York, San Francisco, and the Hocking Hills region in Ohio. There are some nice romantic getaways in North Carolina, from the Blue Ridge Mountains to the Crystal Coast.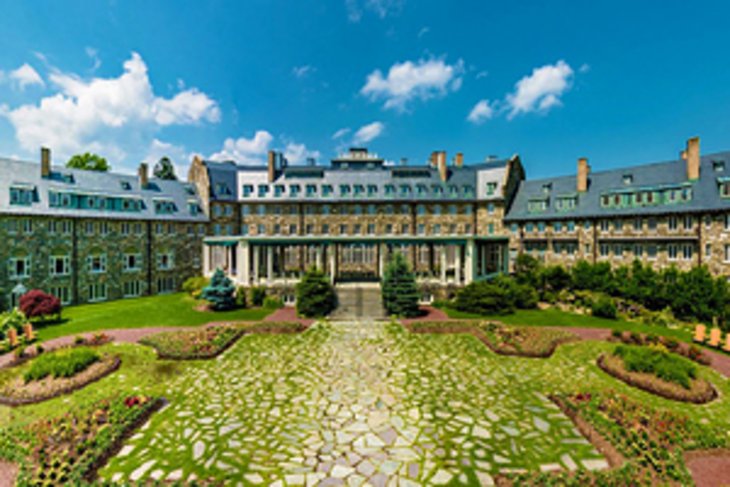 Where to Stay: You can complement your couples getaway with lodging options in Wisconsin that range from cozy cabins in the woods to historic bed and breakfasts and luxury resorts. Pennsylvania is another popular state for romantic getaways. Stay at one of the resorts in the Poconos or take a driving trip through the state's small towns. Your Pennsylvania weekend getaway options can also include a romantic retreat in the Allegheny National Forest or an indulgent chocolate weekend in the town of Hershey.