15 Best Fishing Lakes in Ohio
Author Anietra Hamper is an avid angler and an Ohio native who casts a line in some of the state's best lakes when she is not traveling.
Anglers who fish in Ohio have more than 50,000 lakes and small ponds to choose from and species that vary from crappie, catfish, and northern pike to the prized walleye and perch of Lake Erie. Some lakes stand out for their large populations of fish, while others are ideal for their natural conditions, which contribute to a high success rate on the water.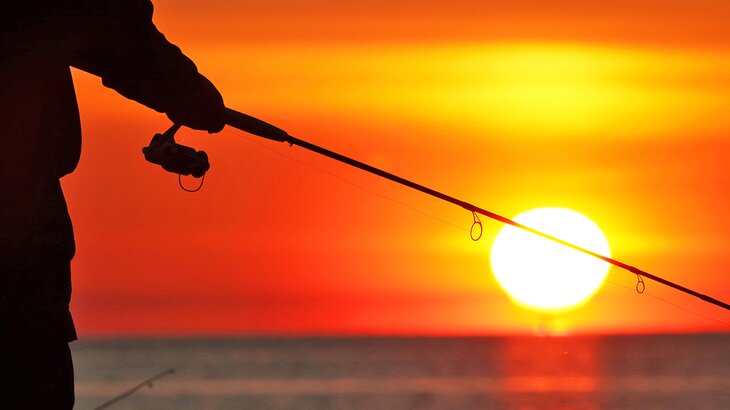 There is no shortage of places to fish, with more than 124,000 acres of inland water and 7,000 miles of streams in the state. In order to narrow your options, it is helpful to know where to fish, what lakes are stocked, and to use interactive maps to monitor water conditions and locate active species.
The Ohio Department of Natural Resources (ODNR) provides fishing forecasts and maps for every lake in the state that are updated regularly. You can also buy a fishing license online and search for fishing tips for specific species before you even cast your line.
Plan your outdoor adventures in the Buckeye State with our list of the best fishing lakes in Ohio.
1. Lake Erie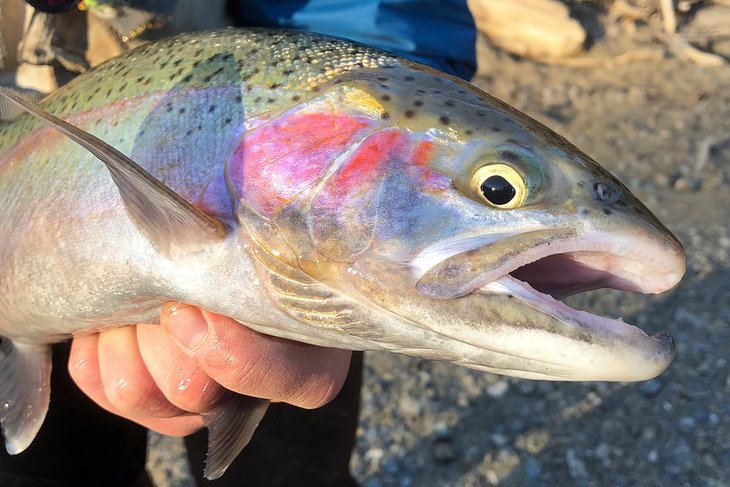 Some of the best fishing you can do in Ohio is on Lake Erie, which is best known for its walleye and perch fishing. Lake Erie is also popular for bass and steelhead fishing. Fishing Lake Erie requires different knowledge and pre-planning than fishing on other lakes in the state.
It is part of the Great Lakes system, so weather and water conditions can change quickly and catch unprepared anglers off guard. While Lake Erie can provide anglers with one of the best experiences in the state, it is wise to hire a guide or a charter service that has expertise on the water. ODNR has links to reputable guides and associations on its website to help you with quality recommendations.
One of the highlights of fishing this lake is finding a local restaurant near your lodging that will cook up your catch for dinner. Your guide can advise you of the best restaurants that offer this in the area where you are fishing.
You can access Lake Erie fishing points from many towns across northern Ohio, like Port Clinton and Geneva-on-the-Lake. Sandusky is a great place to stay to catch a fishing charter, as it is right on the water and there are a good number of resorts and less expensive mainstream hotels. You can also ferry across the lake to South Bass Island and charter out of Put-in-Bay.
2. Ohio River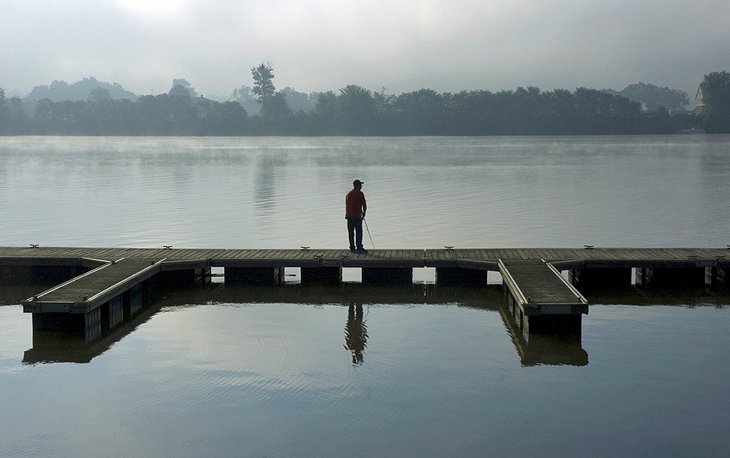 The Ohio River is one of the best places to fish in the state, since "tailwaters" provide for year-round fishing. These spots are where many fish congregate, giving you opportunities to catch a variety of species. The most popular species to fish for in the Ohio River are sauger and walleye; hybrid striped bass; smallmouth bass; largemouth bass; and channel, flathead, and blue catfish.
Many anglers fish the Ohio River by boat, but for shoreline access, head to the locks and dams. Most of these areas have developed fishing platforms and abutment access. The combination of excellent shore fishing in many areas and concentrated prey fish make this waterway ideal for catching sportfish along the river.
According to the Ohio Department of Natural Resources, the Ohio River forms a 451-mile boundary along the southern border of the state, so there are many locations from which you could head out onto the waters.
It is best to stay in a riverfront city like Marietta that has plenty of lodging for anglers, like the Fairfield Inn & Suites and the inexpensive Microtel Inn & Suites. There are also themed hotels in Marietta and great waterfront activities throughout the year, which makes the Ohio River city one of the best weekend getaways in the state. Cincinnati is another great base on the Ohio River, where you can find hotels at every price point.
3. Alum Creek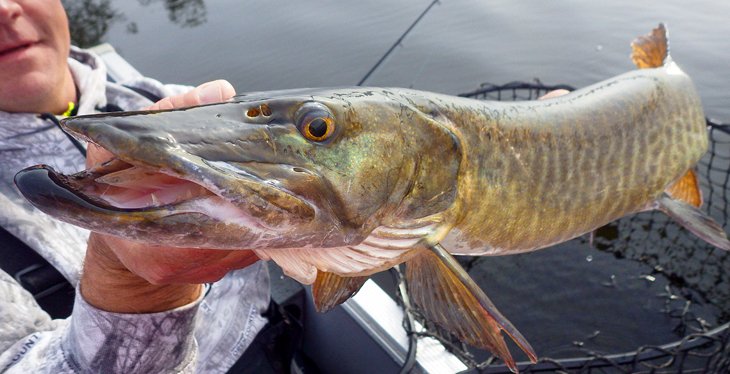 Alum Creek Lake in central Ohio is a popular fishing location in the state due to its size, the species available, and easy access points for both boats and shoreline anglers. High shale bluffs and many deep coves provide excellent habitats for a wide range of fish species.
The lake has healthy populations of saugeye, musky, crappie, catfish, largemouth bass, and smallmouth bass. The southern basin is the best place to target smallmouth bass as there are many rocky points from which to fish. The north end of the lake is productive for channel catfish, the dominant catfish in the system, especially in the early spring.
Alum Creek is the only musky lake in central Ohio. It is stocked annually with saugeye and muskies by ODNR. There is a brand-new marina at Alum Creek that offers boat rentals if you want to get on the water for the day or stop in to get advice on where to fish if you are new to the lake. Alum Creek is one of the lakes on the new Delaware County Fishing Trail that launched in 2023.
For nearby lodging to Alum Creek, you will want to stay in Delaware and stay at a hotel like the Pacer Inn and Suites or Baymont by Wyndham Delaware for a short drive each day to the water.
4. Seneca Lake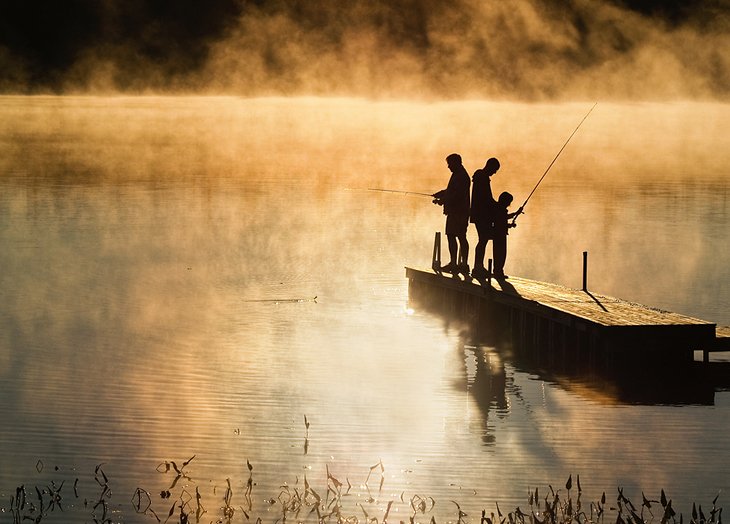 In eastern Ohio, Seneca Lake is one of the largest public fishing lakes in the state. There are more than 45 miles of shoreline and a variety of species, which makes it an all-around easy lake to fish.
You will want to stay close to the lake. The closest town is Senecaville but Cambridge, about 12 miles away, is recommended because there are more hotels and restaurants.
The most common species to target are saugeye, crappie, largemouth bass, and channel catfish. ODNR stocks blue catfish in Seneca Lake, which is one of the only places to fish for this species in Ohio. Boat access ramps are at the main marina and just north of the dam.
5. Clear Fork Reservoir
Anglers who are looking for both size and numbers of largemouth bass should plan a visit to Clear Fork Reservoir in Northwest Ohio, near Mansfield. This is one of the top bass fishing lakes in the state. It is also one of the top lakes for musky.
The lake slopes at its western end, which is where you will find the best bass fishing because of the shallow water and abundance of fallen trees and stumps.
Other species common in Clear Fork Reservoir include crappie, bluegill, and channel catfish. Boat fishing is most popular on this lake. Shoreline fishing is only allowed along the south and western banks, where you can find three public access points to the water.
6. Piedmont Lake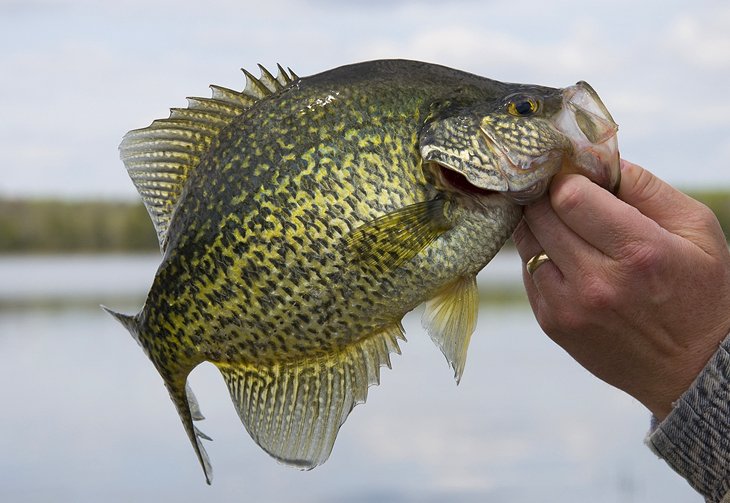 Piedmont Lake in southeast Ohio is a popular spot for fishing year-round. It is also one of the best ice-fishing lakes in Ohio in the winter, when conditions are right. It offers some of the best fishing for crappie and smallmouth bass in the state. The rocky shoreline, downed trees, and docks make ideal natural habitats for crappie.
It is not uncommon to catch crappie over nine inches. You can stay at the small town of Cadiz or Steubenville. It is one of the best inland lakes in the state for smallmouth bass, with nearly 50 percent of the fish population being this species.
The lake also has excellent fishing for saugeye and musky. This scenic lake is angler-oriented, meaning there are several boat and shoreline access points and a 10-horsepower motor limit for watercraft.
7. Hoover Reservoir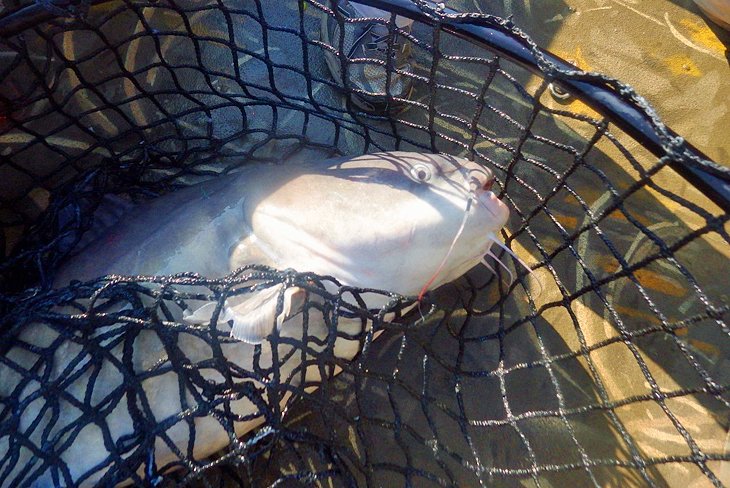 Hoover Reservoir is a popular fishing lake, especially for catfish. Located northeast of Columbus, the lake has healthy populations of channel, flathead, and blue catfish. Saugeye are another species that have bounced back to healthy populations in Hoover Reservoir, with many catches ranging from 10 to 20 inches.
Other species at the lake include largemouth and smallmouth bass, bluegill, great black and white crappie populations, longnose gar, and carp. Hoover Reservoir has a 10-horsepower motor limit, making it a nice waterway to fish from both boat and shore. The best spots to fish on the lake are near the dam and the southern basin for bass.
8. Grand Lake St. Marys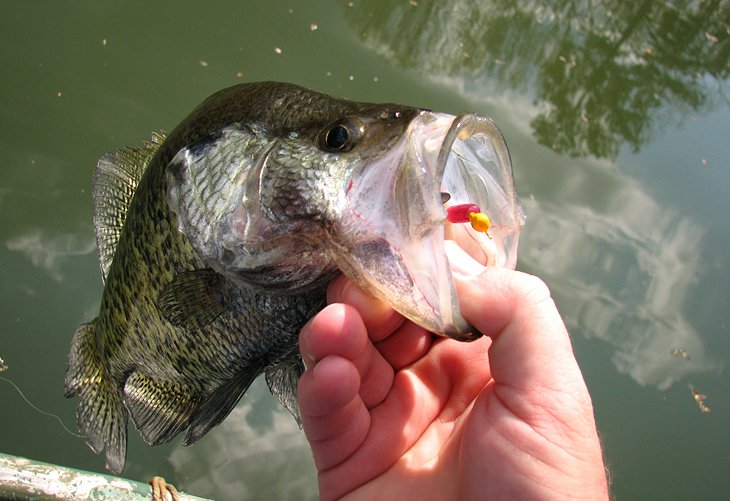 Grand Lake St. Marys, in southwest Ohio, is one of the top lakes in the state for crappie fishing, both in size and numbers. The large lake has many channels, rock edges, and brushy shorelines that make for ideal fishing conditions.
Large crappies, from nine to 13 inches, are common, especially when fishing March through May. Most of the lake is less than seven feet deep, so it has excellent habitats for other species like largemouth bass, bluegill, walleye, perch, carp, channel catfish, and flathead catfish.
There are eight boat ramps operated by ODNR and two additional public ramps around the nine-mile-long lake. If you do not own a boat, not to worry — this is a great lake for shore fishing, too. With its many channels, there are plenty of public access points along the shoreline. The best options for lodging if you plan to spend time on Grand Lake St. Marys, is in the town of St. Marys or nearby Celina.
9. Pymatuning Lake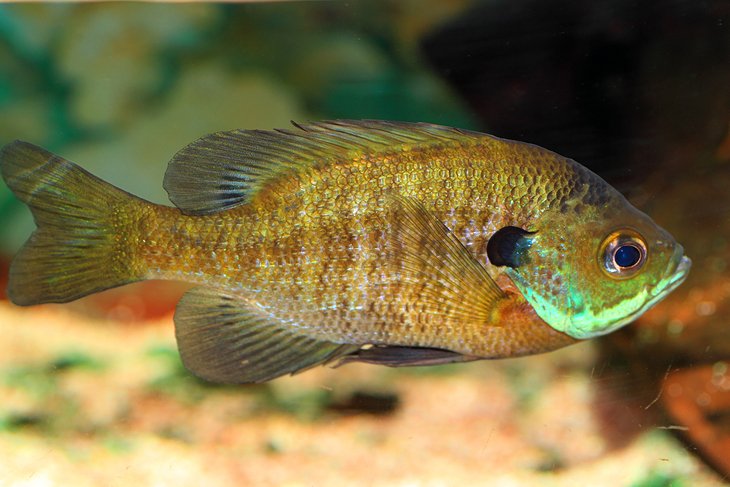 Pymatuning Lake, in northeast Ohio, also extends into Pennsylvania. The lake is excellent for decent size and numbers of walleye, bluegill, crappie, yellow perch, largemouth bass, smallmouth bass, and musky. The 14,000-acre lake has ample boat access and shoreline fishing.
While this is a great lake for recreational fishing, it is important for shoreline anglers to know which state they are fishing in and have a valid license for that state. You can access a lake map at the ODNR website before you go to make sure you are fishing legally. Both muskellunge and walleye are stocked annually.
The nearest major city to Pymatuning Lake is Cleveland, where you can find comfortable lodging or you can take advantage of the camping and cabin rentals available at the state park, which surrounds the lake.
10. Indian Lake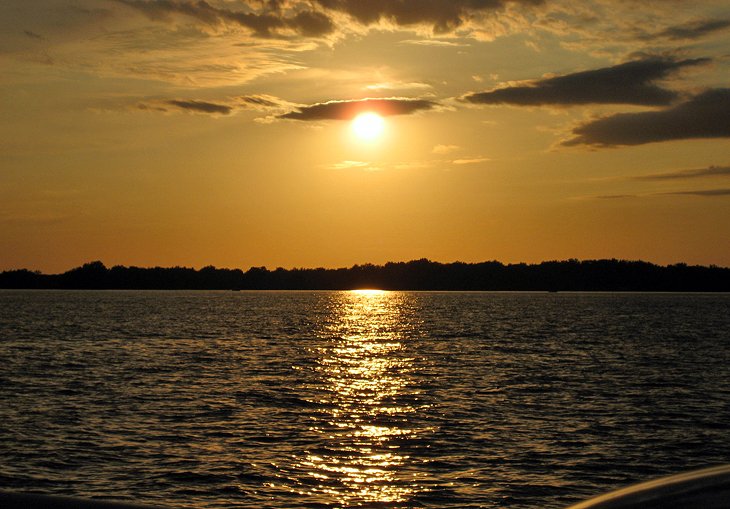 Indian Lake is a versatile lake for fishing due to its size, easy access points for fishing by boat and on shore, and the variety of species to target in the 5,800-acre lake. The lake is known for its large populations of saugeye, sunfish, and large crappie.
Other species in the lake include largemouth bass, walleye, yellow perch, and catfish. The lake has many shallow channels and brush cover that make great fishing spots.
This lake is an ideal choice for a spontaneous day of fishing, as there are many roadside pull-offs where you can stop and fish in a cove. Be sure to keep your eyes open for bald eagles, which have been spotted near the lake — a rare treat in Ohio.
Indian Lake State Park has one of the largest campgrounds in the state, with waterfront, full hookup, and electric sites available. There are also boat campsites available that have paved parking and reserved boat docks. If you are looking for small cottage rentals, you can find many around the lake or hotels in nearby Bellefontaine.
11. Findlay Reservoir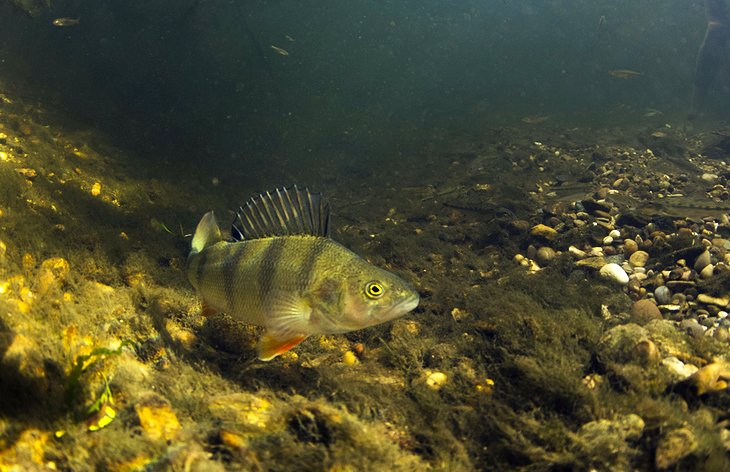 Northwest Ohio is home to one of the best yellow perch fishing lakes in the state. Findlay Reservoir has a booming population of perch, some reaching 14 inches. The reservoir is also a favorite for anglers targeting walleye, largemouth bass, smallmouth bass, bluegill, and catfish (channel and bullhead).
Spring is one of the best times for fishing on Findlay Reservoir, as fish are spawning close to the shore. This lake has the unique feature of a floating fishing pier, which gives you access to deeper water without needing a boat. It is easiest to stay in Findlay, where you can grab supplies for the day and find lodging and food.
12. Caesar Creek Lake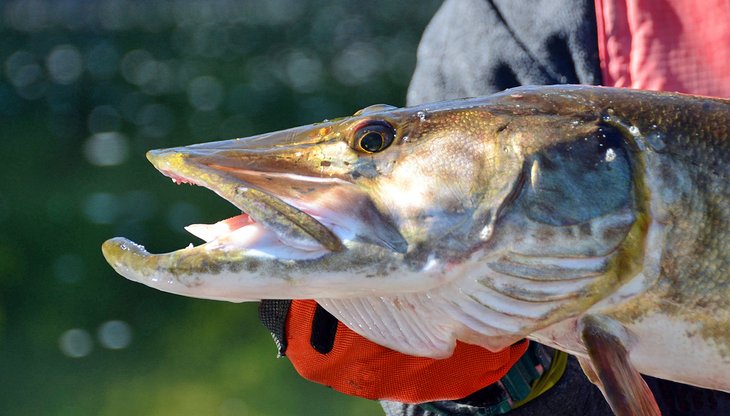 Caesar Creek Lake is one of the best places in the state to target muskies. The lake, which is in southwest Ohio, is the deepest lake in Ohio, hitting 115 feet near the dam.
The lake has been stocked with fingerling muskies since 1998, and anglers regularly report fish longer than 42 inches. Other species present in the lake include largemouth bass, smallmouth bass, Kentucky spotted bass, crappie, catfish (channel and flathead), carp, saugeye, and bluegill.
The lake has steep shoreline drop-offs and inlets with brush and downed trees that make for terrific fishing habitats. The town of Wilmington is nearby or you can stay at the Caesar Creek State Park campground.
13. Mosquito Lake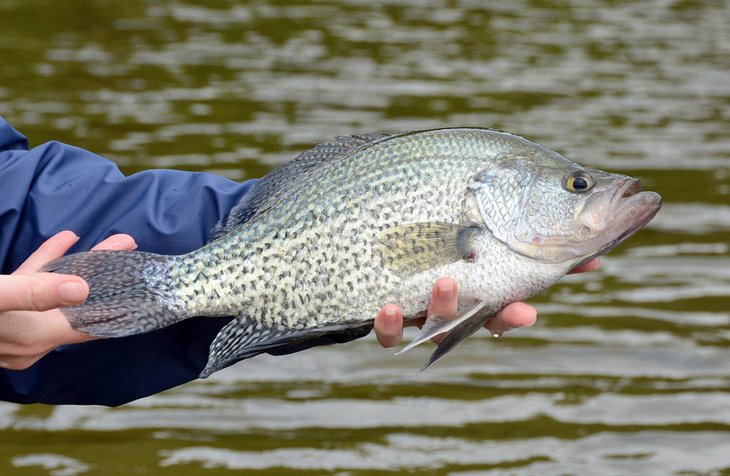 Mosquito Lake is located inside Mosquito Lake State Park near Warren, Ohio. While Mosquito Lake is a popular fishing lake for anglers coming from nearby Cleveland and Youngstown, it is fast becoming a preferred lake for those who are farther away. It is one of the largest inland lakes in Ohio at 7,850 acres.
Mosquito Lake offers some of the best fishing in Ohio for yellow perch, white bass, largemouth bass, crappie, and northern pike. It is also a popular lake for walleye fishing, as they are plentiful in Mosquito Lake, and stocked annually.
You can fish from shore or by boat, utilizing one of the five boat ramps located around the lake. Mosquito Lake State Park has a campground available and many recreational options beyond fishing if you want to stay in the park. You can also find a number of hotels and restaurants in nearby Warren.
14. Salt Fork Lake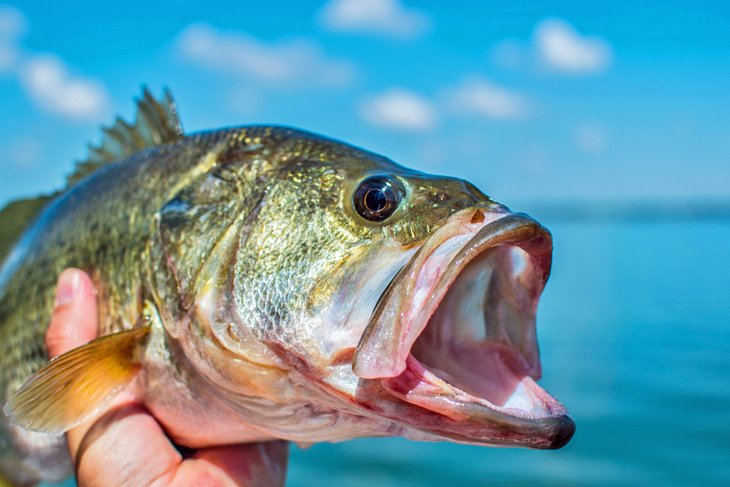 One of the nicest fishing lakes in Ohio that has plenty of room for anglers is Salt Fork Lake. It is located in Ohio's largest state park, Salt Fork State Park, in eastern Ohio near Cambridge. There is a lodge in the park and cabin rentals available. Some of the cabins are located right next to the water.
The quiet ambience of Salt Fork Lake and the abundance of natural surroundings in the 17,000-acre state park are part of the appeal for anglers. The lake has many species of fish that can be caught throughout the year, including walleye, crappie, and catfish. There are many small bays at Salt Fork Lake that are hot spots for finding fish.
The late spring months are a great time to catch bass, and muskies are the fish of choice for anglers in the peak summer months. `There is easy access to the nearly 3,000-acre lake. You can cast from the shoreline, or launch your boat from one of eight ramps around the lake. There are two marinas on the lake from which to rent boats or pick up supplies for the day.
15. Leesville Lake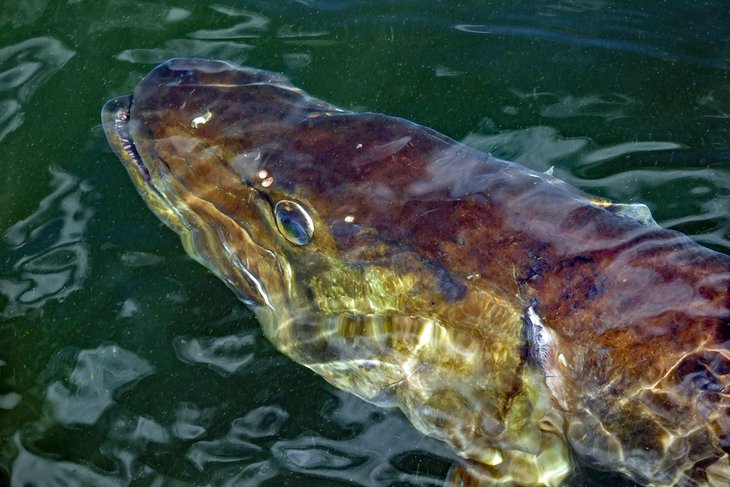 Leesville Lake in eastern Ohio is one of the top muskie fishing lakes in the region. Anglers come from outside Ohio to fish for muskie in the Carroll County, Ohio lake. The lake has over 1,000 acres of fishable water and 27 miles of shoreline.
While many anglers enjoy Leesville Lake for the muskie, there are great numbers of largemouth bass, channel catfish, sunfish, yellow perch, and crappie. Most anglers who head to Leesville Lake stay there because everything they need is there.
You can stay in the Leesville Lake Campground, or rent a cabin. You can also find boat rentals, camping and fishing gear, and food on-site.
Map of Fishing Lakes in Ohio
More Related Articles on PlanetWare.com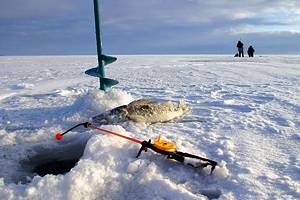 Ohio Ice Fishing: If you enjoy Ohio's lakes for fishing, you will want to try its ice fishing lakes in the winter, which can be enjoyable as long as ice conditions are favorable.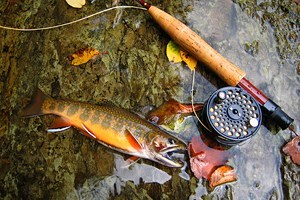 More Great Places to Fish: Just across Ohio's border to the east is fantastic fishing in Pennsylvania, with more than 15,000 miles of designated wild trout fisheries. Wisconsin lake fishing is also prime throughout the year — you can target the elusive musky on one of the thousands of lakes in the state. If fly fishing is your passion, you will want to review the top rivers and lakes for trout fishing in West Virginia and in North Carolina.