12 Best Ice Fishing Lakes in Ohio
One of the best outdoor adventures you will find in Ohio is ice fishing in the winter. Trek with a guide to your shanty on frozen Lake Erie, or set your tip-ups for walleye on Atwood Lake, one of the hidden gems in Ohio. The best ice fishing in the state is on the lakes in the north, where the ice is the most consistent.
The first ice of the season is generally the most successful time to fish because there is not much snow cover, but winters can be long in Ohio, so you can try different lakes throughout the season. You might stop in a local bait shop near your intended lake to get the most accurate update on what fish are actively biting. This will help save you time on the ice and assist with decisions on bait and depths to target.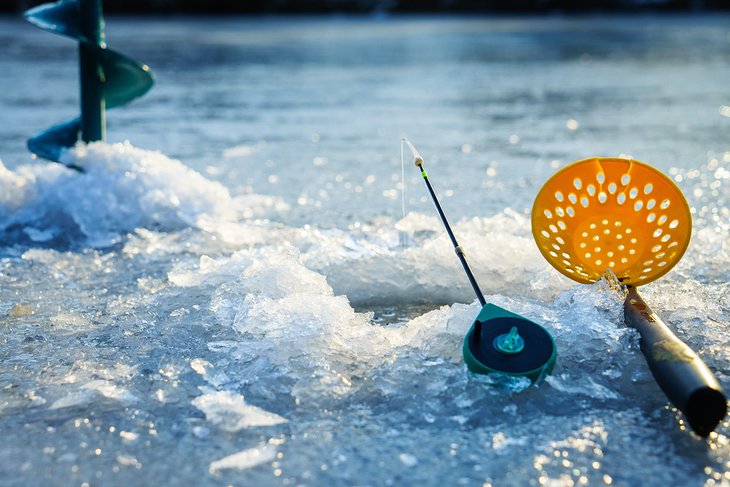 Many of the lakes in Ohio are man-made, which makes ice fishing ideal in the state because it doesn't require as much cold for them to freeze compared to natural lakes like Lake Erie. Anglers looking for winter walleye, perch, pike, saugeye catfish, bluegill, and other species can find them below the winter ice in Ohio.
Once you decide on a lake to try ice fishing, some of your best local information will come from chat forums, where you can get up-to-date information on weather conditions on the lake, what's biting, and tips from the locals on where to go for the best and safest experience.
No matter where you decide to ice fish in the state, safety comes first. It is important to check ice conditions, have a valid fishing license, and know the size and daily limits for the lake you are fishing. The Ohio Department of Natural Resources (ODNR) provides regularly updated fishing forecasts for lakes throughout the state, as well as general information on ice fishing.
Find the best places to visit for winter angling with our list of the top ice fishing lakes in Ohio.
1. Lake Erie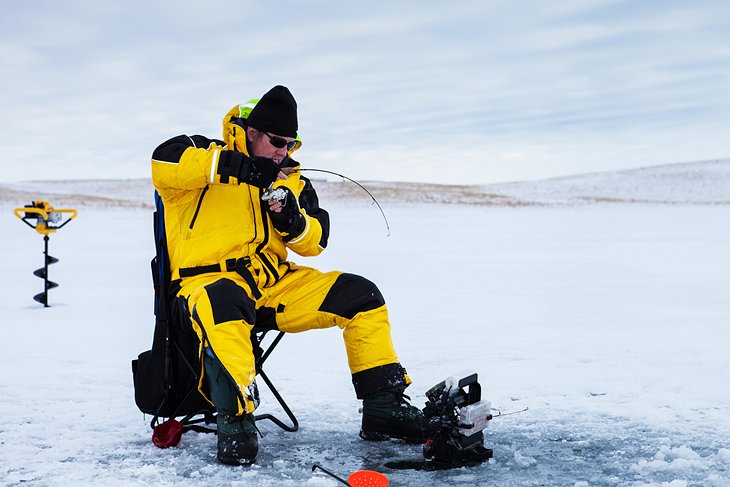 Lake Erie has some of the most intense ice fishing in Ohio. While it can be easy to haul in the daily limit of walleye, yellow perch, and crappie, often some of the best fishing locations are six to 10 miles from shore. Lake Erie requires additional considerations compared to other lakes because of its size, weather conditions, and safety factors.
If you plan to ice fish on Lake Erie, it is best to hire a guide who is an expert in these conditions and can help get you to the best locations to target active fish. A guide will have transportation to get you out onto the lake safely and have shelter available for a comfortable outing.
The long stretch of Lake Erie on Ohio's northern border sometimes makes it tough for those new to the waters to decide where to stay. Some of the recommended areas are Port Clinton, Sandusky, or Geneva-on-the-Lake. You can also take an air taxi out of the Port Clinton regional airport to Put-in-Bay on South Bass Island and join the hard-core ice fishermen on the lake waters around the island.
2. Indian Lake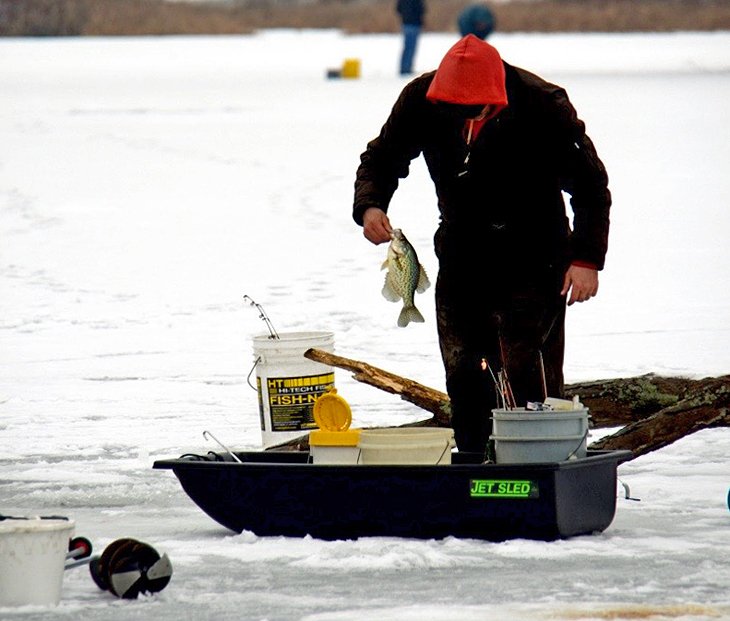 One of the first lakes to freeze in the state is Indian Lake in western-central Ohio. The inland lake is shallow, so it offers one of the first opportunities for anglers to hit the ice in the winter. You can find abundant populations of saugeye and crappie and some of the largest sunfish in Ohio for a public lake.
With 5,800 acres of lake surface there are plenty of areas to target. The shallow waters are one of the reasons it is so productive for catches and has become a favorite among fishing clubs in Ohio. You can find basic lodging in nearby Bellefontaine.
3. Portage Lakes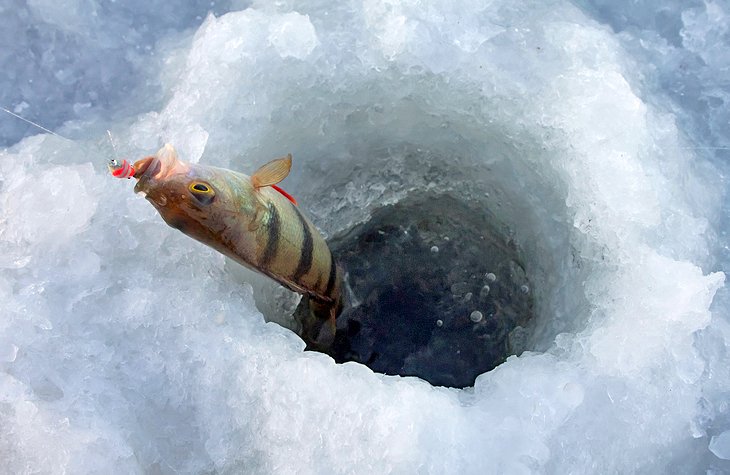 One of the top ice fishing destinations in Ohio is Portage Lakes, near Akron. A network of lakes and reservoirs makes up five major areas for fishing that regularly produce good numbers of bluegill, crappie, and yellow perch. The East Reservoir, Long Lake, North Reservoir, Turkeyfoot Lake, and West Reservoir make up 1,600 acres of fishing water.
The East and North Reservoirs and Turkeyfoot Lake are some of the best producers of panfish. The advantage of ice fishing on Portage Lakes is that the system stretches along a wide area, so there are many access points. Relocating to new areas is easy since the lakes are connected and in close proximity.
4. AEP ReCreation Land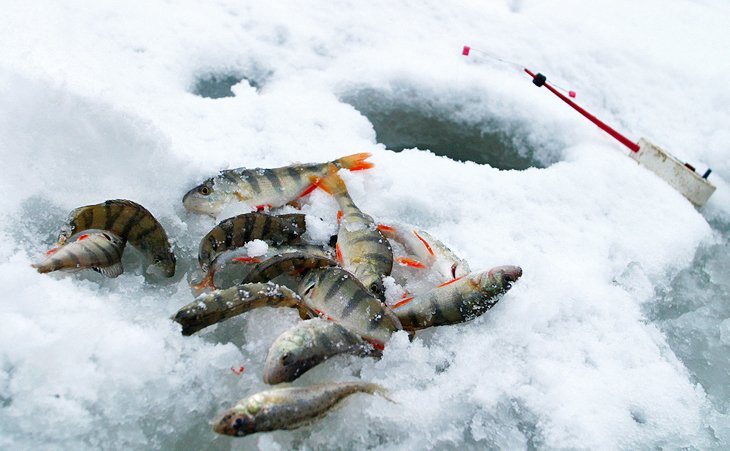 One of the most unique areas to try ice fishing is the AEP ReCreation Land, which is a 60,000-acre outdoor recreation area built on old strip mines that covers Morgan, Guernsey, Noble, and Muskingum Counties. There are 350 lakes and small ponds in this area that can offer excellent opportunities for ice fishing on impoundments.
These waters have bluegill and better-than-average-sized redear sunfish that range from seven to nine inches. Some of the ponds are easy to access, while others are remote and require a hike to reach them.
Anglers need to obtain a free permit to fish these waters through the AEP McConnelsville office or the Division of Wildlife District Four Office in Athens. Since the area is remote, the closest city for lodging is Caldwell, which has a number of hotels.
5. Piedmont Lake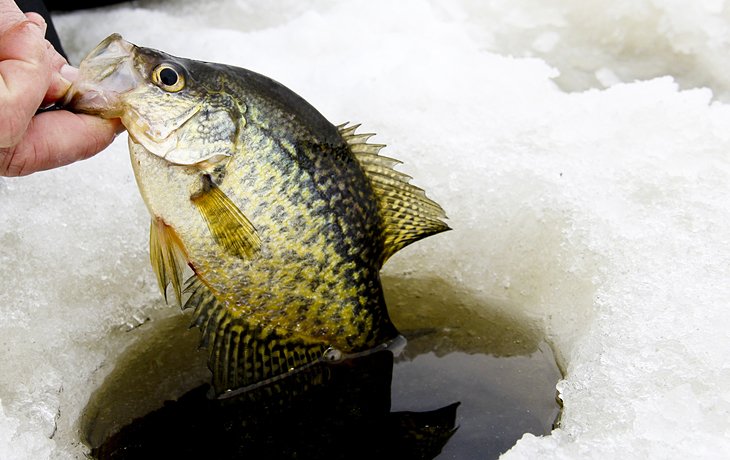 Saugeye and crappie are both sought after by ice anglers at Piedmont Lake in eastern Ohio. The long, narrow, 2,270-acre lake winds through heavily wooded terrain, making it one of the most scenic lakes in the state, even in winter.
The lake is a stocked saugeye fishery, which is why populations are healthy and active. The best ice fishing on the lake is near the submerged roadbeds and drop-offs at the lower basin near the dam.
The lake is drawn down for flood control purposes during the winter, so you should check on ice conditions by contacting the U.S. Army Corps office before making a trip to the lake. Piedmont Lake is not close to any major cities, so if you are not planning to camp, you can find lodging in Cadiz, Morristown or a bit farther away in Cambridge.
6. Grand Lake St. Marys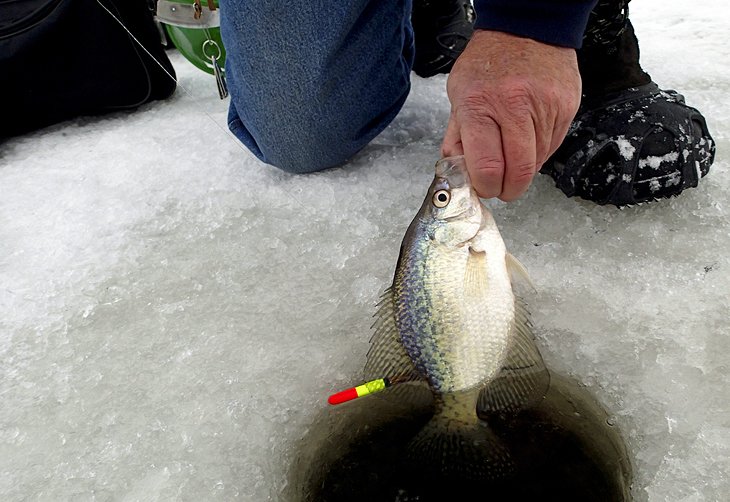 Ice anglers flock to Grand Lake St. Marys when winters are hearty enough to produce consistently safe ice. Located in the western part of the state, the lake is far enough south that ice depths can be unpredictable in mild winters.
When it does freeze, this lake is popular for ice anglers who want to target bluegill and crappie. These species tend to produce consistent action from year to year. Yellow perch fishing is better in some years than others, but still a target during the winter.
Ice holds up well on this inland lake because it is shallow with a wide surface area. You can find cottage rentals around Grand Lake St. Marys or hotel lodging in the town of St. Marys or nearby Celina.
7. Mosquito Lake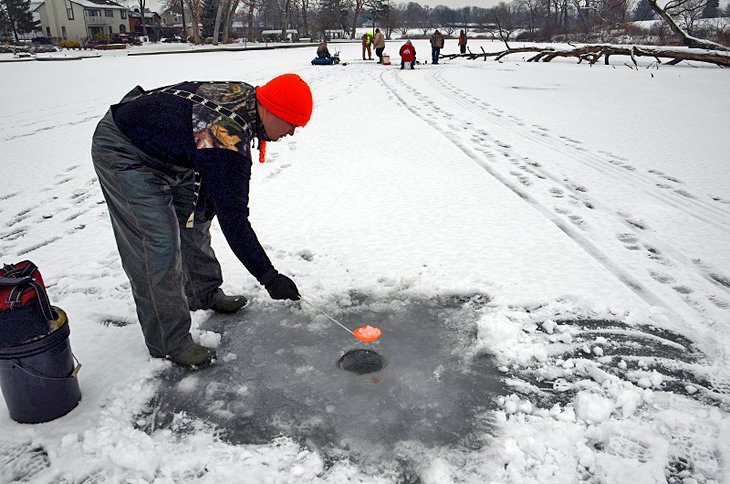 One of the best ice fishing spots for walleye in Ohio is on Mosquito Lake near Youngstown. ODNR reports that walleye caught in this lake during winter can average 13 to 21 inches. Crappie and bluegill are also caught in high numbers.
As Ohio's second largest lake at 7,850 acres, and with active walleye biting throughout the year, it is no wonder anglers frequent this area. Mosquito Lake is so popular that you can find quite a few ice fishing tournaments targeting walleye and panfish as well as online angler forums discussing current conditions, which can be helpful for first-timers on the lake.
8. Atwood Lake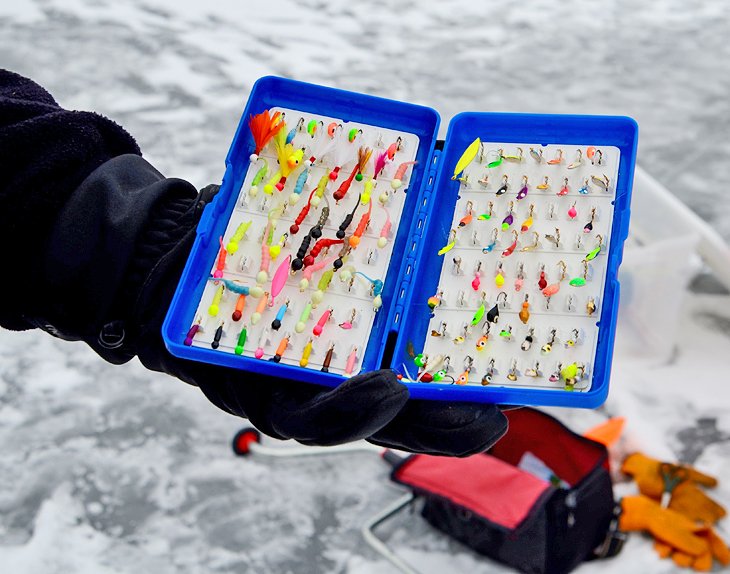 Atwood Lake is a relatively untapped lake for ice fishing, which is one reason it is a prized location. There are fewer anglers, and the small 1,540-acre lake is one of the best saugeye fisheries in the state. ODNR stocks the lake annually with fingerlings.
The best spots to fish are near points and drop-offs, which may take some exploring to find. The lake often has unpredictable ice depths, especially in channels, so it is advisable to fish with a partner and review current conditions before heading onto the ice. You may want to stay in nearby Carrollton or New Philadelphia.
9. Deer Creek Lake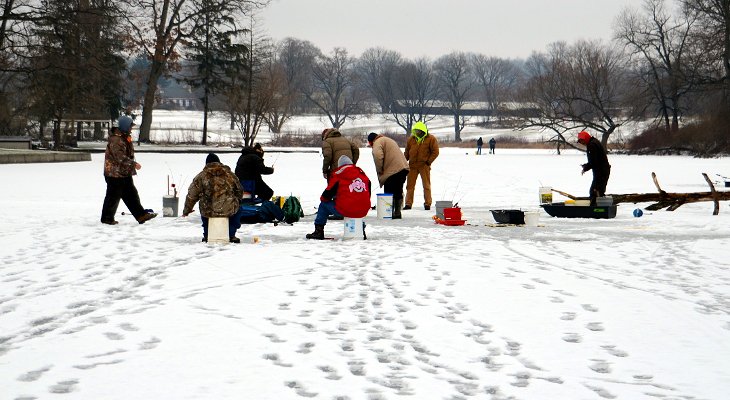 It takes a hard winter to freeze Deer Creek Lake, which is south of Columbus, but it is worth hitting the ice when the conditions are right. This was one of the first lakes in Ohio to be stocked with saugeye in the late 1970s, so populations and fishing opportunities are abundant. ODNR continues to stock fingerling saugeyes annually.
Successful ice fishing in Deer Creek is aided by the tailwaters. Reduced water levels in the fall leave many fish below the dam during the winter. While most ice anglers target saugeye on this lake, you will also find large populations of crappie and bluegill.
10. Wallace Lake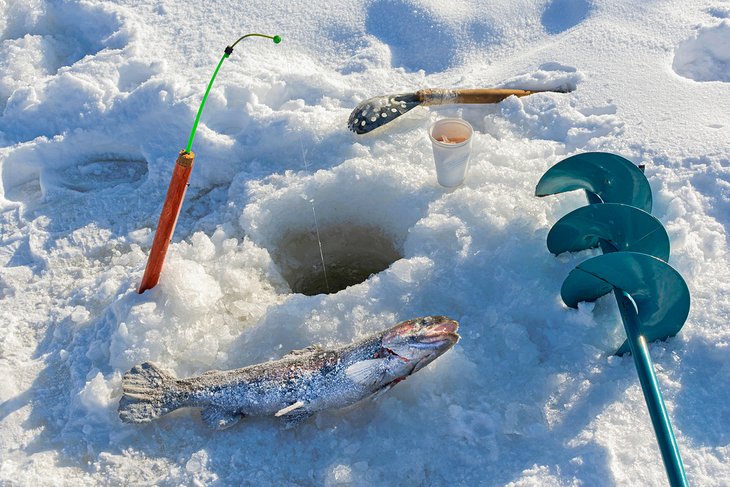 One of the draws of Wallace Lake, near Cleveland, for anglers is the winter stocking of rainbow trout. It is one of the best fisheries in Ohio for ice fishing as long as conditions are right for anglers. Wallace Lake is part of the Cleveland Metroparks system, which operates 13 fishing areas.
The other appeal of Wallace Lake is its accessibility as a Metropark. You can stay in Cleveland and make it to the lake quickly each day. You can also access the 26 miles of streams of the Rocky River in the Metroparks, which has great fishing year-round.
11. Alum Creek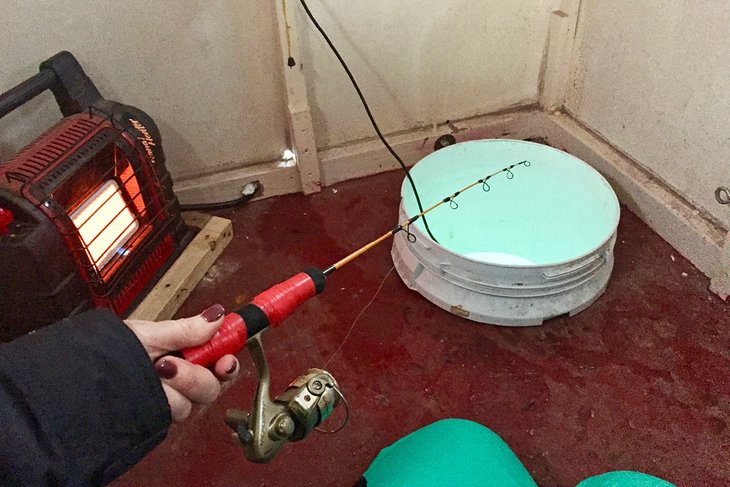 Alum Creek lake at Alum Creek State Park in Delaware, Ohio is nice for ice fishing but with 3,300-acres of water, it can be a tricky lake to predict accurate ice depths. For this reason, it is best for anglers to target the bays and coves at Alum Creek that will freeze first and have a more consistent water depth than the open lake.
Winter anglers can catch bluegills, crappie, perch, and saugeye. Anglers can also participate in some of the winter ice fishing tournaments for cash prizes that are held at Alum Creek and organized by local sporting clubs.
12. Buckeye Lake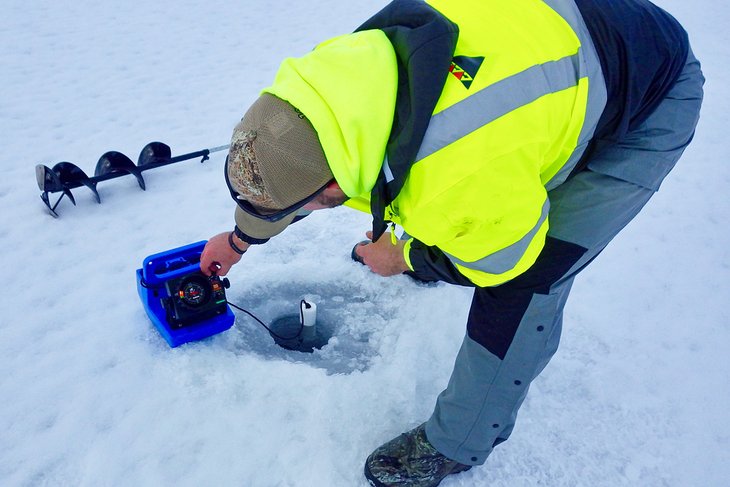 Due to the shallowness, Buckeye Lake is one of the first to freeze in the state, which makes it great for ice fishing, especially for anglers who are on the learning curve of this winter activity. The lake also holds its freeze longer than other deeper inland lakes.
Buckeye Lake is a large lake with over 3,100 acres of space, so anglers do not feel crowded in the winter. One of the top species to catch while ice fishing at Buckeye Lake is saugeye because they are active in the winter months. The community around Buckeye lake has many restaurants and places to warm up with a great meal after a long day on the ice.
More Related Articles on PlanetWare.com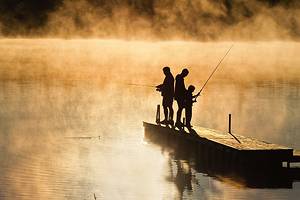 More Places to Visit for Fishing: When the winter ice thaws, you can try some of the other best lakes in Ohio for fishing to target largemouth bass, catfish, and crappie. If you enjoy inland lakes, you can review some of the top rated fishing lakes in Wisconsin, which are enjoyable for anglers not just for the natural beauty but also for the prime fish, like the musky. If winter fishing means warmer weather for you, then you will want to head to Texas for some deep sea fishing and saltwater trout fishing.