10 Top-Rated Places for Ziplining in Ohio
When it comes to outdoor adventure in Ohio, ziplining has become a popular way to see and experience some of the best natural landscapes the state has to offer. You can zip through the treetops in southern Ohio in the fall, when the leaves are changing colors on the trees; snap on a headlamp for night zips; or fly above rhinoceros and giraffes on a safari zip.
There are many options around Ohio for a zipline experience that suits your interest and skill level. Even first-timers can feel confident about learning a new adventure, as experienced outfitters provide practice runs and careful instruction to ensure that you are comfortable and safe.
Plan your next aerial adventure with our list of the top places for ziplining in Ohio.
1. Hocking Hills Canopy Tours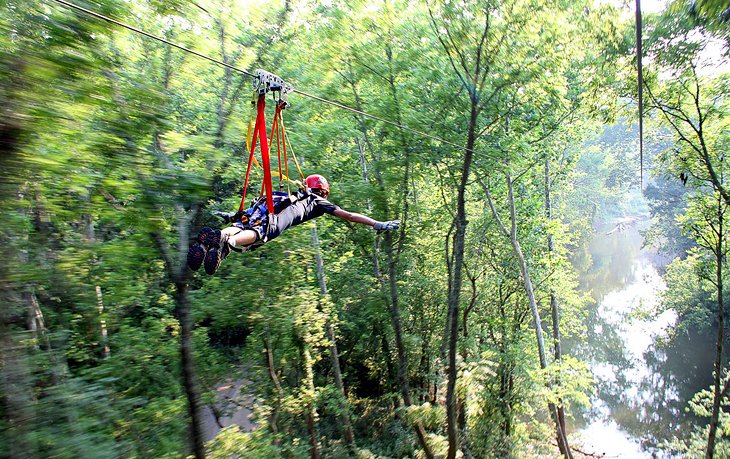 The Hocking Hills region in southern Ohio is one of the most scenic areas in the state and one of the best zipline experiences is with Hocking Hills Canopy Tours. The rolling hills and limestone cliffs give you an exciting natural backdrop as you zip from platform to platform through the treetops.
A variety of tours are available, from an introductory tour for beginners and an X-TREME course to nighttime zipline tours and a SuperZip, which is the highest and fastest zipline course you can take, with speeds up to 50 miles per hour. Due to the outdoor recreation options in this part of the state, you can also combine a zipline tour with rappelling with professional guides.
A tour during the fall is the most scenic, when the plush forest cover is in vibrant shades of red and orange as the leaves change color. You can stay in one of the premier cottage getaways in Hocking Hills, like The Inn and Spa at Cedar Falls or the Glenlaurel A Scottish Inn & Cottages.
Address: 10714 Jackson Street, Rockbridge, Ohio
Official site: http://www.hockinghillscanopytours.com/
2. Ozone Zipline Adventures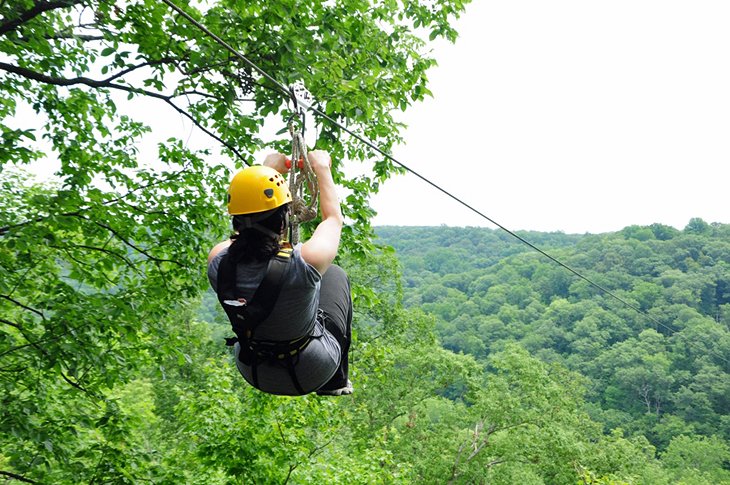 A popular canopy zipline tour through the western part of Ohio is Ozone Zipline Adventures. The tour is located at the YMCA Camp Kern in Oregonia. These tours comes with insight about the landscape of the area, including Native American earthworks, 500-million-year-old fossils, and some of the best views of the Little Miami River.
There are four tours available that include ziplining through treetops from one landing to the next and traversing several skybridges. Tour lengths range from 1.5 to five hours. Some tours include lunch and more extensive treks and a full-moon zipline tour is available twice a month.
You can find lodging in Waynesville, which is about six miles away, or Mason, which is about 11 miles away and has easy-to-find hotels like the Kirkwood Inn and the Hampton Inn.
Address: 5291 State Route 350, Oregonia, Ohio
Official site: http://campkern.org/ozone/
3. Wild Zipline Safari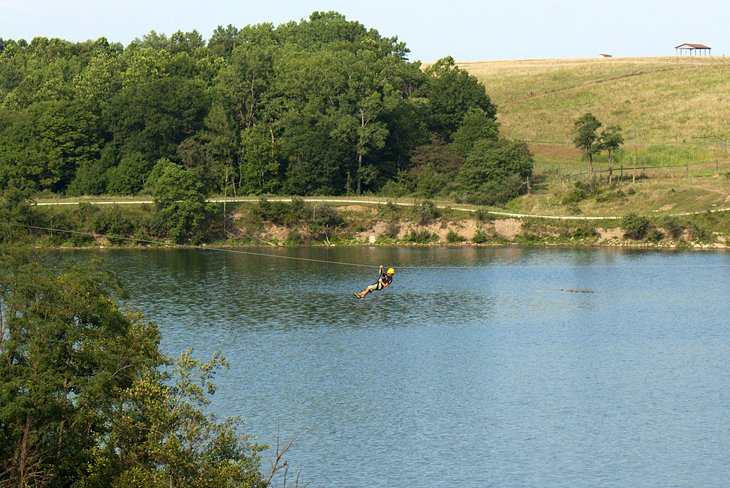 The Wild Zipline Safari at The Wilds in Cumberland, Ohio is one of the most unique zipline experiences you will find in the state. The 10 ziplines on the course range in length and span the grounds of the wildlife preserve. You will zip above animal watering holes, lakes, and pastures as you see safari wildlife below.
The tour is 2.5 hours and guided by professional guides. You end the tour by rappelling down the final platform. A shorter version of the tour is the Overlook Tour that has five ziplines. The Sunset Tour gives you the best view of the wildlife feeding late in the day and a peaceful way to watch the sunset.
Address: 14000 International Road, Cumberland, Ohio
Official site: http://www.zipthewilds.com/
4. Tree Frog Canopy Tours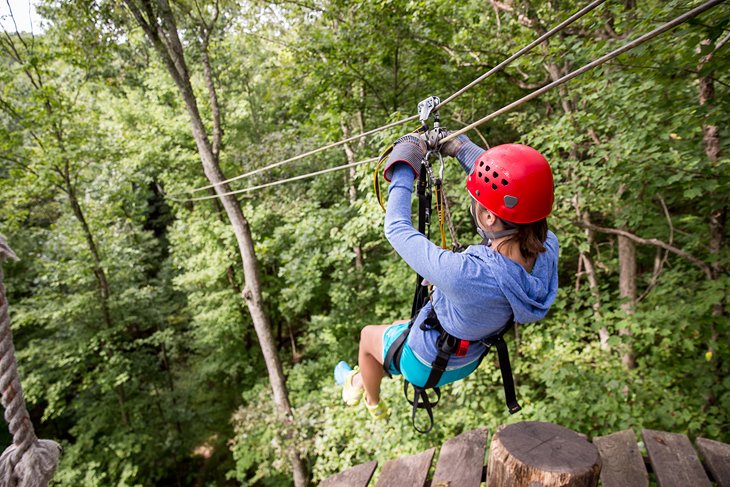 The dual cable zipline system used by Tree Frog Canopy Tours makes for one of the fastest and smoothest zip experiences in Ohio. The tours take you through the treetops in northern Ohio along more than 4,000 feet of cable. During your 2.5-hour experience, you will ride seven ziplines, walk two sky bridges, and rappel twice.
Nighttime zipline tours are available for added adventure. During treetop platform stops, you will learn about the nature and wildlife in the area. Tours are designed to accommodate both the experienced zipline enthusiast as well as beginners.
Tree Frog Canopy Tours is located just a few minutes from Loudonville, so you can make a full weekend playing in the outdoors by including some hiking in the Mohican State Park and canoeing on the Mohican River.
Address: 21899 Wally Road, Glenmont, Ohio
Official site: http://www.treefrogcanopytours.com/
5. Valley Zipline Tours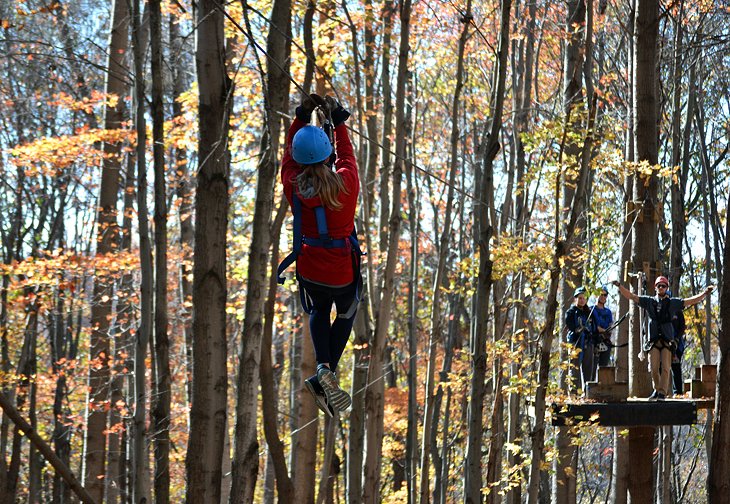 Family zipline adventures are the focus of Valley Zipline Tours in Lancaster. While anyone can take a trip, these tours are ideal for families who want to enjoy the experience together while also accommodating the range of ages and skill levels for both children and adults. Full tours feature 11 ziplines that span 7,000 feet of cable, a 1,400-foot monster zip, and a dual racing zip.
A shorter version of the main course only has six ziplines, but enough for those who are inexperienced to give it a try. A unique course with Valley Zipline Tours is the mini zip course specifically designed for children ages 10 and under. The five-line course is scaled down for children, who may not be ready for the main course.
Address: 3465 Duffy Road SE, Lancaster, Ohio
Official site: http://valleyziplinetours.com/
6. Go Ape Treetop Adventure Course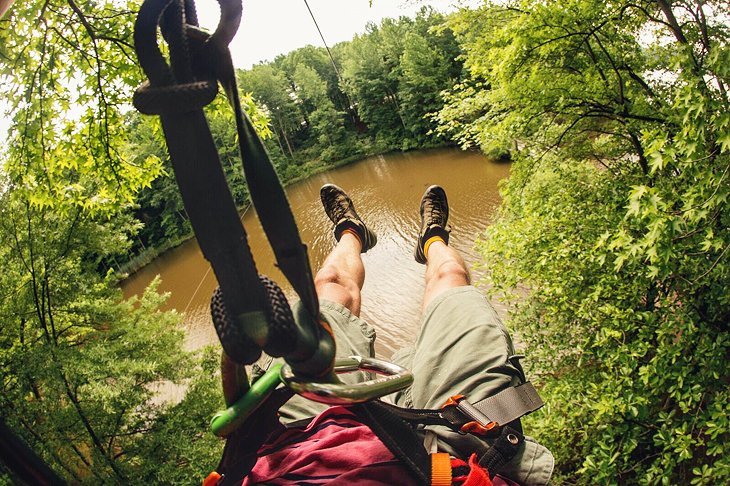 If you are looking for added outdoor adventure with a ziplining experience, the Go Ape Treetop Adventure Course near Cleveland is one of the most comprehensive. The two- to three-hour tours are fully immersive outdoor experiences.
You will zipline through the treetops while navigating suspended obstacles and tarzan swings along the course. There are more than 40 tree-to-tree crossings with incredible views of northern Ohio scenery. Smaller-scale tours are available for children who may not be ready for the full set of obstacles.
Address: 16200 Valley Pkwy, Strongsville, Ohio
Official site: https://goape.com/Locations/Ohio/Cleveland
7. Soaring Cliffs Zip Line Course
For ziplines that cross natural gorges, waterfalls, and rock formations, the Soaring Cliffs Zip Line Course takes advantage of the southern Ohio scenery. This 10-zipline course is unique in that each zip has ground launch and landing sites so you do not remain suspended on platforms for the duration of the tour.
You will hike through some of the forested landscape as you head to your next zipline and see the caverns, caves, and waterfalls of the Hocking Hills region from both the air and the ground. The tours run approximately 2.5 hours and are especially exciting during the fall, when it is peak color during leaf season.
Address: 24719 Miller Road, Rockbridge, Ohio
Official site: http://www.soaringcliffs.com/
8. ZipZone Canopy Tours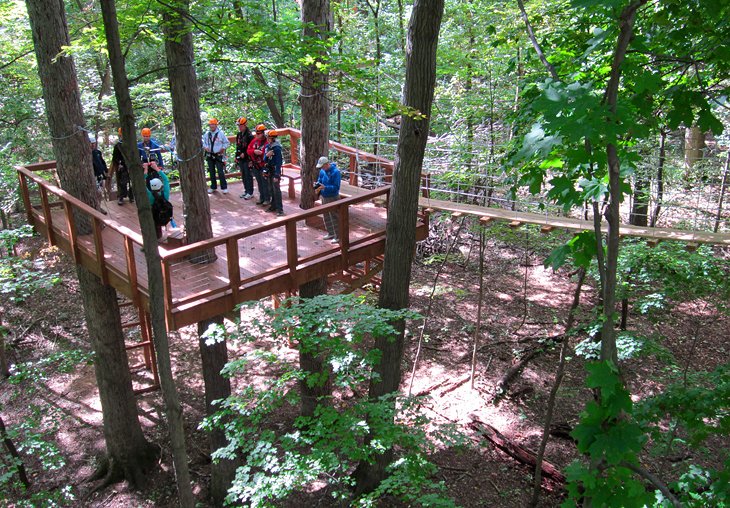 Trek through 20 acres of nature in the heart of Columbus at ZipZone Canopy Tours. You will enjoy nine outdoor experiences, including several ziplines, sky bridges, rappelling, and a free-fall experience.
The zipline tours are two hours and take you through the treetops of this forested area just outside Columbus. Their Zip Rush tours are a bit more adventurous, with a pair of ziplines combined with your choice of a free-fall experience or rappelling. Perhaps the most unique tours offered at ZipZone are the Night Flight Tours, where you zipline with only the light of the moon.
Address: 7925 N. High Street, Columbus, Ohio
Official site: http://zipzonetours.com/
9. Common Ground Canopy Tours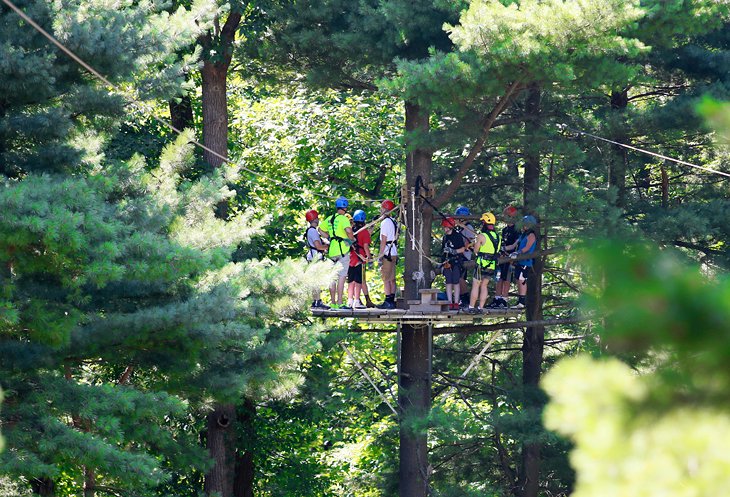 Common Ground Canopy Tours are 2.5 hours of non-stop aerial action. There are seven ziplines and 13 tree platforms that take you through the treetops and over the Vermillion River Valley. You will also experience three aerial bridges and two spiral staircases that add to the adventure. These tours are designed to encourage a new level of self-discovery through adventure and some tours can be custom designed for specific needs.
The zipline adventures at Common Ground are designed to be family friendly so anyone of any skill level can participate. There are seven ziplilnes, the longest stretching 850 feet. The tour takes you through forested areas and over the Vermilion River at heights of 75 feet in some spots.
Address: 14240 Baird Road, Oberlin, Ohio
Official site: https://commongroundcenter.org/canopy-tours/
10. Lake Erie Canopy Tours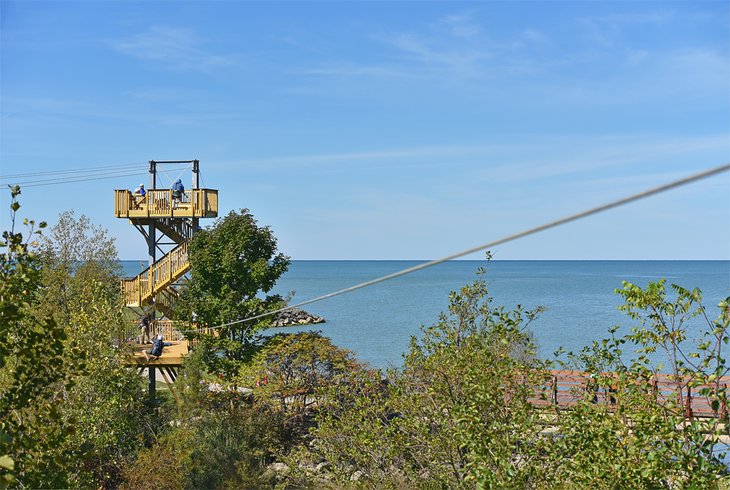 Soar above the Lake Erie shoreline at 30 miles per hour in the aerial adventure park of Lake Erie Canopy Tours. The 60-foot-high platform towers launch you through the treetops of Geneva State Park with a great aerial view over some of Ohio's most beautiful landscapes, especially during the fall foliage season.
Lake Erie Canopy Tours are adjacent to The Lodge at Geneva-on-the-Lake, so you can stay there and easily fit in a 2.5-hour zipline excursion. You also have the option to do the side-by-side double zippiness and race someone else to the next platform. Since the Lake Erie Canopy Tours course takes you over the water and forests, you will likely spot lots of local wildlife down below.
Address: 4888 North Broadway (SR 534), Geneva-on-the-Lake, Ohio
Official site: https://www.lakeeriecanopytours.com
More Related Articles on PlanetWare.com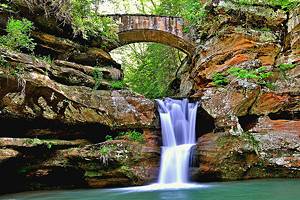 Outdoor Adventures in Ohio: If you like ziplining, you will enjoy the other outdoor adventures in Ohio, like caving and kayaking. The Buckeye State has national and state parks with thousands of miles of hiking trails to explore that range from paved paths to true wilderness backpacking.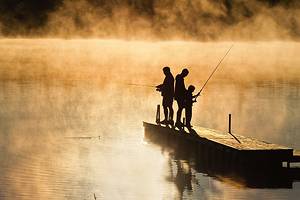 Fishing in Ohio: There are many great fishing lakes in Ohio from the Great Lakes water of Lake Erie, where you can target perch and walleye, to many inland lakes. Winter is also a great time to enjoy the outdoors in Ohio, with four ski resorts and many ice fishing lakes, where you can set up a shanty and catch perch, crappie, and walleye.