14 Top-Rated Outdoor Adventures in Ohio
Anietra Hamper is an avid outdoor enthusiast and Ohio native who traveled the state to try the best adventures from ziplining and fishing to skiing and hiking.
When it comes to outdoor adventures in Ohio, the changing seasons make it a year-round destination. Plan to hike along some of the hundreds of miles of trails in Ohio's national and state parks in the spring, or take a summer camping trip to the state's canoe capital in Loudonville, and canoe along the Mohican River.
Zipline through a treetop canopy in southern Ohio in the fall as the colors of leaves are changing to brilliant hues of orange and red. Popular things to do in winter include skiing, ice fishing, and snowmobiling on dedicated trails along Lake Erie.
No matter how you choose to get your outdoor adventure fix, Ohio is a great place to do it. With 75 state parks, 50 rivers, 140 state nature preserves, thousands of miles of streams, and a seasonally changing landscape, no two visits are the same.
For ideas on the best things to do, see our list of the top outdoor adventures in Ohio.
1. Hiking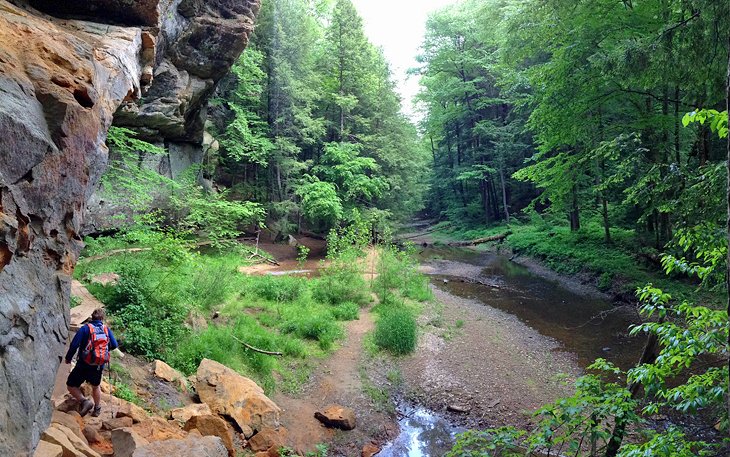 Ohio offers a full menu of hiking adventures that range from a simple stroll along a paved multi-use trail to treks through northern marshes and even true wilderness backpacking. Most parks offer a range of trails that cater to various skill levels and distance.
For moderate hiking and walking, visit one of Ohio's thriving Metroparks system hiking trails in Columbus, Cleveland, Cincinnati, and Dayton. There are paved trails and wooded paths designed to accommodate the casual hiker. Since the Metroparks systems are located within metropolitan areas, it is easy to combine both on a weekend getaway to the city.
The best hiking options are at some of the national and state parks in Ohio. Most of the Ohio State Parks have beginner to advanced hiking trails. There are parks throughout the state, so you can select your adventure based on the time of year and the scenery that you want to explore.
Hocking Hills State Park in southern Ohio, Cuyahoga Valley National Park in Peninsula, and John Bryan State Park in Yellow Springs are some of the most popular. All the state parks have trails that run several miles through wooded landscapes.
For a unique hiking adventure, visit the parks in the winter to admire frozen waterfalls. Adams Lake in West Union, Barkcamp in Belmont, Quail Hollow in Hartville, and Ash Cave in the Hocking Hills have wheelchair-accessible trails.
Advanced backpackers should look to Wayne National Forest and Tar Hollow State Park in southern Ohio for extreme wilderness trekking and multi-day hiking.
Before planning any hike, it is best to research a map of your destination so that you know the available trails, skill levels, access points, and parking.
2. Ziplining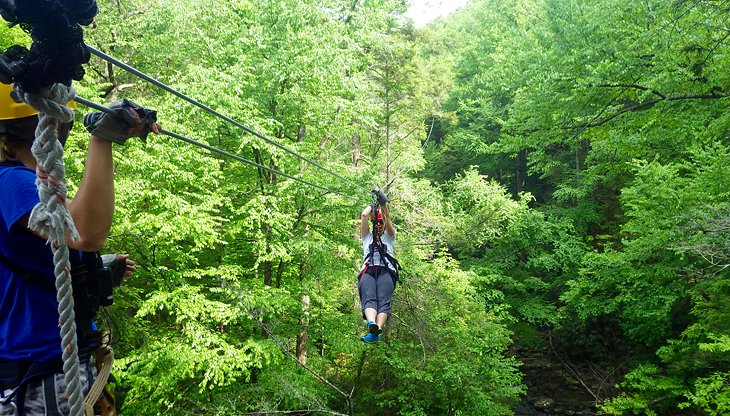 Ohio's ziplining experiences are some of the most unique because of the diverse topography that exists in the state.
The Hocking Hills region in southern Ohio is one of the best for ziplining excursions. Treetop canopy tours give you the view of the rolling hills. The fall season is the most colorful time of the year as the leaves are changing colors on the trees.
You can choose from beginner's trips to the extreme, flying 50 miles per hour through one of the most scenic areas in the state. Nighttime ziplines through outfitters like Hocking Hills Canopy Tours are popular as you soar from base to base by headlamp and moonlight. Several companies service the area, and you can design your zipline adventure around your interests.
The most unique zipline adventure is the Zipline Safari Tours at The Wilds in eastern Ohio. This popular tourist attraction takes you above giraffes, rhinos, and other exotic animals that call The Wilds home. As an extension of the Columbus Zoo and Aquarium, this animal sanctuary outside of the city offers both an outdoor adventure and a safari as you soar above prairies and lakes. You can even rent a GoPro on-site before your adventure.
Lake Erie Canopy Tours and adventure park is another option, located on the Lake Erie shoreline and next to The Lodge at Geneva-on-the-Lake and Geneva State Park.
3. Canoeing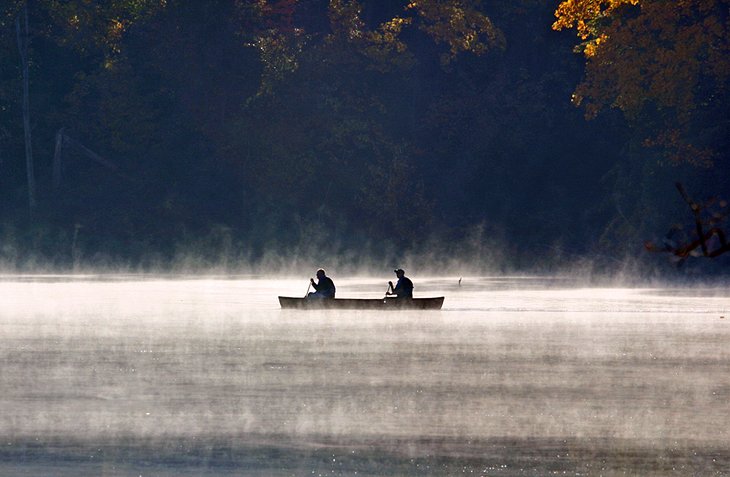 If you are planning a canoe trip, your best bet is in Loudonville, also called the Canoe Capital of Ohio. If you're not headed to that part of the state, Ohio has plenty of lakes ideal for not only boating, but fishing and swimming as well.
Several canoe outfitters along the Mohican River, in central Ohio, offer a wide range of trips, whether you are looking for a family trip or a day out with friends. They offer day trips, moonlight trips, and overnight trips.
There are several campgrounds in the Loudonville area where you can plan a weekend or weeklong trip with plenty of canoeing options to fill your itinerary.
Ohio's southern Hocking Hills region is another area with multiple canoe outfitters and trip options. You can show up when the mood strikes and head out for a day along the tree-lined Hocking River.
Another canoeing option is to take one of the designated water trails throughout the state like the Olentangy River Water Trail near Columbus, the Cuyahoga River Water Trail near Cleveland, or the Ohio River Water Trail. The Ohio Department of Natural Resources division of State Parks and Watercraft has maps of 16 designated water trails throughout the state.
4. Rock Climbing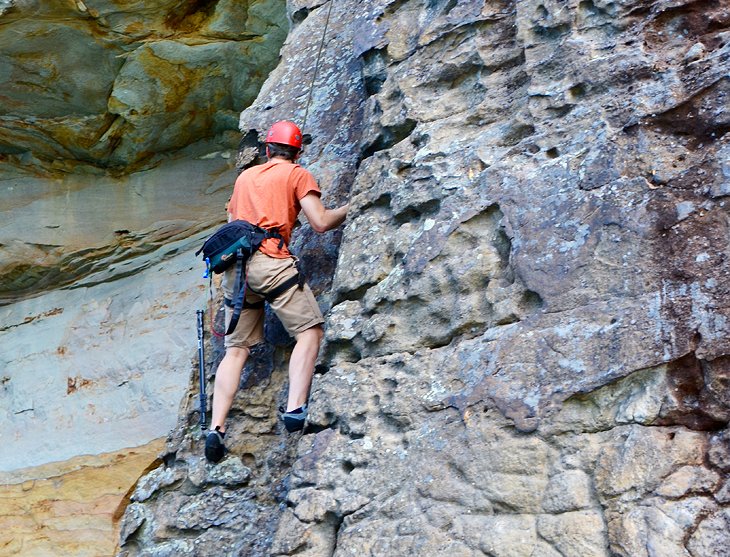 Rock climbing and rappelling are growing in popularity in Ohio.
The steep limestone cliffs at John Bryan State Park near Yellow Springs are some of the few areas open for public rock climbing in the state. Equipment is not provided, and while these designated climbing areas are open to the public, they are not for the inexperienced climber.
Rapelling is also permitted on certain cliffs in the park and offers an exhilarating adventure for climbing enthusiasts. Check with the park's visitor office to find out which cliffs are open to climbing.
For the more inexperienced climber, signing up for a professionally guided tour with a company in Hocking Hills State Park is your best option. Several companies in the area offer guided service as well as equipment rental. The steep cliffs in the region will provide you with an unforgettable climbing experience, but are best navigated with a professional.
5. Fishing
Fishing in Ohio runs the gamut from charter fishing on Lake Erie and fly fishing in the state's quiet streams to belly boat fishing in lakes. Anglers flock to Lake Erie throughout the year to charter boats for walleye from April through October and perch in the spring and fall.
Charter trips can be arranged in many waterfront areas along Lake Erie. The most popular departure areas are Maumee Bay, Port Clinton, Sandusky Bay, and Geneva-on-the-Lake.
Fly fishing for trout in the state is popular in many of the rivers and streams. The Ohio Division of Natural Resources (ODNR) stocks a number of rivers. You can look on their website for specific species, locations, and times of year they are stocked.
Many of Ohio's state parks have large waterways and lakes for fishing, including Deer Creek and Salt Fork, which have large shorelines and ample boating access.
When the weather turns colder, Ohio has many lakes that are ideal for ice fishing. Lake Erie and frozen lakes in northern Ohio are your best options. Experienced anglers with ice fishing equipment can hit any of the state waterways with a proper license. Companies that operate guides on Lake Erie include shanties and services that make it a comfortable outing.
6. Kayaking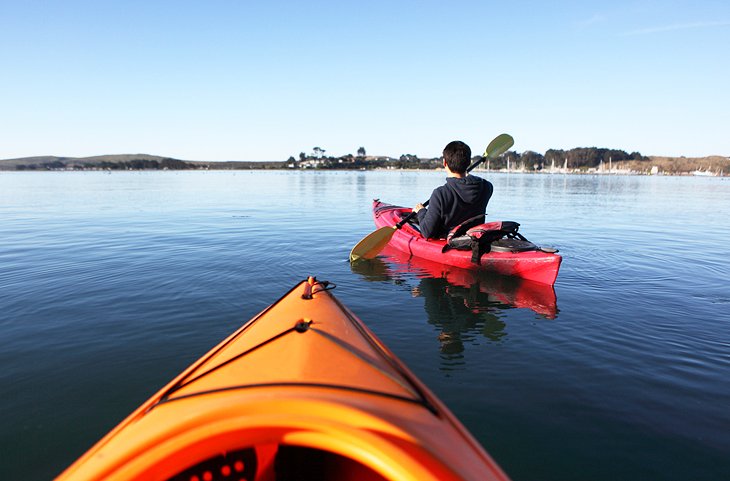 It's easy to grab your kayak and head out for a day of leisure adventure on one of Ohio's many creeks, rivers, and lakes.
The Ohio Division of Natural Resources has a number of designated Water Trails throughout the state with maps available online that detail the best routes for light watercraft and access points and highlight scenic points of interest.
You will find designated routes along the Kokosing River, Mahoning River, Muskingum River, and over a dozen waterways in Ohio. These are great resources if you are heading out on your own.
If you enjoy kayaking but prefer to rent equipment, a few places have convenient rentals and easy access to great rivers. The Little Miami River near Cincinnati runs 111 miles through five counties in southwestern Ohio. Nearby Morgan's Canoe Livery in Fort Ancient rents kayaks.
Closer to central Ohio, the Big Darby Creek is a scenic river that is popular with kayakers because it is not overcrowded with other watercraft. Trapper John's is the closest livery with kayak rentals available.
7. Skiing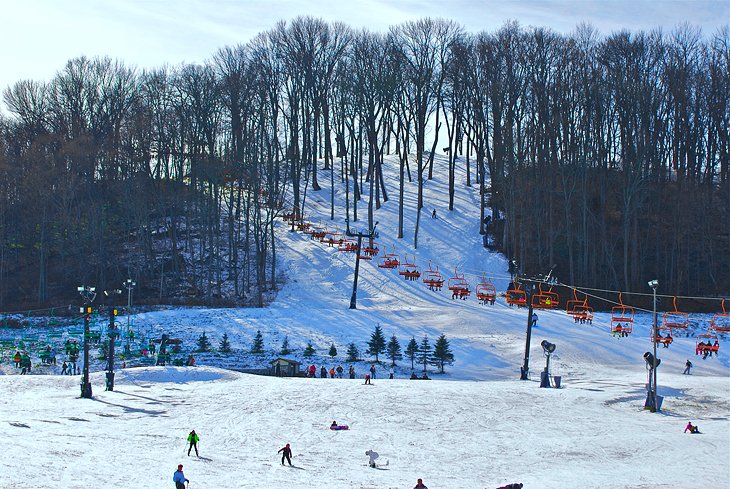 While you may not think of Ohio first when it comes to skiing, the buckeye state has several ski resorts that cater to winter weather enthusiasts.
Snow Trails, in Mansfield, is a resort that has entertainment and event parties throughout the season to add a little extra fun to your day, or night, of skiing. This full-service ski resort has multiple trails to suit every skill level, including trails for tubing, a beginner's complex, and moguls. The resort offers ski lessons and has an adaptive ski program for visitors with disabilities.
Mad River Mountain, near Zanesfield, is one of the most popular ski resorts because it caters to every level of skier. There are several downhill trails and snow tubing trails for recreational skiers. Specialty terrain parks on-site cater to expert skiers who are looking for ski jumps.
Alpine Valley is a tucked-away ski resort just outside of Cleveland and is the only one with wooded trails. In addition to seven trails like the "Alpine Twist" and the "Outer Limits," you can enjoy an entire section of the park that is just for snow tubing.
Boston Mills and Brandywine ski resorts are sister companies in northern Ohio that have ski and snowboarding trails for every age and skill level. The trails offer various terrains to fit your adventure level.
If you prefer cross-country skiing to downhill, many of the Ohio State Parks have cross-country trails.
8. Birding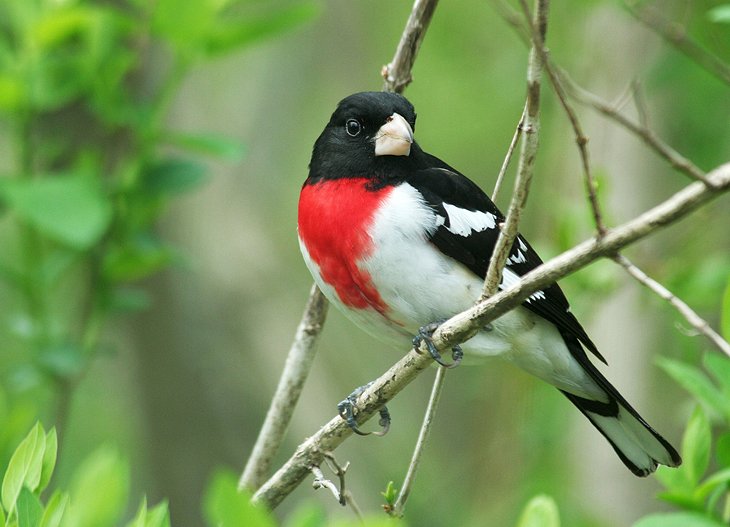 Birding in Ohio is popular, especially along the Lake Erie Birding Trail. The trail is divided into seven loops and spans 312 miles from Toledo to Conneaut along the Lake Erie shoreline. There are more than 84 designated stops where you might catch a glimpse of bald eagles and rare birds like the long-tailed duck.
Each stop includes the species that are in the area or pass through during peak migration periods. More than 400 species of birds have been spotted along the Lake Erie Birding Trail. Online maps make it easy for you to plan a visit to one loop or several during the same trip.
One of the most popular times to visit is in the early spring near Maumee Bay during the warbler migration. This is when more than 60,000 avid birders come to the area for the biggest week in American birding to catch a glimpse of 200 species of birds and rare warblers that are heading north
9. Caving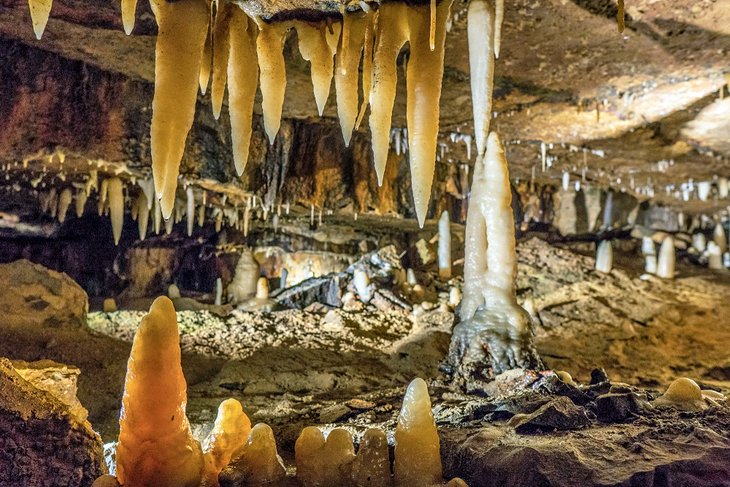 One of the best-hidden adventures in Ohio is caving. There are caverns throughout the state that let you explore the majestic natural underground world of crystal stalactites and stalagmites.
Ohio Caverns is a gem in West Liberty, Ohio. The caverns are a result of the underground river that carved out local limestone thousands of years ago. The chambers that stand today have natural crystal formations below ground that are exciting to see in person. The most impressive stalactite, the "Crystal King," is a 400-pound, five-foot-long crystal that is more than 200,000 years old.
Seneca Caverns in Bellevue is one of the largest underground caverns, with seven chamber rooms that span 110 feet below the surface. The "Ole Mist'ry River" within the caverns is a stunning, clear stream still flowing below ground.
Some of the other caves and caverns to explore in Ohio are Perry's Cave and Crystal Cave both on Put-in-Bay on South Bass Island and Zane Shawnee Caverns in Bellefontaine.
10. Biking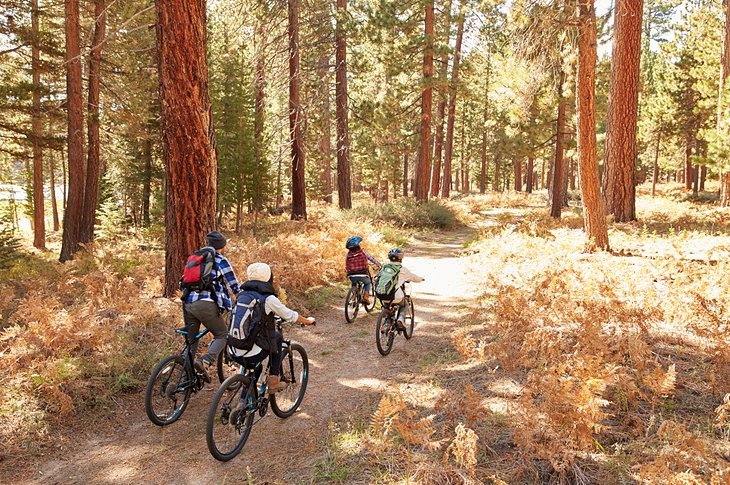 It's not difficult to find bike-friendly adventures in Ohio. Most of the major cities now offer downtown bike rentals, and you will find connecting bike trails throughout many of Ohio's Metroparks. Ohio State Parks offer more than 250 miles of designated mountain biking trails.
Some parks also have bike rentals at the camp office. Parks such as Alum Creek, Caesar Creek, Hueston Woods, and Scioto Trail also have specific mountain biking trails.
One of the best biking features in Ohio is the Rails to Trails system that exists throughout the state. These are old railroad tracks that are converted to biking trails and connect various cities and towns.
Enjoy the historic 4.6-mile Celina Coldwater Bikeway Rail-Trail that follows the Penn Central Railroad system or plan a longer ride along the 33 miles of the Bike & Hike Trail in northern Ohio.
11. ATV Off-Roading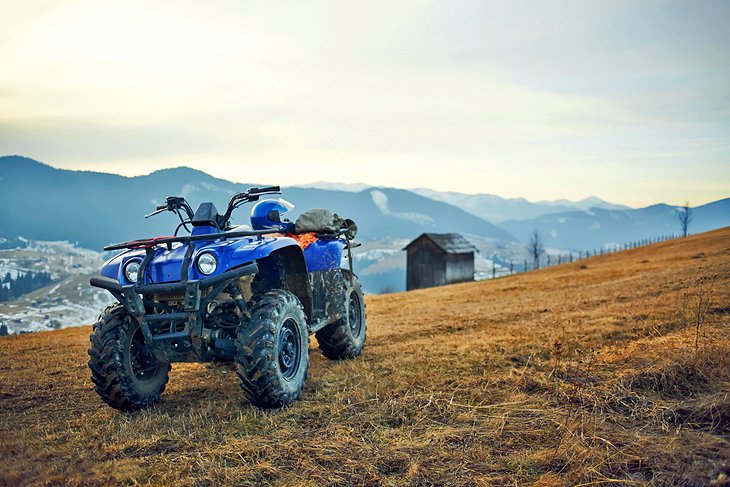 Off-roading with All-Terrain Vehicles (ATVs) can be exciting on some of Ohio's rolling terrain.
There are several notable ATV trails throughout the state. Wayne National Forest, near Nelsonville, has three ATV trails: Monday Creek, Hanging Rock, and Pine Creek that give you 75 miles of off-roading trails. Campsites are nearby if you want to stay in the park, and trail permits are required.
If you want to rent ATVs to ride, Hocking Hills Nature Trails has rentals and guided tours in the Hocking Hills region. If you are up for getting a little messy, be sure to check out the mud bog on the trail system provided by the company.
In northern Ohio, Bear Creek Ranch KOA has 26 miles of marked ATV trails that go through woods, hills, and creeks.
12. Horseback Riding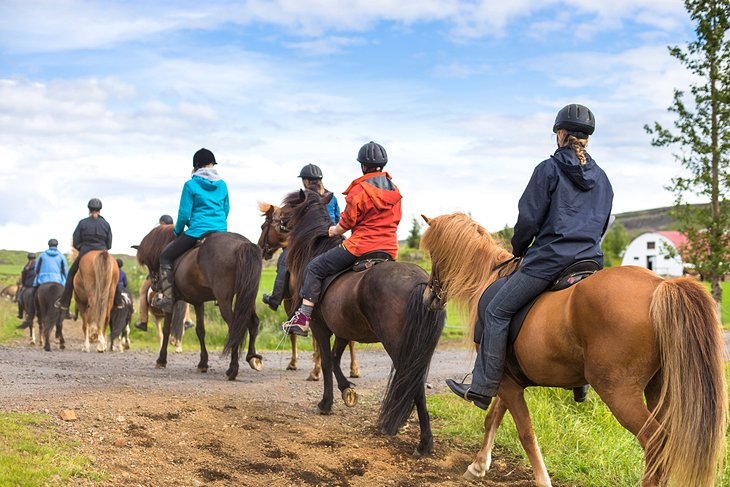 Horseback riding in Ohio is a peaceful way to see some of the natural landscapes and woods that are central to outdoor enjoyment in the state.
Marmon Valley Farm in Zanesfield, is a family-owned horse farm that has been around for more than 50 years. With more than 150 horses and a professional staff, you can enjoy a comfortable stroll on horseback through the rolling hillside on the property.
The Hocking Hills region has many horseback riding trails and several stables, including Spotted Horse Ranch and Uncle Buck's Riding Stable, which offer guided horseback rides through the scenic cliffs and forests in this beautiful southern region in Ohio.
13. Hot Air Ballooning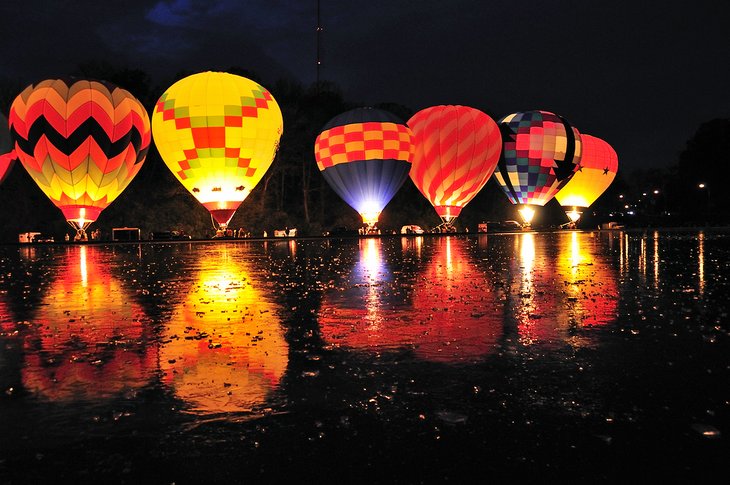 There are several ways to enjoy and experience the adventure of a hot air balloon ride in Ohio. It is quite common to see them gently floating over the farm fields in rural Ohio and occasionally floating over the major cities. Depending on how involved you want to get, there are several options to experience this unforgettable ride.
There are many community ballooning events that take place throughout the state, which is the easiest way to get an up-close experience. The Ohio balloon festival season generally runs from May through October in communities like Middletown, Coshocton, Toledo, Canton, Ashland, and Findlay. During the balloon festivals, you can take a paid ride or try a tethered ride.
More involved balloon enthusiasts can join a balloon club like the Central Ohio Balloon Club or the Northeast Ohio Balloon Pilots Association.
Another way to experience ballooning is to volunteer on a crew. Most balloon operators welcome the extra hands and will provide training for volunteers. Several outfitters like Hot Air Balloon Rides in Lebanon and Soaring Adventures out of Columbus, Cincinnati, and Cleveland operate rides for special occasions with reservations.
14. Fossil Collecting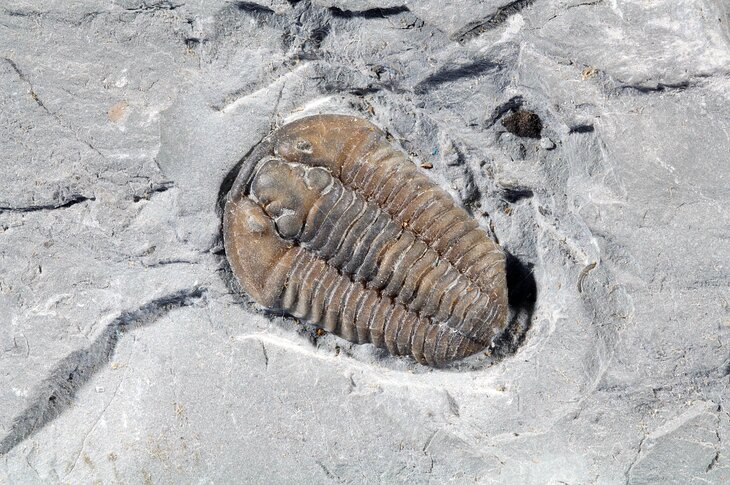 Ohio's natural landscape holds a hotbed of preserved fossils that can be collected at several public sites throughout the state. This is a fun and educational way to get outdoors, especially for families.
The public fossil collection sites give you free reign to dig through rock and deposits to feel like a paleontologist and learn about Ohio's natural landscape during the Ice Age and other geologic periods.
Some of the fossils that are found in Ohio include trilobites, gastropods, brachiopods, and crinoids. Some of the fossil parks to try are Fossil Park in Sylvania, Oaks Quarry Park in Fairborn, Hueston Woods State Park in College Corner, Caesar Creek State Park in Waynesville, Trammel Fossil Park in Sharonville, and East Fork State Park in Batavia.
You will want to pack water, snacks, sunscreen, and tools. Be sure to research the collection information for the site before you go, and access a free permit or make a reservation if it is required.
Map of Outdoor Adventures in Ohio
More Related Articles on PlanetWare.com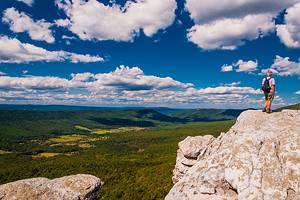 West Virginia Outdoor Adventures: If you love the outdoors then you will want to look into nearby outdoor adventures in West Virginia like rock climbing, paragliding and trout fishing in the state's natural landscape. West Virginia also has some of the best whitewater rafting in the United States on the New River and Shenandoah River systems.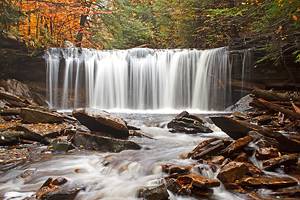 Pennsylvania Outdoor Adventures: Pennsylvania is another state with great outdoor adventures with hiking trails, kayaking, and star gazing in some of the national and state parks. For adrenaline junkies, the Pennsylvania white water rafting is superb on the Youghiogheny River and the Allegheny River Trail and several other locations. If trout fishing is your focus there are more than 15,000-miles of designated wild trout fisheries in Pennsylvania's top fly fishing regions.