13 Top-Rated Tourist Attractions in Columbus, OH
We may earn a commission from affiliate links ()
The distinct districts of Columbus make visiting Ohio's capital city an exciting getaway. You can appease your culinary side with authentic bratwursts and crème puffs in German Village or experience Columbus in an active way with an excursion from Columbus City Adventures. Discover your artsy side in the Short North Arts District or let loose with sports and entertainment in the Arena District.
Experience the many sides of Columbus at specific attractions that encourage a new adventure, or just kick back along the Scioto Mile downtown and admire the growing city skyline with a lunch or concert by the river. Whether you are looking for itineraries for 1-day, 2-days, or 3-days; planning great weekend getaways in Ohio; or just passing through to Cincinnati or Cleveland, make a stop here to spend time at some of the top tourist attractions in Columbus.
See also: Where to Stay in Columbus
1. Columbus Zoo and Aquarium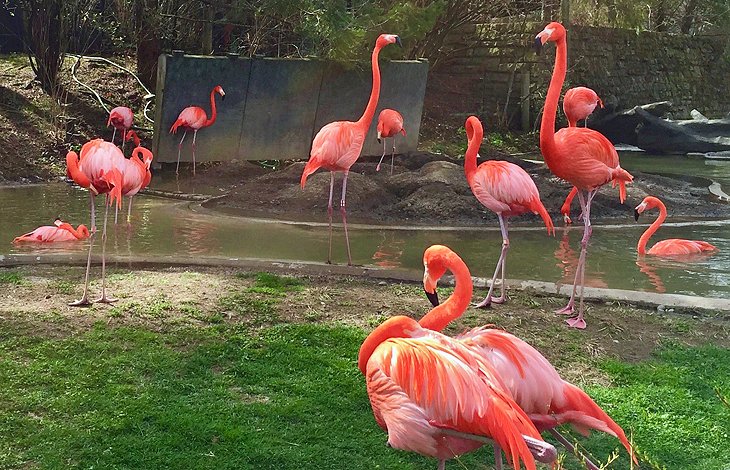 The Columbus Zoo and Aquarium is one of the top things to do in Columbus because of its expansive collection of animals, educational programs, and changing exhibits. With habitats like Asia Quest, Congo Expedition, Heart of Africa, and Shores & Aquarium, a day at the Columbus Zoo takes you to every continent to explore more than 10,000 animals.
Besides visiting animal exhibits and enjoying live performances and feedings, be sure to enjoy the seasonal rides at Jungle Jack's Landing and bring your bathing suit to enjoy the wave pool and waterslides at Zoombezi Bay next door.
There is plenty of ground to cover at the Columbus Zoo but to make the most of your visit, plan some time to enjoy some of the interactive exhibits like Adventure Cove or watch the giraffe and stingray feedings.
2. Franklin Park Conservatory and Botanical Gardens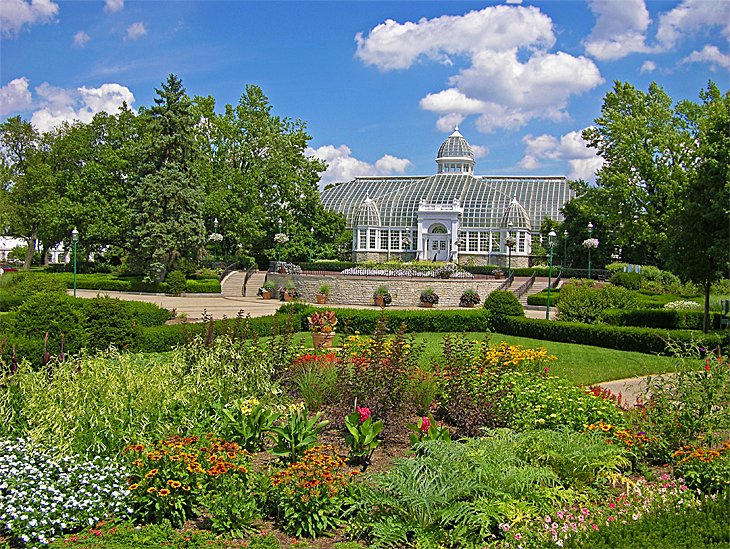 You can explore a paradise of flora and fauna at the Franklin Park Conservatory and Botanical Gardens. The Conservatory features hundreds of species of plants from around the world in towering glass greenhouses. Walk through the rainforest, desert, orchid collection, and the grand Palm House, where you might spot a wedding in progress on the weekend.
Outside, take some of the walking paths through the Botanical Gardens and Garden Campus. There are regular changing exhibitions, like Blooms & Butterflies in the spring, and visitor events like glassblowing and gardening that you can experience.
3. Center of Science and Industry (COSI)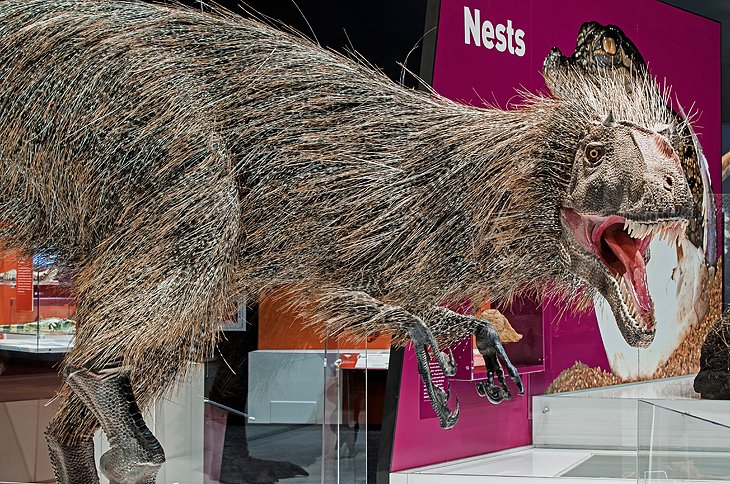 The Center of Science and Industry has been a Columbus institution for decades, inspiring adults and children about the wonders of science in our world. Hands-on exhibits throughout COSI educate about outer space, energy, cultural progress, and even an expansive dinosaur gallery in partnership with the American Museum of Natural History.
4. North Market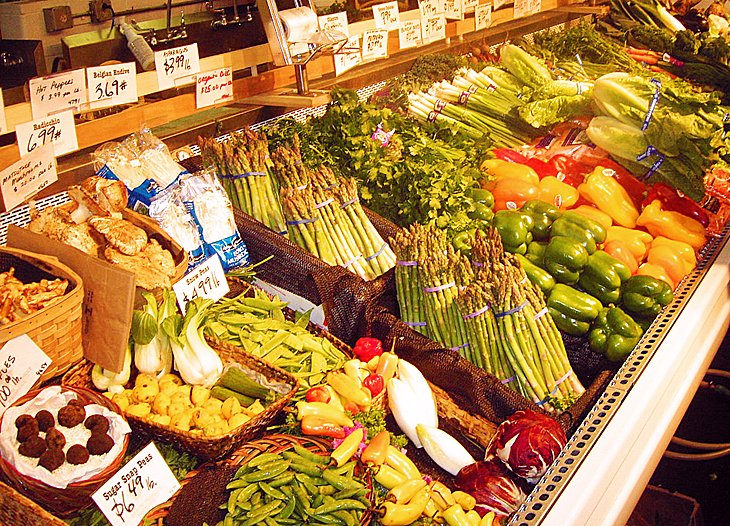 A stroll through Columbus' North Market downtown is a fun way to immerse yourself in local culture. The market has dozens of local vendors selling everything from homemade bread and fresh flowers to an array of small eateries serving up Italian, Indian, Vietnamese, Pizza, German, Sushi, BBQ, and Nepalese food options on two floors.
Columbus is a city that supports independent merchants and the farmers that are the heart of Ohio's agriculture industry. The historic North Market is especially vibrant on Saturdays, when merchants also set up outside selling goods like local honey and fresh in-season farm produce.
5. Columbus Museum of Art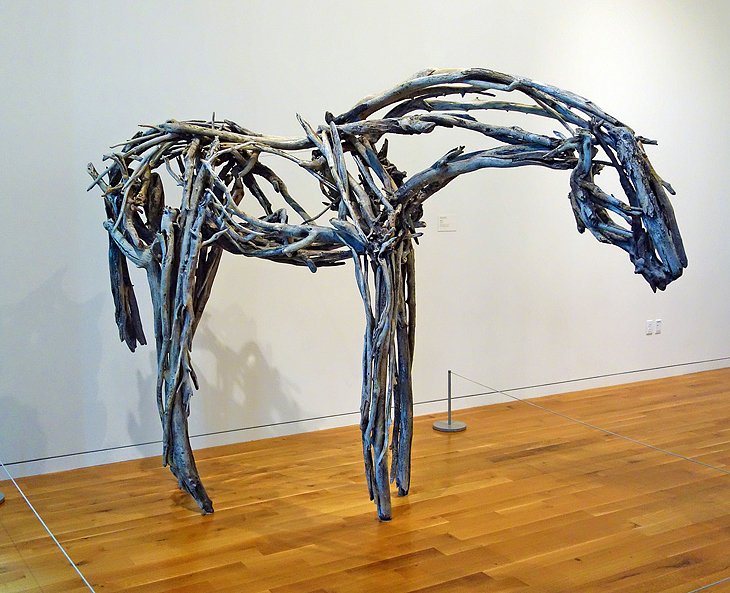 Explore your artistic side at the Columbus Museum of Art, where exhibitions and galleries showcase the best in paintings, photography, glass, and sculpture. One of the most enjoyable ways to experience the Columbus Museum of Art is during one of their regular programs or community events that use the galleries as a backdrop.
In addition to the galleries, you will want to find the JP Morgan Chase Center for Creativity, which features a free creativity lounge with hands-on products to help inspire your creative side. Before you leave the museum, grab a small bite at the Schokko Art Café, where the culinary creativity is as artistic as the paintings.
6. Huntington Park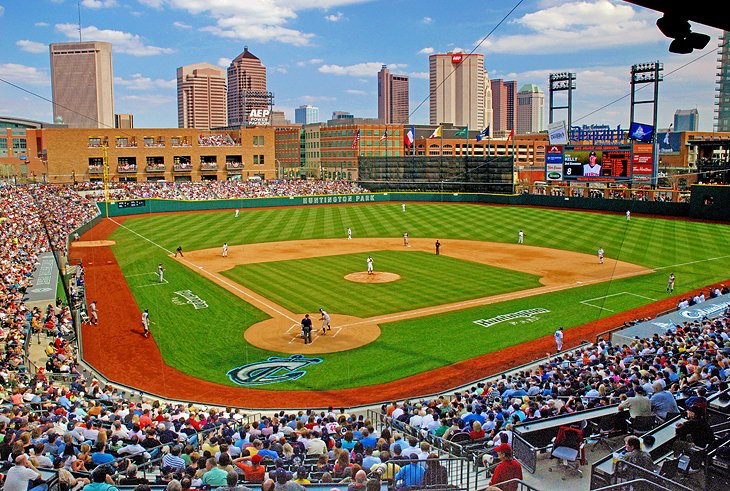 If you happen to visit Columbus on dime-a-dog night at Huntington Park, no doubt you will feel like a local. Home of the Columbus Clippers baseball team, Huntington Park is an exciting way to enjoy one of the city's premier attractions in the heart of the Arena District.
7. Ohio Statehouse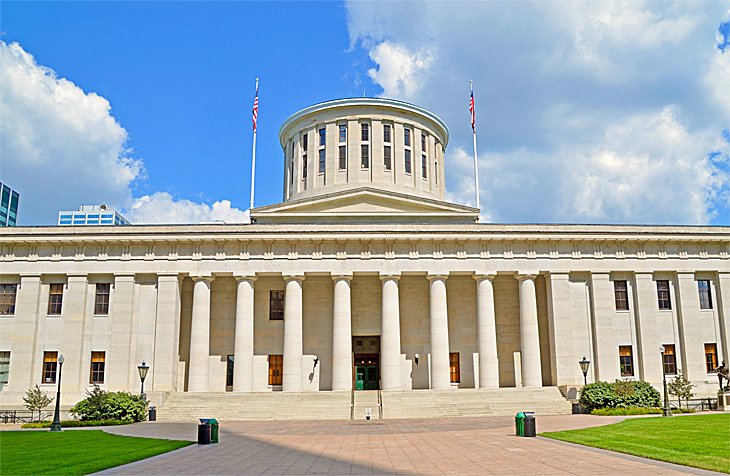 There are so many things to do at the Ohio Statehouse inside and outside on the Capitol Square complex that it is helpful to narrow it down before your visit. The statehouse is where the official Ohio business takes place. There are free guided tours daily that provide the best overview of the history and design of the complex.
8. The King Arts Complex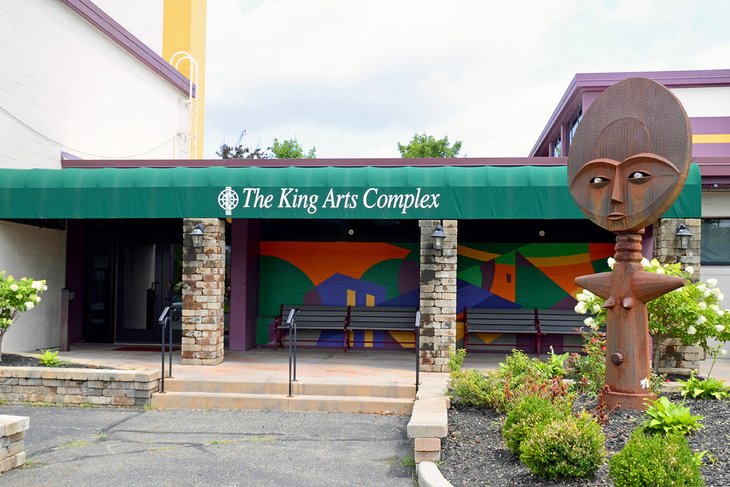 One of the great institutions in Columbus honoring African American heritage is The King Arts Complex. It is located in the heart of Columbus's King-Lincoln District and is a community point of interest for exhibits, informational programs, and performance arts recognizing the contributions and achievements of prominent African-Americans.
9. Ohio History Center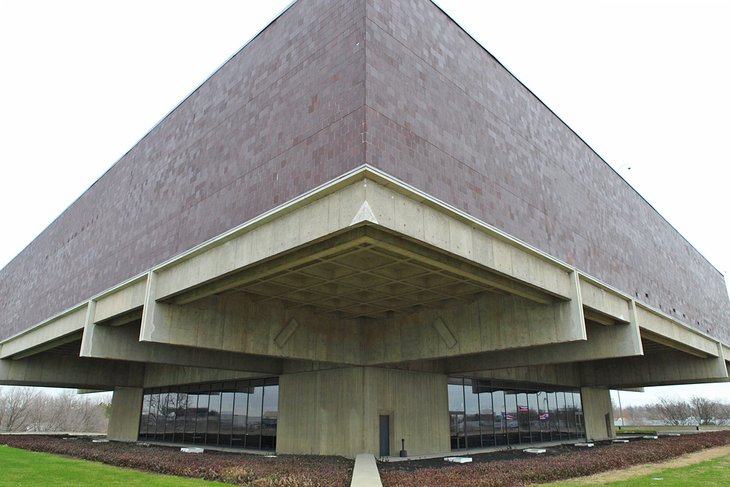 You do not have to be a history buff to enjoy and appreciate the museum, library, and village on the grounds at the Ohio History Connection. Ohio History Center features several floors of interactive and educational exhibits ranging from Ohio's American Indian roots to Civil War relics, changing neighborhoods, and displays featuring various stages of Ohio history.
10. The Topiary Park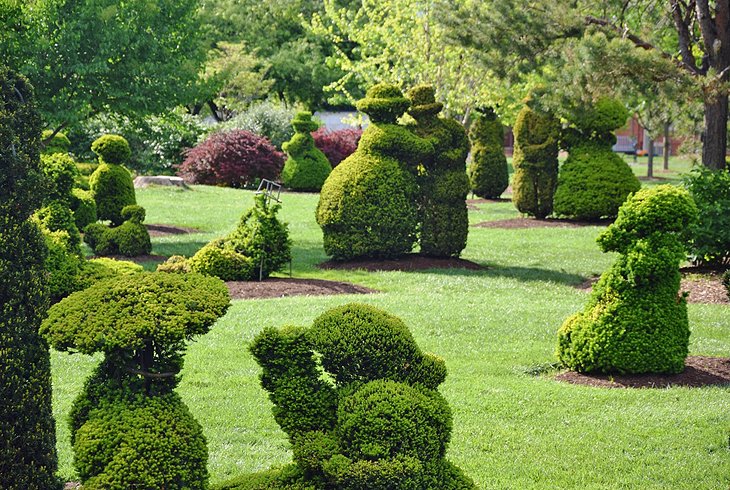 The Topiary Park is a Columbus treasure that even many local residents forget to visit and appreciate. The park features 54 life-size topiary sculptures designed as the impressionist painting by George Seurat A Sunday Afternoon on the Isle of La Grande Jatte.
11. Thurber House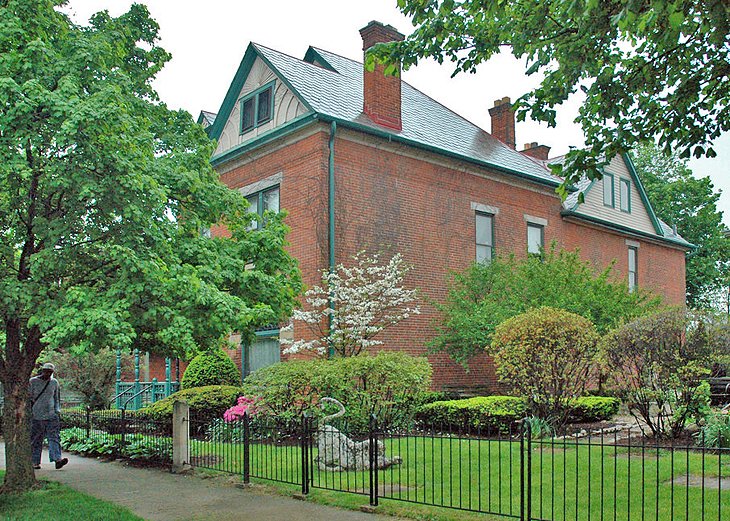 Literary lovers will want to put a visit to the historic Thurber House on the top of their list. The former home of literary cartoonist and author James Thurber is renovated into a Thurber and literary museum.
12. ZipZone Outdoor Adventures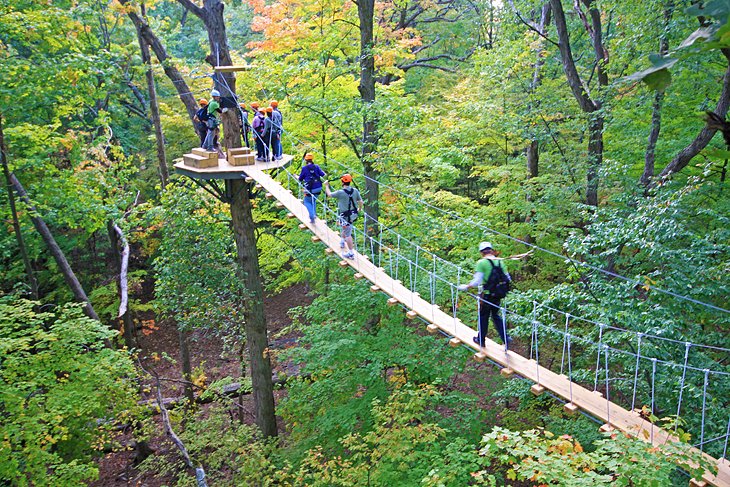 It is hard to imagine an outdoor adventure like ziplining in the heart of a busy city like Columbus, but ZipZone Outdoor Adventures has done it. Billed as a zipline tour, you can zip your way through the treetops just north of downtown.
The tours range from canopy tours and moonlight tours to zip-rush tours that include a brief freefall and rappel experience. ZipZone offers kid-friendly outdoor experiences in the Kids Park, with pint-size adventures and an Adventure Park with more than 60 climbing and zip challenges for both beginners and advanced level visitors.
13. National Veterans Memorial and Museum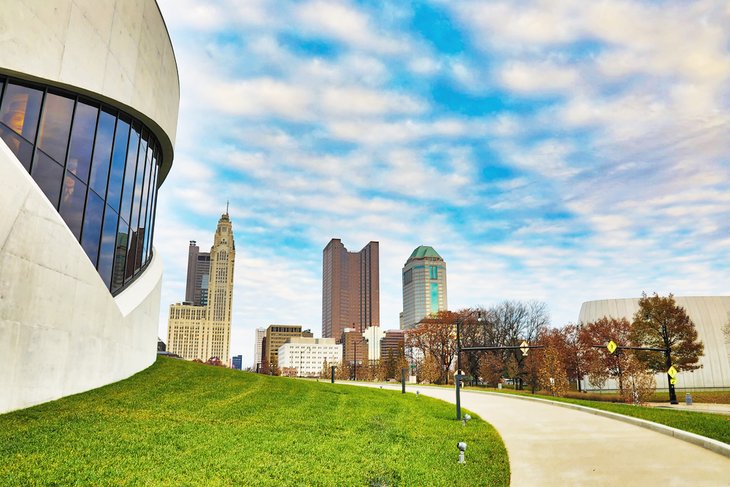 An exciting attraction in Columbus is the National Veterans Memorial and Museum. The center will feature stories, photos, and memorabilia from the nation's veterans who served every branch of the U.S. military.
The museum overlooks the Scioto River, with views of the downtown skyline providing both a sanctuary for reflection and exhibits for learning about every major military event in U.S. history.
Where to Stay in Columbus for Sightseeing
The best place to stay in Columbus is right downtown, where many of the city's main attractions are located, as well as restaurants and shopping. The city center has a lively entertainment scene centered on the Short North and High Street area. Below are some highly rated hotels in convenient locations: