Visiting Columbus, Ohio: 1-Day, 2-Day & 3-Day Itineraries
We may earn a commission from affiliate links ()
Ohio's capital city of Columbus is an artsy and sporty cosmopolitan city with Midwestern roots. You will find activities and destinations that pay homage to the state's agricultural industry, and sections of neighborhoods made up of dozens of ethnic groups making their first homes in America.
What this means for visitors trying to plan an itinerary is that you can visit a world-class art museum or catch a live fashion show one minute, and fill a basket of just-picked produce from a local farmers market the next. It means that you can cheer on NHL's Columbus Blue Jackets for the win or catch a fly-ball during a Columbus Clipper's baseball game at Huntington Park, then grab dinner at one of the many local ethnic restaurants representing more than 40 nationalities.
With these one-, two-, and three-day itineraries in Columbus, you can get a mix of the highlights while working in some appreciation for the finer details of the city that turn first-time visitors into yearly vacationers.
Note: Some businesses may be temporarily closed due to recent global health and safety issues.
ONE-DAY ITINERARY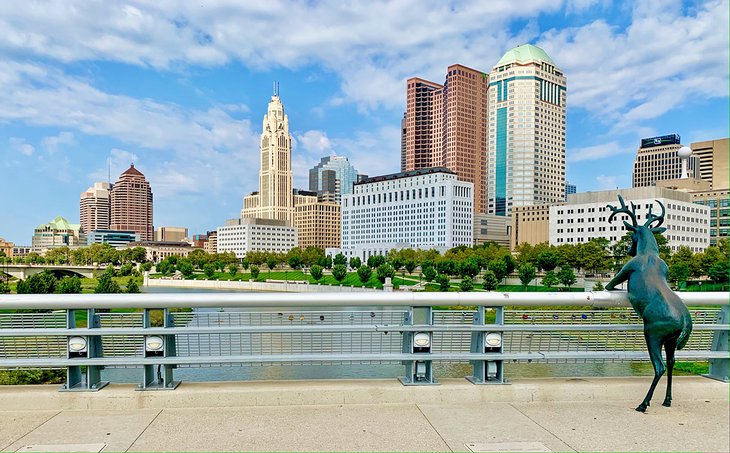 Things to Do in One Day in Columbus: If your trip is a quick one in the capital city, it is best to start in the downtown area then expand into the nearby neighborhoods of the Short North to the north and German Village to the south, if time permits.
Start with a visit in the heart of the city at the Ohio Statehouse. There are regular free tours offered daily, or you can explore the Capital Square complex on your own. The outside grounds are filled with statues, monuments, and hidden finds like a small bee aviary on one side of the statehouse.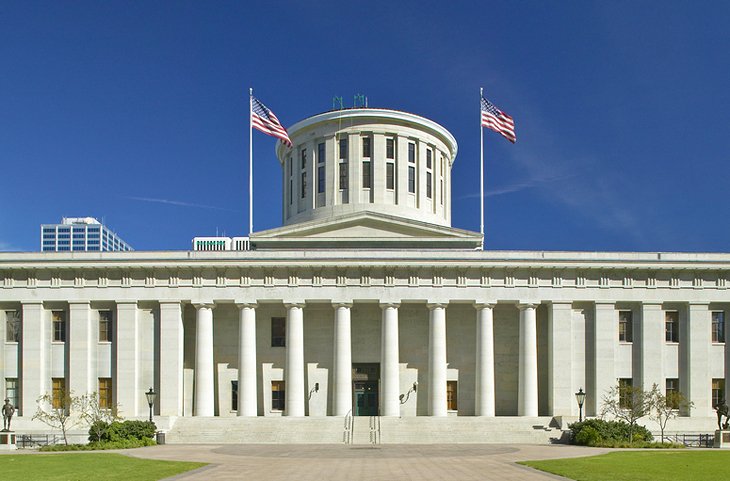 The statehouse museum gift shop has unique Ohio-made treasures to take home with you. Walk a few blocks to the Scioto Mile along the riverfront and grab lunch from a local food truck vendor as you enjoy the Scioto River from one of the many benches located along the green space.
If you want to stay in the heart of downtown, you can spend the rest of the day at one of the top attractions in the city, the National Veterans Memorial and Museum, and catch an afternoon baseball game at Huntington Park. You can also head to the Short North, Columbus' most popular arts district, and peruse local galleries or stroll the aisles of the North Market, where you can buy fresh produce, baked goods, cheeses, and ethnic food from local vendors.
Another great half-day option is in German Village, where you can walk the brick side streets to boutique shops and cafés. You can also find your next favorite read in The Book Loft, one of the largest independent bookstores in the United States, with 32 rooms to explore.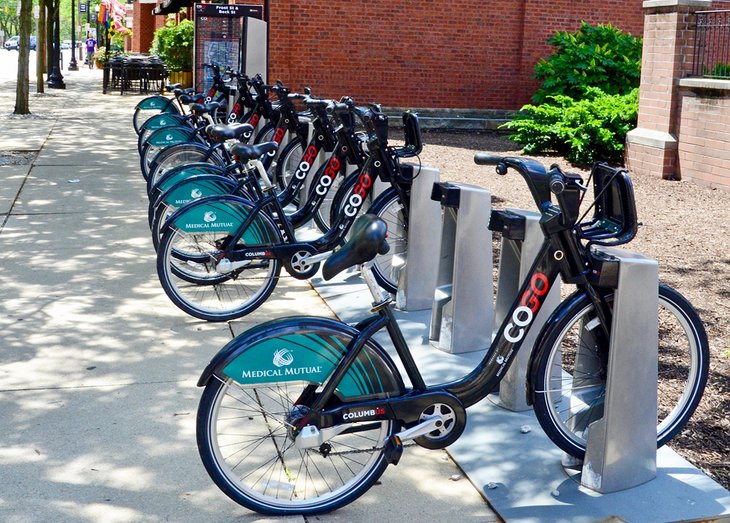 Getting Around: Depending on your style, you can explore downtown Columbus with Columbus City Adventures guided tours or tackle the landscape on your own by foot. You can also rent a bike from one of the 46 CoGo Bike Share rental stations in downtown and enjoy the bike-friendly atmosphere in the city. This is a fun excursion, especially for families or couples. There are dedicated bike lanes throughout downtown and into adjacent neighborhoods, or you can ride down to the Scioto Mile and North Bank Park, which are connection points to trails that extend into Columbus suburbs.
Where to Eat: Columbus is home to Schmidt's Sausage Haus, which has served authentic German cuisine and their famous cream puffs in German Village since 1967. This beloved eatery was started by a family that was among the first German setters to the city. If you have an adventurous palate, you can try one of the many small ethnic restaurants near downtown to sample Somali, Indian, Nigerian, and Vietnamese dishes.
The Columbus food truck scene is big, and you can download an app to find where local trucks are located each day to cater to your current food mood. Or, if you want to relax with a view, enjoy the river and skyline scenes from floor-to-ceiling windows as you dine at The Boathouse Restaurant or Milestone 229 at Bicentennial Park.
Where to Stay in Columbus: Lodging options in Columbus range from boutique hotels with executive suites to budget hotels with simple offerings for a good value.
Luxury Hotels: One of the most exclusive hotels in downtown Columbus is the luxury Hotel LeVeque, Autograph

Collection

, which is inside one of the most recognizable and historic buildings in the Columbus Skyline. The restored LeVeque Tower has a boutique hotel with all of the extras, from marble bathrooms and spacious suites to rooms with panoramic views of the riverfront. You can walk to top attractions like the Ohio Theatre and the Palace Theatre.

If you want to stay close to the Arena District, Nationwide Arena, or the Convention Center, the Hilton Columbus

Downtown

is centrally located, with luxury bedding, on-site specialty dining, and featured artwork by local artists throughout the hotel.
Mid-Range Hotels: Most of the hotel options in Columbus fall in this category, including Homewood Suites by Hilton,

Columbus

, located near the Polaris shopping area north of downtown. If your visit requires a bit of retail therapy, you will enjoy staying in this area, as it keeps you close to Polaris Mall, Tanger Outlets, and the Easton Town Center shopping complex.

If you want to stay centrally located near downtown and close to the Ohio State University and other attractions, the Hampton Inn and Suites Columbus

Downtown

is a nice option. You are within walking distance of everything in the downtown area, and with free breakfast, it is a good option for families.
Budget Hotels: If you are saving your money to spend on attractions and great food during your stay in Columbus, you can find budget hotels on the edge of the downtown area, like the WoodSpring Suites Columbus North

I-270

on the north end. The hotel is affordable and about half the price of other hotel options, but you are still close to the I-270 freeway, with quick access to downtown or to any of the Columbus suburbs.
TWO-DAY ITINERARY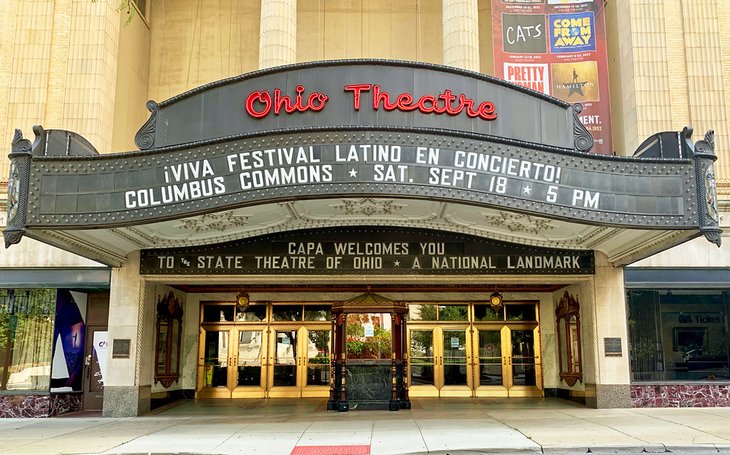 Day 1
With two-days in Columbus, you can expand your sightseeing a bit more. You may want to follow the one-day itinerary to start, since it includes the top things to see, or you can explore the more cultural side of Columbus.
You can start your day with a free public yoga class at the Columbus Commons downtown then begin your cultural excursion at the Columbus Museum of Art, where you can peruse the galleries and stay for lunch at the museum's Schokko café.
Spend the afternoon at the Franklin Park Conservatory and Botanical Gardens, where you can experience every biome in the world in a single visit or take a glass-blowing class. Cap off the day with a Broadway performance at the historic Ohio Theatre.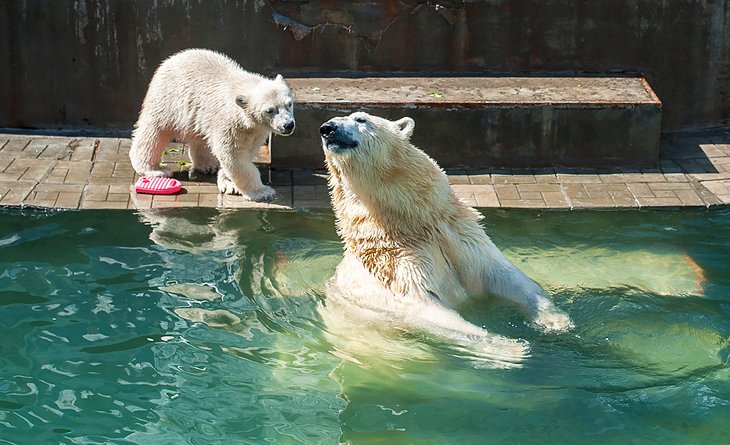 Day 2
Things to Do: With added time in your itinerary, spend your next day exploring the Columbus Zoo and Aquarium. If it is summertime, you can also enjoy Zoombezi Bay water park, which is popular with families. The zoo is consistently ranked as one of the top in the United States, with exciting animal encounter exhibits and demonstrations throughout the sprawling grounds. While a zoo visit will take up most of the day, you can leave time to explore some of the nearby suburbs, which have great parks and social areas, like Ballantrae Park in Dublin, or stop by a farmers market in historic downtown Powell.
Another full-day excursion that you can plan is at the Ohio History Center and Ohio Village, which are both located in the same complex. The Ohio Village is an outdoor living history museum designed to look like a late 1800s village. There are special events at the village throughout the year, but it is fun to visit anytime.
If you are lucky, you might catch the Ohio Village Muffins baseball team in action in vintage uniforms and playing by the rules of the game from the late 19th century. The Ohio History Center located next to the village has several floors of indoor exhibits about Ohio history.
Where to Eat: A great way to wrap up your day is with dinner and the best open-air view of the city from Juniper, atop the old Smith Brothers Hardware Building in the heart of downtown Columbus. It is the largest rooftop patio in the city and especially wonderful after the sun sets when you can get a full view of the featured illuminated colors on top of the LaVeque Tower in the nighttime skyline. Stop at one of the Jeni's Splendid Ice Creams locations in town for an unforgettable dessert, like pistachio and honey ice-cream using all farm-sourced ingredients.
THREE-DAY ITINERARY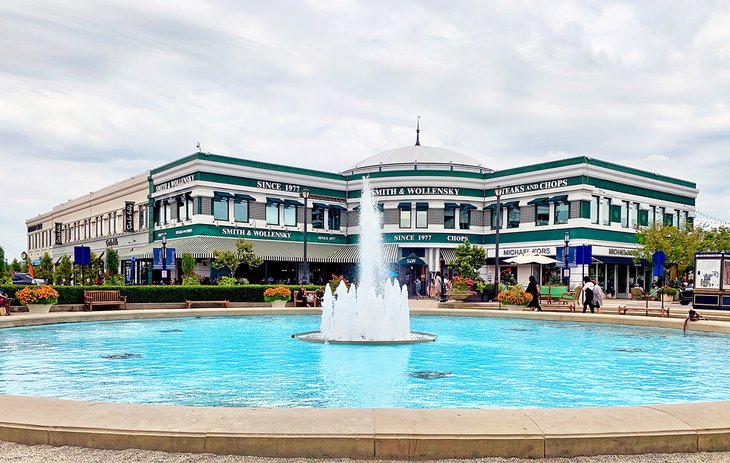 Day 1 & Day 2
If your visit to Columbus extends to three days, you will be able cover the best of the must-see attractions and food while working in some extra opportunities to enjoy the city. You can follow Day 1 and Day 2 itineraries as they suit your interests.
Day 3
Things to Do: Since you will likely cover the heart of downtown and possibly the fringe of the downtown area, Day 3 is your chance to explore the two premier shopping and entertainment complexes at Easton and Polaris. Both have expansive shopping opportunities in multi-level malls and adjacent outdoor shopping plazas.
Easton Town Center is east of downtown with more than 300 top retailers like Apple, Tiffany & Co., American Girl dolls, Nordstrom, and more. There is a 30-theater cinema with dine-in movie options, a comedy house, and outdoor concerts in the summer.

Polaris Fashion Place is an indoor-outdoor shopping complex with more than 200 retailers and locally owned boutique stores with Ohio-made products. The Polaris area stretches beyond the main mall complex and down the street into satellite shopping centers. This area also has a Cabela's and IKEA.
If you are not in the shopping mood and looking for another all-day alternative you can enjoy the Center of Science and Industry (COSI) in downtown. COSI is a main fixture along the riverfront and a popular attraction for families. It is a Columbus staple that features interactive and hands-on science education.
Take a ride on the High Wire Unicycle to test your fear of heights as you pedal along an 84-foot cable suspended two-stories in the air. Just outside of COSI on the Scioto River, you can take a guided kayak trip to learn about the recreational opportunities in the city and the wildlife in the area.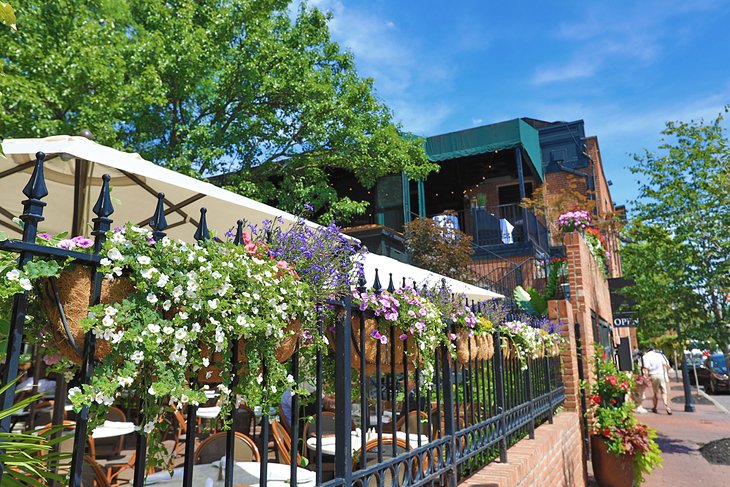 Where to Eat: There are several local restaurants with a long history in Columbus that are must-trys if you have extra time in the city. Take on the Thurmanator Challenge at The Thurman Café in German Village. Anyone who can finish the mammoth 12-ounce burger surrounded by a bun, mayo, lettuce, pickle, tomato, sautéed mushrooms, banana peppers, ham, onions, and cheese between the buns gets serious respect and bragging rights around town. While the Thurmanator Challenge is famous at the café, they also have delicious regular-sized burgers.
Another local favorite with a long history in Columbus is Dirty Frank's Hot Dog Palace. You dream up the dog-Dirty Frank's has it. You can choose from more than 50 a-la-carte toppings or put all 50 on your hot dog. Even vegans can enjoy a wide menu at Dirty Frank's, as most items come in a vegetarian option. The restaurant is a fun visit beyond the delicious dogs, as there is a vibrant collection of pop art along the walls.
More Related Articles on PlanetWare.com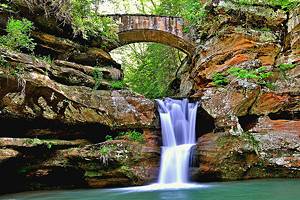 Exploring Columbus: If you plan to be in Columbus even longer, you may want to explore other areas of Ohio. There are attractions in Cleveland that can fill several days, or you can head south to explore the many sides of Cincinnati. If you are looking for a romantic getaway, head to Ohio's Amish Country and enjoy a more simplistic vacation. If you are after a quick weekend getaway, you might opt for activities in one of the state or national parks.