14 Best National & State Parks in Ohio
The national and state parks in Ohio are natural playgrounds for outdoor enthusiasts, from the forested foothills of the Appalachian Mountains in the south to the Lake Erie shores in the north.
The diverse geographic regions in Ohio offer so many things to do year-round, from wilderness hiking, disc golf, canoeing, and paddleboarding to snowmobiling, cross-country skiing, and bird-watching.
With two National Historic Parks, three National Wildlife Refuges, and 83 state parks, you will discover that Ohio's changing seasons make your favorite outdoor activities a different kind of experience every time. Discover the best places to visit with our list of the top national and state parks in Ohio.
1. Cuyahoga Valley National Park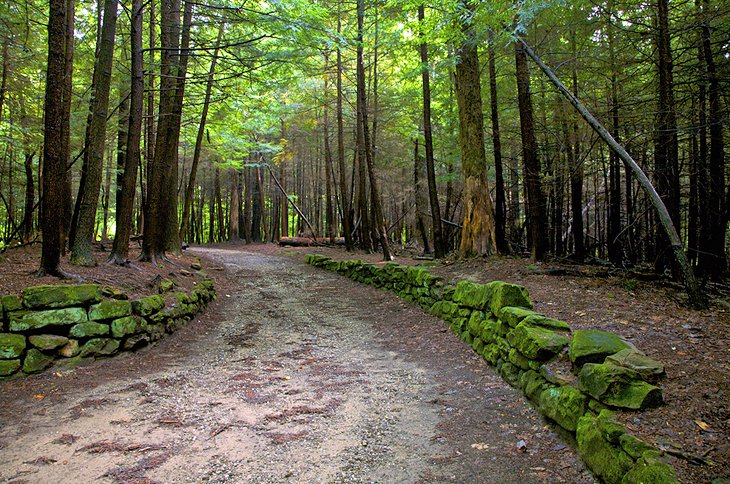 The Cuyahoga Valley National Park should be one of your first visits for outdoor recreation in Ohio. The natural beauty of the park is breathtaking as you experience hills, forests, and the active Cuyahoga River that winds its way through the park. It is hard to believe that this natural paradise is just a short drive from the urban activity in Cleveland and Akron.
The Ohio and Erie Canal Towpath Trail runs through the park for 20 miles and is a main thoroughfare for bikers and joggers and one of five major biking trails. The East Rim Mountain Bike Trail is designed for off-road biking, and the paved Summit Metro Parks' Bike & Hike Trail is best for families.
Since biking is a popular activity in the park, it is easy to find bike shops in the area if you need repairs. If you plan to do a multi-day ride on the Towpath Trail, you should contact the park's Communication Center, so your car is not marked as abandoned. Hiking trails in the Cuyahoga Valley National Park cover every skill level. You will find 125-miles of trails to choose from.
The tiny town of Peninsula is located within the National Park, where you can stop for a bite or to rest before going on your way. You can also hop aboard the Cuyahoga Valley Scenic Railway here for one of their themed train tours throughout the year.
Address: 1550 Boston Mills Road, Peninsula, Ohio
Official site: https://www.nps.gov/cuva/index.htm
2. Hopewell Culture National Historical Park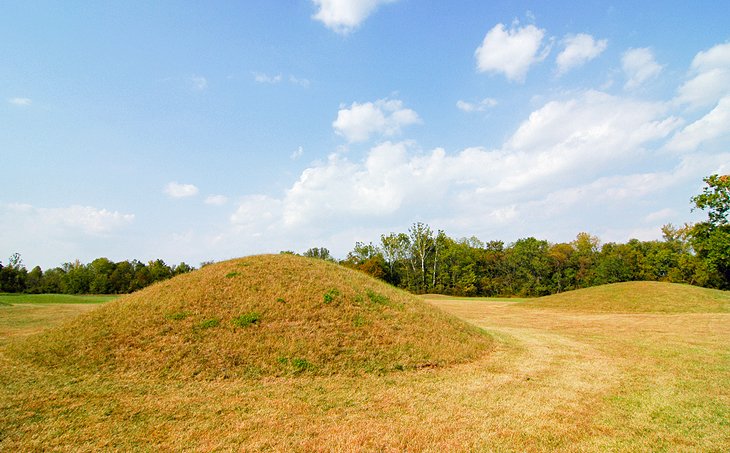 The Hopewell Culture National Historical Park in Chillicothe, Ohio is considered sacred ground. Native American Indians built the earthen mounds 2,000 years ago by hand. These mounds are the park's crowning characteristic.
The area is made up of a series of earthworks in geometrical shapes, with walls 12 feet high and more than 1,000 feet across. The park preserves six of these earthworks that visitors can see. They represent important spiritual and ceremonial remnants of the Hopewell culture.
Public events are held at the park throughout the year, but a visit on your own is one of the best ways to take in the significance of the site. It is helpful to obtain an aerial map of the earthworks prior to your visit, so that you know what you are seeing from the ground.
Address: 16062 OH-104, Chillicothe, Ohio
Official site: https://www.nps.gov/hocu/index.htm
3. Wayne National Forest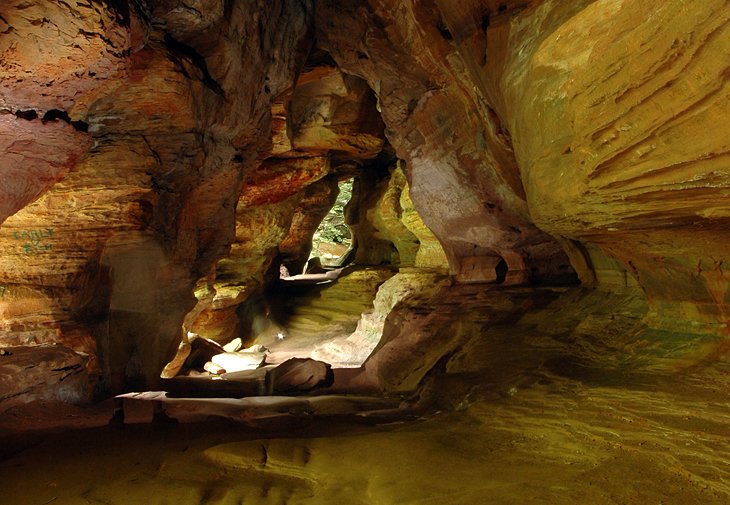 The Wayne National Forest is one of the best opportunities to experience primitive wilderness in Ohio. Located in the Appalachian foothills, the forest spans 12 counties and more than 833,000 acres.
One of the top things to do in this forest is backpacking excursions that take you across rolling terrain and waterways. Private land is interspersed throughout the park, so it is important to keep an eye out for private property signs if you are planning a long trek.
The park offers abundant opportunities for hiking and biking, with more than 300 miles of trails. All-Terrain Vehicles (ATV) and horseback riders are allowed on many trails, but these activities require proper permits.
Camping at Wayne National Forest can take on several forms. Plenty of campground sites within the park do not require reservations. Primitive camping is also allowed away from the regular campgrounds.
You will need to pack all necessities, including water, for the duration of your stay. Due to the vast amount of land covered by this park, it is advisable to research the layout and get a sense of the trails or any permit requirements prior to your visit.
Address: 13700 US Highway 33, Nelsonville, Ohio
Official site: http://www.waynenationalforest.com/
4. Hocking Hills State Park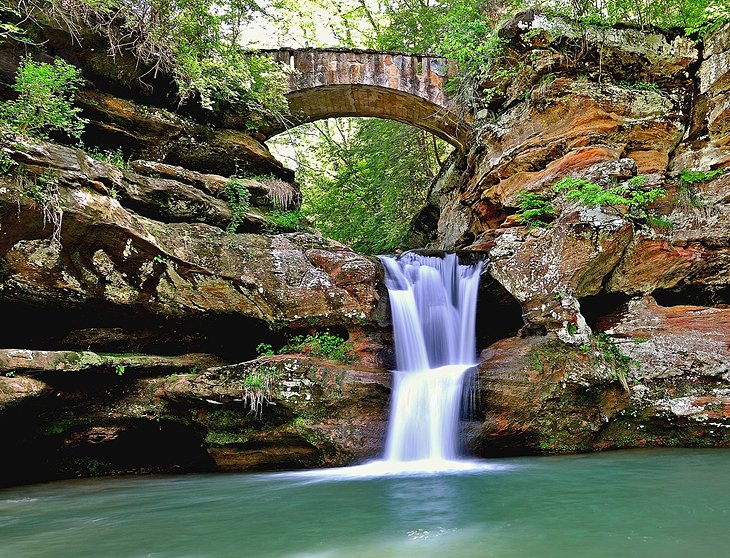 One of the most popular state parks in Ohio for recreation and getaways is Hocking Hills State Park. It lies in one of the most tranquil areas of the state and is marked by waterfalls, caves, sandstone cliffs, and lush vegetation.
Fall is the most popular time for getaways at the park, so if you plan to visit on the weekend and stay at a nearby cabin, make reservations as far in advance as possible. Some cabins book a year in advance.
The park has five major hiking areas to explore, each with multiple trails that accommodate various skill levels. Old Man's Cave is usually the first stop for new hikers to the area, so the trails are more congested, especially on the weekends. The other sites to visit include Cantwell Cliffs, Conkle's Hollow, Cedar Falls, and Rockhouse.
Hocking Hills has a full menu of outdoor recreation options including canoeing, ziplining, horseback riding, and rock climbing. These activities are each offered by independent operators in the area. It is worth your time to stop by the visitor's center on your way into the park to get maps and recommendations for reputable excursion companies.
One of the newest features at Hocking Hills State Park is the John Glenn Astronomy Park. It is situated in the best place in the region to stargaze, and pays homage to astronaut and Ohio native John Glenn. From March through November, you can reserve a spot for one of the public programs that take place on Friday and Saturday nights.
Address: 19852 State Route 664 S., Logan, Ohio
5. Maumee Bay State Park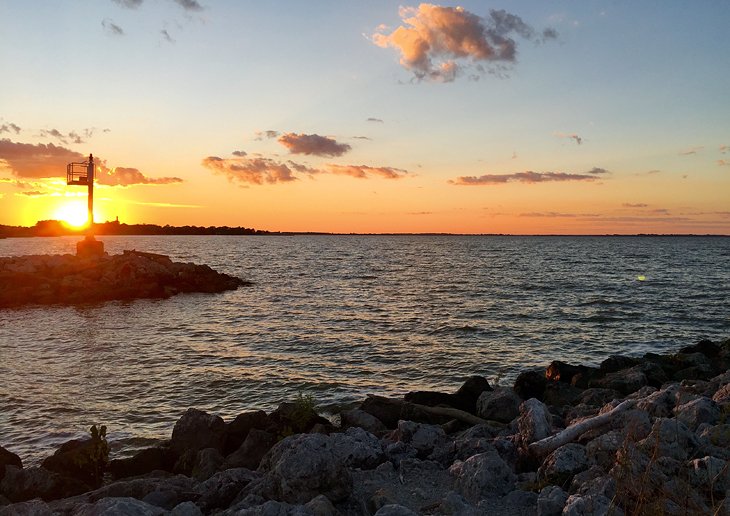 Maumee Bay State Park is on the shores of Lake Erie and it is one of the most naturally diverse locations in the state, with marshes, wetlands, and meadows. Water activities like boating, fishing, swimming, and paddle boarding are usually combined with land activities during a visit.
The state park has numerous trails for recreational activities including specific trails for backpacking, mountain biking, All-Terrain Vehicles (ATVs), and snowmobiles. Bike trails and horseback trails are easy to find, and a golf course is also on the grounds.
One of the most popular activities at the state park is bird watching as more than 300 species of birds have been identified in the area, including nesting pairs of bald eagles. The park sits along part of the 312-mile Lake Erie Birding Trail. Every spring, thousands of bird watchers come to the area for the Biggest Week in American Birding to witness the warbler migration.
Address: 1400 State Park Road, Oregon, Ohio
6. Salt Fork State Park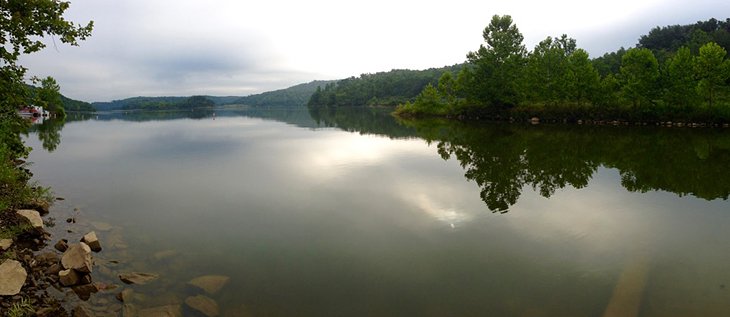 The largest state park in Ohio is Salt Fork in Guernsey County, with more than 17,000 acres of recreation. People travel here for abundant hiking, horseback riding, fishing, camping, swimming, and boating. One of the unique features here is a 10-station archery trail that is easy to navigate and easy to find near the entrance of the park.
Salt Fork Reservoir is a nearly 3,000-acre lake making it one of the main draws of the region. There are two marinas, and the lake has ample room for boating, water skiing, and fishing.
Salt Fork also features one of the largest inland beaches in Ohio, spanning 2,500 feet, with modern amenities like showers and lockers so it is convenient to spend a day. The park has 14 hiking trails with varying degrees of difficulty. Some of these trails are converted to snowmobile trails in the winter.
Address: 14755 Cadiz Road, Lore City, Ohio
7. John Bryan State Park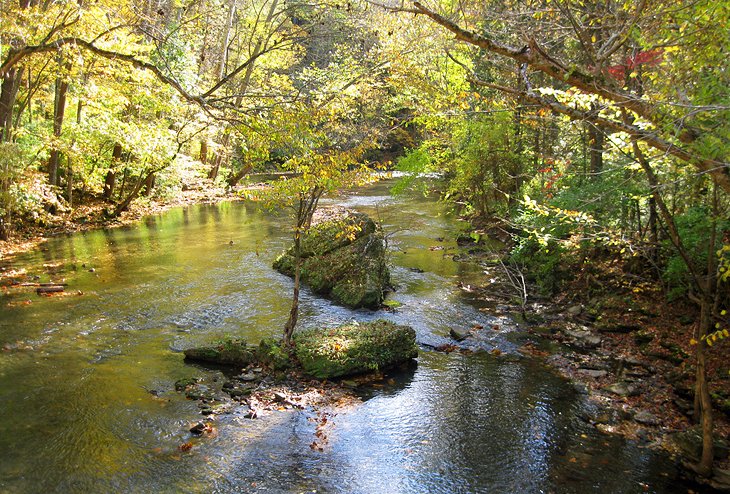 One of the most scenic state parks in Ohio is John Bryan, which hides a spectacular limestone gorge carved by the Little Miami River. Several lookouts let you peer down through the layers of bedrock into the rushing water more than 100 feet below. Part of the gorge has been designated as a national landmark.
The park is a tranquil backdrop for picnics or a game of disc golf on the 18-hole course, but the main feature and reason to go is the network of hiking trails. With nine trails throughout the 752-acre park, it is easy to spend a full day exploring the nature and wildlife.
John Bryan is one of the best parks in the state for winter hiking, where you can capture frozen waterfalls in mid descent.
If you are visiting for a full day, park at the entrance near Yellow Springs then hike on the main trail that leads you through the Clifton Gorge Nature Preserve. The end of the trail leads to a road and the Clifton Mill, where you can rest and enjoy breakfast or lunch before hiking back. Plan four to six hours for this trek.
Address: 3790 State Route 370, Yellow Springs, Ohio
8. Malabar Farm State Park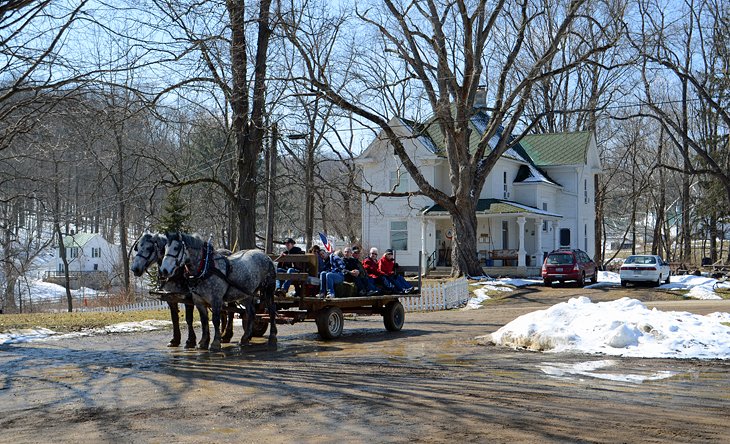 Malabar Farm is a prized Ohio state park and one of the most unique to visit. It was the dream creation of Pulitzer Prize-winning author Louis Bromfield. The park is actually a farm with a main house and outbuildings.
The stunning farmhouse is where Humphrey Bogart and Lauren Bacall exchanged wedding vows in 1945. You will find memorabilia highlighting this taste of Hollywood throughout the 32-room home.
The grounds of Malabar Farm are open to explore, with multiple buildings and fields with cattle, chickens, and goats. Throughout the year, special events are open to the public, and wagon tours throughout the farm are offered in the summer.
There are two prime times to visit the farm: In the fall, when the leaves are changing color on the rolling hills of Richland County, and in the spring during the maple syrup festival, when trees are producing sap, and you can indulge in fresh Ohio syrup.
Address: 4050 Bromfield Road, Lucas, Ohio
9. Dayton Aviation Heritage National Historical Park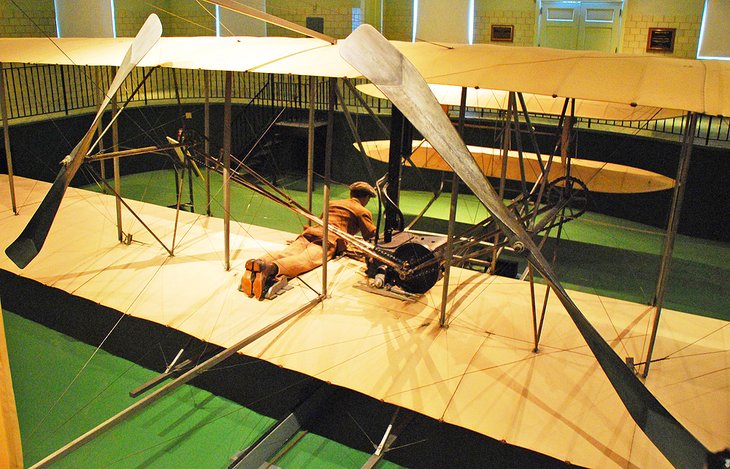 The Dayton Aviation Heritage National Historical Park in Dayton is made up of six sites related to the invention of flight and aviation history. You can visit one or all of the sites or pick and choose depending on your time.
The sites include the Huffman Prairie Flying Field, 1905 Wright Flyer III, Wright Cycle Company, Hoover Block, Hawthorn Hill, and the Paul Laurence Dunbar State Memorial.
A good place to start is at the Wright-Dunbar Interpretive Center and Aviation Trail Visitors Center and Museum on Williams Street in Dayton. This is the location of the Wright Cycle Company Complex, which housed the Wright Brothers' cycle shop and printing business.
Not far from the Wright Dunbar Interpretive Center is Paul Lawrence Dunbar State Memorial, dedicated to prominent African American poet Paul Lawrence Dunbar. After that stop, you can head to Carillon Historical Park to see the 1905 Wright Flyer III on display.
One of the best areas to see in Dayton Aviation Heritage National Park, which is separate from the other sites, is the Huffman Prairie Flying Field located at the Wright Patterson Air Force Base. It is where inventors Orville and Wilbur Wright practiced flying the Wright Flyer III airplane in the early 1900s and had their flying school.
Hawthorn Hill is located just south of Dayton in Oakwood, but it's part of the park if you want to see the historic mansion where Orville Wright lived. It is now a designated National Historic Landmark.
Address: 16 S. Williams Street, Dayton, Ohio
10. Blackhand Gorge State Nature Preserve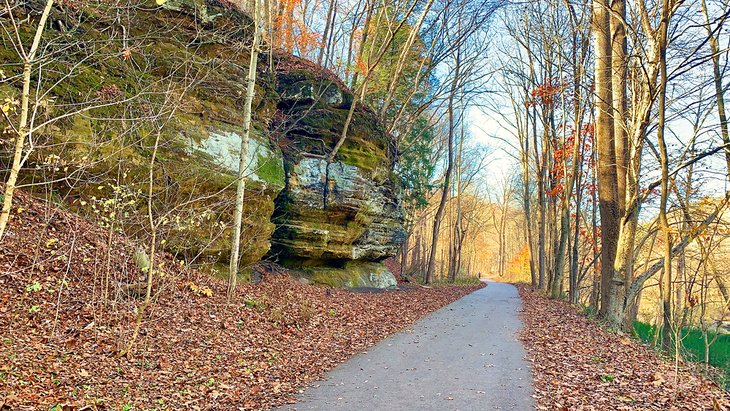 If you are looking for a state park with paved and relatively flat trails and unique scenery then Blackhand Gorge State Nature Preserve near Newark is where to go. The first thing you will notice is the narrow cut-through rock that was blasted through to make an east-west corridor for the B&O Railroad in the 1800s.
There are more than 10 miles of trails in the park, and the most popular is the 4.3-mile Blackhand Trail. Be advised that it is not a loop trail, so the mileage is one-way. You will see stunning scenery in the park, including sandstone cliffs, many species of birds, and mature hickory and oak trees and eastern hemlocks.
The Licking River runs alongside the Blackhand Trail. Look closely as you walk, and you might see a bald eagle flying from tree to tree. The paved multi-use trail is the only bike trail in a state nature preserve, so whether you walk or ride, the nature that surrounds you will be unforgettable.
There are several unpaved nature trails in the park that range from nearly a half-mile to over two miles. Some fishing is permitted in sections of the Licking River, so you can refer to Ohio Department of Natural Resources for regulations.
Address: 2200 Gratiot Road, Heath, Ohio
11. Kelleys Island State Park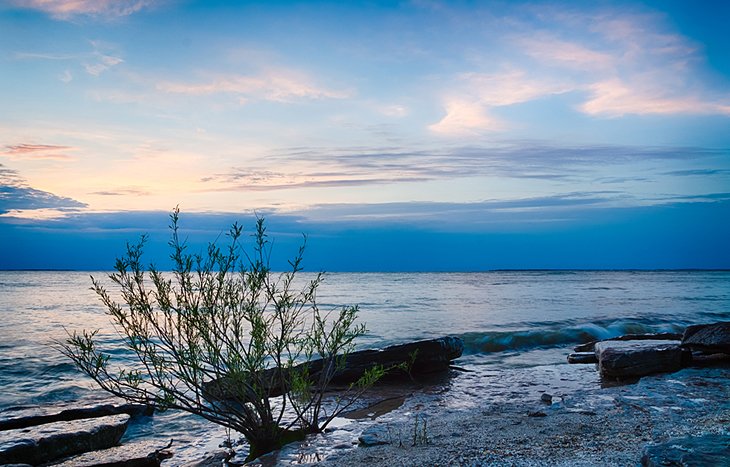 Accessible only by ferry, Kelleys Island is a geologically stunning state park surrounded by Lake Erie that is an ideal destination for both recreation and relaxation. The campground offers electric and non-electric sites, a picnic shelter, volleyball court, and playground.
Game rentals are available from the camp office. If you are looking for truly unique lodging, several large yurts are available to rent in the park.
Hiking on the island is easy with various lengths of trails. There are four miles of multi-use trails for bicycles. The 100-foot public beach is popular in warmer months. Boating and kayaking are also summer staples.
While visiting the island in the summer is ideal, it's also beautiful during the winter. Weather permitting and with warm layers, visitors to the island can enjoy seasonal ice fishing, ice-skating, and cross-country skiing.
Address: 920 Division Street, Kelleys Island, Ohio
12. Deer Creek State Park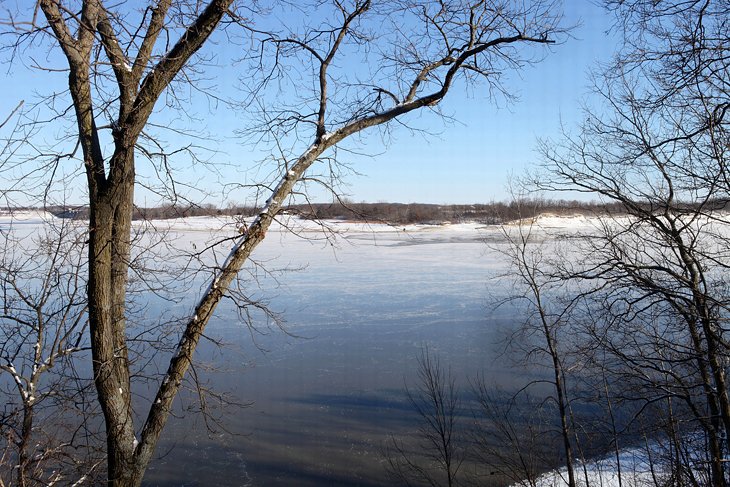 The diversity of scenery and wildlife at Deer Creek is what makes it a top state park to visit in Ohio. The landscape around the 2,300-acre park is made up of meadows, woodlands, and an abundance of wildflowers.
It's no wonder that hiking is a main draw, with seven hiking-only trails. The park also has a 17-mile horseback trail. The Deer Creek public golf course is on a challenging 350-acres that features 10 ponds. A nine-hole disc golf course also winds through the scenic grounds.
A main draw of this park is the Deer Creek reservoir, which is popular for boating, kayaking, paddle boarding, fishing, and swimming. The large beach has plenty of space, so it is rarely crowded. You will find plenty of grills and picnic tables available.
Campsites, cottages, cabins, and a lodge offer a range of rustic to modern accommodations, and two unique campsites accommodate large groups, up to 100 people, as well as equestrians.
Address: 20635 State Park Road 20, Mt. Sterling, Ohio
13. Geneva State Park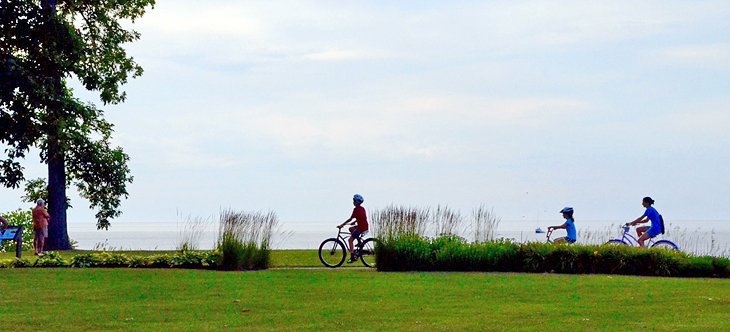 On the northeastern shores of Lake Erie, Geneva State Park is one of the most convenient for recreational activities since there is so much to do in one location and tourist attractions nearby.
The marina within the state park is a short walk away from most of the lodging, so fishing charters for walleye and perch are easy to book without having far to go. The marina rents paddle boards and jet skis on-site.
A six-mile multi-use trail connects all aspects of the park leading to a 300-foot public beach, with lifeguards on duty during peak times. Trails accommodate hiking and biking and become snowmobile and cross-country trails in the winter.
Lodging options include a campground, cabins, a lodge, and cottages, all with easy access to the state park. When you need a break from hiking, Geneva on the Lake is a small throwback resort town just down the road that is worth a visit for lunch or dinner.
The mile-long strip is packed with old arcades and an eclectic mix of shops, diners, and donut shops that have been around for more than 60 years.
Address: 4499 Padanarum Road, Geneva, Ohio
14. Tar Hollow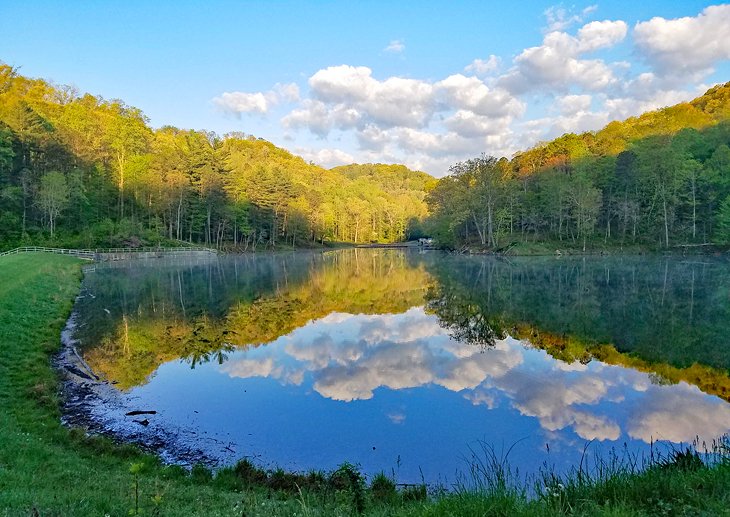 The Ohio state park that has some of the most enjoyable opportunities for exploring is Tar Hollow for its winding paths through hills, forests, and steep ravines. This southern Ohio park encompasses the true sense of wilderness with its dense forests.
Tar Hollow is best for avid hikers, with most trails averaging several miles. Novice hikers are able to walk the grounds and enjoy the scenery, but it is advisable to pick up a map before committing to a trail.
In addition to hiking trails, dedicated bike trails and 25-miles of bridle trails wind through the park. Serious backpackers can take the 21-mile Logan Backpacking Trail for a challenging trek through the forest. Camping for backpackers is available at the Logan Hollow Campground by reservation only.
Pine Lake is a small 15-acre lake in the park that is a hidden gem for canoeing, row boating, and kayaking. There is also a beach for swimming. The best time of year to visit Tar Hollow is in the fall, when the dense forest turns into a spectacle of color.
Address: 16396 Tar Hollow Road, Laurelville, Ohio
More Related Articles on PlanetWare.com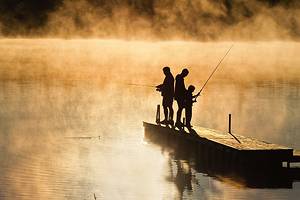 Outdoors: Ohio is bordered by Lake Erie to the north and the Ohio River to the south, with dense forests and other habitats in between, making it a perfect playground for outdoor adventures, from hiking and canoeing to fishing, beaches, and ziplining. Planning a full weekend getaway? How about a quiet retreat to Ohio's Amish Country or a winter excursion ice fishing on Lake Erie or one of the state's popular lakes.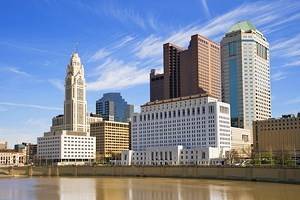 City Adventures: If you are in search of urban adventure, you can start in Ohio's capital of Columbus, which has plenty to do if you just want to explore the downtown area or specialize your visit to focus on museums or kid-friendly activities. Other top city getaways in Ohio include Cleveland and the famous Rock & Roll Hall of Fame, and the sports-fueled environment in Cincinnati, where you can catch a Cincinnati Reds baseball game.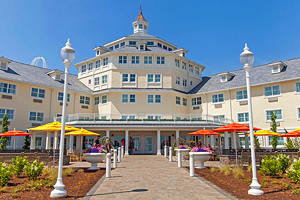 Where to Stay: Ohio has a number of nice resorts throughout the state if you are planning a special getaway. If you want lodging near Columbus, you can stay in the top hotels or easily find budget hotels, specialty accommodation, or pet-friendly hotels. The hotels in Cleveland and the vicinity cover a range of budget options. Many of the mid-range hotels are near the airport and just outside of downtown. The hotel options in Cincinnati range from historical and luxury to artsy, so it is easy to theme your getaway with the kind of lodging that matches your itinerary.