Ohio's Amish Country: 12 Highlights and Hidden Treasures
The communities in Ohio's Amish Country provide the kind of meandering back roads that make for relaxing getaways and day trips. Go for a long drive to soak in a more simple way of life as you watch the Amish workers in the fields and see laundry drying on the line.
Tucked away in these small communities are hidden gems of family-owned stores and experiences that are worth a stop, if you can find them.
The five-county region in northeast Ohio, which includes Holmes, Adams, Geauga, Wayne, and Tuscarawas counties, is considered Ohio's Amish Country, with working farms and rolling landscapes. You will not find advertisements for things to do in Amish Country because what exists here supports their quiet way of life.
Discover the best places to visit in this peaceful region with our list of the highlights of Ohio's Amish Country.
1. Amish Country Byways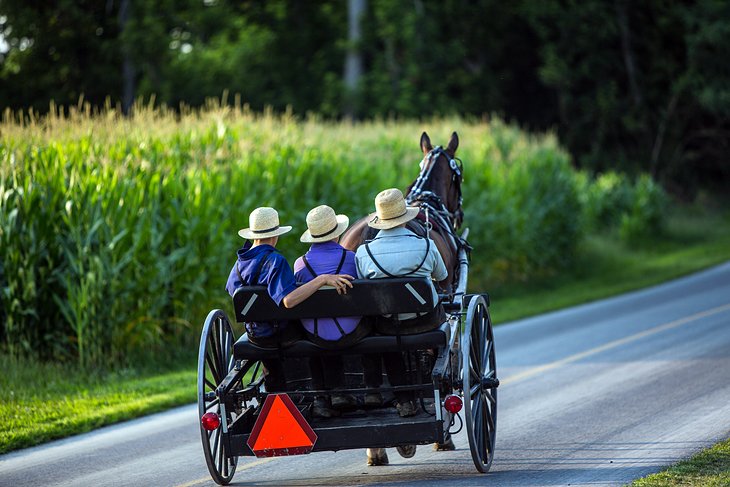 The Amish Country Byway is 160 miles of designated roadways that take you through the most scenic routes of Ohio's Amish Country in Holmes County. One of the most prized things to do in Amish Country is drive through the rolling hills and enjoy the simple life that you see out the window.
As one of Ohio's Scenic Byways, you will drive past quaint homes, B&Bs, and boutique resorts, like The Inn at Honey Run, to experience the quiet country living in this serene part of the state. Stop for a homemade meal at one of the many local restaurants that you pass along the way or pick up fresh meat and produce from a roadside stand. If you have time to spare, plan two to three days to enjoy the byway experience and just see where the road takes you.
You can plot your stops for the night or play it by ear. Keep in mind that once night falls in Amish Country, there are few lights for navigation, so you are best to make your evening meal and lodging arrangements during the daylight hours. Maps of the byway are available from the Ohio Department of Transportation or the Holmes County Chamber of Commerce.
2. Yoder's Bargain Store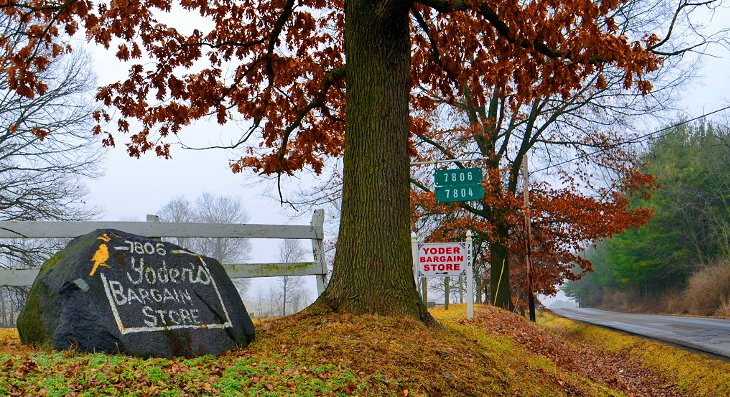 Yoder's Bargain Store in Fredericksburg is one of the great finds in Ohio's Amish Country, partly because it is truly a hidden gem. Marked only by a small rock along the berm of the road, the store is where the Amish come to buy their goods as indicated by the number of horse and buggies that you will see tied up outside.
The bargain store is on the property of an Amish family, and while it is open to the public, you might feel a bit intrusive pulling up the mile-long private driveway. Rest assured, it is okay. Once inside the barn, it is a shopper's paradise. You will find glassware, cookware, homeopathic ointment, wool hats, children's clothes, purses, work gloves, candy, religious figurines, and trinkets that cost only pennies on the dollar compared to a traditional store.
Part of the thrill of visiting Yoder's Bargain Store is the discovery of items you did not know you needed. There are several floors for perusing and aisles of shelves with miss-match items that are all for sale. The only light in the store is from small windows to the outside. If you visit, take cash. This is an Amish store, so they do not take credit cards and do not even have a register.
Address: 7802 Salt Creek Road, Fredericksburg, Ohio
3. Raber's Shoe and Saddlery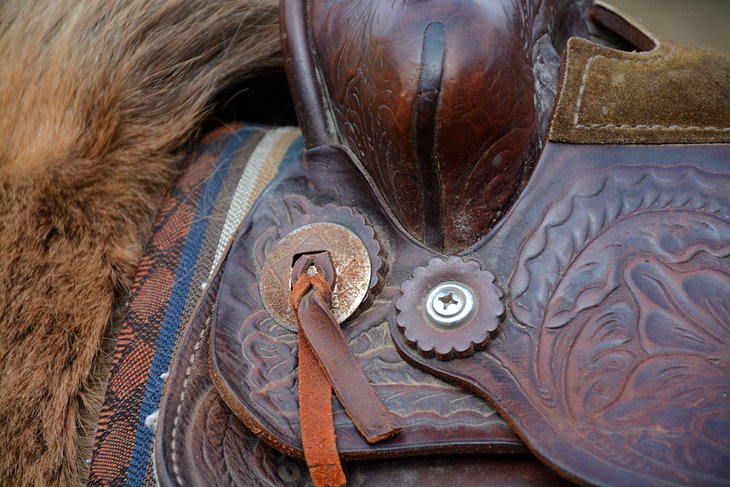 You might feel like you are driving to the middle of nowhere in your search for Raber's Shoe and Saddlery, but you can be sure you will get some of the best leather products here you have ever purchased. Deep in the heart of Adams County, this is a find. Owned and operated by an Amish family, Raber's is known for their high quality, custom-made products.
You will find leather work boots, shoes, and other leather goods. Since the store caters to the Amish, you can also find custom-made horse saddles and shoe repair services. You may even find yourself making a trip back every few years just for new boots.
Address: 1324 Duffy Road, Peebles, Ohio
4. Walnut Creek Cheese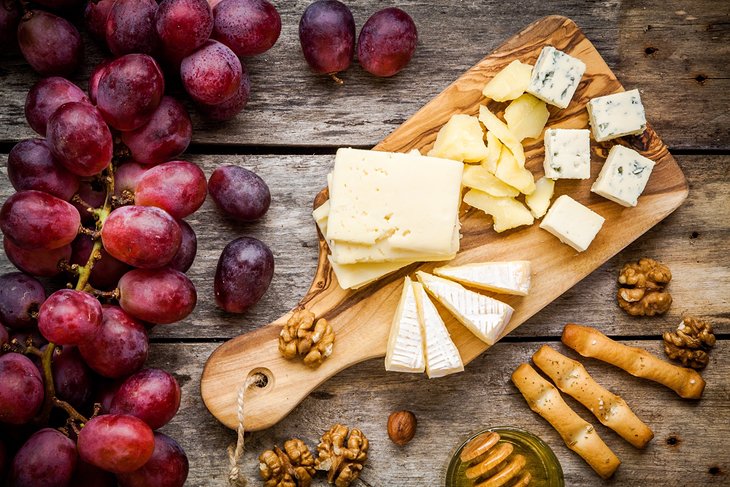 Walnut Creek Cheese is an experience worth the drive. The store is full of fresh homemade baked food and is a paradise for cooks. You can buy cooking ingredients in bulk, which makes it a great place to stock up on items that can be expensive at grocery stores. Since it is located in the heart of Amish Country, where homemade food is some of the best, this is where to find the freshest ingredients at great prices.
You can stock up on locally made cheese and a wide selection (more than 75 varieties) of fresh jams and jellies that are made in Holmes County. The bakery in the store will no doubt tempt your senses with the bread and pies that are still warm when they are put onto the shelves. The produce section sells fresh products direct from local Amish and Mennonite farms.
The gift shop has plenty of kitchenware items that you may have never seen before. Amish cookbooks are available with some of the best recipes you will find anywhere for comfort food.
Address: 2641 OH-39, Walnut Creek, Ohio
Official site: http://walnutcreekcheese.com/
5. End of the Commons General Store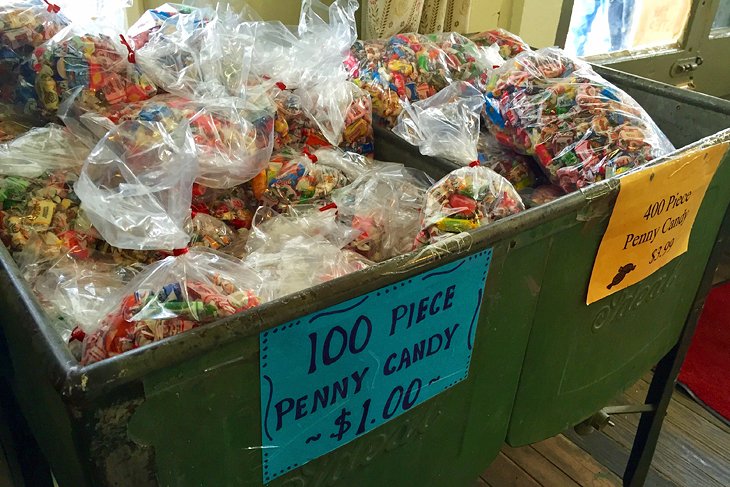 If you are looking for a dose of nostalgia that will take you back to your childhood, then the End of the Commons General Store is worth a visit. Located in Mesopotamia, it is the oldest General Store in Ohio. Just inside the door are bins of bundled penny candy that still costs only a penny.
As you walk from one room to the next, there is no shortage of old time toys and trinkets for sale, like x-ray goggles and bike streamers. The store sells hard-to-find baking ingredients, cooking utensils, and cookie cutters.
The large glass cooler in the front of the store is like an old-school time machine. It is filled with glass bottle soda pop and more than 150 selections, like Route 66 Cream Soda and Capt'n Eli's Orange Pop. You will even find unique apothecary items at the store and soaps from another era, like Grandma's Lye soap.
Throughout the store, antiques and memorabilia decorate the walls and ceiling. It is a fun trip back in time that will keep you there longer than you think you will stay.
Address: 4366 Kinsman Road, Mesopotamia, Ohio
Official site: http://www.endofthecommons.com/
6. The Victorian House Museum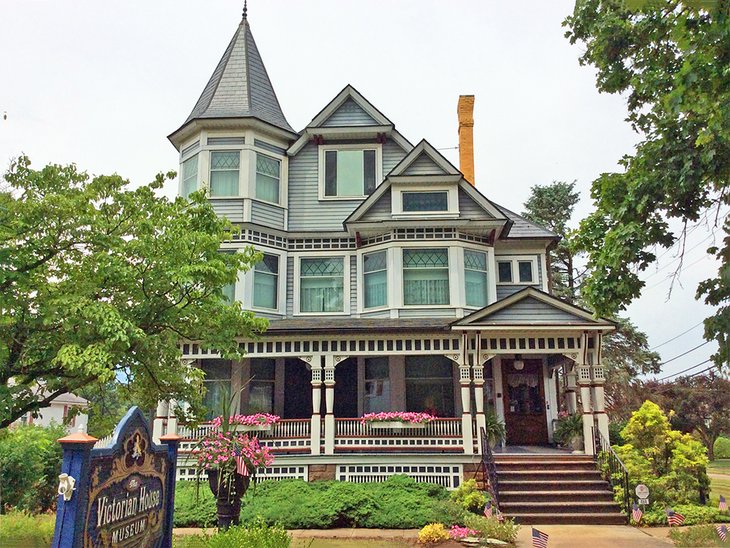 The Victorian House Museum in Millersburg, in Holmes County, is full of history about Ohio's largest Amish settlement.
The elegant 28-room Victorian home is listed on the National Register of Historic Places and has been featured on a number of television shows. The museum will take you back to the early 1900s as you walk through the history of the area, with glassware, furniture, and period pieces on display.
One of the best times to visit the Victorian House Museum is during the winter, when the museum home is decorated with holiday décor and more than 40 trees. Theatrical effects with lights and sound are added to usher you back to the Victorian era. A tour through the home will give you perspective on the Ohio's Amish roots.
Address: 484 Wooster Road, Millersburg, Ohio
Official site: http://www.holmeshistory.com/victorian-house
7. Sweetwater Farm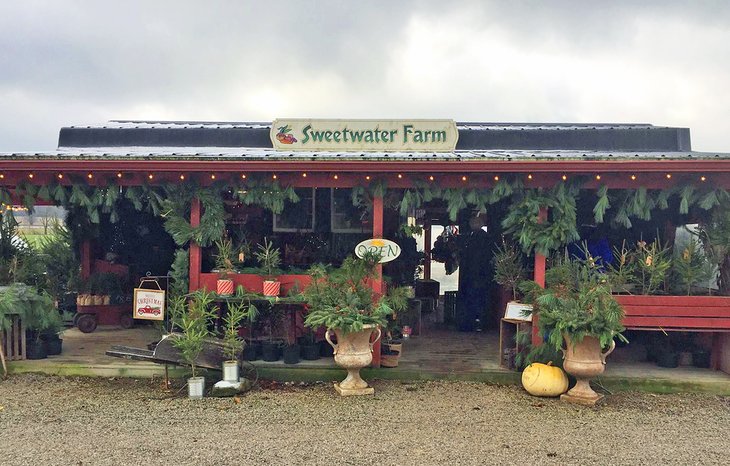 The Sweetwater Farm in Sugarcreek is a hidden gem that anyone with a green thumb or a taste for organic produce will enjoy. The small family-run business is only open from May through November.
You will find a range of fresh fruits and vegetables that were raised on the farm. It is some of the freshest produce you can find for a reasonable price. They also specialize in berries, like blueberries and strawberries, that are used in many local jams.
The farm is a favorite of locals who go for the plush hanging baskets, bedding plants, and quality mulch. Only an unassuming stand by the road and small sign mark the family farm, but the products are some of the best you will find in the region.
Address: 217 Buckeye Street, Sugarcreek, Ohio
Official site: https://sweetwater-farm.edan.io
8. The Depot at Middlefield Historical Society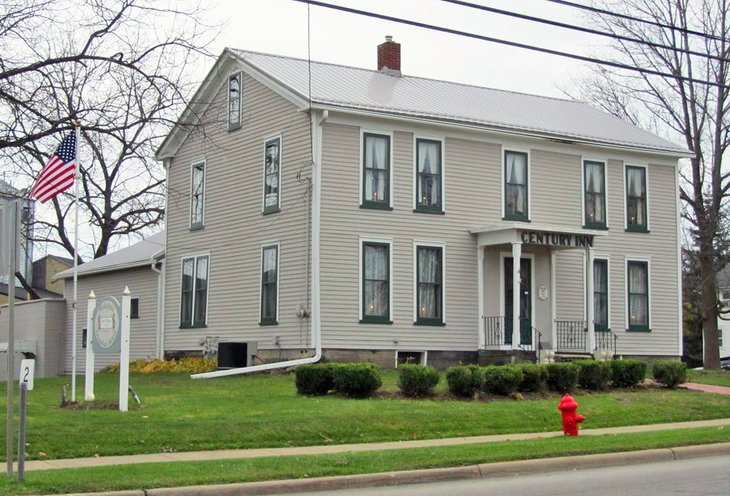 The Depot at the Middlefield Historical Society is a 1930s ice cream parlor complete with the stools and the heaping scoops of your favorite flavor. A stop at the Depot is a refreshing way to break up your visit to Amish Country, and it's a place where you can order old-fashioned sodas and sundaes while taking in some of the local history.
The shop is in an old B&O Railroad depot that was built in 1874. It was destroyed by fire and re-built in 1910 and eventually turned into an ice cream parlor. The Depot features historical memorabilia, and the building has a covered front porch where you can take a few minutes to relax. Be sure to check out the caboose car next to the depot.
Address: 14979 S. State Avenue, Middlefield, Ohio
9. The Farm at Walnut Creek
A visit to the Farm at Walnut Creek in Sugarcreek gives you a unique behind-the-scenes look at farm life in Amish Country. The working farm allows visitors to take a wagon tour of the land that is worked by a local Amish family and interact with some of the animals. You will see first-hand how the Amish plow the fields and operate the farm without electricity.
You can also step inside an Amish home to see demonstrations on things like canning and quilting. There are more than 500 animals on the farm, including some exotic animals like zebras, camels, emus, and kangaroos. There are many animals more common to Ohio like deer and sheep. There are occasional events held throughout the year at the farm, and sleigh rides in the winter if the weather accommodates them.
Address: 4147 County Road 114, Sugarcreek, Ohio
Official site: The Farm at Walnut Creek
10. Amish Cheese Tours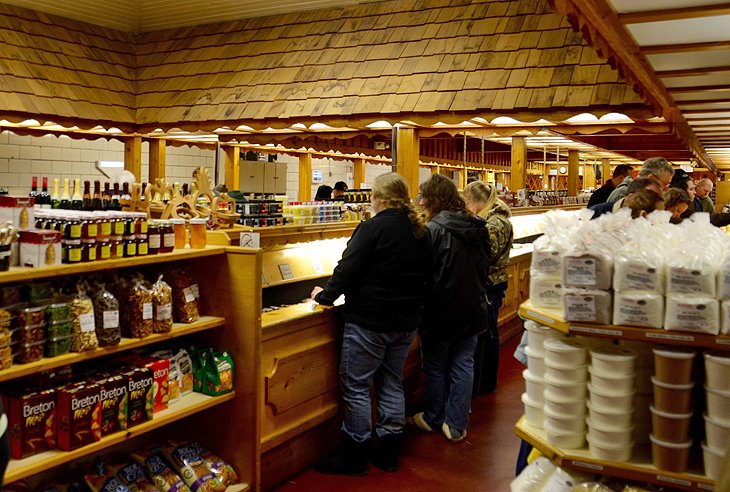 One of the best and most delicious things to do in Amish Country is visit a cheese factory and take a cheesemaking tour. You will see several cheese factories as you drive, and most offer daily tours. Bunker Hill Cheese in Millersburg and Guggisberg Cheese in Sugarcreek offer quality products and tours. You can go behind-the-scenes to see the process of how local cheese is made using local products and labor.
Cheese tours always end with samples of the product. You will find specialty cheeses in these stores that you will not find elsewhere. You can also stock up on favorite varieties for a great price, which will be substantially lower at factory stores than in your local grocery.
Be sure to look for snack bags that offer cheese crumbles, which are factory leftovers that are bagged for quick sale, but they make great snacks.
11. Baltic Meats
Some of the freshest meats you can buy are straight from the farm at Baltic Meats in Baltic, Ohio. All meat curing and smoking is done in-house, and all meats are locally raised.
If you are looking for fresh meat and cheese to take home, this is a good stop since all meats are cut fresh daily, and the cheese is locally made. Your best bet is to bring a cooler and stock up.
Address: 3457 State Route 93, Baltic, Ohio
12. Amish Country Riding Stables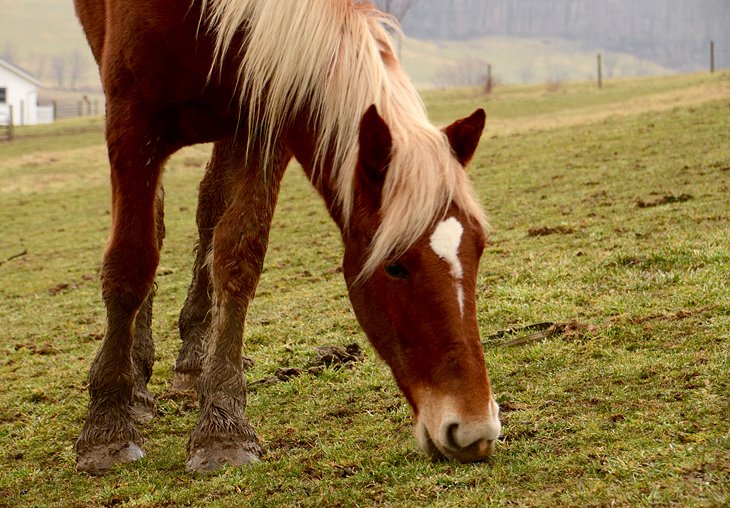 If you prefer to enjoy a more active visit to Amish Country, you can take a horseback ride through some of Ohio's beautiful countryside with Amish Country Riding Stables. The guided horseback trips are offered with small groups of only two to five riders at a time. This is one of the best ways to enjoy the area for both experienced and inexperienced riders.
Rides typically last around 45 minutes, so you can include this along with several other stops in one day. If you do not want to ride, you can just stop to enjoy the elegant horses on the property. In the winter, horse-drawn carriage rides are a huge draw in this pristine landscape.
They are arranged through the Guggisberg Swiss Inn and Amish Country Riding Stables. Rides fill up quickly and depend on the weather, so it is best to look into reservations early to reserve a spot.
Address: 5025 SR 557, Millersburg, Ohio
Official site: http://www.amishcountryridingstables.com/
Map of Ohio's Amish Country: Highlights and Hidden Treasures
Frequently Asked Questions
Where is the best place to stay in Amish Country?
It is best to stay in a central location like Berlin at the Berlin Grande Hotel or in Walnut Creek at The Wallhouse Hotel or the Carlisle Inn Walnut Creek, then plan day trips in the region. There are also many bed and breakfasts through Amish Country, with peaceful views of the countryside and serving homemade breakfasts using locally-grown products.
When is the best time to visit Amish Country?
The best times to visit Amish Country are in the late spring, when flowers are in bloom and before the summer tourist season, and in the fall, when the changing colors on the leaves are stunning next to the rolling hills of the countryside.
Winter has its own appeal, with holiday decorations and activities like sleigh rides, but these months have fewer outdoor options and limited hours for shops and attractions. Summer is the busy tourist season, meaning there will be more crowds and longer wait times for tours and attractions. Sunday is not the best day to visit anytime of the year, as everything is closed in the area.
What is the Amish Country etiquette?
Given the culture of the Amish people, visiting the region comes with its own etiquette.
Driving is the first consideration. You will be sharing the road with horse-drawn buggies that are often going less than eight miles per hour, so you want to drive carefully, especially when maneuvering around them. Roads in Amish Country are also narrower, with lots of curves, requiring your full attention on the roadway.
Photography is another consideration. The Amish and Mennonite cultures forbid posing for photos and taking photos, so you should be respectful of their beliefs as a visitor. While there are great photographs to capture in the countryside and in the villages, you should not photograph Amish people without their permission.
More Related Articles on PlanetWare.com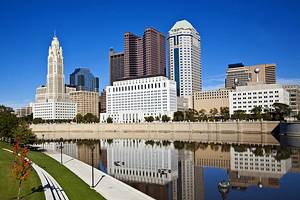 Exploring Ohio: Amish Country is one of the best places to visit in Ohio in addition to the Hocking Hills region. If you are looking for a nice weekend getaway, you can consider some of the small towns in Ohio, like Granville, German Village, or Geneva-on-the-Lake.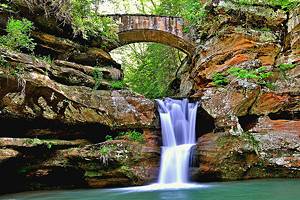 Nature Escapes: There are some nice national and state parks in the state that have lodges for an outdoor getaway for hiking and fishing. You can fill the weekend hiking the birding trail along the shores of Lake Erie or find a nice beach at Put-in-Bay or relax at one of the public inland beaches in Ohio.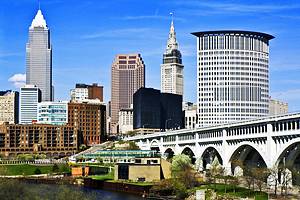 Ohio's Cities: You can also consider some of the bigger cities for a getaway like Columbus, Cleveland, and Cincinnati for sports, entertainment, and tours. If you are planning a longer vacation, you might want to stay at one of the hotels in Columbus and make day trips to other cities and Amish Country. There are also many nice resorts in Ohio in places like Sandusky and Loudonville.