13 Top-Rated Weekend Getaways in Ohio
We may earn a commission from affiliate links ()
When it comes to weekend getaways in Ohio, the state's diverse geographic regions make it easy to find activities and places to stay that let you relax and recharge. With Lake Erie to the north, the Ohio River to the south, and natural forestland in between, weekends can be as laid-back or as active as you want.
Since Ohio is within a one-day drive of nearly 50 percent of the U.S. population, the state is a prime place for weekend getaways that do not require much travel time. Outdoor recreation such as boating, hiking, canoeing, and fishing is plentiful. Sports venues are in every major city, and the state is home to many hidden gems.
Plan your next short break with our list of the best weekend getaways in Ohio.
Note: Some businesses may be temporarily closed due to recent global health and safety issues.
1. Downtown Columbus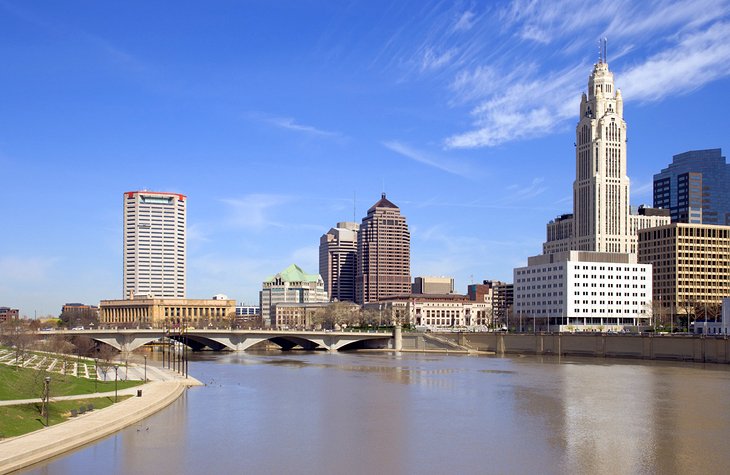 Ohio's capital city can fill a weekend with culinary surprises and activities. The expanding downtown riverfront is where you'll find cultural, arts, and music festivals almost every weekend in the summer. If you stay in the Columbus suburb of Worthington, you can bike your way to downtown along the Olentangy Trail—an 18-mile trail that ends along the Scioto River. The downtown area is bike-friendly, and you can simply rent one at one of the many CoGo bike stations located throughout downtown if you do not bring your own.
Nationwide Arena is an entertainment venue that hosts popular concert tours and is home to Columbus' NHL Team, the Columbus Blue Jackets. A short walk from the arena is Huntington Park, where you can catch an evening ballgame with the Columbus Clippers.
On the fringe of downtown, you can walk the brick streets of German Village and grab an outdoor coffee or authentic cream puff for a taste of the area's German heritage. Catch an evening show at Shadowbox Live, a non-profit performance theater that produces original comedic and musical acts.
For a quieter visit to the capital city, stop by the Franklin Park Conservatory and Botanical Gardens or the Columbus Museum of Art or pack a picnic for a lunch in one of the best hidden gems of the city, the Topiary Park, on the site of the old deaf school. The topiary garden is a lifelike replica of George Seurat's famous painting, A Sunday Afternoon on the Island of LaGrande Jatte.
A popular stop for a weekend away near downtown is in the Short North Arts District. You'll find several blocks of galleries and boutiques, as well as unique culinary fare. Stop in at the North Market, where you'll find local vendors selling fresh produce and a variety of ethnic foods. If you visit on the first Saturday of the month, take part in the evening Short North Gallery Hop to enjoy late gallery hours, street entertainment, and some of the best people watching in the Midwest.
Accommodation: Best Hotels in Columbus
2. Hocking Hills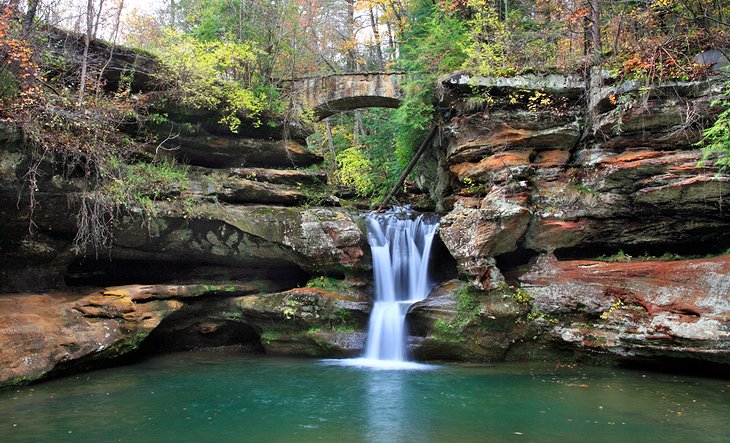 The southern Ohio Hocking Hills region is one of the most popular weekend getaways in the state. There are plenty of cabins to rent near Hocking Hills State Park. This region is ideal for those who love the outdoors and who are looking for romantic getaways. Hiking, canoeing, zip-lining, and horseback riding are the best ways to enjoy the southern Ohio region. Some people just come to hunker down for a quiet weekend to be surrounded by nature.
There are several hiking areas with multiple trails in each that can fit both leisure hikers and those looking for a challenge. Trail signage is ample, so it is easy to find the right trails for your fitness level. Old Man's Cave, Conkle's Hollow Nature Preserve, Cedar Falls, Cantwell Cliffs, and Ash Cave have popular scenic hiking trails and many have sections that are wheelchair accessible.
The best time to visit is in the fall, when southern Ohio is flush with vibrant colors from the leaves changing on the trees. Winter provides a unique way to see the Hocking Hills region with frozen waterfalls and a popular annual winter hike that draws thousands of visitors. Since the area is far away from the city lights, you can spend an evening at the John Glenn Astronomy Park stargazing or take part in a Friday or Saturday evening public program, March through November. It is best to plan ahead and make a reservation for these programs.
3. Put-in-Bay
Few weekend getaways in Ohio compare to the island resort community at Put-in-Bay on South Bass Island. The Lake Erie getaway offers a range of things to do, from boating and swimming to dining in open-air restaurants while enjoying evening entertainment. The mood in Put-in-Bay is one of leisure, so you can rent bikes or golf carts and just explore at your own pace. A worthwhile stop while on the island is Perry's Victory and International Memorial. For a small fee, you can make the trek up to the observation desk on the 352-foot-tall monument, where you get the best view of the island.
The best way to get to Put-in-Bay is by the Miller Ferry or Jet Express Ferry that runs on regular schedules to take you to the island from Port Clinton. It is important to take note of the last ferry that returns from the island at the end of the day, as that is your final opportunity to leave unless you are spending the night.
Accommodation: Where to Stay in Put-in-Bay
4. Amish Country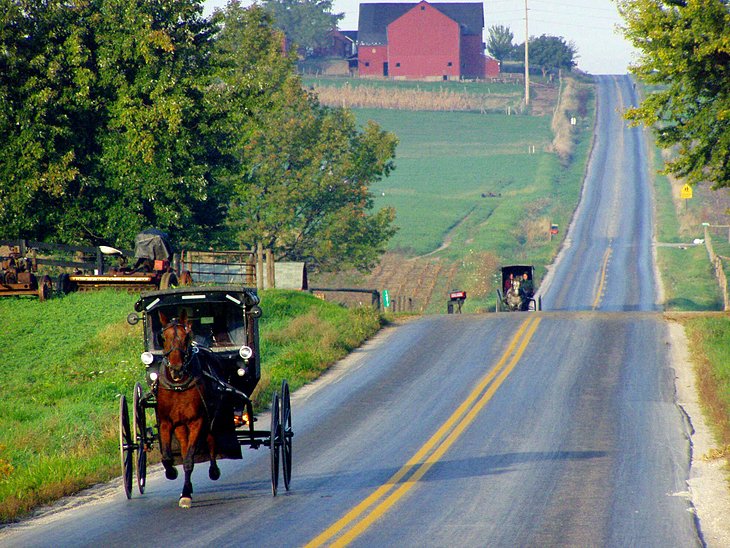 A peaceful weekend getaway in Ohio's Amish country will remind you of life's simple pleasures. The winding back roads that run through Amish communities in east-central Ohio will take you past laundry drying on the line and farmers plowing fields with work horses as you share the road with Amish buggies heading to market. The towns of Charm, Walnut Creek, Millersburg, and Berlin are all located near each other, so you can drive through all of them in one visit.
Many quaint bed-and-breakfasts lie throughout Holmes, Tuscarawas, and Knox counties, and they often serve up hearty breakfasts and baked goods made from locally sourced ingredients that are in-season. To make the most of your visit, plan some time to meander through the winding back roads with no particular agenda. Be sure to stop for a tour and samples at one of several cheese factories in the region like Guggisberg Cheese and Heini's Cheese Chalet in Millersburg.
A must-visit in Ohio's Amish country is Walnut Creek Cheese in Walnut Creek. It's a large grocery store with incredible prices on cheese blocks and baking supplies. Take home a locally made Amish apple fry pie or pick up a cookbook of Amish recipes from the expansive gift shop, so you can take the homemade taste of Amish Country home with you.
5. Cincinnati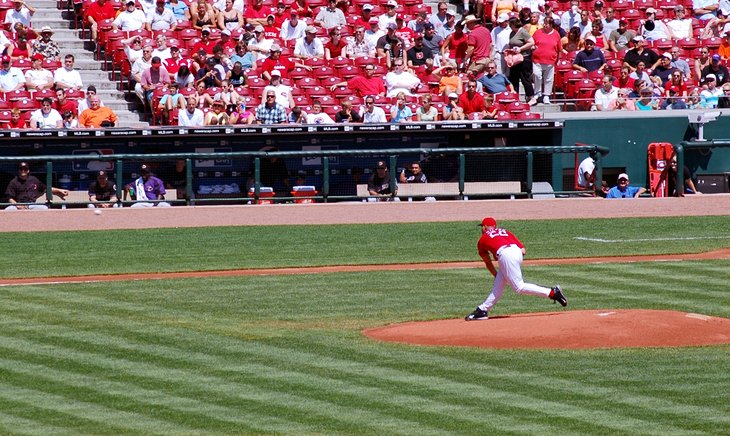 Cincinnati is synonymous with baseball, and a visit to the Great American Ballpark for a Cincinnati Reds game is a must if you plan to be in Ohio in the summer. If you come in the fall, you can join the legions of local football fans for a Cincinnati Bengals game. History buffs can plan an entire weekend visiting the many museums, including the Cincinnati Museum Center at Union Terminal, the National Underground Railroad Freedom Center, the Center for Holocaust and Humanity Education, and the Cincinnati Art Museum.
A stroll along the downtown riverfront is a great way to see the sunset. Enjoy the swings on the riverwalk as you watch runners pass by or stop and wind down at the Smale Riverfront Park, a popular spot for families.
Foodies can indulge in local history while eating their way through neighborhoods like the Over the Rhine district with a Cincinnati Food Tours experience. You can sample the fare at several restaurants on the walking tour and meet local chefs. No matter where you stay in Cincinnati, you do not want to head home without visiting the famous Holtman's Donuts. This family-owned shop cranks out creative donuts every morning from scratch. It is an unforgettable experience for your taste buds, and you can smell the bakery from a block away.
Accommodation: Best Hotels in Cincinnati
6. The Wilds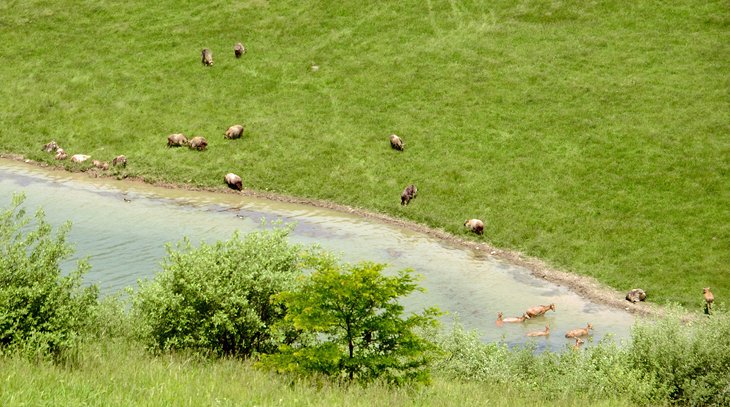 Imagine going on an African safari in Ohio. The Wilds is a 9,000-acre open-range habitat in Cumberland that is home to hundreds of animals, including buffalo, giraffes, rhinos, and many endangered species. It's a conservation facility that is both educational and entertaining. There are several options for enjoying a safari, from an open-air jeep ride to private tours. Zip line excursions provide one of the most exciting ways to see the animals.
This is a great location for a romantic getaway if you stay in a private yurt in Nomad Ridge overlooking the grounds, and the lodge is perfect for families.
Address: 14000 International Road, Cumberland, Ohio
Official site: https://thewilds.columbuszoo.org/
7. Marietta Sternwheelers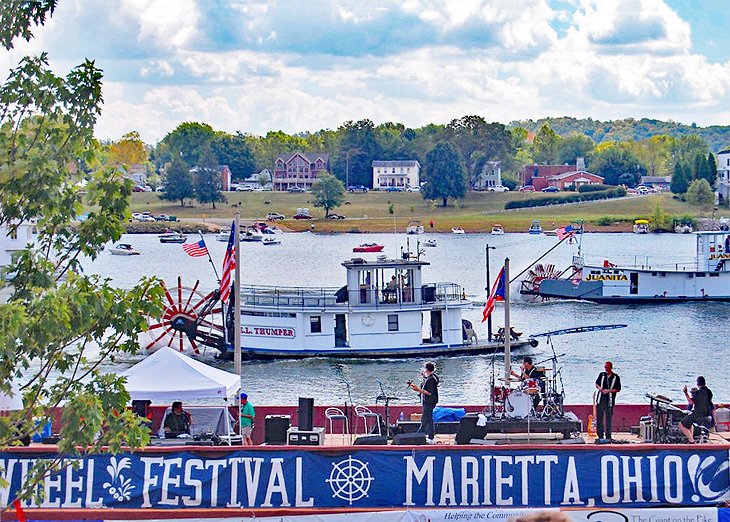 You can enjoy the charm of sternwheeler boats along the Ohio River during your getaway in Marietta. The town is themed around Ohio's riverboat heritage. Take a sightseeing cruise on board the Valley Gem Sternwheeler, an authentic steamboat boat that has been in operation since 1973.
The Ohio River Museum is nearby, with a vast history of steamboats that dictates the bygone-era of this town. You can spend several hours in the exhibit building on the campus. You will notice that nearly everything in the town, including the rooms at The Lafayette Hotel, feature the steamboat theme, with actual artifacts and historic photos.
Marietta is a great walking city. A trail runs along the riverfront, and the small town is easy to navigate. The best time to visit is during the Ohio River Sternwheel Festival, a free event that brings many riverboats into town. The annual festival is always held the weekend after Labor Day.
8. Cleveland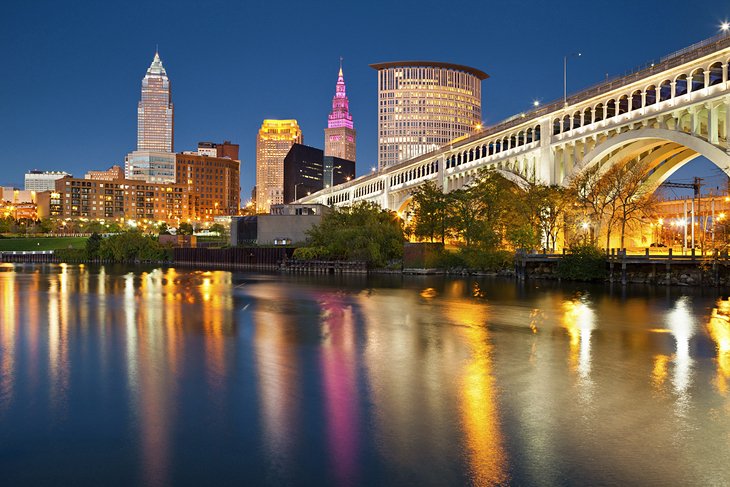 Cleveland is an easy getaway that can fill your agenda with plenty of things to do. The Rock & Roll Hall of Fame and Museum is a must-see if you have never been to the city. At Progressive Field, you can attend a Cleveland Browns Football Game or a Cleveland Indians baseball game.
Cleveland has an impressive Metroparks system that lets you enjoy the outdoors, with hiking, biking, bird watching, rowing, and one park with an ice chute that is open in the winter. The metroparks are connected around the city.
For a night out, the Flats East Bank is an easy one-stop venue for dining and entertainment. The renovated district is one of the most popular areas in the city, so restaurant reservations are recommended.
Other notable stops in the city include the Cleveland Museum of Art, West Side Market, Cleveland Zoo, and a nostalgic visit to A Christmas Story House, which has been turned into a museum commemorating the classic Christmas movie.
Another must-visit during your Cleveland weekend getaway is the historic West Side Market, which is as interesting in its architecture as its food variety inside from local vendors selling fresh fruit and pastries to authentic hard-to-find ethnic specialties.
Accommodation: Where to Stay in Cleveland: Best Areas & Hotels
9. Maumee Bay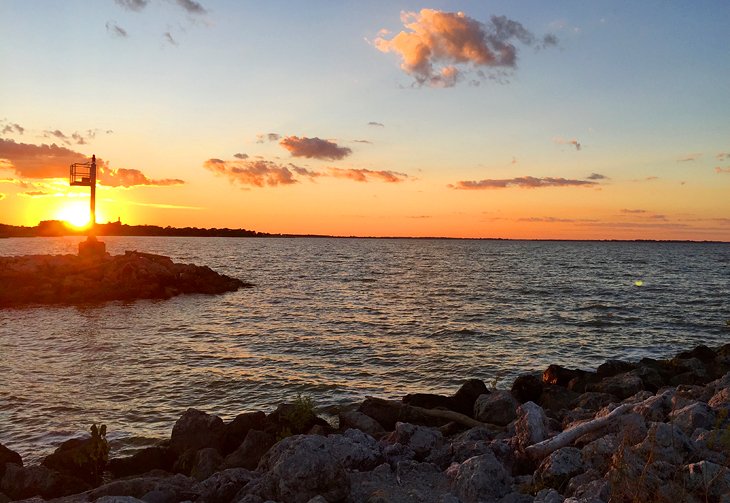 For time away that includes the shores of Lake Erie, hiking, birding, biking, and s'mores by the campfire, Maumee Bay in northwest Ohio makes for a full weekend. Just outside of Toledo, the Maumee Bay area has a diverse ecosystem and a wide range of things to do, including time on Lake Erie.
Maumee Bay State Park has dozens of hiking trails throughout 1,300 acres as well as recreational options. The landscape ranges from forestland to marshes, and convenient trails and boardwalks get you up close to the wildlife. Maumee Bay sits along the Lake Erie Birding Trail, so take your binoculars to spot eagles and songbirds. One of the most popular times to visit is during the Biggest Week in American Birding each spring, when hundreds of birders and photographers come to see the tiny warblers on their migration path.
10. Cuyahoga Valley National Park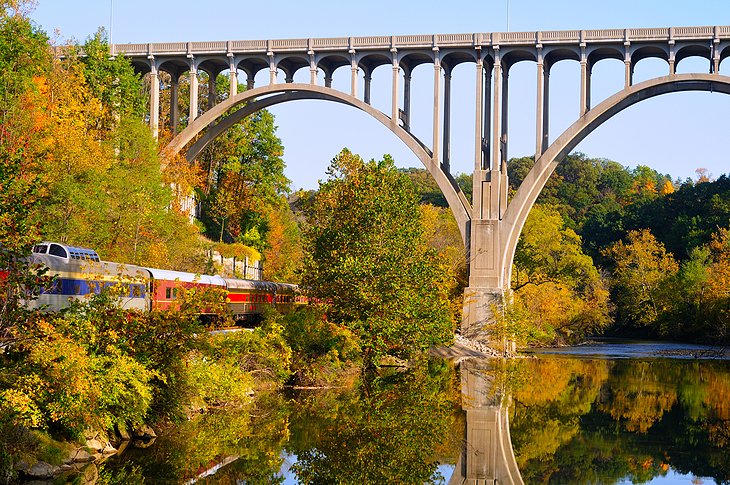 One of the most unique cities you can visit for a weekend getaway is in the tiny northern town of Peninsula within the Cuyahoga Valley National Park. The quaint community has shops featuring the work of local artisans and quaint B&Bs that make the stay a peaceful one, whether you are looking for a romantic getaway or solitude.
Since you are within the national park, biking and hiking trails are abundant. There is even a stretch of trail that is part of the B&B Bike Trail. This trail connects small B&Bs across the country that serve as overnight stops for cyclists, who are making multi-day trips.
The Cuyahoga Valley Scenic Railroad is an enjoyable day out to view the national park by train. For a special occasion, you can book a trip on one of the themed train excursions that change throughout the year.
11. New Plymouth Ravenwood Castle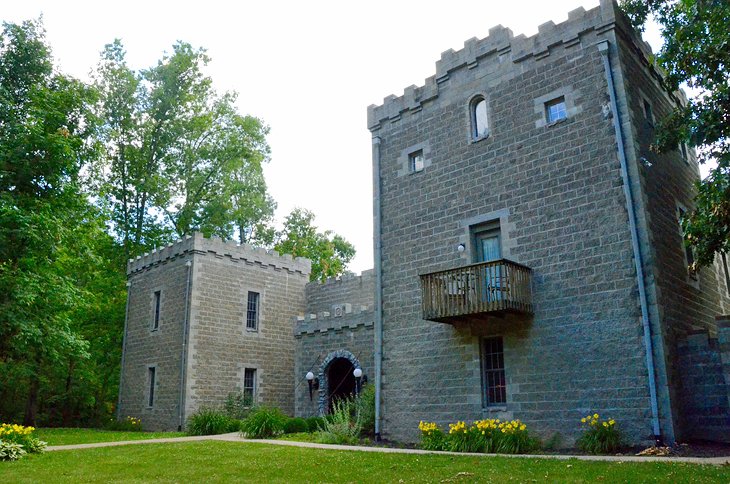 While New Plymouth is not on many destination searches, it's one of the best-kept secrets in Ohio because of the medieval Ravenwood Castle. This is one of the most unique romantic getaways in the state. The castle, a replica of 12th- and 13th-century castles, is tucked away in the Hocking Hills region. The grounds in the area lead you through a medieval village and themed cottages. A New Plymouth getaway is a great home base if you plan to visit the Hocking Hills, as it is set apart from the other cottages in the area.
Address: 65666 Bethel Road, New Plymouth, Ohio
12. Geneva-on-the-Lake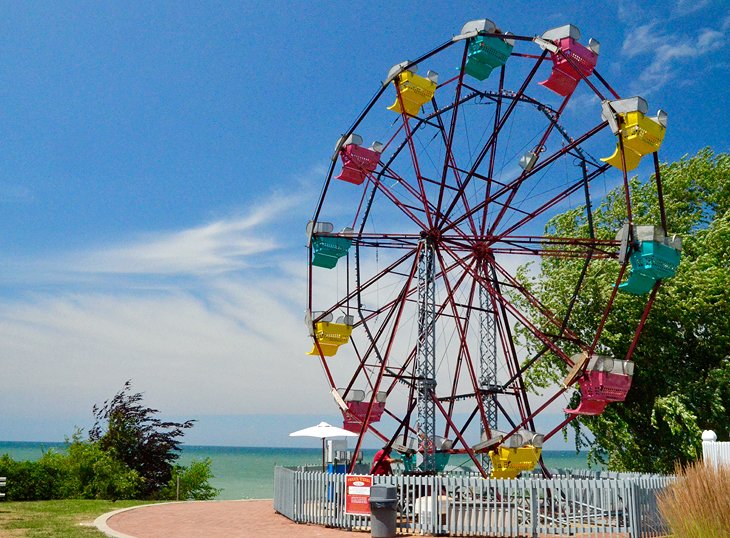 Geneva-on-the-Lake is a throwback to the time when vacations were made up of simple pleasures, like arcades, Ferris wheels, and diner foods. Along the one-mile strip through town, many of these notions have not changed from when the resort community was in its heyday in the early 1900s. You can see donut shops, miniature golf, antique shops, and ice-cream parlors all with original and nostalgic facades.
While cottages are available to rent in the center of the action, your best bet is to stay just off the strip at The Lodge at Geneva-on-the-Lake or in a nearby B&B. This allows you to enjoy the quiet serenity that you will find from being on the shores of Lake Erie, yet keeps you close to the tourist attractions in town.
Be sure to make time for lunch at Eddie's Grill, where coney dogs and root beer have been staples on the strip since 1950. Prepare for a wait, especially in the busy summer season.
Geneva State Park has hiking trails, fishing, biking, and a marina where you can rent jet skis and paddleboards or book a fishing charter to catch local walleye. A multi-use recreational trail winds through the park and to a public beach. What is billed as Ohio's first summer resort is ideal for a weekend getaway, because everything is so close and it offers a perfect mix of activities and opportunities to relax and enjoy a Lake Erie sunset.
13. Mohican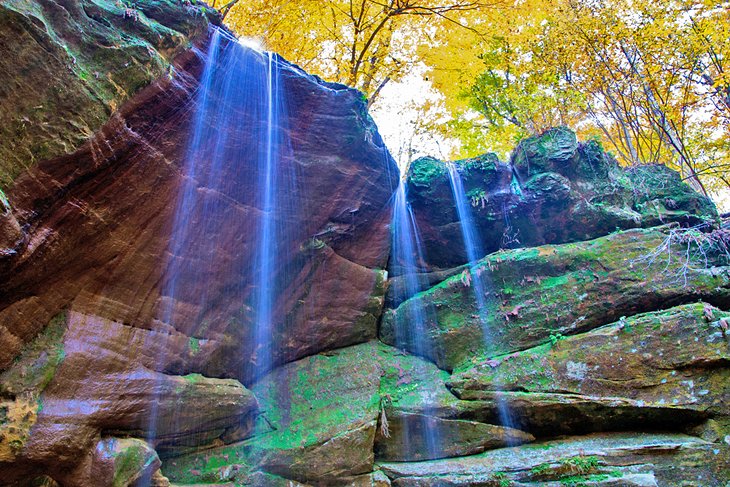 A weekend getaway in the Mohican State Park area is for outdoor lovers. Walk through the hemlock-dense Mohican State Park and state forest as you hike one of the many trails. Keep an eye out for wildlife like Ohio's white-tailed deer or take your binoculars to enjoy the view and birding opportunities from the Mohican Fire Tower Overlook. The high tower requires a hearty climb up, but the reward is one of the best scenic views in the state, including the Clear Fork Gorge that plunges 300 feet from the south rim.
Mohican is located adjacent to Loudonville, considered Ohio's canoe capital, so you might guess the summer outdoor opportunities that await. Rent a canoe to paddle down the Mohican River or rent a tube and just chill as you float your way through the natural environment. For a fun way to add to your outdoor weekend, plan a camping trip at Mohican State Park or one of the other local campgrounds or stay in a treehouse at The Mohicans, which offers lodging high in the treetops or in comfortable cabins on the ground.
More Related Articles on PlanetWare.com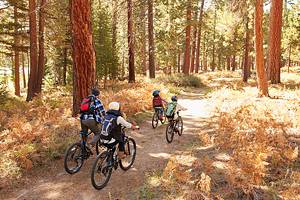 Ohio Outdoors: Ohio is a wonderful state for enjoying nature and getting active outdoors. For more ideas on what to do here, see our articles on the Best Outdoor Adventures in Ohio and Best Fishing Lakes in Ohio. Winter lovers looking for something to do during the colder months should see our article on the Best Places for Ice Fishing in Ohio.