Perch & Walleye Fishing on Lake Erie: 6 Things to Know
Lake Erie fishing, especially for perch and walleye, is some of the most prized angling in the United States and the best fishing in Ohio. Anglers often carefully watch the fishing reports to plan annual treks to Lake Erie, sometimes several times a year, to enjoy the chance at catching an impressive haul after a day or weekend on the water.
Lake Erie is the fourth-largest of the five Great Lakes, serving as the international boundary between the United States and Canada. On a clear day on the open water, you can see the mainland of Canada and the Lake Erie islands.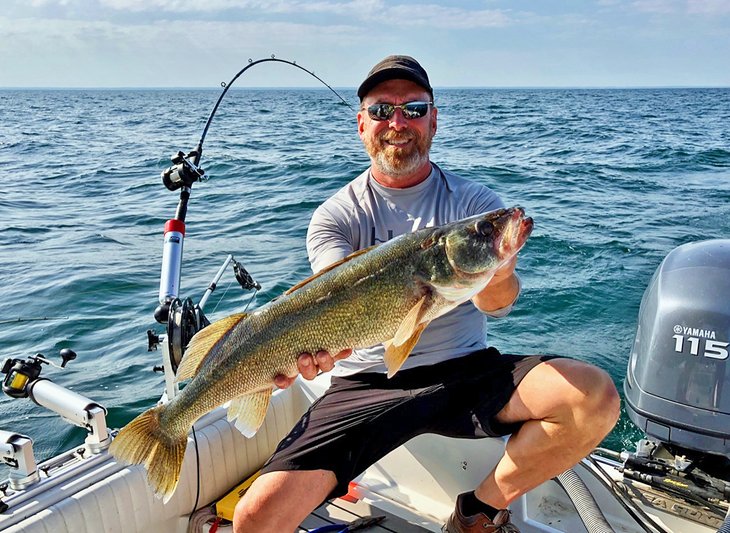 Lake Erie is the shallowest of the Great Lakes, and the entire shoreline stretches for 871 miles, touching the US state borders of Ohio, Michigan, Pennsylvania, and New York.
There are so many fishing opportunities in this body of water, but most anglers come specifically for the walleye and perch. These species are fun to catch when the bite is on, and both make for an abundant fish fry.
Lake Erie Fishing Charters: As an Ohio native, fishing on Lake Erie is always a special treat. In order to enjoy the best fishing that Lake Erie has to offer, you either need to hire a Lake Erie fishing charter, which is easy to do, or know a private captain who can take you. Fishing with an experienced captain on Lake Erie is essential.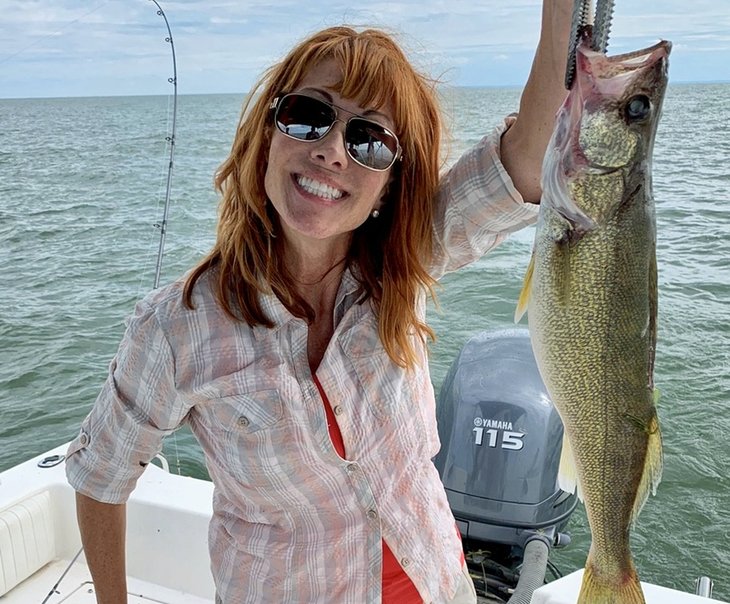 The weather conditions on the water are finicky, and the fishing regulations are strict. I set out to fish with my friend Eric Hensley, who owns a private boat and grew up fishing on Lake Erie.
"Having knowledge of the lake and its islands allows you to safely fish in just about any weather," said Hensley. "A knowledgeable captain can use the lee of the islands for protection, and launch from the safest port to where you want to fish."
An experienced captain also has insight into the behavior patterns of the perch and the migration pathways of the walleyes throughout the year. This means they can better position anglers for the optimal chances of getting fish into the boat.
During our first day, we departed from Port Clinton to target yellow perch, a species native to Ohio. Rain was in the forecast, so we packed the rain gear and Dramamine® to brace for what could easily be four- or five-foot waves.
To our delight, the winds shifted in our favor, providing us instead with a perfectly sunny day in the mid 70s Fahrenheit, with soft, comfortable rolls on the water. The daily bag limit for perch is 30 per angler, per day.
Although bag limits for perch and walleye rarely change from year to year, they are reviewed annually, so it is important to check them before you hit the water.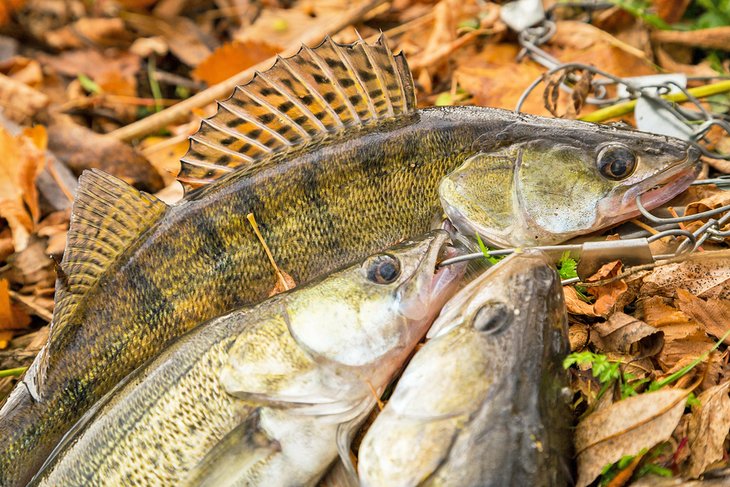 With high ambition for the day and a fish fry on our minds, we headed to the Happy Hooker bait shop for a bucket of live shiners to use for bait.
"Where's the bite happening today?" we asked the bait shop worker.
"It looks like between the A and L cans, boats are having a lot of luck," the clerk tells us while pointing to a map of the lake on his counter.
Lake Erie regulars know that the bait shop intel is some of the best information available. The walleye and perch are constantly on the move, and while most captains will know generally where they should be throughout the year, their specific locations and bite action will change by the day, and oftentimes by the hour.
With our bait, light tackle, and information in hand, we launched and headed out with a mild game plan, keeping an eye out for where other boats and fishing charters were congregating.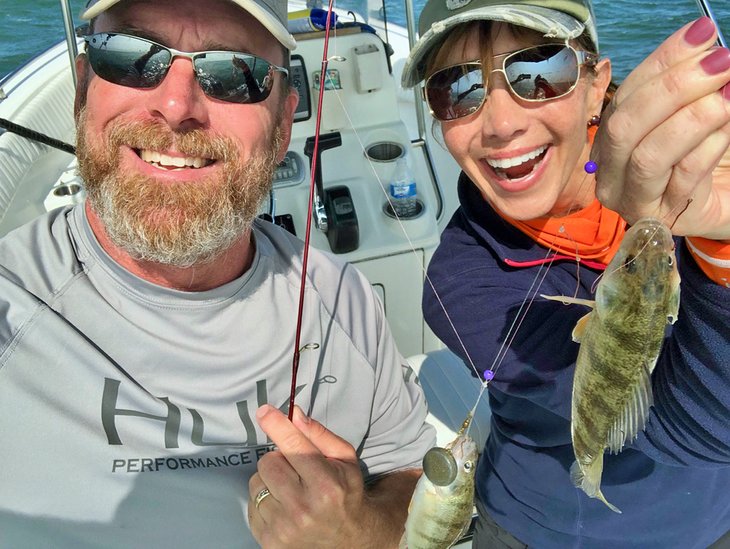 We went out about six miles from shore and anchored down in the first location north of the Magee Marsh Wildlife Area. The fish finder indicated activity. Perch are schooling fish and feed close to the bottom, so this was a good sign.
Perch are found in 20 to 60 feet of water, but we stopped at a depth of 28 feet to drop the lines. Once the bait hit the bottom, we pulled up a few cranks to get our bait in the strike zone.
Our perch rig was set up with three independent size-two snelled hooks, spaced four inches apart, with a flat sinker to get us to the bottom. With one fast-action rod in my hand and a finger on the braided line to feel the bite then another rod in the boat's holder, there was an immediate light peck on my bait, and bam! Fish on! I pulled in a nice nine-inch perch right away.
My adrenaline soared. At that moment I heard my captain shouting with excitement, "Got one!" We were on the bite almost immediately. One after another, we pulled them in. All of them were keepers.
Then, just as quickly as the action started, it stopped. Nothing. Perch are as fickle as the Lake Erie weather, which keeps anglers on their toes, moving spots, and testing out different techniques that might get the fish active again.
"Some anglers say that if you turn on the boat motor to make a disturbance in the water the fish will respond," Hensley said. "I don't know if it's true, but let's try it."
The idea is that a disturbance in the water mimics the activity of the perch's natural food source, so they are attracted to it, which places the schooling fish in the path of the bait.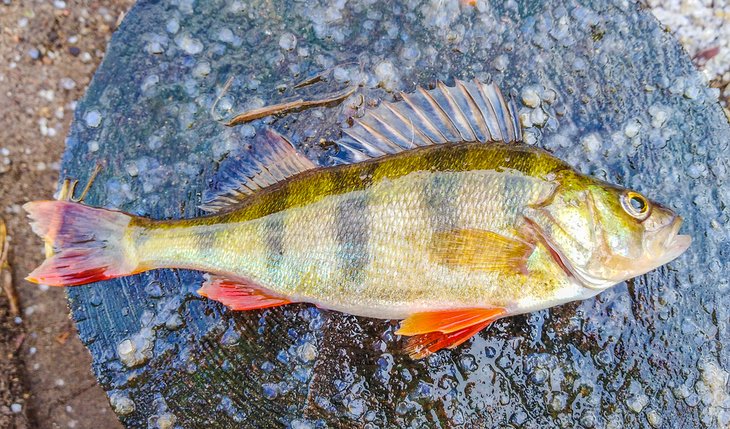 The motor started, and whoa! The bite turned on again almost instantaneously. I couldn't get the fish in, off the hook, and my bait back out into the water fast enough. My excitement overwhelmed me.
Since I was able to respond to the feel of the bite and set the hook, I thought perhaps I was missing fish on the static rod in the holder, so my new plan was for a rod in each hand.
Sure enough, the disruption in the water from the motor turning on had the fish going after both lines. After about 10 minutes of non-stop bites, the action completely halted again.
We repeated this process over a nine-hour period on the water, moving locations a couple of times until the bite eventually stopped for good. With 40 impressive perch in our cooler, we wrapped up the day with high-fives and headed back to start cleaning them all.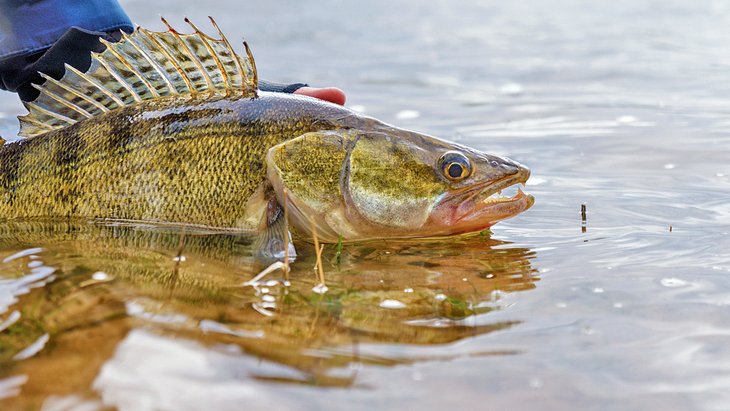 Besides perch, many anglers head to Lake Erie for the prized walleye. Walleye require different bait and fishing methods. Strict bag limit and size regulations for walleyes keep the fish populations in Lake Erie in check. It's one of the reasons that the walleyes in these basins are able to grow to such large sizes.
"People come from all over the region and US to fish for walleyes in Lake Erie, especially in the early spring and fall," said Hensley. "The sheer quantity of fish and relative unavailability in the supermarket make it a popular sport fish. Walleyes in other states don't typically grow to the size of Lake Erie walleyes and therefore result in bigger freezer bags of filets."
Many walleyes caught range from three to five pounds, and oftentimes over 15 inches long, the state minimum for keeping them. But Lake Erie walleyes grow even bigger and are quite exciting to catch and eat.
The Ohio Division of Wildlife has a Fish Ohio program that rewards anglers with commemorative lapel pins for significant catches that must meet qualifying sizes for the various species.
Walleyes are schooling fish. Some of them stick closer to shore year-round, and others migrate from shallower waters in the Western Basin in the winter and spring, then move to the Central and Eastern Basins in the summer and fall as temperatures rise.
There are various techniques used for getting bait into the strike zone for walleyes. Trolling is a common method that enables anglers to use crank/stick baits in the spring and fall and spoons and nightcrawler harnesses in the summer.
All Lake Erie anglers have their own preferences when it comes to the use of planer boards, divers, downriggers, weighted spinners, or flatlining while targeting walleyes.
During our second day out on Lake Erie during a September visit, we targeted walleyes in the Western Basin with mild results, as the fish seemed to be schooling slightly east of our location.
We used side planning boards to maximize the number of lines we could launch. We also used divers and downriggers in some locations to get lures of various colors into the spread of options on our line to see what the walleye would respond to.
"The combination of these techniques allows us to cover most of the water column and create a wide spread of lure presentations while using the maximum number of poles possible and legal," said Hensley.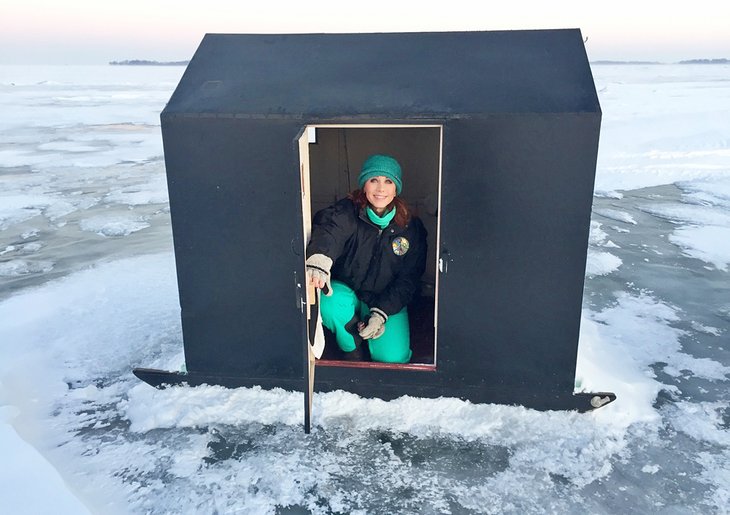 Lake Erie lends itself to year-round fishing for perch and walleye. As long as conditions are favorable, ice fishing for both is quite exciting and adds a layer of challenge for anglers who enjoy fishing for these species.
One of the best places to ice fish for perch and walleye is near South Bass Island. A short charter flight is easy to catch from Port Clinton to the island, and during the winter, a few bed and breakfasts stay open to cater to anglers.
It is especially critical to hire a guide for ice fishing who consistently checks ice conditions before your trip and during the day as you fish in the shanty.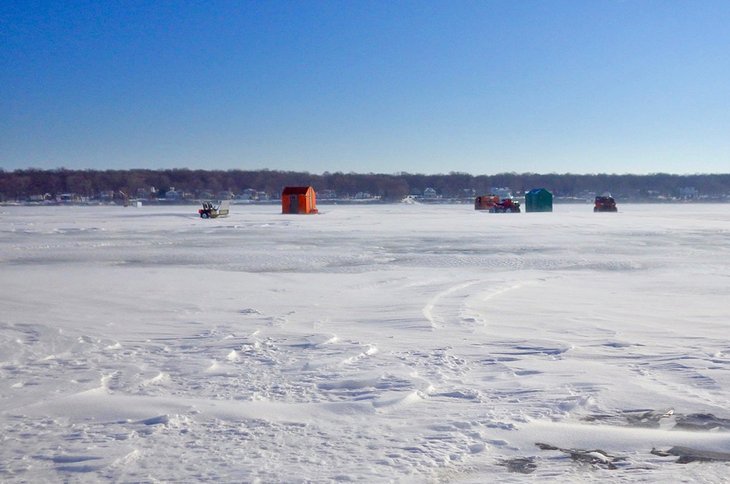 Just as weather conditions can change rapidly on Lake Erie during the spring and summer, they do in winter as well, with temperature fluctuations that can cause unexpected ice melt, presenting a danger to anglers.
Every year, inexperienced anglers are rescued from Lake Erie when they go adrift while ice fishing. You should only trust a seasoned and recommended guide who is obsessed about ice conditions and your safety.
There is a lot to know before perch and walleye fishing on Lake Erie so that you have the most productive experience. Here are six things to know when planning your trip, so you can return ready for the best fish fry of your life.
1. What to Know Before You Go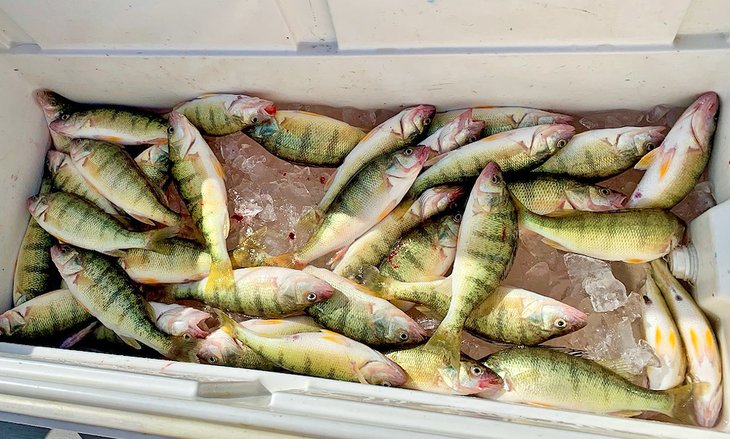 Lake Erie fishing is exciting, and you will relive the trip with every bite of perch and walleye that you cook for dinner, but there are some key things to know before you go.
First things first: educate yourself on the Lake Erie fishing regulations. Since bag limits are reviewed each year, it is important to know what they are for the species that you are targeting, as the regulations are strict. Anglers and captains should be checking fish sizes, and if they are questionable, it is best to throw them back. Better safe than sorry.
Next, be sure to obtain a valid Ohio fishing license from the Ohio Department of Natural Resources or from the state you will be fishing from. Lake Erie is surrounded by the US states of Ohio, Michigan, Pennsylvania, and New York, which all have their own regulations and fishing license requirements.
If you have never fished on Lake Erie, it is important to understand the unpredictable nature of weather on this lake system. As the shallowest of the Great Lakes, the weather conditions can turn from pleasant to dangerous quickly, with the kick-up of storms that can stir water into 10-foot waves.
It is essential to keep an eye on the forecast several days out before your trip, even if you plan to go with a guide, and make safety your first priority on the water.
Finally, if you are susceptible to sea sickness, be sure to wear a motion-sickness patch or take motion-sickness prevention pills with you. The Lake Erie waters can mimic the ocean in inclement or windy weather, making for a rocky day on the boat.
Along with motion-sickness pills in your provisions bag, be sure to pack rain gear or a windbreaker, along with sunscreen, water, and snacks because Lake Erie fishing means long days on the water.
2. How to Hire a Lake Erie Fishing Charter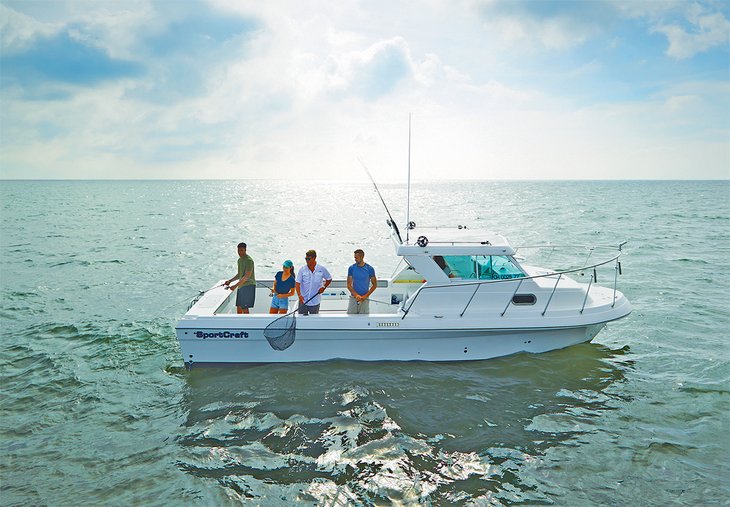 Hiring a Lake Erie fishing charter is easy to do, and it is one of the best ways to make sure you get right on top of the fish that you want to target. There are several types of charters available depending on your preference.
You can hire a private charter, which is more expensive and generally takes groups of four to six people by pre-booking. These are nice options for people who want fewer anglers on the boat or prefer more social distancing and privacy.
Another option for Lake Erie fishing charters are walk-on head boats, where you just show up and go. These are nice options for people who decide to go fishing at the last minute because they are convenient. They are also more affordable than private charters, making them great options for families and groups who are on a budget.
Most of the walk-on charter boats offer rentals for rods and tackle. Some offer snacks and water, but each charter is different, so you will want to make sure and ask what is included in the price, what is extra, and what you need to bring.
There are lots of charters available along the three Lake Erie basins to take you out on half-day or full-day fishing trips. You may want to ask for recommendations and review charter websites before making a decision. Charters generally target perch or walleye, but some also go out for smallmouth bass.
3. Where to Depart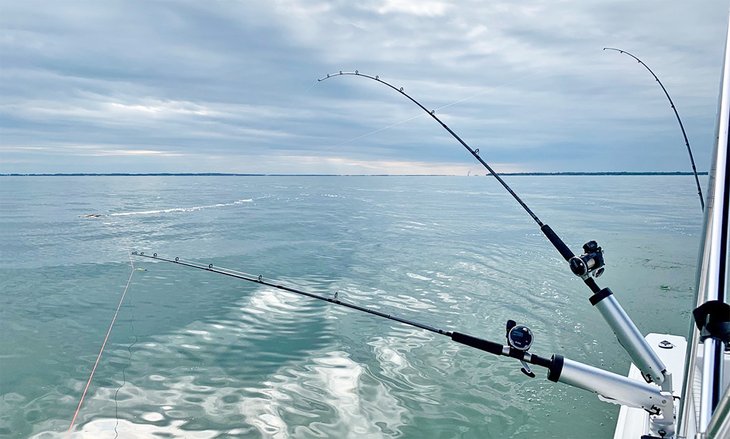 Lake Erie has three main basins from which anglers generally depart to fish for perch and walleye.
Port Clinton is the Walleye Capital of the World, so it is the go-to launch for the Western Basin, and that is where you will find the largest concentration of Lake Erie fishing charters. The Western Basin is productive in the spring during spawning season and in the fall.
The Central Basin, stretching along the northeastern Ohio border and part of Pennsylvania, is popular in the late spring and summer. Popular Ohio departures for the Central Basin include Huron, Lorain, Fairport, Geneva-on-the-Lake, Ashtabula, and Conneaut.
The Eastern Basin stretches from Pennsylvania to New York and Canada.
It is important to understand that walleye are cold-water fish, so in the summer, they will gravitate to the cooler, deeper water of the the central and eastern basins. They tend to spread out into smaller pods and move around, while smaller-sized walleye remain around the islands and in the western end of the lake.
Many fisherman target walleye in the spring in the western basin and around the islands. By May or June, larger walleye can usually be found east of the islands over to Cleveland. By July and August, regular walleye catching is great from Cleveland to Conneaut.
Perch fishing has been a bit unpredictable over the years. Some years, the west end is productive, and other years the catch is better on the east end near Conneaut.
4. Lake Erie Fishing Seasons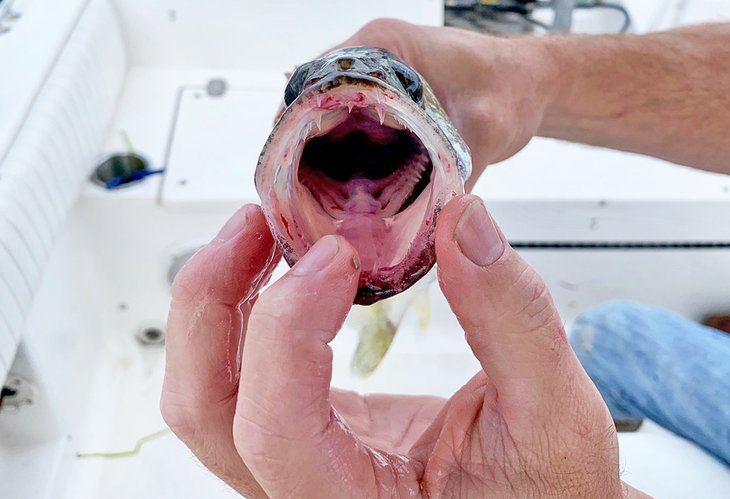 Spring. Anglers target walleyes running the rivers that feed into Lake Erie in the spring. Overall, spring months are not as popular as summer and early fall because the weather is generally cold, and conditions are often unpleasant.
Summer. Summer is prime time for Lake Erie fishing. July through September are the best months to target walleye, when the water is warmer and the fish are on the move. Perch are productive as well. For anglers up for the challenge of hitting the "Lake Erie Trifecta" (catching a perch, walleye, and smallmouth bass on the same trip), the best chance will be in the summer, when all the species are actively feeding.
Fall. Fall is the best time to target perch. September and October are the best months to catch perch, with many anglers hitting bag limits within a few hours. Walleye begin moving back into shallower water as temperatures cool, so the fall is a good time to target those as well.
Winter. As you might imagine, winter on Lake Erie can be brutal, with freezing temperatures and lake-effect snow. However, for the hard-core, ice fishing in the sections between islands, which will freeze first, can make for a fun opportunity for winter fishing for perch and walleye. As noted above, it is imperative to hire a trusted guide for ice fishing who understands the freezing dynamics of the Lake Erie water and can put your safety first.
5. Other Fish to Catch on Lake Erie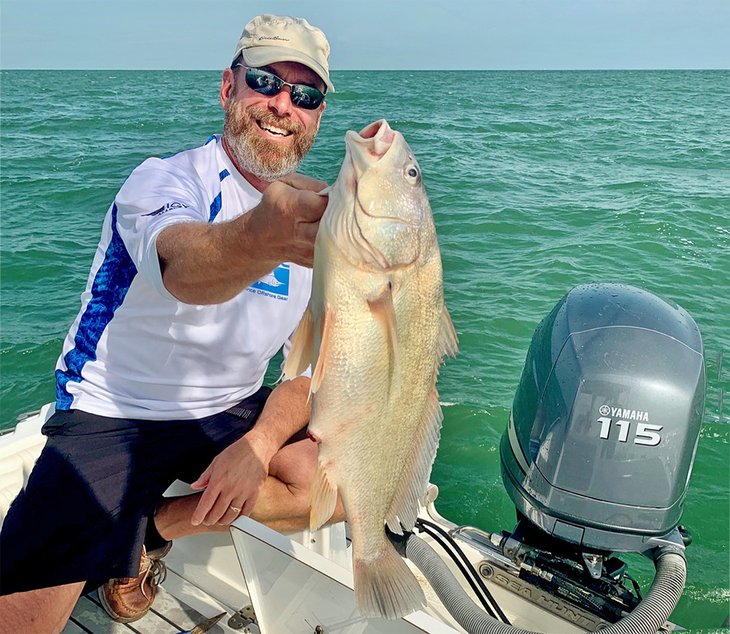 While walleye and perch are the stars of the show when it comes to Lake Erie fishing, there are other species that are great to target as well.
Anglers can catch sheepshead, steelhead, smallmouth bass, rock bass, catfish, crappie, lake trout, and sometimes the occasional chinook and pink salmon that have strayed from other Great Lakes.
You stand a good chance at inadvertently catching some of these other inhabitants while fishing for your targeted species, which makes it fun to see what else is feeding in the area. Here are some of the other species that are likely to make an appearance.
Smallmouth Bass. The smallmouth bass in Lake Erie are a popular species for anglers. There are some strict regulations regarding smallmouth bass to help the populations get through spawning season, so you will want to review those if you plan to fish for this species in the spring or early summer. Smallmouth bass can be fun to catch, as they are active fighters and oftentimes jet out of the water.
Steelhead. Anglers enjoy fishing for steelhead because they are quite aggressive on the line. They also make for great table fare. The Ohio Division of Wildlife has been releasing steelhead trout in Lake Erie since the mid 90s, and they have become a popular fish for anglers.
Lake Trout. Lake Erie lake trout can grow quite large and are nice to catch. They are stocked in Ohio waters, so there are generally healthy populations.
Sheepshead. Often considered by anglers to be a junk fish, sheepshead are exciting to catch. These are quite popular to get on the end of your line while fishing for something else. Most anglers do not keep sheepshead, but they provide a lively intermission to your day of fishing.
6. How to Plan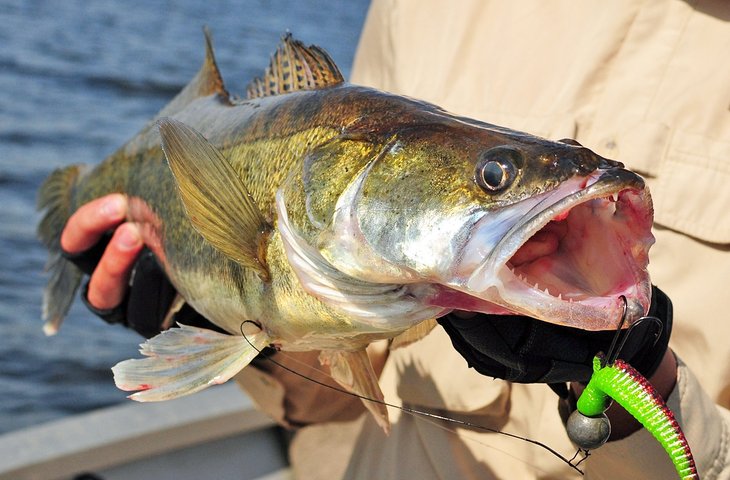 Planning a Lake Erie fishing trip is fairly simple and can become a yearly tradition as it is for so many anglers. Start your planning by deciding what type of species you want to fish for, as that will determine the time of year to go and the location of your departure.
Next, research fishing charters, and ask questions to determine the kind of charter you plan to use. Some can even be hired as "teaching charters" to show captains how to use their own gear if they own their own boat.
Then, decide how long you want to stay. You can easily make a day trip for Lake Erie fishing, especially with walk-on charters available, but it is best to make a weekend out of it if you have the time. A slow bite one day can mean a feeding frenzy the next as weather blows through, creating quickly changing conditions.
If possible, give yourself a couple of days to make the most of the trip and ensure you have an ice chest full of fish to take home. At the very least, if one day is all you can do, try to plan the trip when you have the most flexibility to change the date if weather conditions are not favorable. Keep in mind that the captain has the final say when it comes to assessing the weather conditions.
Look up local resources like the Lake Erie Shore & Islands to find information on things to do in the area, lodging, and restaurants that you can plan to visit during your stay. They also provide daily weather and fishing reports that you can check before and during your time on the water.