9 Top-Rated Fly Fishing Regions in Pennsylvania
Author Anietra Hamper is an avid angler and enjoys the varied opportunities for anglers throughout Pennsylvania.
Fly fishing in Pennsylvania presents an abundance of opportunities for anglers seeking a new challenge and some quality time outdoors. The fishing potential in Pennsylvania is unsurpassed, with 697 streams and 126 lakes open to public angling, and 15,000 miles of rivers and streams designated as wild trout fisheries.
Due to special regulated waters producing abundant hatches and the conservation and public agency efforts over the last 25 years, fly fishing in Pennsylvania is seeing a resurgence. Pennsylvania fly fishing is prime even for beginners because of the number of public waterways throughout the state and easy access to the water for anglers.
Depending on your skill and comfort level, you can access varied waterways, from small cold-water mountain streams to flowing rivers and spring-fed creeks. Another appeal of Pennsylvania rivers and streams for fly anglers is the ability to be completely consumed by nature as you fish for wild trout and being able to enjoy the flora, fauna, and wildlife around you.
While fly fishing for trout is popular, Pennsylvania waters offer up so much more to anglers who want to expand their skills and try for other species. Pennsylvania has some of the best trout fishing opportunities in North America for brook trout, brown trout, and rainbow trout, but there is increasing interest in fly fishing for bass, walleye, pike, carp, and muskie in the warm-water areas of the state.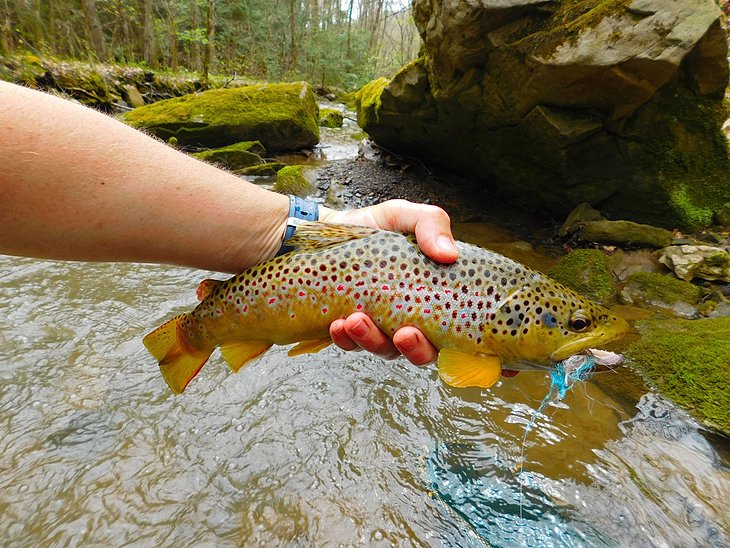 "The Pennsylvania Fish and Boat Commission stocks 3.2 million trout a year, and there are 440 miles of special regulated trout waters across the state. There are more angling opportunities today in Pennsylvania than ever before," says Lenny Lichvar, Commissioner, Pennsylvania Fish and Boat Commission and co-author of the book Keystone Fly Fishing.
There are plenty of spots with an abundance of stocked trout, but Pennsylvania also offers some of the best wild trout angling on the East Coast.
While the fly fishing opportunities loom in Pennsylvania, it is tough to narrow down where to target when planning a trip. A good place to start is by examining the species, top waterways, water conditions, fly fishing opportunities by region, and the time of year you are fishing to see what opportunities are the best to target.
Some sections of waterways have special designations and are catch and release, so it is important to review the Pennsylvania Fish and Boat Commission's regulations and obtain a proper state fishing license before heading out on the water. Some of these areas are open year-round for angling. You can also download an app with more specific fishing information on Pennsylvania waterways, as well as directions to stocked and wild fisheries and warm-water fisheries.
From the tranquil streams and brooks in the mountains to the deep waters of Lake Erie and the fast-moving Youghiogheny and Delaware river systems, there is no shortage of species to target and waterways to test your skills. Pennsylvania is abundant with professional guides ready to help novice anglers succeed in their first endeavors to catch wild trout and aid advanced anglers who are looking to up their game in unfamiliar waters.
Find the state's best areas to cast your line with our article on the top fly fishing regions in Pennsylvania.
1. Central Region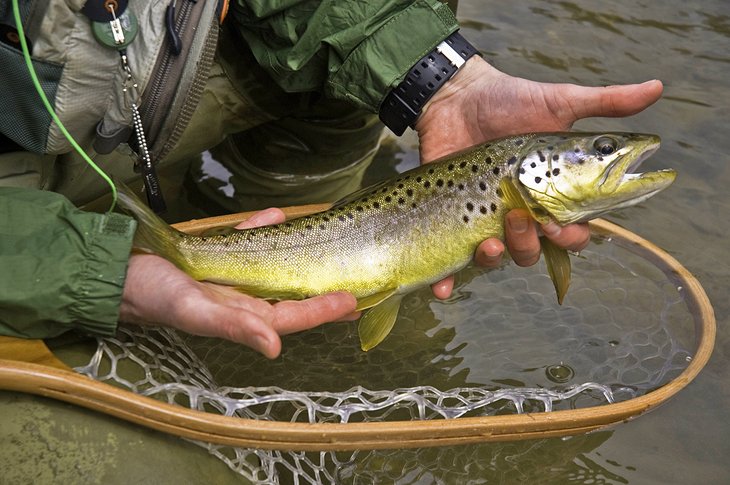 Some of the most legendary fly fishing waters in Pennsylvania are in the central region. In fact, respected angling author Sparse Grey Hackle published an article in Sports Illustrated in 1957 calling Penns Creek the best trout fishery in the eastern United States. It is still considered a top destination for trout angling with a growing population of wild brown trout.
The limestone stream produces abundant hatches in late May of green drake, mayflies, caddis, stoneflies, and midges that hatch well into the summer. Penns Creek sits along the remote woodlands of Centre and Union Counties, so it provides an ideal challenge for anglers who want to test their skills in this 68-mile fishery.
The best angling opportunities are around the small towns of Coburn and Weikert and near Poe Paddy State Park. Penns Creek will not disappoint, but be aware that there are special regulations to protect the wild trout, which require review before selecting your specific location.
Another top central Pennsylvania fly fishing destination is along the Little Juniata River, which flows 32 miles from Altoona in Blair County to the small township of Frankstown. It harbors one of the best brown trout fisheries in the state. Hatches on the "Little J" begin in March with blue winged olives, then a sulphur hatch in May followed by slate drakes and light cahills throughout the summer.
Anglers can expect productive nymph fishing on the river, especially when targeting riffles and heads of pools. The section from Ironville to the river's mouth is a popular destination point for anglers targeting wild brown trout and it has ample river access. That section and a stretch of stocked waterway along U.S. Route 220 have special regulations in place.
The Little Juniata River flows into the larger Juniata River, which has a larger volume of water, making it a prized spot for anglers looking to target species other than trout. It is a hotspot for fly fishing for smallmouth bass of all sizes, including trophy-sized fish. Your best bet for fly fishing on this waterway is with a drift boat. You can find a number of local guides that specialize in fishing here and have the proper boats available.
2. Southwest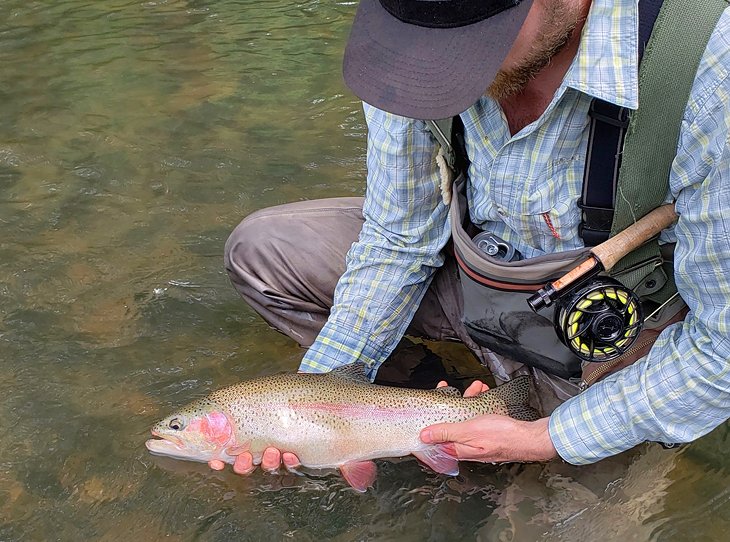 Everything is large on the mighty Youghiogheny River, from the rapids to the fish. It is teeming with trophy-sized brook, brown, and rainbow trout. The "Yough" (pronounced "Yok" by the locals) is a tailwater trout fishery, which eventually merges with the Monongahela River.
The sheer size of the Yough makes it ideal for diverse bug populations and different hatches on different sections of river. The best section for trout fishing is by the dam at Confluence where the river is stocked and access is easy. The Yough also has a healthy population of smallmouth bass that increases the fly rod angling opportunities in the upper, middle, and especially the lower Yough.
Targeting the trophy fish on the Yough is best done by floating the river in order to cover more territory and with an expert guide, like John Hatcher with Wilderness Voyageurs, who has navigated the nuisances of these waters for many years, matching fly fishing outings to a guest's experience.
"Fish hold in certain places and not others, and sometimes they can be picky. They aren't dumb by any means and it takes a lot of time just to find them, let alone catch them. Because the river is a dynamic place, there's really something for everyone," says John.
Wading is also productive, but it can be challenging depending on water conditions. The best accessibility for anglers is at the Great Allegheny Passage (GAP) trail that follows the river in Ohiopyle State Park, where anglers can access the waterway. The Yough has great Light cahill and slate drake hatches throughout the summer and is a river for streamer and nymph fishing.
Other fly fishing waters in southwestern Pennsylvania are hidden in Bedford County. Yellow Creek is on the western edge of the limestone region, designated a Class A wild brown trout fishery with some stocked rainbow trout. Hatches are outstanding with blue-winged olives, sulphurs, and green drake in May and June, and stoneflies in summer.
One of the popular stretches of the stream is a 0.9-mile Catch and Release Fly Fishing Only Special Regulation Area near the town of Loysburg. There is a designated parking area just off Jacks Corner Road. It is important to note that much of the land bordering Yellow Creek is privately owned, so keep an eye out for signage. There are plenty of sections that are less crowded and easily accessible outside of the special regulation area.
3. South Central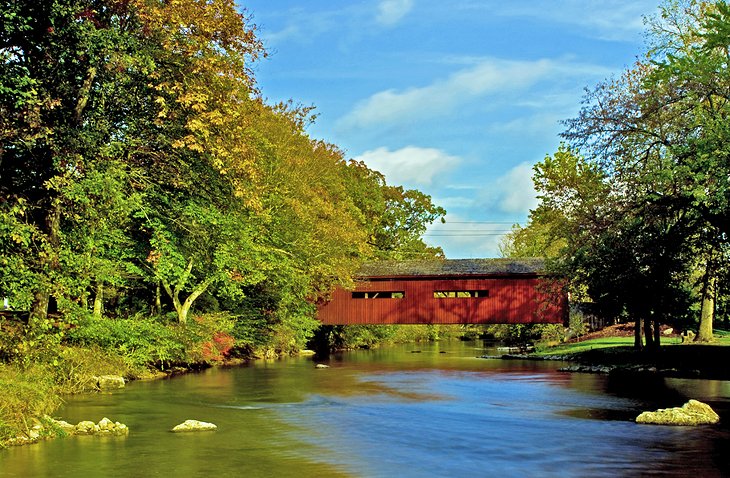 South Central Pennsylvania is home to the Cumberland Valley region and some of the most popular fly fishing waters in the state, namely at LeTort Spring Run, Big Spring Creek, and Yellow Breeches Creek.
The limestone creek beds and rich soil that define this region make for a healthy environment for productive hatches of caddisflies and mayflies. That factor, combined with the consistent water temperature of 56 degrees Fahrenheit year-round, allowing for a stable breeding environment for wild trout, makes it a prime location for fly fishing anglers. May is one of the best months to fish here when the natural bugs are the most abundant and active.
The Breeches tributary flows for 40 miles until it reaches the Susquehanna River. Fly anglers are drawn to the popular Catch and Release Artificial Lure Only Special Regulation Area near Boiling Springs. The area is home to both wild and stocked trout and can get quite crowded. For equally impressive fishing with fewer anglers, head outside the special regulation area.
Anglers have the best luck in these South Central waters with nymph fishing. Blue-winged olives, hendricksons, sulphurs, light cahills, and slate drakes are prevalent during the spring and summer, and white fly hatches come at dusk in August.
4. Northwest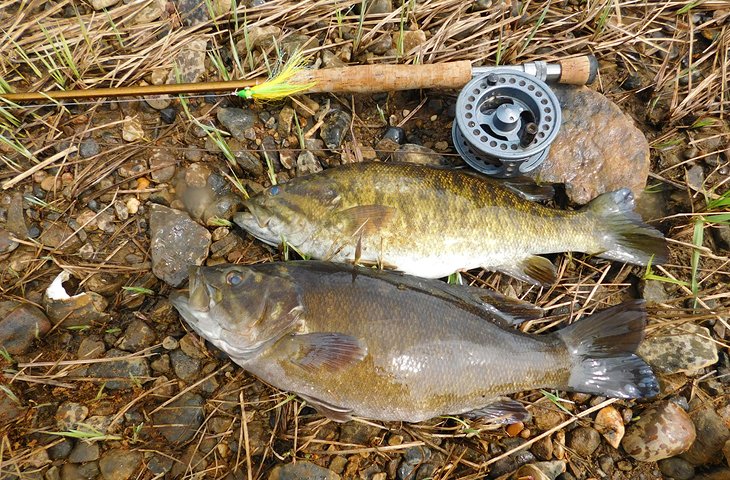 The Allegheny River flows from Kinzua Dam to Pittsburgh and through the Allegheny National Forest. The Allegheny is a spectacular river for its stunning natural scenery and large brown and rainbow trout.
Wading is difficult in the river, and water flowing from the dam can fluctuate, so it is best to check with the local USGS monitoring station before planning your trip. Targeting the photo-worthy fish is best from October to May with streamers, and with mayflies and caddis hatch from May through June.
One of the most productive stretches of this river for trout is the 45-mile section from the dam to Tionesta. Farther downstream, you can target musky, smallmouth bass, and pike that are stocked by the Pennsylvania Fish and Boat Commission.
The northwest is where steelhead anglers flock to in the fall. See the detailed information in the following section about Steelhead Alley and why fly fishing for steelhead on Lake Erie will send you home with impressive photos and bragging rights.
5. North Central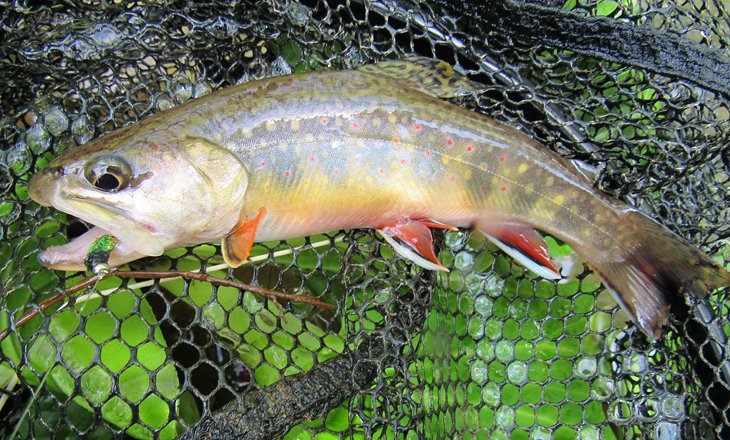 The mountains of north-central Pennsylvania house the Kettle Creek watershed, which is a haven for wild brook and brown trout and one of the most desired waterways in the northern region. Some sections are also stocked with trout. The creek is popular because of its secluded location in the mountains and for its abundance of aquatic insect life.
From mid-April through June, various mayfly and caddis hatches make for ideal dry fly action. Fly rod anglers like this area because they can rely on green drake appearing at the end of May, followed by summer months that produce ants, beetles, and hoppers. Anglers looking for something a little bit off the main waterway will want to check out the smaller cold-water tributaries of Kettle Creek to try for stocked and wild trout.
The most popular section of Kettle Creek is along PA Route 144 near Ole Bull State Park where fly anglers can try for brook, brown, and rainbow trout. Just downstream of the park, there are many pull-offs for easy water access. Another five miles downstream is where the 1.7-mile-long Catch and Release Fly Fishing Only Special Regulation Area originates, which is a major draw for fly rod anglers.
6. East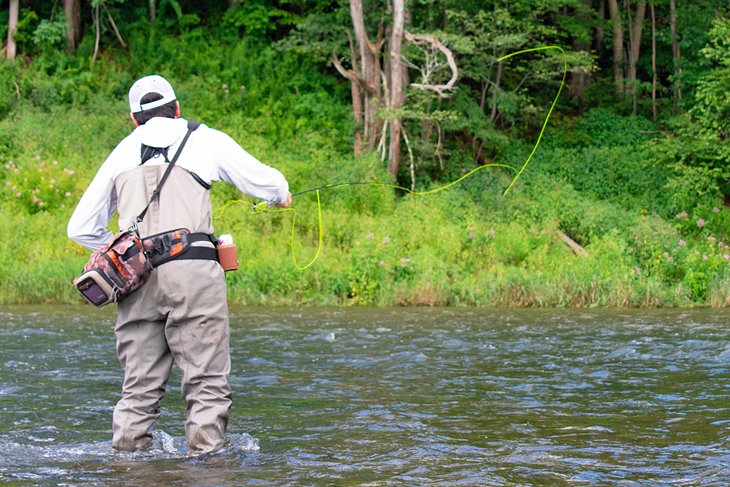 One of the longest undammed rivers in the United States is the Delaware River, which forms in Hancock, New York and flows along the eastern border of Pennsylvania. The river's popularity with fly rod anglers is due in part to its proximity by driving distance to two-thirds of the United States.
A float trip is best advised for this waterway because there is limited walk-in access and its sheer size makes it dangerous for wading. A float trip will enable you to cover more areas of water to target wild trout. Trout in the river are finicky, which requires precise selection of flies and techniques, so you may want to consider hiring a guide who knows this river system well.
The most successful anglers on the Delaware River cast to the many types of hatches on this river in spring and throughout the summer.
7. Southeast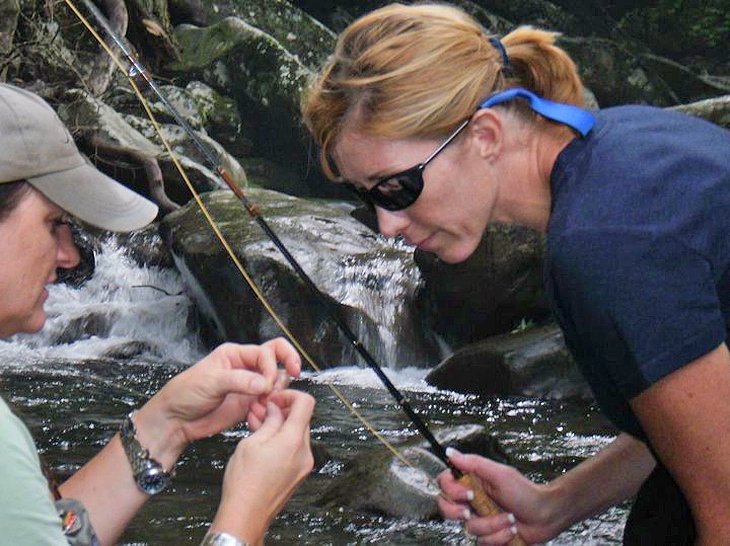 One of the top fly fishing destinations in the southeast is Tulpehocken Creek near Reading, Pennsylvania. This is a tailwater fishery, which produces impressive brown and rainbow trout. The creek gets to depths of 50 feet and provides a healthy environment for trout to survive.
Tulpehocken Creek is a designated Pennsylvania Scenic River, with plenty of aquatic insects given its protected status, so anglers can catch sizable trout. It is not necessarily an easy creek to fish, but it is one of southeast Pennsylvania's most naturally beautiful and serene, which is why it is one of the most popular in this region.
An area below the Blue Marsh Dam is a popular 4.1-mile Delayed Harvest Artificial Lure Only Special Regulation Area, where the "Tulley" becomes an abundant fishery. The stream can get quite warm during hot summers but the bottom release dam keeps the waters suitable for angling and keeps fish active. There are great hatches in May and June, most notable is the trico from mid-June through early Autumn.
8. Lake Erie/Steelhead Alley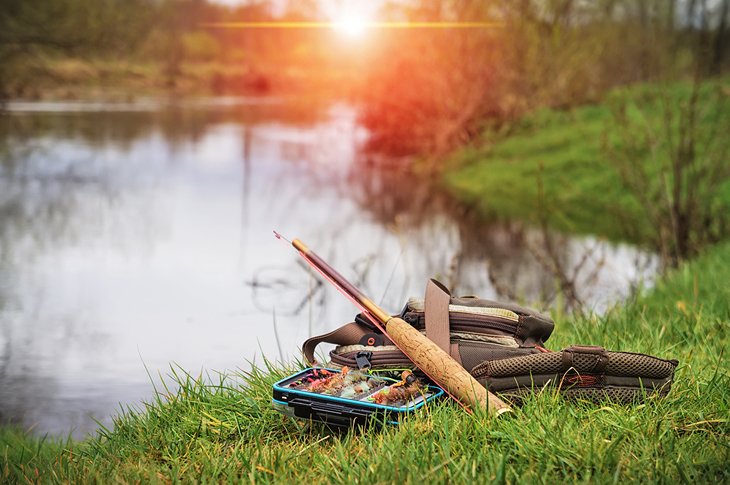 Not everyone heads to Pennsylvania waters for trout. The steelhead contingency flocks to the northwestern corner of the state to the Lake Erie waters, which produce a flurry of steelhead fly fishing opportunities, especially in the fall. Lake Erie is easily one of the best lakes in Pennsylvania for a variety of species and offers fly fishing anglers some unique opportunities.
Affectionately called "Steelhead Alley" for the steelhead run, which generally happens in late September, October, and November, the autumn tributary waters flowing in from Lake Erie drop in temperature to the mid-60s, and steelhead migrate to the tributary mouths for the spawning run upstream.
The small streams of Elk Creek, Walnut Creek, Twenty Mile Creek, and others fill with large steelhead, which can be attracted with egg, sucker spawn, or nymph patterns all winter and well into the spring. There are public access points along many of the tributaries, which reduces crowding on the waterways, giving fly rod anglers an epic experience to remember.
9. Warmwater Opportunities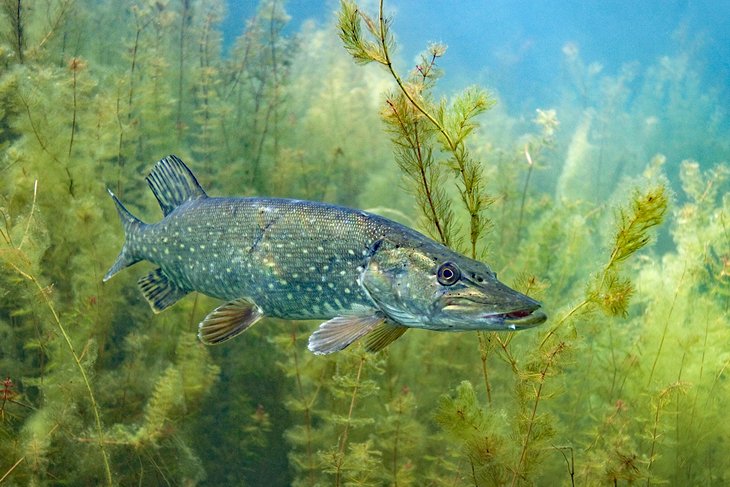 Pennsylvania has some of the finest warm-water angling opportunities in the country, with fly rod angling for bass, pike, walleye, muskie, and carp. One of the best warm-water spots is on the Susquehanna River system.
The river is a hot spot for smallmouth bass anglers. The smallmouth population has seen a resurgence after it took a hit from environmental stressors and disease. The Susquehanna is popular for wading because of its shallow sections and easy angler access. It can also be floated to cover more territory during your outing or for guided trips.
The smaller Casselman River in southwestern Pennsylvania is prime for a wide range of warm-water fly rod experiences. The Great Allegheny Pass trail follows the Casselman River, so heading to a spot by bike or on foot can get you to some more remote sections of water if you can devote the time to exploring.
Your best success on the Cassleman will be from fly patterns, including the Clouser Minnow in a range of color variations and hellgramite and crayfish patterns. Top water poppers can be useful in attracting active bass that aggressively target their food.
Map of Fly Fishing Regions in Pennsylvania
Best Time of Year to Fly Fish in Pennsylvania
It is possible to fly fish year-round. The spring months of April through June are some of the best because of the hatches on many rivers and streams that attract hungry trout. Spring is a good time to target warm-water fish on the fly, like bass, carp, and walleye in lakes and ponds.
The summer months, July through September, are more challenging but not impossible. Trout fishing is not as productive this time of year as in cooler-weather months but it is prime time to target smallmouth bass and carp.
The fall months, October through December, are a great time for trout fishing on the fly in Pennsylvania, as the waters cool. This is when brown and brook trout spawn, so you want to be mindful when wading over the gravel beds in streams. This is the best time for muskie and pike that are feeding heavily on lakes and rivers during the fall and early winter.
While winter months, January through March, may not seem like an opportune time to fly fish in Pennsylvania. Some waterways, like Big Spring Creek in south-central Pennsylvania, run slightly warmer in the winter than other streams where you can target bigger brown trout on articulated streamers.