11 Best Ski Resorts in Pennsylvania, 2023
Although Pennsylvania may not come to mind as a downhill skiing hot spot, the state has 20-plus ski resorts and draws visitors from many of the neighboring states. One advantage of skiing in Pennsylvania is temperatures can be warmer than resorts farther north; on average you are looking at highs of around 20 to 24 degrees Fahrenheit.
Some compete with other East Coast ski resorts in elevation and services offered, while others are local hills just perfect for a fun family ski trip with the kids. Some of the resorts, particularly in the Poconos region, are located relatively close to one another, so it is possible to hit more than one resort in a long weekend of skiing. All resorts have extensive snowmaking capabilities.
A majority of the resorts are easily accessible from New York City and Philadelphia. Drive times are less than two hours, making them ideal for weekend getaways. Most resorts have ski-and-stay packages that feature discounted rooms and/or lift tickets. If you can ski midweek, the deals are quite incredible.
Plan your next skiing adventure with our list of the top ski resorts in Pennsylvania.
1. Blue Mountain Resort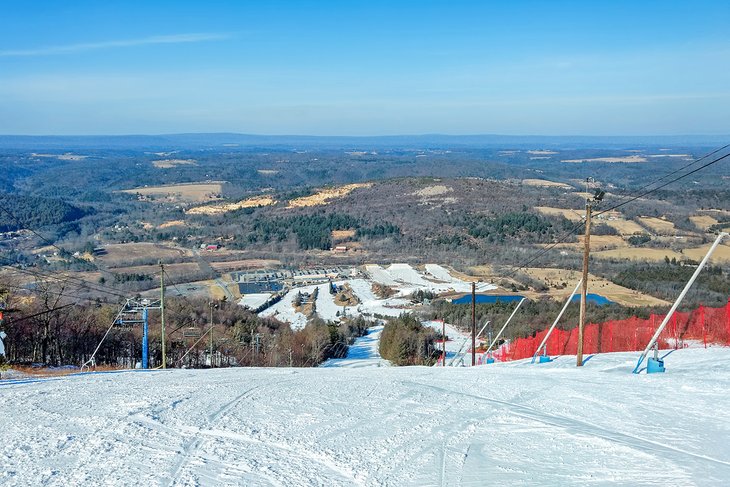 At just shy of 1,100 feet, Blue Mountain takes the honors for having the largest vertical drop in Pennsylvania. Couple that with 40 named runs, and you've got a good spot to strap on the skis or snowboard and head downhill. Blue Mountain is located in the Poconos region, an area known for catching copious quantities of snow when storms blow through.
The resort is 171 acres in size and boasts 15 modern lifts, ensuring that lift lines stay short and that you'll be able to rack up some impressive vertical totals. Want to really crank up the vertical? Start early and then ski into the evening; 96 percent of the runs are lit at night. The resort has snowmaking coverage on 95 percent of the mountain, which allows them to start the season early and stay open late.
And, in 2022/23 accumulating vertical will be even easier with a brand new six-person chair. This new lift will replace the Main Street and Burma Chairlifts. It's expected that the new chair will be able to move 3,000 skiers per hour to the top. Ride time is estimated to be under five minutes – a big improvement from before.
It's not all about skiing here. Snowboarding and freestyle enthusiasts will shout about the fact that Blue Mountain has not one, but five terrain parks. Dreamweaver, Central Park, Come Around Park, Lower Sidewinder, and Yeti Park are jammed with humps, bumps, rails, jibs, and whatever fun stuff the park managers can come up with.
Even if skiing or snowboarding isn't your thing, or your legs are shot from all the skiing and boarding, Blue Mountain still has you covered, with Pennsylvania's longest and fastest tubing chutes. Pick any one of the 34 lanes, jump on, and zip down 1,000 feet to the bottom. Tubes are included, and the resort has recently added double tubes, so you and your bestie can ride together.
Official site: https://www.skibluemt.com/
2. Elk Mountain Ski Resort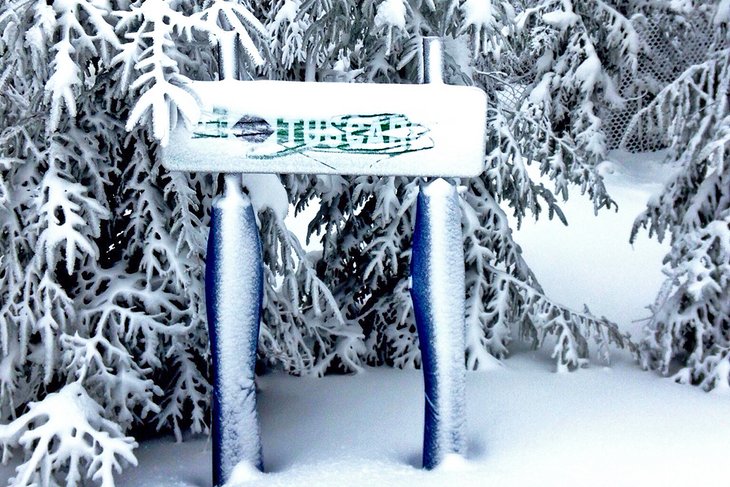 Elk Mountain Ski Resort claims to receive the most natural snow in the state. Whether that's true or not is fiercely debated among the skiing population. No matter where the truth lies, the one thing that is true is that skiing at Elk Mountain Resort will put a smile on your face. Although Elk Mountain receives copious quantities of natural snow, they also have a backup system in place: one of the most sophisticated snowmaking operations in the Eastern USA.
Located beyond the Poconos in the Endless Mountain area, Elk Mountain is about another 40 minutes or so from the major metropolitan areas. Although some skiers may grumble about the extra time spent in the car, that grumpiness soon fades away when they discover shorter lines and more open skiing spaces than resorts farther south. Couple that with night skiing, and there's no stopping them.
Elk Mountain is spread out over 180 acres and has 27 named trails. With a 1,000-foot vertical drop, one of the highest in the state, serviced by seven lifts, you'll find plenty of terrain to keep you busy. The resort has two terrain parks: Little Foot for beginners, and Stompin' Grounds for those with more advance skills.
Elk Mountain does not have a tubing park.
Official site: https://www.elkskier.com/
3. Camelback Mountain Resort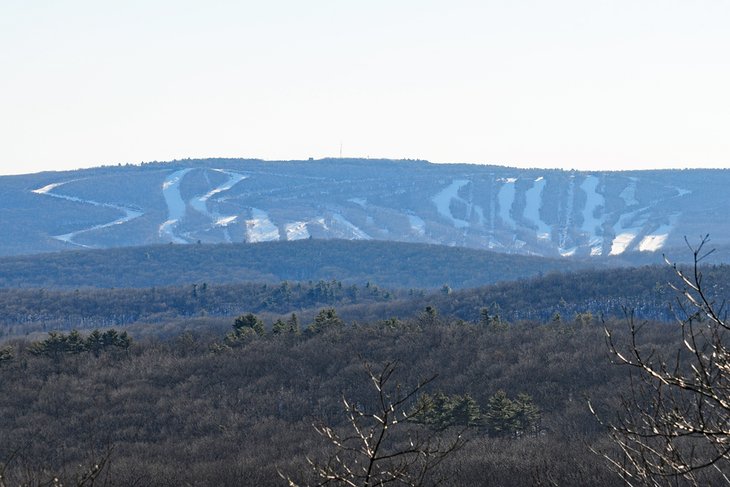 Camelback Mountain Resort is a full-service ski resort located in the Poconos. Unlike many other resorts in Pennsylvania, Camelback has accommodations right at the base of the hill, allowing for car-free weekends. A massive lodge with over 450 rooms and the Aquatopia Indoor Waterpark make Camelback Mountain Resort a magnet for families.
Outside on the hill, 39 named runs wind their way down an 800-foot vertical drop. You'll find lots of space to ski or snowboard, as each trail on the mountain averages four acres in size. Snow coverage is generally quite good, owing to its elevation, and for whatever natural snow doesn't fall, Camelback has 100 percent snowmaking coverage.
Camelback can get busy on weekends, so be prepared for a few lift lines; however, the resort also has some of the most modern lift infrastructure in the state, so wait times are manageable.
In 2022/23, you may find the lift lines shorter because the resort has installed a brand-new six-passenger chair named the Black Bear 6. This new lift will be able to move 600 more skiers to the top than the old Sullivan Express Quad.
Official site: https://www.camelbackresort.com/#
4. Blue Knob All Seasons Resort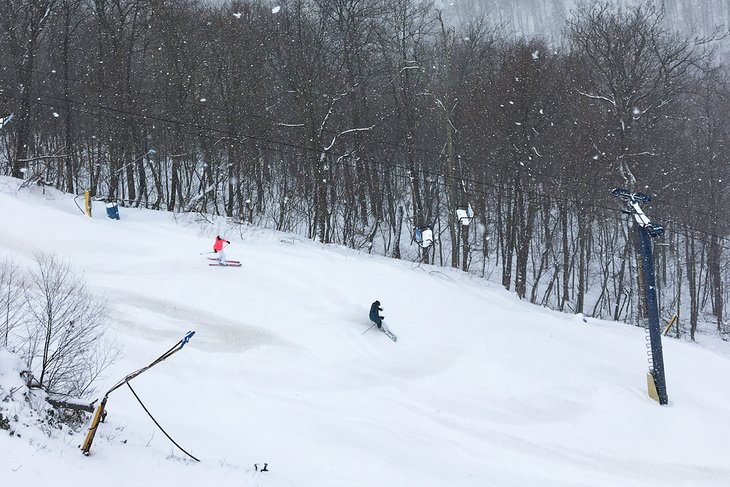 Located in the center of the Keystone state, Blue Knob is perched high in the Allegheny Mountains. Blue Knob claims to be the highest skiable mountain in the state, and it's this high elevation that leads to great snow conditions and some of the longest runs in Pennsylvania. The resort faces north, so this ensures that the snow is less sun affected and stays fresh longer.
The resort has 34 named runs and a respectable vertical drop of 1,072 feet. All this vertical is serviced by five lifts: two doubles, two triples, and a surface lift. In addition to all the runs, Blue Knob also has a terrain park with bumps, rails, and other interesting features. Competitive skiers love Blue Knob for its challenging runs and NASTAR racing facility, one of only five in the state.
Blue Knob also has a small bowl named Stembogan, which does a good job of catching the snow. Below the bowl are some of the most challenging runs on the mountain, including the East Wall Glades, D-Trail, and Stembogan Field.
As with most other resorts, snow tubing is available here; however, the chutes only operate on Friday, Saturday, and Sunday.
Official site: https://blueknob.com/
5. Montage Mountain
Montage Mountain is beloved by the residents of Scranton, who are literally a stone's throw away from the ski resort. Less than eight miles from the heart of downtown, Montage is practically in the city limits. This makes it one of the most accessible resorts in the state.
Just because it's close, doesn't mean it's small. Montage Mountain has a very respectable 1,000-foot vertical drop and 27 named runs, a tubing area, and a terrain park, all of them lit at night. Runs range from family-friendly green and blue slopes to the steep and deep chutes over in the Northface area.
Feeling brave? Sharpen your edges and drop down into White Lightning. The resort claims it's the second steepest run in the East. If you make it to the bottom without having a dramatic yard sale, you can decide if they are right or not.
Montage Mountain's location close to Scranton makes it an affordable place to ski. Offering one of the best deals in the east for those looking to try skiing, every week, Monday to Friday, a lift ticket and rental skis cost only $40.
Accommodation options in town are plentiful, and the city has numerous restaurants and grocery stores.
Montage Mountain is part of the INDY Pass program.
Official site: https://www.montagemountainresorts.com/
6. Seven Springs Mountain Resort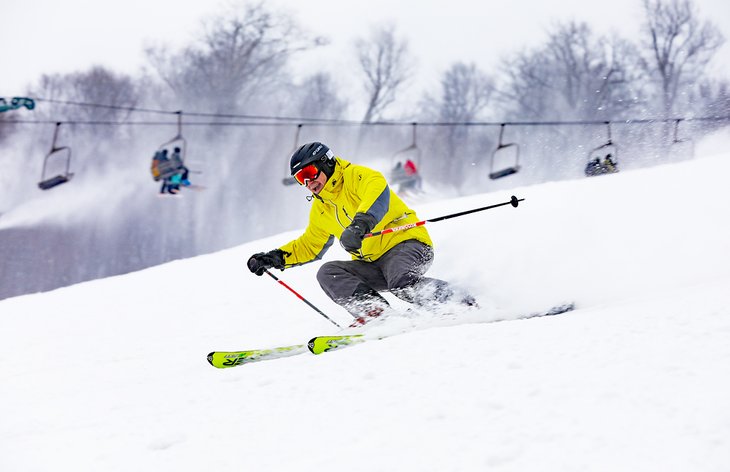 Ideally located just over an hour from Pittsburgh, Seven Springs Mountain Resort is a hot spot for skiing, but especially for snowboarding and freestyling. The reason it's such a popular spot is because of the six terrain parks spread across the mountain.
These terrain parks are: The Streets, North Park, Arctic Blast, The Alley, Santa's Beard, and The Spot, and they are some of the best, if not the very best, in Pennsylvania. Seven Springs has the state's only Olympic level superpipe.
Over on the main slopes, you'll find plenty of variety across Silver Springs' 41 named runs, which descend 750 feet down the mountain. All these runs are serviced by 10 lifts guaranteed to get you back up to the top quickly. Seven Springs Mountain resort is located near the Laurel Mountain and Hidden Valley ski resorts, making it easy to ski all three in a long weekend. Multi-mountain passes are available for purchase.
Seven Springs Mountain Resort is a great getaway spot owing to the relative availability of accommodation, ranging from a high-rise hotel and over 1,200 condos nearby.
Official site: https://www.7springs.com/
7. Whitetail Resort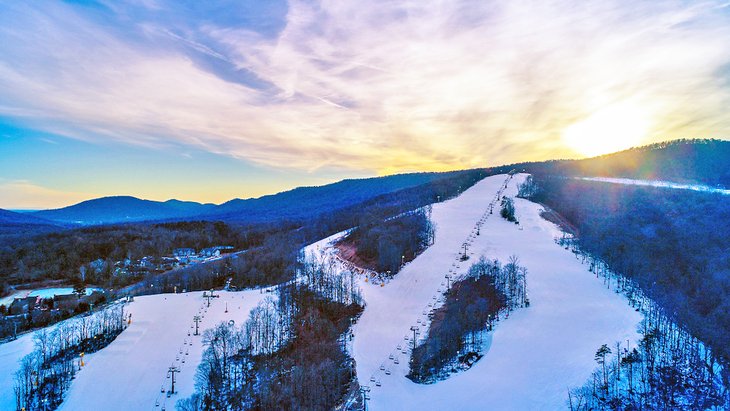 Located near the city of Mercersburg in the far south of the state near the Maryland state line, Whitetail Resort is an ideal destination for folks living in Baltimore or Washington. The ski resort has 23 named runs and just over 900 feet of vertical drop. All this great terrain is supported by nine modern lifts that can whisk 15,000 skiers uphill each hour.
The resort is part of the Vail family of ski resorts and over the years has been continually upgraded with the latest lifts and base area amenities.
As per Vail Resorts' policies, for 2022/23 Whitetail will be limiting the number of day lift tickets sold to avoid overcrowding on the hill. EPIC season pass holders and EPIC day pass holders are exempt from capacity limits as are clients of the Ski School. The number of day tickets available per day will be posted on the resort's website and continually updated.
Whitetail resort also caters to snowboarders and freestylers, with two terrain parks featuring an impressive selection of rails and jumps.
For non-skiers, Whitetail also has a large tubing park with its own dedicated Magic Carpet lift.
Whitetail is part of the EPIC Pass program.
Official site: https://www.skiwhitetail.com/
8. Hidden Valley Resort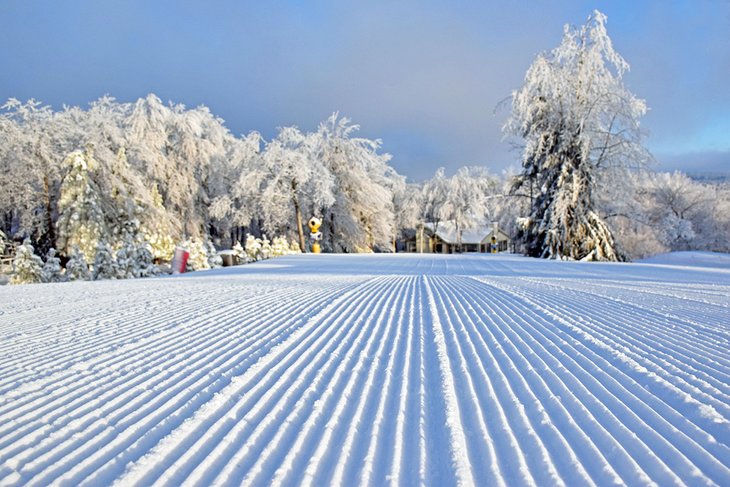 Just up the road from Silver Springs and near Laurel Mountain, you'll find the family-friendly Hidden Valley Ski Resort. This gentle mountain is a great spot for those just learning the sport or for those with small children or teens.
Hidden Valley is spread out over 110 acres and has 26 named trails that wind their way down the mountain's 470-vertical-foot drop, serviced by nine lifts. In addition to the skiing, Hidden Valley also has a couple of decent terrain parks with rails, humps, and bumps perfect for less experienced riders.
The resort goes out of its way to make skiing an affordable family pastime, with combination deals that include rooms and deeply discounted lift tickets. Hidden Valley is also part of the multi-mountain ski pass program where your single ticket allows you to ski at Laurel Mountain and Seven Springs resort as well.
Official site: http://www.hiddenvalleyresort.com/
9. Liberty Mountain Resort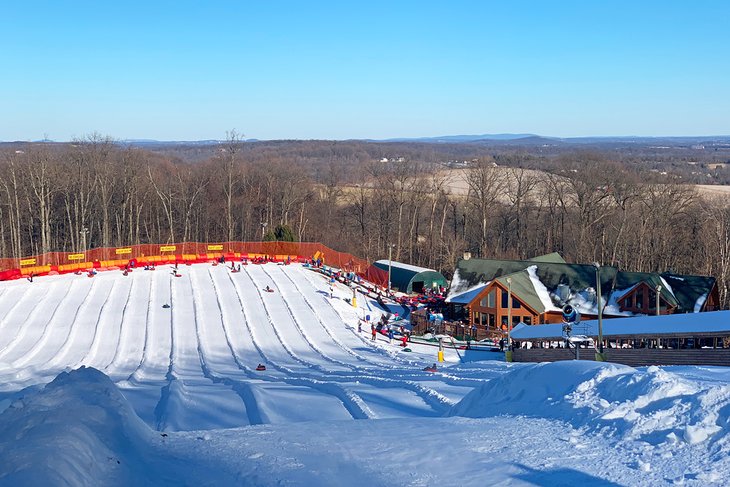 Liberty Mountain Resort is spread out over 400 acres and is part of the Vail Resorts family along with nearby Whitetail Resort and Roundtop Mountain Resort. The mountain falls in the top tier of Pennsylvania ski resorts, with a vertical drop of 620 feet. The 16 runs available tend towards the intermediate skier, with 75 percent of the trails rated at beginner or intermediate.
Three terrain parks called Westside, Vertigo, and Adventure Alley round out the on-hill options. Like most resorts, Liberty Mountain has a tubing area called Boulder Ridge for those not interested in riding on two planks or a snowboard.
Lift infrastructure is good here, with eight lifts consisting of five quad chairs and three surface-style conveyers. The ski resort has one of the most advanced snowmaking systems on the East Coast, capable of making 1,824 tons of snow.
Multi-mountain passes that include Whitetail and Roundtop are available if you'd like a bit of variety in your skiing long weekend. All three resorts are around one hour from each other.
Liberty Mountain is owned by Vail Resorts, and as per the parent company's resorts policy, for 2022/23 Liberty Mountain will be limiting the number of day lift tickets sold to avoid overcrowding on the hill. EPIC season pass holders and EPIC day pass holders are exempt from capacity limits as are clients of the ski school. The number of day tickets available per day will be posted on the resort's website and continually updated.
Official site: https://www.libertymountainresort.com/
10. Roundtop Mountain Resort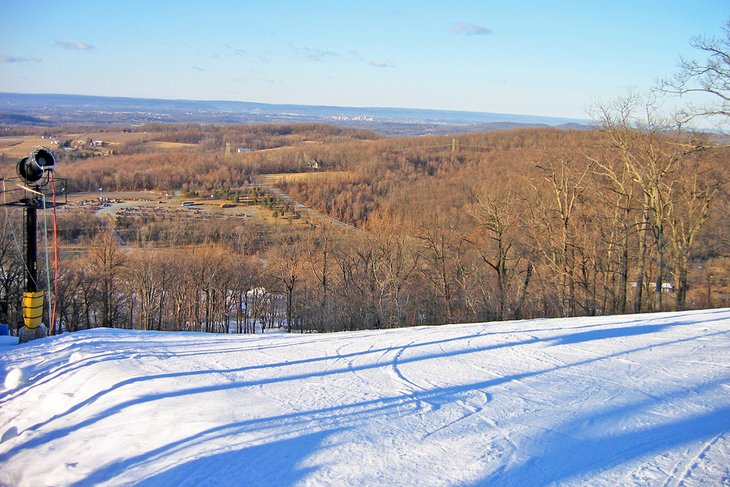 Roundtop has been a destination for skiers in Pennsylvania and surrounding states since 1964. For over 50 years, the resort has been offering up good family-style skiing and fun with its mix of beginner and intermediate runs and a few expert trails thrown in as well.
You'll find 20 named runs here, and nine lifts consisting of five chairs, three surface lifts, and a j-bar. Although the resort can get busy on weekends, the uphill capacity of 11,000 skiers per hour keeps the wait time to a minimum.
Roundtop is owned by Vail resorts and as per the parent's company's resorts policy, for 2022/23 they will be limiting the number of day lift tickets sold to avoid overcrowding on the hill. EPIC season pass holders and EPIC day pass holders are exempt from capacity limits as are clients of the ski school. The number of day tickets available per day will be posted on the resort's website and continually updated.
Official site: https://www.skiroundtop.com/
11. Laurel Mountain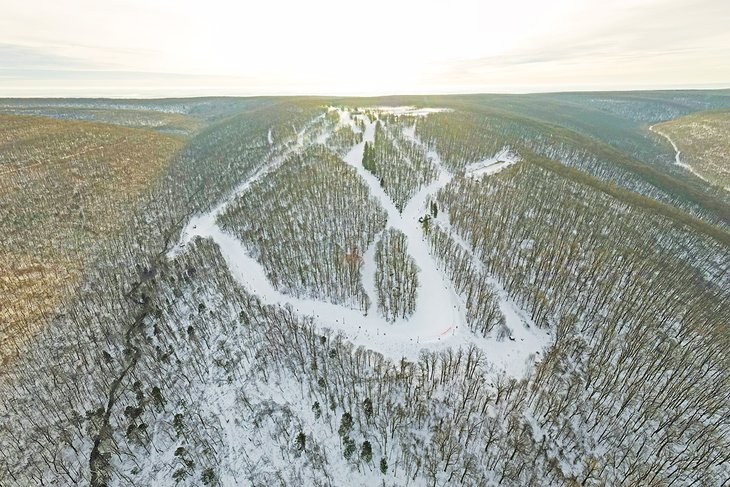 Laurel Mountain is a small, cozy mountain resort, a historical place founded by Austrian Johann "Hannes" Schneider over 80 years ago. Some of the original structures from the mountain's founding are still in use today.
Laurel has had a tumultuous business history over the years, but with the purchase and operation of the resort by nearby Seven Springs, a period of rejuvenation and renaissance that began in 2016 has continued.
Laurel has only two lifts; however, a new quad chair was recently installed, making access to the resort's 20 named trails faster and more comfortable. The mountain has a vertical drop of 761 feet, and makes the most of it by being the home of Pennsylvania's steepest run, the infamous 60-degree sloped Lower Wildcat. Laurel Mountain offers night skiing on approximately 70 percent of the mountain.
Official site: http://www.laurelmountainski.com/
Map of Best Pennsylvania Ski Resorts