11 Best Ski Resorts near New York City, 2023
We may earn a commission from affiliate links ()
Skiing may not wait just outside the door, but New York City residents can easily be on the slopes for a day trip or a weekend ski getaway. A train/bus combination can whisk skiers from Grand Central Station to Thunder Mountain in as little as an hour and a quarter. Longer runs and more vertical drop await just two hours from the city.
A three-hour radius includes resorts in Pennsylvania, New Jersey, Connecticut, Massachusetts, and New York's Catskills. Skiing near New York City is made even easier by arrangements that resorts have made with transportation companies, offering round-trip bus transport, sometimes as part of a package with lift tickets and equipment rentals. The NYC Snow Bus provides transportation from Union Square to several of these mountains.
The order in the rankings below is based on multiple – and sometimes conflicting – factors, so the order is less important than the attributes of each mountain. Some skiers will be happy to sacrifice a few hundred feet of vertical drop in order to get there sooner.
For others, it's the powder that counts, or the variety of the terrain, not the travel time. Other facilities are important considerations, too, such as a tubing hill, learning programs for children, or the availability of night skiing.
When you're looking for a day or weekend getaway to the slopes, you'll find the right place to go skiing with our list of the best ski resorts near New York City.
1. Windham Mountain, Windham, New York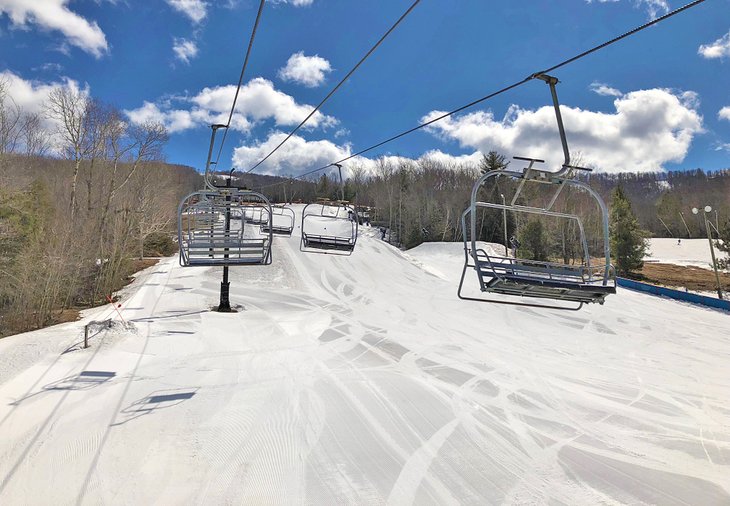 In the Catskills, a two-hour drive from the city, Windham Mountain's 1,600-foot vertical drop encompasses a terrain so varied that it allows for seven double-black diamond trails for experts, along with a dozen gentle runs for beginners and almost half of the 54 trails for intermediates.
Boarders can ride at six separate terrain parks with more than 80 jumps, rails, pipes, and boxes, plus an inflatable Air Bag for practicing jumps.
Nearly all the 285 skiable acres - the most of any resort in this list - is covered by snowmaking, which has been enhanced in the past two years by major investments in equipment. Lighting extends the ski day on Friday and Saturday nights.
Or extend the day right from the start with the First Tracks program that allows you to ski with a guide in the morning before the lifts open to the public. The multi-lane tubing park is open until 8pm on Friday and Saturday, and the resort offers ice-skating and cross-country skiing.
2. Hunter Mountain, New York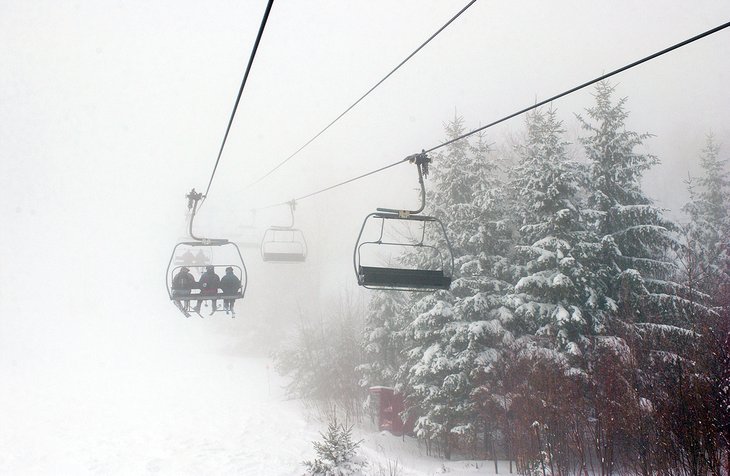 With the same 1,600 feet of vertical as Windham and about 2.75 hours from the city, Hunter Mountain includes three mountain faces that offer a tremendous variety of terrain. Its 320 skiable acres are covered by state-of-the-art snowmaking that supplements the Catskills' natural snowfall. The mountain is known for its high-quality maintenance and grooming.
The 67 trails are divided 25 percent beginner, 30 percent intermediate, 30 percent advanced, and 15 percent for experts, and there are three terrain parks. A zipline canopy tour soars 600 feet above the resort.
Address: 64 Klein Ave, Hunter, New York
Official site: https://www.huntermtn.com
3. Mountain Creek, New Jersey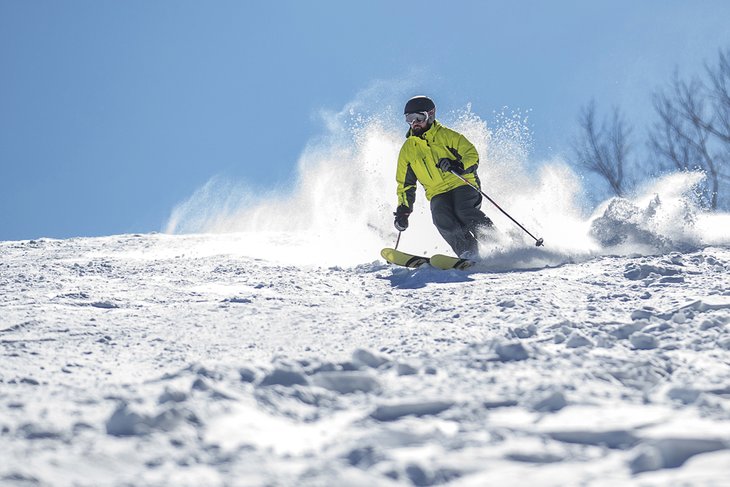 With a respectable 1,040-foot vertical drop an hour's drive from New York, Mountain Creek offers the longest runs of any resort that's less than two hours from the city. The 46 trails, accessed by eight lifts, spread across four mountain peaks and are 100 percent covered by snowmaking.
About one-fourth of the trails are for beginners, one third for advanced skiers, and the rest for intermediates. Beginning skiers are not limited to the lower slopes, but have green runs from two of the summits. The 67-acre terrain park has more than 80 freestyle features and a 50-foot jump airbag.
All the 167 skiable acres are lighted for night skiing; the resort has a zipline tour and a 30-lane tubing park.
Address: 123 Route 94, Vernon, New Jersey
Official site: https://www.mountaincreek.com
4. Thunder Ridge, New York
Although one of the smallest mountains listed here, with only 100 skiable acres and 500 feet of vertical drop, Thunder Ridge earns its place among the larger resorts as the closest to the city and the easiest to reach by public transportation. Via the Metro-North Ski Train from Grand Central Station and the free shuttle from the Patterson train station, it's about 1.25 hours from the city to the mountain.
The family-friendly resort's 30 trails include six for advanced skiers, with the remainder divided evenly between beginners and intermediates. All are covered by snowmaking, as is the terrain park. A plus for families is the reasonable price of lift tickets. Weekdays offer the best value for adults.
Address: 137 Birch Hill Road, Patterson, New York
Official site: https://thunderridgeski.com
5. Camelback Mountain, Pennsylvania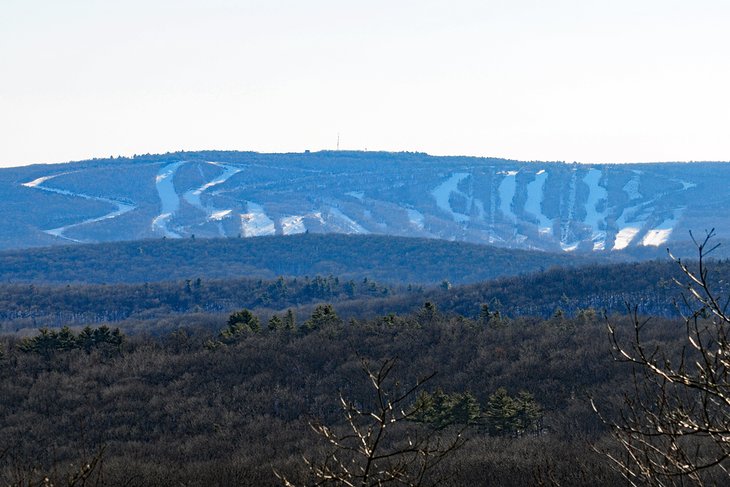 A family-friendly mountain with an 800-foot vertical, Camelback designates 18 of its 39 trails for beginners and 11 for intermediates; even the remainder marked for experts don't offer any hair-raising drops. Twenty of its 166 acres are devoted to terrain parks that offer more challenges to riders and freestylers. The 50-square-foot air bag eases the landing for practice jumps.
On Friday and Saturday nights, all trails and parks are open until 10pm, and the super-sized tubing park is open until 9pm.
About two hours from New York, Camelback is in the Poconos, a popular weekend getaway destination for both New York and Philadelphia residents.
6. Plattekill Mountain, New York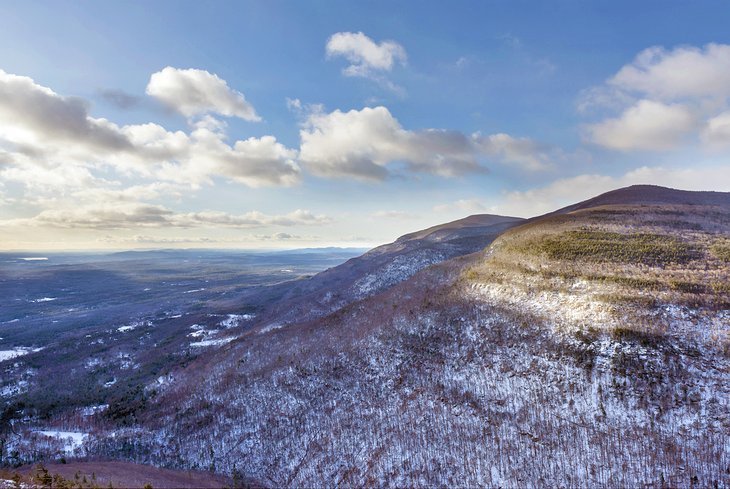 Plattekill may be farther from New York than neighboring resorts of the Catskills, but for those who love powder, it's well worth the extra few minutes. Known as the powder capital of the Catskills, Plattekill is in a small box canyon with its own microclimate. Its 3,500-foot elevation, north-facing slopes, and position as the first high mountain east of Lake Ontario combine to take full advantage of the lake effect as storms roll in from the west.
Natural snowfall averages 175 inches per year, drawing serious skiers to its two peaks, which lie along a ridgeline with a 1,100-foot vertical drop. Another draw is that nearly half the 38 trails are rated for advanced and expert skiers, four of them double-black diamonds to take full advantage of the Catskills' most rugged terrain.
Only 20 percent of the trails are for beginners, but unlike many mountains, Plattekill has green runs from each of its summits, so everyone can enjoy the full mountain experience.
Open only Friday through Sunday, and on weekdays following at least 12 inches of snowfall, Plattekill restricts the number of lift tickets each day to keep lines short for its two summit chairlifts.
Address: 469 Plattekill Road, Roxbury, New York
Official site: www.plattekill.com
7. Belleayre Mountain, New York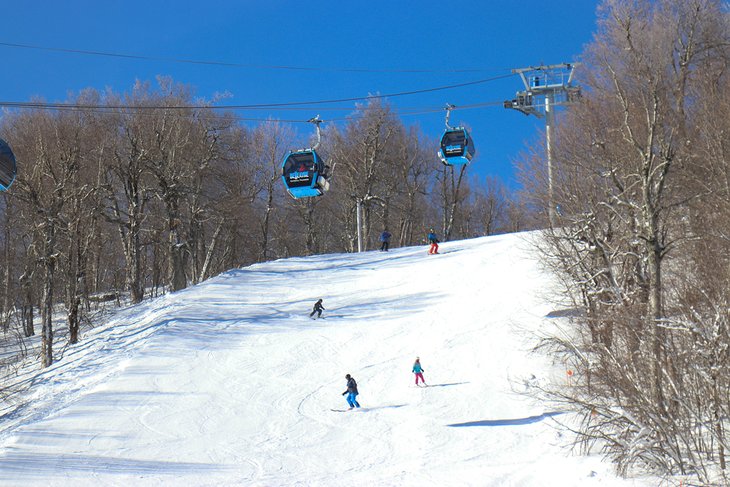 Also uncrowded and one of the most wallet-friendly ski resorts in the Catskills, Belleayre Mountain has an impressive 1,404 feet of vertical, with 50 trails across 175 acres of mixed terrain. More than half the trails are for intermediates, with the rest split at about one-fifth each for beginners and experts.
Nine of the trails are rated double-black diamond. These trails and five glades are on the top half of the mountain, accessible from a midpoint, so you can spend a day skiing only the upper reaches. The longest run is over two miles long.
Boarders and freestylers will appreciate the terrain and progression parks, which include a rails-only park. More than nine kilometers of ungroomed cross-country trails into the Catskill Forest Preserve are free to use.
Trailways bus line offers round-trip ski packages from Port Authority that include transportation to the slopes and a lift ticket, at less than the cost of a lift ticket alone at most major ski resorts.
Address: 181 Galli Curci Road, Highmount, New York
Official site: https://www.belleayre.com/
8. Jiminy Peak, Massachusetts
About three hours from the city, Jiminy Peak Mountain Resort is a self-contained ski area in the Berkshires, close to the Massachusetts-New York Border. Almost half the 45 trails are for beginners, combining with the excellent Terrain Based Learning program to make the resort a favorite for families.
The vertical rise of 1,150 feet and nine expert trails - three of which are rated double black diamond - keeps the mountain interesting for more experienced skiers; the longest run is more than two miles. Much of the 167 skiable acres is lighted for night skiing.
The three terrain parks are graded for progression, with one designed for younger children just learning to ride. A mountain coaster rounds out the outdoor activities.
Jiminy Peak gets 100 percent of its electrical power from renewable sources, primarily the giant wind turbine at the summit; it is the only ski area in North America with this distinction. An advantage for families is the ability to stay in the resort village right at the base, with family-sized condos in the Country Inn at Jiminy Peak, along with dining, shops, and other services.
Address: 37 Corey Road, Hancock, Massachusetts
Official site: https://www.jiminypeak.com/
9. Catamount, New York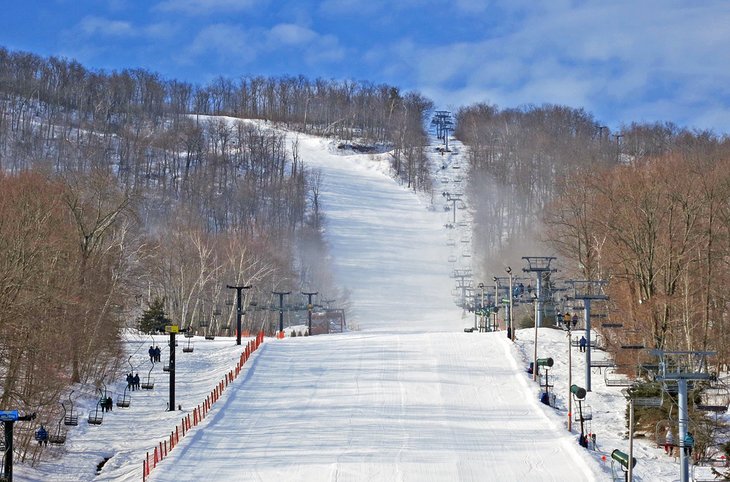 Also in the Berkshires, and half in Massachusetts, Catamount straddles the state line, so you can ski in two states on a single run. Its vertical is 1,000 feet, and the terrain is varied enough for 10 expert runs and the Berkshires' longest, a 2.5-mile cruiser from the top.
The rest of the mountain is evenly divided between easy and intermediate trails, a dedicated learners' area, and three terrain parks. The 15 trails and the terrain park, a total of 55 acres, are lighted for night skiing and riding until 10pm on weekends and holidays. Snowmaking covers nearly 100 percent of the trails.
The Catamount Zip Tour has one of the longest ziplines in the country, at more than 5,000 feet. This is one of the few family-owned ski resorts remaining in New England.
Address: 78 Catamount Road, Hillsdale, New York
Official site: https://catamountski.com/
10. Mohawk Mountain, Connecticut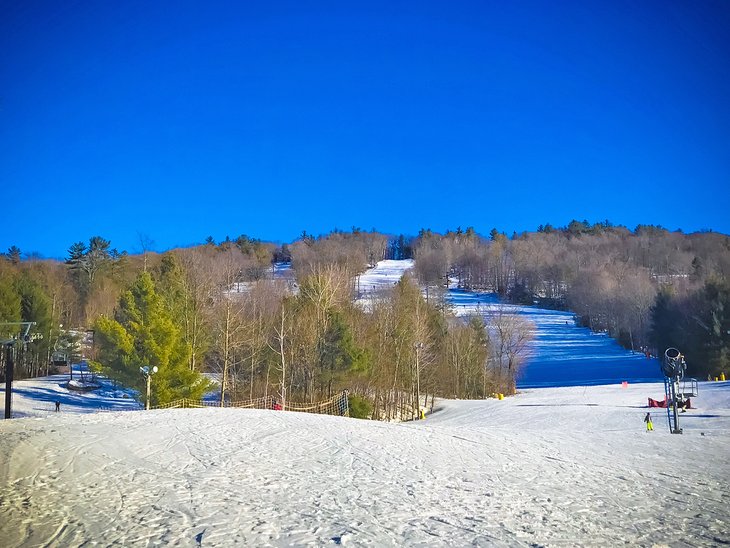 Granted, Mohawk Mountain's 650-foot vertical may not provide the longest runs - the longest is Deer Run at 1.25 miles -- but it packs a surprising variety into 112 acres of ski terrain. Half the 25 trails are for intermediate skiers, with 30 percent for beginners and 20 percent for advanced. Mohawk also has a separate learning area for beginners.
Sixteen trails, about one-third of the mountain, are lighted for night skiing, and all the trails are covered by snowmaking. Mohawk Mountain is located in Mohawk State Forest, in the southern end of the Berkshires, just over two hours from the George Washington Bridge.
Address: 46 Great Hollow Road, Cornwall, Connecticut
Official site: https://www.mohawkmtn.com
11. Mount Snow, Vermont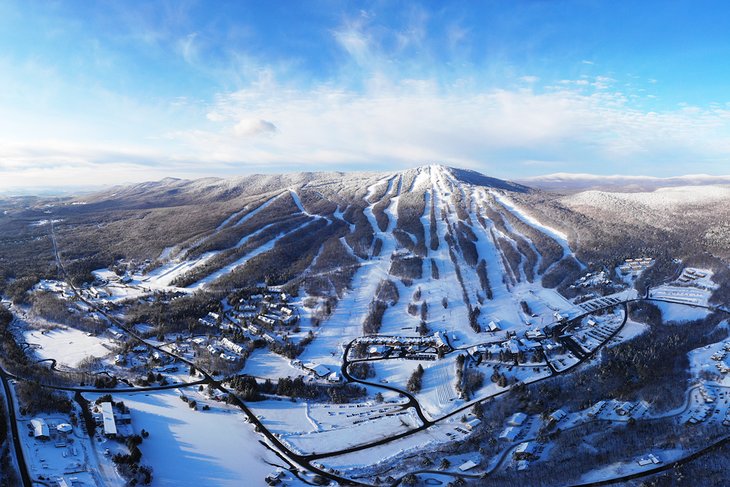 If you long for more vertical, and your ideal ski weekend includes moonlight in Vermont, you can have it all, in a four-hour drive from the city. Mount Snow is the closest Vermont ski resort to New York City, lying not far from the Massachusetts border.
The location in the Green Mountains' snow zone promises an average annual snowfall of 156 inches. The addition of more than 250 high-output snow guns (the most of any North American ski resort) keep trail conditions at their prime.
The mountain's 20 lifts, including the Bluebird Express, the East's first six-passenger bubble lift, access 80 trails networked across 588 acres. Intermediates are high priority at Mount Snow, with 54 trails; beginners have an area of their own with slower lifts and can even ski from the summit on a long gentle cruiser.
Experts head for the North Face to ski its 10 expert trails and one double-black, served by two triple chairlifts. Boarders love the 10 terrain parks and a halfpipe.
Mount Snow is a Vail Resort, so your EPIC Pass is valid here, but all Vail Resorts are limiting daily tickets this season, so to be sure to reserve in advance.
Address: 39 Mount Snow Road, West Dover, Vermont
Official site: https://www.mountsnow.com
Accommodation: Where to Stay in Mount Snow Valley
Best Resorts for Families
Mount Peter
Free beginner ski and snowboard school and skiing an hour from New York City combine to make Mount Peter a winner for families. In the Hudson Valley, Mount Peter is also known for its all-mountain snowmaking and expert grooming, as well as night skiing on every one of its 10 trails, the terrain park, and beginners' area.
The terrain is well divided for all levels of skier, with two beginner trails (one from the summit), four options for experts, and four for intermediates. Learning skiers have a dedicated area with a carpet lift, and another carpet lift serves the tubing park. Two double chairlifts and a quad access the mountain trails.
Campgaw Mountain
The closest skiing to New York with 100 percent snowmaking, Campgaw Mountain also stands out as a premier learn-to-ski or snowboard destination. Only 18 miles north of the George Washington Bridge, the mountain has short lift lines and uncrowded trails, served by two double chairlifts and two carpet lifts.
In addition to its eight beginner and intermediate trails and expert learning program, its specialized children's program for ages four through six makes Campgaw Mountain a good choice for family skiing near New York City.
Address: 200 Campgaw Road, Mahwah, New Jersey
Official site: https://www.skicampgaw.com/
More Related Articles on PlanetWare.com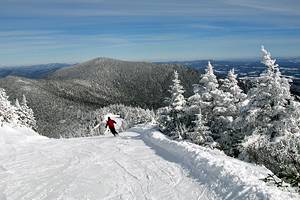 More Nearby Places to Ski: Not far beyond the three-hour radius of New York City are more snow-covered mountains to ski in Vermont. For a longer ski vacation, it's easy to combine skiing in Vermont with a few days in the White Mountains, where you'll find more ski resorts in New Hampshire.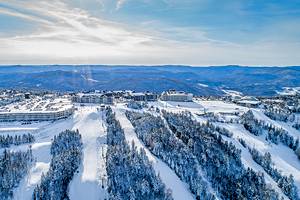 Where to Ski in the US: Not all eastern skiing is in New England and New York; you'll find some top-rated ski resorts in West Virginia, too. And you can find budget-friendly mountains for your family in our page on the top cheap ski holidays in North America.