14 Best Places to Visit in January
We may earn a commission from affiliate links ()
There's no better way to kick off the New Year than with a trip to an amazing destination. And fortunately, the best places to visit in January have tons to offer every type of traveler, from winter sports lovers and wellness seekers to culture hounds and beach lovers.
Salzburg, Austria, hosts its annual Mozart Week in honor of the famous composer's birthday every January. Catch a flick (or three!) in Park City during the Sundance Film Festival — then hit the slopes. Escape the cold in Dubai, Tulum, or Sri Lanka, all of which shine in January. Or fly over the Dolomites during the hot air balloon festival in Dobbiaco, Italy.
For more ideas on where to travel in the New Year, check out our list of the best places to visit in January.
Note: Some businesses may be temporarily closed due to recent global health and safety issues.
1. Tulum, Mexico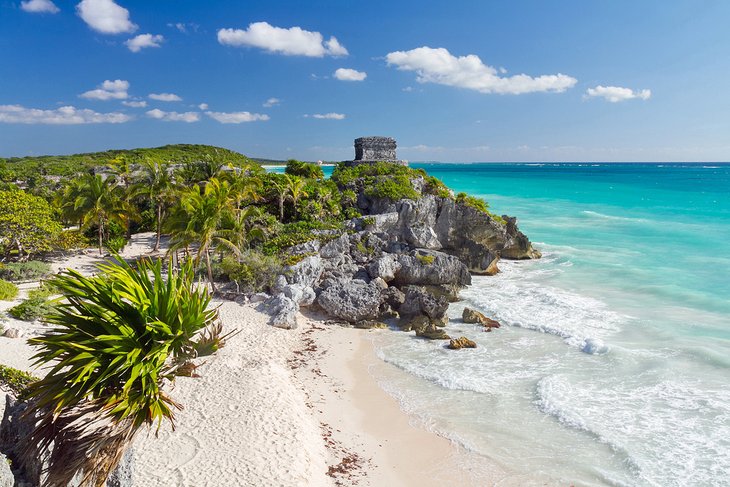 Make your first trip of the year a wellness-oriented experience with a visit to Tulum, Mexico. On this stress-free escape, you can splash around in sacred cenotes, get pampered at a plush spa, take part in an indigenous temazcal ceremony, and stretch out at a beachside yoga class.
All that relaxation will leave your body restored and ready to explore the top attractions of Tulum. The Tulum Ruins are a fascinating place to learn about ancient Mayan life, while the Punta Laguna Nature Reserve showcases the diversity of wildlife in the Yucatán, including howler monkeys, jaguars, and pumas. You'll come home feeling invigorated after a trip to Tulum.
Accommodation: Where to Stay in Tulum: Best Areas & Hotels
2. Vail, Colorado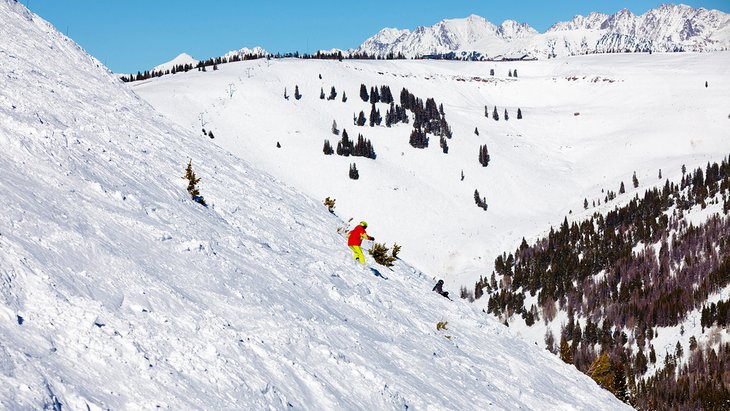 Does your dream January getaway involve zigzagging down epic slopes? If so, you'll be thrilled with a visit to Vail in the wintertime, and January is one of the town's snowiest months.
The celebrity-favorite area of Colorado has thousands of acres of skiable terrain and is one of the top ski destinations in the United States. You'll need to have pretty deep pockets to have a good time in Vail, though, as hotel rates and lift tickets are steep.
Once you've had your fill of the powder, take some time to go sightseeing around Vail Village. The pedestrian-friendly tourist district has tons of lovely boutiques, art galleries, and restaurants at which to warm up. Plus, you can also make arrangements for other things to do in Vail — like winter horseback riding.
Accommodation: Where to Stay in Vail
3. Dubai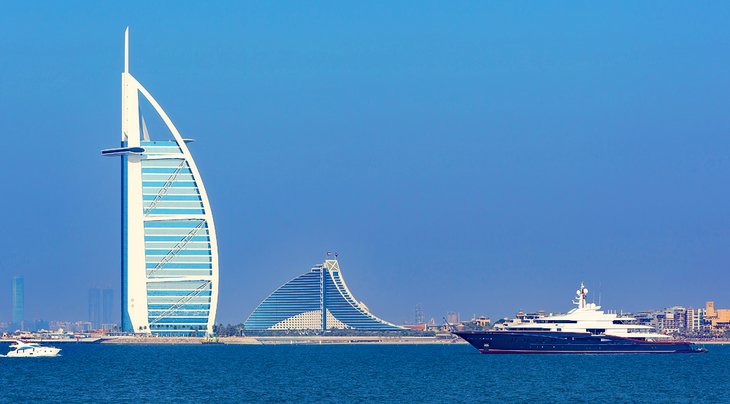 While the staggering heat of Dubai gives some travelers pause on planning a visit for most of the year, the desert destination cools down considerably in January. It'll still be hot, but compared to other months, January is one of the best times of year to go sightseeing around the most impressive city in the United Arab Emirates.
Everything seems to be larger than life in Dubai. It's home to the planet's tallest building (the Burj Khalifa), one of the world's biggest shopping centers (the Dubai Mall), and one of the most expansive man-made harbors (the Dubai Marina).
It's also worthwhile to visit some of the less flashy attractions around Dubai, as well. The Bastakia Quarter (Old Dubai) has some well-preserved limestone buildings with distinctly Arabian architecture from the 19th century. The traditional souks of Deira are a traditional spot to shop for gold and spices (or just appreciate the old-world atmosphere).
And the Heritage and Diving Village teach tourists all about pearl diving — a tradition that was once an important part of the Old Dubai economy. Here, you can see traditional dance and music performances in January.
Accommodation: Where to Stay in Dubai: Best Areas & Hotels
4. Sri Lanka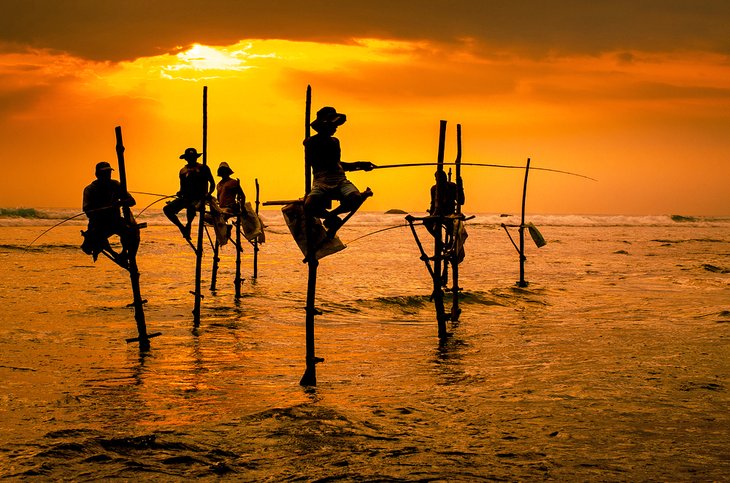 Sri Lanka is one of the best places to visit in January if you're in the mood for breathtaking natural landscapes, heritage monuments, and pristine beaches.
The annual heavy monsoon is still months away (although there might still be some wet weather on the east coast this time of year), and the country's equatorial location treats tourists to comfortable temperatures, typically ranging from 26 to 30 degrees Celsius. It's a great destination to warm up from the cold climates in North America, while offering more culture than your standard beach vacation.
For the best weather, stick to the west and south coasts when visiting Sri Lanka in January. Weligama offers great waves for surfing, while Unawatuna Bay has picturesque golden-sand beaches.
The colonial town of Galle also hosts its annual Galle Literary Festival in late January (or occasionally early February), which can be a fun event for tourists. And in Colombo, you can stand in awe at Sri Lanka's architectural gems, like the Jami Ul-Alfar Mosque (Red Mosque) and the Gangaramaya Temple.
Accommodation: Top-Rated Beach Resorts in Sri Lanka
5. Miami, Florida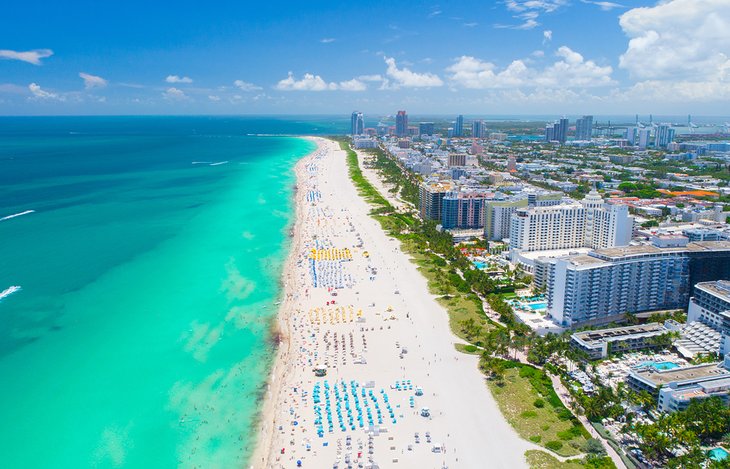 With lots of sun and very little of Florida's oppressive humidity, Miami is a fantastic place to visit in January. The premier vacation destination in the United States is a wonderland of Art Deco architecture, luxury hotels, glittering beaches, and tourist-friendly shopping. It also has a lively creative scene, as well. You can spend an entire day gazing at the larger-than-life street art murals at Wynwood Walls.
Even though Miami is an urban destination,"The Magic City" (as it's affectionately nicknamed) is close to some awesome outdoor attractions, as well. Head to the wetlands of Everglades National Park to see Florida's most infamous creature — the alligator. Or, pay a visit to the Coral Castle, a quirky sculpture park created by Edward Leedskalnin between 1923 and 1951.
Accommodation: Top-Rated Resorts in Miami, FL
6. Rajasthan, India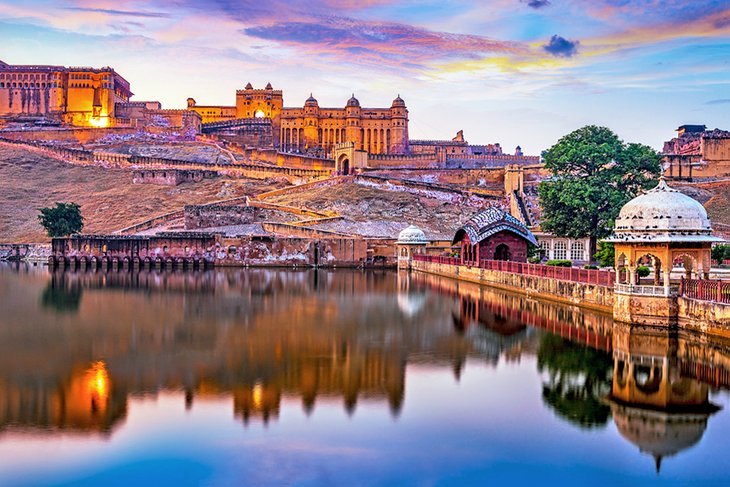 Rajasthan is one of India's most festive destinations year-round, but the destination outdoes itself in January. That month, it has an events calendar chock-full of incredible festivals you won't want to miss. Plus, it's the coldest month in Rajasthan, offering much more comfortable temperatures than you'd find in the spring and summer.
Every year, the city of Bikaner hosts its famous Camel Festival in the middle of January. Thousands of Rajasthan residents dress up their camels with flags and dangling pom-pom streamers, and even put on a dance with the desert creatures.
The "Pink City" of Jaipur throws the International Kite Festival every January 14th, which is just as fun to watch as it is to participate in.
Later in the month, tourists and locals can meet international authors and hear uplifting readings at the Jaipur Literature Festival.
Stick around until the very end of the month to experience India's second largest fair: Nagaur Fair. Hosted in Nagaur, a city between Jodhpur and Bikaner, the event draws some 200,000 animal owners and their oxen, camels, cows, and other livestock for a massive trade show. By night, the festival transforms into a dance and music showcase.
7. Park City, Utah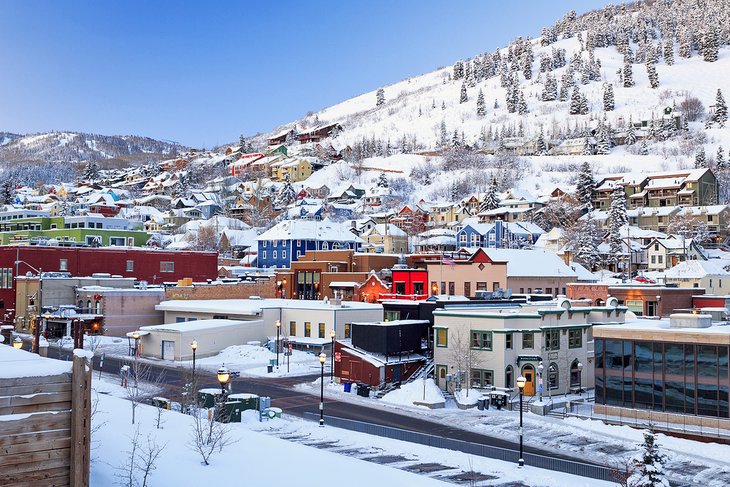 If you're a movie buff, Park City is one of the best places to visit in January. The last 10 days of the month is when the mountain town (along with nearby Salt Lake City) hosts the annual Sundance Film Festival. Founded by actor Robert Redford, the famous film festival showcases the work of hundreds of indie filmmakers at the Egyptian Theater and other lively venues. Keep your eyes peeled for celebrities.
Park City also has some great snow come January and is one of the best places to ski in Utah. Reserve some time in your schedule to spend a day or two skiing at Deer Valley Resort or Park City Resort during your vacation.
Accommodation: Where to Stay in Park City
8. Dobbiaco, Italy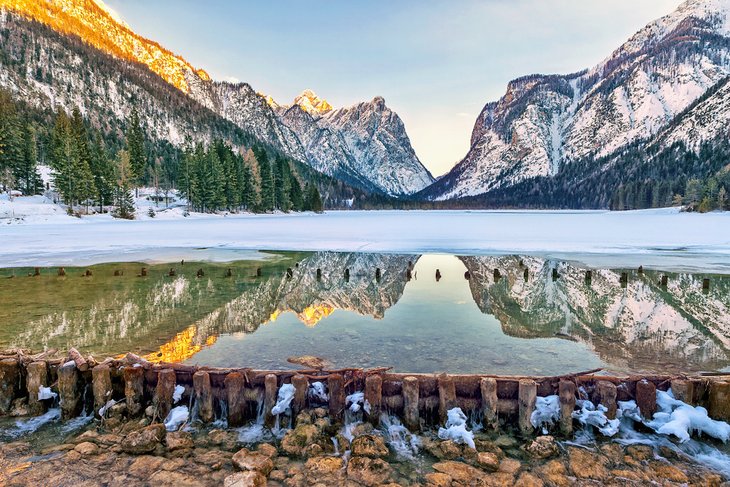 Although many people come to this area for the skiing, one of the most popular things to do in Dobbiaco, a northern Italian town just over the border from Austria, in January is soar over the snowcapped peaks of the Dolomites in a hot air balloon.
The annual Dolomiti Balloon Festival is held in the middle of the month. For a few hundred euros, tourists can take a once-in-a-lifetime ride in one of the gravity-defying vessels and get up-close views of this magnificent mountain range.
The festival is just as much fun from the ground as it is in the air, though. Each day of the festival features dozens of balloons in every color of the rainbow float into the sky — a dreamlike sight, especially when the sky is streaked with wispy white clouds.
9. Kenya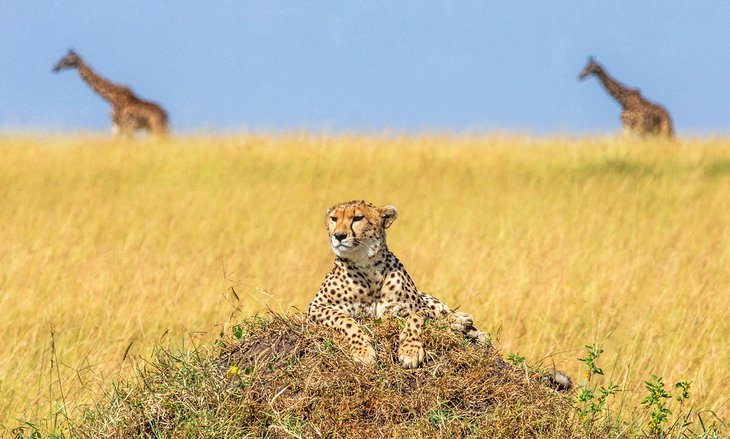 Kenya offers some of the most spectacular wildlife viewing in the world. While most tourists time their trips to the East African country to coincide with the Great Migration in August, you can also take an incredible safari during Kenya's short dry season in January and February.
It's one of the easiest times of year to spot animals, as the bush is less dense than usual and the lack of rain forces animals to congregate around watering holes. You can also see a lovely array of migrant birds feasting on the abundance of insects during this season.
While Kenya has a few renowned parks, the Masai Mara National Reserve is one of the top game reserves in Africa and a go-to place for wildlife viewing. It has a large population of lions, leopards, cheetahs, elephants, and other creatures that will leave you humbled.
10. Nara, Japan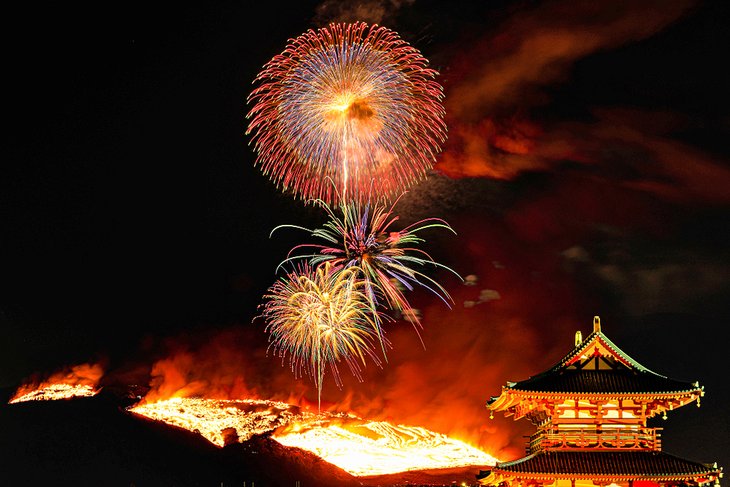 One of the most incredible times to visit Nara is on the fourth Saturday in January — the date of the annual Wakakusa Yamayaki. This one-day festival has been celebrated for hundreds of years and involves lighting the grassy hillside of Mount Wakakusayama on fire.
Just after the event starts at noon, tourists can watch a funky competition in which people hurl giant rice crackers (sembei) in a competition near the base of the mountain. You can also buy smaller versions of these snacks to feed the wild deer at Nara Park.
By the evening, key participants head up to the Mizuya Shrine to light their torches and set the mountainside ablaze. The event concludes with a mesmerizing fireworks display that can be seen throughout the city.
Accommodation: Where to Stay in Nara
11. Salzburg, Austria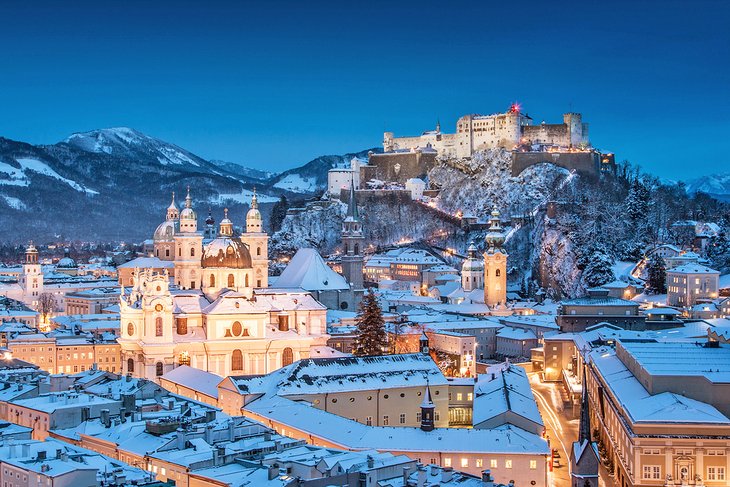 Every January, one of the top things to do in Salzburg is listen to Mozart. After all, the famed composer was born in the charming Austrian city on Jan. 27, 1756. Salzburg celebrates his birthday every year with its Mozart Week festival.
Throughout the festival, concert halls across the city host a series of performances of Mozart's beloved compositions from some of the world's top musicians.
But concerts are just the beginning — tourists can also attend dance recitals, pantomime, panel discussions among music professionals, film screenings, and stage productions. The experience will deepen your appreciation of Mozart and make you fall in love with Salzburg.
Accommodation: Where to Stay in Salzburg: Best Areas & Hotels
12. Laos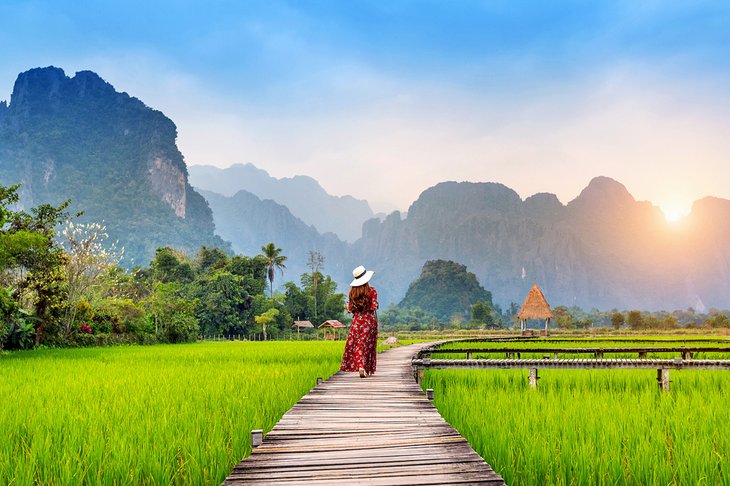 Laos isn't just one of the best places to visit in January — it's also one of the most affordable. The budget-friendly landlocked country has warm, dry weather this time of year, yet the water levels of the Mekong River are high, making it a fantastic time for sightseeing along the river.
Check out the UNESCO World Heritage Site of Wat Phu, one of the country's oldest temples, located just east of the Mekong River. Marvel at the gushing Pha Pheng Waterfall. And check out the thousands of Buddhist statues that live in the Pak Ou natural caves overlooking the river.
13. Courchevel, France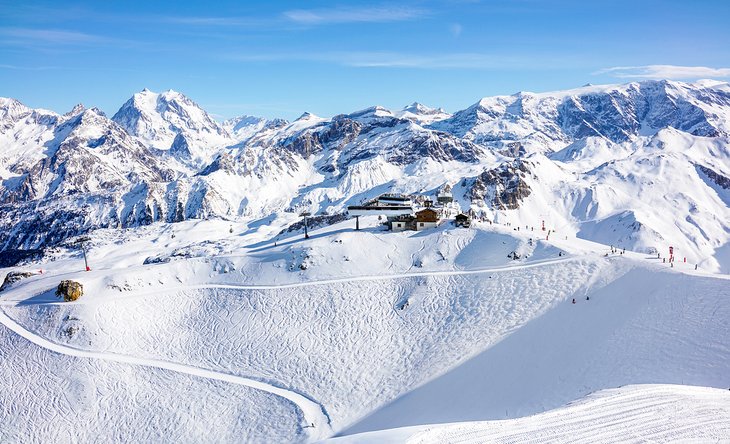 Courchevel is the stuff skiers' dreams are made of. This French Alps ski resort is part of the largest ski area in the world and towers at 1,747 meters in altitude. Obviously, you'll have amazing trails (there's some 600 kilometers of pistes) and even better views. But what's more, the resort also has tons of glitzy attractions that will give you a five-star vacation.
Accommodations are super luxe, whether you stay in a hotel or chalet, and you can refuel at Michelin-starred restaurants and restore yourself at high-end spas.
Accommodation: Where to Stay in Courchevel
14. Nicaragua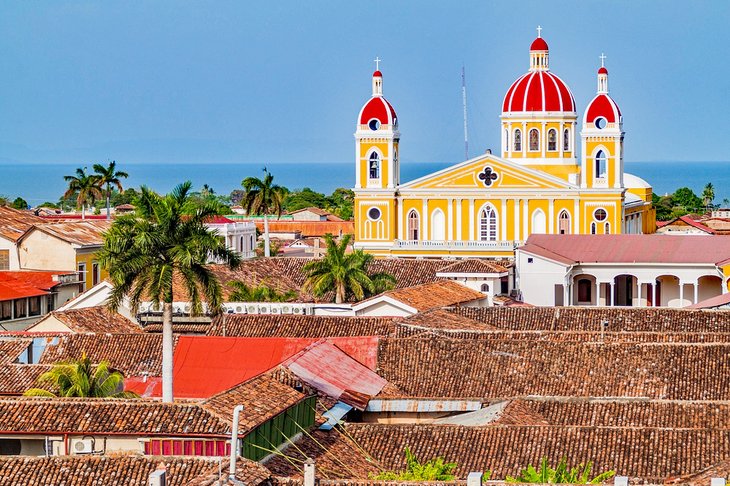 Want warmth and sunshine this January? You can find it in Nicaragua. This Central American country has hardly any rainfall this time of year, along with blissfully balmy temperatures that will make you forget all about winter.
Nicaragua's diverse attractions make it a compelling place to visit. Tourists can gaze into the crater of a smoking volcano at Masaya Volcano National Park, explore the Robinson Crusoe-like landscape of the Corn Islands, wander around the colonial city of Granada and bask in the sun (or hang 10!) at the surf beaches on the Pacific Coast, like Playa Maderas.
No matter how long you spend in this lovable country, you'll wish you had at least a few extra days to enjoy the tasty food and friendly culture.
Accommodation: Top-Rated Resorts in Nicaragua