12 Best Overwater Bungalows in the Maldives
If being lulled to sleep by the sound of waves beneath your bed tickles your fancy, it's time to book a vacation to the Maldives. Home to some of the best overwater bungalows in the world, this beach lovers' nirvana is a must-visit destination for some luxurious R&R. Be honest, is there anything more romantic than settling into a secluded overwater villa on a private island?
Whether you're hoping to soak up some rays in a private pool set above a sparkling turquoise lagoon, zip down a waterslide into the ocean, or create honeymoon memories in an elegant villa perched serenely over the Indian Ocean, you won't be disappointed by the vast array of overwater villas in the Maldives.
Home to some of the most lavish, postcard-perfect resorts, the Maldives offers its visitors a vast array of accommodations so enchanting, you'll want to plan every romantic and family vacation in this destination. Before you go, use our list to help choose the best overwater bungalows in the Maldives.
1. Soneva Fushi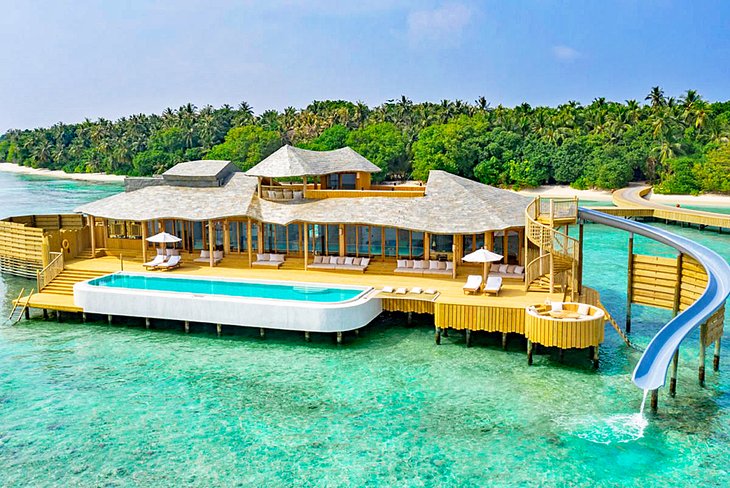 A stay at the luxurious Soneva Fushi resort will have you looking for love in all the right places, which is why so many couples choose to honeymoon here. In addition to high-class service, this impressive resort boasts immaculate grounds surrounded by tall, waving palm trees; a lagoon so turquoise, it looks like an Instagram filter; and sand so soft, your feet will thank you for walking on it.
Book one of the eight overwater bungalows, and you'll know what paradise feels like. Each of these water villas hovers serenely over the gentle waves with giant floor-to-ceiling windows, making it impossible to miss out on the remarkable view. A private pool, overwater catamaran net, picturesque patio, and outdoor showers make it easy to want to stay secluded in your suite. Some even come with a waterslide that leads straight to the ocean below.
As if that wasn't enough, the overwater villas at Soneva Fushi come with personalized butler service, a sunken outdoor seating area, and bicycles to help you get around the property when you've decided it's time to tear yourself away from your impressive bungalow. No wonder this is deemed home to some of the best overwater bungalows in the world.
The food here is divine, with plenty of options for healthy fare, and private dining experiences. Whether you're hoping for Japanese cuisine, a chef-made surprise, dinner on a beach, vegan, or vegetarian fare, you'll find it all and so much more. Did we mention the chocolate shop, ice-cream parlor, and cheese store? Your tastebuds will be spoiled.
Families love The Den, a high-class kids' club with two pools, a cinema, pirate ship, and plenty of fun activities on offer.
Address: Kunfunadhoo Island Baa Atoll
2. JOALI Maldives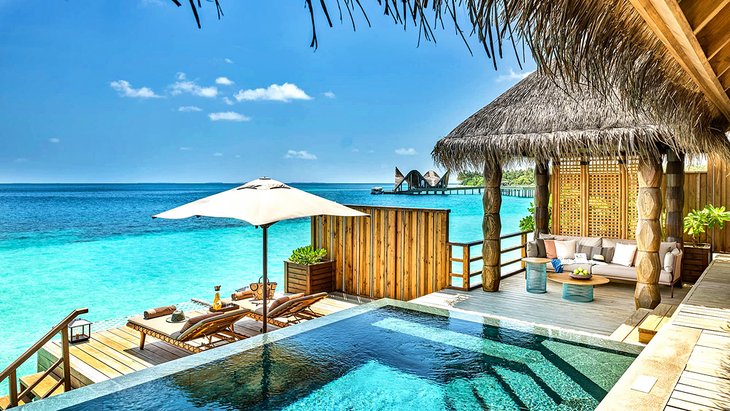 If you want to be wowed by your Maldivian vacation, book a stay at the remarkable JOALI Maldives. Self-proclaimed as a "luxurious, art-immersive island retreat," this beauty takes its architecture and décor to a whole new five-star level–you'll spend almost as much time gaping at the design as you will floating in the crystal-clear lagoon.
The Luxury Water Villa with Pool puts most other overwater bungalows to shame. The living room is a retreat worthy of royalty; elegant textiles cover the plush furnishings, which beg to be enjoyed, and a curated library is on hand to tempt your inner bibliophile.
Throughout the villa, carved wooden panels stretch to the ceiling, lending the already glorious space an air of majesty. Giant sliding doors allow the outside in, turning your swanky bedroom or living room into an even larger space that includes the furnished patio.
Outside, you'll find a retreat so glorious, you won't want to go back in. An infinity pool, private access to the lagoon, and an outdoor shower are just a few of the rave-worthy attributes. As if that wasn't enough to set you drooling, the villas come with butler service, so you won't want for a thing during your stay.
If you feel able to tear yourself away from your glorious overwater bungalow, there is much to enjoy, including a variety of restaurants. Borrow a bicycle to tour the island, head to the water to embark on a snorkeling or wakeboarding adventure, or follow the "art map" to find the resort's most interesting art installations, paintings, and sculptures. Trust us, you won't want to leave.
Address: Muravandhoo Island Raa Atoll, Maldives
3. Jumeirah Maldives Olhahali Island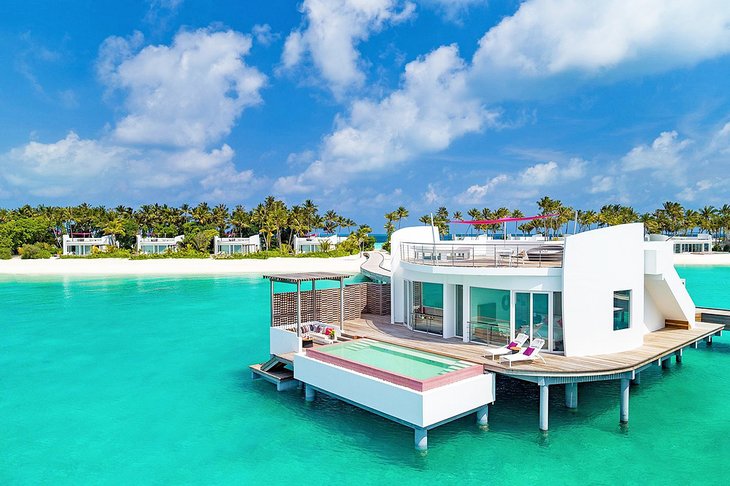 The creators of the Jumeirah Maldives Olhahali Island resort (formerly the LUX* Malé Atoll Resort & Villas) know that sometimes one floor isn't enough to ensure a luxury-infused vacation. That's why they created their epic overwater bungalows in a two-story format.
The second floor of these elegant villas is topped with a rooftop patio, while the bottom level comes complete with a private pool and glass floor panels, as well as an outdoor gazebo.
The resort's ability to merge contemporary design, opulent food, and breathtaking natural surroundings make this one of the best resorts in the Maldives. You can even book a floating breakfast to be served in your private pool. Talk about romantic!
Enjoy a laid-back meal at the Shimmers beach club, or grab a bite at the more international restaurant, Glow. If you love a good cup of java, you won't be disappointed by a trip to the Café Lounge.
When you're not too busy eating, snorkeling, or lounging poolside, play a game of tennis, practice your downward dog in a yoga class, or relax with a spa treatment or two. Bring the kids along to enjoy the fun, or send them to the kids' club, where they can make friends and spend hours of fun with the friendly staff.
Address: Olhahali, North Malé Atoll
4. Soneva Jani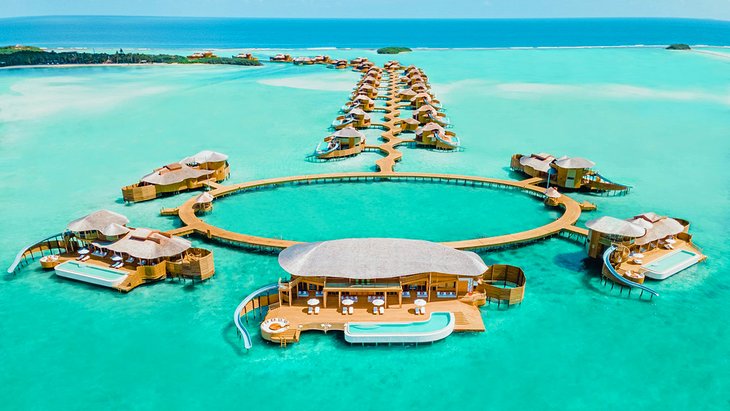 Soneva Jani is the glamorous sister resort of Soneva Fushi. Another spectacular property, this captivating spot is home to some of the best overwater bungalows in the Maldives. If you thought the villas at Soneva Fushi were impressive, just wait until you set your eyes on these magnificent lovelies.
Sleek, clean, and modern, with intimate touches of Maldivian charm, the overwater villas at this five-star resort are so extravagant, you'll be hard-pressed to find a reason to leave. Whether you choose a one-, two-, three-, or four-bedroom overwater bungalow, you'll revel in the spacious setting and simultaneously "ooh" and "aah" at the impeccable ocean view.
Children get their own sleeping area, a retractable roof slides open to reveal the night sky to those lying on the master bed, and catamaran nets prove to be a super comfy way to dangle over the water. An outdoor bathroom, sunken seating area, and freshwater pool up the luxury factor even further, but it's the waterslide into the lagoon that really makes us swoon.
"Chapter Two" is the newly appointed section of the resort, situated on the western tip of the island. The 27 overwater villas are larger than those found in "Chapter One," and all were designed in 2021. They offer all the amenities found in the other overwater bungalows but also include access to the all-inclusive Soneva Unlimited Plan.
This grants guests unlimited meals at the numerous restaurants, spa treatments, activities, and experiences. Don't miss out on the So Starstruck dinner, an evening that includes a talk with a resident astronomer and incredible views from the Maldives' first overwater observatory.
Other unique activities include a sunset dolphin cruise, outdoor private movie screening, and a full moon dinner.
Address: Medhufaru Lagoon, Noonu Atoll
5. Anantara Kihavah Maldives Villas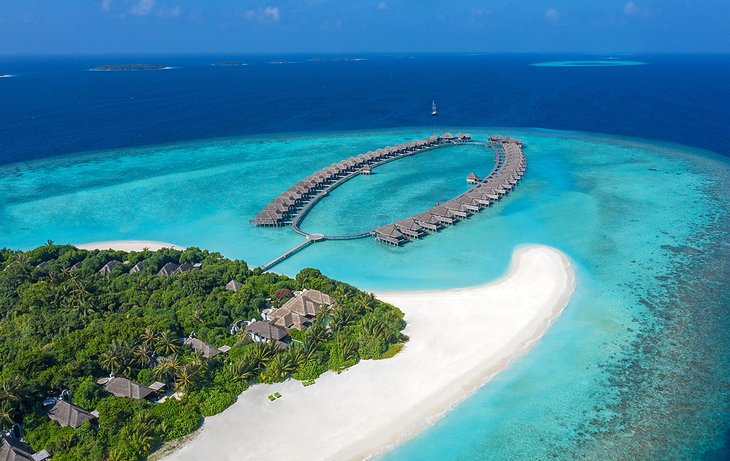 The Anantara Kihavah Maldives Villas resort is what we conjure when envisioning Paradise. An Eden for weary travelers seeking high-end luxury and unbeatable beauty, this eco-friendly resort puts the "ahh" in holiday. Once you catch sight of the lavish villas, you'll never want to leave.
Here, guests are privy to some of the most outstanding accommodations in the Maldives. Picture the most sumptuous overwater bungalow you can imagine, and the Sunset Overwater Pool Villa will beat it.
A large, furnished deck boasts uber comfy loungers; overwater hammocks; and a sunken, glass-bottom whirlpool bathtub. There is also a dining area where guests can enjoy a private meal. Did we mention the infinity pool and a bed positioned so perfectly that you can view the ocean when you open your eyes?
As if that wasn't enough luxury, guests are granted access to a 24-hour private villa host, and they can choose their own pillows and soap from customized menus. Up your stay even further with a two-bedroom, sunset overwater pool residence if you're looking for more space.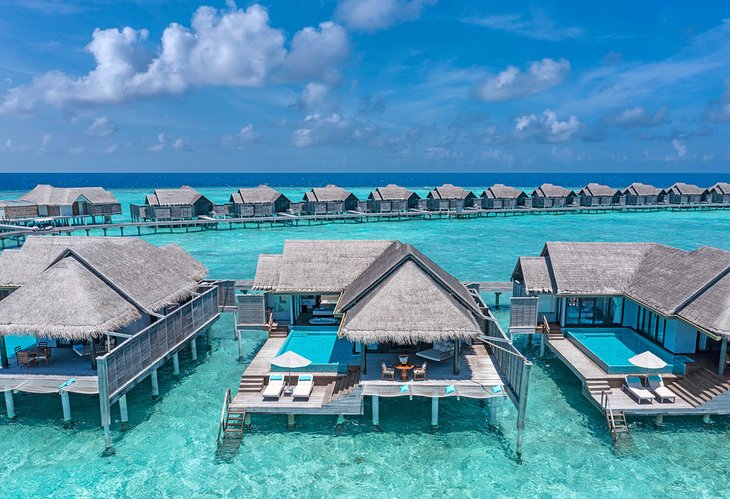 Like all good Maldivian resorts, this elysian retreat is set on a private island. This one lies on the Baa Atoll in a UNESCO Biosphere Reserve, boasting a house reef so incredible, you'll be tempted to snorkel from sunrise to sunset. The resort is as eco-friendly as you can get without living in a straw hut on the beach without electricity, and no trees were removed during its creation.
Although this is an incredibly romantic locale, kids are more than welcome to join in the fun. There's a kids' club and plenty of activities just for them.
While they're happily occupied, their parents can spend some alone time at the spa, stargaze at the only overwater observatory in the Maldives, head into the waves at the Dive Center, or enjoy a fabulous meal in the Maldives' first underwater restaurant, SEA.
Address: Kihavah Huravalhi
6. AYADA Maldives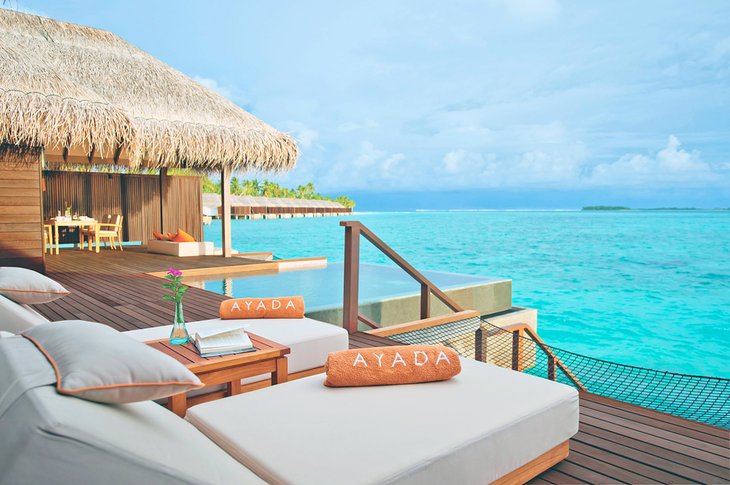 Welcome to the AYADA Maldives, a five-star resort featuring first-class service (including personal butlers who will pick you up and drive you around the isle) and decadent accommodations. The air is hot, the breeze is soft, and your elegant overwater villa is so beautiful, it erases any prior worries.
You can cool off with a dip in your bungalow's plunge pool, read a book on the overwater hammock, and fall asleep on your private deck after being lulled by the gentle lapping of waves. An outdoor shower makes it easy to enjoy the view as you rinse salt off your skin, while the glass-paneled floor ensures the fish are with you even when you're inside your suite.
No one will blame you for not wanting to leave the confines of your lavish overwater villa. So, why not order a floating tray breakfast (delivered to your private pool) to prolong your sumptuous morning?
Bike along the resort's paths to explore this natural wonderland, passing the silky soft beach, tropical forest, pool, and multiple restaurants on your way. Surfing, snorkeling, fishing, and scuba diving are popular activities for couples and families, as are the boat cruises and dolphin-spotting trips.
Hoping to enjoy a break in the spa, or some alone time with a book by the pool? Put the kids in the ZUZUU kids' club. Trust us, they'll be as happily blissed out as you'll be.
Address: Magudhuva Island, Gaafu Dhaalu Atoll
7. Angsana Velavaru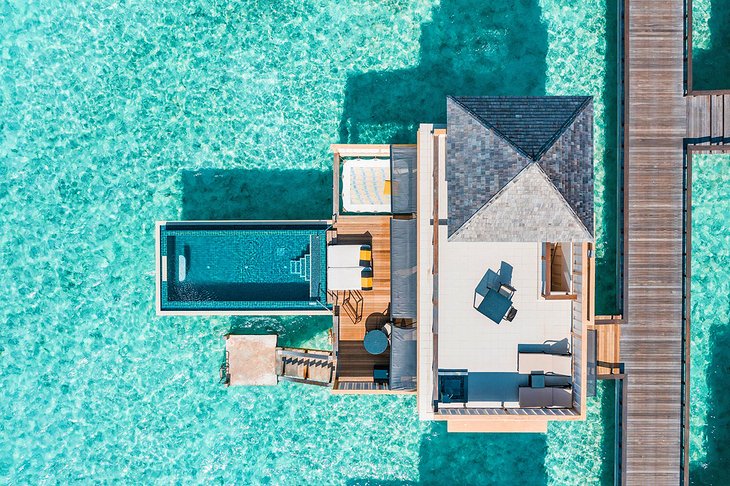 From the air, the Angsana Velavaru resort looks a bit skeletal: large overwater villas protruding from wooden walkways that jut out from the turquoise water of the South Nilandhe Atoll. Once you get up close, you'll be able to marvel at the impeccable beauty found both outside and within these five-star luxury overwater bungalows.
Depending on your preference, choose a sunrise or sunset view. You can't go wrong with either. Each villa was designed to make the most of its stunning setting, so you'll be able to appreciate the glittering kaleidoscope from your plush bed, whether it's in the early morning or at night.
Overwater hammocks are a welcome addition to large outdoor terraces, and the private infinity pools make it easy to cool off from the intense afternoon sun. Or jump off your deck to swim with the vibrant fish and snorkel around coral reefs that lie just offshore.
The all-inclusive package is a must for those who want more convenience. Enjoy complimentary meals and activities like aquapolo, stingray feedings, kids' club, and coral planting. Daily snorkeling trips, spa treatments, and catamaran excursions are also available for a fee.
Address: South Nilandhe Atoll
8. Amilla Maldives Resort & Residences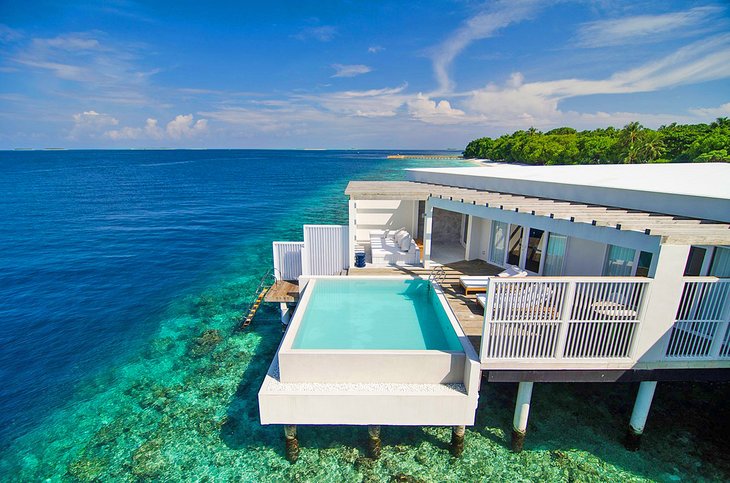 There are few better places to enjoy a snorkeling adventure than the Amilla Maldives Resort & Residences. Set in the UNESCO Biosphere Reserve Baa Atoll, you can swim and snorkel with some of the most impressive Maldivian marine life right off the deck of your luxury overwater villa.
While there are 59 beach, lagoon, ocean, and treehouses to choose from, the overwater (a.k.a. lagoon) villas are the most enchanting of them all. Each glamorous overwater bungalow is spacious and elegantly decorated, featuring privacy walls around your outdoor deck and a personal pool with water the same color as the ocean.
Come hungry, although it's easy to work up an appetite when taking advantage of the many fun activities like diving, parasailing, jet skiing, wakeboarding, and sailing. A library, kids' club, marine biology center, and tennis courts are also on-site, but it's the restaurants that will leave you salivating.
From Italian dishes in the Barolo Grill to tasty breakfast treats at Fresh to Japanese fare in Feeling Koi to British cuisine in the Fish and Chip Shop to pizza at Joe's Pizza, there are a slew of fabulous eateries to tempt your palate.
Address: Baa Atoll
9. COMO Maalifushi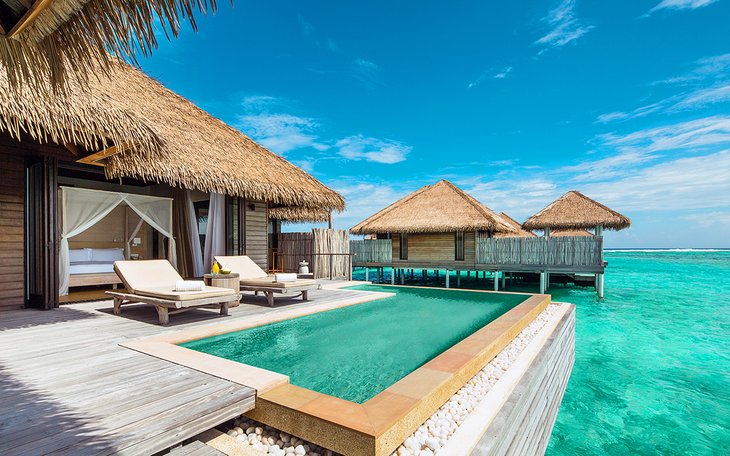 A slice of paradise awaits visitors to the picturesque, five-star COMO Maalifushi resort. While this luxe retreat offers a mix of extravagant suites and villas, it's the remarkable overwater suites and villas that transform a relaxing getaway into an unforgettable vacation.
A perfect spot for a honeymoon, newlyweds staying in the 107-square-meter water suites can enjoy a romantic glimpse of the sunrise without having to leave the comfort of their cushy bed. These spacious suites are perched above the dramatic ocean, and boast the floor-to-ceiling windows Maldivian overwater bungalows seem to favor. You'll also enjoy a large bedroom, living room, plunge pool, outdoor deck, and an al fresco shower.
Families will be treated to a magical and exclusive stay in the 215-square-meter Maalfushi water villa, which sits on a secluded jetty. Those who don't mind splurging for extra privacy and a more luxe experience should opt for the 408-square-meter Como villa, which boasts a larger pool, butler service, and two spacious bedrooms perfect for inviting friends or family.
COMO Maalifushi hosts a spa and there are three main restaurants to choose from, as well as private dining excursions you can add to your stay. Not ready to leave the comfort of your glamorous villa? Order room service, which is available 24 hours a day.
Address: Thaa Atoll
10. Gili Lankanfushi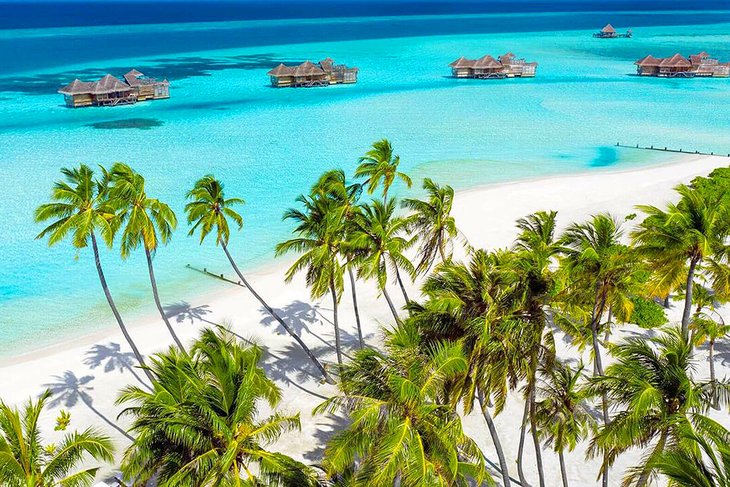 It's impossible not to fall in love with the Gili Lankanfushi resort. An eco-friendly retreat, this pretty resort is a perfect place for families and couples to enjoy a quiet getaway.
If you're looking to up your vacation game to a lavish holiday you won't forget, splurge on one of the seven Crusoe Residences. These two-floor, overwater villas are so secluded, they can only be reached by boat, and they're so sumptuous, that you won't mind being left to your own devices.
They boast a rooftop terrace, semi open-air bathroom, overwater sundeck with direct ocean access, comfy catamaran nets to enjoy a quiet lounge above the waves, large master bedroom, a water hammock, and a living room.
When you feel peckish, grab a boat to shore, where you can dine at one of the two main restaurants, grab a snack or refreshment from one of the bars, and enjoy a cold sweet treat (like ice cream and homemade popsicles) at Fini Foni by the pool.
Activities include tennis, diving, snorkeling, and the usual water sports, as well as cooking classes and off-island excursions. A trip to the Meera spa is also enjoyable.
Not ready to shell out for a large Crusoe Residence? The five overwater Gili Lagoon Villas are spectacular, and they have the advantage of being connected to the island, so you won't have to wait for a ride to participate in activities or grab a bite.
Each thatch-roof villa comes with a spacious bedroom, an open-air living room, water hammock, rooftop terrace, outdoor deck, easy lagoon access, and catamaran net. A stay also includes a bamboo bicycle to enjoy while exploring the island.
Another bonus: Every villa comes with a Mr. Friday (a.k.a. personal assistant), who can see to your needs 24 hours a day. You won't even need to lift a finger to unpack - they can see to that for you.
Address: Lankanfushi
11. Lily Beach Resort & Spa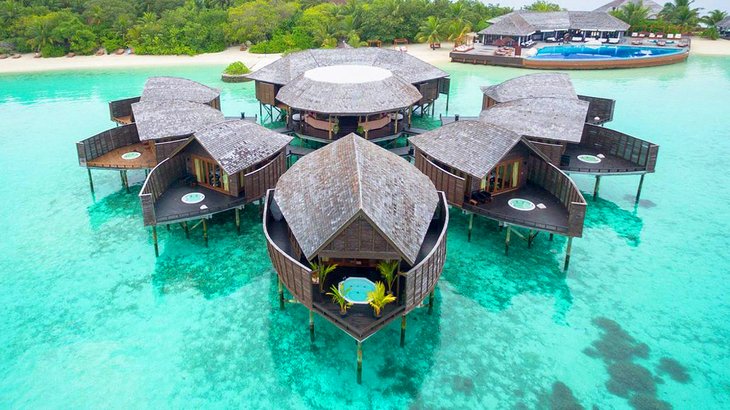 The overwater villas at the Lily Beach Resort & Spa are as magnificent as you'd expect from a high-class Maldivian retreat. Choose between 36 deluxe water villas or four sunset water suites, which are connected by wooden walkways set in the shape of a fish.
The deluxe versions are a bit smaller but offer a private overwater deck with a plunge pool, easy access to the lagoon, a slightly open-air bathroom, and giant glass doors that slide open to let the ocean breeze rush through your rooms. A glass floor is an optimal spot for viewing the area's most vibrant marine life. This is the ideal couples' getaway and a serene and private villa, perfect for a romantic honeymoon.
The slightly larger sunset water suites are just as opulent in terms of décor. They also include a larger infinity pool, Jacuzzi tub, and outdoor deck complete with ocean access. Situated at the end of the walkway, you're guaranteed privacy in these opulent suites. Stay four nights, and you'll be granted 24-hour personal butler service.
Visit the spa for a relaxing treatment, enjoy fun water activities, head out on a diving excursion, play a game of tennis, or destress with a yoga class. There's enough to do here that you'll never get bored. When hunger strikes, grab a bite at one of the resort's four decadent restaurants.
Book the Platinum Plan for an all-inclusive option that includes high quality meals, three excursions per person, activities, and minibar items.
Families will love the kid-friendly offerings like crab races, treasure hunts, and other fun games hosted by the Turtle Kids' Club.
Address: Huvahendhoo
12. W Maldives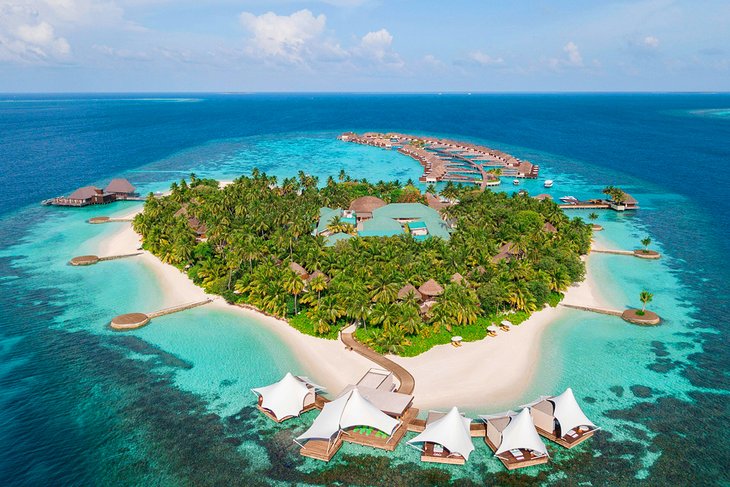 It's hard not to be impressed by the W Maldives. First off, it's gorgeous. Wooden walkways lead to perfectly appointed thatched-roof overwater bungalows hovering over a sea so translucent, you can spot fish from each deck.
Next, it boasts six restaurants, offering guests a vast array of dishes to satisfy their every craving. Then there's the spa, which hosts indoor and outdoor treatment areas to soothe and rejuvenate your body and mind.
The main reason people return to this special resort, however, can be found jutting from the white sandy beach and hovering over the azure water. The uber funky and chic overwater villas are utterly divine. They feature glass floors, infinity pools, wraparound sun decks, oversized sun loungers, and floor-to-ceiling doors that slide open to mesh the indoors with outside.
The secluded Seaside Escapes are magical. A curtained gazebo houses a large, comfy couch on the outdoor deck. This is also where you'll find the infinity pool and easy access to the lagoon below. Remarkable coral reefs lie just off the shore, beckoning snorkelers to explore their magnificent attributes. Being able to get to them directly from your overwater villa is a real treat.
Address: Fesdu Island
Map of Overwater Bungalows in the Maldives