10 Best Overwater Bungalows in the World
We may earn a commission from affiliate links ()
Is there anything dreamier than staying in an overwater bungalow? Picture it, you're lying in a plush bed, listening to waves lap below your room as you watch a dolphin jump on the horizon. To cool off, you merely have to slip into the water from your private deck or take a dip in the plunge pool. Seriously, who's going to say "no" to that kind of holiday?
Luckily, the world is filled with overwater villas so gorgeous, they'll take your breath away and replace it with a sigh of utter relaxation. Whether you're looking for an adults-only resort where you can eat a floating breakfast in your pool, or a family-friendly retreat where kids can press their faces against a glass floor to watch fish swim by, there are plenty of overwater bungalow resorts that will turn your holiday into an unforgettable escape.
Choose your next bucket list vacation with our list of the best overwater bungalows in the world.
Note: Some businesses may be temporarily closed due to recent global health and safety issues.
1. Likuliku Lagoon Resort, Fiji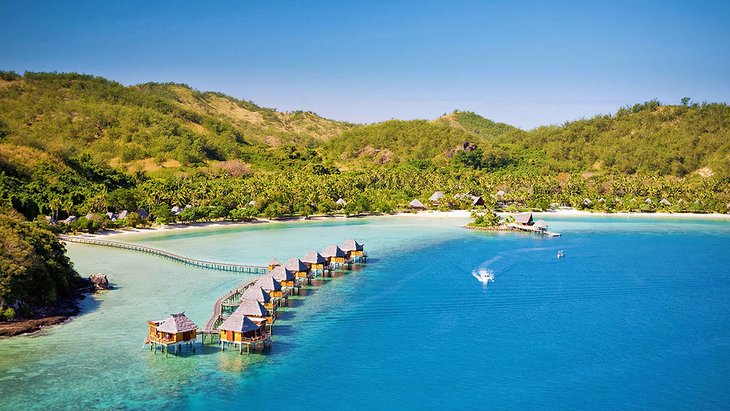 A stay in an overwater bungalow at the five-star Likuliku Lagoon Resort is akin to living in paradise. Authentically designed, the 10 overwater bures are so beautifully traditional, you won't forget you're in Fiji.
Surrounded by a dramatic azure ocean lagoon, lush forest, and the brightest of blue skies, this is literally the place where dreams are made. Did we mention they have a spa to help soothe those aching muscles? Told you this is paradise!
No kids are allowed at this adults-only retreat, which means you'll have your luxurious overwater villa all to yourselves. Lounge on your private deck, enjoy an almost outdoor bath, or relax in your complimentary sarong while admiring the unforgettable view.
Another bonus of staying in this idyllic retreat: it's all-inclusive, which means your food and non-motorized water sports are complimentary. A daily canapé plate and Friday cocktail party are also part of your package.
The resort is surrounded by a protected marine sanctuary boasting a vibrant coral reef teeming with marine life. Borrow snorkel equipment for an underwater adventure.
With these extensive amenities mixed with beauty and first-class service, it's no wonder Likuliku has been deemed one of the best all-inclusive resorts in Fiji.
Address: Malolo Island, Fiji
Accommodation: Likuliku Lagoon Resort
2. Four Seasons Resort Bora Bora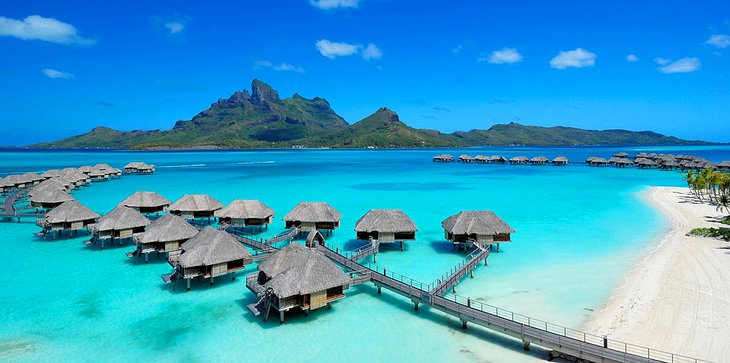 This Bora Bora gem tops this list of the best overwater bungalows in the world. At this five-star Four Seasons Resort, you can expect top-notch service (we see you, chilled towels and fresh fruit by the pool) and impeccable surroundings.
The overwater bungalow suites feature either lagoon or mountain views; oversized, deep soaking tubs; unobstructed vistas; and private decks that lead to the crystalline water below. Upgrade to a specialty overwater bungalow with a plunge pool for added luxury. Over 1,000 square feet larger than the suites, these overwater villas feature private infinity pools in addition to the amenities mentioned earlier.
Grab a snorkel to explore the underwater nirvana below your room, head out on a kayak or catamaran, or play a game of tennis or badminton in your free time. If you can't leave the office behind, spend a bit of time in the business center to get things finished so you can get back to the reasons you came: sun, sand, and surf.
Send little ones to the Kids for All Seasons club, so you can enjoy some alone time. They'll be happily entertained while a trip to the Te Mahana Spa will reinvigorate and relax you. A bonus: massages can be enjoyed while you watch fish swim below the glass floor.
Grab a bite at one of the four gourmet restaurants, each of which serves tasty fare worthy of a second helping.
Address: Motu Tehotu BP 547, Bora Bora
Accommodation: Four Seasons Resort Bora Bora
3. Soneva Fushi, Maldives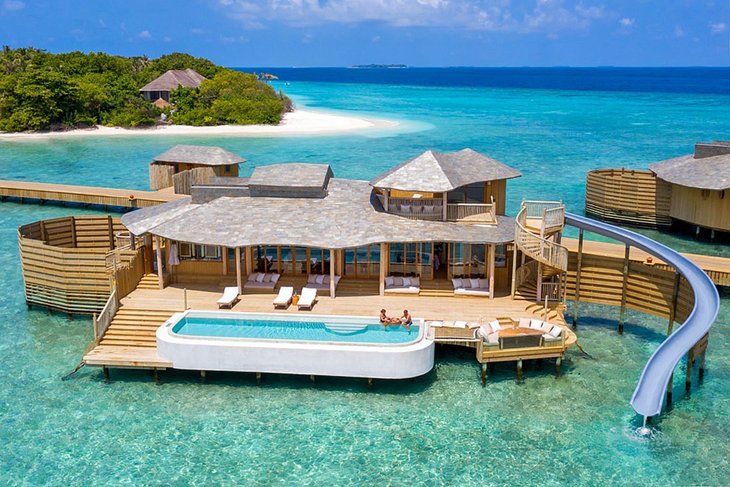 There are only eight overwater bungalows at the impeccable Soneva Fushi resort. Each one offers guests a spectacular glimpse into the lifestyles of the rich and famous. Whether you choose a one- or two-bedroom villa, you'll be greeted by sustainable yet elegant furnishings, first-class design, and an immense attention to detail.
From the moment you step foot on this desert hideaway on Kunfunadhoo Island, you'll be treated like royalty. You won't need to leave the privacy of your villa. They boast everything you need, from a large infinity pool to an overwater catamaran net to a picturesque patio offering unbeatable views.
They even feature an outdoor slide to take you straight into the clear Indian Ocean. Floor-to-ceiling windows mean you won't miss out on the impressive view, even on a rainy day. The resort's overwater villas also come with bicycles, outdoor showers and bathtubs, butler service, and a sunken seating area.
Healthy meals featuring fresh, local ingredients can be enjoyed at multiple Michelin-starred restaurants, and feature a variety of cuisines, including plant-based, Japanese, Asian, and Mediterranean. Or go a bit wild and choose to dine at Once Upon a Table, a culinary theater experience for eight that allows the chef to create whatever he or she wants while you watch the magic unfold.
The Den is a haven for children and teens, and boasts two pools, a pirate ship, and a cinema, among other fun-filled attributes. All-day, free ice cream is another perk that'll have the kids eating out of your hands. Watch a movie al fresco, learn about the stars from the resident astronomer, or head out on a snorkel tour with a marine biologist — your family will never get bored at this unbeatable resort.
Tip: So Guilty is where you'll find the sweets you've been craving: truffles and pralines and chocolates, oh my!
Address: Kunfunadhoo Island Baa Atoll, Maldives
Accommodation: Soneva Fushi
4. LUX* North Malé Atoll, Maldives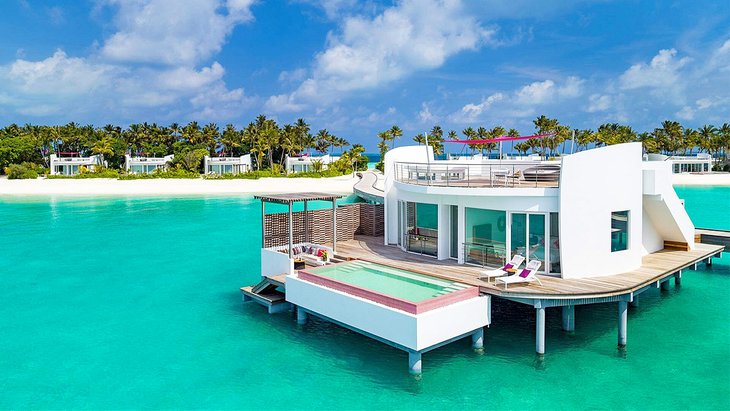 The overwater villas at this elegant resort feature two stories of stunning luxury. Rooftop patios, private plunge pools, and glass floors help you make the most of your magnificent surroundings. The LUX* Overwater Retreat allows yachts to park at the private dock, so it's best to book one of these overwater villas if you're traveling here in style.
One of the best all-inclusive resorts in the Maldives, this is the place to be if you're looking for a bit of bang for your proverbial buck. Knowing your meals, drinks, and activities are included makes it easier to unwind as you while away your days lapping up the glitzy shores, shimmering sea, and tropical gardens of the LUX* North Malé Atoll.
Kids' and teens' clubs are also complimentary, so why not bring the whole family? Try your luck at hanging 10 with a surfing lesson, explore the nearby coral reefs on a snorkeling adventure, or splash about in the refreshing pool. Wind down with a treatment at the overwater LUX* Me Spa sanctuary.
Set off on a culinary adventure while eating foods from around the world at the resort's two main restaurants, Glow and INTI. You can also book a private BBQ dinner on your rooftop deck, or enjoy a cool treat at the aptly named ICI ice-cream parlor.
Address: Olhahali, North Malé Atoll
Accommodation: LUX* North Malé Atoll
5. AYADA Maldives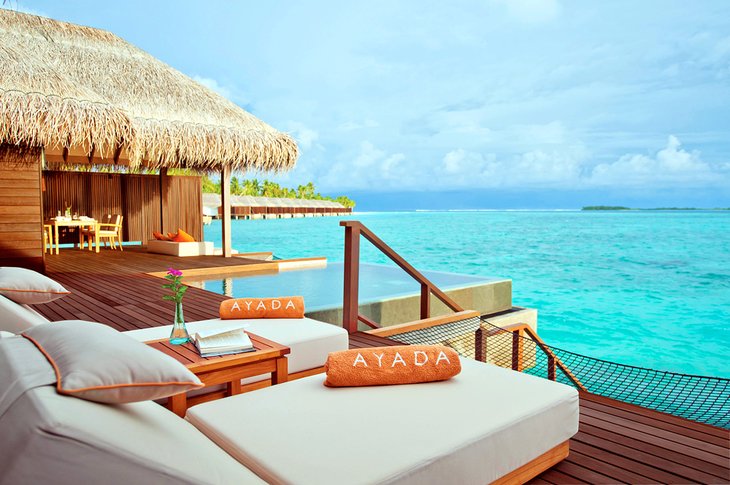 Welcome to your virtual tour of an overwater villa at the decadent AYADA Maldives resort. Picture this: you're lying on an ocean hammock gazing at an ocean so crystal clear, you can see the vibrant marine life with your own eyes. Waves gently roll below as a warm breeze tickles your face.
Feeling a bit hot, you decide to cool off with a quick dip in your private plunge pool, which is located just off the wooden deck of your tiki-roofed overwater bungalow. Next, you wander through your living room, stopping to admire the fish swimming below the glass floor panel. You then head through the bathroom to a blissful outdoor shower. Not bad, huh?
While most choose to bike around the private island, one call to your personal butler means a ride will arrive within minutes to take you where you'd like to go. The restaurants are varied (in location and cuisine), which means you can dine everywhere from the beach to the pool to the tropical forest, on everything from fresh seafood to teppanyaki to pasta.
The Ottoman Lounge offers authentic Turkish coffees and specialty teas served in traditional silver as you sit in low seats. If you want a dining experience you'll never forget, try a floating tray breakfast delivered straight to your private pool (on a floating tray, of course). Or book a tropical breakfast, which you can enjoy in the shallow water of the white sandy beach.
When it comes time to play, you won't be disappointed. AYADA is a top surfing destination. Snorkeling, scuba diving, fishing, heading out on boat cruises, and dolphin-spotting trips are only a few of the activities guests enjoy.
The ZUZUU kids' club is another hit, especially with parents who would like to take a few moments to enjoy things like a quiet walk on the beach, a spa treatment, or an uninterrupted nap by the pool.
Address: Magudhuva Island, Gaafu Dhaalu Atoll, Maldives
Accommodation: AYADA Maldives
6. The St. Regis Bora Bora Resort, Bora Bora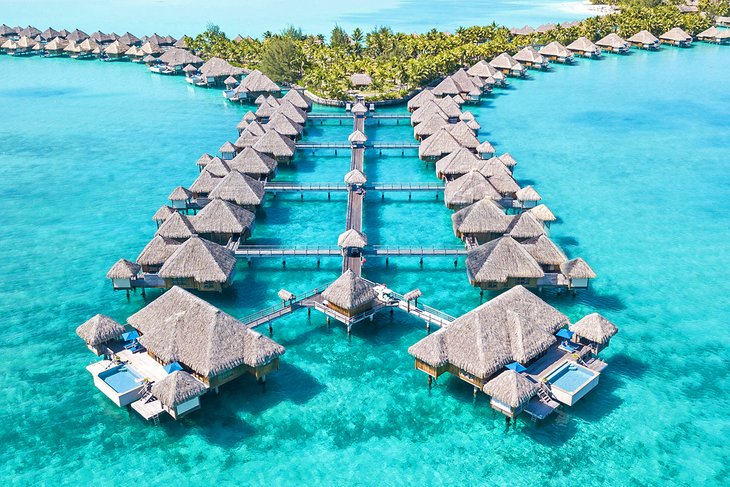 The St. Regis Bora Bora Resort boasts the largest overwater bungalows in the South Pacific, and if that wasn't enough to sell you on a stay, just wait until you see the glamorous surroundings. We're talking postcard-worthy, sugar-white sandy beaches; tall, waving palm trees; and thatched roof buildings that ooze both charm and luxury.
The view from the private patio of your overwater bungalow will take your breath away, replacing it with a relaxed sigh. Crystalline turquoise water laps gently around and below your overwater villa, begging you to take a dip off your dock. No wonder this has been dubbed one of the best resorts in Bora Bora.
Inside, you'll find plush furnishings and a bathroom fit for royalty — it comes complete with Italian marble and a bathtub beside giant windows that can be opened to your hidden garden. The bungalow's highlight is a glass-paneled floor offering glimpses of the sea life below.
As for the resort itself, you'll be wowed by staff so friendly, you'll feel immediately welcome; a spa so serene, you'll have trouble tearing yourself away from the treatment rooms; and five restaurants serving food so delicious, you'll beg for seconds. The Lagoon by Jean-Georges is a particular delight for gastronomes.
Bring the children along if you're hoping to score extra parent points. They'll love the activities organized by the kids' club; the Lagoonarium; and child-sized robes, slippers, and treats available in the villa. A personal butler will help take the stress out of vacation worries like packing and unpacking and getting a morning coffee or tea.
Address: Motu Ome'e BP 506, Bora Bora
Accommodation: The St. Regis Bora Bora Resort
7. Conrad Bora Bora Nui, Bora Bora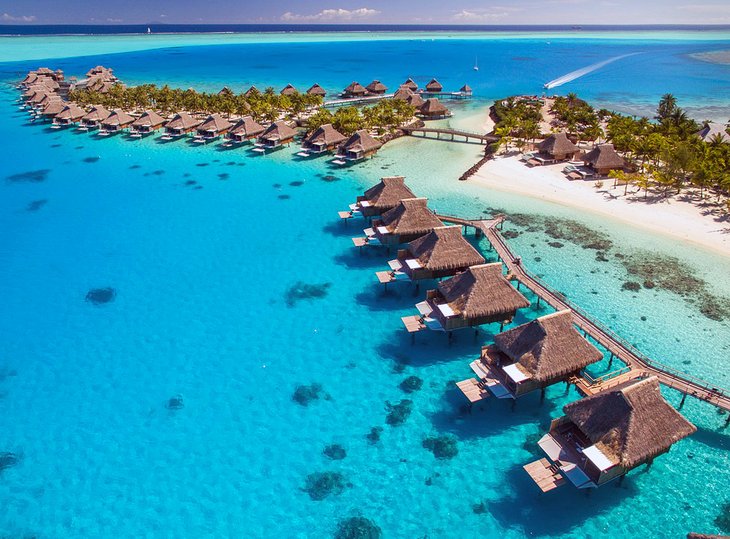 Welcome to the Conrad Bora Bora Nui, an overwater bungalow resort so luxuriant, it's favored by celebs. This five-star masterpiece doesn't come cheap, but the lavish accommodations and enticing activities are more than worth the hefty price tag. The main pool, complete with in-water lounge chairs, is so gorgeous, you'll gasp in delight.
The overwater villas are where it's at if you're hoping to up your vacation game to the high-class level. These stunning bungalows feature over 1,000 square feet of tranquil bliss. Bluetooth speakers; a massive, airy bathroom; and private terrace make it easy to unwind. Book a pool overwater villa if you'd like to enjoy the lagoon view from the comfort of your own infinity plunge pool. Lounging in the overwater hammocks is a must!
A fab kids' club, popular water activities, mountain and lagoon views, and picture-perfect white beaches make this one of the best resorts in French Polynesia. Have breakfast or dinner at the open-air Iriatai restaurant. Meals can also be enjoyed at the more upscale Banyan or the beachside Tamure Beach Grill, or you can enjoy a quick snack at the Tarava Pool Bar or Upa Upa Lounge.
Address: BP 502 Vaitape, Bora Bora
Accommodation: Conrad Bora Bora Nui
8. El Dorado Maroma, Mexico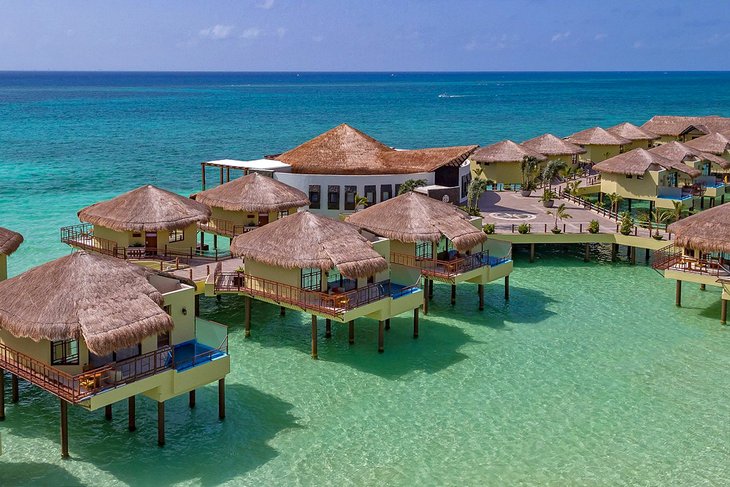 When most people think of overwater villas, they picture a bucket list destination like the Maldives, not Mexico. That's why the gorgeous palafitos (a.k.a. overwater bungalows) at El Dorado Maroma come as such a pleasant surprise.
Nestled under a thatched roof and sitting high above the deep blue Caribbean waves, these 30 luxurious villas exude romance and opulence at every turn. A private pool, glass paneled floor, elegant furnishings, and expansive decks make these overwater bungalows the most coveted of accommodations. They hover just offshore from the pristine Maroma Beach.
These exclusive villas come with butler service, a ladder for easy access to the ocean, a hot tub, outdoor shower, customized beach picnics, daily in-bungalow breakfast, two beach beds, and in-bungalow pre-dinner drinks and snacks. You're guaranteed a passion-filled, serene vacation at this adults-only Mexican resort.
The Overwater Grill is a must-see, even if you aren't hungry (which isn't likely). The floors are made of glass, so guests feel as if they're swimming in the sea as they dine. You don't have to worry about how much you eat, as this resort offers a Gourmet Inclusive® experience, which includes beverages, meals, and activities.
Address: Carretera Federal Cancun-Tulum, Playa Maroma, Playa del Carmen, Mexico
Accommodation: El Dorado Maroma
9. Angsana Velavaru, Maldives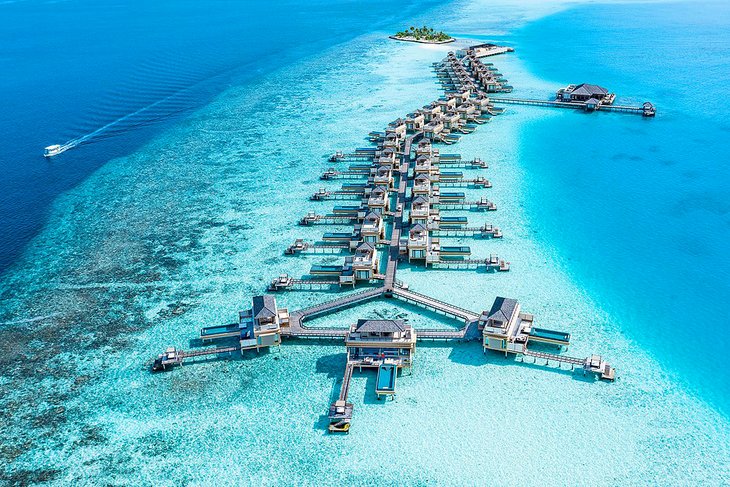 Barefoot luxury reigns supreme at the Angsana Velavaru, a five-star resort in the Maldives. Set on the beautiful South Nilandhe Atoll, this luxurious resort offers spectacular sunset views, stellar service, an enchanting spa, and 34 InOcean Villas.
Towering on stilts, these overwater villas are the cream of the veritable crop in this five-star sliver of paradise. They offer sunrise or sunset views, depending on their location, a private infinity pool, a large outdoor terrace, overwater hammocks, and a rooftop pavilion. Grab a snorkel and jump off your deck for easy access to the resort's impressive coral reefs.
Guests can choose from five different all-inclusive packages to cater to their exact needs. Tip: For a unique and photo-worthy dining experience, book a floating breakfast to enjoy in your pool.
Complimentary daily snorkeling trips are offered, as are paddleboarding, catamaran, and wakeboarding adventures (for a fee). Other complimentary activities include coral planting, stingray feedings, a drumming concert, aquapolo, and outdoor movies. The Rangers' Club for kids is a big hit with both children and parents.
Address: South Nilandhe Atoll, Maldives
Accommodation: Angsana Velavaru
10. Six Senses Ninh Van Bay Resort, Vietnam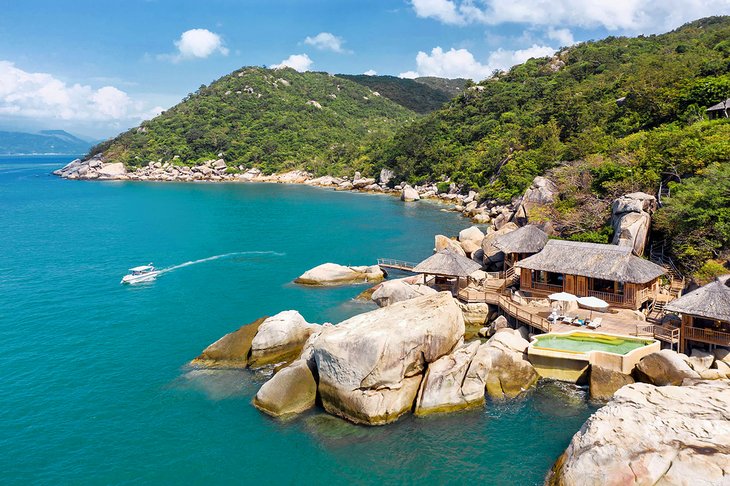 A family-friendly wonderland awaits visitors to Vietnam's Six Senses Ninh Van Bay Resort. Sandwiched between a white sandy beach, lush tropical forest, and towering mountains, this fantastical spot is a mecca for nature lovers.
While this unique resort features rock pool villas and hilltop escapes, it's the dramatic Water Villas that leave you speechless. Perched upon rock formations at the water's edge, these split-level villas boast a plunge pool; private deck; outdoor shower; and an exquisite, handmade wooden bathtub set before floor-to-ceiling windows.
The more exclusive two-story, three-bedroom Water Reserve can only be accessed by a walkway or speedboat, enhancing the feeling of tranquility. It features a separate living/dining room, and each of the bedrooms comes in its own separate bungalow with a bathroom. In addition to the amenities found in the other Water Villas, you'll also find a kid-pleasing waterslide leading from the top floor to the pool.
The dining options are varied and include poolside options, as well as dinner in a cave, an open-air bay side restaurant, and an eatery perched on the rocks overlooking Ninh Van Bay. There's a spa, of course, and activities ranging from hiking to yoga to kayaking to SUPing to cooking classes.
Address: Ninh Van B ay, Ninh Van, Ninh Hoa, Vietnam
Accommodation: Six Senses Ninh Van Bay Resort