8 Top-Rated Day Trips from Auckland
Auckland sits in the north of New Zealand's North Island, a prime position for sightseeing trips to both the gorgeous beaches and coastal scenery of the far north and excursions to the geological attractions of the island's central region. For those on a short visit to New Zealand, it's entirely viable to see a decent chunk of the country's premier sights while being based solely in Auckland.
The world-famous Waitomo caves and geothermal wonders of Rotorua and Taupo are all possible to visit on long day trips as is the country's newer Lord of The Rings and The Hobbit movie-set highlights that have brought film fans flocking to the country in recent years.
Closer to home, Waiheke Island provides a nature-filled break from city life just a stone's throw from Auckland itself, proving that even in New Zealand's most populous center, you're never too far from the country's bounty of natural beauty. Be sure to refer often to our list of the top-rated day trips and fun things to do that are an easy drive from Auckland.
1. Rotorua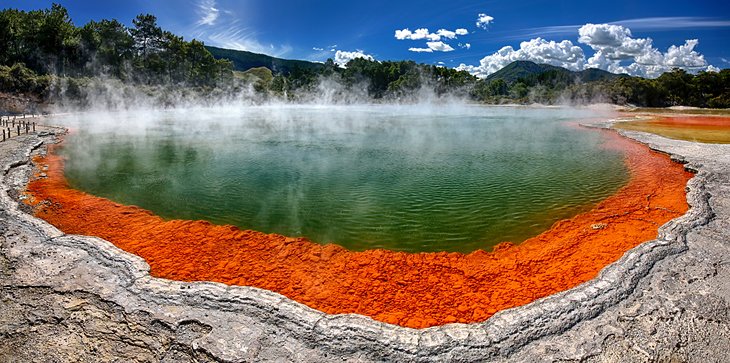 Geysers and bubbling mud geothermal areas, hot pools for soaking in, and plenty of Maori culture-the town of Rotorua is one of the most interesting places to explore in New Zealand and showcases the country's unique natural beauty.
About 238 kilometers from Auckland, this is a hugely active geothermal area, and the surrounding attractions of Wai-O-Tapu Thermal Wonderland, Hell's Gate, and the Whakarewarewa Valley have a medley of bizarrely colored steaming lakes, pools of bubbling mud, and exploding geysers that amaze all who visit.
Rotorua also is one of New Zealand's major centers of Maori culture and a great place to learn about the country's indigenous people.
You can visit the town and attractions on a Rotorua Day Trip from Auckland, which includes hotel pickup and drop-off, transportation, lunch, and a guide. You'll visit the geothermal attractions and stop at the Maori Arts and Craft Cultural Institute in Te Puia.
After a long day, Rotorua also has a soothing last stop before heading back on the long drive to Auckland: the town is home to plenty of hot springs, perfect for an hour of relaxation and easing aching joints with a soak. Better still, book a night at a resort close to the thermal springs.
2. Waitomo Caves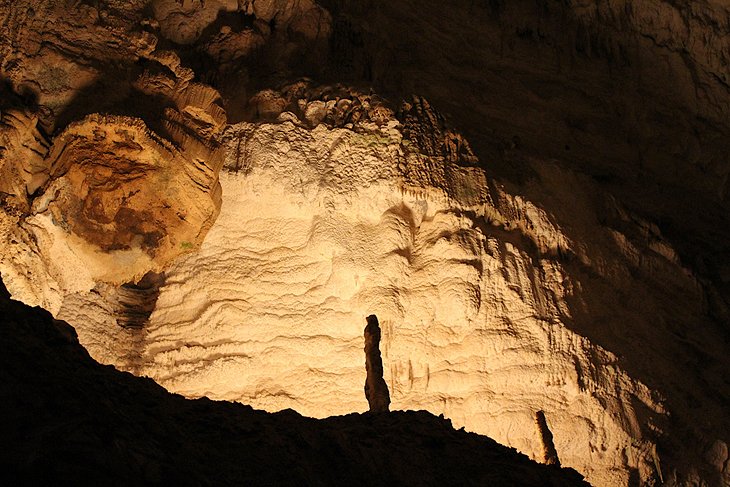 New Zealand is all about packing plenty of action and adventure into your holiday, and the country is well-known for its active pursuits. The country's most famous caving destination is within easy reach of Auckland, about 195 kilometers away, and provides experiences for both adrenaline-junkies and those seeking a more sedate experience. The Waitomo Caves are a series of deep subterranean caverns well-known for their glow worms, which provide a fairy-light backdrop to every visit.
The caves are also renowned for the black water rafting activities available to thrill-seekers here within the caverns. For an easygoing day out, you can simply take the boat ride through the glowworm caves and then walk through the caverns of Ruakuri and Aranui Caves. To add plenty of splash to the day, opt to go black water rafting through Ruakuri Cave's extensive subterranean system afterwards.
A great option is a combo Hobbit Movie Set and Waitomo Glowworm Caves Day Trip from Auckland. This allows you to see the landscape, stop by this famous movie set, and take a boat trip through the caves to see the glowworms.
Official site: www.waitomo.com
3. Bay of Islands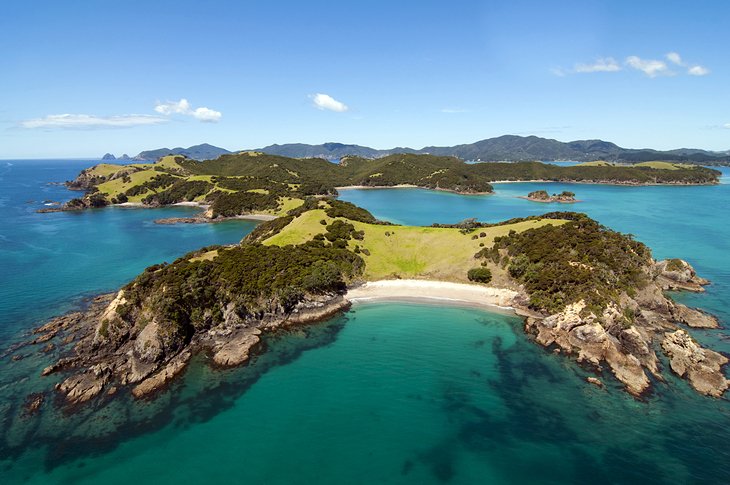 New Zealand is known for its gorgeous scenery, but even among the Kiwis themselves, the vistas of the Bay of Islands are considered superlative.
The Bay of Islands also plays an important role in New Zealand's history, as it was here at Waitangi that a treaty was signed between the British government and the indigenous Maori. Waitangi's Treaty Grounds are a major tourist attraction of the region, but if you're just here to experience some of the finest coastal scenery in Polynesia, then you really need to get out on a boat.
There are a wide range of cruises on offer in the Bay of Islands' centers of Paihia and Russell, any of which can take you out onto the sea to tour around the islets and islands. The coast here is part of the Bay of Islands Maritime Park, and just offshore are the islets, islands, and rock pinnacles that make this area a sailor's dream. Most boat cruises do a loop of the major sights, including stops for swimming and sunbathing at lovely Urupukapuka Island. The Bay of Islands lies about 232 kilometers from Auckland.
4. Hobbiton Film Set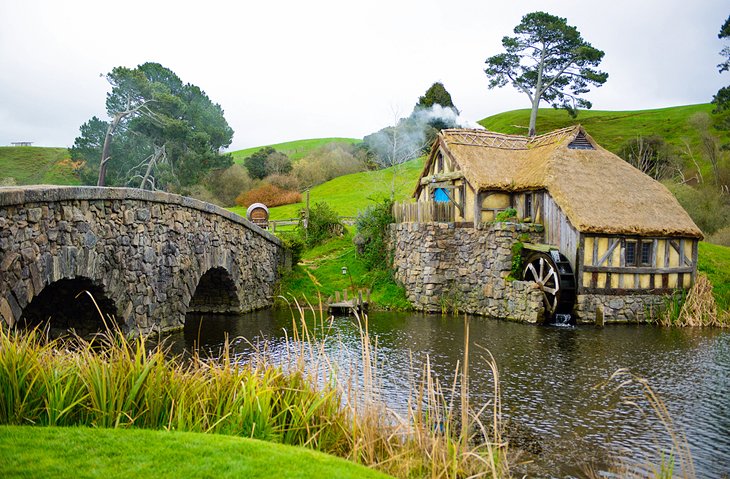 The films of The Lord of The Rings and The Hobbit have stamped New Zealand on the map for movie lovers. Tolkien fans and film geeks are in luck here, as the country has embraced its Middle Earth credentials with many tour companies offering trips exclusively centered around the Middle Earth theme.
The major site accessible from Auckland is the in situ movie set of Hobbiton in The Shire, where the hobbit holes, bridge, and Bilbo Baggins' house look just as they did on the big screen. About 161 kilometers from Auckland, the preserved site lies on part of the land of the privately owned Alexander Farm, so independent travelers will have to sign up for a tour to visit. One of the best tours is the Hobbit Movie Set and Waitomo Caves Glowworm Caves Day Trip fro Auckland. This is a full-day combo tour, and a perfect way to see these two big attractions.
Address: 501 Buckland Road, Matamata, Waikato
Official site: www.hobbitontours.com
5. Waiheke Island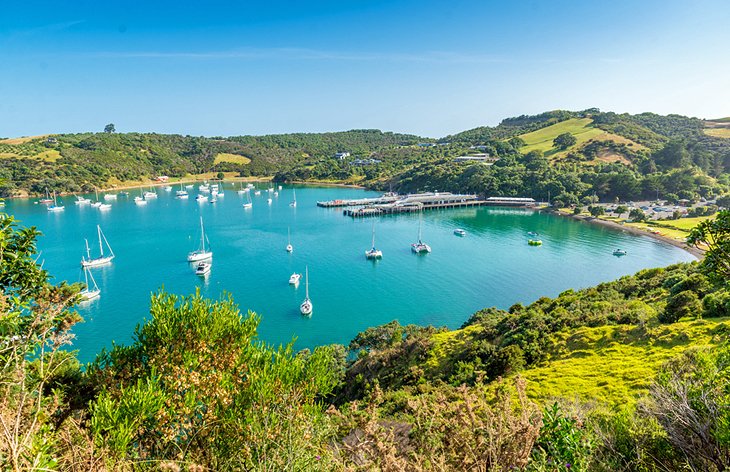 An easy break from the city, Waiheke Island is accessible by ferry from Auckland and provides a peaceful interlude to any city itinerary. The island sits in the Hauraki Gulf and is the second biggest island in the area. Many people come here simply for a day at the beach, with Oneroa Beach and Onetangi Beach being two of the most popular spots for sandy fun.
The island has plenty more to offer though if you want to do more than sunbathing. The interior has some good bushwalking options that allow a taste of New Zealand's forests, while two ziplines (known as "flying-foxes" in New Zealand) offer a unique chance to take in panoramic views across the Hauraki Gulf.
6. Coromandel Peninsula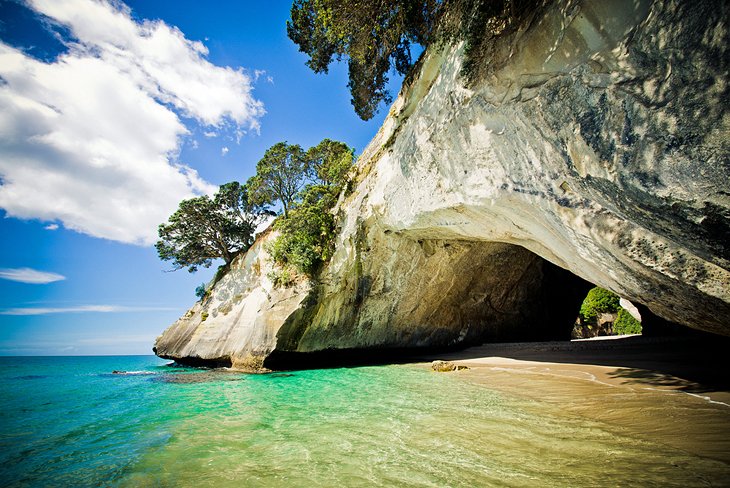 About 173 kilometers from Auckland, the Coromandel Peninsula is a popular day trip from the city for Aucklanders and foreign visitors alike.
For most locals the major highlight is Hot Water Beach, a rather nondescript stretch of grey sand for most of the day that turns into a natural spa at low tide. Here, hot mineral water runs through the sand, meaning beach-goers can dig holes and plonk themselves down into DIY hot pools for an hour or two of serious soaking.
The peninsula is also home to beautiful Cathedral Cove, which can only be accessed by boat, kayak, or walking track. The two-hour coastal walk to the cove is well worth the exercise, allowing you to see the weathered cliffs and rock formations of this area up close.
7. Taupo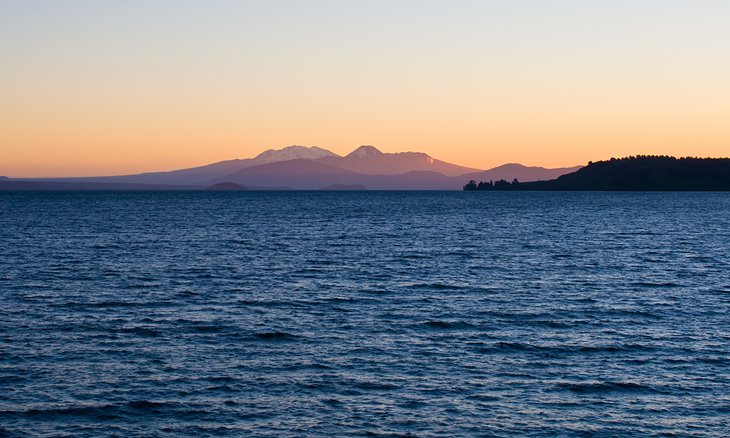 Lake Taupo and the small shore-side town of Taupo, about 278 kilometers from Auckland, are a popular family day out, combining plenty of New Zealand's geothermal sites with the lake activities of swimming, fishing, and boating.
Boat trips around the lake, taking in Mine Bay's Maori rock carvings, are one of the most popular activities, while nearby 11-meter-high Huka Falls is famed for its thundering water.
For geothermal sites (particularly if you're not heading on to Rotorua) check out the Craters of The Moon for its steaming vents; Orakei Korako for the dazzling, colorful pools that make it New Zealand's most photogenic geothermal site; and Wairakei Terraces for the hot pools.
8. Puhoi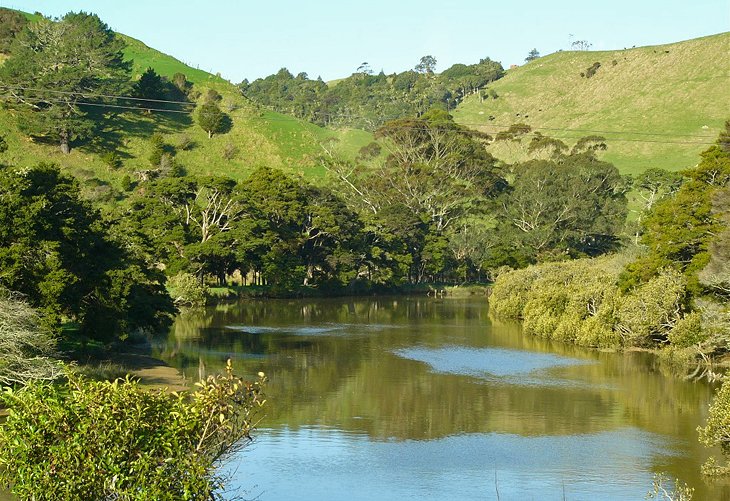 To capture a sense of New Zealand's relaxed rural life, head to the tiny settlement of Puhoi. Surrounded by bucolic rolling hills, this town has a history that stretches back to the 1860s, when immigrants from Bohemia settled here. Much of the town has managed to hold on to its original character, allowing you to easily imagine what early settler life would have been like.
Those interested in this period in New Zealand's history should make sure to check out the Bohemia Church and Church of St. Peter and St. Paul that date from the late 19th century.
In recent years, a bundle of artisan and foodie boutiques have opened in town making for some excellent shopping diversions here as well, while the countryside on the township's doorstep has plenty of walking and hiking opportunities for the more active.
Map of Day Trips from Auckland