From Christchurch to Queenstown: 4 Best Ways to Get There
The trip from Christchurch to Queenstown is nearly 500 kilometers and passes by some of the most stunning scenery that New Zealand has to offer. The flat Canterbury Plains give way to the Southern Alps, Lake Tekapo, Lake Pukaki, the orchards of Cromwell, and then the Kawarau River valley. All these stops are part of a classic South Island itinerary.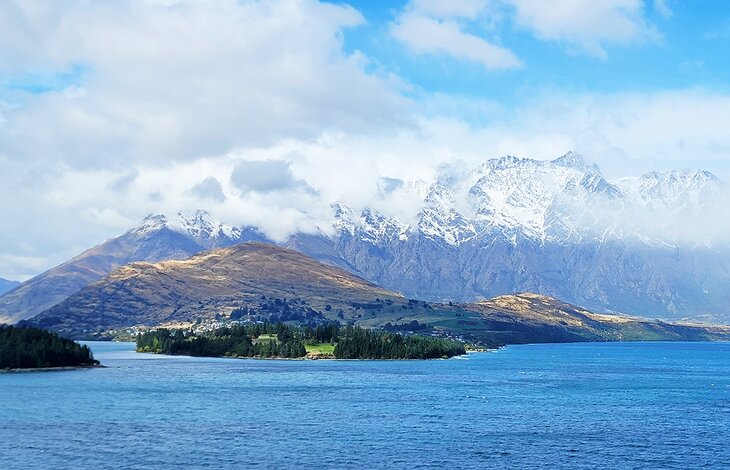 The distance seems manageable and short on a map, but in practice, we've found this route takes much longer than the six hours online maps will tell you. The roads are twisty in the mountains, and you'll likely be stopping on a regular basis to soak up the incredible sights along the way.
If your time is short, catch a flight. If you have more time, drive and soak it all up. Want to take your time and see the sights along the way and camp? Hire a campervan and set up at some of the area's most scenic (and affordable) campgrounds.
Budget a concern? Take the bus. If you have a big budget and would like someone else to do the driving while providing insight, hire a private shuttle.
No matter which method you choose you'll be treated to some of the best scenery that New Zealand's South Island has to offer.
1. From Christchurch to Queenstown by Car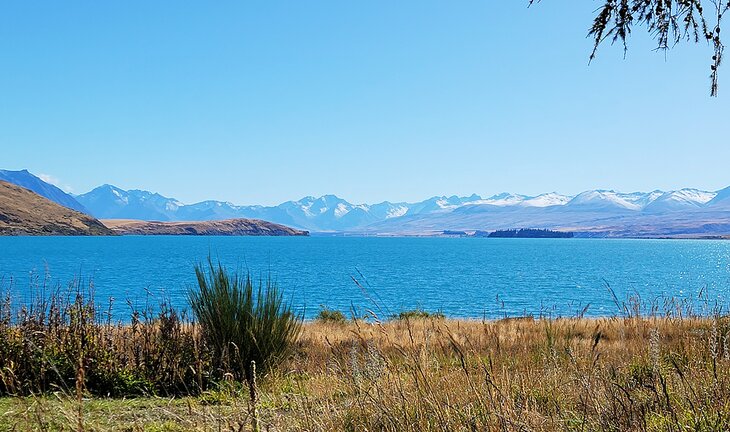 The self-drive option is one of the most popular ways to travel between Christchurch and Queenstown. The route is scenic and can easily be done in one long day. However, many people choose to spread this trip out and hit some of the highlights of the South Island on the way.
Rental cars are easily available at Christchurch International Airport, and one-way rentals are common in New Zealand. A small drop fee, if any, is charged to return to a different location.
The most direct route from Christchurch follows Highway 1, 79, 8, and 6. It's well-marked the entire way. The first part of the trip is on a divided highway and traverses the flat Canterbury Plains. It's a busy stretch with plenty of trucks, buses, and other traffic to keep your eyes glued to the road, especially if it's your first time driving on the left side of the road.
Once you turn off Highway 79, things get a bit more interesting. Take a break in Gerardine at the Berry Barn Bakery (grab a meat pie and a coffee), and continue onwards to the mountains. You'll pass by Lake Tekapo, a pleasant town with a great waterfront.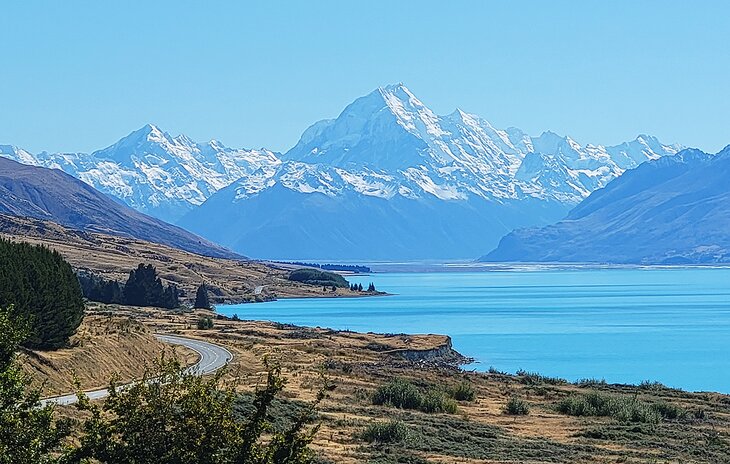 A bit further on is Lake Pukaki. It's here that you'll have to make a decision: if the weather is fine and you have some time, you may want to consider taking Highway 80 up to Aoraki / Mount Cook Village for stunning views of Mount Cook.
On our most recent trip, we could see the weather was going to be clear so we made a last-minute booking at a hotel in the village and spent a night there. We arrived early enough in the day to do some hiking as well. This makes a great stop for one night and has one of the best short hikes in New Zealand, the Hooker Valley track.
If you do not want to go to Mount Cook Village, continue onwards on Highway 8 as it turns southwards and climbs steadily to Lindis Pass. The road then descends to the fertile plains and follows Lake Dunstan to the orchards around Cromwell.
Take the exit for Highway 6 and get ready for some wonderful scenery as you start to follow the Kawarau Gorge. Eventually, the gorge ends just past the AJ Hackett bungy jump site and shortly thereafter, you'll find yourself in downtown Queenstown.
2. From Christchurch to Queenstown by Campervan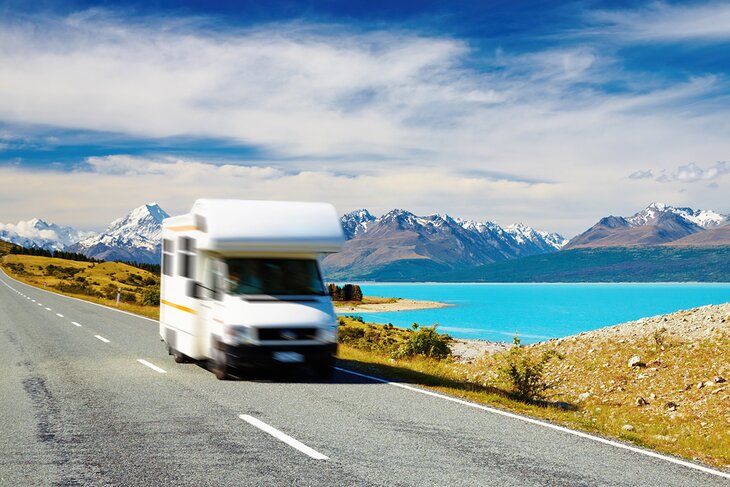 If you have a decent budget, lots of time, and possess an adventurous spirit, consider renting a campervan. With this option, you can stretch the 500-kilometer trip easily into several days or a week.
These self-contained units come in different formats, from "camp cars" to campervans, up to the largest format, motorhomes. If you choose this option, you'll follow the same route as above but will probably find yourself peeling off the route at several key points to enjoy a bit of time in some spectacular locations.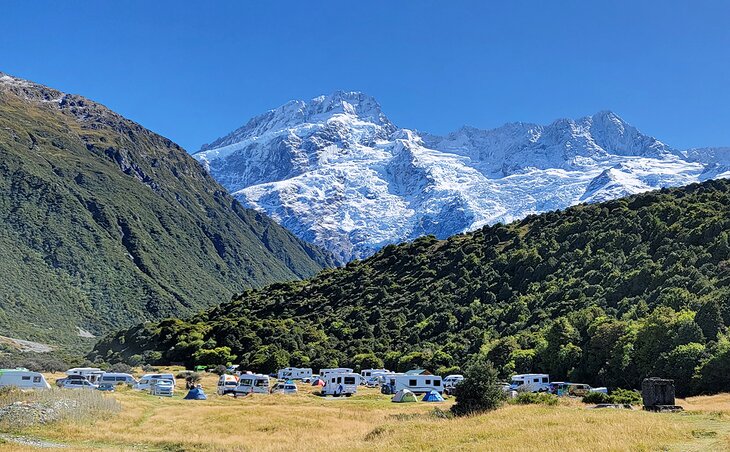 Good spots to set up camp include Lake Tekapo or Lake Pukaki, but a definite must-camp place is Aoraki / Mount Cook Village. Here, the campground is set right in the shadow of the Southern Alps. You'll also be able to enjoy the Hooker Valley Track before all the crowds show up.
Another option is to go via Wanaka, stay a night or two, and then head over the Crown Ranges down into Queenstown. The daily cost of a campervan rental is about three to four times the cost of a rental car.
3. From Christchurch to Queenstown by Air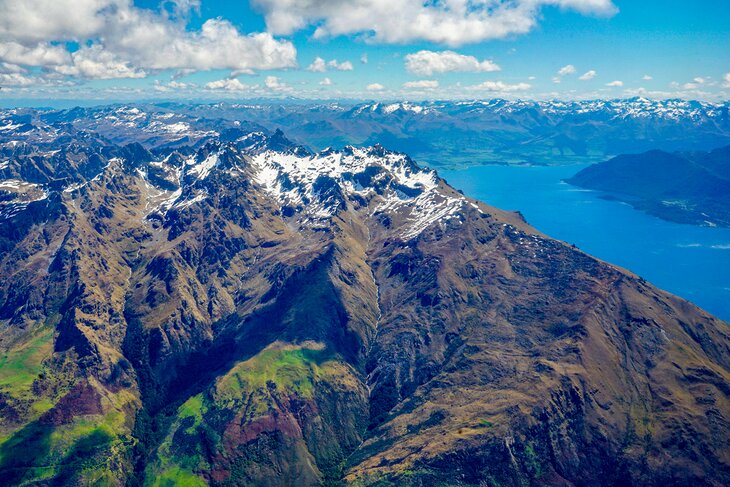 The fastest and easiest way to get to Queenstown from Christchurch is to fly. Air New Zealand has four daily flights: two in the morning, one mid-afternoon, and one in the evening. The flight takes about 60 to 75 minutes depending on the type of aircraft used. The flights that take longer are on an ATR-46 turboprop plane, but the views are better.
If the weather is clear, it's a spectacular flight over the Southern Alps. Try and sit on the right-hand side of the aircraft and secure a window seat — you'll be treated to views of Mount Cook and Mount Aspiring.
4. From Christchurch to Queenstown by Bus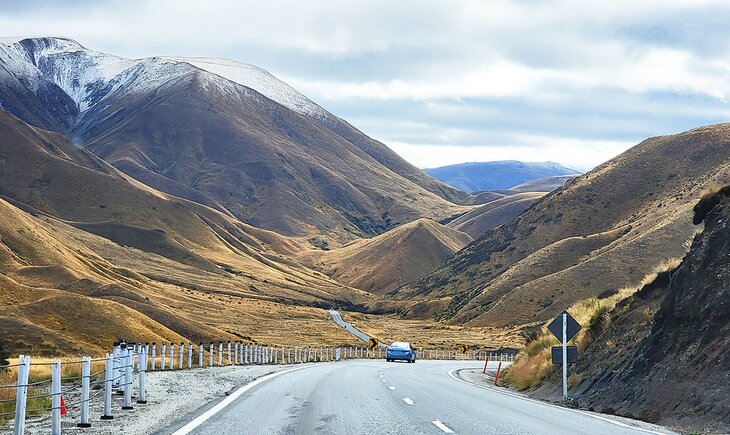 New Zealand's largest bus operator is InterCity. They operate a modern fleet, including some double-decker buses. From Christchurch, the route operates daily, and three departure options exist: a morning direct bus at 8:30 am and two other routes that both leave at 8 am have a stopover.
The direct bus takes eight hours and 10 minutes; the two with stopovers take much longer, clocking in at eleven hours and twenty-two minutes, and are not recommended.
The direct bus makes five quick stops along the way and two additional ones for a meal break. Seven pre-booked stops may or may not happen depending on if they are requested. If they are, they will be quick. One of the nicest stops is in Tekapo. Grab lunch here during your 45-minute stopover, and then wander along the beautiful waterfront.