Fiordland National Park: Top Hikes & Things to Do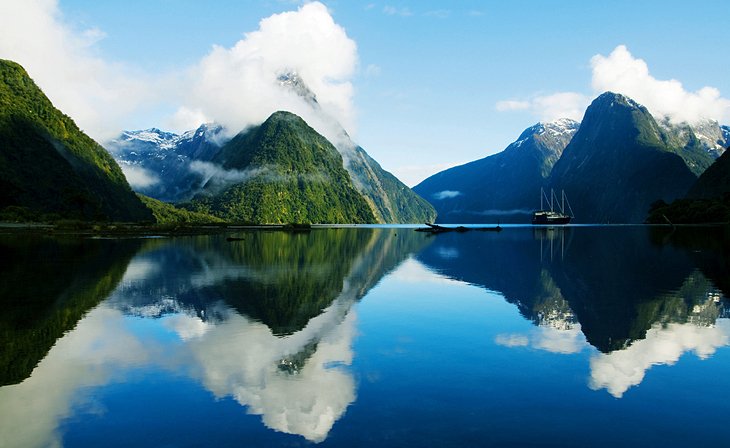 Fiordland is a slice of nature at its best. This remote corner of New Zealand's South Island is the country's finest national park and covers 1.2 million hectares of wilderness, with mountains, vast swaths of untouched rainforest, and towering coastal fiords that were carved out by receding glaciers.
UNESCO awarded the region World Heritage Status in 1986, recognizing what they called its "superlative natural phenomena," and the dramatic landscapes of Fiordland are just as awe-inspiring today.
This is an ecological wonderland of the highest order, and it sits at the forefront of New Zealand's renowned conservation efforts, with several rare and endangered endemic species calling the region home. Whether you set off on one of Fiordland's lauded multi-day treks or just come to cruise the magnificent scenery of Milford Sound, this stunning national park will surely be the highlight of your New Zealand journey.
For tips and ideas regarding unique sightseeing opportunities and the best things to do, be sure to read our list of the top-rated attractions in Fiordland National Park.
The Big Four Sightseeing Opportunities
The lakes and fiords are beautiful sights regardless of how you choose to see them. You don't always need to embark on a big hike to appreciate the jaw-dropping scenery. Take a road trip, hop on a tour or cruise, and stop in to see some of the towns. You'll find many interesting things to do along the way.
1. Milford Sound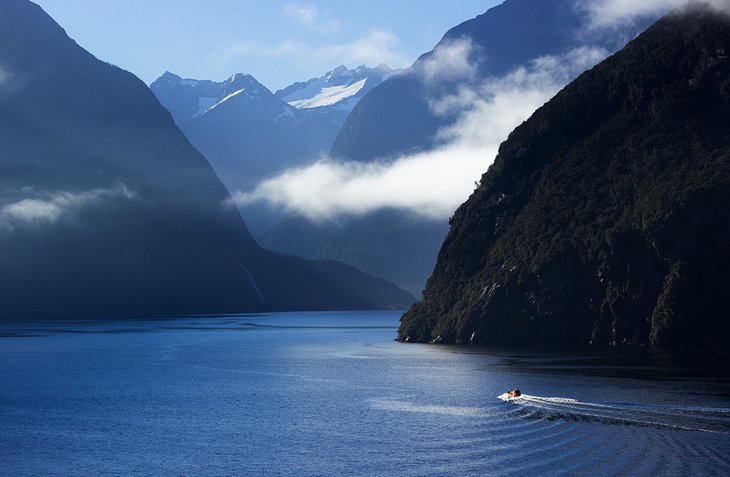 Even in a country packed to the brim with majestic landscapes, Milford Sound stands out. The sheer cliffs of the fiord rise up from the water in jagged rock triangles, lushly carpeted in bush towards the water's edge, with the supreme centerpiece of pyramid-shaped Mitre Peak-often brushed with snow on the summit-rising tall over the surrounding rock faces. The first European to see this scene was Captain Stokes, who sailed into the sound upon the survey ship HMS Acheron in 1851.
Today, this pristine and startlingly beautiful coastline remains unchanged from when he first saw it and still has the power to wow all who visit. A cruise trip around the fiord is a must and can be booked at either Te Anau beforehand or at Milford Sound itself.
A great option is the Cruise Milford NZ Small Boutique Cruise Experience, popular for their smaller, less-crowded (and somewhat more luxurious) vessel, which allows guests to get closer to wildlife such as fur seals, dolphins, and penguins. Other perks include great commentary along the way, as well as complimentary tea, coffee, and snacks. A number of kayak rental options are also available.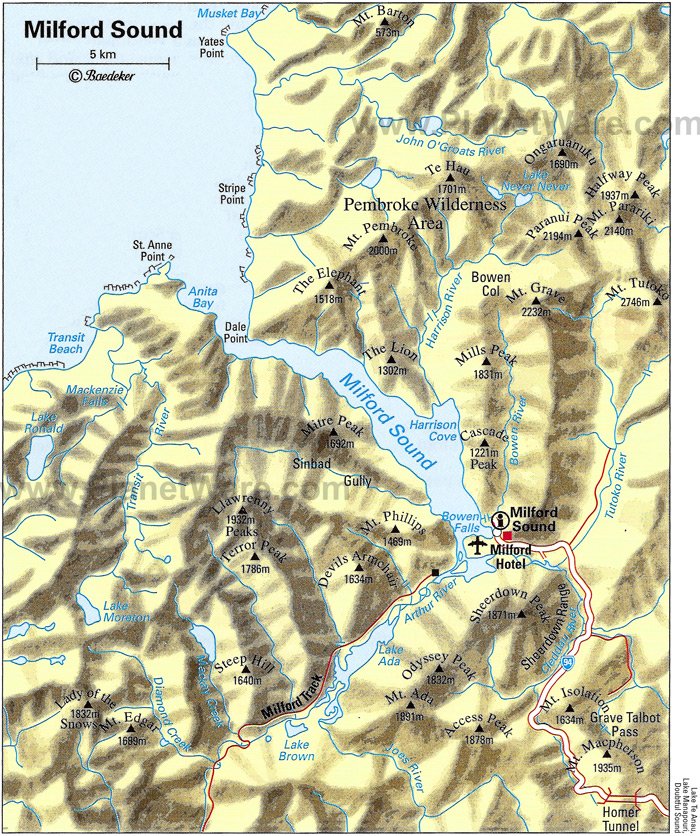 2. Doubtful Sound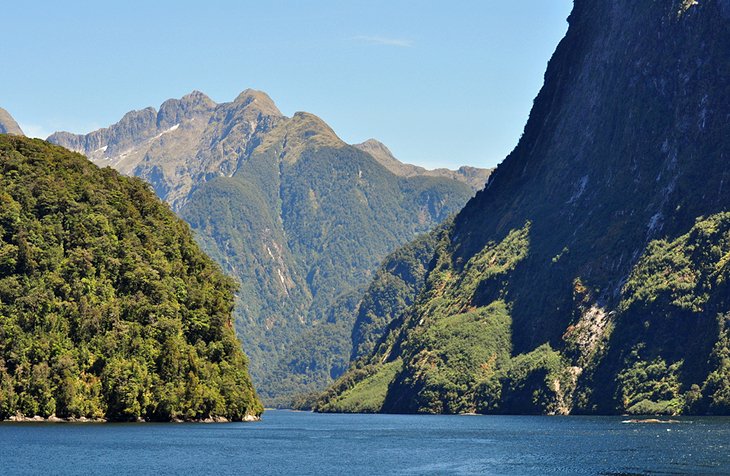 First named "Doubtful Harbour" by Captain Cook in 1770, who sailed past deciding not to enter due to worries of whether it would be navigable, Doubtful Sound is the largest fiord in Fiordland.
Unlike Milford Sound, which can be easily reached by road, Doubtful Sound can only be accessed by water. Cruise trips start from the village of Manapouri, journey across Lake Manapouri, and then go over the Wilmot Pass by bus and arrive at Deep Cove to begin touring the fiords. Due to this schedule, cruises are either day-long or overnight options.
Doubtful Sound is a major wildlife spotting destination with the tiny islands scattered across the mouth of the fiord home to Fiordland crested penguins and New Zealand fur seals. Bottlenose dolphins are often seen in the water here, and whales are sometimes spotted as well-an especially thrilling site if you're kayaking!
3. Te Anau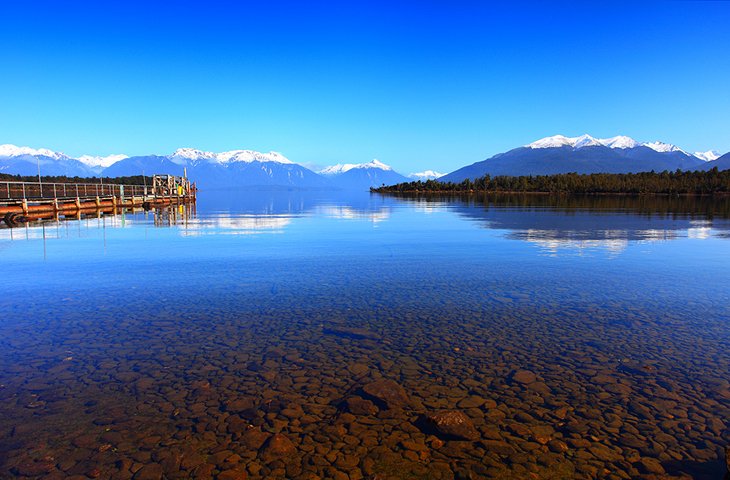 The mighty Lake Te Anau is rimmed by native forest with the snowcapped peaks of Mount Luxmore and Mount Murchison rising up in the background. Hugging the lake is the pretty settlement of Te Anau, often called the walking capital of the world. This is Fiordland's main base, and the unhurried and relaxed charm of this tiny town (with a population of 2,000) beguiles all who make the long journey here.
About 171 kilometers southwest from Queenstown, the lake is the South Island's largest and the second biggest in New Zealand (only beaten to the number one spot by Lake Taupo), and plenty of cruises and kayaking tours explore the lake's gorgeous setting. Great day walks are also available in the vicinity for keen hikers who don't have time to tackle one of the longer treks.
Just out of town is a family-friendly attraction, Te Anau Wildlife Centre, where you can meet the endangered Takahe bird, which was thought extinct until it was rediscovered in Fiordland in 1948.
Other fun things to do include visiting the Te Anau Caves, an ecologically sensitive natural wonder that can be visited via organized guided tours.
4. Lake Manapouri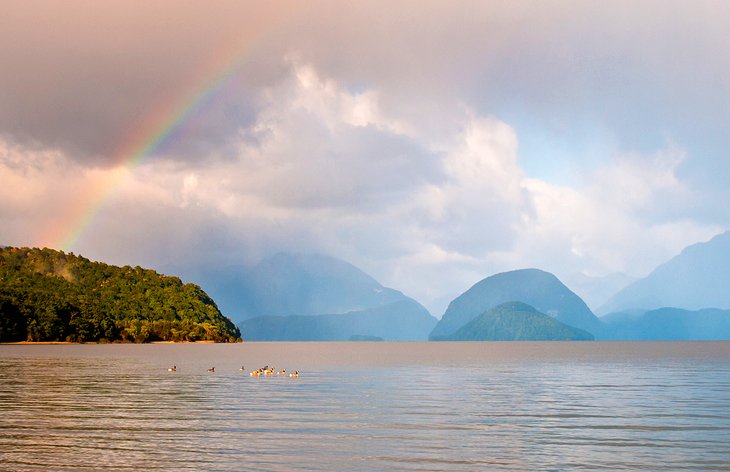 Tiny Manapouri, on the shore of Lake Manapouri, 20 kilometers south of Te Anau, lays claim to being the most westerly town in New Zealand. Although Manapouri is best known as the gateway to Doubtful Sound, the town itself is a nature-lover's paradise with a vast amount of boating, kayaking, fishing, and day-hiking opportunities to enjoy. Staying here for a few days to just revel in the unhurried charm and soak up the lake views is a must-do for travelers looking for a get-away-from-it-all experience.
The Manapouri Track is an excellent way to explore Fiordland's drop-dead gorgeous native forest scenery, with both day hikes and overnights possible. Film fans will want to spend some time here to visit the Waiau River and Kepler Mire, locations that were featured in Peter Jackson's Lord of the Rings.
Of interest to families, the Manapouri hydro station offers an interesting behind-the-scenes tour.
Top Hikes: Fiordland's Famed "Great Walks"
Fiordland boasts a wide range of trekking and hiking opportunities, from a bundle of day hikes around Lake Te Anau and Manapouri to multi-day treks. The three most famous-known as New Zealand's "Great Walks"-are the Milford, Routeburn, and Kepler Tracks. To help you decided which you should tackle, read our list below.
1. Milford Track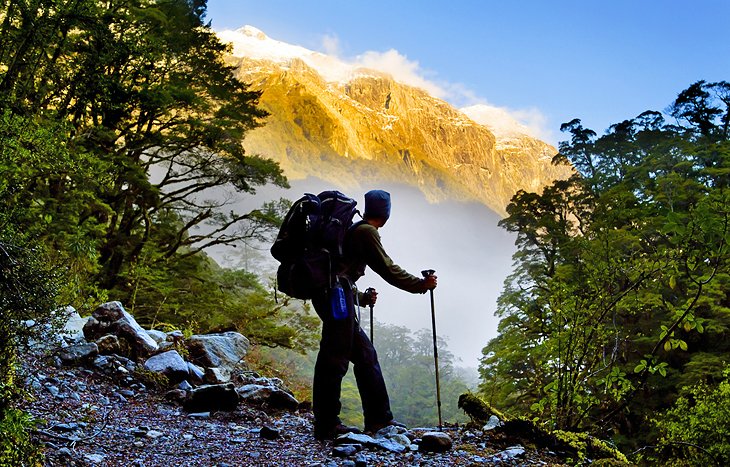 Trekking the phenomenally popular Milford Track is one of New Zealand's most awe-inspiring experiences and is said by many to be the finest walk in the world. The four-day trek covers 53.5 kilometers and retraces the footsteps of early explorers, heading out from near Te Anau, traversing the Mackinnon Pass, and then heading down to Sandfly Point on the remote Fiordland coast.
Along the way are stunning vistas of mountains, ice fields, lakes, waterfalls, and finally Milford Sound itself. Booking in advance is essential as only 40 independent hikers are allowed to start the track each day.
2. Routeburn Track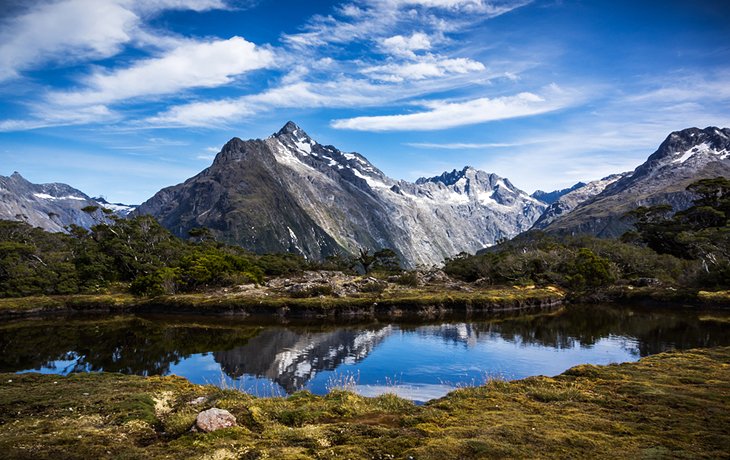 The Routeburn Track offers incredible alpine views and is the favorite option out of New Zealand's top "Great Walks" for anyone who wants a walking-at-the-top-of-the-world experience. The 32-kilometer trail takes two to four days and can be started from either the Fiordland trailhead on the Milford Road, or the Glenorchy Road trailhead near Queenstown. If choosing the latter, it's a magnificent way to enter Fiordland.
Along the way, the trail passes through meadows and alpine pastures, past waterfalls and traversing swing bridges, over gorges, and up into the mountain highlands with extensive vistas across the Southern Alps. All treks on the Routeburn need to be booked in advance as does transport to and from the trailheads.
3. Kepler Track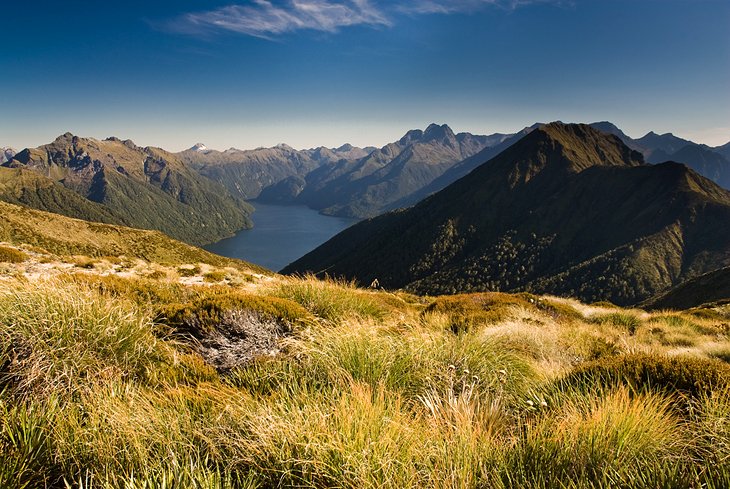 A showcase of the diverse scenery of Fiordland, the 60-kilometer-long Kepler Track is a three- to four-day loop within the Kepler Mountains between Lake Te Anau and Lake Manapouri. The trek heads through dense beech forests up to ridges with astounding views over the Te Anau Basin and mountain ranges behind, then down through podocarp forests to the secluded beach on Lake Manapouri's shore where it traverses wetlands.
The Kepler is a favorite hike for families as it's a less strenuous trek; it's also popular for those who enjoy camping. Like all the other "Great Walks," book well in advance.
Tips and Tactics: How to Get the Most Out of Your Visit to Fiordland National Park
When to Go: November to April (late spring to early autumn) is the best season for a Fiordland visit as there is a better chance of sunshine. All visitors should be aware, though, that Fiordland is the wettest place in New Zealand, and one of the wettest places in the world, with Milford Sound recording an average annual rainfall of between 1,200 and 800 millimeters. The weather is extremely changeable, and even during the height of summer torrential rain often hits the region.
Try to Avoid: Peak season is February (New Zealand's summer), and Te Anau township can be extremely busy during this month with accommodation solidly booked. Try to avoid this month or, book your accommodations well in advance.
Where to Stay: Te Anau is the main base for Fiordland National Park and has excellent accommodation facilities, ranging from campsites and basic hostels for budget travelers to comfortable midrange-style hotels and self-catering holiday cottages, as well as more luxurious lodges. Manapouri has less options.
Don't Forget to Bring: Wet weather gear is a must, even in summer.
Organizing Multi-Day Treks: All multi-day walking tracks are looked after by New Zealand's Department of Conservation (DOC), and most need to be booked in advance (for hut accommodation and sometimes transport) through DOC's website (www.doc.govt.nz). Be aware that the "Great Walks Season" runs from November to April and, as the weather is best for walking during this time, you need to plan as far in advance as possible to get a place. The walks are all open throughout the year, but due to adverse weather conditions from May to October (and the threat of flooding and avalanche), Fiordland's multi-day walks should only be attempted during this time by extremely experienced and well-prepared trekkers.
Location
The main base for the park is the small town of Te Anau, 171 kilometers southwest of Queenstown. Te Anau is fully geared up for tourists with accommodation options for all budgets and plenty of cafés and restaurants.
Getting Here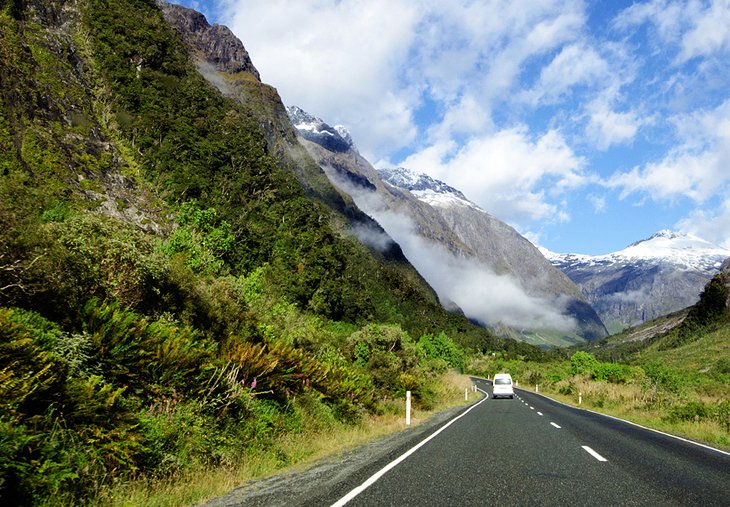 By Car: The drive from Queenstown to Te Anau along State Highway 6 and State Highway 94 takes around 2.5 hours and is extremely scenic.
By Bus: Daily public bus services run between Queenstown and Te Anau.
By Plane: During summer, three flights per week operate between Queenstown and Te Anau airport. The nearest big airports for flights to Auckland and Wellington are at Queenstown, Dunedin, and Invercargill.
More Related Articles on PlanetWare.com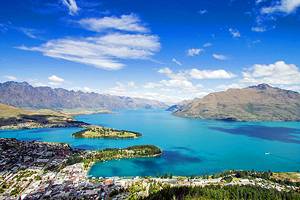 How to Find Adventure in New Zealand: If you are looking for more great stops to add to your itinerary, don't miss stopping in to explore the sights and thrills in Queenstown. Also, don't miss an opportunity to see the geothermal attractions in Rotorua. For more outdoor adventures and sightseeing, head to the Westland Region to see glaciers and beautiful coastal scenery.