17 Top-Rated Things to Do in Queenstown
Authors Michael and Lana Law have been to Queenstown multiple times and visited most recently in April 2023.
Welcome to New Zealand's acclaimed adventure capital. Snuggled into the shoreline of Lake Wakatipu and towered over by vast mountain peaks, Queenstown is completely devoted to tourism and offers up a ridiculous amount of ways for travelers to get their adrenaline thrills.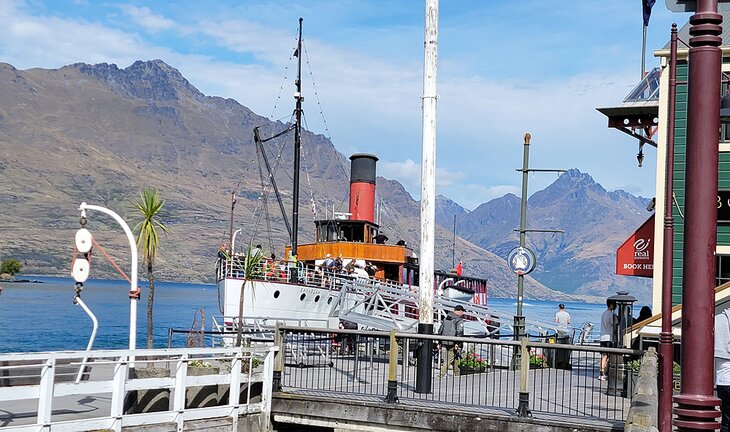 Famous worldwide as the home of bungee jumping, Queenstown also dishes up countless other fun things to do, including jet boating, rafting, ziplining, parachuting, and paragliding opportunities, as well as hot air ballooning, trekking, fishing, climbing, and more.
During winter, the town's attention turns to skiing and snowboarding, and Queenstown becomes the base resort for three of the country's best ski destinations: The Remarkables, Coronet Peak, and Cardrona Alpine Resort.
Our most recent visit to Queenstown was in the early fall and the summer activities were still in full swing.
To learn more about the many great attractions, places to visit, and unique outdoor experiences available in this lovely corner of New Zealand, have a look through our list of the top things to do in Queenstown.
1. Admire Mountain Vistas on Skyline Queenstown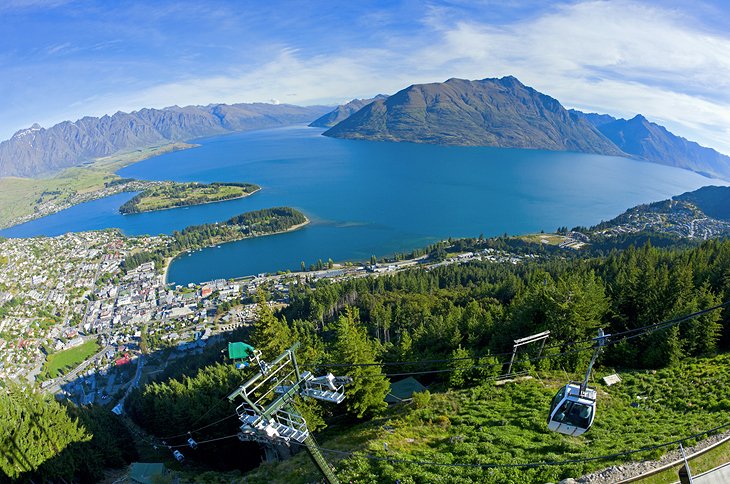 The countryside surrounding Queenstown is full of magnificent mountain views, but you don't have to travel out of town to take in some of the top sightseeing opportunities and scenic panoramas.
The Skyline Queenstown gondola, right in town, offers incredible vistas over the city, Lake Wakatipu, and the jagged peaks of The Remarkables beyond, as it journeys up to the 446-meter-high summit of Bob's Peak.
This cable car is known for being the steepest in the Southern Hemisphere, and at the top, Skyline runs a go-kart-like luge course. The summit is also the beginning of Queenstown Bike Park's 30 kilometers of downhill mountain bike trails (mountain bikes can be taken on the gondola).
The Queenstown gondola is undergoing a significant upgrade in 2023, with a changeover from a 36-year-old four-passenger gondola to a brand-new 10-seat gondola. The gondola will be closed from April 22nd until July 1st for the changeover to the new configuration.
In addition to the new gondolas, the attraction is also completely re-doing the base area to include new ticket offices, a multi-story carpark, and other retail shops. The updates continue at the top as well. In this area, a brand new restaurant will be added, along with a large viewing platform. The completion date for this is unknown.
Other fun attractions and things to do after your gondola ride to the summit are Skyline's guided Ben Lomond saddle hike, the Ben Lomond summit hike, and the star gazing tours they run.
Address: Brecon Street, Queenstown
2. Jet Boating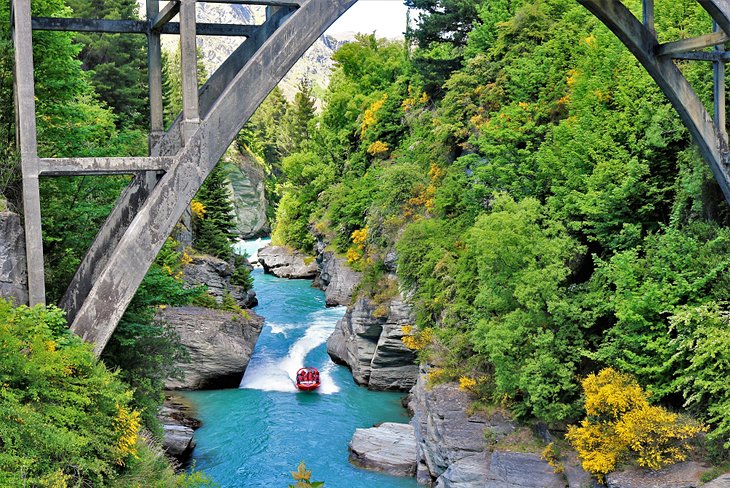 The 75-kilometer Shotover River first found fame during the Otago gold rush. These days, however, it's better known as home to one of Queenstown's most popular tourist attractions: the Shotover Jet, which is the only company allowed to operate amid the narrow canyon section of the waterway.
This thrilling, break-neck-speed journey down the narrow river, hemmed in by dramatic canyon cliffs, is often described as the world's most exciting jet boat ride, and is one of Queenstown's longest-running adventure activities, having been in operation since 1965. Jet boat rides take approximately 25 minutes and reach speeds of up to 90 kilometers per hour.
Trips run hourly between 10am and 4pm year-round (dependent on weather conditions), with some trip times also offering complimentary shuttle service from Queenstown.
Other jet boating opportunities are also on offer. These tours operators, KJet and RealNZ, leave from downtown Queenstown and take you out onto Lake Wakatipu at speeds of 90 kilometers per hour and up the Kawarau and Shotover Rivers through the shallows (but not into the canyons).
Address: Gorge Road, Arthur's Point; 20 kilometers north of Queenstown
3. Bungee Jump on Kawarau Bridge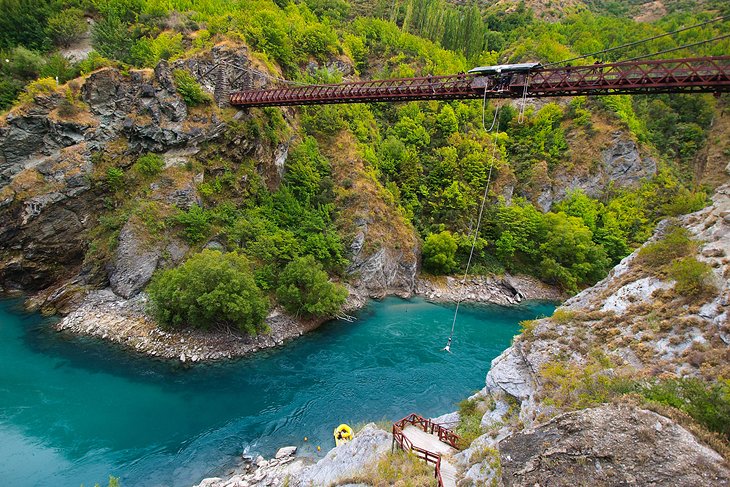 If you were to only ever experience a single bungee jump in your life, Queenstown would be the best place to do it.
Queenstown's AJ Hackett Bungy is the company that first started this worldwide adrenaline craze, and their Kawarau Bridge bungee jumping experience is the original location where it all began in 1988.
The 43-meter jump is on a platform on the historic suspension bridge itself, which was built over the Kawarau Gorge with the Kawarau River below in 1880.
You don't need to sign up for a jump to be able to see the action. It's free to park and walk out onto the historic bridge where you can literally stand within ten feet of a person jumping off a bridge — a somewhat bizarre feeling to be sure!
For further thrills, you can also bungee jump from their Nevis Point location.
The Nevis River location is also home to AJ Hackett's Nevis Swing, a 300-meter arcing swing experience, and the Nevis Catapult, the world's biggest human catapult.
Location: Gibbston Valley, 23 kilometers northeast of Queenstown
4. Cruise aboard the TSS Earnslaw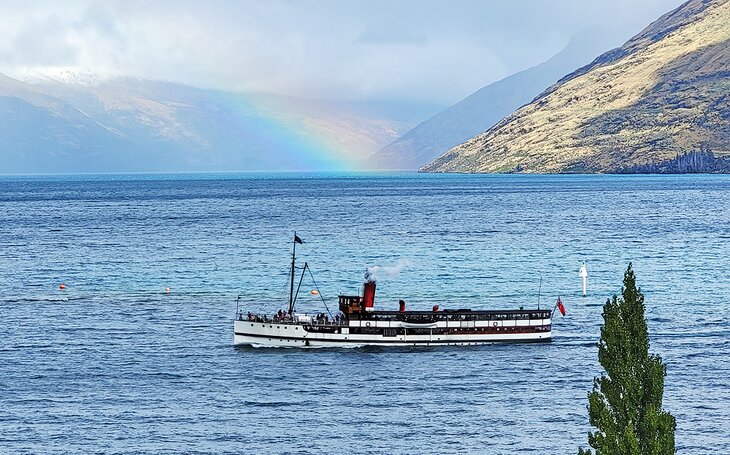 One lovely old relic of the gold rush days is still in use: The TSS Earnslaw.
Now in service as a cruise ship, this classic old steamer — she was built in 1912 and is the oldest still-operating passenger steamship in the Southern Hemisphere — offers excellent 90-minute scenic cruises on Lake Wakatipu.
It's a great experience, with the occasional whiff of coal and the blast of her steam whistle adding true authenticity to the experience.
A highlight of the journey is heading down to the boiler room area, where you can watch the stoker in action feeding coal into the furnace.
Along the way, you'll also be rewarded with spectacular views over the lake toward the surrounding mountains, as well as the attractive shoreline setting around Queenstown.
Those traveling with kids may also wish to add the Walter Peak High Country Farm option to your trip, which includes a stopover and tour of a working farm. Lunch and dinner cruise options are also available.
Address: Steamer Wharf, 88 Beach Street, Central Queenstown, Queenstown
5. Wander the Waterfront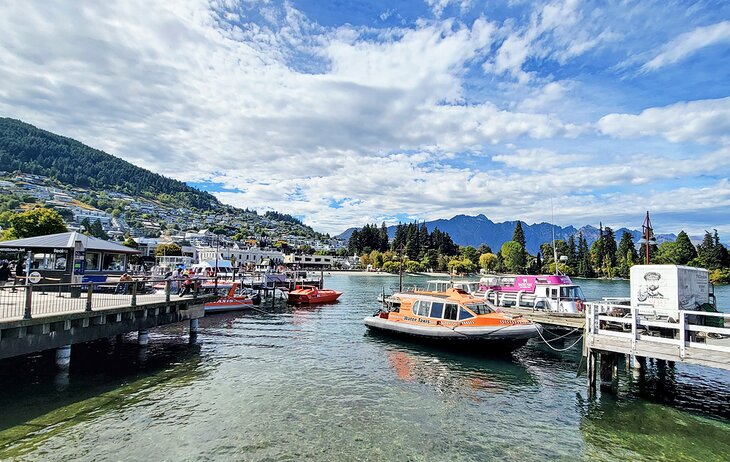 Queenstown has done a good job of making the most of the waterfront area. A highlight of any visit is to stroll along this vibrant area, pausing in your journey to stop in at a sunny patio and soak up the views of the lake and The Remarkables range.
As you enjoy your patio time, keep an eye out for a Hydro Attack — these are jet skis outfitted with an Orca color scheme and canopy that allows them to race across the water at 80 kilometers per hour and under the water at 40 kilometers per hour.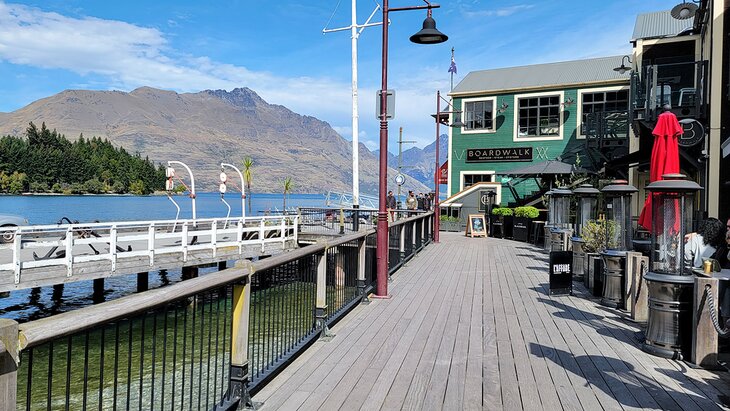 The harbor is in a "U" shape, with one side the pier for the TSS Earnslaw and the other a city park; in between is a beach area. This entire area is a bustling hub of activities, dining, shopping, and relaxation.
Just back from the harbor is a pedestrian-only area with more restaurants and high-end luxury shops targeting overseas visitors.
6. Explore NZ's Unique Nature in Kiwi Birdlife Park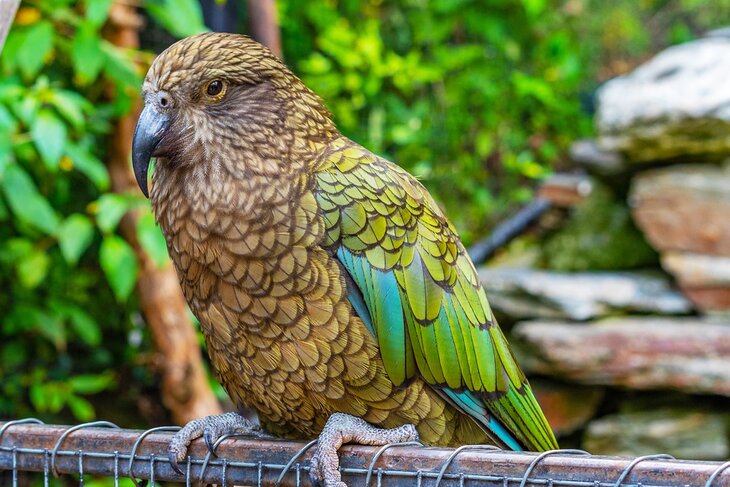 New Zealand's flightless kiwi bird may be a national icon, but it's difficult to see due to its nocturnal nature and remote native forest habitat.
Queenstown's Kiwi Birdlife Park allows a rare opportunity to view this much-loved creature in specially designed nocturnal kiwi houses.
There is also a chance to see tuataras, New Zealand's endemic reptile, up close.
The park is home to over 20 different native species of birds and reptiles, all here on breed-and-release and wildlife conservation programs.
If you're traveling with little ones, this park offers some great activities, including daily animal conservation talks and kiwi feeding encounters, plus there's a five-acre forest where plenty of other native birdlife can be spotted.
Useful audio guides are provided with admission.
Address: Upper Brecon Street, Queenstown
7. Day Trip to Arrowtown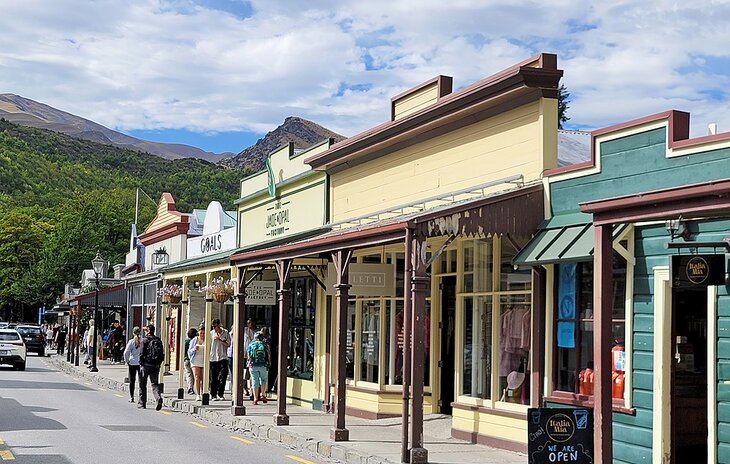 How about a trip back to 1862? This is easily accomplished by taking the 20-minute drive to Arrowtown. It's completely touristy and packed with people on a busy day, but still fun — combine a stop here on your way to Wanaka for a full-day outing.
Gold was found in the Arrow River in 1862 by William Fox, and that started a gold rush that ran until the late 19th century. Arrowtown sprung from that gold rush and at one time had a population of 7,000 residents.
As the gold rush faded, the town was, for the most part, abandoned and fell into disrepair. Fortunately, some forward-thinking residents came together to restore the historic buildings along Buckingham Street into the scene you see today.
Take a short stroll up and down the street. Instead of shops supporting the mining trade from the 19th century, today you'll find trendy restaurants and eclectic shops that are just as happy to take your hard-earned money.
8. Day Trip to Wanaka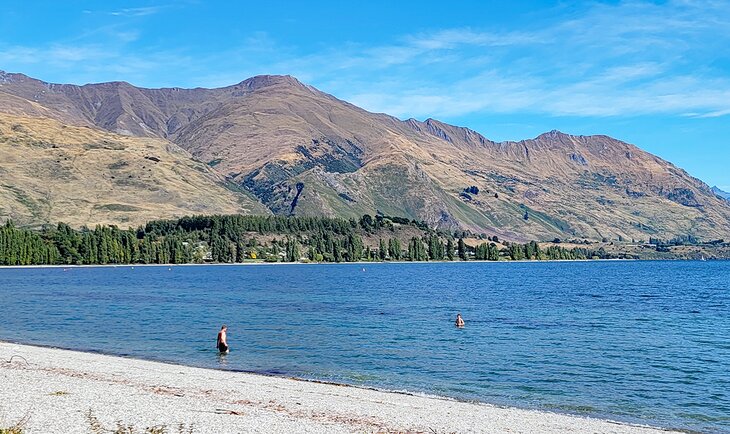 Lake Wanaka is a gorgeous sweep of blue set amid tussock-covered hills and overlooked by the dramatic, craggy peaks of Mount Aspiring National Park and, of course, that Wanaka Tree.
The small, but growing, town of Wanaka, located on the lakeshore, 67 kilometers northeast of Queenstown, is a quieter tourist destination than Queenstown and is home to many artists who show their work in a range of galleries in town, as well as local retirees, drawn here for the peaceful atmosphere and lovely natural setting.
Wanaka's delightful waterfront area consists of one giant sandy beach backed by walking trails and green space. Go for a swim if you dare — the water is bone-chillingly cold.
The downtown core of Wanaka is compact and easily walkable. A number of restaurants and shops are clustered along Ardmore and Helwick Streets; for more diverse outdoor dining options, head to the Food Truck Court off Brownston Street.
Fishing, recreational boating, sailing, and swimming are the main activities for travelers, although with Mount Aspiring National Park on the doorstep and numerous day walk trails in the area, Wanaka is a major base for trekkers, hikers, and sightseers, too.
9. Sightsee by Zipline with Ziptrek Ecotours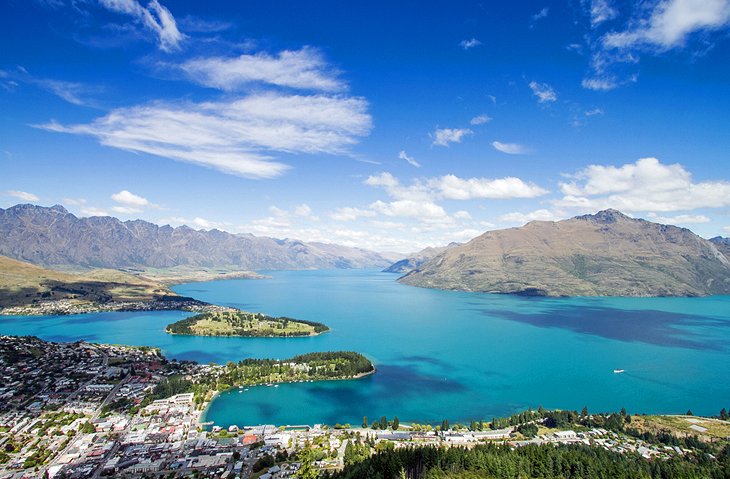 With all the bungee jumping, boating, trekking, skiing, and jet-boating experiences to be enjoyed in and around Queenstown, you wouldn't think there were any more fun things to do for adventure seekers in this amazingly vibrant community.
But Queenstown's Ziptrek Ecotours offers an alternative adrenaline-fueled sightseeing option in town.
The attraction's ziplines — called "flying foxes" in New Zealand — include the steepest tree-to-tree zipline in the world, and plummet at exhilarating speeds for one kilometer downhill.
Zipline tours start from the top of Bob's Peak and offer superb panoramic views over Queenstown and Lake Wakatipu. Tour packages run from one hour to three hours, with options suitable for families and children, as well as thrill-seekers.
Address: 45 Camp Street, Queenstown, 9300
10. Ski on Coronet Peak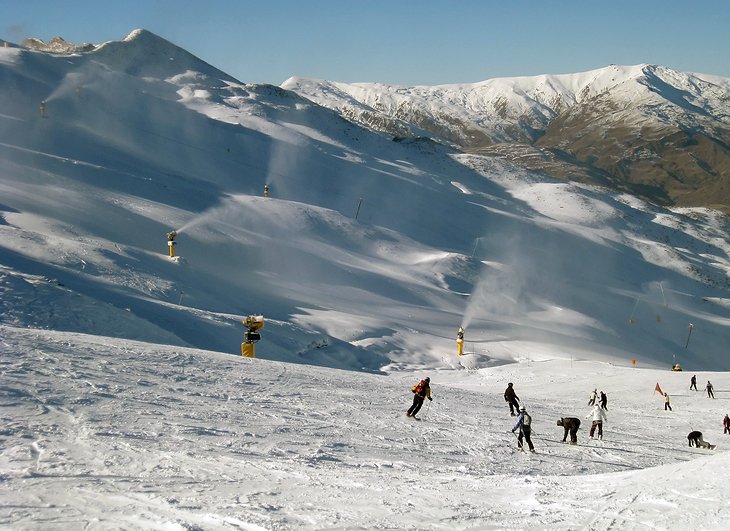 One of Queenstown's two major winter ski destinations, the 1,649-meter-tall Coronet Peak offers superlative facilities for skiers.
This ski resort really comes into its own, though, for more experienced ski enthusiasts, offering a variety of excellent trails plus the opportunity to night ski.
With the resort's First Tracks pass, early birds have the chance to ski in the morning before the chair lifts are officially open and the crowds arrive.
A word of caution: both night skiing and First Tracks need to be booked in advance.
During the ski season, which runs approximately from June to September, regular shuttle bus services run between the resort and Queenstown.
Address: Coronet Peak Ski Area, Queenstown, 9371
11. Get Lake Wakatipu Views from Queenstown Hill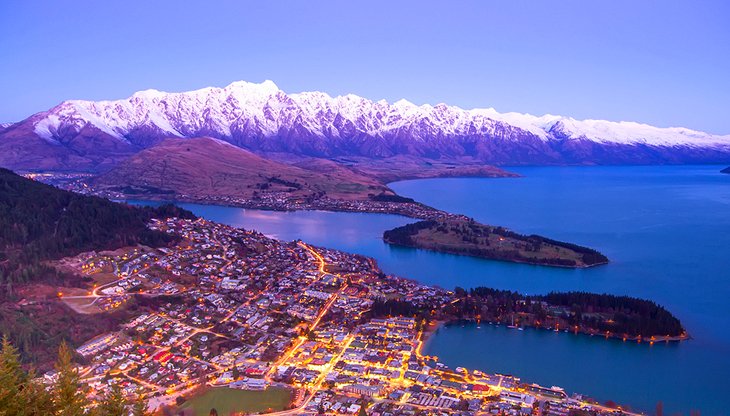 Queenstown lies on the shores of this distinctively Z-shaped lake that is hemmed in by high hills and covers an area of 293 square kilometers.
According to local Maori legend, Lake Wakatipu came into being when the monster Matau was burnt to death, and his heart is said to still beat at the bottom of the lake, causing the lake water to rise and fall by 10 centimeters every 20 minutes (this is actually due to a tide caused by the lake's odd shape).
Europeans first reached the lake in 1853, and during the Otago gold rush of the 1860s, around 30 passenger ships plied the waters here servicing the thousands of gold prospectors in the district.
Today, the lake traffic is much more subdued, used by recreational boating, fishing, and kayak tours.
For great views over the lake, head out on the Queenstown Hill Walkway. From its trailhead off Belfast Terrace, this 4.2-kilometer hike takes you up to the 500-meter summit. Along the way, you'll also pass Queenstown's Basket of Dreams sculpture.
12. Drive Skippers Canyon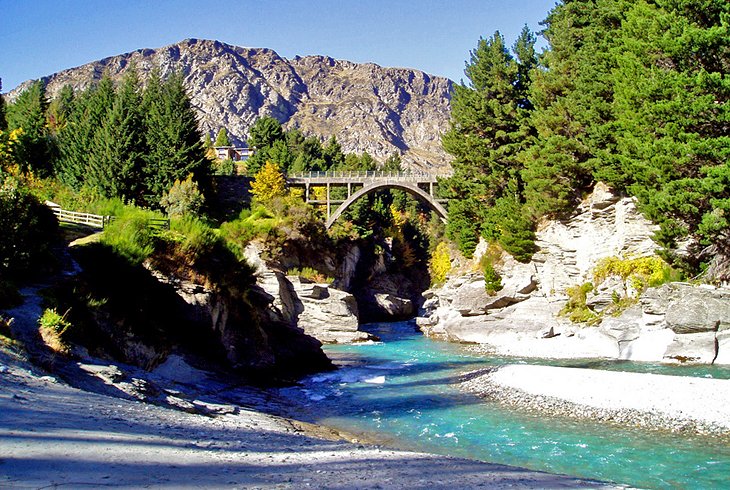 One of the most scenic journeys you can take in the Queenstown area is the drive through Skippers Canyon, about 20 kilometers north of Queenstown.
This 22-kilometer-long canyon now leads to Coronet Peak but was once home to thousands of prospectors after gold was discovered in 1892 in the Shotover River, which winds through the gorge.
Today, the winding and narrow road through the canyon — known as Skippers Canyon Road (often shortened to just "Skippers Road") — is bordered by breathtakingly vertical drops on one side and high cliffs on the other.
This dramatic scenery makes for an incredibly beautiful road trip, and traversing the high suspension bridge known as Skipper's Bridge (built in 1901) is a major highlight along the way.
Although private cars are allowed along the road, self-drivers should be aware that rental companies will not give out insurance for traveling this route, so it is much easier — and more sensible — to take one of the many Skipper's Canyon tours.
A great option is the Skippers Canyon 4WD Tour from Queenstown, a half-day adventure including hotel pickup and a stop for a delicious cream tea along the way.
13. Ski or Snowboard in The Remarkables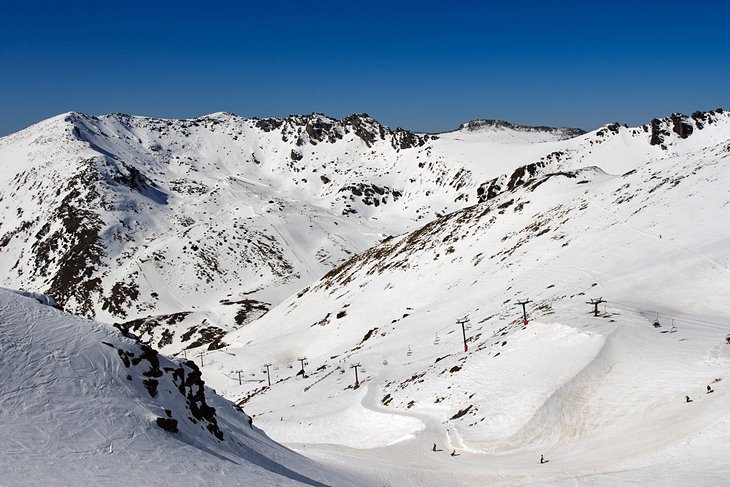 The ski resort sitting on the north-facing slopes of the mountain range known as The Remarkables, about 28 kilometers from Queenstown, is one of New Zealand's best loved winter-fun destinations.
Excellent for learners, as well as experienced skiers, The Remarkables boasts world-class, ultra-modern ski facilities that have made it extremely popular with European skiers during the Northern Hemisphere's summer.
Non-skiers are also catered to with a thrilling tobogganing experience.
The ski season usually lasts from June to September, and frequent shuttle bus services run to the slopes from Queenstown throughout the season. (Editor's Note: There is no accommodation on the ski slopes themselves, so be sure to check our list of where to stay in Queenstown, below.)
14. Hike Ben Lomond Track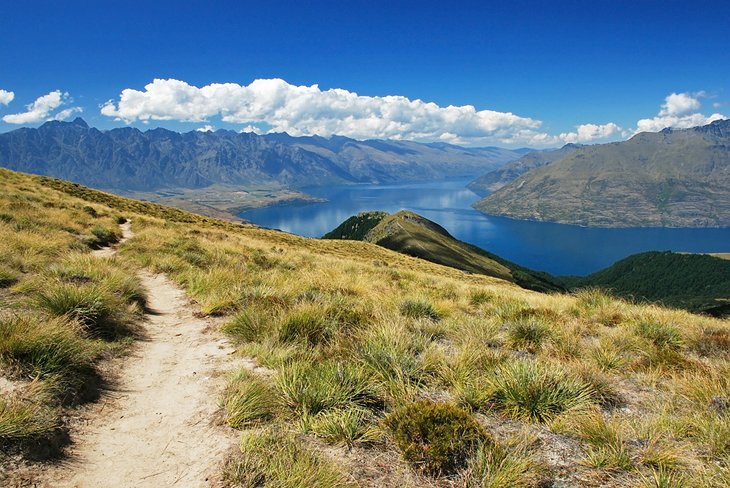 This uphill hike is rather demanding, but all the sweat is worth it for the magnificent views down to Lake Wakatipu from Ben Lomond Summit.
The entire trek to the top, and return, takes a full day (six to eight hours), with the path heading up first through native beech and Douglas fir forests and then alpine tussock land.
Be aware that the last portion of the trail before the summit is extremely steep, so a good level of fitness is required.
The Ben Lomond Track is easily reached from central Queenstown, with trailheads from both near the top of the gondola terminal and from the access road below.
15. Take a Break in Queenstown Gardens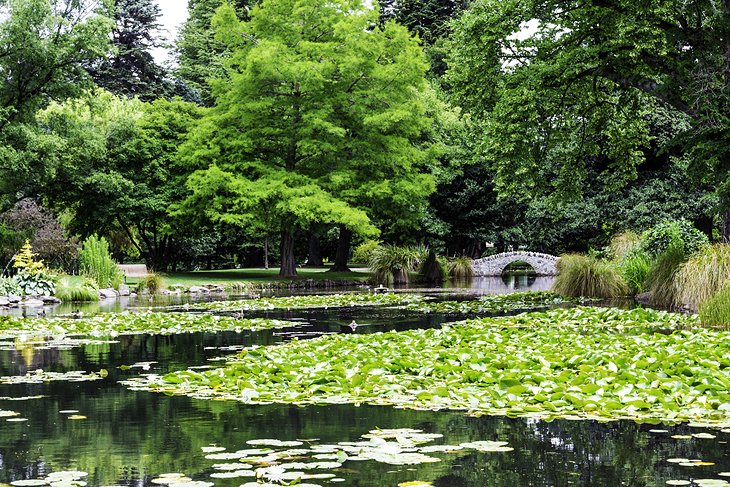 This large botanic garden area sits right on the shore of Lake Wakatipu and is a great place to visit for strolling and admiring the lake views.
The gardens were originally laid out in 1867 and now contain a vast array of both native and international plant species, including a large sweep of Douglas fir trees, which provide shady retreats on a scorching hot Otago summer day.
The gardens are most famous for their historic oak and fir trees, which were planted by Queenstown's first mayor in 1866. There is also a lovely rose garden here and a restored band rotunda dating from 1891.
Address: Park Street, Queenstown
16. Trek the Queenstown Trail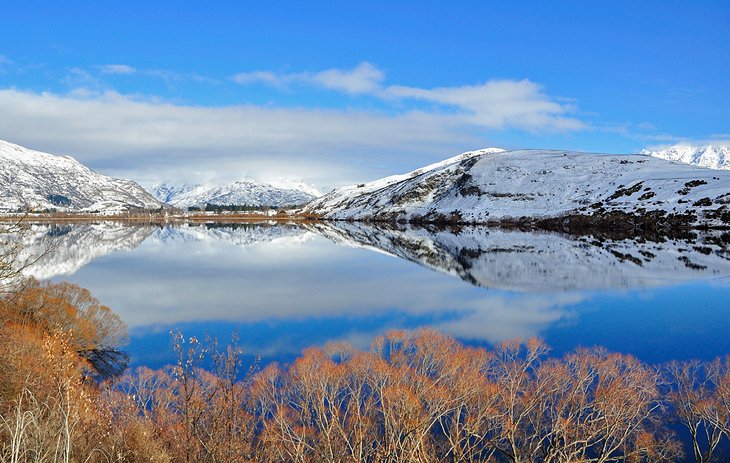 The fantastic Queenstown Trail is a 110-kilometer walking and cycling path that traverses the dramatic countryside surrounding Queenstown.
Only fully operational since 2012, this incredible project has opened up vast swaths of private land for cyclists and hikers, creating a route of well-maintained paths that lead you across dizzying suspension bridges and trails across the shores of both Lake Wakatipu and Lake Hayes, leading out to the historic old gold mining settlement of Arrowtown, as well as the vine-draped Gibbston Valley.
The trail contains eight separate tracks, so you can choose a short route or if you've got four or so days up your sleeve, you could cycle or walk the entire trail.
Accommodation is available at various points along the way.
17. Walk the Mount Crichton Loop Track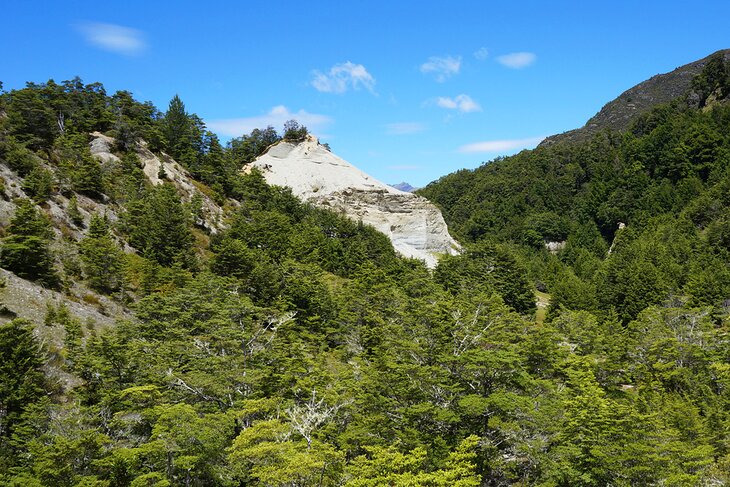 The two- to four-hour Mount Crichton Loop Track is an easy walk and a great way to experience a slice of the Queenstown region's scenery if you're pushed for time.
The track traverses Mount Crichton Scenic Reserve (the trailhead from Glenorchy Road is 10 kilometers out of Queenstown), through tall beech tree forests, and up to Twelve Mile Creek Gorge, which was a major spot for prospectors during the Otago gold rush.
Some of the ramshackle miners' cottages are still in place, so you can get a good idea of the harsh lifestyles of these intrepid prospectors.
There are excellent views out to the mountain ranges beyond, and Lake Wakatipu below, from parts of the trail.
Map of Things to Do in Queenstown
More Related Articles on PlanetWare.com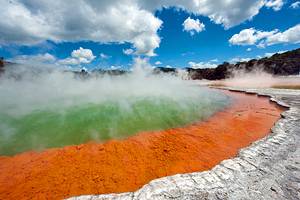 A Land of Adventure: Another great New Zealand destination for adventure seekers is the spectacular Westland Region, home to the country's most famous ice formation, the Franz Josef Glacier. Also worth including in your travel itinerary is the stunning scenery to be enjoyed in Fiordland National Park, a region that's well-known for its deep fiords and water-based activities. The geothermal wonders of Rotorua are also worth exploring for its top natural attractions including Waimangu Volcanic Valley and the hot springs and geysers of Wai-O-Tapu.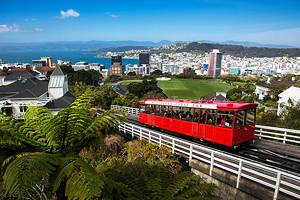 Big City Fun: New Zealand's capital city of Wellington, though small, serves as a pleasant urban getaway, as well as a great base for biking and hiking adventures. Smaller still is the town of Napier, a must-visit for architectural fans due to its remarkable density of Art Deco buildings. The country's largest city, Auckland, could easily occupy a week of your travel time thanks to its numerous museums, art galleries, and attractions, not to mention its two lovely harbor areas.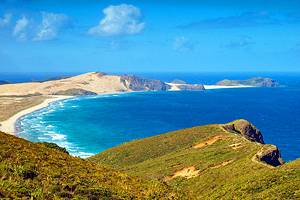 New Zealand Vacation Ideas: New Zealand's beautiful Bay of Islands area features much to attract travelers, in particular, its coastal parks and preserves with their amazing whale watching tours. The town of Taupo is a good choice for history buffs, especially those interested in learning more about the country's rich Maori heritage. If interested in learning more about the nation's colonial past, a visit to Dunedin, known for its many Scottish influences, is well worth visiting.