Cook Islands in Pictures: 14 Beautiful Places to Photograph
It's hard to look at photos of the Cook Islands without wishing you could jump right in. The landscape is so perfect - palm-fringed beaches, sugar-white sand, crystalline turquoise water, and the brightest blue sky - that it's almost impossible to take a bad photo.
This 15-island archipelago lies between French Polynesia and Samoa, captivating tourists with its picturesque wonderland both above and below the ocean's surface. Whether you're looking to sun yourself, snorkel in coral lagoons, or traipse through the jungle, there's plenty to keep your shutter (and yourself) happy in this nirvana.
These beautiful places will help narrow your list of the best photograph-worthy places to enjoy.
Note: Some businesses may be temporarily closed due to recent global health and safety issues.
1. Aitutaki Lagoon, Aitutaki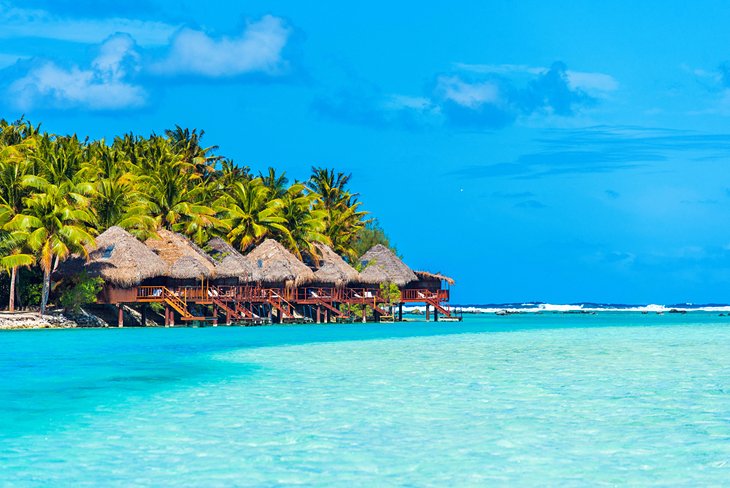 One of the most highly photographed regions in the Cook Islands, Aitutaki Lagoon screams vacation. Surrounded by a bevy of tiny islands (21 to be exact), this picture-perfect lagoon is so gorgeous, even the fish don't want to leave. Stepping foot on the pillow-soft sand is as relaxing as the water is vivid. Its laid-back vibe is the perfect cure for your overworked psyche.
2. Muri Beach, Rarotonga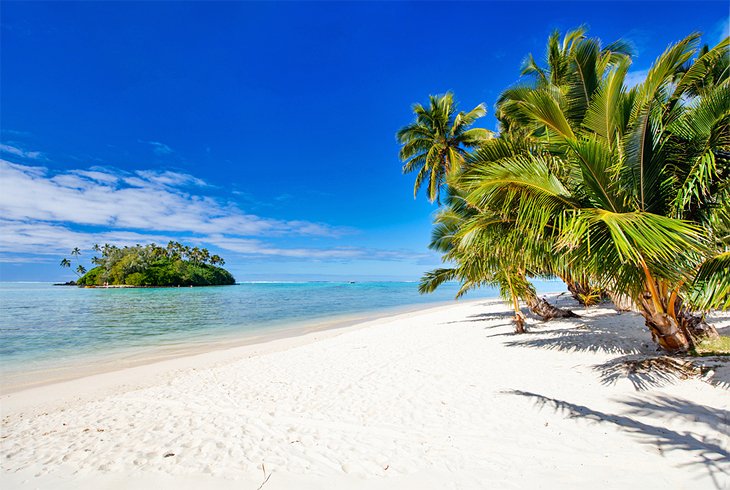 A majestic treat on the region's most cosmopolitan island, Rarotonga, Muri Beach offers visitors a taste of pure respite. Swim, snorkel, or just "be" at this heavenly locale, which is also known as Muri Lagoon. The plush sand, invitingly warm water, and resplendent marine life make it easy to snap away. You'll definitely want to charge your underwater camera before heading out.
3. Suwarrow Atoll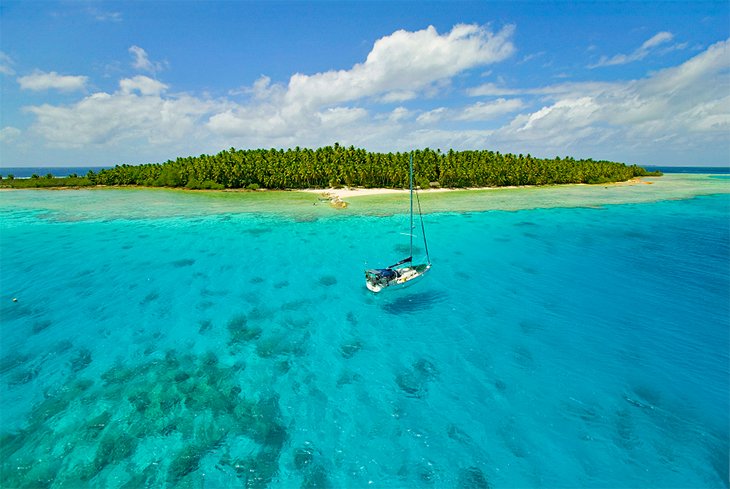 A member of the Cook Island's northern group, Suwarrow Atoll is home to the largest national park in the region. About 800 kilometers northwest of Rarotonga, this untouched gem lies in the center of the archipelago. At 80 kilometers in circumference, this small, idyllic sliver is isolated and spectacular. The only way to get here is by boat.
4. Tapuaetai Island (One Foot Island), Aitutaki Lagoon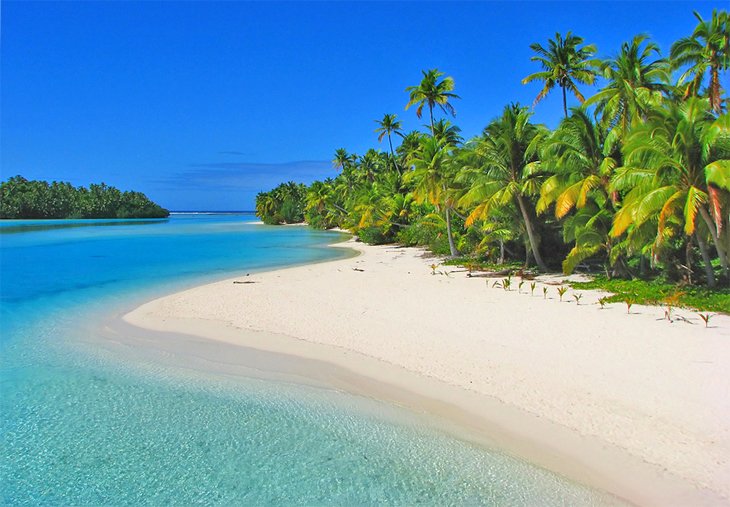 A short boat ride from Aitutaki, Tapuaetai Island is more commonly known as One Foot Island. This popular day-trip destination boasts the same luxurious sand and pristine turquoise water of the surrounding isles in the Aitutaki Lagoon. Hop on a water taxi. Be sure to pack a snorkel and mask since you won't want to miss the phenomenal marine life on offer here.
5. Motu Island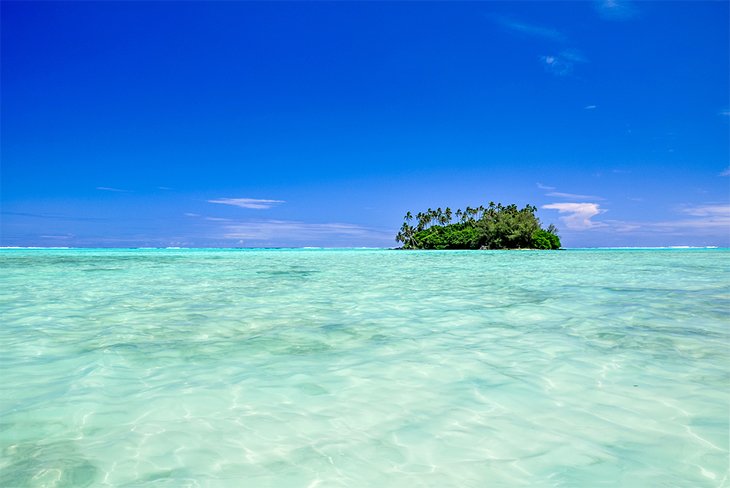 This beautiful view of Motu Island was captured on nearby Rarotonga. If you're looking for serenity now, you'll find it on this tiny piece of island paradise. Hop in a kayak and paddle your way to its lush shore, then spend your afternoon wading, swimming, or snorkeling in the warm and perfect lagoon.
6. Titikaveka Beach, Rarotonga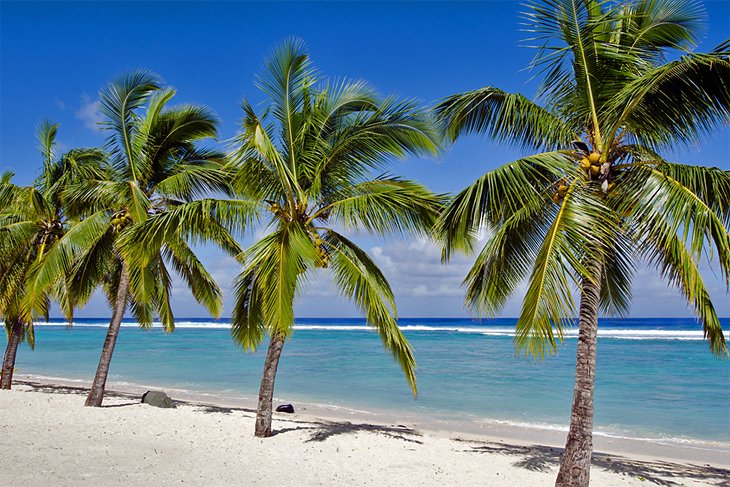 If you want to make someone at home jealous of your vacation, snap a few shots at southwest Rarotonga's Titikaveka Beach. Embraced by a spectacular lagoon, this is a perfect place to try out that underwater camera. While on land, soak up the heavenly tropical atmosphere while basking in some shade given by the postcard-worthy palms.
7. Te Rua Manga (the Needle), Rarotonga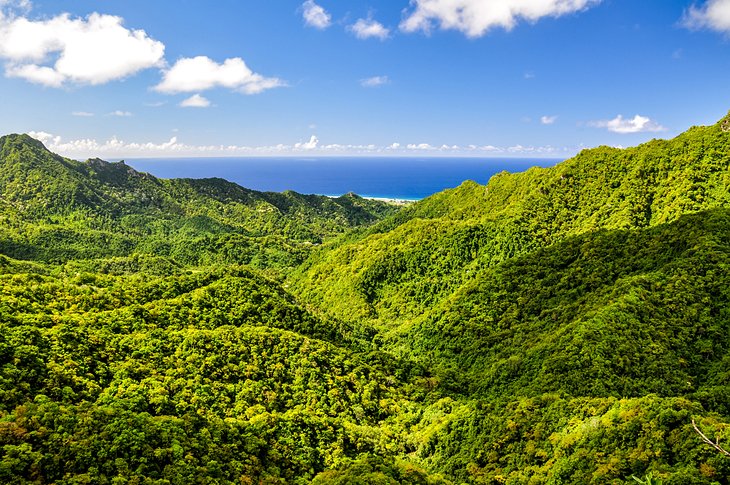 Want to find the most impressive view in the Cook Islands? Head to Te Rua Manga (a.k.a. the Needle) on Rarotonga. To get to this giant, needle-shaped rock, you'll have to hike along the cross-island path up a large hill.
A truly enjoyable experience, this walk is packed with some of the best vistas in the region. Those who summit are rewarded with a view so spectacular it will leave them speechless. The base of the needle also offers stunning views, so no need to force yourself on a challenging climb.
8. Mount Maungapu, Aitutaki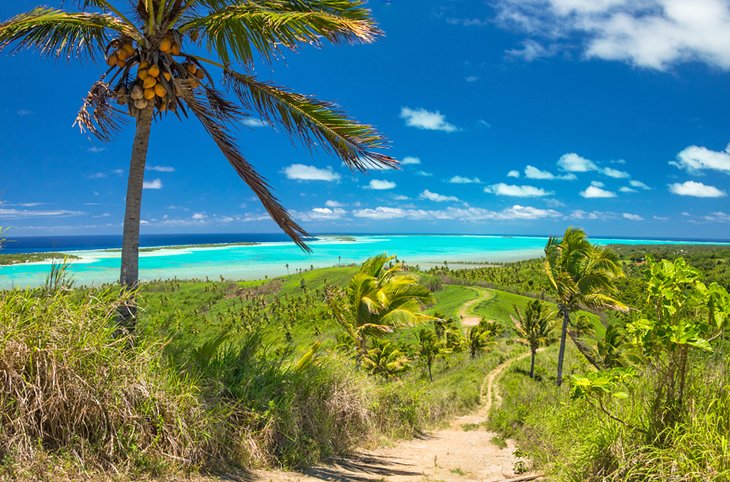 Avid walkers will love the hike up Mount Maungapu on Aitutaki. A moderate 30-minute trek (return), the trailhead can be found across the street from Paradise Cove. The reward: the lagoon's kaleidoscopic blues stretching as far as the eyes can see.
9. Arutanga, Aitutaki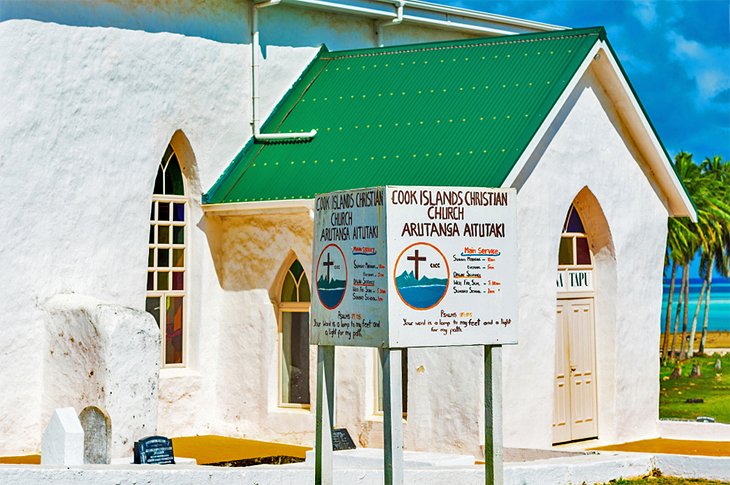 Arutanga is the primary (and only) village located on the west side of Aitutaki. This lovely spot offers unique local shops and a quaint harbor, which lies near the Orongo Centre. The village's star attraction is its whitewashed Christian Church. Built in the 1820s, it's the oldest church in the archipelago.
10. Arorangi, Rarotonga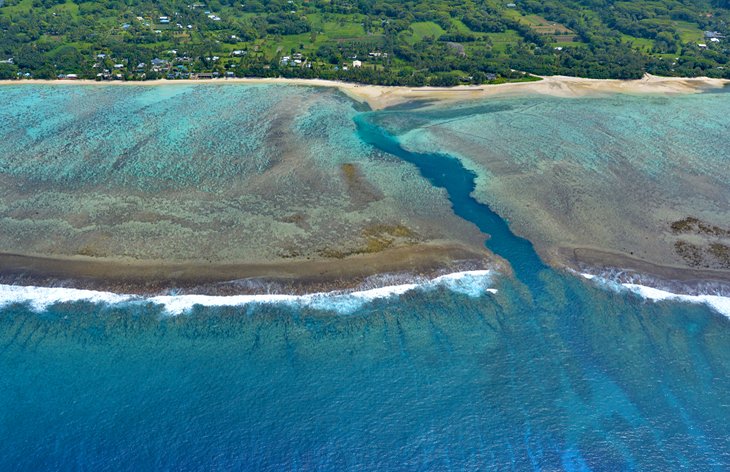 Even watching the sunset on a cloudy day is a treat at Arorangi, especially if you're cuddling a loved one on romantic Arorangi Beach. Located along the western coast of Rarotonga, this popular holiday spot boasts a ton of activities. Whether you're hoping to shop, eat, bike, or scuba dive, there's plenty to keep you busy.
11. Aroa Marine Reserve, Rarotonga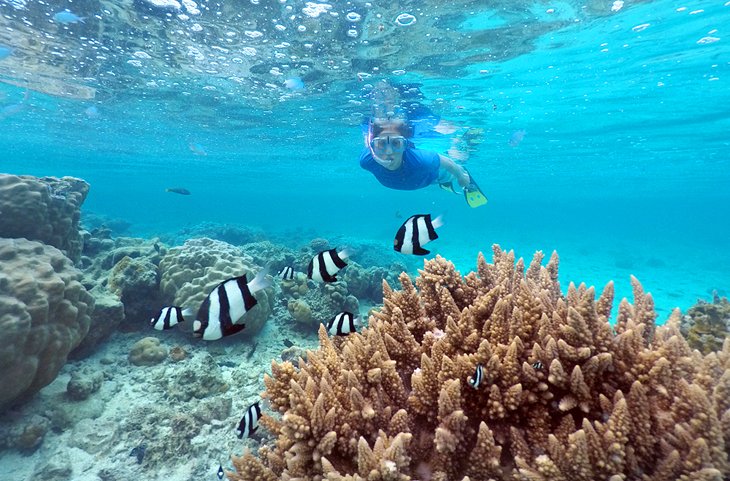 Deemed by many as the best place to dive and snorkel off Rarotonga, the Arora Marine Reserve is a wonderful place for underwater photography. Get nose to fin with an angelfish, or photograph vibrant pieces of coral bursting from the sandy ocean floor. No motorboats are allowed here, so you can spend the entire day floating face down (while using a snorkel, of course) without worry.
12. Black Rock Beach, Rarotonga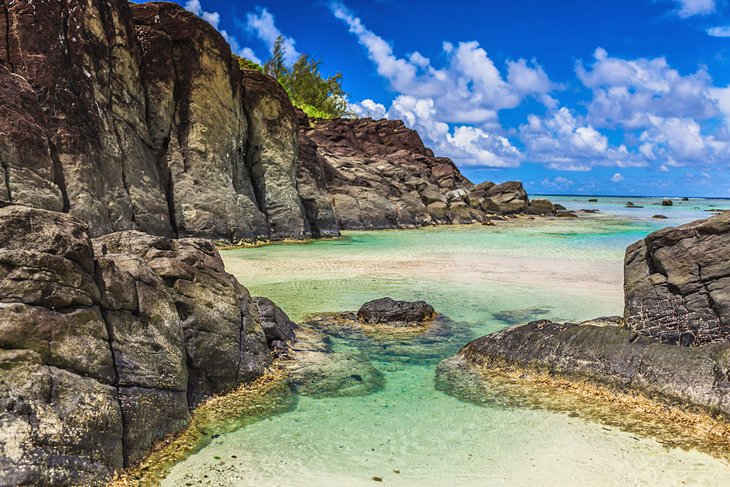 It's hard not to gawk at the impressive beauty of the giant volcanic boulders on Black Rock Beach. Jet black against the vibrant blue-hued background, they make any photo pop. Add some action to your pics by snapping someone jumping from the dark craggy peaks into the translucent water below. What a wonderful place to spend a day.
13. Papua Waterfall, Rarotonga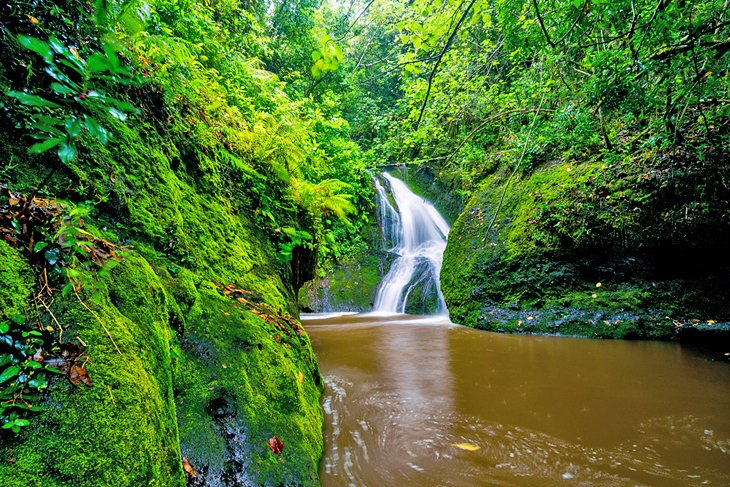 There's little more romantic than a cascading waterfall hidden in the midst of a tropical jungle, especially one that ends in a swimming hole. Also known as Wigmore's Waterfall, this secluded gem flows from the Papua stream and can be reached by foot along the cross-island hiking trail. Expect to pay a small entrance fee.
14. Cook Islands Christian Church, Rarotonga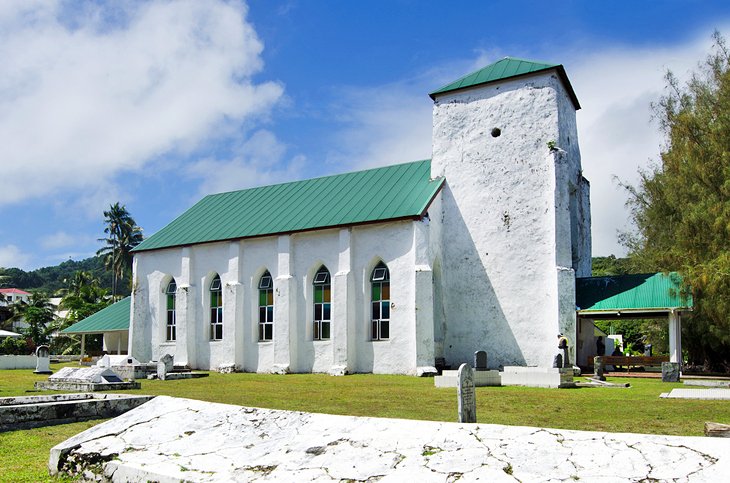 Built in Avarua in the mid-1800s, this white-washed beauty resides on Rarotonga. Its walls are made of coral and limestone bricks, and hymns are sung in the local language, Maori. The Cook Islands' first prime minister, Albert Henry, is buried in the church's graveyard. On Sundays, you can enjoy tea after the service while getting to know the locals.