12 Top-Rated Beaches in Sri Lanka
Author Freddy Sherman fell in love with Sri Lanka after his first trip in 2009. His most recent visit was in 2021, exploring the country's ancient capital of Kandy.
Rapidly gaining international popularity as one of the most beautiful beach destinations in the world, the island nation of Sri Lanka offers a range of landscapes, from rainforests to endless miles of powdery, white-sand beach. The natural beauty is accented by a cultural history dating back thousands of years.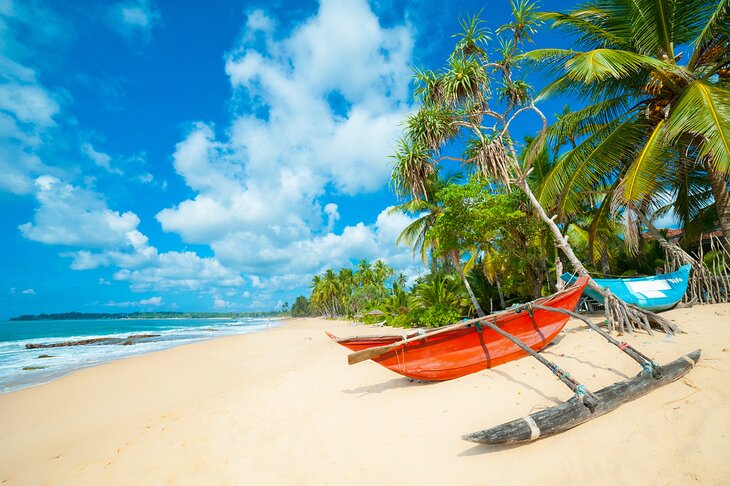 Getting to Sri Lanka is also easier than ever, with direct flights from many European, Asian, and Arabian airline hubs.
Beaches in Sri Lanka are mainly wide and sandy, backed by rows of palm trees and other vegetation. Many are remote, with little or no development. Kalkudah Beach is protected by a reef, so there's a large shallow area with no surf, perfect for kids. Negombo Beach, with its wind and heavy surf, is great for those who want to play on the beach and in the water; it's great for surfing and windsurfing. In contrast to remote, unspoiled beaches, Unawatana is a developed beach town with hotels, shops, and restaurants along the beachfront area.
Advance planning is a must, as the country has two monsoon seasons, affecting different areas of the island at different times. Resorts and beaches in the west and southwest should be avoided from May through September, and locations in the east and north have their monsoon season from October through February. Find your new favorite island getaway with our list of the top beaches in Sri Lanka.
1. Nilaveli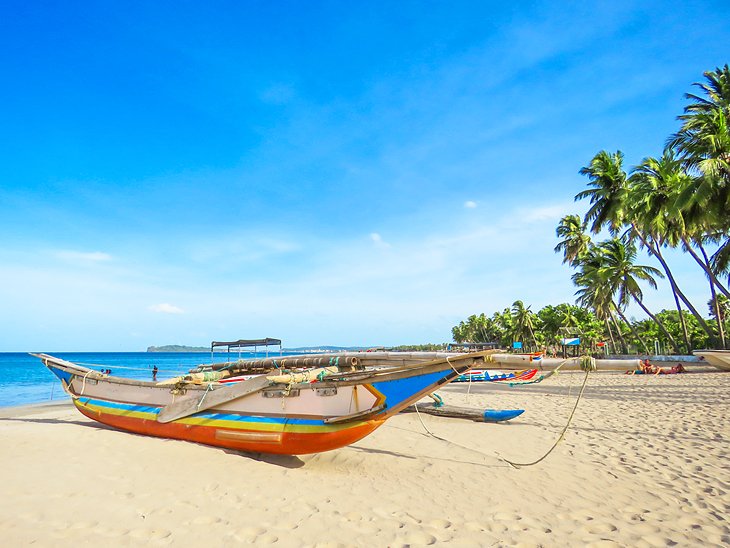 Nilaveli Beach is a broad, sandy beach, lined with palm trees and dotted with fishermen's boats. Located on the northeast part of Sri Lanka, it's a 30-minute drive from the city of Trincomalee. This tiny island has calm beaches with gentle surf due to its own small reef. Although the beach at Nilaveli is large, it is popular with both locals and tourists. There are lifeguards on duty and many little restaurants along the beach, most specializing in seafood.
The Trincomalee area is also good for sightseeing, as it's a center of Tamil culture. Tamil is the name of the language spoken in Sri Lanka and the ethnic group to which the majority of its residents belong.
If the isolation of Nilaveli isn't enough, you can take a boat to Pigeon Island National Park, about a half-mile off the coast. This idyllic island is best known for its snorkeling and scuba diving, and there is a good diving school near the beach, as well as a tour operator that provides guided tours of the island.
The Anilana Nilaveli sits right on Nilaveli Beach, steps from the spot where boats depart for Pigeon Island. This resort hotel offers luxury accommodations and services at affordable prices. Guest rooms are spacious and bright with floor-to-ceiling windows and private balconies, and hotel amenities include an on-site spa, two large pools, and a restaurant.
2. Kalkudah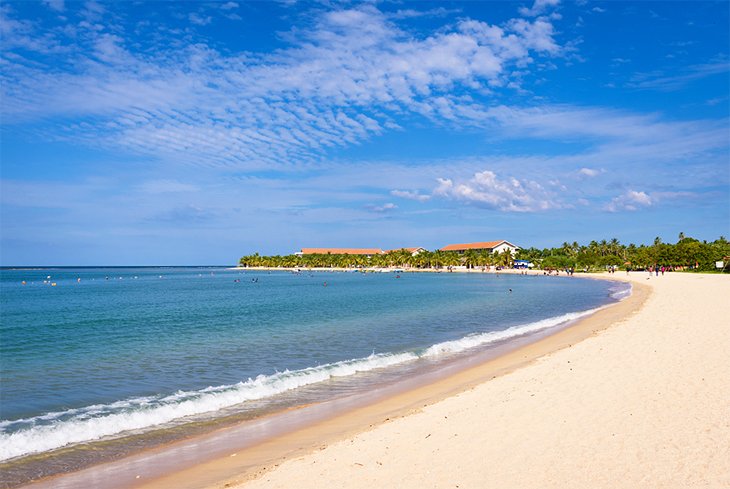 Kalkudah is a mile-long beach on Pasikuda Bay, just perfect for swimming and wading. The surf at Kalkudah is gentle, protected by a reef, unlike many beaches in Sri Lanka with rough surf.
The water is also shallow, allowing you to walk out into the ocean for hundreds of yards. The sand is bright white and soft, with fine grains, and the beach is lined with coconut trees. This area is just starting to be discovered for luxury resort development, so there is still plenty of untouched beach to explore.
For those who want a secluded getaway right on the water's edge, Karpaha Sands is an excellent accommodation option that is both affordable and packed with amenities. It's located on an uncrowded stretch of Kalkudah Beach.
3. Arugam Bay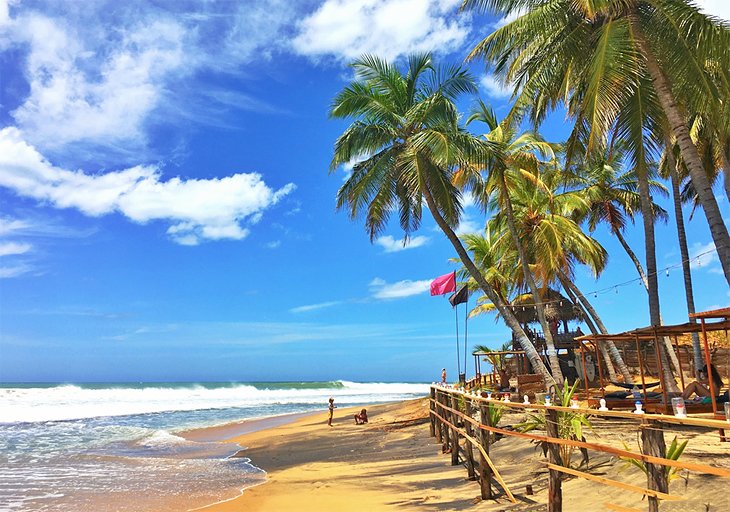 Arugam Bay is dramatically beautiful, with golden white sand and deep blue water gradually becoming green the closer you get to the shore. With that beauty comes some of the best surf breaks in Sri Lanka, and the beach is known as an international surf destination. This reputation brings many visitors but that also means the area has a good tourist infrastructure and is easy to access.
The curving beach feels a bit like a Hawaiian beach — the area near the water slopes down, and there's a dry, sandy section, then rougher areas with shrubs and a tree line.
Right on Arugam Bay, The Spice Trail is a cool, little luxury resort with individual villa accommodations. Each has its own small outdoor garden area, perfect for relaxing on a lounge chair. Attractions nearby include ancient temples and Kumana National Park, known for the many species of birds that live in or migrate through the area but most people come here for the waves.
4. Mirissa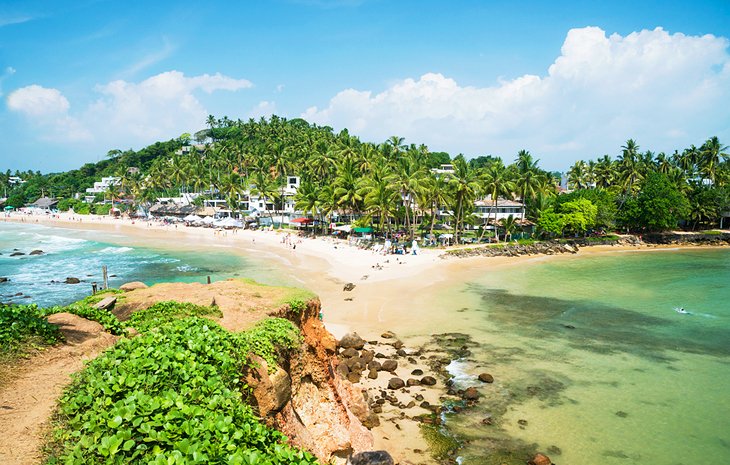 Mirissa is the largest fishing port on the south coast and sits right on the southern tip of the island. Its beauty and relative proximity to Colombo (the capital city) mean it's not hard to access. It's about a two-hour drive from the capital's airport. The small beach town and its large beach are beautiful, backed by a dense grove of palm trees. The town is on a little hill that rises up behind the beach.
Mirissa Beach is arrow-shaped, with the arrow tip sticking out into the sea. This natural jetty also makes the surf calm and good for swimming. The beaches are bright white, with soft, fine sand, and the water is crystal clear. It's light green where the bottom is sandy and dark blue where there are rocks or reef.
Mirissa is also a great place if you want to do some whale watching, best done in February and March.
5. Unawatuna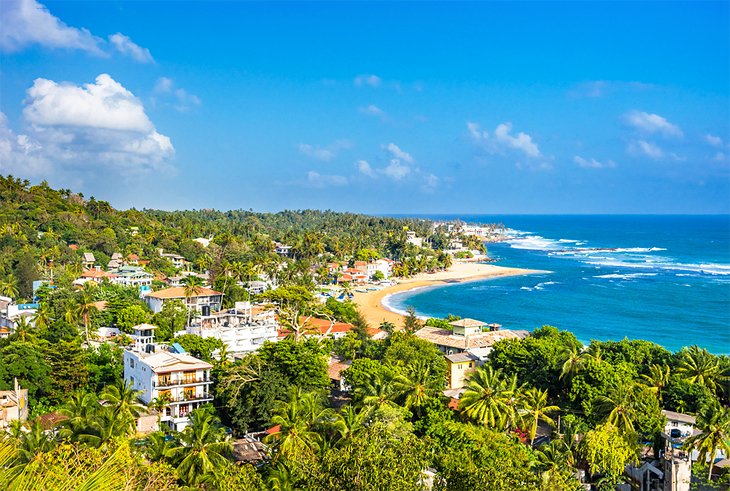 Unawatuna and its beach are near the colonial town of Galle, which is a great city for sightseeing. Sri Lanka was formerly a colony of both Portugal and Holland (at different times), and this was the country's main city during that time. About five kilometers outside Galle, Unawatuna offers another little bit of beach paradise.
The area, also a big destination for ecotourism, has a large coral reef offshore. The beach is large and curving but can be crowded as it's considered one of the country's best beach resorts. CoCo Bay Unawatuna is a well-appointed beachfront resort with its own little private section of the beach (with great views of Galle Fort) with lounge chairs.
6. Uppuveli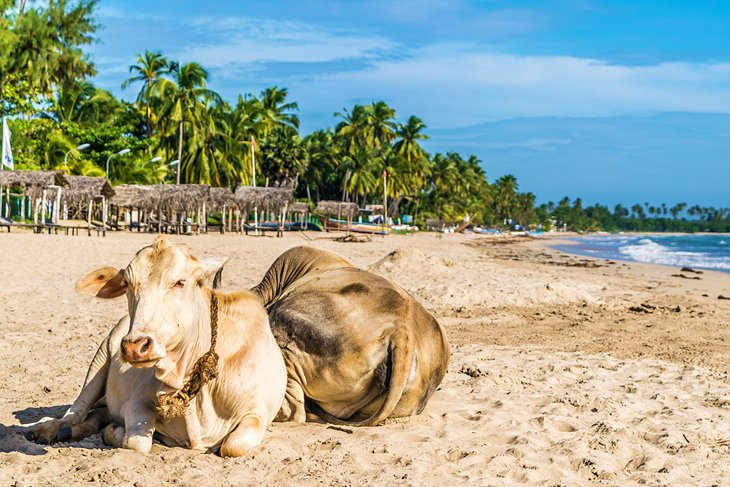 Located on the island's less-developed east coast, Uppuveli offers a truly remote, unspoiled beach experience. This is a real, rural beach, so your day at the beach just might be shared with a local cow. If you arrive early, you can watch (or help) the fisherman haul in their nets.
The sand is golden, and the sea here is light-blue due to the sun's reflection off the sandy bottom. It's about five kilometers from Trincomalee.
The highly-rated Amaranthe Bay Resort in Trincomalee has an enormous infinity pool and offers a lot more than its budget price would get you in other countries. It's across the lagoon from the main beach but has a tiny man-made one of its own.
7. Negombo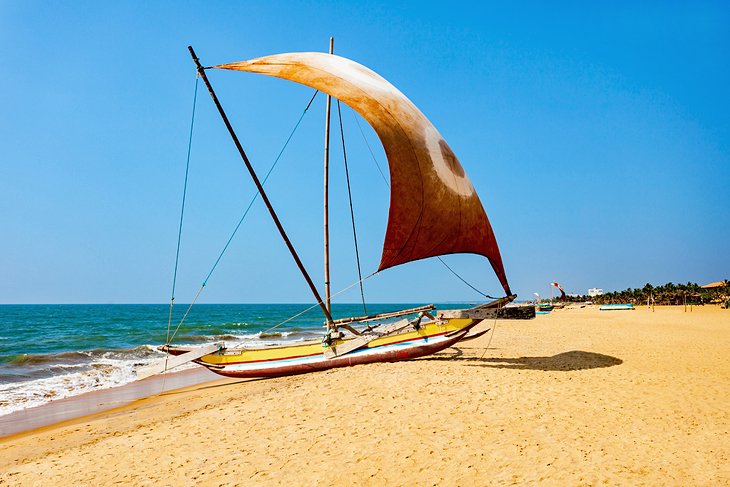 Only an hour from Colombo, not far from the airport, Negombo has a cool little village atmosphere. Catering to tourists, the beach has a shoreline dotted with restaurants and tiny shops selling handicrafts. There are also bands and musicians playing along the beach, adding to the lively vibe.
The beach is wide and flat, with beach chair and umbrella rentals available from enterprising locals. You can find every kind of water sport imaginable here, both rentals and lessons. Be careful; the sea here can be rough for swimming and has strong currents.
8. Tangalle Beach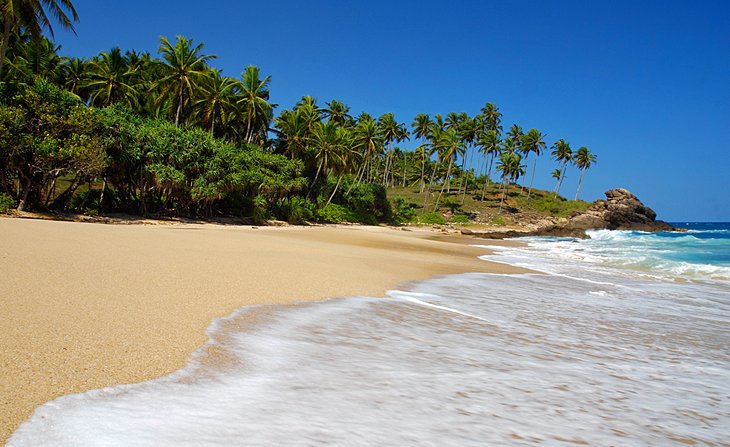 Tangalle is on the southern coast, and its colors make for great Instagram photos. The light sand is in sharp contrast with the dark blue water, both set against deep green foliage that lines the beach. Like many other beaches in Sri Lanka, the beach edge is lined with a dense grove of trees. The top part of the beach is powdery, light gold-colored sand, with a steep incline near the waterline.
The Anantara Peace Haven Tangalle Resort is a beachfront luxury property with villa accommodations. Near Tangalle, there's a new resort area close to the country's huge, recently opened seaport. Hambantota is being redeveloped as a new tourist destination.
The coastline is beautiful, and Shangri-La's Hambantota Golf Resort & Spa is an expansive world-class luxury resort property that caters to families. The resort itself has about five different beaches, along with its own mini water park.
9. Muhathuwaram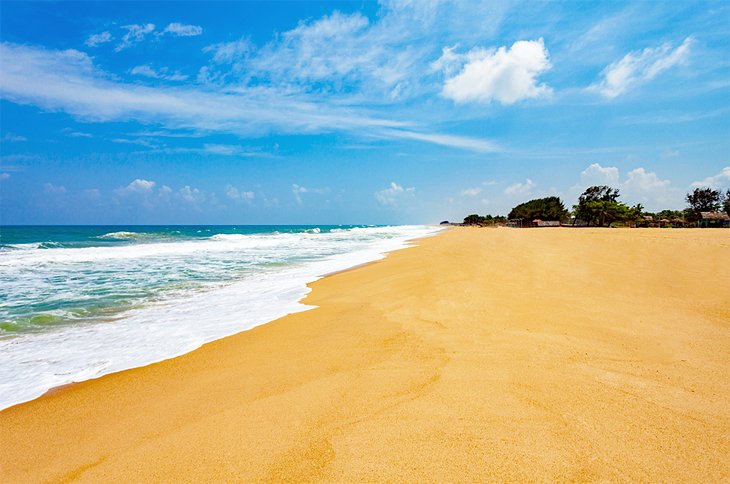 Another beach on the eastern coast is Muhathuwaram, which is about a mile from Batticaloa. It's a wonderful stretch of remote beach, surrounded by fishing villages, with no real development. It makes a good day trip from Batticaloa if you're staying here and a nice alternative to the more popular beaches in the area.
10. Bentota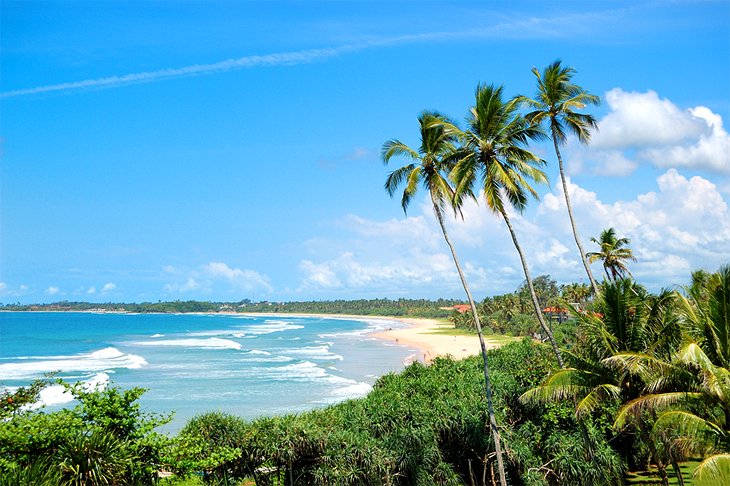 Bentota is a popular resort town, only an hour from Colombo. Because it's so close to the capital, Bentota sees many package tourists but retains its spectacular natural beauty and is worth a visit.
The sand is bright white on this wide beach, and the sea is bright aqua-blue due to its light-colored sandy bottom. The beach is surrounded by jungle and tall palm trees. Nearby attractions include many temples and remnants of the country's colonial past, like a fort protecting the old harbor of Galle.
The Taj Bentota Resort & Spa, part of the Indian Taj hotel chain, is a large luxury resort with some rooms and suites overlooking the sea. It's a great place to stay for kids and families, as there seems to be endless activities, both in and out of the water, available right on-site.
11. Hikkaduwa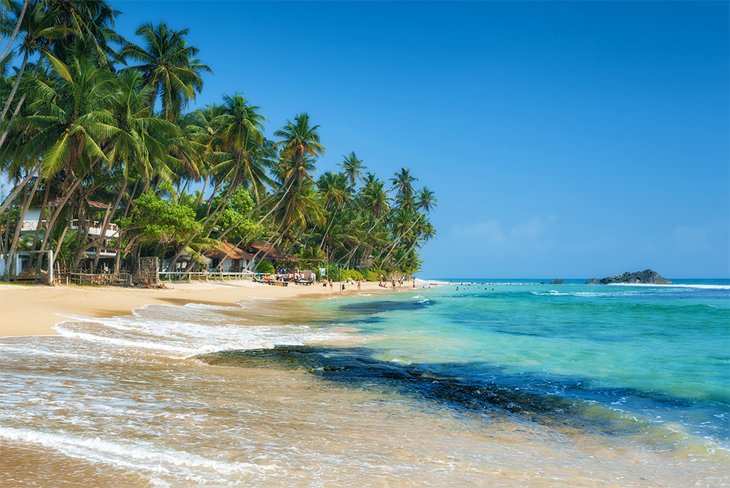 Another beach known for its strong surf and good surfing, Hikkaduwa is in the southwest, close to Galle and about 95 kilometers from Colombo. The beach is typical of those in Sri Lanka, backed with dense foliage and palm trees. The water here is bright aqua and the sand is fine and white.
A national park lies behind the beach area. It's one of only three marine national parks in the country and has its own coral sanctuary. In addition to the coral, the park is known for its marine turtles and fish.
12. Talalla South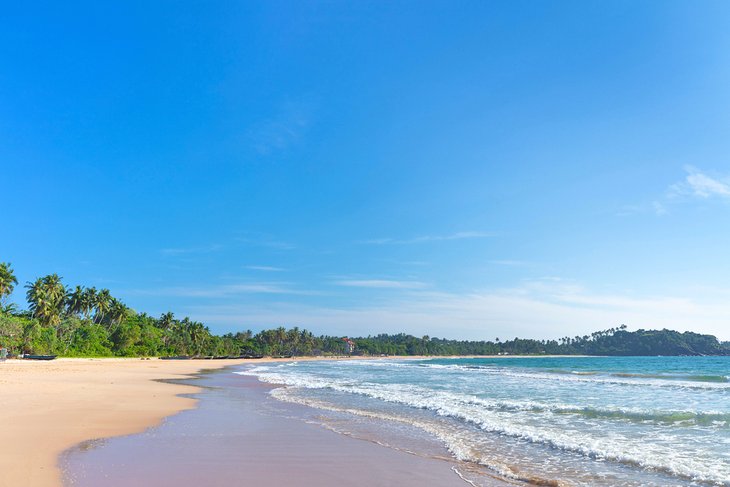 Another beach on the south coast, Talalla South is starting to see more and more development. It's all hidden behind the tree line, so the beach, a golden curve of gently sloping sand, retains an unspoiled quality.
The beach itself has only one little snack bar, but there are a few restaurants and other tourist-catering businesses in the town. It's the kind of beach where you will see other tourists, but you'll see a lot more locals, especially kids, playing in the surf. Parts of the beach can be covered in fishermen's nets, and small fishing boats also line the beach.
When you're ready for sightseeing, there's a large Buddhist temple nearby. The beach is about an hour's drive from Galle.
Map of Beaches in Sri Lanka