14 Best Places to Visit in Sri Lanka
Sri Lanka is an amazing travel destination offering a wide range of places to visit. This island, located in the Indian Ocean off the coast of India, presents visitors with an incredible array of environments to enjoy and experience.
Travelers can trace the island's fascinating history, from ancient times through the colonial period to the present, in cities like Colombo and Kandy. This relatively compact island boasts eight UNESCO World Heritage Sites where that history is preserved.
Incredible outdoor landscapes and safari experiences can be found in the country's large elephant-filled national parks, like Yala and Udawalawe. Sri Lanka is also a beach-lover's paradise, ringed by some of the world's most beautiful beaches.
When planning a Sri Lankan adventure, keep in mind that the country experiences its rainy season from May through August, making December through April usually the best time to visit. The shoulder season, September, October, and November, is a good time to visit as well.
Plan your travel itinerary with our list of the best places to visit in Sri Lanka.
Note: Some businesses may be temporarily closed due to recent global health and safety issues.
1. Colombo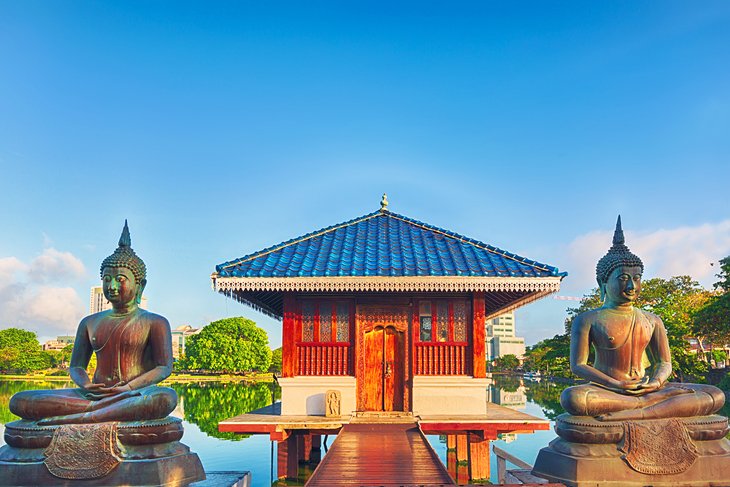 The capital combines modern urban amenities with the country's colorful indigenous and colonial history. As a key stop on the world spice trade routes, Sri Lanka has long held strategic importance for European trading powers. The country has been a colony of Portugal, the Netherlands, and most recently the British, and all these cultures blend with the native culture to form a wonderful hybrid. You can taste these influences in food, see them in architecture and the arts, and you can really feel them in Colombo.
The city is also filled with museums and other things to see and do that can help connect you with Sri Lankan culture. Colombo sits on the coast, and there's a large green space and beach area right in the heart of the city separating an area called Fort from the Indian Ocean. It's the city's public playground and a fun place to visit, especially on Friday and Saturday nights.
2. Kandy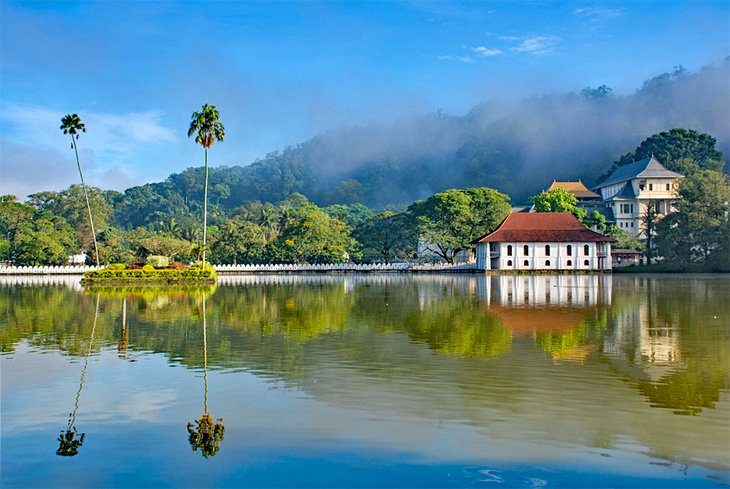 Located in central Sri Lanka, Kandy is the former capital city of the Sri Lankan royal dynasty, the country's main capital before the colonial period. The high point of what's called the "Kandian Era" was between the 15th and 18th centuries, when the area remained independent while most of the coastal regions were colonized by European powers.
Be sure to visit the city's National Museum of Kandy, as it illustrates the story of the region and its people via exhibits and artifacts. Nearby, the Temple of the Sacred Tooth Relic is a very holy Buddhist shrine, part of the royal palace complex.
3. Udawalawe National Park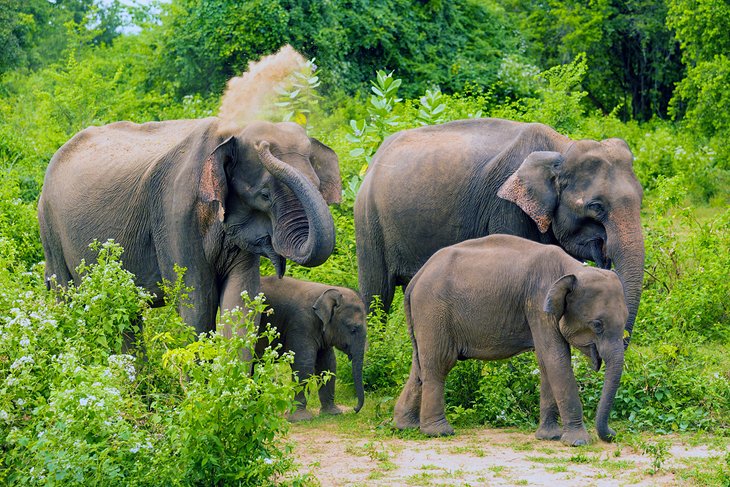 This large wildlife park is in the southern part of the country, about an hour's drive from the city of Hambantota. The terrain and environment vary, as the park is on the border of the country's wet and dry zones.
Visitors to the park can see elephants, as there's a large population of them, along with crocodiles, water buffalo, and more. In fact, it's one of the best places in the world to see elephants in the wild.
There are leopards there, too, but they can be very hard to track or spot. There are also monkeys and a large assortment of deer and small mammals. It's also an excellent place for bird-watching.
There are some small accommodations and guesthouses across from and even inside Udawalawe. You can also visit as a day trip, the best times to visit are very early in the morning or very late in the afternoon.
4. Galle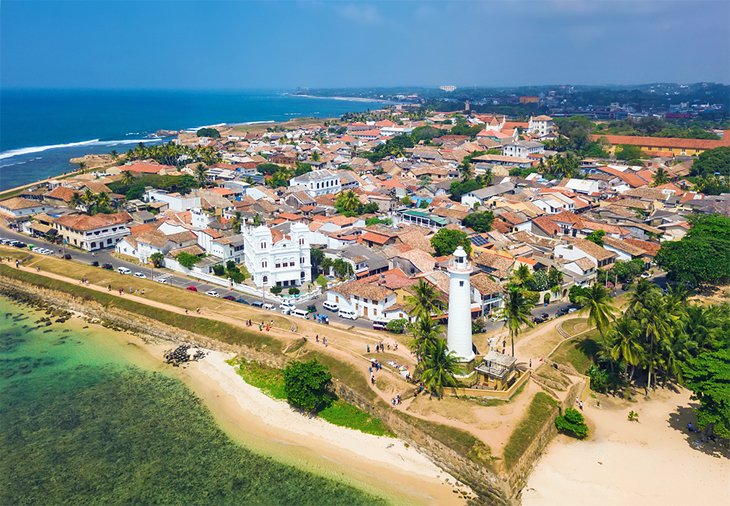 The city of Galle is about a two-hour drive from Colombo via one of the country's first modern superhighways. This ancient trading port mainly reflects its colonial history and is focused around a large, 17th-century seafront fort.
Galle Fort is an entire preserved walled town, now filled with boutique hotels, shops, and restaurants (along with real residents). The entire area is a UNESCO World Heritage Site.
This is a great place to explore on foot — the entire Fort area is car-free. It's hard to get lost, as you're surrounded on three sides by the sea.
Aside from and outside the fort, the city is surrounded by some amazing beaches. Like others in the country, the wide sand beach leads into clear, turquoise water. There's even a beach right beneath the iconic Galle lighthouse.
5. Hikkaduwa Beach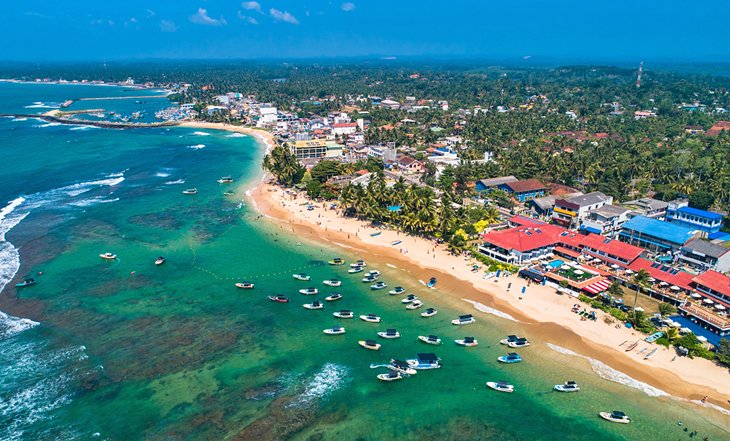 Only 90 minutes from Colombo, this beach is all about water sports, surfing, bodyboarding, snorkeling, and scuba diving. All the gear is easily available for rent from one of the beachfront stands. It's one of the country's best surfing areas, with the best waves between November and March.
The beach is large, so it never feels too crowded. There are a lot of beachfront stands selling all kinds of delicious local street food and a good number of small hotels and guesthouses if you want to stay overnight.
It's also known for its coral. The Hikkaduwa Coral Sanctuary is a preserved marine area and part of Hikkaduwa National Park, located just off the shoreline. It was created to protect the area's coral reefs and educate visitors about coral.
6. Galle Face Green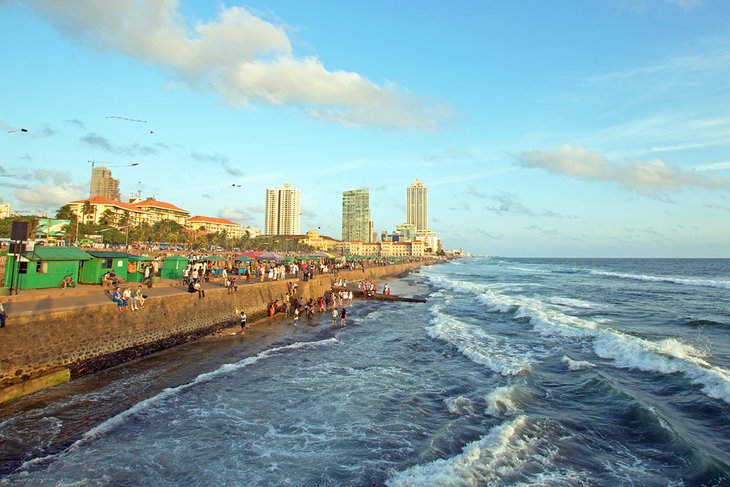 Sri Lanka's version of LA's Venice Beach isn't the place to get away from it all, but it is the place to relax, people watch, and have some fun with other Sri Lankans, whether it's day or night. Aside from the beach, there's a large grass area where people picnic and play games. For the best energy, visit on a Friday or Saturday night.
You can enjoy the beach and water or maybe fly a kite in the ever-present wind. You can play some football (soccer) or cricket as there are always pick-up games going on. The beach is fronted by vendors and restaurants, and the area beyond it is filled with hotels ranging in price from budget to luxury.
Galle Face Green is in the heart of downtown Colombo, just in front of Fort. You have the skyline behind you and the beautiful sea in front of you. It's the area between Galle Road and the Indian Ocean.
7. Yala National Park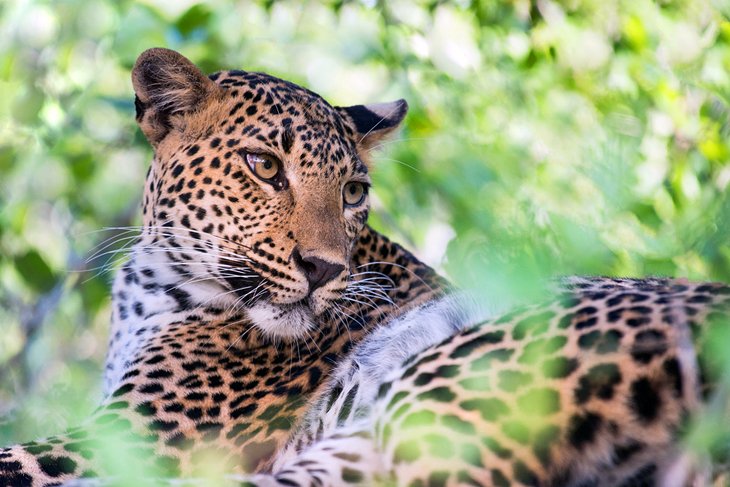 Located on the island's southeast coast, this national park is known for leopard safaris. Leopards are very rare, but the park has a large population and it's possible to spot them even on a day trip. The park is also home to a large population of Asian elephants, which are endemic to Sri Lanka.
Aside from the fauna, the park is home to some incredible, varied environments and ecosystems. You can visit the marine and beach environment of the coastal areas, follow leopards across vast grasslands, or explore tropical rainforests.
There are also some important Buddhist temples and shrines within Yala, which is not far from the city of Hambantota.
8. Anuradhapura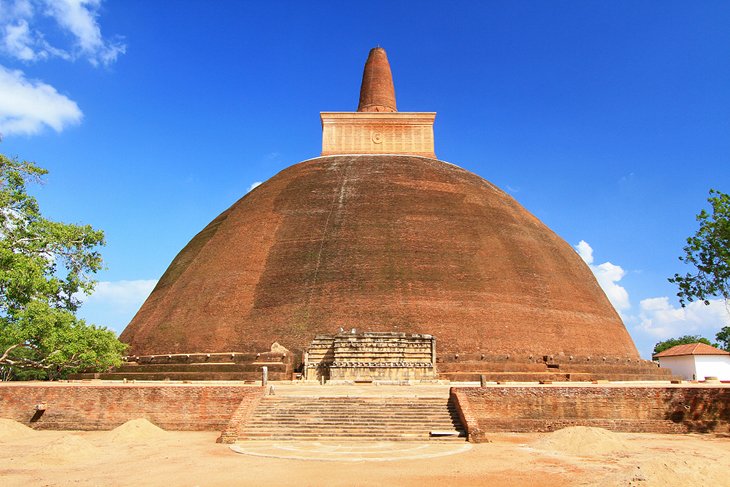 A visit to Anuradhapura, one of the country's ancient capitals, rewards visitors with a glimpse into the past. The area is unique, as there's a thriving, modern little town adjacent to an ancient one, you're not just visiting ruins. It's a fun place to visit and stay for a night or two.
The ruins are awesome, with many crumbling temples, statues, pools, and other structures. There are modern structures, too, and the temple remains an active place of worship. The core of the complex is a tree, a very old tree. The Sri Maha Bodhi is believed to be the world's oldest living tree planted by a human.
Anuradhapura is a cool place to visit, as there are a lot of small guesthouses and cheap places to eat, along with bike rental, tour guides, and other businesses catering to tourists.
9. Pollonnaruwa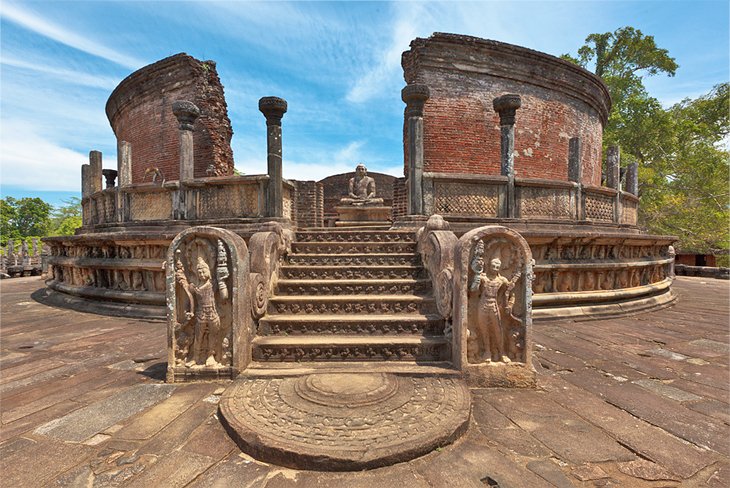 This is an important ancient city ruin site, another one of the country's World Heritage Sites. Pollonnaruwa was Sri Lanka's second capital city, after Anuradhapura, thriving about a thousand years ago.
The garden-city is completely preserved, although most of the structures are in ruins. There are gardens, palaces, and temples, and while it's rather compact, it's best explored by bicycle. A bonus, the ruins are inhabited by a large troop of macaques, also residents of the area since ancient times. Duran Duran fans will recognize the site, as their Save a Prayer video was filmed here in the 1980s.
There's a small, modern town a few miles from the ruins, with guesthouses, bike rentals, cafés, and other tourist services.
10. Tangalle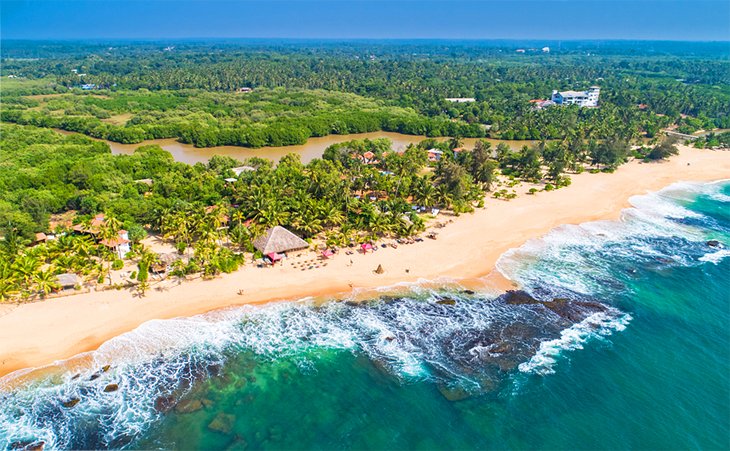 As an island, Sri Lanka is surrounded by beaches, and there really is something for everyone. For a diverse range of beach experiences, head to the Tangalle area. It's in the center of the southern coast of the island and a popular resort destination.
You''ll find a wide range of beaches in this area, from tropical coves to wide, windswept, seemingly endless stretches of open sand. You can also find beaches with services, vendors, and beachfront stands, as well as remote beaches where you're almost certain to find yourself alone.
At Rekawa Beach, just east of the town, there's a big sea turtle nesting area and conservation center.
11. Bundala National Park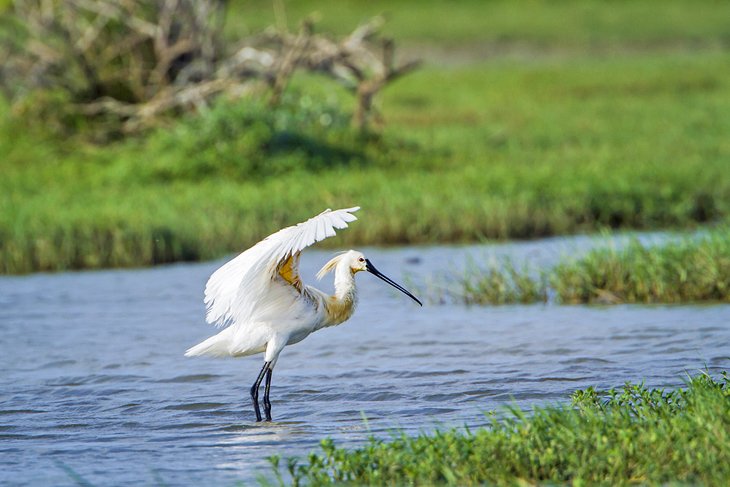 This national park and wetland sanctuary, with its dunes, lagoons, and large freshwater bodies of water, is one of the world's best places to visit for bird-watching. There are many species of birds here; some are endemic to Sri Lanka. Many of the birds migrate here seasonally from as far away as Siberia.
Aside from the birds there are many crocodiles, which like to eat the birds, as well as a large population of elephants. The beaches are a popular place for four of Sri Lanka's five species of sea turtles to lay their eggs.
The Bundala park area is along the southern Sri Lankan coastline between Kirinda and Hambantota.
12. Ella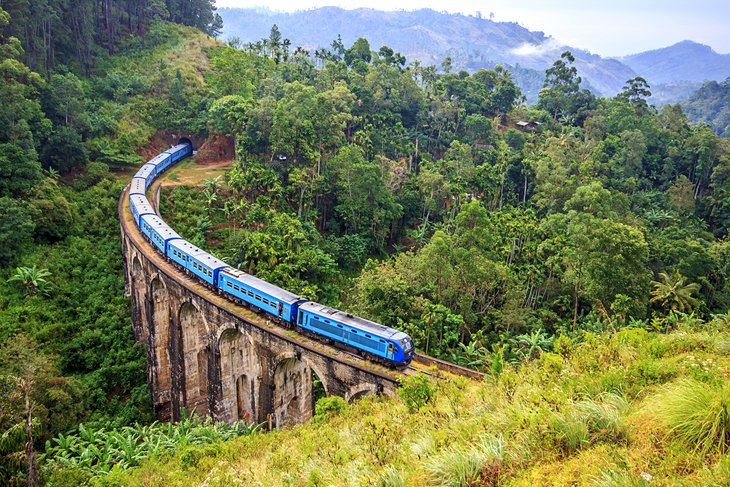 Sometimes it's as much about the journey as it is about the destination. An example of this is Ella, a small, hill-country town set among Sri Lanka's lush tea plantations. It's filled with small guesthouses, amazing food, and very friendly people. It's a fun getaway from the city or a way to enjoy a few days of leisurely hiking in the countryside.
A big reason people visit Ella is to ride the very slow train from Kandy. Slowly, it winds its way up and down hills, through small towns, across green tea fields, until finally arriving in the small mountain town after about six hours. The ride is considered one of the most beautiful train journeys in the world. You can start in Colombo, which adds three hours to the trip.
13. Adam's Rock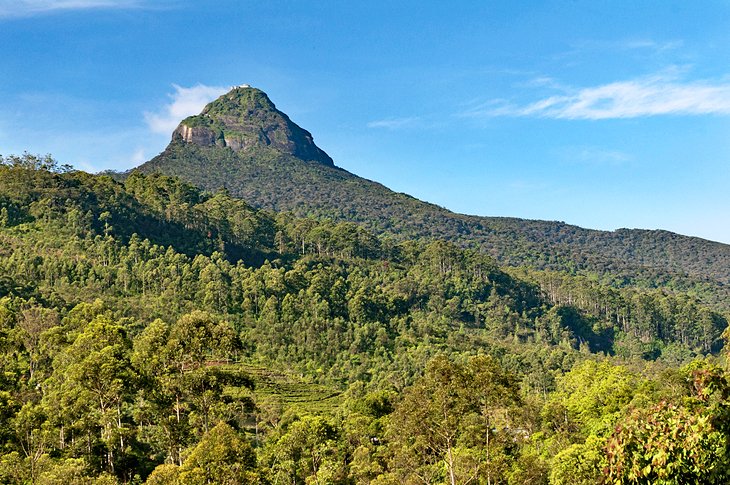 Another great place to visit in Sri Lanka that's also all about the journey is Adam's Rock. This mountain is topped by a sacred rock formation, and pilgrims traditionally climb to the summit at night in time to watch the sunrise.
The hike generally takes about three hours, and there are rest stops and food vendors along the path. After the hike, you'll be rewarded by seeing a rock with a footprint-shaped indentation where some believe Adam made his first step. Others believe it's the footprint of Buddha, and some believe it was made by the deity Shiva.
The Adam's Rock hike begins in the village of Nallathanniya in central Sri Lanka. The best times to make the climb are between December and May.
14. Sigiriya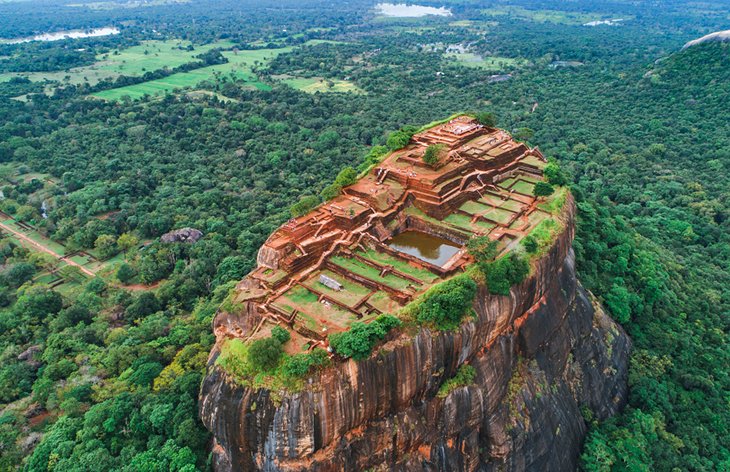 Like Machu Picchu or Masada, Sigiriya impresses visitors just with the absurdity of its construction. It's a huge rock formation that's been carved and transformed into a palace. The ruins are near the town of Dambulla in the central part of the country.
Built about 1,500 years ago, the palace complex sits atop a 660-foot (220-meter) rock with sheer walls. Those walls have ancient painted frescoes and carvings transforming the whole structure into a work of art. In the middle of one rock wall, there's a giant gateway carved in the shape of a lion.
Aside from the palace above, the area below is an intricate city complex with gardens and residential and commercial areas. It's a very important surviving example of early city planning from this era.