13 Best Game Reserves in Africa
Africa is home to the most spectacular wildlife viewing on the planet. It's a place that humbles even the most jaded of travelers, where the cycle of life plays out right before your eyes in some of nature's most magnificent theaters.
See the vast herds of the Great Migration on the mottled plains of the Maasai Mara and the Serengeti. Watch elephants graze in the shadow of Mount Kilimanjaro, or come-face-to-face with a wild silverback gorilla in Volcanoes National Park.
Many of the reserves protect Africa's famed "Big Five": lion, leopard, elephant, buffalo, and rhino, as well as an astounding diversity of other animals. Hot air balloon rides, game drives, and walking safaris all offer unique wildlife watching adventures.
Wondering about the best countries for safaris in Africa? You'll have plenty of options - from Kenya and Tanzania to Namibia, South Africa, and Botswana. But one things's for sure: a safari in Africa is an unforgettable experience that will forever stir your soul.
Discover the best places to visit on safari with our list of the top game reserves in Africa.
1. Maasai Mara National Reserve, Kenya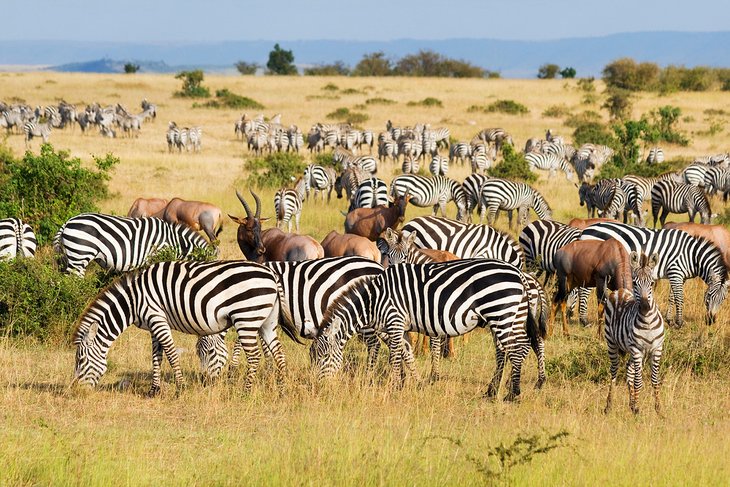 The magnificent Maasai Mara National Reserve in Kenya is on the wishlist of wildlife lovers around the world. Famous for the Great Migration from July through October, when thousands of wildebeest, Thomson's gazelle, and zebra travel between here and the Serengeti plains, this park offers some of Africa's best wildlife viewing. A safari here is one of the highlights of visiting Kenya.
The park protects the "Big Five," and is known for its large numbers of predators such as lions, cheetahs, and leopards, while hippos and crocs thrive in the Mara River.
The red-cloaked Maasai people who live in the park add a fascinating cultural component. In their language, Mara means "mottled," perhaps for the shadows cast by shifting light through the acacia trees on the cloud-streaked horizons, making a hauntingly beautiful canvas for photographers.
2. Serengeti National Park, Tanzania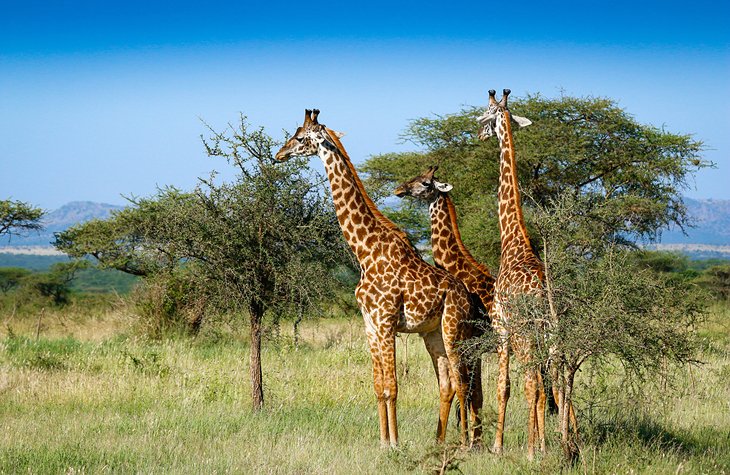 One of the best national parks in Africa, the Serengeti is the jewel of Tanzania. The name conjures romantic images of seemingly endless acacia-dappled plains, golden savanna, and throngs of wildlife, and this World Heritage-listed park, Tanzania's oldest and most popular, delivers on all accounts.
From December to July, the Great Migration takes place, when more than a million wildebeest, as well as zebra and Thomson's gazelle, travel between here and the fabled lands of the Maasai Mara, a time-honored pilgrimage that is one of Africa's greatest spectacles.
The famed "Big Five" also live within the park's borders, and visitors have the chance to see nail-biting predator-versus-prey battles here - especially during the dry season from June through October.
Birders can spot some of the 500-plus species, including beauties such as the crowned crane and Fischer's lovebird.
3. Ngorongoro Conservation Area, Tanzania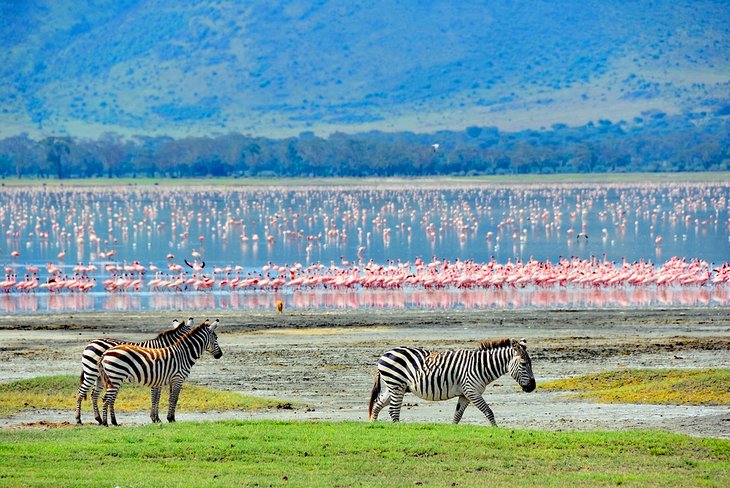 Formerly part of Serengeti National Park, Ngorongoro Conservation Area encompasses several important features. Here, you'll find three magnificent volcanic craters (Ngorongoro is the most famous), as well as the legendary archeological site of Olduvai Gorge, and more than 8,300 square kilometers of savannah, dense forest, and African bush.
This is one of the few areas in the world where wildlife and humans peacefully coexist. The proud Maasai people live alongside a diversity of wildlife within this World Heritage-listed area and graze their cattle on these lands.
Besides the spectacular volcanically formed scenery, highlights include one of Africa's densest populations of wild lions, as well as black rhinoceros, buffaloes, leopards, wild dogs, cheetahs, and more than 500 species of birds.
As part of the Serengeti ecosystem, the area also plays host to the Great Migration as 1.6 million ungulates make their way through here each year between December and June. Witnessing this awe-inspiring spectacle is one of the highlights of visiting Tanzania.
If you're looking for a less crowded game park in Tanzania, the Selous Game Reserve is an excellent option, with a truly impressive volume of game and a healthy population of African wild dogs. It's also one of the few game reserves in Africa that allows walking safaris.
4. Amboseli National Park, Kenya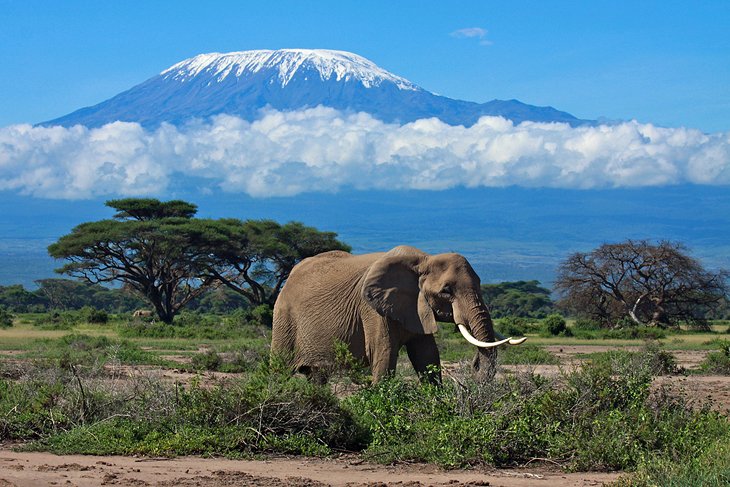 Mount Kilimanjaro, Africa's highest mountain, presides over this diverse park, which is famous for its large herds of elephants. This is Kenya's second most popular national park after Maasai Mara National Reserve.
Five different habitats lie within its borders, including a swamp system, dense woodlands, savannah, and the dried-up bed of Lake Amboseli. Thanks to these contrasting ecosystems, wildlife is varied and abundant with plenty of big cats, such as cheetah and lion, as well as waterbuck, gazelle, impala, and more than 600 species of birds.
Elephants bathing in red dust against the dramatic backdrop of Mount Kilimanjaro is one of the iconic images photographers might capture during the dry season at this famous park.
Visitors here also have the chance to visit a Maasai village near the park and learn about this fascinating tribe, who live around the park's borders.
5. Kruger National Park, South Africa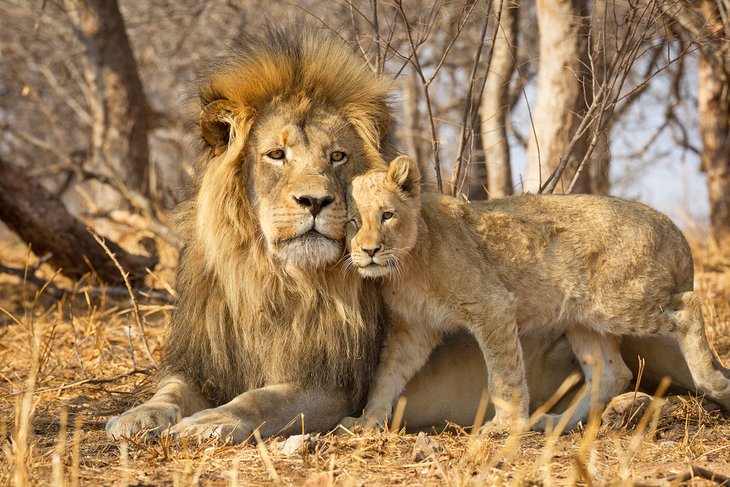 Kruger National Park is one of the best game reserves in South Africa. It's also the largest and oldest national parks in the country, spanning almost two million hectares.
Visiting Kruger National Park offers an incredible wildlife watching experience - especially for those who are seeking a self-drive safari. Africa's Big Five live within its borders, as well as an impressive diversity of other wildlife, including African wild dog, giraffes, zebras, hippos, cheetahs, and more than 500 species of birds.
One of the best features of this popular park is the abundance of self-catering accommodation, making this a relatively affordable safari destination. In addition to the government-run rest camps within the park, you'll also find some of South Africa's top luxury safari lodges near its borders, as well as some of the best private game reserves in Africa.
The scenery ranges from dense forests to sweeping grasslands and fertile river systems, and the park is also home to Bushman (San) cave paintings and archaeological sites.
6. Chobe National Park, Botswana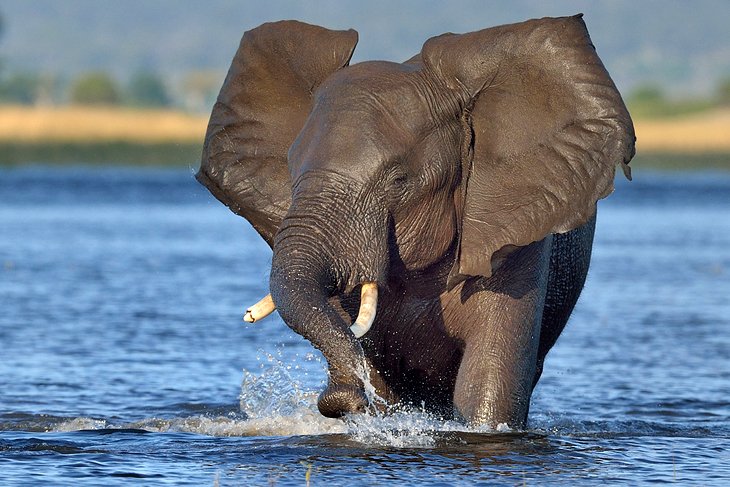 In northeastern Botswana, Chobe National Park boasts the planet's highest concentration of elephants, as well as an enviable diversity of wildlife. This is reason enough to visit Botswana's first national park, but it's also a fantastic option for travelers who prefer self-guided safaris.
The beautiful Chobe River runs along the park's northern border, and the fertile waters of the Okavango Delta fan out to the south, attracting abundant wildlife. Chobe is home to Africa's "Big Five." Along the lush banks of the Chobe River, large herds of elephant, as well as sable antelope and buffaloes come to quench their thirst.
The Savuti Marsh region is known for its predator sightings in the savannah and grasslands, while the Linyanti Marsh is home to the rare red lechwe.
Accommodation ranges from bare bones campsites to luxury game lodges, and you can also cruise along the Chobe River in a houseboat. The northeast entry gate lies less than 100 kilometers from Zimbabwe's spectacular Victoria Falls, which makes a fantastic side-trip option after a rewarding safari.
Botswana practices a low-density approach to tourism, which limits the number of visitors allowed in the parks and helps preserve these unique ecosystems.
7. Moremi Game Reserve, Botswana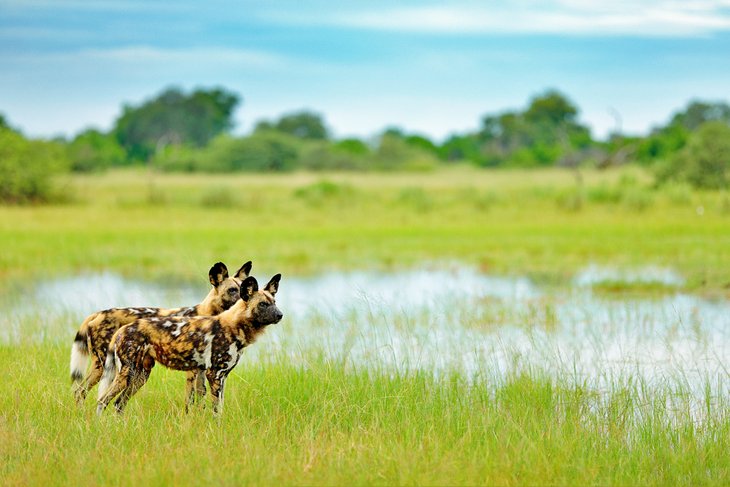 Moremi Game Reserve is the only protected area of Botswana's magnificent Okavango Delta, one of the richest and most diverse of all Africa's ecosystems.
This vast floodplain fans out across the parched lands of northwestern Botswana, supporting a dazzling diversity of wildlife. All the Big Five live within the park's borders, as well as an abundance of other animals, such as hippos, giraffe, kudu, leopards, African wild dogs, and more than 400 species of birds.
The lush scenery ranges from snaking sapphire channels and pools to lagoons, grasslands, and dense mopane forests. Moremi is also unique because it is the first reserve in Africa that local people established due to their concerns for the dwindling wildlife.
Chobe National Park borders Moremi, and many travelers visit both while in the region. Like Chobe, Moremi is also an excellent destination for self-guided safaris, though it helps to hire the services of a local guide who can use their experience in the bush to track the game.
One of the unique things to do in Moremi is to glide along the waterways of the Okavango Delta in a mokoro or traditional dug-out canoe.
8. Etosha National Park, Namibia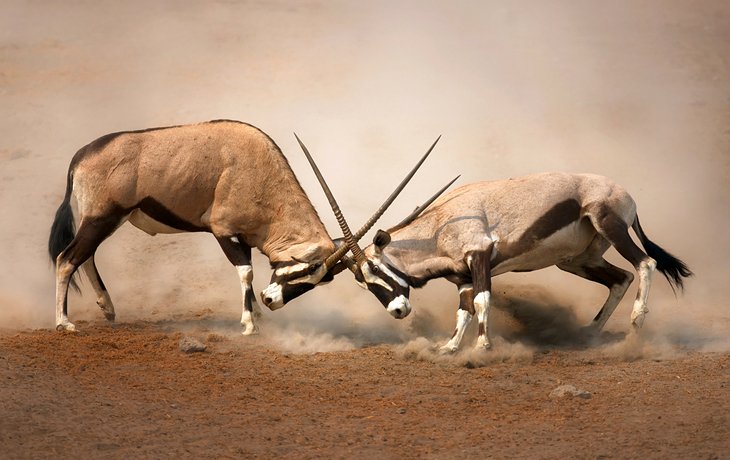 Encompassing 22,750 square kilometers in Northern Namibia, Etosha National Park offers superb game viewing in a vast, shimmering salt pan.
At its outer reaches, the parched earth of the pan gives way to sweeping grasslands and thorn scrub that supports more than 150 species of mammals, including lions, zebras, jackals, springbok, hyenas, elephants, and cheetahs. The park is also home to endangered and relatively rare species such as the black rhino, oryx, tsessebe, and the black-faced impala.
Many beautiful birds also make their home here - flamingos descend on the salt pans in a riot of orange and pink after good rains, when the pan briefly fills.
Game viewing is best during the dry season from June through November, when animals congregate at the few remaining waterholes to quench their thirsts.
Etosha also accommodates self-guided safaris with its excellent tourist infrastructure. Photographers will especially love capturing images of wildlife against the stark, silvery landscapes.
9. South Luangwa National Park, Zambia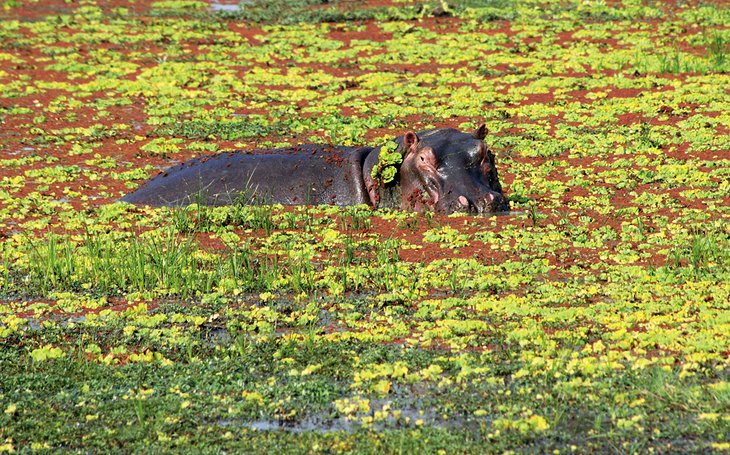 In eastern Zambia, South Luangwa National Park is home to one of Africa's densest populations of wildlife. The Luangwa River, Africa's most intact major river system, feeds this beautiful national park, which encompasses 9,059 square kilometers, and is the most popular of the three national parks in the vast Luangwa River Valley.
The park is famous for its large numbers of leopards, lions, giraffes, buffalo, and elephants, as well as its profusion of hippos and crocodiles, which wallow in the oxbow lagoons of the river. Interestingly, South Luangwa National Park is the only place in the world where lions are known to kill hippos. Birding is also excellent here, with more than 400 different species.
The seasons paint the landscapes here in dramatically different hues. The rainy season (November through March), known as the "emerald season," brings lush green growth, while in winter, the landscapes are tinged with rich golds and browns. Game viewing is usually best in these drier months (April through October), when animals gather at the perennial water sources.
South Luangwa is also known for its excellent walking safaris.
10. Kgalagadi (Kalahari) Transfrontier Park, South Africa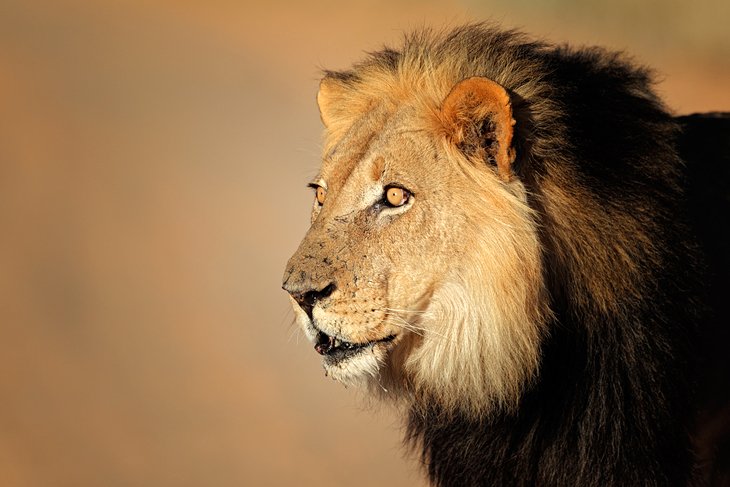 At more than 3.6 million hectares, Kgalagadi Transfrontier Park is one of the planet's largest wilderness areas. The park is a merger of Botswana's Gemsbok National Park and South Africa's Kalahari Gemsbok National Park and is the first national park in Africa to traverse borders.
The landscapes here evoke a haunting beauty with their vivid hues. Meerkats scamper across scorched red sands, and lions stalk in honey-hued grasslands that seem to stretch on forever under cloudless blue skies.
Perhaps most iconic among the park's resourceful wildlife are the beautiful black-maned Kalahari lions, but you can also see gemsbok, meerkats, cheetahs, leopards, and hyenas here, as well as many species of birds, including sociable weavers with their large intricate nests.
Thanks to the scant vegetation, it's easier to see and photograph wildlife here than in Africa's more densely forested parks.
11. Tsavo Conservation Area, Kenya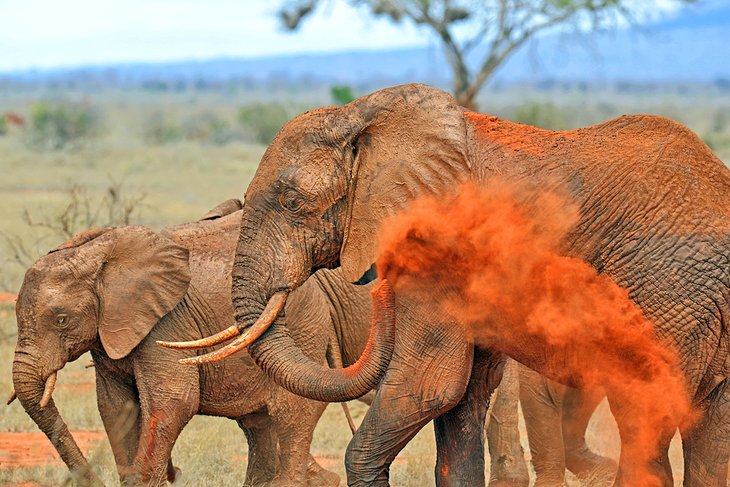 Comprised of Tsavo West, Tsavo East, and Chyulu Hills National Park, this is the largest park in Kenya and boasts the country's biggest population of elephants.
Tsavo West is the most popular of these parks with Ngulia Rhino Sanctuary, as well as the croc and hippo-filled Mzima Springs. Chaimu Crater is a great spot to see birds of prey. The dense foliage, especially in the park's northern reaches, makes the wildlife more difficult to spot, but the lush landscapes make a beautiful backdrop for photos. Rock climbing is also a popular activity in the park.
Tsavo East, halfway between Nairobi and Mombasa, is much more arid than its western sibling. Large herds of elephant roll in the red dust here, baobabs dot the parched plains, and the palm-fringed Galana River snakes through the dry landscapes.
Other highlights include the world's longest lava flow, the Yatta Plateau; waterfalls; and a diversity of wildlife, including elephants, rhino, lesser kudu, and lions.
Chyulu Hills National Park encompasses rolling green hills, as well as caves and volcanic cones and craters. It's one of the best places to view Mount Kilimanjaro and offers fantastic bird-watching opportunities.
12. Volcanoes National Park, Rwanda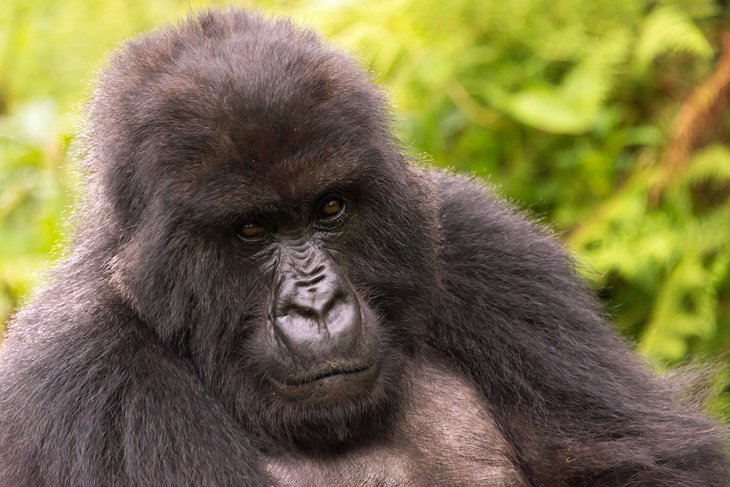 Gazing into the eyes of a mountain gorilla is an experience that will forever remain etched in your memory, and Volcanoes National Park is one of the few places in the world where you can still see these magnificent creatures.
In 1967, this is where Dian Fossey, the famous American zoologist established the Karaoke Research Center and continued her passionate gorilla conservation campaign.
In addition to mountain gorillas, the park is a sanctuary for spotted hyenas, buffaloes, golden monkeys, elephants, bushbuck, black-fronted duiker, as well as more than 170 species of birds.
Volcanoes National Park is one of Rwanda's top attractions. Many travelers also come here to climb the volcanoes, Karisimbi and Mount Bisoke. Volcanoes National Park lies about two hours' drive from Rwanda's capital Kigali.
13. Samburu National Reserve, Kenya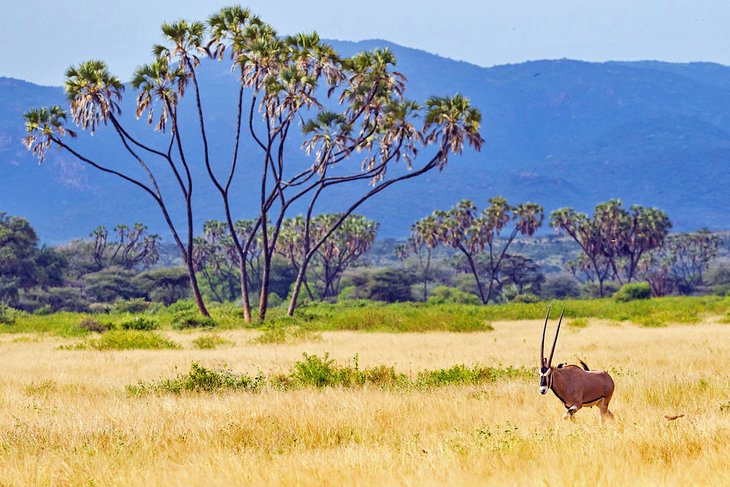 If you're looking for wow-worthy wildlife and a rich cultural component to your safari experience, Samburu National Reserve in Northern Kenya is the place to visit. You'll find fewer crowds here than at Southern Kenya's more famous parks, like Masai Mara and Amboseli, and the arid landscapes make beautiful backdrops for photos.
The popular Born Free movie about Elsa the lioness was filmed in a remote Samburu village.
Wildlife viewing here offers a few surprises, too. As well as the usual cast of safari characters, the park is also home to what local guides call the Samburu Special Five. This includes the gerenuk antelope, reticulated giraffe, Grevy's zebra, Beisa oryx, and Somali ostrich. African wild dogs also inhabit the park. The birdlife is another bonus - more than 400 species have been recorded here.
Craving a dose of culture, too? Adorned in bright colors and beautiful beads, the Samburu people are among the friendliest and most hospitable in Africa. Adding a Samburu cultural experience is a great complement to a safari in this beautiful park.
The best time to visit Samburu National Reserve is the dry season, from May through October, when you'll see a larger concentration of game gathered along the banks of the Ewaso Ng'iro River and at the waterholes.
If you're planning to stick around for a while, you'll find a range of accommodation to suit all budgets, from basic campsites to luxury eco-lodges.
Official site: https://www.samburu.net/
Map of Game Reserves in Africa
Frequently Asked Questions
When is the best time to do an African Safari?
The best time to go on safari in Africa is the dry season. Depending on the location, this is usually from May or June to October. During this time, animals congregate at the few remaining water sources, allowing you to see multiple species at one time. It's also easier to see the animals, as the tall grasses and lush growth of the wet season can shroud them from view.
No matter when you choose to go on safari, you'll see something different in every season. The wet season brings lush growth and paints the landscapes in vibrant greens. Spring ushers in new life, with many animals giving birth in the tall grasses.