17 Top-Rated Beaches in the Seychelles
Author Shandley McMurray traveled to the Seychelles to enjoy the beautiful beaches.
Whoever coined the term "paradise" must have visited the Seychelles. An area of unbeatable beauty boasting many of the world's best beaches, this utopian archipelago consists of about 115 islands that lie off the east coast of Africa in the Indian Ocean.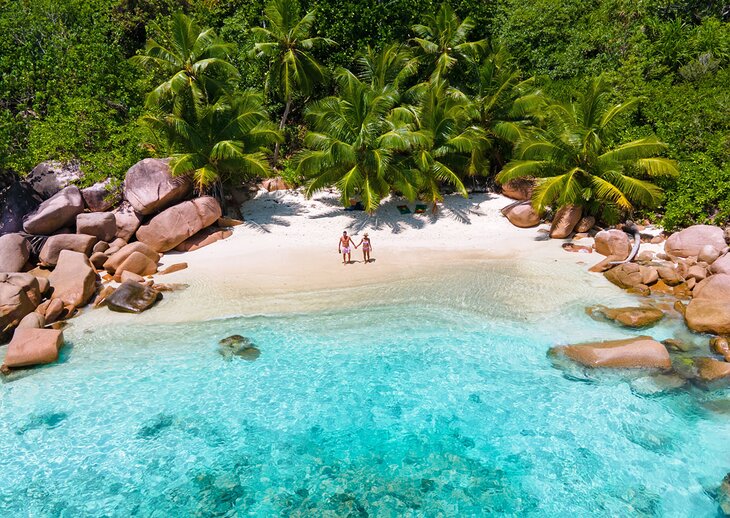 In addition to its sparkling turquoise waters, abundant sea turtles, and an underwater world resplendent with colorful life, the sand on these impressive beaches is so soft, it soothes sore feet. Add a stunning backdrop of lush forests, giant boulders, and verdant hills, and you'll begin to grasp the extent of the area's perfection.
Unsurprisingly, many of the best Seychelles beaches are home to luxurious resorts so impressive, they will forever change the way you view future stays at average hotel chains. These lovely spots and their breathtaking beaches are all so spectacular, we bet you can't choose just one!
With so many unspoiled, picture-perfect beaches in the Seychelles, it can be hard to decide which of these to visit for a romantic couples vacation or honeymoon, and what beach to choose for a family-friendly vacation you'll dream about for years to come.
Narrow your search for nirvana with our list of the best beaches in the Seychelles.
1. Petite Anse, Mahé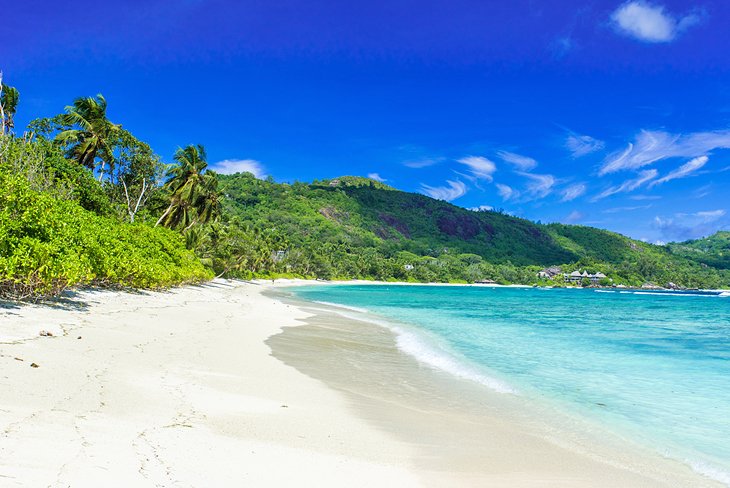 Arguably the most beautiful Seychelles beach, Petite Anse is both pristine and isolated. Backed by an impressively dense forest and granite cliffs, this gem is located on the southwest coast of Mahé, the largest, and main, island of the Seychelles. A protected bay of silver-tinged sand, this beautiful spot is an excellent place to swim and snorkel, especially for families.
The easiest way to gain access to this exclusive beach is by staying at the luxurious Four Seasons Resort Seychelles. Tree house villas equipped with private pools pepper the granite hillside, offering unbeatable views of Petite Anse Bay. They've been designed to blend in with the spectacular background, so your view won't be impeded.
Insider's Tip: If you aren't staying at the Four Seasons, plan to arrive early, as parking is sparse. Then, prepare yourself for a 20-minute hike down (and a more arduous uphill journey back). Check in with hotel security, and if you're lucky, a member of the resort staff might let you hitch a ride to the beach.
2. Anse Georgette, Praslin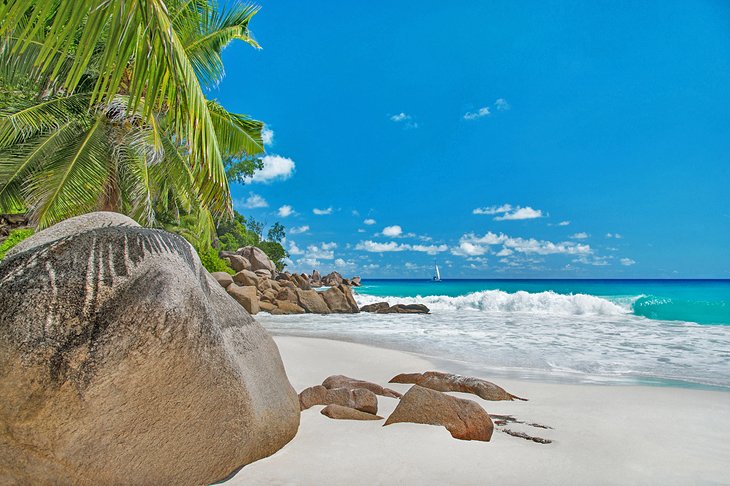 Exceptionally soft, white sand stretches along the shore of the quiet Anse Georgette beach on Praslin Island. Although technically a public beach, Anse Georgette is most easily accessed through the resort, Constance Lemuria.
Unlike the Four Seasons Resort at Mahé, which welcomes beach visitors if they've checked in with security, the Constance Lemuria limits non-resort guests. By asking visitors to call ahead and reserve a beach visit, they're able to keep the area clean and uncrowded and enhance the beach's secluded allure.
Once you arrive at the resort, you can hop on a buggy, which runs every hour from the hotel, or walk a short distance to this impeccable spot.
Once here, you'll be greeted by a spectacular bay, featuring water that's the most enticing shade of turquoise. With no rocks or coral to mark the ocean floor off this beach, the ocean is unblemished and extremely inviting.
Beware, though, as currents are known to be strong here, so swimming isn't as safe as it is in other locations, which means this isn't the best beach for families.
Insider's Tip: There's no resort parking available for beach visitors. If you'd like to park on the property, book a table for lunch or dinner.
3. Anse La Passe, Silhouette Island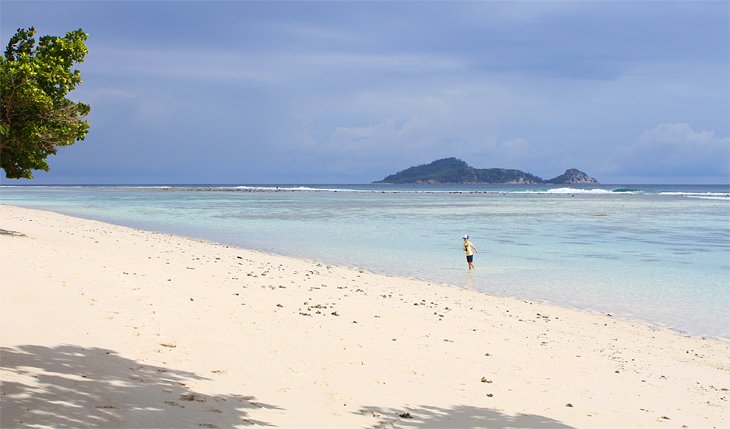 A remarkable beach hugging the Western shore of Silhouette Island (about 19 kilometers north of Mahé), Anse La Passe is part of the luxurious, all-villa Hilton Seychelles Labriz Resort & Spa.
The third largest of the Seychelles archipelago, Sihouette Island is free from cars and is home to only about 100 people. If you're looking for a quiet beach vacation, you'll find it in this utopia.
The warm ocean surrounding this island is a protected marine park boasting an untouched paradise teeming with underwater life. Crystal-clear, calm water laps the pristine stretch of sand at Anse La Passe. And a thriving coral reef lies a mere 200 meters offshore, making this a perfect spot for families.
When the tide is out, you merely have to wade in ankle deep to experience an exhilarating scene. From lionfish to sting rays to eels, you can see everything without the aid of a snorkel and mask. Beware where you step: spiky sea urchins lie among the coral.
Located so close to the resort, other fun activities, like sailing, biking, and fishing, are available, as is delicious food from multiple restaurants.
Insider's Tip: Anse La Passe isn't the only remarkable beach on this island. Hop on one of the resort's bikes and make your way past the hilltop spa to another secluded beach peppered with large boulders. Then, hike through the Anse Mondon trail through a rainforest of vanilla, cinnamon, and rare Coco de Mer palm trees. It takes about three hours and ends at the spectacular Anse Mondon beach, a perfect spot to enjoy a dip or snorkel in the Indian Ocean. Hiking shoes are a must!
4. Anse Major, Mahé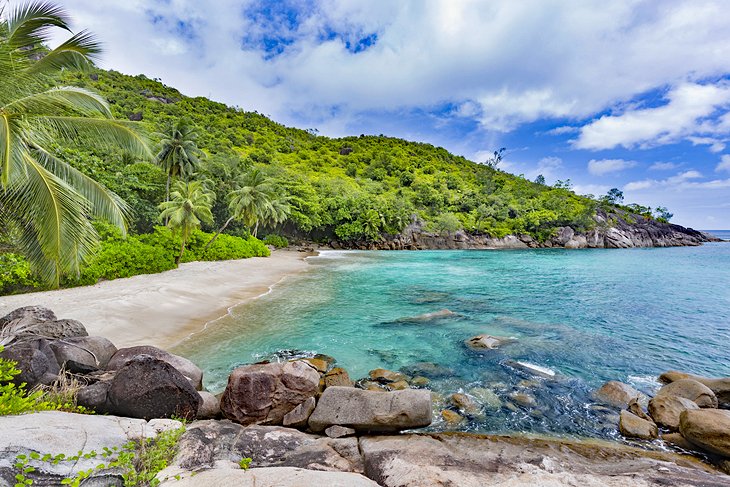 A hidden gem on the northwest coast of Mahé, Anse Major can only be accessed by foot or boat.
No roads lead to this secluded nirvana, so you'll have to park and hike in, which can take anywhere from 30 to 60 minutes. The reward: dramatic views of an impeccable coast from atop a granite cliff and a tranquil scene you'll be hard-pressed to beat. Not a walker? Water taxis are also available.
Once your feet meet the plush, unspoiled sand, you'll realize your trek was worth it. The region's famed turquoise water caresses the shore, which is embraced by a verdant green jungle. A perfect spot for an enjoyable swim, the calm ocean makes this one of the island's safest places to take a dip.
Insider's Tip: Head to the beach in the morning (before 9) to avoid the hot sun, as there's little shade offered on the trail. Also, be sure to pack plenty of water, snacks, and everything else you need for the beach, as there are no amenities here.
5. Anse Intendance, Mahé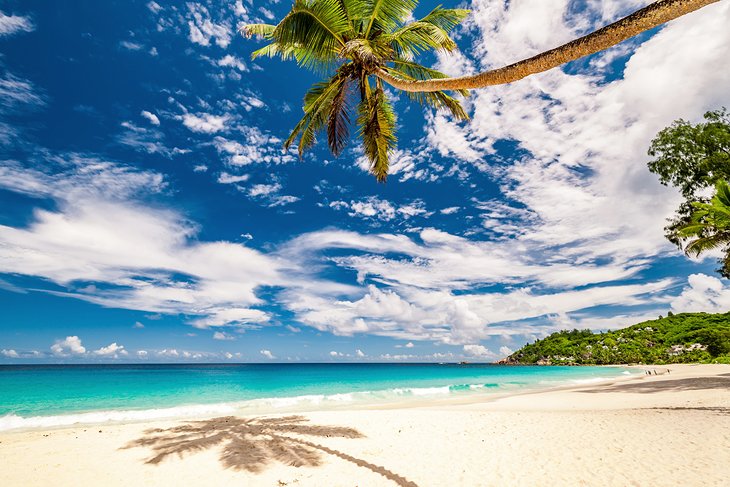 Like most of the impressive Seychelles beaches, Anse Intendance is revered for its iridescent azure water and surrounding lush tropical forest. The one thing missing is a coral reef, but this deficit is in fact a bonus—no reef means excellent surfing.
While typically beautiful and serene, Anse Intendance isn't the island's best beach for families. The rough waves and currents that gratify surfers make swimming difficult for both the younger set and other, less confident swimmers, especially during June to September.
Located on the south western coast of Mahé, this wild beach plays host to the exclusive Banyan Tree Seychelles, a romantic beach resort, where holiday guests are treated to private pool villas in a dreamlike locale.
It's set well back, however, making it an unobtrusive addition to the coastline. Plus, the hotel's convenient location is a plus for sunbathers looking for a bite to eat—there are no shops or other concessions available on this secluded beach.
6. Anse Source d'Argent, La Digue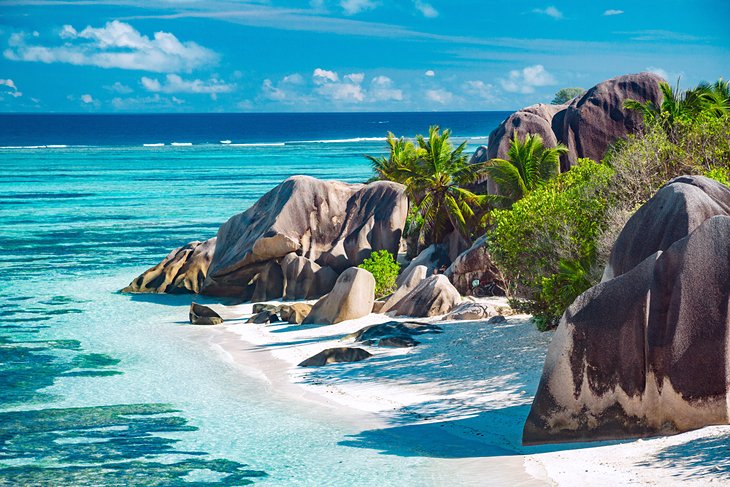 Anse Source d'Argent is literally the face of paradise. Made famous in films and advertising campaigns, this unique spot embodies the true essence of a dream beach vacation.
Once you catch sight of its flawless white sand, inimitable boulders, and crystalline tropical water, you'll see why. So, too, do many other vacationers, which is why the beach gets crowded at times, especially during December, January, and August.
There is an upside to the beach's popularity: palm shade huts have cropped up, as well as a local stand that sells juices, coconuts, and other refreshing treats.
If you're looking for a quieter experience, walk along the path through the giant boulders to the south, away from the main part of the beach. This area is much less crowded and just as spectacular.
Another bonus: the water at Anse Source d'Argent is so clear you won't need a snorkel or mask to see the vibrant fish swimming about, and it's shallow and calm enough to entice young children to splash and play. We'd advise wearing water shoes to protect your feet from sharp coral at this popular beach for families.
Insider's Tip: Avoid high tide, when the beach can disappear below the vibrant water. Also, you'll have to pay an entrance fee to the L'Union Estate of SCR. To get to the beach, you'll have to walk through the L'Union Estate park. Your fee includes admission to the park, as well as the museum, which features giant turtles and coconut mills.
7. Anse Lazio, Praslin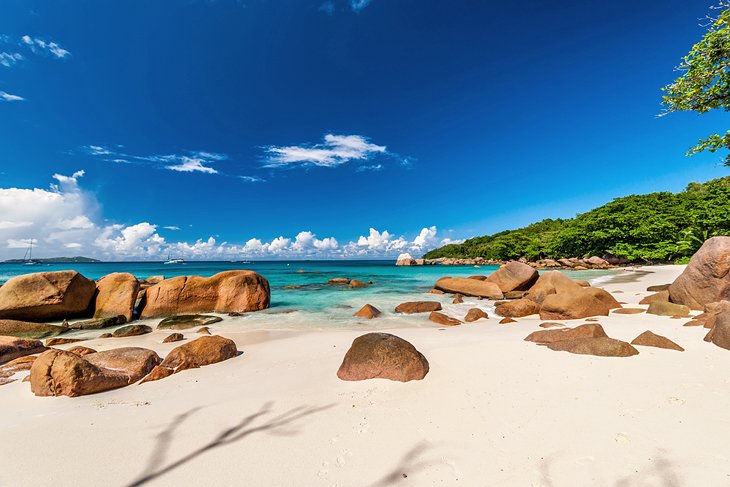 One of the top beaches on Praslin, the second biggest island in the Seychelles, Anse Lazio is enveloped by tall and lush takamaka and palm trees, offering much needed shade from the beating sun.
The ocean here is as glassy and transparent as it is at other top Seychelles beaches, and the pristine sugar-white sand makes it one of the island's cleanest beaches.
One of the best places to visit for those looking for both a romantic beach vacation and a family holiday to remember, Anse Lazio can get crowded, especially later in the day. It's best to arrive early (around 9) to beat the rush and find a close parking spot. If you have enough time (and energy) to stay late, the sunset here is unbeatable.
Insider's Tip: Swimming and snorkeling are two of the most popular activities, especially when the waves are small and calm. That said, the undertow can become intense from June to September, so take care if swimming during this time.
8. Anse Louis, Mahé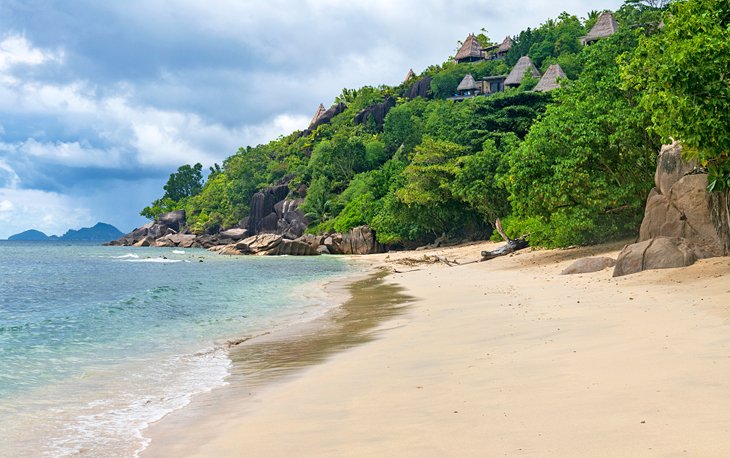 Like most of the best Seychelles beaches, Anse Louis has been claimed by a holiday resort.
Inconspicuous villas of the impressive Anatara Maia Seychelles Villas dot the lush hillside, all boasting a private infinity pool. That's a bonus for other travelers: hotel guests are so busy enjoying the lap of luxury, you won't have to fight crowds at this lovely, clean beach.
Located on Mahé's west coast, Anse Louis is set in a small, sheltered bay, which helps add to the exclusive allure. It covers 500 meters of beachfront and is conveniently situated between two other lovely beaches—Anse à la Mouche and Anse Boileau. This is an ideal beach for couples looking for romance.
On the north end of the beach, you'll find the large, granite rocks made famous by this region, as well as a tropical forest begging to be discovered. The south end is best for lounging and swimming, while you'll find larger surf-worthy waves to the north side. From June to September, you can expect seaweed to wash into shore.
Insider's Tip: Public access to this beach is simple. Merely park in the nearby lot (just south of the resort) or grab a taxi or hop on a local bus.
9. West Beach, Bird Island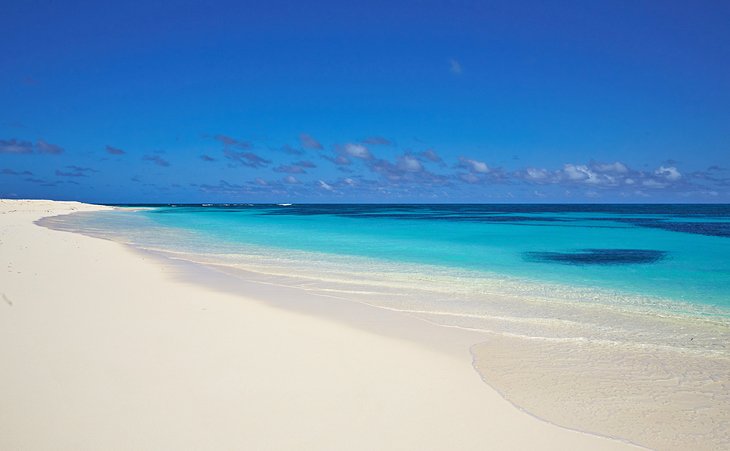 West Beach is an oasis of pearly sand that softly caresses weary feet. One of the Seychelles' best beaches to watch a sunset, this Bird Island sanctuary offers a breathtaking vista filled with unbeatable hues of orange, red, pink, and purple.
Talk about a remote beach! Situated 96 kilometers from Mahé, this beach is located on the northernmost island in the Seychelles archipelago. It's so quiet and remote that even turtles feel brave enough to wander the area and lay their eggs.
Protected on its east and west sides by a barrier reef, Bird Island is a perfect place to get up close and personal with the underwater life. Head to nearby Hirondelle Beach for the best snorkeling.
The island is also well known for its vibrant bird life, hence the name. In fact, close to one million Sooty Terns call Bird Island home.
Insider's Tip: Book a night at the Bird Island villa-only resort, since the only way to get to Bird Island is by plane (a 30-minute flight from Mahé), and they leave only once a day. Don't expect room service, air conditioning, phones, or television. This rustic hotel is designed to get you back to nature and away from the annoying habits we've picked up in the modern world. That's something we could all benefit from.
10. Grand Anse, La Digue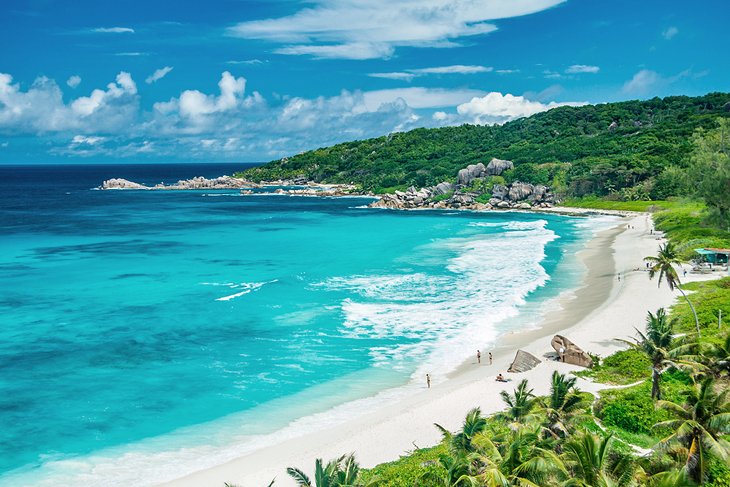 A picture-perfect beach that's free from crowds, Grand Anse is a wonderful place to spend a day frolicking under the sun. The sand here is so soft, you'll feel as if you're walking through powder instead of ground-up pieces of coral.
The longest beach on La Digue, Grand Anse is impeccable in its beauty, edged by spectacular granite boulders and backed by leaning palm trees. The only downside is that the shade doesn't reach the sand. That means there's no real respite from the midday heat. You'll want to pack an umbrella and comfy beach chair or towel to make the most out of your visit.
Grand Anse is known to most as a wild beach. Instead of quiet, calm waves gently lapping the shore, you're more likely to encounter a rough, crashing surf that reminds you of who's really in charge—Mother Nature. This is great news for surfers, who can spend hours on these windswept waters. Swimmers should use extra caution, especially during the southeast monsoon season between April and October.
Insider's Tip: Most visitors bike uphill to this lovely beach. Reward yourself with a cool drink from the beach shack—this is also one of the only areas where you'll find shade.
11. Beau Vallon Bay, Mahé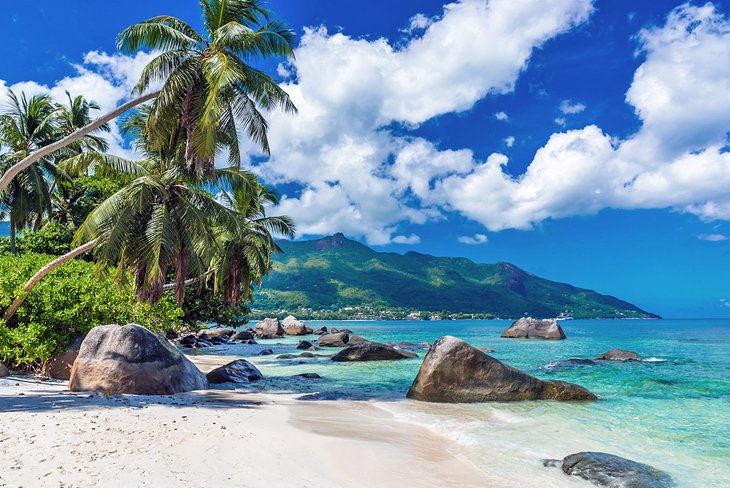 The view at Beau Vallon Bay is the stuff dreams are made of. Drooping palms wave in greeting above a long stretch of silver, soft sand while offering a shady retreat that's much-appreciated by overheated beach goers.
One of the largest beaches on Mahé, Beau Vallon is peppered with beach hotels, restaurants, and other shops. The downside: this makes the beach seem a bit more commercialized than a top Seychelles beach should be, but the crowds are luckily kept at bay.
A family-friendly beach, Beau Vallon offers some of the safest swimming on the island. Since the tide goes in and out slowly and there are few waves, it's an easy beach to wade in and splash around with kids.
This is also one of the best places to participate in beach activities. From parasailing to paddleboarding to banana boating, there's no lack of fun things to do at Beau Vallon.
Insider's Tip: Head to the beach at sunset to enjoy a truly miraculous view. In the distance, you'll catch sight of the beautiful Silhouette Island. Be sure to pack a camera!
12. Anse Forbans, Mahé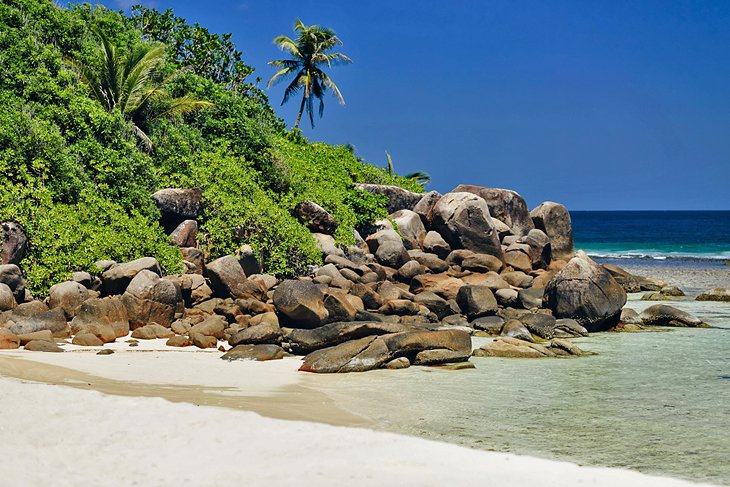 If you're looking for a place to relax, Anse Forbans is it. Shallow, calm, and vibrant turquoise water make this an ideal beach for families, romantics, and those looking to chill out. While swimming and sunbathing are the main pastimes, many enjoy snorkeling and fishing around the calm bay.
Located along Mahé's southeast coast, Anse Forbans has also fallen prey to beach hotels like the four-star Doubletree by Hilton Seychelles - Allamanda Resort and Spa. That's not necessarily a bad, thing, though, as it means you'll be able to find restaurants, accommodation, and access to water sports nearby.
Despite its proximity to the hotels, this beach never feels too crowded. In fact, you can often have it almost to yourself.
Insider's Tip: Nature has divided this calm bay into three smaller sections of beach, with the use of large granite boulders. During low tide, you can search the natural pools for sea creatures, or swim and snorkel through the lagoon formed by an offshore reef.
13. Anse St. Sauveur, Praslin
A small beach (it's about 600 meters long) on the south coast of Praslin, this little piece of paradise offers visitors a break from the hustle and bustle of larger, more popular beaches.
Lined with sweeping coconut palms, this beach is well photographed, and appreciated, for its shade-giving trees.
The warm, calm water here is shallow, with no large surf to contend with, making it a family-friendly beach worth visiting. These attributes also make Anse St. Sauveur an ideal beach to use as a base for a snorkeling adventure close to shore—no boat needed. It's also a good spot to fish.
Insider's Tip: The beach's small size is a plus, since most visitors come to take selfies with the magnificent trees and leave shortly after. They're likely looking for a place with more space to spread out while spending an entire day seaside.
That leaves plenty of clean sand available for your own lounging needs. Another plus, visitors to Anse St. Sauveur are rewarded with an impeccable view of the Seychelles' main island, Mahé.
14. Anse Volbert, Praslin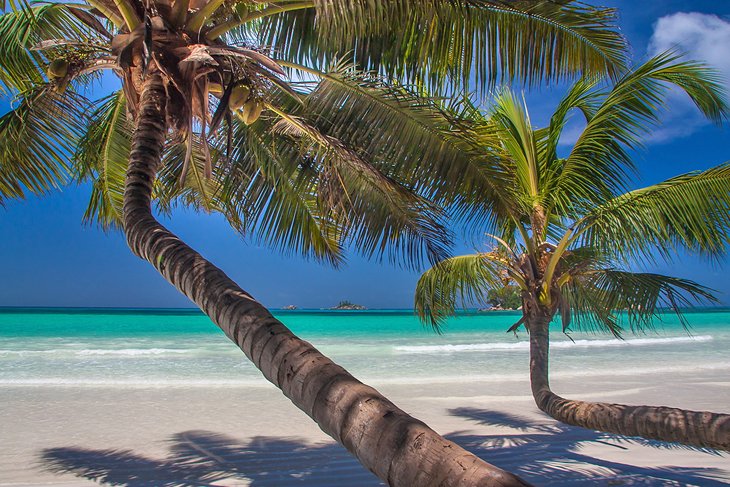 The most popular and longest beach on Praslin, Anse Volbert has been deemed the Seychelles' Cote d'Or. A hot spot for beachgoers, this beach is a great place to find all sorts of water activities, including windsurfing, scuba diving, fishing, and sailing. This abundance of aquatic fun makes it an ideal beach for adventure seekers.
Another bonus: the water here is calm and shallow, especially during low tide, which makes this an ideal beach for those traveling with kids. Drooping palms will protect you from the sun's intense rays while providing a fun place for little ones to climb and jump. You can also rent an umbrella to help protect you from the hot, Seychellean sun.
If you're looking for a meal or need to top up your sunblock, you won't have to go far; small shops and restaurants line the road behind this lovely beach.
Insider's Tip: Anse Volbert is a popular starting point for multiple day cruises and other excursions. This may partly be due to the beach's close proximity to the road and bus stop. It's an easy place to get to.
15. Anse Cocos, La Digue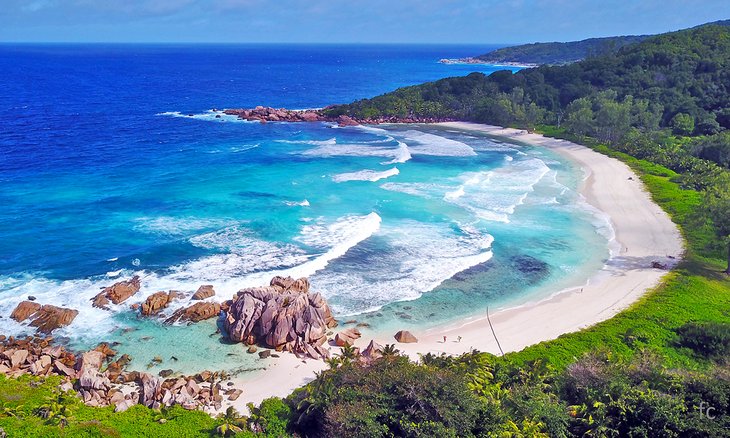 Visiting Anse Cocos beach is one of the best things to do on La Digue Island. Once you catch sight of its postcard-worthy beauty, you'll understand why. Gargantuan granite boulders pepper the shimmering white sand, contrasted perfectly by water so blue, you'd swear Crayola was responsible for coloring it.
As is the case with most things worth doing, a visit to Anse Cocos requires a bit of effort. In this case, that means a 30-minute walk from nearby Grand Anse beach. Its secluded locale means you won't need to fight crowds, however, which is a lovely treat for those looking for a little romance and isolation with their beach vacay.
Search the tide pools near the base of the boulders for unique wildlife; paddle about in the calm, shallow water at the end of the bay; or merely laze on the soft sand while gazing out at a view so gorgeous, it will melt any stress. When you're feeling overheated, head to the waves or nestle under a palm tree for a bit of a respite.
Insider's tip: While the natural, boulder-formed swimming pool at the end of the bay is calm, the rest of the area can boast dangerous tides and current. Be careful, especially since there are few, if any, other visitors to this beach.
16. Anse Marron, La Digue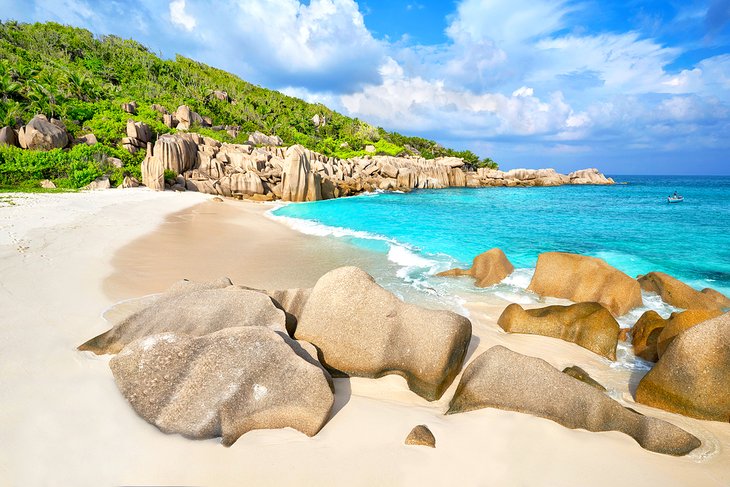 Another masterpiece found on La Digue, Anse Marron boasts the immaculate sand and crystalline turquoise water we dream about on cold, dreary days at home. It's also the proud placeholder for multiple giant granite boulders that provide not only an Instagram-worthy backdrop but also a fantastic spot to watch crabs mosey their way along the sand and rock.
Picturesque boulders provide natural, calm saltwater pools, perfect for less confident swimmers to splash about and float safely at this southernmost of the island's beaches. Note: The water drops off quickly as you leave the protection of the boulders, so beware.
A well-hidden gem, this beach can be tricky to find, and requires a bit of a hike that can be rocky and slippery, so it is not the best beach to bring kids. It is, however, a wonderful place to escape and luxuriate in an unbeatable type of solitude.
We'd suggest hiring a guide if you don't want to get lost. If the water's calm enough and you have access to a boat, this is another option for reaching Anse Marron.
17. West and Honeymoon Beaches, North Island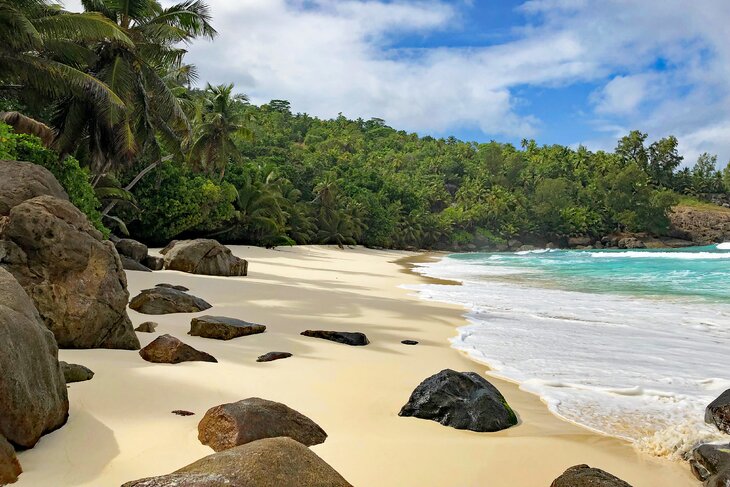 North Island is home to five of the best beaches in the Seychelles. They're also among the most exclusive, as you must be a guest of the luxurious and uber-private North Island, a Luxury Collection Resort to enjoy them.
With only 11 super plush villas, guests are ensured a quiet, five-star experience with access to top amenities, exceptional service, drool-worthy meals, and of course, some of the world's best beaches. This is where celebs the likes of George and Amal Clooney and royals Will and Kate honeymooned.
West Beach boasts the softest sand and the most spectacular sunsets. It is the longest beach on North Island and stretches along most of the west coast. The water here is calm and clear, making this a perfect beach for snorkeling and scuba diving. On land, there's plenty of shade, which makes it easy to stay all day.
Honeymoon beach sits on the crest of a small bay, and it's easily reached by a moderate walk over Bernica Hill. Popular with loved-up couples, this amorous beach is an ideal place for a romantic picnic, which the hotel will organize so you won't have to carry a thing.
Note: The path to the beach is a bit rocky, so be sure to wear proper shoes.
The Seychelles - Climate Chart
Average minimum and maximum temperatures for Seychelles International Airport, Seychelles in °C
J
F
M
A
M
J
J
A
S
O
N
D

30

24

30

25

31

25

31

25

31

25

29

25

28

24

28

24

29

24

30

24

30

24

30

24

PlanetWare.com
Average monthly precipitation totals for Seychelles International Airport, Seychelles in mm.

379

262

168

178

125

64

81

97

122

206

216

281
Average minimum and maximum temperatures for Seychelles International Airport, Seychelles in °F
J
F
M
A
M
J
J
A
S
O
N
D

85

75

86

76

87

76

88

77

86

77

84

76

82

75

83

75

84

75

85

75

86

75

86

75

PlanetWare.com
Average monthly precipitation totals for Seychelles International Airport, Seychelles in inches.

15

10

6.6

7.0

4.9

2.5

3.2

3.8

4.8

8.1

8.5

11
More Related Articles on PlanetWare.com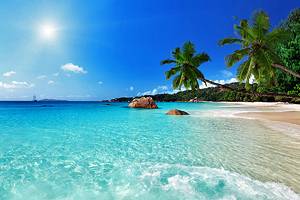 More on the Seychelles: For a more comprehensive look at things to do, see our article on the top attractions in the Seychelles. While most people think of the beaches, the islands also have parks, wildlife, and other places to explore. If you haven't yet booked your accommodation, be sure to see our list of the top resorts in the Seychelles.