16 Top-Rated Attractions & Places to Visit in Jaipur
No trip to India is complete without spending time in Jaipur. Affectionately nicknamed "The Pink City" for the blushing color of its historic buildings, Jaipur is a princely wonderland of culture and heritage.
The best places to visit in Jaipur showcase the royalty of Rajasthan — and you don't have to walk far to see many of the top attractions. Start by touring City Palace, a nearly 300-year-old palace with special courtyards, structures, gardens, and temples.
Just next door is Jantar Mantar, a centuries-old attraction with giant astronomical instruments commissioned by the founder of the city. A 10-minute walk from here brings you to Hawa Mahal, a red-and-pink sandstone structure. Its distinctive lattice design allowed royal women to get a peek at public life while remaining unseen in the 19th century.
Ready to make your trip to "The Paris of India" a memorable experience? Map out your itinerary with our guide to the top attractions and places to visit in Jaipur.
1. City Palace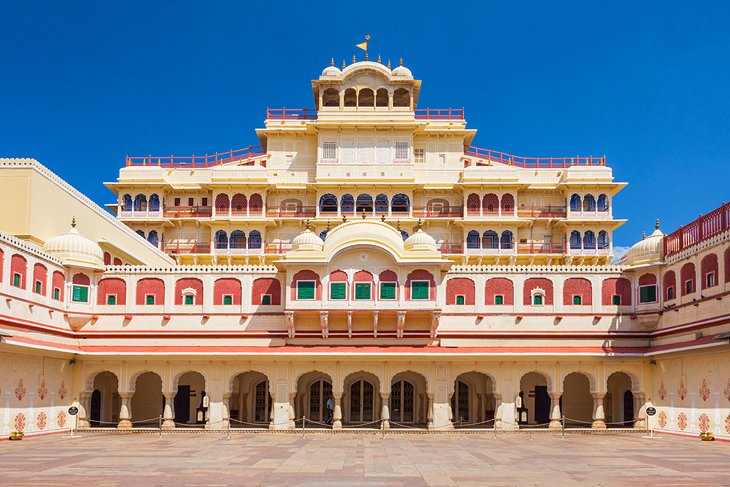 City Palace has stood at the heart of the Old City of Jaipur for nearly three centuries, shortly after Maharaja Sawai Jai Singh II decided to relocate his court from the city of Amber. Protected by huge guard walls, the fairy-tale-like structure is still the home of the city's modern-day royal family and endures as one of the top places to visit in Jaipur.
City Palace is more than a sand-colored regal abode — it's a sprawling complex of buildings built around a series of landscaped garden courtyards overlooking Jaipur and Lake Palace. The entire property is a stunning display of Rajasthani and Mughal architecture.
The current occupants reside in the most eye-catching building, the Chandra Mahal, an elegant structure with curved eaves and domed rooftops. Each of its seven stories features an entirely different style. The ground floor is included in the price of admission, but you'll need to book a private tour to go upstairs.
Other noteworthy places for sightseeing at City Palace include the Mubarak Mahal (Welcome Palace), which contains displays of dazzling costumes and textiles; the Armoury, a museum-like space dedicated to preserving finely crafted daggers and swords; Pritam Niwas Chowk (Peacock Courtyard), which has mesmerizing doorways painted to look like the feathers of its namesake bird; and Diwan-i-Am (Hall of Public Audience), which showcases the palace's exquisite collection of miniature paintings.
After exploring the palace, check out the Friends of the Museum Bazaar. It has some of Jaipur's highest quality souvenirs (with equally high prices).
Address: Tulsi Marg, Gangori Bazaar, J.D.A. Market, Pink City, Jaipur
2. Jantar Mantar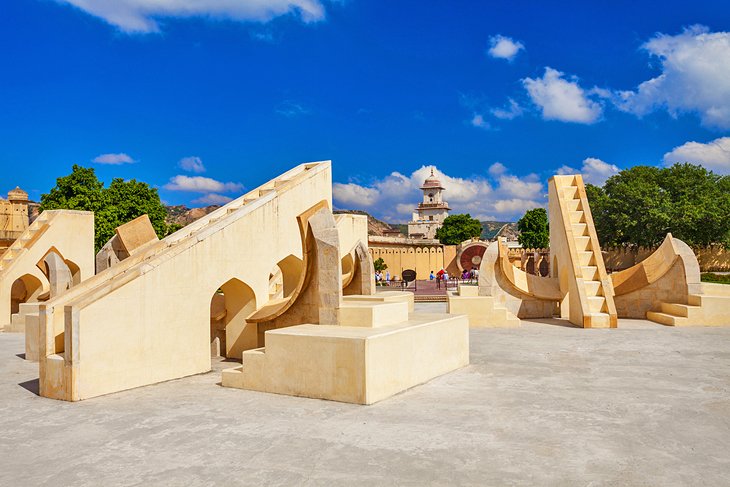 At first glance, Jantar Mantar may look to be nothing more than a bunch of larger-than-life abstract sculptures. But this is not an art gallery — this attraction contains a special collection of astronomical tools started by Rajput ruler Jai Singh II to measure the heavens nearly 300 years ago.
Each of the 20 or so structures at this UNESCO World Heritage Site serves a distinctive purpose. The observatory's massive sundial, known as Samrat Yantra, is particularly striking. At 27 meters tall, it casts a huge shadow that accurately measures time down to two seconds.
The elaborate Jai Prakash also tracks the passing of time, using the shadow of a metal plate suspended above a sunken bowl-like structure. The ingenious Rama Yantra, a circular walled structure, can locate the precise positions of celestial objects. Other tools at the observatory can track stars and even predict eclipses.
Hot tip: It's worth hiring a private guide at Jantar Mantar if you want to learn how each of the structures works.
Address: Gangori Bazaar, J.D.A. Market, Pink City, Jaipur
3. Hawa Mahal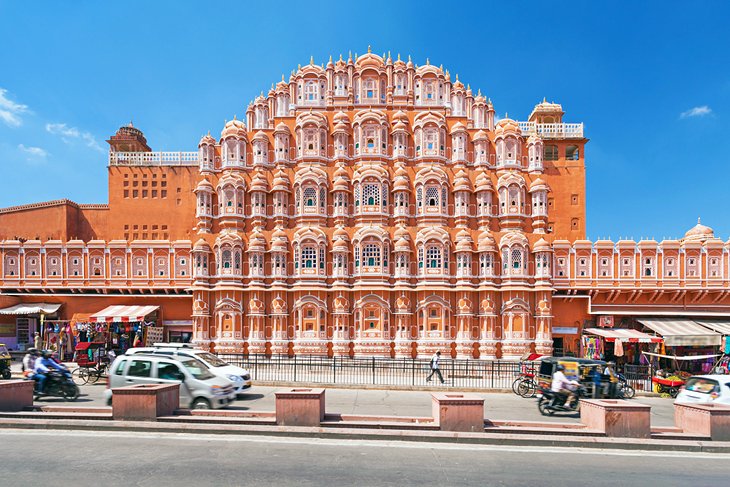 If you had any preconceived notions about how the buildings in Jaipur look, they probably came from Hawa Mahal (Palace of Breeze). A top place to visit in Jaipur, this structure has all of the distinctive architectural features that appear in postcards of the city, from the salmon-pink, honeycombed facade, built to resemble the crown of the Hindu god Krishna, to the geometric accents and rows of tiny windows.
The landmark was built in 1799 to allow royal ladies to watch festivals on the street without being seen by the public. Its 953 windows allow plenty of breezes to pass through, making it an ideal summer palace (and the perfect spot to get relief from Rajasthan's oppressive heat today).
Tourists can learn about the history of the sandstone structure at the palace's small museum — the ceremonial armor collection is particularly interesting. You can also wander the narrow hallways that run throughout the palace. Don't miss the colorful glasswork in windows and doorways, which cast an otherworldly glow on chambers throughout Hawal Mahal.
Address: Hawa Mahal Rd., Badi Choupad, J.D.A. Market, Pink City, Jaipur
4. Amber Fort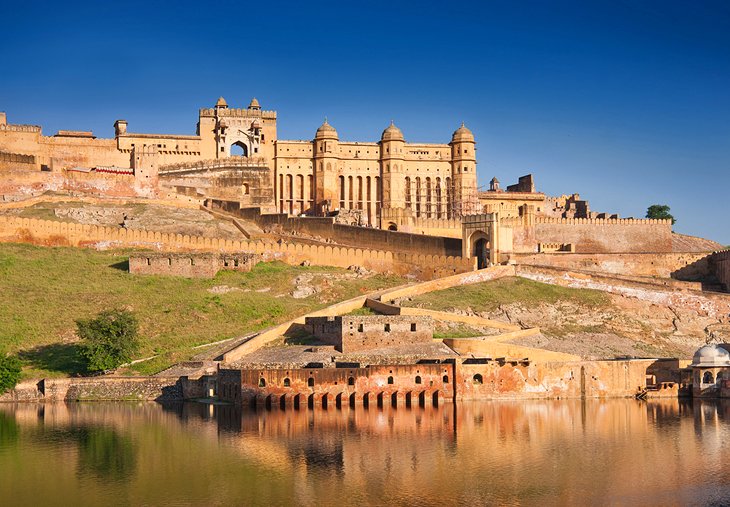 Jaipur is home to one of India's most-visited forts: Amber Fort. Built in the year 1592, the sandstone and marble monolith stands atop a small hill roughly 20 minute's driving distance northeast of the center of Jaipur. This attraction is best known for being a pristine example of Rajasthani architecture.
Getting to Amber Fort typically involves a short uphill hike that's well worth the effort. It's decked out with intricate patterns of inlaid marble in nearly every color of the rainbow. The fort is laid out into four separate sections, each of which has a spectacular garden courtyard outside. While you'd never know it from above, you can actually explore the fort's underground tunnels, some of which have been restored.
This UNESCO World Heritage Site has a fascinating history of legends, betrayals, and romance — but the best way for tourists to hear these stories is to hire a private guide at the Amber Fort.
Address: Devisinghpura, Amer, Jaipur
5. Albert Hall Museum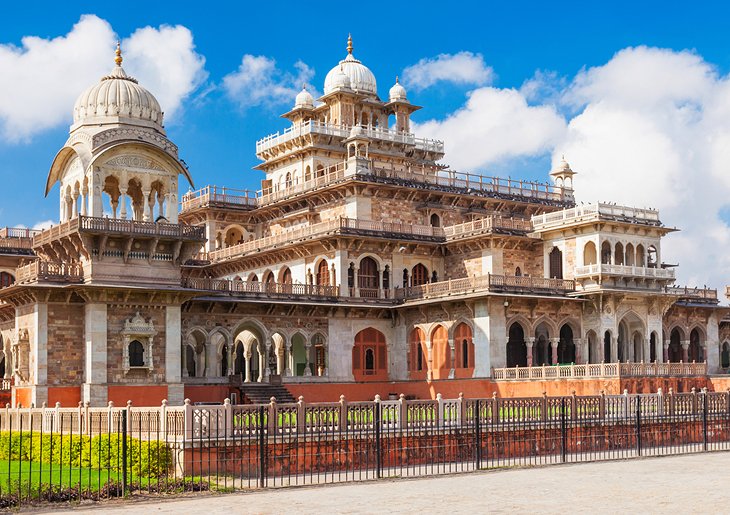 When English writer Rudyard Kipling visited the Albert Hall Museum in Jaipur, he wrote that it was a "rebuke to all other museums in India from Calcutta downwards." That's high praise coming from the son of a curator, and fitting for this renowned institution.
The oldest museum in Rajasthan, the Albert Hall Museum boasts an extensive collection of art and historically significant artifacts. Come for the Egyptian mummy; stay to see antique coins from different periods in India's history, charming permanent exhibits of miniature paintings, 18th-century costumes worn by members of different castes, and a peculiar collection of 19th-century clay figures demonstrating all the yoga poses.
Hot tip: Visit the museum at night, when multicolored lights brighten the exterior of the alluring building.
Address: Museum Road, Ram Niwas Garden, Kailash Puri, Adarsh Nagar, Jaipur
6. Birla Mandir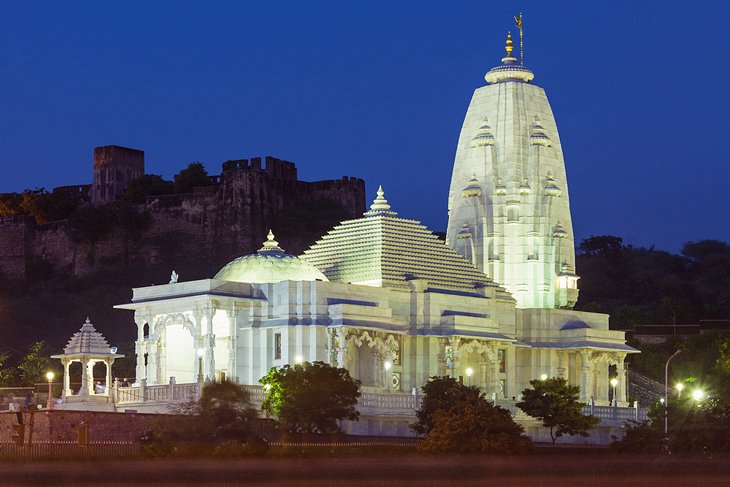 In a city that seems to be dipped from top to bottom in pink, the stark white marble Birla Mandir stands out — big time. The Hindu temple pays tribute to Lakshmi, the goddess of wealth and purity, and Vishnu, one of the religion's main deities. It's one of the best places to visit in Jaipur for tourists and Hindu devotees alike.
The marvelous structure exudes a quiet, peaceful vibe, offering just the right atmosphere to appreciate fine marble carvings, shrines to gods, and gorgeous sunset views. While you don't need more than 30 minutes to get a sense of the space, the experience will prove to be a restorative break from a day of sightseeing.
Address: Jawahar Lal Nehru Marg, Tilak Nagar, Jaipur
7. Nahargarh Fort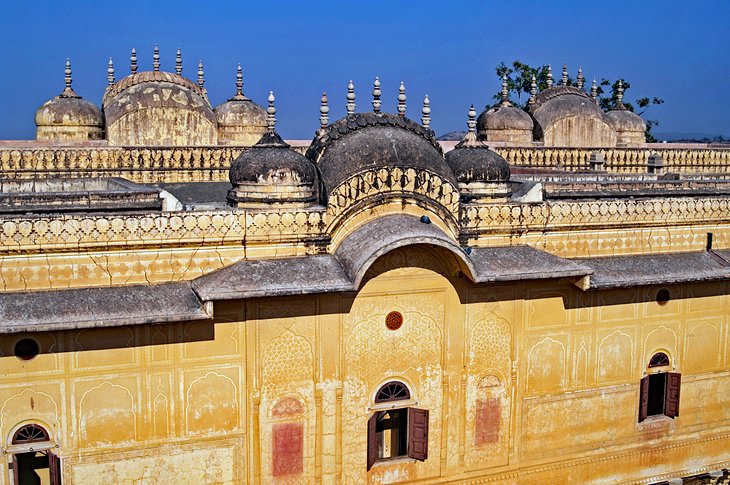 When it comes to sightseeing around Jaipur, the views don't get better than what you'll find at Nahargarh Fort. Also known as Tiger Fort, this nearly 300-year-old attraction overlooks the entire city from atop the Aravalli Hills — a prime location for the structure to defend the city against enemies many years ago.
More than just a formidable barrier though, this fort also contains Madhavendra Bhawan, a summer destination for royalty. The sumptuous Rajasthani building features a dozen identical boudoirs for the queens, which all connect to the king's suite through mural-filled corridors.
Tourists can also explore the fort's wax museum and sculpture park. And if you're feeling hungry, swing by one of the fort's many restaurants to tuck into traditional Indian cuisine.
Address: Krishna Nagar, Brahampuri, Jaipur
8. Galta Ji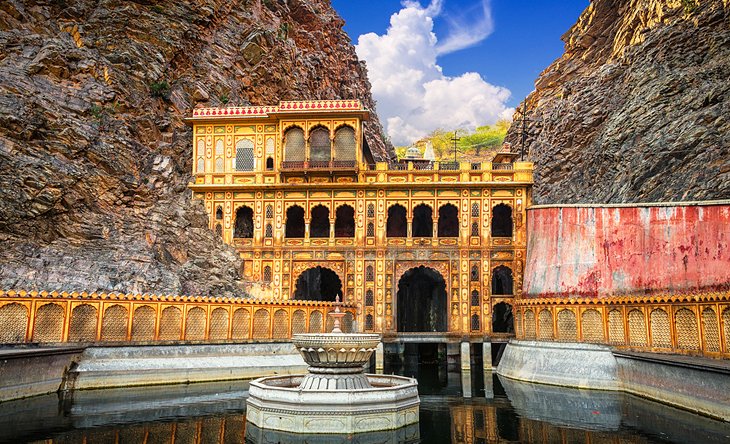 Sources of water can be few and far between in the desert state of Rajasthan. So it's no wonder that when people discovered a natural spring in a mountain pass in the Aravalli Hills, they honored it by building the Hindu temple Galta Ji.
Nestled between cliffs, the temple features a few sacred water tanks, some with modest fountains, as well as frescoes that tell tales about the Hindu god Krishna.
Galta Ji is also one of the best places to visit in Jaipur if you want to see monkeys. It's home to hundreds of macaques and langurs (hence its nickname, "The Monkey Temple"). Daring tourists might opt to buy a handful of peanuts at the gate to tempt the monkeys, but you're better off just watching the rambunctious creatures from a distance.
9. Amrapali Museum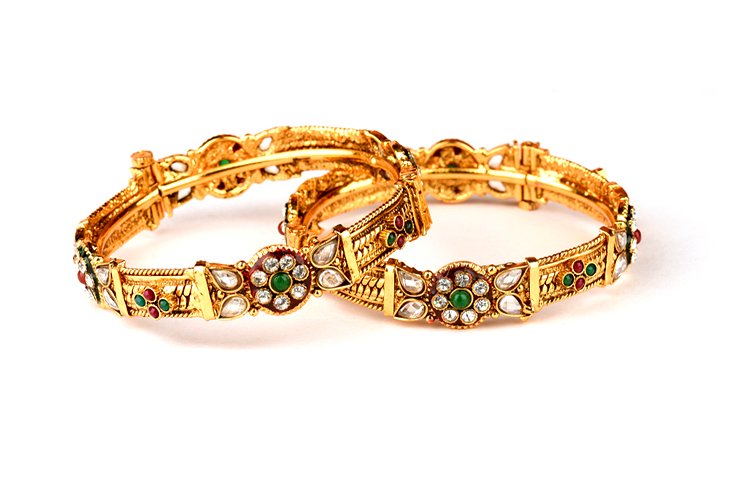 When the founders of the beloved Indian jewelry brand Amrapali Jewels started collecting antique jewelry in the late 1970s, they realized that some of these one-of-a-kind treasures deserved to be preserved and displayed. And so the Amrapali Museum was born, instantly becoming one of the top places to visit in Jaipur.
The jewelry museum in Jaipur features two full floors of glistening jewels and objects from its 4,000-piece collection, showcasing the vast range of Indian craftsmanship.
The displays show just how seriously Rajasthani people take their gold, silver, and precious gems. Among the jewels, you'll see silver bands for horses' legs, a chariot fully covered in silver, embellished shoe covers, and a glorious crown for a groom from Himachal Pradesh.
While these pieces are for display only, there's an extensive range of necklaces, bracelets, and other wearables available for purchase at the Museum Shop.
Address: Ground Floor, K, 14/B, Ashok Marg, Panch Batti, C Scheme, Ashok Nagar, Jaipur
10. Museum of Legacies
For much of history, Rajasthan's most important handicrafts and works of art lived in private collections that were unavailable for viewing by the majority of the public. That all changed when the Government of Rajasthan opened the Museum of Legacies in 2017.
Housed in a two-centuries-old mansion, this tourist attraction showcases an assortment of Indian embroidery, giant Rajasthani puppets, Pichwai paintings, and much more.
Don't miss the magnificent marble latticework. The amount of swirling detail the artisans were able to carve from such a strong, hard stone is hypnotic.
Address: Kishanpole Bazar Road, Modikhana, Jaipur
11. Jal Mahal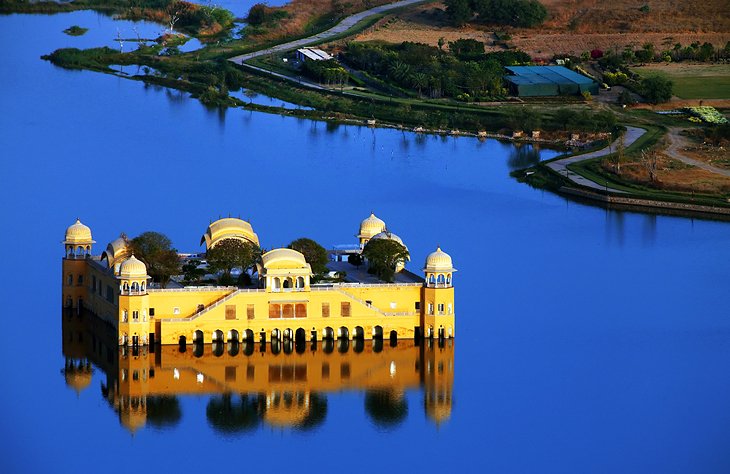 One look at the Jal Mahal, and you might think you're seeing a mirage. The graceful palace seems to float atop the twinkling Man Sagar Lake — a calm sight compared to the rest of the frenzied city.
While it appears to have just one story, the Water Palace has four other levels submerged beneath a reservoir. The government no longer allows tourists to visit the site, but you can stroll a pathway around the lake to catch gorgeous views of the attraction. At night, it's lit up in all its glory, casting a golden, glowing reflection on the water.
12. Markets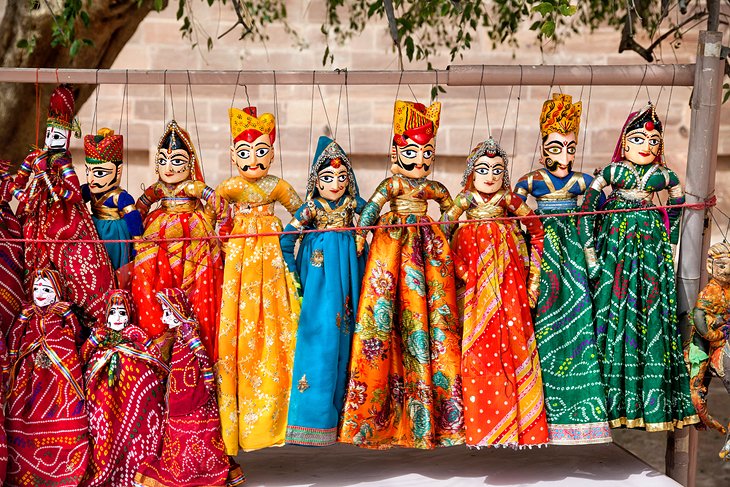 Jaipur is a mecca for souvenirs. Markets in the Pink City brim with everything from costume jewelry and precious gemstones to embroidered textiles, cobalt blue pottery, and Rajasthani puppets.
For a no-hassle shopping experience, head to the Rajasthali Handicrafts Emporium across from Ajmeri Gate. The government-run shop sells high-quality traditional handicrafts, like blue pottery decorated with yellow flowers, sets of wooden carvings depicting Rajasthani characters, and hand-printed saris. The prices you see on these items are fixed, so while you won't be able to negotiate a discount, you can also avoid the headache of bargaining.
Johari Bazar is a jewelry lover's paradise. The market glitters from top to bottom with dozens of shops selling everything from costume jewelry to fine silver and gold. No matter your budget, you'll find something beautiful to take home from here.
Finally, don't leave Jaipur without a quick shopping trip to Bapu Bazar. Located just a few blocks southwest of Johari Bazaar, the tourist-favorite market is chock full of handcrafted trinkets, locally made textiles, bedazzled slippers, and souvenirs galore.
13. Jaigarh Fort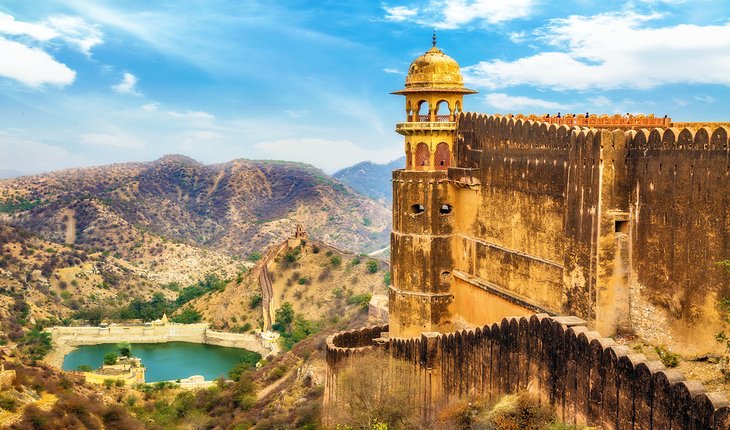 Perched on a hilltop overlooking the Amber Fort, Jaigarh Fort is one of the best places to visit in Jaipur if you want a remarkable view and up-close access to historical artifacts. It's best known for housing the Jaivana Cannon, which was considered to be the world's largest cannon on wheels when it was built in the early 18th century.
Visiting the attraction gives tourists an appreciation for the fort's role in keeping Jaipur and the surrounding area safe from invaders. Spread over a range of three kilometers, the fort features thick sandstone walls and a series of subterranean passages. It's thought to be the strongest of Jaipur's forts.
Beyond fortified, though, the fort was also an opulent place when it was in use. You can still see its majestic palace complex and intricate architecture on tours today.
Address: Devisinghpura, Amer, Jaipur
14. Panna Meena ka Kund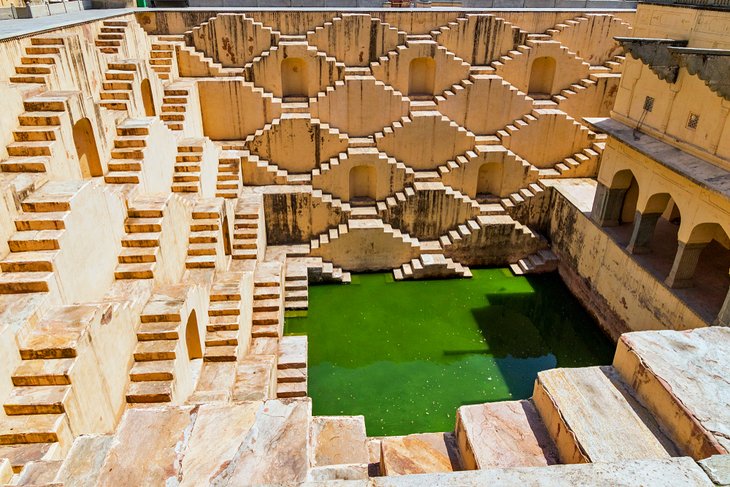 Another one of the popular things to do in Amer after visiting the Amber Fort is taking a 10-minute walk south to visit Panna Meena ka Kund, a stepwell that dates back to the 16th century.
Locals used to come to this spot to fill their pots with water for rituals and household chores. It was also the go-to place to cool off from the intense desert heat.
Today, the attraction's primary purpose is as a backdrop for tourist photos — and for good reason. Its golden yellow hue and labyrinthine steps, which look like they were plucked from one of M.C. Escher's artworks, make for postcard-worthy images. But as tempting as it might be to enter the beautiful attraction for a selfie, Panna Meena ka Kund does not allow visitors to go inside, so keep your photo shoot to the exterior only.
15. Akshardham Temple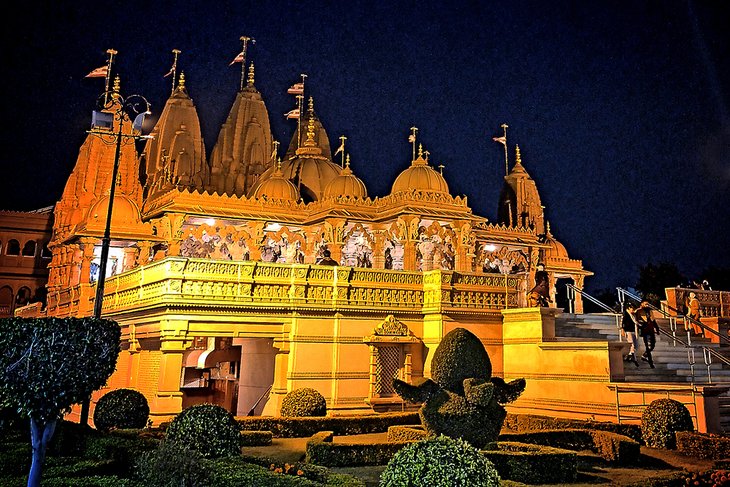 Akshardham Temple might look like an ancient site, but don't be fooled — this attraction was built in the 21st century as part of a series of 10 temples dedicated to the Hindu god Narayana (a form of Lord Vishnu).
Still, the 23-acre religious complex is an impressive place to spend the afternoon. The white marble and pink sandstone temple showcases the intricacy of Hindu architecture with its stone carvings of Hindu deities, animals, and scenery. Step inside to see massive pure-gold statues and pristine paintings. There's also a peaceful garden courtyard brimming with lush plants and a musical fountain just outside.
Address: Vidyut Nagar, Vaishali Nagar, Chitrakoot, Jaipur
16. Festivals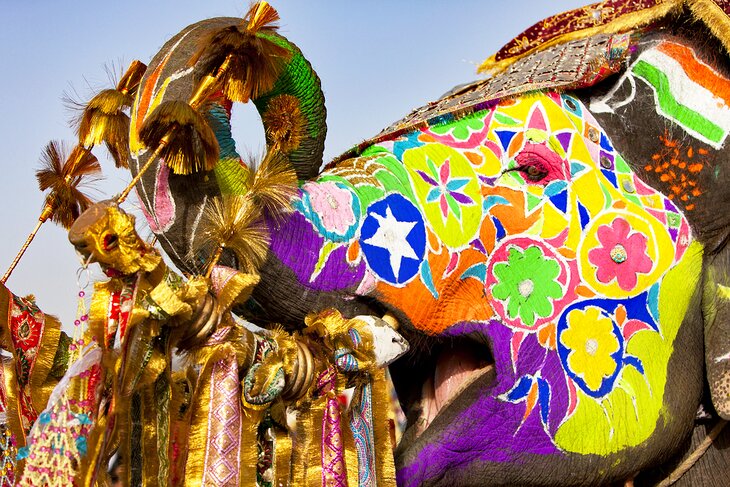 Attending an annual festival is one of the top things to do in Jaipur, and the city's calendar is chock full of events.
In January, you can watch colorful creations fly through the sky during the International Kite Festival and get books signed by famous authors at the Jaipur Literature Festival.
The city hosts its Elephant Festival, during which the tusked animals are painted with Indian motifs and dressed in extravagant costumes, in February or March (depending on the moon cycle). And the two-day Teej Festival, a celebration that honors the union of Shiva and the goddess Parvati, occurs in July or August.
Map of Attractions & Places to Visit in Jaipur
Jaipur, India - Climate Chart
Average minimum and maximum temperatures for Jaipur, India in °C
J
F
M
A
M
J
J
A
S
O
N
D

22

9

24

12

31

17

36

23

39

27

38

28

33

26

32

25

33

24

33

21

28

15

23

11

PlanetWare.com
Average monthly precipitation totals for Jaipur, India in mm.

10

8

8

5

15

58

198

203

84

15

3

8
More Related Articles on PlanetWare.com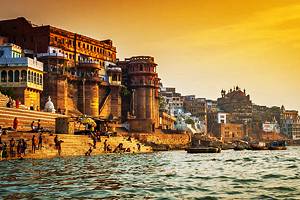 India Highlights: For more ideas on what to see in India and to help plan your trip, have a read through our article on the Top Attractions in India. If your travels take you through some of India's largest cities, don't miss our guides to the top attractions in Mumbai and Delhi.