11 Top-Rated Tourist Attractions in Nara
The city of Nara, long celebrated as the cradle of Japanese culture, lies in central Honshu to the south of Lake Biwa. It's an idyllic setting surrounded by tall hills, thick forests, and farmland. Thanks to its wealth of historical buildings and its art treasures, it attracts more than a million visitors every year, making it one of Japan's most popular cities.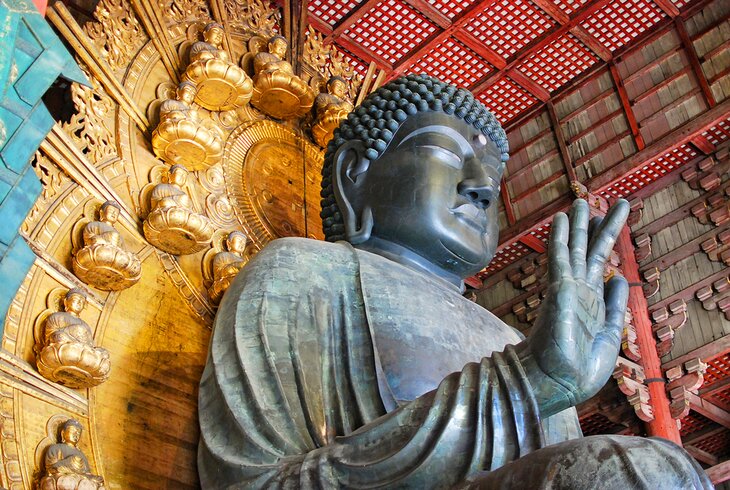 Highlights of a visit include wandering its many charming streets lined with numerous old buildings, all of it in a picture-perfect setting that can be easily viewed from nearby Mount Mikasayama.
Managing to retain a small-town atmosphere, the city has become somewhat of a cultural destination and is one of the country's leading craft centers, famous for its carved wooden dolls (Nara-ningyo), lacquerware (Nara-shikki), fans (Nara-uchiwa), and ceramics (Akahada-yaki).
Discover the best places to visit in the city with our list of the top tourist attractions in Nara.
1. Nara Park and Tōdai-ji Temple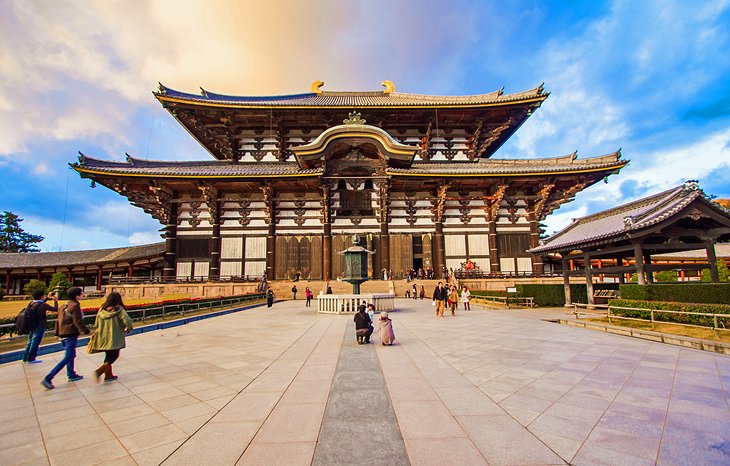 Highlights: Historic buildings and temples pepper a beautifully green park right in the heart of the city.
Located in the heart of the city, Nara Park (Nara Kōen) is home to history, culture, and nature. Highlights include watching the park's roe deer wander the woods and lawns while visiting its many historical buildings, including the magnificent Kofuku-ji Temple adjacent to the large Sarusawa Pond, as well as the Uneme Shrine.
The largest such park in Japan (and one of the oldest, having been established in the 1300s), Nara Park is home to the eighth-century-AD Todai-ji (Great East Temple), the most famous of the Seven Great Temples of Nara.
Todai-ji Temple's best-known attraction is the huge bronze statue of the Great Buddha (Daibutsu), cast in Nara in 749 CE. Another must-see is its Great South Gate (Nandaimon). This two-story structure is borne on 18 columns and features two Nio statues standing eight meters tall and guarding the temple entrance.
The Hall of the Great Buddha (Daibutsuden), the world's largest timber building and home to the Great Buddha (Daibutsu), is also worth seeing. In addition to its many other historically significant buildings, the site also boasts beautiful gardens and water features, including ponds, bridges, and pagodas. It's an especially attractive sightseeing opportunity, particularly in spring, when the cherry blossoms are at their peak.
Address: 406-1 Zoshicho, Nara
2. Kofuku-ji Temple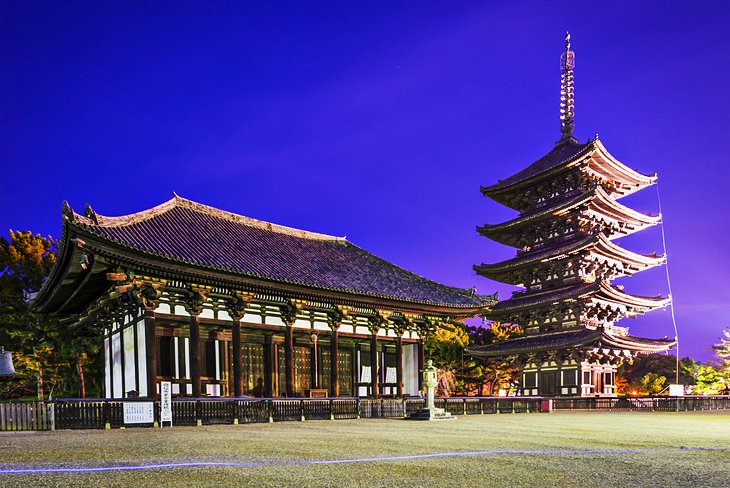 Highlights: Made up of many of Japan's most historic temple structures and buildings dating back more than 1,000 years
Another of the Seven Great Temples of Nara that is also located in Nara Park, the Kofuku-ji Temple complex consisted of 175 buildings in its heyday.
The complex was founded in 669 CE, and the surviving buildings include an octagonal hall known as the Nan-endo. Built in 813 CE, it's home to a statue of Fukukenjaku-Kannon carved in 1188, along with very fine statues of the four celestial guardians and the six patriarchs of the Hosso sect.
In front of the hall is a ninth-century bronze lantern with an inscription attributed to Kobo-daishi, as well as a three-story pagoda. Another building of note is the Northern Hall (Hoku-endo), also octagonal and built for Empress Gensho in 721 CE and famous for its 13th-century wooden statue of Miroku-bosatsu
Be sure to also check out the East Hall (To-kondo), with its 15th-century statue of Yakushi-nyorai, along with an older eighth-century statue. The splendid five-story pagoda is also worth seeing. Erected in 730 CE, it's 50 meters tall, is the second-highest pagoda in Japan, and contains many historically significant statues.
Address: 48 Noboriojicho, Nara, 630-8213
3. Isuien Garden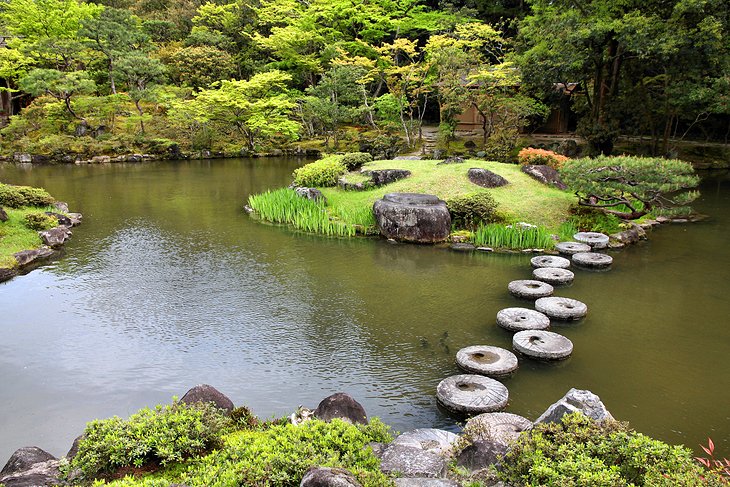 Highlights: A Shakkei-style garden with a small art museum and teahouses
The Isuien Garden, home to the small yet interesting Neiraku Art Museum, opened in 1969 and is landscaped in the famous Japanese Shakkei style — literally translated as the "borrowed landscape" — in which the surroundings of the garden are incorporated in the total effect.
Together with the museum, it makes for a fabulous outing, especially if you visit the two teahouses in the nearer part of the garden: the Seishuan and the Sanshutei, or the thatched Hyoshintei, the latter famous for its excellent green tea.
Be sure to also visit the Teishuken waiting room. The older rear part of the garden, laid out in 1899, has the South Gate of the Todaiji and Mount Wakakusa as its backdrop. On its island in the little lake is a stone from the foundations of the Buddha Hall, while the stepping-stones are old millstones used in the manufacture of fabric dyes.
The best times to visit the gardens are spring and summer, although the fall colors are pretty here, too.
Address: 74, Suimoncho, Nara
4. Tōshōdai-ji Temple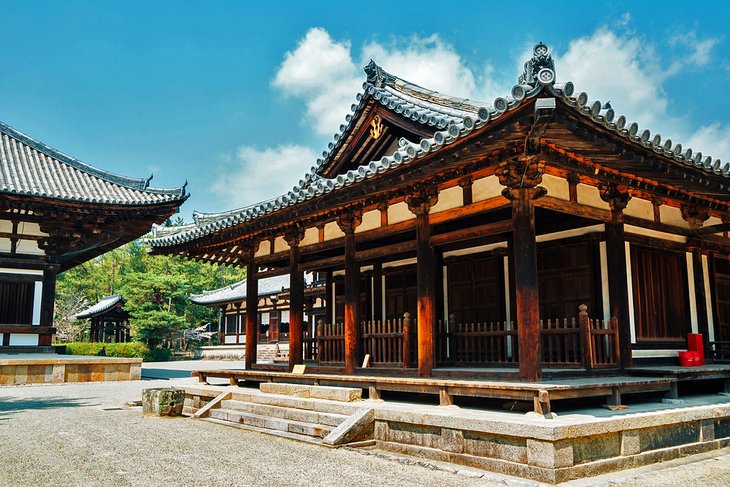 Highlights: A surviving Main Hall and Lecture Hall that date back to the 8th century, including sculptures, art, and small Buddhas
Founded in 759 CE, Tōshōdai-ji was constructed as the principal temple of the 30 temples of the Ritsu sect. While only two of the original buildings have survived — the Main Hall and Lecture Hall — the site has retained much of its original layout and is a delight to explore.
The Main Hall, also known as the "Classic Golden Hall" (Kondo), is the largest and finest example of Tempyo architecture to have survived in Japan. It is famous for its vast pillared gallery and large seated statue of Rushana-butsu and its magnificent halo, decorated with 864 small Buddhas.
The Lecture Hall (Kodo) is also worth exploring and contains many fine sculptures, including a number carved from a single piece of cypress wood.
Other buildings of note are the Priests' Quarters (Higashimuro), the Cult Hall (Raido), and the Drum Tower (Koro), where the Uchiwa-maki festival is celebrated each May.
Address: 13-46 Gojocho, Nara
5. Yakushi-ji Temple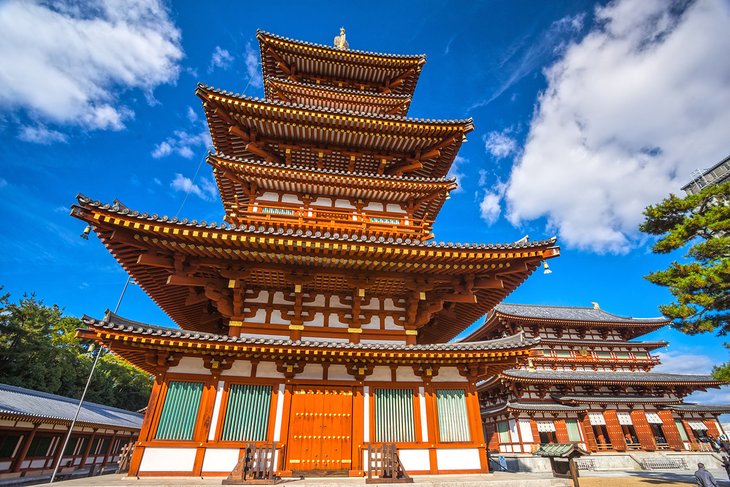 Highlights: A Main Hall with historic artifacts, as well as the original three-story Buddhist-style East Pagoda
The principal temple of the Hosso sect, Yakushi-ji was originally constructed in the seventh century and still contains statues from that period. Begun in 680 CE during the reign of Emperor Temmu, only the East Pagoda survives, with the remaining structures seen here today dating from the 12th and 13th centuries.
Highlights include the Main Hall (Kondo) containing the famous Akushi Trinity, a nearly three-meter-tall figure with both Chinese and Indian influences flanked by noblemen and dating from 697 CE.
The original three-story East Pagoda, standing 38 meters high and topped by a unique metal pinnacle, is the only surviving example of Buddhist architecture of the seventh century.
Behind the pagoda is the East Hall. Built in 1285, it contains a two-meter-high bronze figure of Sho-Kannon, a gift from the King of Paekche (Korea).
Other buildings of note are the Bussokudo with its stone bearing a footprint of Buddha; the bell tower with a Korean bell; and the treasury containing two fine paintings of Kichijo-ten, goddess of beauty, and a Chinese priest.
Address: 457 Nishinokyocho, Nara
6. Kasuga Grand Shrine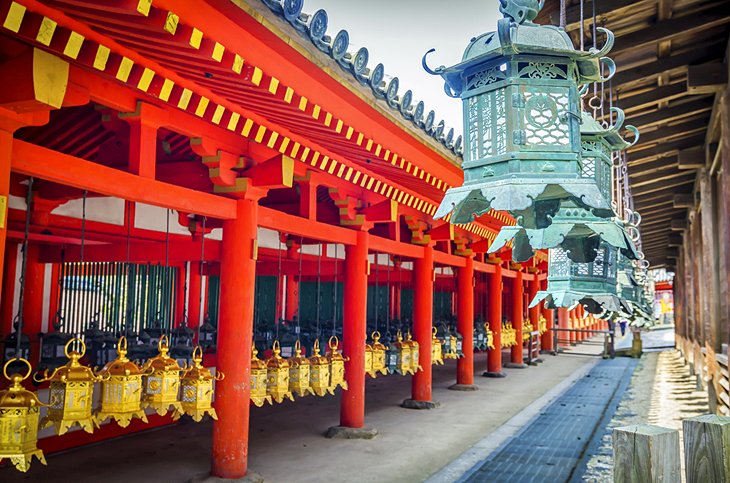 Highlights: A UNESCO World Heritage Site made up of four buildings dedicated to different deities, as well as a park and nearby forest
The Kasuga Grand Shrine (Kasuga-taisha) was founded by Fujiwara Nagate during the eighth century. This must-visit attraction consists of four separate buildings dedicated to the divinities Takemikazuchi and Futsunushi, along with the ancestral gods of the Fujiwara family, Amenokoyane and his consort Hime-okami.
The buildings of this UNESCO World Heritage Site are characteristic examples of the Kasuga-zukuri style, differing from early timber buildings in their brightly painted red beams, the white facing of the walls, and the curving roofline.
Another distinguishing feature are the many hundreds of bronze and stone lanterns dotting the property. A great time to visit the temple is February or August, when these lanterns are lit during special Lantern Festivals.
Until 1863, the buildings were pulled down every 20 years and re-erected in their original form, as is still the practice at the Ise Shrines. Nowadays, this process of renewal is confined to the roofs.
In Deer Park, deer roam freely and are believed to be sacred messengers of the Shinto gods that inhabit the shrine and surrounding mountainous terrain. Also of interest is the adjacent Kasugayama Primeval Forest, a stunningly beautiful reserve, untouched since the ninth century, which is known for its rare birds, trees, and wildlife.
Address: 160 Kasuganocho, Nara
7. Nara National Museum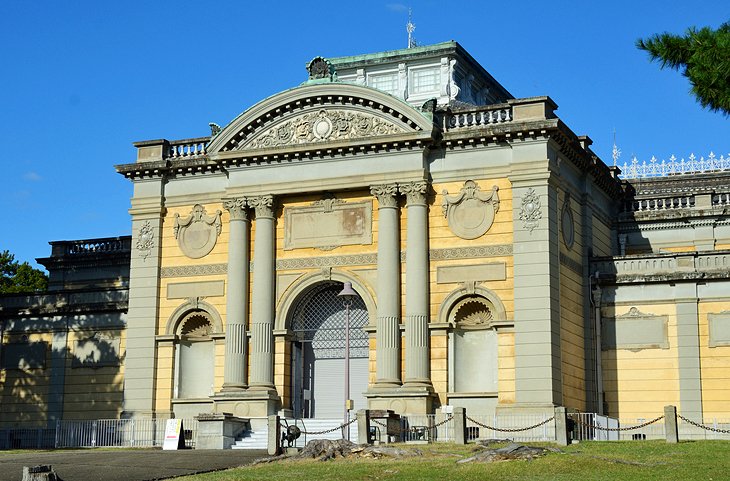 Highlights: A permanent collection full of archaeological artifacts, sculptures, paintings, and calligraphy
Built in 1895, the Nara National Museum (Nara Kokuritsu Hakubutsukan) is the city's most important museum and houses numerous major works of art, particularly of the Nara period of the eighth century.
In addition to periodic temporary displays of exhibits selected from the museum's large reserves, its permanent collection includes a number of galleries dedicated to archaeological finds, as well as fine displays of sculpture, paintings, and calligraphy.
Of particular interest for those who have visited the city's many fine temples are its collections of important religious items, including numerous Buddhist statues and paintings. English-language guided tours are available.
If art is your thing, you may also want to visit the Nara Prefecture Museum of Art (Nara kenritsu bijutsukan), located in Nara Koen Park. You'll be rewarded with a chance to enjoy a variety of permanent displays of traditional Japanese art forms and regularly scheduled exhibitions of art from across the globe.
Address: 50 Noboriōji-chō, Nara, Nara
8. Hōryū-ji Temple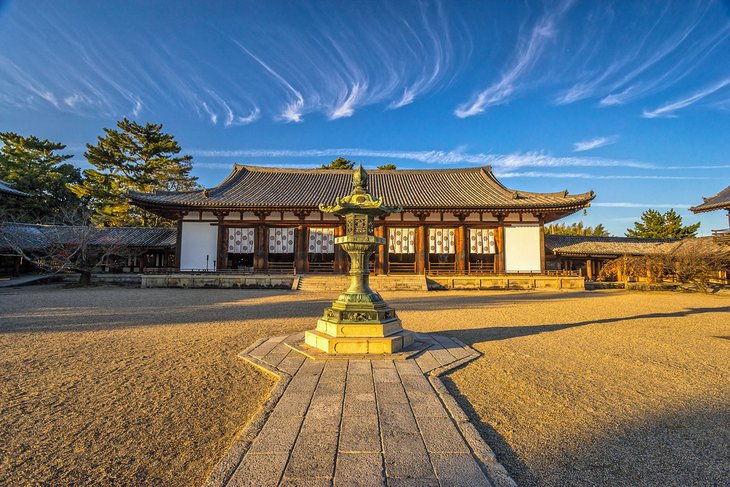 Highlights: One of the Seven Great Temples of Nara consisting of a series of gates, a main hall, and one of the oldest surviving wooden buildings in the world
The oldest completely preserved temple complex in Japan, Hōryū-ji — which literally translates as 'Temple of the Flourishing Dharma" — is a magnificent example of the architecture of the Asuka period from 552 to 645 CE. It, in fact, contains many masterly works of art covering the whole range of Japanese history.
Built in 607 CE as one of the Seven Great Temples of Nara, Hōryū-ji became the great center of Buddhism in Japan, from which the new faith was carried across the country (in those days, the road from the Imperial Court to the coast passed the temple site). The principal temple of the Shotoku sect, the site comprises 45 buildings, 17 of which are classified as Major National Treasures.
Divided into two parts — the To-in or Higashi-no-in (the eastern part) with 14 buildings, and the Sai-in or Nishi-no-in (the western part) with 31 buildings — it can take the best part of a day to explore.
Particular highlights include the Great South Gate (Nandaimon), from which a path leads to the Middle Gate (Chumon) with its roofed corridors and two guardian figures representing light and darkness dating from 711 CE.
Be sure to also take in the spectacular Main Hall (Kondo). This two-story wooden structure is said to be the oldest surviving wooden building in the world.
Address: 1-1-1 Horyuji Sannai, Ikaruga, Ikoma District, Nara 636-0115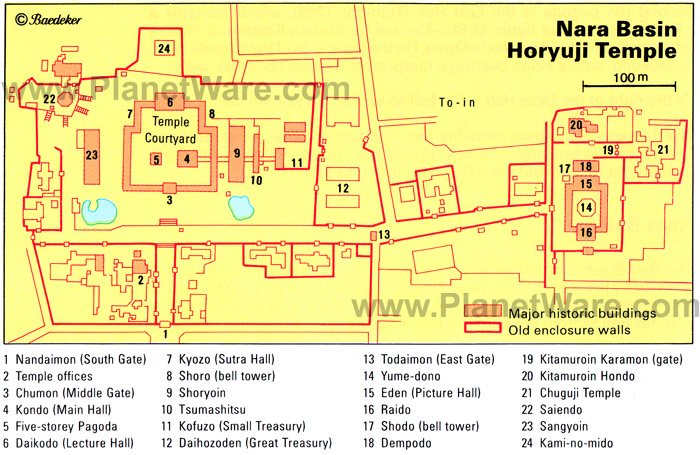 9. Shin-Yakushi-ji Temple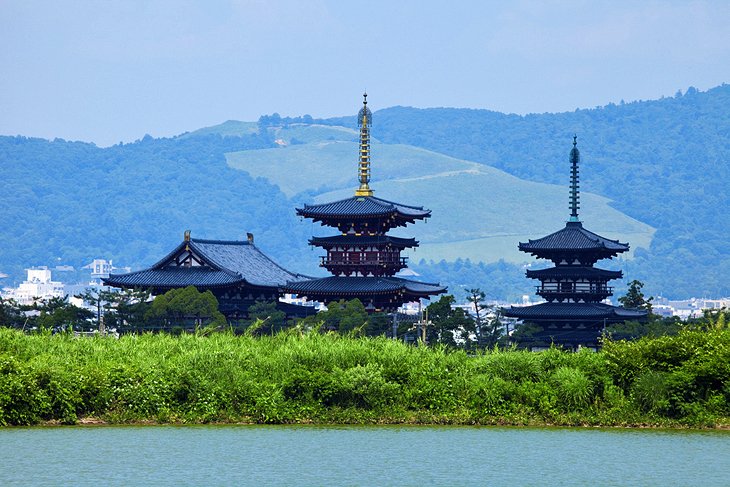 Highlights: A Yakushi-nyorai statue carved from a single piece of wood, and other Late Nara sculpture masterpieces
Founded by Empress Komyo in 747 CE to secure the help of the gods in curing an eye complaint from which her husband Shomu suffered, the Shin-Yakushiji Temple is a classic example of the Late Nara style. Taking its name from the Healing Buddha (Yakushi) to whom it's dedicated, this important religious site contains a large statue of Yakushi-nyorai carved from a single piece of wood.
There's also an interesting and important statue of the Eleven-Headed Kannon surrounded by 12 pottery figures of guardian divinities (Juni-shinsho), all masterpieces of Late Nara sculpture. Also of note is the Main Hall (Hondo), the only part of the original temple to have survived from the Nara period.
Address: 468 Takabatakecho, Nara
10. The Manyo Botanical Garden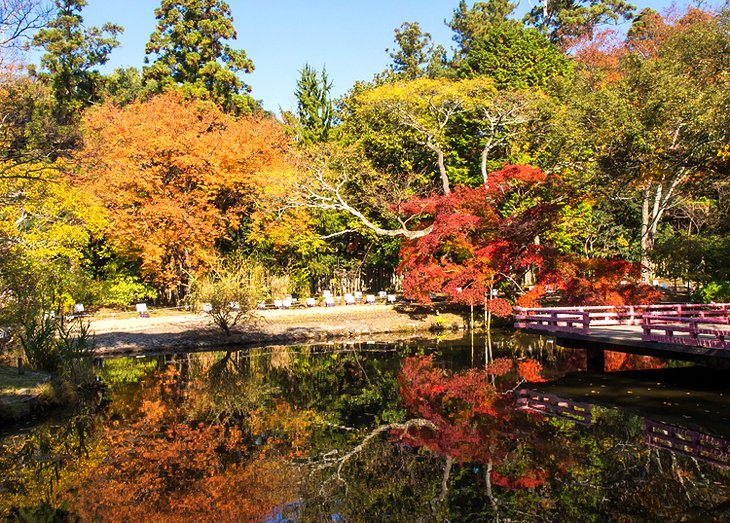 Highlights: More than 150 different types of flowers and a nearby Historical Material Exhibition Hall
Located next to the Kasuga Shrine, the lovely Manyo Botanical Garden (Man'yō Shokubutsuen) - also often referred to as Kasuga Taisha Garden - is well worth visiting. Famous across Japan for its inclusion in the ancient Manyo-shu collection of poems, this delightful attraction boasts more than 150 different varieties of flowering plants.
Flower species of special interest here are Japanese andromeda, as well as Japanese iris and wisteria, which bloom from season to season. Also of interest are special stone monuments carrying references to poems related to each plant.
Another worthwhile tourist attraction nearby is Rekishi Kyoshitsu, the Historical Material Exhibition Hall, with its displays relating to the cultural history of Japan from the Jomon to the Nara periods from around 3000 BC to 794 CE. Exhibits include picture panels of old tombs, temples, and pagodas, as well as life-size replicas of Nara's main annual events.
Address: 160 Kasuganocho, Nara
11. Day Trip to the Ninja Museum of Igaryu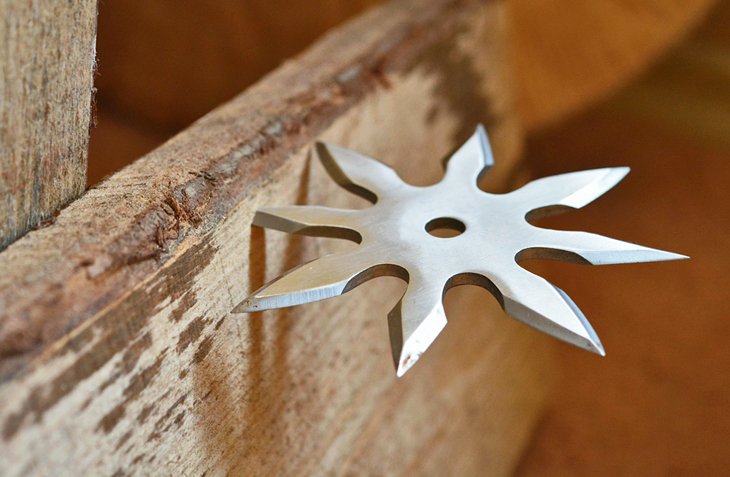 Highlights: Live performances, real sword fights, and a replica village with a Ninja House
A great day trip for those traveling with older kids is the Ninja Museum of Igaryuis — an especially fun thing to do if they're into martial arts. It's located in the town of Iga, less than an hours' drive east of Nara (allow an extra 30 minutes if traveling by bus).
Here, you'll be rewarded with a variety of fascinating historical displays and exhibits that tell the history of "ninjutsu," the traditional Japanese art of camouflage and stealth. Displays and exhibits include preserved ancient documents and weapons, along with some 400 tools and other artifacts.
The experience is aided by audiovisual displays and models. There's even a replica village that's fun to explore (be sure to visit the awesome Ninja House with its booby traps and fake rooms).
A highlight for most is the chance to see these ancient rituals and martial arts being demonstrated in performances featuring real swords and other weapons, including deadly "throwing stars." Afterward, you can shop for authentic Ninja-related crafts and souvenirs in the on-site gift store.
Address: 117 Uenomarunouchi, Iga, Mie
Tips for Making the Most of Your Visit to Nara
Shoulder Season Travel: Given its rich culture and idyllic setting, Nara offers many great reasons to visit during the quieter months of the year. Not only are there fewer crowds, but most of the best temples, shrines, and historic sites remain open year-round. And each season brings its own unique displays, from the spectacular fall colors to the magnificent cherry blossoms and flowers in the spring, to the crisp white covering provided by a sprinkling of fresh snow... all are quite magical, especially in places like Nara Park and Isuien Garden.
Great Scenic Views: As one of Japan's most picturesque cities - there seems to be a culturally significant historical building at every turn - Nara is a delight to explore on foot. If you're fit and able, be sure to allow time in your itinerary to hike up nearby Mount Wakakusa. This 342-meter-tall mountain offers superb views over Nara and its surrounds, and is well worth the climb, especially in spring when the cherry trees are in blossom.
Map of Tourist Attractions in Nara
Nara, Japan - Climate Chart
Average minimum and maximum temperatures for Nara, Japan in °C
J
F
M
A
M
J
J
A
S
O
N
D

8

-1

9

-1

13

2

19

7

24

12

27

17

31

22

32

22

28

18

22

11

16

6

11

1

PlanetWare.com
Average monthly precipitation totals for Nara, Japan in mm.

48

64

99

125

127

213

185

114

163

109

66

41

Average monthly snowfall totals for Nara, Japan in cm.

4

5

3

0

0

0

0

0

0

0

0

0
Average minimum and maximum temperatures for Nara, Japan in °F
J
F
M
A
M
J
J
A
S
O
N
D

46

30

47

31

54

34

66

45

74

53

80

62

86

70

89

72

81

64

70

52

61

42

51

34

PlanetWare.com
Average monthly precipitation totals for Nara, Japan in inches.

1.9

2.5

3.9

4.9

5.0

8.4

7.3

4.5

6.4

4.3

2.6

1.6

Average monthly snowfall totals for Nara, Japan in inches.

1.6

2.0

1.2

0

0

0

0

0

0

0

0

0
Nara has a mild climate throughout the year, but the best times to visit Nara are during the spring and fall seasons. Spring in Nara is March, April, and May, while the fall season consists of October and November.
The weather in Nara in March starts to warm up nicely, with highs on average at 13 degrees Celsius. This is the time of year when the plum and cherry blossoms start to emerge. Keep in mind that temperatures can drop in the evenings to 4 degrees Celsius, so pack warm clothes for nighttime.
April in Nara ushers in proper spring, with highs averaging 19 degrees Celsius. April is prime cherry blossom season, so definitely expect crowds. By the second half of April, the blossoms have all gone, and the crowds will have thinned out.
Nara's weather in May is also beautiful, with highs averaging 24 degrees Celsius. This is one of the greenest months and one of the most pleasantly warm months before the heat of summer begins.
June, July, August, and September in Nara tend to be quite hot and rainy. By October, the weather is once again beautifully warm at an average of 22 degrees Celsius. Towards the end of October and into November, the leaves in Nara start to change color. Crowds come back in November for leaf peeping at its peak, and temperatures are still warm at 17 degrees Celsius.
More Related Articles on PlanetWare.com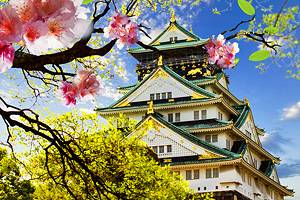 Nearby Attractions and Cities: Given it's only an hour by train from Nara to the historic city of Kyoto, it's easy to visit the country's most popular cultural destination. Here, you'll enjoy unspoiled medieval streets and architecture, along with many traditional Japanese customs, dining options, and crafts. Also easy to reach (it, too, is just an hour away) is Osaka, a popular day trip for its fine castle, historic shrines and temples, and state-of-the-art museums.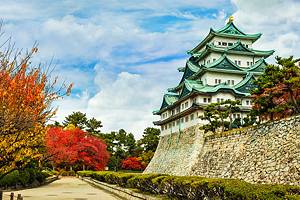 Easy Day Trips from Nara: That same rail system can take you farther afield, too, opening up a world of day trip opportunities. Favorites from Nara include the two-hour train ride to Nagoya, a pleasant place to visit with its huge port area; and Hiroshima, home of the Peace Memorial Park and the beautiful Island Shrine of Itsukushima.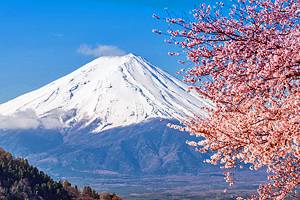 Japan Vacation Ideas: There's no shortage of great vacation destinations in Japan. Those seeking to explore the country's urban culture should certainly consider the country's capital of Tokyo, where you'll find no end of fun attractions, authentic food, and dining options, plus great shopping. It's also a great jumping-off point for those wanting to explore iconic Mount Fuji, an easy train ride away. At the other end of the country is Sapporo, a great choice for those who enjoy winter sports and things to do outdoor. Sapporo is also home to the country's largest winter festival, the Sapporo Snow Festival.