13 Best Beaches in Japan
As an island nation, it's no surprise that Japan has plenty of beautiful beaches everywhere. Japan's beaches are always clean, with emerald green waters and soft white sands to please everybody. With plenty of activities available – from just soaking up the sun to boat tours to snorkeling – they are also very popular as a summer getaway for city dwellers.
Whether you want to stay around the Tokyo area, visit the popular coastline in Okinawa, or explore some off-the-beaten-track beaches, we've come up with a list of some of the best beaches in Japan.
1. Jodogahama Beach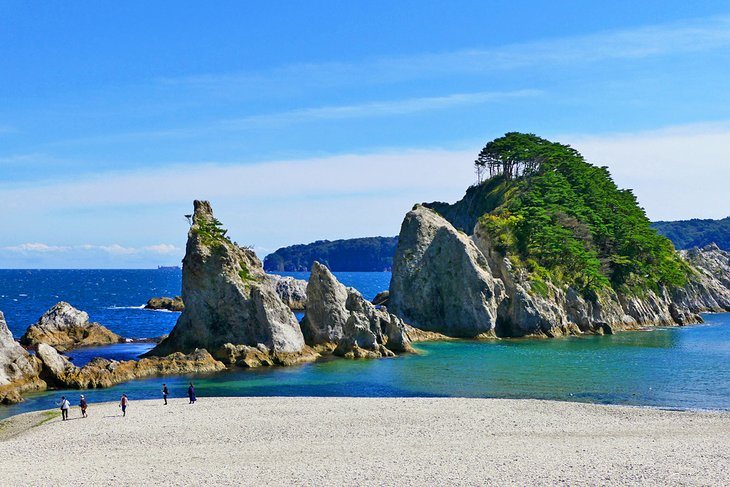 Located on the Rikuchu Coast, this small beach is flanked by pine forests and volcanic white rocks. The name Jodogahama translates to "Pure Land Beach," a reference to the scenic beauty of this hidden inlet. This is a great beach for swimming, with crystal-clear blue waters and calm waves.
The beach itself is rocky and not great for digging your toes in the sand, but the beauty and quiet atmosphere of the area more than makes up for it.
The nearby Jodogahama Visitor Center is a great place to learn more about the area or to grab a map of the nearby hiking trails. For those looking for a more relaxing activity, a number of cruises depart from the beach to tour the nearby waters and islands, as well as the famous Blue Cave.
2. Okinawa Beaches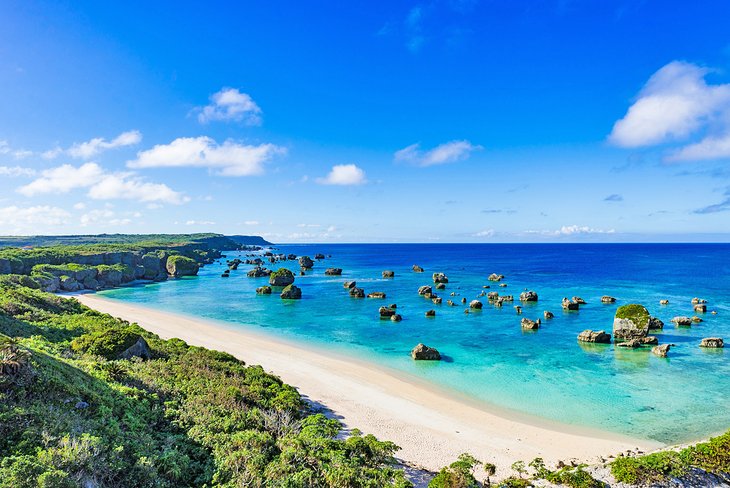 The Okinawa prefecture has a tropical climate, making it Japan's best area for beach activities. In addition to remote beaches and great coral reefs, the area also offers the longest beach season in the country – most beaches in Okinawa open in March and don't close until October, with many staying open year-round.
While the most famous beaches are great for snorkeling and diving, the most remote ones – especially the ones near the Kerama and Miyako islands – are a better choice if you're after more secluded shorelines.
Of the over 100 beaches in Okinawa, Manza is one of the most famous. Part of the ANA InterContinental Manza Beach Resort, the beach is open to everyone and offers plenty of beach activities, including kayak and banana boat rentals, swimming, and kayaking.
The popular Cape Manzamo is nearby and can be reached on foot – a great idea if you want to catch a breathtaking view of the sunset over the China Sea.
Emerald Beach, where the famous Churaumi Aquarium is located, and Kouri Beach and its scenic rock formation that resembles two hearts popping out of the water, are also popular destinations for beachgoers.
3. Kamakura Beaches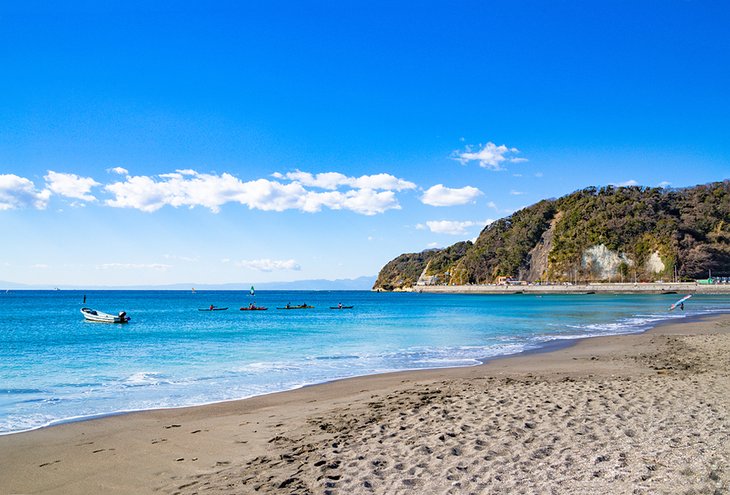 Located just an hour down the coast from Tokyo and a favorite among city dwellers, the Kamakura beaches offer the perfect sandy escape.
Because of their location, the beach season here is very short – only July and August – and the shoreline gets crowded once kids are out of school. But if you don't have time to travel to other beaches farther away, the Kamakura beaches are still a great choice – plus the area gets bonus points because you can see Mt. Fuji while lying on the sand.
There are three main beaches in Kamakura: Yuigahama and Zaimokuza are the two most popular ones and the busiest. They offer all kinds of marine activities including surfing, flyboarding, and wakeboarding. These two beaches are right next to each other, offering a one-kilometer stretch of golden sand perfect for swimming and sunbathing. Visitors can rent equipment, buy food and drinks, or sit at one of the many beachside cafés.
The most distant beach is Zaimokuza Beach, popular for sea-kayaking, paddleboarding, and water-biking. While there are fewer amenities here, the beach is also less crowded and a quieter escape.
4. Zushi Beach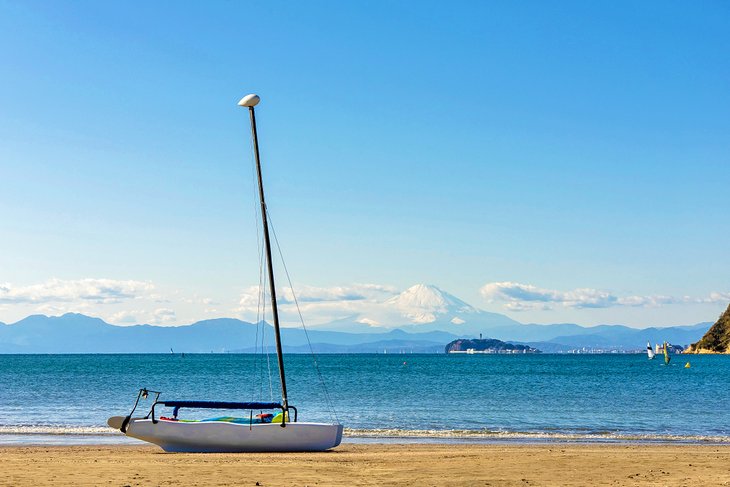 Tokyo's closest natural beach is surprisingly quiet most of the time. Once upon a time, this beach had a bad reputation: as it is located right next to a US military base, it had become the go-to place for late-night noise. Now clean and with very specific restrictions in place – no sound systems, no tattoos allowed – it has become a popular destination to watch the sunset.
For those looking for something fun to do, the cliffs around offer plenty of short trails, and you can visit one of the many cafés and restaurants near the beach for a quick bite to eat.
During July and August, lots of paddleboarders and windsurfers arrive to enjoy the soft waves, but June and September are quieter and perfect for swimming or just sunbathing if the weather agrees.
5. Shirahama Onsen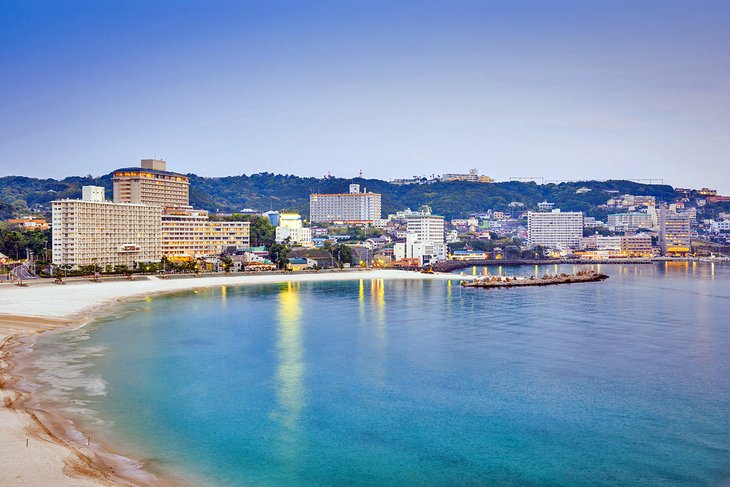 The Shirahama resort area has been known for centuries as one of Japan's most famous hot springs (onsen) destinations. However, this beautiful region in the Wakayama prefecture also has plenty of stunning beaches to offer. The 700-meter-long Shirahama Beach offers soft white sands and gentle turquoise waters plus a number of open-air baths, so you can have the best of both worlds.
The beach is usually packed during July and August – people come here to surf, snorkel, or simply to enjoy the sun. This is also the area's most developed beach: you'll find everything from food stands to rental shops just steps from the sand. Walk to the end of the beach to find a beautiful Shirahama Jinja red gate on top of a rock.
Nearby Shirahama Chuo and Sotoura beaches are smaller and slightly less busy. However, these beaches offer plenty of restaurants and pensions in the vicinity, so they're a great destination if you want to spend a night by the beach.
6. Odaiba Beach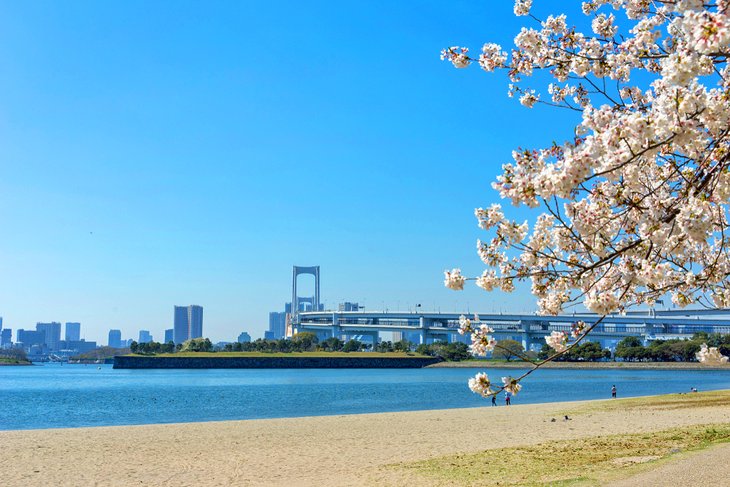 Odaiba might not be the most stunning beach in Japan, but as Tokyo's only official beach, it's still one of the most visited. Artificially created to sit right on Tokyo Bay, the 800-meter-long Odaiba Beach is surrounded by shopping malls, a pier, and plenty of amenities to keep visitors happy.
While the water here is not great for swimming, the golden sands of Odaiba are perfect for evening walks, watching the sunset, and just relaxing in the sun.
During summer, the city organizes beach volleyball and sailing competitions, and in July, people stop by to see paper lanterns lit up during the matsuri festival.
Odaiba Beach is the perfect half-day escape for residents and visitors in Tokyo, especially if you want to combine it with some dining and shopping.
7. Tsunoshima Island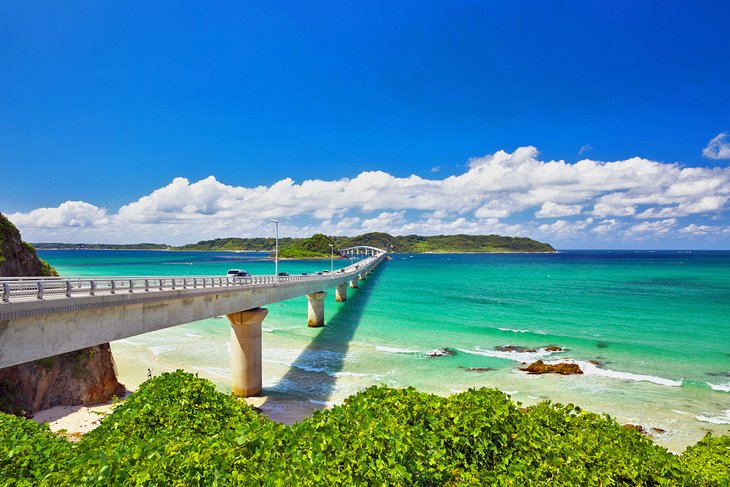 The island of Tsunoshima is connected to the mainland by the massive 1,780-meters-long Tsunoshima Bridge. Though the island is small at just four square kilometers, the turquoise waters and white beaches here more than make up for its size.
Reaching the main beach requires a tricky walk on a narrow road away from the parking lot – make your way here, and you'll be rewarded with clean sands, a great view of the bridge, and, more than likely, lots of solitude. That's because this small beach doesn't have any facilities, so most visitors head to the bigger beach on the other side of the bridge.
The north-side beach offers showers and toilets, as well as areas for barbecuing. It's a favorite destination to watch the sunset over the bridge and to swim, as the water is calm and shallow.
If you have time, you can continue on to explore other beaches on the island. Some are small and almost completely hidden, while others are wider and full of activities during the summer months.
8. Amami Oshima Island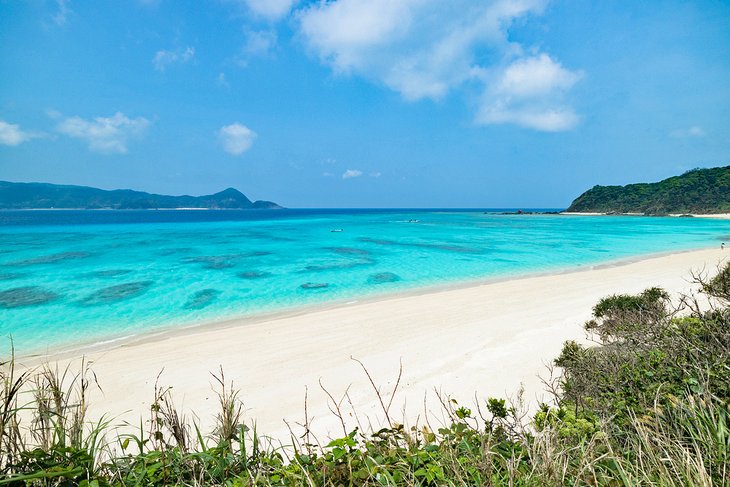 Located right between Kyushu and Okinawa, two of Japan's largest islands, the Amami Island is home to several beaches. Surrounded by coral reefs and with a background of volcanic mountains covered in deep green forest, the beaches on Amami are particularly stunning.
Beach season on the island lasts from May to October, but even in the heat of summer, the islands remain mostly empty. There are few amenities here, with public restrooms and parking lots often being the only thing available around.
Secluded, quiet, and clean, these are the right beaches for people looking for calm and perhaps clear waters for swimming or snorkeling. Tomori Beach, the most famous of all the beaches on the island, offers great snorkeling, while Kurasaki Beach is the go-to destination for divers.
Because it's not accessible via public transportation, Yadoribama Beach gets fewer visitors, and it's the preferred destination for campers.
9. Kujukuri Beach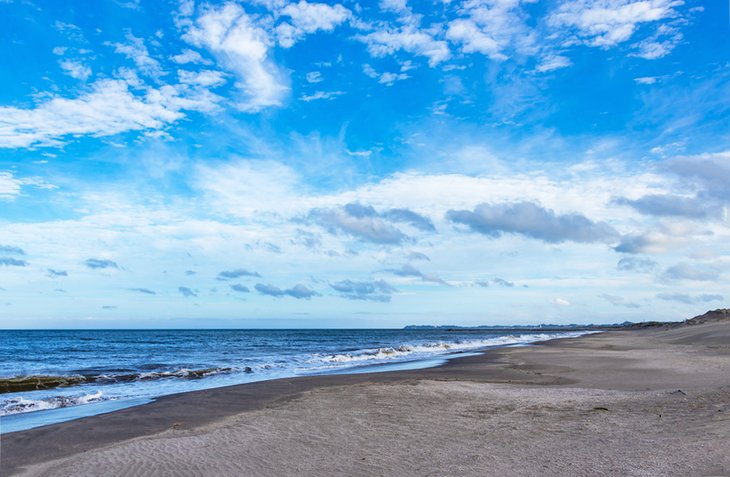 Kujukuri Beach is one of Japan's longest beaches – a 60-kilometer stretch of sandy coastline in the Chiba prefecture, very close to Tokyo. While most beaches in Japan consist of small sections of sand in capes or bays, Kujukuri Beach is straight, flat, and open to the sea.
As the beach has no reef, and the Pacific waves crash right into the coastline, the conditions for surfing are excellent. When strong currents come in, sand dunes up to six meters high form on the beach.
The water at Kujukuri remains warm well into October, making the beach perfect for swimming even after the summer fades away.
Despite its size, Kujukuri Beach remains mostly underdeveloped, with just a few high-rise hotels in the distance and small shops and local restaurants on the streets around it.
10. Miyako Island Beaches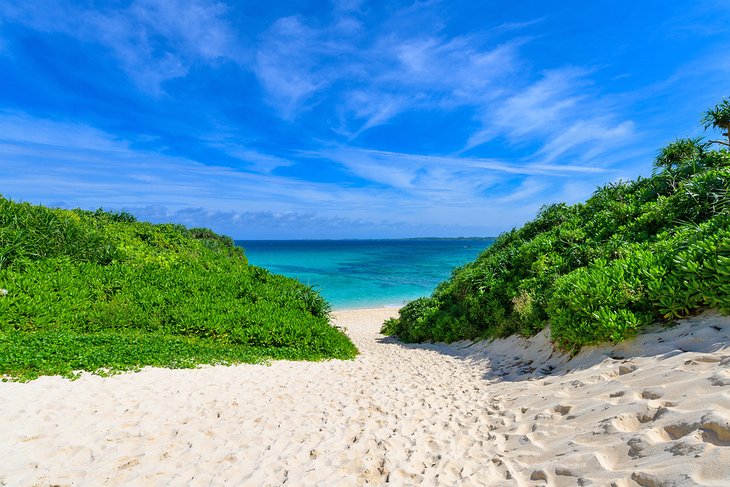 Miyako Island has a reputation for being home to some of Japan's most beautiful beaches. One of the country's most popular snorkeling and diving destinations, the island also benefits from mild weather that keeps the beaches open all year round.
Of the island's many beaches, Maehama Beach and Yoshino Beach are two of the best. Yoshino Beach is famous for its world-class snorkeling, as it's located near a massive coral reef with great marine life.
Maehama Beach is the preferred destination for water sports, including kayak and boat rentals. Both beaches offer cotton-white, soft sands, and deep blue waters, and both have showers, a rental shop for equipment, and toilets available.
11. Izu Peninsula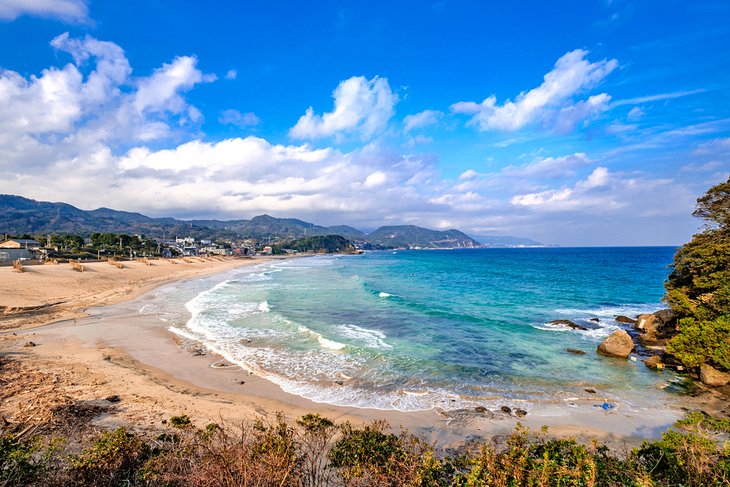 A short trip away from Tokyo, the beaches at the Izu Peninsula look and feel a world away. The long coastline on the peninsula offers decent snorkeling and great blue waters for swimming.
The beaches on the east side of the peninsula are busier, have lifeguards in summer, and offer rental shops and restaurants. Atami Sun Beach is right next to a train station, so it gets crowded during high season but also offers plenty of amenities.
Nearby Nagahama Beach and Ito Orange Beach are less crowded but still very popular, and both offer beach huts and are great for swimming.
Beaches on the south side of the Izu Peninsula are more remote but better for snorkeling, as the blue waters are calm and richer in marine life. Hirizo Beach allows beach camping and has some food and drink stalls and rental shops nearby.
The other two beaches in the area – Yagawa Beach and Mera Athletics Water Park and Kumomi Beach – have no facilities in place except showers and toilets.
12. Tokashiki Islands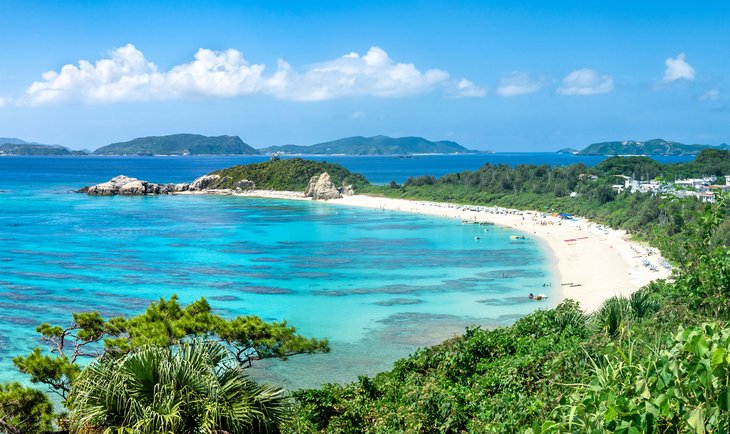 The village of Tokashiki actually consists of 10 mountainous islands, though only the two largest – Tokashiki and Maejima – are inhabited. Tokashiki Island is a snorkeler's paradise, famous for its diverse marine life and white beaches, while Tokashiku Beach (on the opposite side of the island) is smaller and quiet – a perfect escape for those looking for a place to sunbathe and enjoy the deep blue waters.
Tokashiku Beach is also home to many sea turtles, which come to the shore to feed when the tide is high. Those who want an even closer experience can arrange a "swim with the turtles' experience" through the local Tokashiku Marine Village.
Aharen Beach is the most developed beach in the area, offering plenty of restaurants and rental shops. This is a great beach for renting kayaks, but skip the snorkeling, as the marine life and the coral are not as rich here.
13. Ogasawara Islands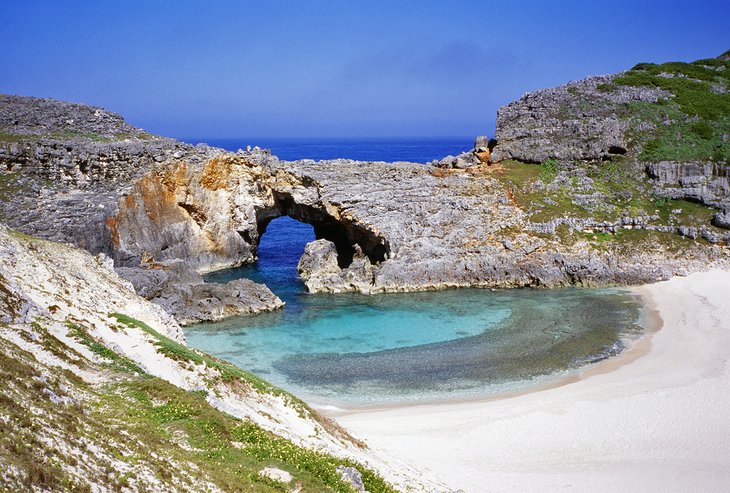 Made up of about 30 islands, most of which are uninhabited, the Ogasawara Islands have been declared a natural World Heritage Site because of their unique flora and fauna.
Visiting the islands is tricky, as currently the only way is via a 24-hour-long ferry ride from Tokyo to Chichijima Island, the main of the Ogasawara islands and the only one with a tourism infrastructure. And because of its remoteness, you can expect to have the white-sand beaches almost all to yourself.
Whale and dolphin watching is a favorite activity here, and the deep blue waters are perfect for snorkeling, especially at Miyanohama Beach. Sakaiura Beach even features a Japanese warship wreck that snorkelers can explore. Although the coastline is rocky, it's also dotted with stretches of beautiful sand, including the isolated Hatsuneura Beach, which can only be reached via a boat ride or a strenuous hike through the jungle.
Kopepe Beach and Kominato Beach are two of the easiest beaches to reach, just steps from a bus stop. They're also more developed, providing toilet facilities, benches, and shaded areas to rest. There are plenty of things to do on the islands if you need a break from the sand and surf, including lots of hiking through forests, sea kayaking, and diving. All tours depart from Chichijima Island.
More Related Articles on PlanetWare.com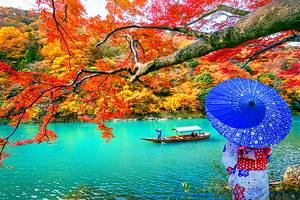 Exploring Japan: Japan's weather varies significantly from north to south – from hot, humid summers perfect for beach time to rainy months better for indoor adventures. If you're planning on visiting the beach while in Japan, take a look at what to expect weather-wise in our article on the best time to visit Japan. After soaking up as much sun as possible, take a look at what else the country has to offer in our top-rated tourist attractions in Japan article.