12 Best Cities in Japan
Japan is a country of contrasts, where the old and the new coexist side by side in perfect harmony. It's easy to see this in Japan's cities. You could spend years exploring the ancient Shinto and Buddhist temples, futuristic skyscrapers, and gastronomical delights that Japan has to offer and still have plenty left to see.
From the heart of major destinations such as Tokyo to the smaller places to visit that tourists often skip, here's our list of the best cities in Japan.
1. Tokyo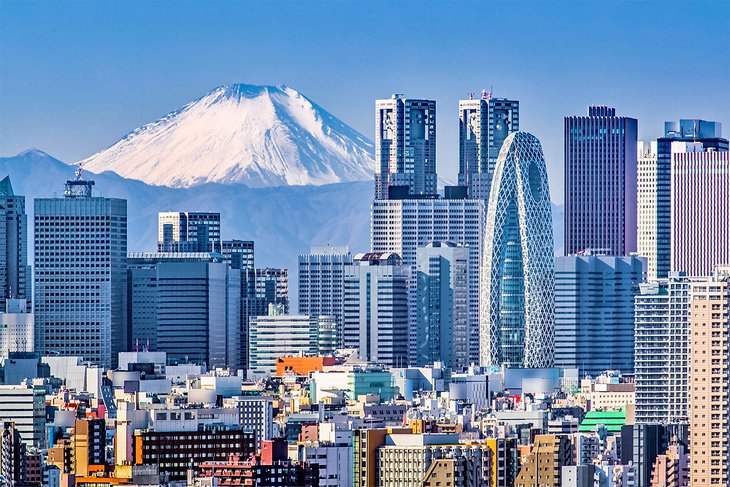 Most visitors arriving in Japan touch down in Tokyo first. Even if your final destination is somewhere else, Tokyo deserves to be explored and enjoyed. As the most modern, most varied city in Japan, Tokyo offers a mix of old and new like nowhere else.
Visit Electric Town (Akihabara) area to get your techie or geeky fix among the steel and glass skyscrapers. Then head to an ancient Buddhist or Shinto shrine, such as the Sensoji Shrine, the oldest temple in Tokyo. The Imperial Palace and the Museum of Modern Art, which sit next to each other, are another contrasting duo worth a visit.
Tokyo is the place to visit for weird tourist attractions. Stop by the Kite Museum, the movie animation Studio Ghibli Museum, or the grisly Parasitological Museum, or play arcade games at Gigo Sega Building. One of the world's larges arcades, it offers six floors of everything, from the oldest arcade games to virtual reality experiences.
Cherry blossom (sakura) viewing is a centuries-old tradition in Japan and one of the top things to do in Tokyo. For about a week in spring, people flock to parks to see the trees blossom in incredible soft pink colors, petals falling and floating like snowflakes. Timing your visit can be tricky, but in Tokyo, sakura is likely to happen between March 24 to April 2.
2. Kyoto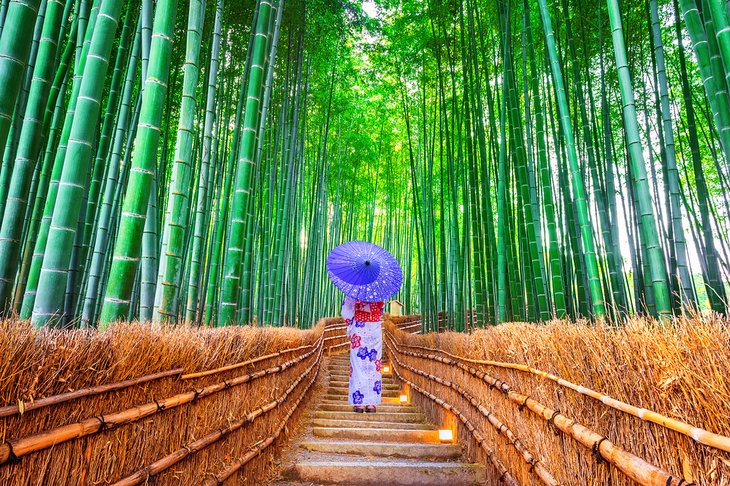 The former ancient capital of Japan, Kyoto is known for being home to a long list of UNESCO World Heritage Sites. Must-sees include the Byodo-in Temple, featured on the 10 yen coin; the vast samurai Nijo Castle; and the iconic Kinkaku-ji Temple or "Golden Pavilion," with walls covered in gold leaf.
Kyoto oozes quiet charm, with shrines and sublime gardens everywhere. The Arashiyama Bamboo Forest is one of Kyoto's most stunning sights and one not to be missed. So are the thousands of orange-red torii gates at the Fushimi Inari Shrine.
For an unusual sightseeing experience, visit the entertainment district of Gion, where geishas walk the streets lined up with folk wooden houses. This is a great place to visit to experience ochaya (teahouses) and kaiseki ryori (traditional Japanese haute cuisine).
Accommodation: Top-Rated Places to Stay in Kyoto
3. Osaka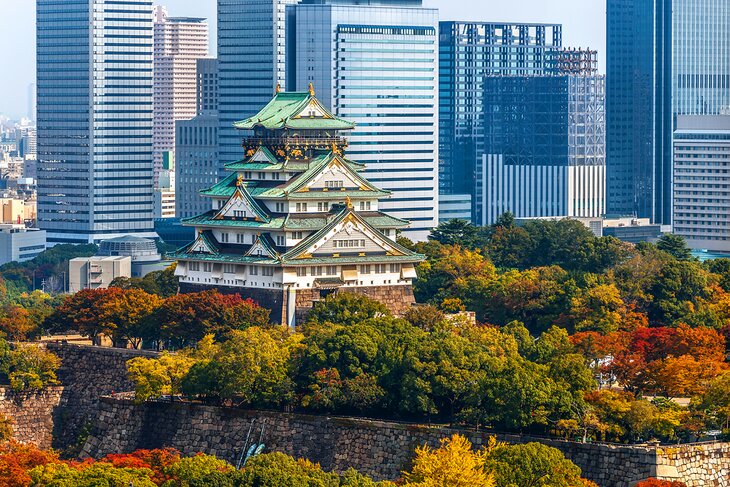 Compared to other cities in Japan, Osaka feels a little like a small town. It was quickly - and somehow haphazardly - rebuilt after being heavily bombed during WWII, and it lacks many of the historical sights you'll find in other cities.
In exchange, you'll get plenty of almost rural Japanese charm, some of the best street food in Japan (kitsune udon or noodle soup with fried tofu is a staple here), and some of the best hip vintage wear and electronics shopping at better prices than Tokyo.
Two not-to-be-missed stops in Osaka include the Open Air Museum of Old Japanese Farmhouses and Bunraku theaters, where you can see the ancient art of Japanese puppetry. Osaka Castle is another great spot to explore - or you can jump on a Gozabune boat and just admire the 16th-century fortress from the water.
Osaka is also home to many onsen (thermal baths), which might feel like a spa but are actually a unique cultural experience worth trying out.
4. Hiroshima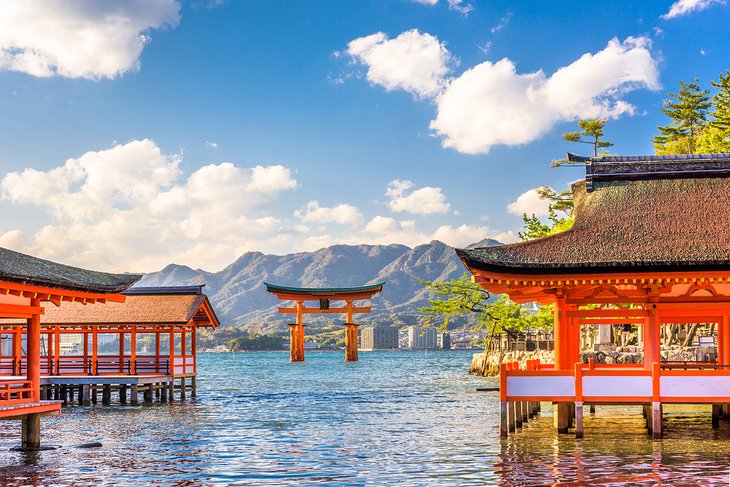 Hiroshima's past is perhaps the main reason people visit the city – but it shouldn't be the only one. For those wanting to understand the dark history of the city, a stop at the Hiroshima Peace Memorial Park is a must. Here, visitors can see the skeletal ruins of the Atomic Bomb Dome and visit the Hiroshima Peace Memorial Museum, which documents the atomic bombing of Hiroshima during WWII.
Right in the heart of Hiroshima, you'll also find the feudal Hiroshima Castle, covered in black lacquer and ornate wood. Home to a Samurai museum and a shrine, the castle is also popular for its weekly Samurai performances right outside the castle walls.
For car lovers, the Mazda Museum in town is one of Hiroshima's must-visit attractions. Visitors should also try the Hiroshima-style okonomiyaki, a type of pancake filled with cabbage, bean sprouts and noodles, a fried egg, and sweet sauce.
A good day trip from Hiroshima is Miyajima Island, which can be reached via a picturesque ferry ride. Visitors arrive here to see Itsukushima Shrine and the famous "floating" torii gate, an optical illusion during high tide that causes the gate to seemingly float on the blue waters. During low tide, however, it's possible to walk up to the gate.
5. Nara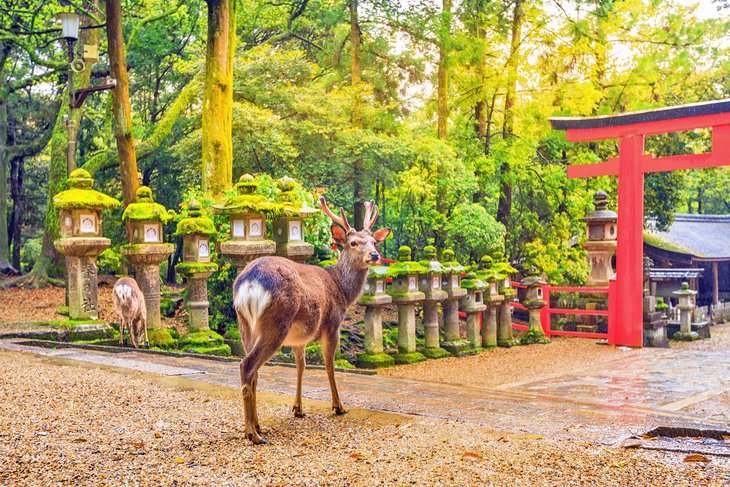 Less than an hour away from Kyoto on a high-speed train, Nara can easily be done as a day trip. If you truly want to explore this unique small city, however, stay at least one night.
Nara is best known as the home of Nara Park, where over 1,000 friendly, curious deer roam freely and often approach people at close range. The deer have National Treasure Status and cannot be bothered or harmed in any way by park visitors.
After spending some time surrounded by adorable creatures, head to Tōdai-ji Temple, which dates back to the year 752 CE and is a UNESCO World Heritage Site. The shrine is home to Japan's largest bronze Buddha statue at 15 meters tall. The Todaiji Museum, near the entrance to the temple grounds, holds an impressive collection of Buddhist art.
Another temple worth visiting is the 8th-century Kasuga Taisha, which you reach by walking on a lantern-lined path.
If you're up for a bit of exercise, you can walk up 343 meters to reach the summit of Mount Wakakusa – during spring, this is the city's top spot for sakura viewing.
End the day with a bit of street food – which in Nara means something sweet. The most famous street snack here is yomogi mochi, a warm cake made with sticky rice and filled with sweet red bean paste.
6. Sapporo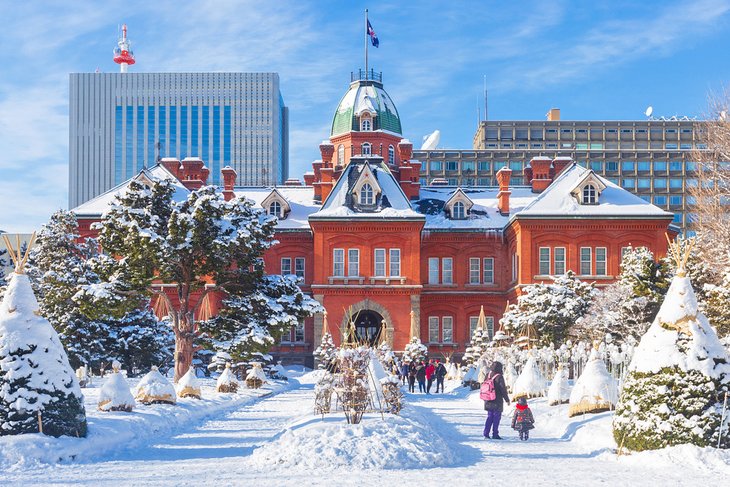 Sapporo is Japan's best winter destination, known for its many ski resorts and the Sapporo Snow Festival at the beginning of February. The festival attracts ice sculptors from all over the country, who build massive ice castles and statues that are illuminated with colorful lights at night.
For skiers, Sapporo – which was the host of the 1972 Winter Olympics – offers perfect powder snow conditions, over 1,000 kilometers of pistes, and numerous night-skiing facilities.
While in town, make some time to tour the Ishiya Chocolate Factory and try their white chocolate specialty. Then take a walk around the Historical Village of Hokkaido, an open-air museum featuring sixty period structures, each completely furnished and showcasing what pioneer life was once like in the area.
For some of the best views of the city, climb up to the observation deck in Sapporo TV Tower, modeled after the Eiffel Tower.
Just outside Sapporo is another great viewpoint: Moiwayama mountain. Take the cable car to the top for an open view over the city and the natural spaces around it.
7. Fukuoka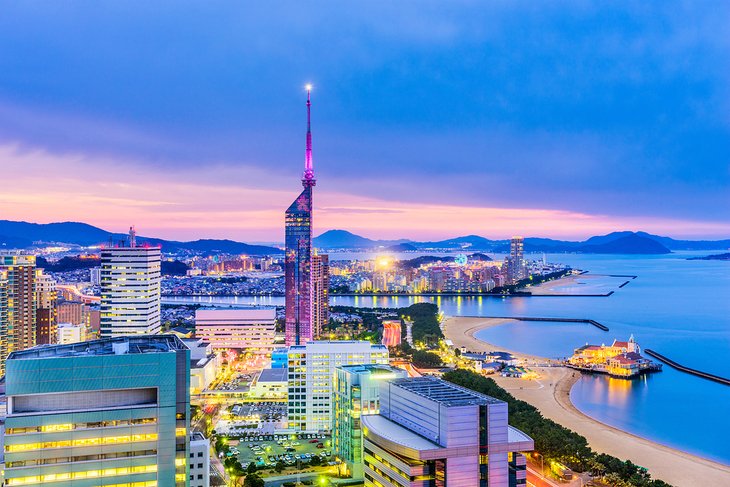 The Mitama Festival is one of Fukuoka's most famous attractions. It's celebrated at Gokoku Shrine, where over 6,000 lanterns are lit to welcome the spirits of the dead at the rhythm of taiko drumming. While this famous festival is celebrated all over Japan, the city of Fukuoka dedicates its celebrations to Japan's war dead, attracting people from all over the country.
When visiting Fukuoka, make sure to stop by Japan's largest shopping center. Canal City Hakata has over 250 stores, a theater, cinemas, and game centers, and even its own canal running through the center of the complex.
If you'd rather spend your time outdoors, there's Momochi Seaside, a park and artificial beach that sits next to the Fukuoka City Museum, and plenty of restaurants that look over the sea.
Tochoji Temple, home to Japan's largest sitting Buddha statue, is also a must-see here.
Fukuoka is surrounded by mountains perfect for hiking, including Mt. Hiko, with its copper torii gates at the top, and Mt. Shiouji, with its Ohno Castle ruins. At night, you can take a cable car up Mt. Sarakura for a stunning view over the city lights below.
8. Kanazawa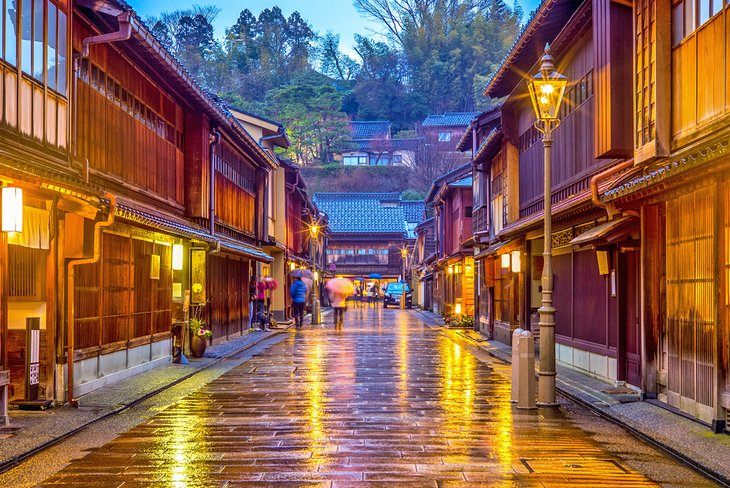 Because Kanazawa wasn't bombed during WWII, it has retained all of its ancient architecture, including the 16th-century Kanazawa Castle and the beautiful gardens surrounding it. At the foot of the castle sits the Nagamachi Samurai district, where you can get a glimpse of the ancient lifestyle of samurai and their families.
On a different side of town, the Higashi Geisha District still preserves the chaya or teahouses where geishas used to entertain the wealthy centuries ago. Here, visitors can stop by the Ochaya Shima Museum to understand how the geisha lived and visit the Gold Leaf Sakuda shop to grab a souvenir decorated with gold leaf, a traditional local craft.
You can also try traditional wagashi sweets while sipping a cup of green tea at one of the working teahouses in the area.
9. Kobe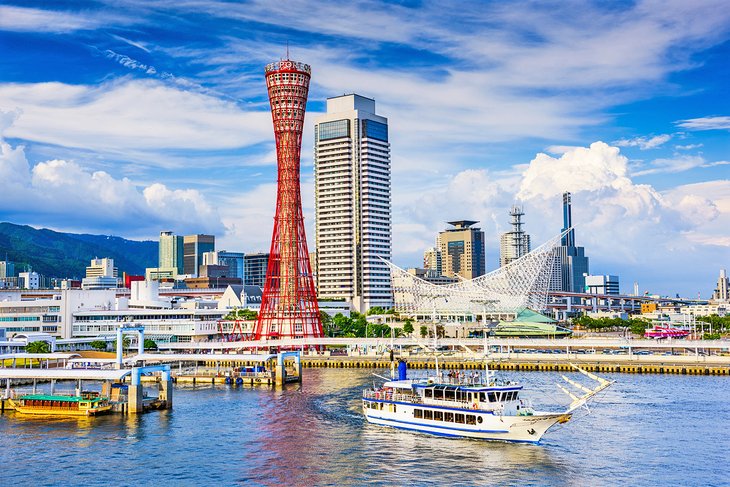 Though better known as a port city, Kobe's picture-perfect location between the sea and the Rokko mountains is its best feature. Mount Rokko, just steps away, makes for an easy afternoon hike, and the nearby Nunobiki Falls are a great destination during the hotter months.
For a quiet escape, visit the all-marble Jain Temple, then climb the Kobe Port Tower as the sun goes down for 360-degree panoramic views over the lights of the city. Kobe is also home to the Kobe Fashion Museum, the first of its kind in Japan, and the Maritime Museum, highlighting the importance of the sea in the city's growth and development.
10. Nagasaki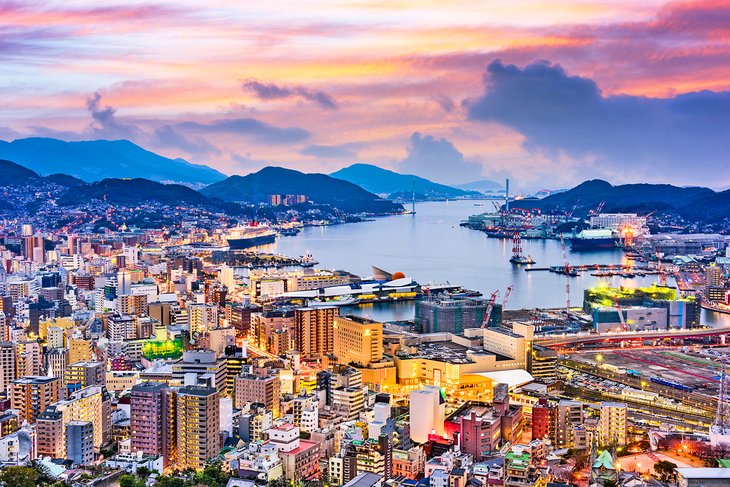 Nagasaki was also destroyed by a nuclear strike in WWII and slowly rebuilt over the next few decades. You can see some of that history in the Nagasaki Atomic Bomb Museum and on a walk around Peace Park with its many monuments and memorials.
Because of its tradition as a port city, Nagasaki has a more international flair than other cities in Japan. This can be seen in the many busy restaurants and tiny eateries offering everything from Fujian-influenced champon noodles to poisonous okoze fish dishes.
To catch Nagasaki's famous "10 million dollar view," visitors can take the Ropeway cable car up Mount Inasa. Once up, climb to the observatory platform for 360-degree views (even better at night) over the city and the Nagasaki Port.
Just off the bay of Nagasaki lies Hashima (Battleship) Island, an abandoned island that once served as a forced labor camp and the access site to an undersea coal mine. Shots of the decaying structures on the island were used in the James Bond film Skyfall, and visitors can now take tours of the island.
11. Takayama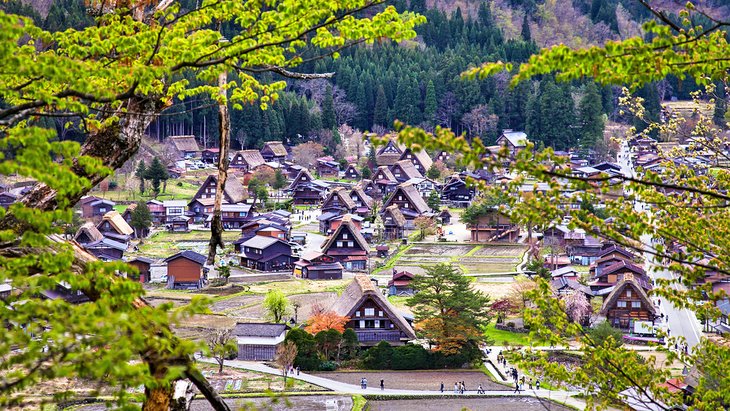 A relatively large city with a small-town feel, Takayama sits in the heart of the Japanese Alps and receives heavy snow in winter. The historical buildings that house the Sakurayama Hachimangu Shrine and the Kusakabe Folk Crafts Museum look particularly stunning while covered in powdery soft snow.
Visitors staying overnight in Takayama can (and should) sleep in ryokans, small inns that offer traditional accommodations, tea ceremonies, and authentic local food.
Takayama is home to three historical sites: Hida no Sato, an open-air museum with over 30 historical thatch-roof farmhouses, and the few streets that make up the Sanmachi Suji District, where traditional houses mix with cafés and shops in a place that looks out of a history book. To see the third place, you need to leave the city for a short day trip to the village of Shirakawa-go, a UNESCO World Heritage Site with traditional houses that are over 250 years old.
12. Matsue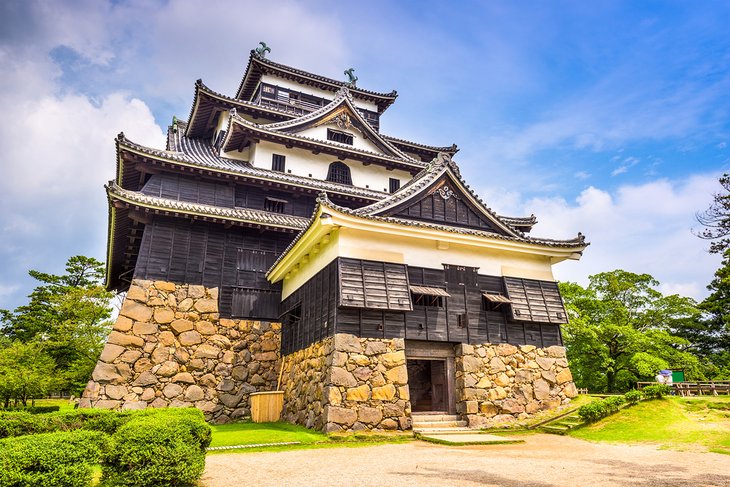 Located between Lake Shinji and Lake Nakaumi on the Sea of Japan coast, the city of Matsue is famous for being home to one of the last surviving feudal castles in Japan. Matsue Castle was built in the early 17th century, and it's a marvel of original wooden construction. When the sakura (cherry trees) are in bloom, it's possible to take a boat ride on Lake Shinji (Japan's seventh-largest lake) to see the stunning pink show around the castle.
The area around the house is known as "samurai city," and features many shrines, ancient homes, and even a tiny fishing village. There are museums, too, dedicated to musical instruments, times gone by, and ancient Japanese myths.
Getting to the city is part of the fun, too. The Sunrise Izumo train is one of very few overnight sleeper trains that still exist in Japan. It covers the route straight from Tokyo, and it's worth the experience.
The stunning Oki Islands can be reached via ferry from a port near Matsue. In addition to great bird-watching, the islands also offer great hiking on volcanic riffs, unexpected encounters with grazing horses and cattle, and pristine beaches for swimming, kayaking, and simply relaxing away from the mainland.