12 Top-Rated Tourist Attractions in Osaka
Osaka, one of Japan's largest cities, lies on the south coast of western Honshu at the point where the River Yodo flows into the wide sweep of Osaka Bay, which opens out into the Pacific. Its location on the Yodo Delta with its network of watercourses and canals spanned by more than a thousand bridges has, deservedly, earned Osaka the nickname of the "Venice of the East."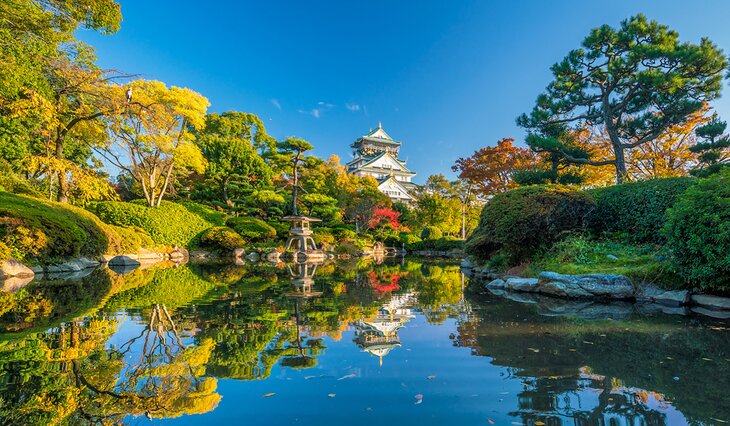 While the origins of Osaka date back to the early days of the Japanese Empire, today it is undoubtedly one of the most modern cities in Japan, boasting a futuristic skyline along with countless impressive examples of modern architecture. Its world-class status is cemented by its many cultural institutions. These include its many superb museums and art galleries, as well as its ultra-modern entertainment, theater, and music venues, which together add up to an endless list of unique things to do.
When planning your Osaka travel itinerary (as well as considering where to stay), bear in mind that the city in fact has two significant city centers. If being close to the top dining, shopping, and entertainment experiences is an important factor, you'll want to spend time in the Minami, or "South" district. Kita, the "North" district, is the traditional business center of Osaka, and is certainly worth considering. Here, you'll find no end of shopping, dining, entertainment, and accommodation available.
Whichever you choose (but be sure to at least visit both), you'll find an excellent transportation system as you go about your sightseeing and explore the best places to visit in the city. If possible, consider traveling to this popular destination in the quieter seasons, such as winter. You'll avoid the crowds at the most popular attractions, and you'll get the chance to experience unique sights, such as seeing Osaka Castle shrouded in snow and lit up at night.
Whatever season you visit, plan your sightseeing with our list of the top tourist attractions in Osaka.
1. Osaka Castle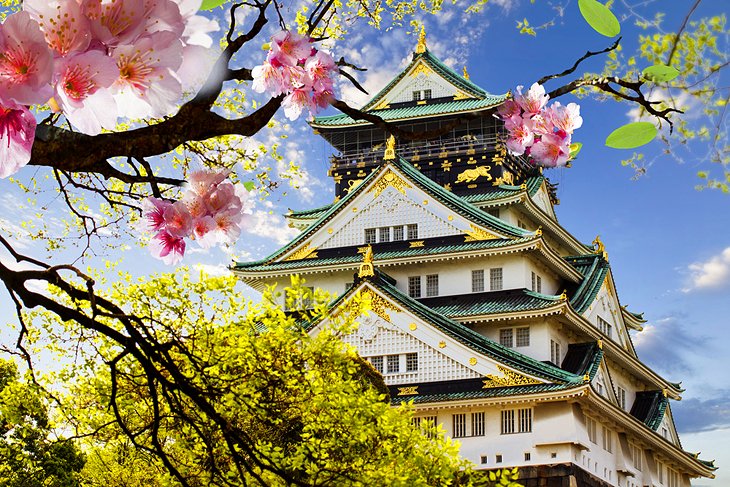 Highlights: Originally a 16th-century castle, known today for its five-story tower, museum, and city views
Osaka Castle (Ōsaka-jō) was completed in 1586 and took just three years to build. Ordered built by famed Japanese warrior and politician Toyotomi Hideyoshi it was, at the time, the largest castle in Japan.
Almost all Hideyoshi's military commanders were required to contribute stones for its construction, the largest being the Higo-ishi stone, near the south entrance. Standing nearly six meters high and 14.5 meters long, it was contributed to by the celebrated General Kato Kiyomasa from the island of Shodo.
After Hideyoshi's defeat in 1615, the castle was destroyed, only to be rebuilt by the Tokugawa shoguns for reasons of prestige. Again destroyed after the fall of the Shogunate, the castle was reconstructed in its present form in 1931.
Highlights include the five-story, 42-meter-tall main tower containing a great museum with exhibits related to the history of the castle and the city (it also offers superb views over Osaka from its upper floors). Also of interest in Osaka Castle Park is the Hokoku Shrine dedicated to Hideyoshi and his family.
This popular site can get busy, especially in the summer months, so be sure to take advantage of the "e-ticket" option available through its official website (see below).
Address: 1-1 Osakajo, Chuo Ward, Osaka, Osaka Prefecture 540-0002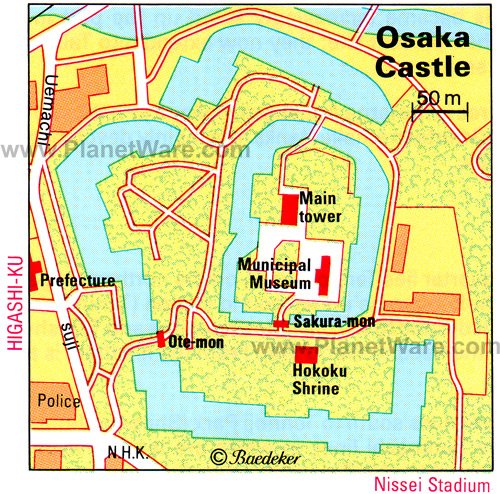 2. Shitennō-ji Temple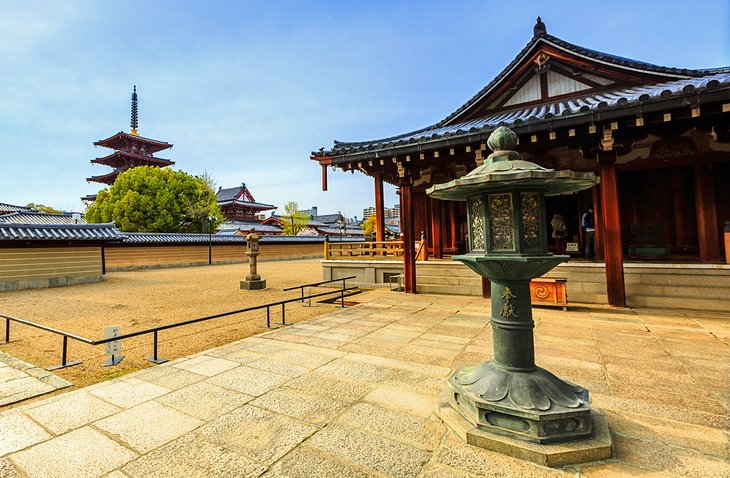 Highlights: Japan's first Buddhist temple shows off a five-story pagoda, beautiful statues and paintings, and the famous Golden Pavilion.
Shitennō-ji is Osaka's best-known temple and can trace its roots back to 59 CE. It was also Japan's first Buddhist temple. Although rebuilt numerous times through the centuries (the most recent reconstruction took place in the 1960s), this lovely temple remains the oldest such religious site to be officially administered.
Highlights of a tour include the site's five-story pagoda, along with a number of other exquisitely decorated buildings. The best of these are the Golden Pavilion (Kondō) with its fine statues and paintings, the Lecture Hall (Kōdō), and a lovely covered corridor linking three of the site's gates.
Other buildings of note in the complex include the teaching area, a pharmacy, and a hospital. Be sure to also spend time exploring the site's pleasant garden.
Address: 1-11-18 Shitennoji, Tennoji Ward, Osaka, Osaka Prefecture 543-0051
3. Osaka Aquarium Kaiyukan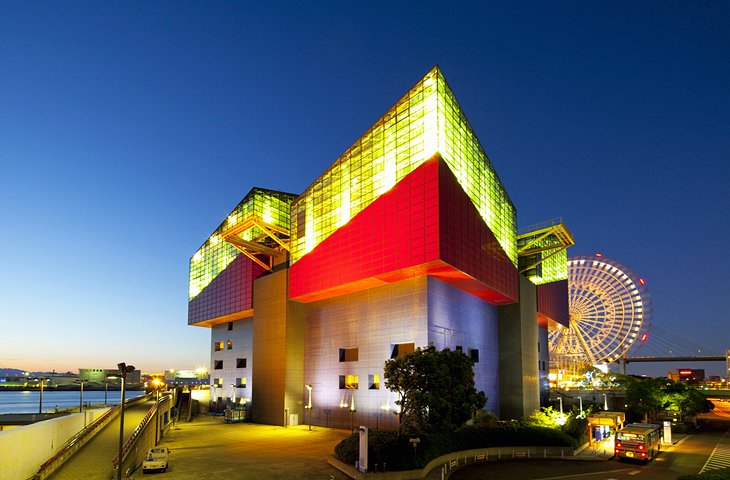 Highlights: One of the largest aquariums in the world, featuring 27 tanks that spotlight marine habitats from around the planet
Looking a little as if it might be made of giant Lego blocks, the Osaka Aquarium Kaiyukan is well worth exploring. One of the world's biggest such attractions, this walk-through aquarium takes guests on a fascinating tour of a number of marine habitats. These include the Pacific Ocean and Antarctica, along with the Great Barrier Reef and Monterey Bay.
A variety of Japanese marine life is also featured, including freshwater species, as well as native reptiles and mammals. All told, the site boasts 27 tanks, the biggest being nine meters deep and capable of easily accommodating large marine life including manta rays and sharks.
For a truly memorable experience, consider a visit at night, when the tanks are lit up to dazzling effect. Be sure to also check the feeding times before your visit (these are listed on the aquarium's official website below).
Address: Chome 1-1-10 Kaigandori, Minato Ward, Osaka, Osaka Prefecture 552-0022
4. The Tempozan Ferris Wheel and Harbor Village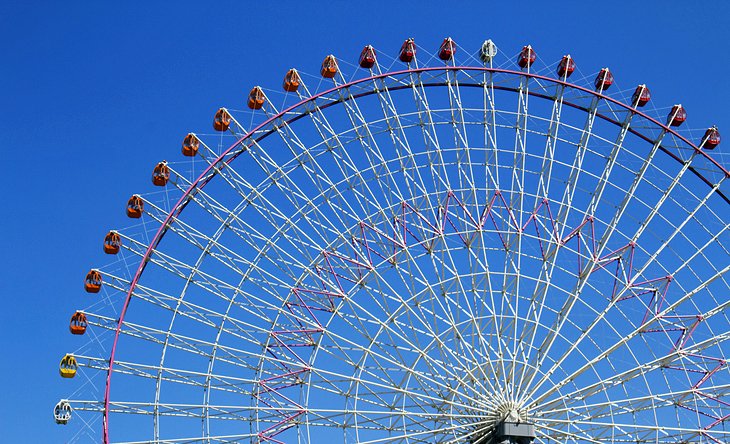 Highlight: One of the largest Ferris wheels in Asia, a ride takes a staggering 17 minutes to complete
The Tempozan Ferris Wheel provides some of the best views over Osaka, particularly of the port area and the Tempozan Harbor Village where it's located. This massive Ferris wheel is one of the largest such attractions in Asia, standing more than 112 meters tall and with a diameter spanning 100 meters.
In operation since 1997, this popular attraction offers a thrilling 17-minute journey that is especially enjoyable at night when the wheel is lit up in a variety of different colors dictated by the weather (orange when sunny weather is forecast, green for clouds, and blue for rain). Thrill seekers can opt for one of the special "see-through-bottom" cars for an incredible all-round view of Osaka Bay.
Afterward, be sure to visit other Harbor Village attractions. The best of these are the Cruise Ship Santa Maria, the Legoland Discovery Center, and the Osaka Aquarium Kaiyukan.
Address: 1-1-10 Kaigandori, Minato Ward, Osaka, Osaka Prefecture 552-0022
5. The Kobe Port Tower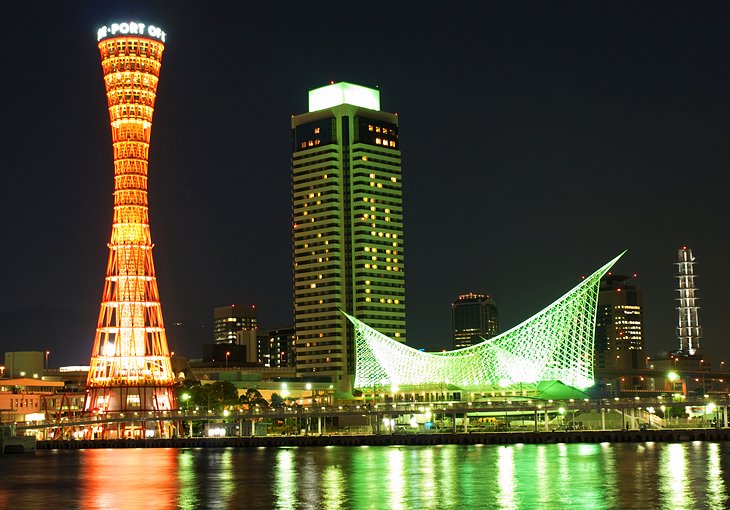 Highlights: An observation deck overlooks the city skyline, while a rotating restaurant has 360-degree views
Osaka boasts not just one but two tall towers that have become synonymous with the city. The newest of these, Kobe Port Tower, is located on the outskirts of the city near the main harbor. Despite being a little farther away from the city center, it's certainly a must-visit attraction that draws crowds of tourists.
Opened in 1963 and constructed from red steel, this earthquake-proof structure stands 108 meters tall and has retained a look of modernity. The highlight of a visit is spending time on the observation deck, affording great views over the city and the Kobe Port area.
Better still, if you're feeling hungry, consider booking a meal at the rotating restaurant, which enjoys the same spectacular views (it's an especially fun experience at night).
Address: 5-5 Hatobacho, Chuo Ward, Kobe, Hyogo 650-0042
6. Tsūtenkaku Tower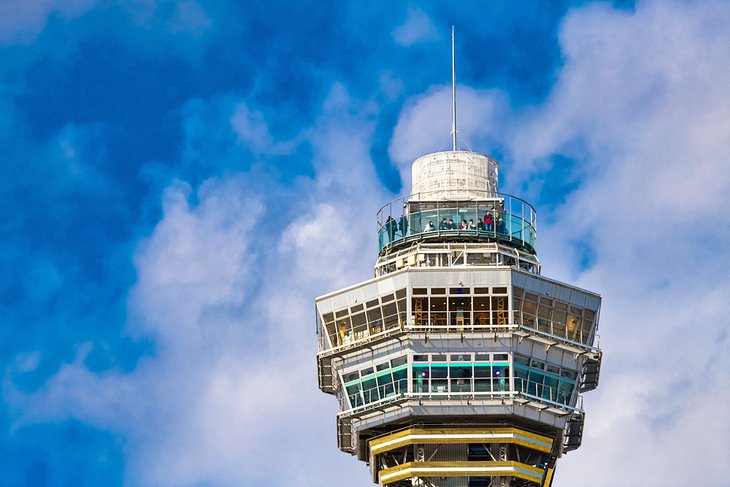 Highlight: A fifth-floor observation deck has beautiful views of the city.
The oldest of Osaka's two towers, Tsūtenkaku, is located in the city center and is one of the city's best-known landmarks. It was in fact built on the site of a replica of the Eiffel Tower that was constructed in 1912 and destroyed in WWII.
The current structure, completed in 1956, still offers some of the best views over Osaka. The best of these views can be enjoyed from the observation level on its fifth floor, where you'll also find a shrine of the God of Happiness. If visiting at nightfall, the tower is lit up with a dizzying display of neon lights.
Address: Chome-18-6 Ebisuhigashi, Naniwa Ward, Osaka, 556-0002
7. The National Museum of Art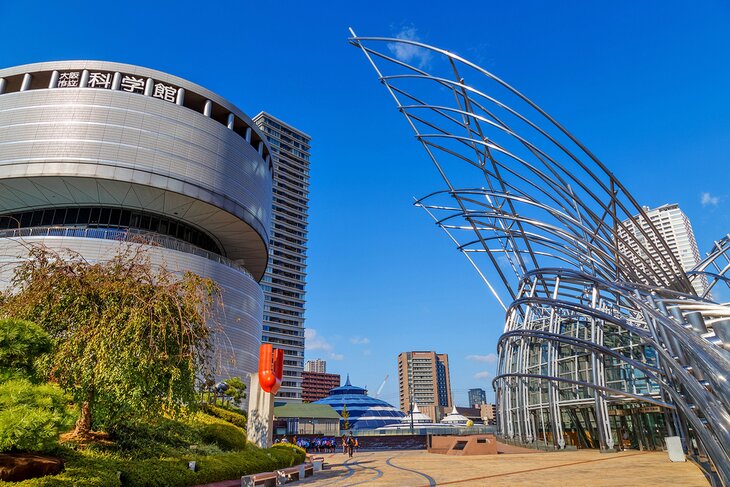 Highlight: An important art museum that houses works from both Japanese and international artists.
The National Museum of Art, Osaka (NMAO), is a unique underground art museum located just a few minutes from the city center on Nakanoshima, a small island between the Tosabori and Dōjima rivers. Opened in 1977, this important gallery contains a large collection from some of the leading international artists of the post-war period, including examples by Picasso and Cézanne and Japanese artists Kuniyoshi and Foujita.
It's also home to many important relics and statues. Even if art isn't your thing, it's worth visiting for the spectacular steel structure outside the museum, a massive installation designed to look like reeds bending under a breeze.
Also worth a visit is the Osaka Municipal Museum of Fine Art. This fine gallery is home to a collection of ancient Chinese calligraphy and artwork by Japan's most revered artists.
Address: 4 Chome-2-55 Nakanoshima, Kita Ward, Osaka, 530-0005
8. Osaka Tennōji Zoo & Park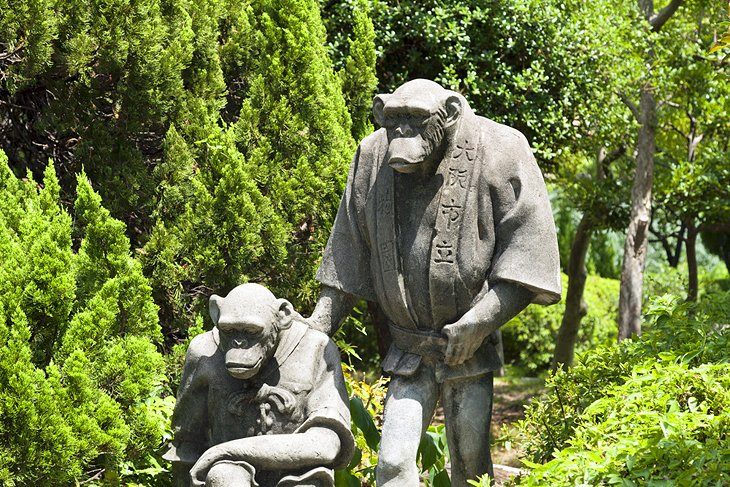 Highlights: A top spot in the city for cherry blossom viewing, as well as home to Osaka's zoo.
Osaka's largest green space, Tennōji Park (Tennōji Kōen), serves as a place of respite from this otherwise busy city. Noted for its many fragrant flower beds and, in spring, its cherry blossoms, the park is a delight to explore thanks also to its many fun sculptures, ponds, and bridges.
It's also home to some of the city's most important tourist attractions, including the Osaka Tennōji Zoo. Opened in 1915, the zoo features a variety of species, including lions, giraffes, and elephants, all housed in such a way that they seem to be roaming the African savannah.
Also worth a visit is the hippo pool and reptile house. Hot Tip: Try to time your visit for the free tours of the park's greenhouses and other areas not usually open to the public.
Address: 1-108 Chausuyamacho, Tennoji-ku, Osaka
9. Osaka Science Museum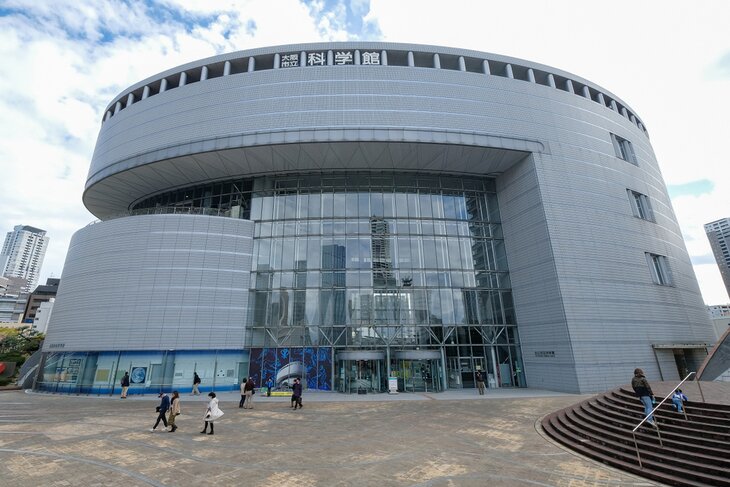 Highlight: Home to the first planetarium to open in Japan
Looking not unlike the bridge of a large ship - a fact that could be credited to its waterside setting - the Osaka Science Museum (Ōsaka Shiritsu Kagakukan) is a delightful outing for those traveling with kids.
Opened in 1989 above the National Museum of Art, the museum contains numerous hands-on and interactive exhibits based on a number of science-related themes covering everything from astronomy to energy sources. It also boasts the country's first planetarium.
Also worth a visit is the Osaka International Peace Center (Ōsaka-kokusai-heiwa-sentaa), a museum dedicated, as the name suggests, to matters of peace. Highlights include sobering displays relating to the destruction of war, as well as a replica of the famous Doomsday Clock.
Address: 4 Chome-2-1 Nakanoshima, Kita Ward, Osaka, 530-0005
10. The Umeda Sky Building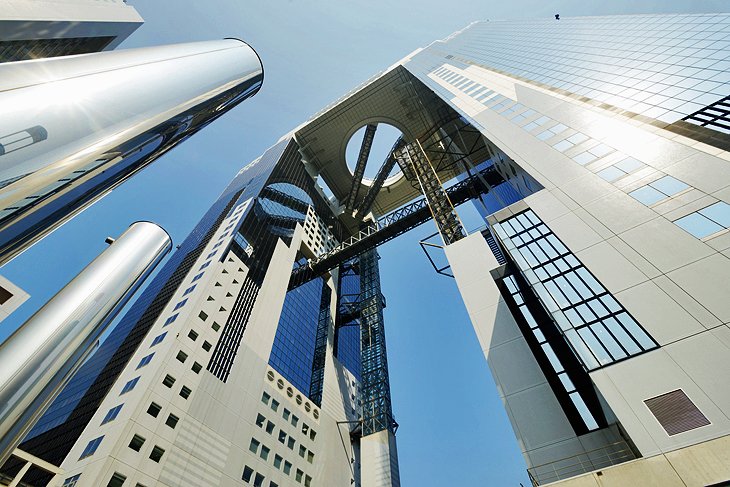 Highlight: A rooftop observatory and garden with impressive views over Osaka
In addition to the stunning architectural designs associated with its museums and art galleries, Osaka boasts many other fine examples of modern architecture. Perhaps the best known is the aptly named Umeda Sky Building (Umeda Sukai Biru), a stunning landmark consisting of two office towers joined at the top by a large platform-like structure.
It's this rooftop structure that draws visitors, due largely to the network of bridges and an escalator, which join the two towers, providing plunging views of 170-plus meters that send shivers down the spines of those sensitive to heights. The views from the rooftop observatory and garden - aptly named the Floating Garden Observatory - are simply stunning.
Afterward, be sure to wander the urban garden at its base with its pleasant paths, fountains, and ponds. There's also a fun underground market designed to resemble early-20th-century Osaka.
Address: 1 Chome-1-88 Oyodonaka, Kita Ward, Osaka, 531-6023
11. Universal Studios Japan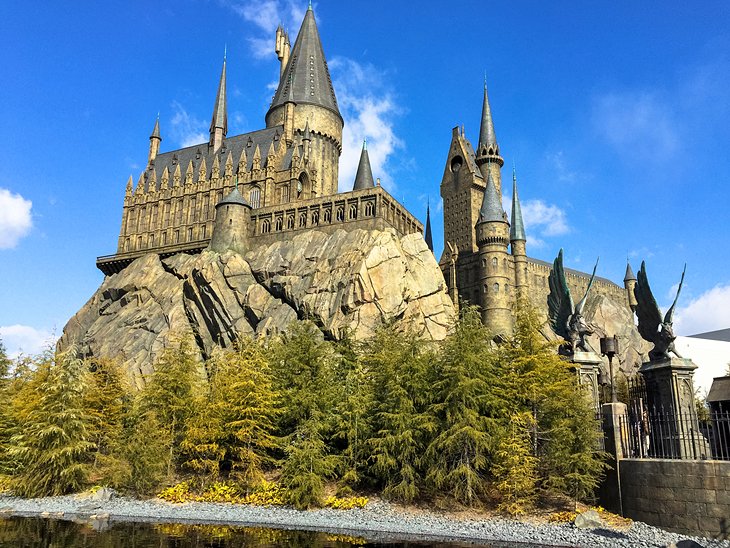 Highlights: Themed roller coasters, attractions, and rides including its own The Wizarding World of Harry Potter
One of the city's newest attractions, and quickly becoming one of the top things to do in Osaka, Universal Studios Japan is also one of the city's busiest sites, attracting around 10 million visitors each year. One of five Universal theme parks worldwide, the Osaka location offers a number of well-known pop-culture franchises, along with a few unique to the location.
Recent additions include Hollywood Dream: The Ride, a fun roller coaster that actually travels backward at times; rides based on the Spiderman movies; and Universal Wonderland, a family-friendly area perfect for those traveling with younger kids. Uniquely Japanese-themed entertainment and characters are found in rides based on games and TV shows in the Universal Cool Japan area, including Monster Hunter and the One Piece Premier Show.
Also of interest to fans of both the books and movies is The Wizarding World of Harry Potter, based on the popular rides in Universal's Island of Adventure in Orlando, Florida. To avoid line-ups, be sure to look into the handy Universal Express Pass.
Address: 1-33 Sakurajima, Osaka Prefecture 554-0031
12. Tenmangu Shrine and the Tenjin Festival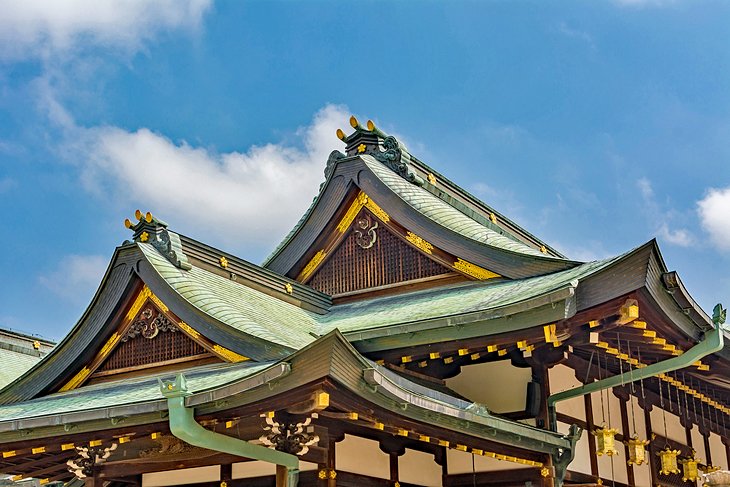 Highlights: A festival with more than 1,000 years of history featuring parades and a fireworks display
Osaka also happens to be the host city of one of Japan's largest annual festivals. The Tenjin Festival (Tenjin Matsuri) has been held here for more than 1,000 years on the same date, July 24 and 25. It features colorful processions held both on land and on water and culminates with a spectacular fireworks display.
Much of the fun takes place around the Tenmangu Shrine, which celebrates the god of scholarship, and provides tourists a chance to experience local customs, see many traditional costumes, and enjoy the city's wonderful hospitality. It's also a chance to get in some souvenir shopping, as well as sampling great food from the many vendors who set their stalls for the occasion.
Address: 2 Chome-1-8 Tenjinbashi, Kita Ward, Osaka, 530-0041
Tips & Tours: How to Make the Most of Your Visit to Osaka
Backstreet Osaka Tour: Explore Osaka like a local with this Deep Backstreet

Osaka

walking tour. The tour takes visitors through the city's historic streets and back alleys to off-the-radar spots often missed by most tourists.
Shoulder Season in Osaka: If traveling outside of the busy peak summer season, you'll be rewarded with many unique experiences and sights in Osaka. In winter, the city comes alive with wonderful displays of colorful illuminations and lights. A good time to visit is from November to January, during the Festival of Lights and when beautiful Osaka Castle is lit up for Christmas. Spring is also popular, as the city's parks and gardens burst into life.
Day Trips: Osaka is perfectly positioned for adventurous travelers to enjoy a variety of fun day trips. A popular option is the Hiroshima and Miyajima Full-Day Sightseeing

Tour

, which takes in two of Hiroshima's top attractions: Itsukushima Shrine and Hiroshima Peace Memorial Park. Benefits include the services of an English-speaking guide, deluxe coaches, and admissions.
Map of Tourist Attractions in Osaka
Osaka, Japan - Climate Chart
Average minimum and maximum temperatures for Osaka, Japan in °C
J
F
M
A
M
J
J
A
S
O
N
D

9

2

10

2

13

5

20

10

24

15

27

20

31

24

33

25

29

21

23

15

17

9

12

4

PlanetWare.com
Average monthly precipitation totals for Osaka, Japan in mm.

46

61

102

135

140

206

158

94

173

107

66

36

Average monthly snowfall totals for Osaka, Japan in cm.

1

2

1

0

0

0

0

0

0

0

0

0
Average minimum and maximum temperatures for Osaka, Japan in °F
J
F
M
A
M
J
J
A
S
O
N
D

48

35

49

36

55

40

67

50

75

58

81

67

88

74

91

76

83

69

72

58

62

48

53

39

PlanetWare.com
Average monthly precipitation totals for Osaka, Japan in inches.

1.8

2.4

4.0

5.3

5.5

8.1

6.2

3.7

6.8

4.2

2.6

1.4

Average monthly snowfall totals for Osaka, Japan in inches.

0.4

0.8

0.4

0

0

0

0

0

0

0

0

0
Osaka enjoys lovely weather year-round, but the best times to go to Osaka are in the spring and fall seasons. Spring in Osaka is in March, April, and May, while fall is in October and November.
The average temperature in Osaka in March is a high of 14 degrees Celsius. It's a beautiful time to visit because this is the time of year when the plum blossoms and cherry blossoms start to open up.
The weather warms up in April to about 20 degrees Celsius. Usually, it's the first two weeks of April that are the busiest in Osaka because it is peak cherry blossom season. You'll find the streets and attractions are most crowded, but the weather is at its best.
May's average high in Osaka is 25 degrees Celsius. Usually, the crowds have thinned and the city is carpeted in greenery.
Osaka's weather in October is still quite warm, with an average high of 23 degrees. Expect sunny days and cooler evenings. Towards the end of October, the leaves start to change color, which ushers in November and peak leaf-peeping season.
November is comfortable in Osaka, as well, with an average high of 18 degrees Celsius. The leaves are at their most explosive and colorful in the middle of the month. You'll also find that November can be particularly crowded with travelers coming to watch the leaves change.
More Related Articles on PlanetWare.com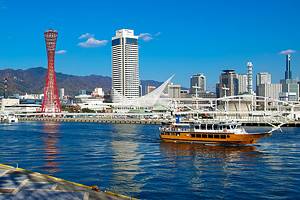 Places to Visit near Osaka: As well as the fun day trips already mentioned, Osaka is a great jumping-off point to explore a variety of other surrounding attractions and points of interest. Easy-to-access destinations by rail include Kyoto and Hiroshima, each just a couple of hours away by Bullet Train.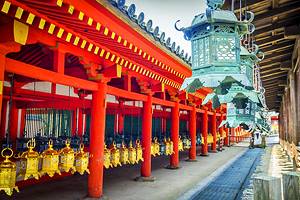 Explore Japan's Rich History: A great vacation destination for those seeking to immerse themselves in Japan's rich cultural traditions is Fukuoka. In addition to its magnificent castle and many fine shrines and temples, the city offers immersive experiences, including origami and calligraphy. Similar experiences and other historical attractions can of course be enjoyed in other historic cities such as Nara and Sapporo.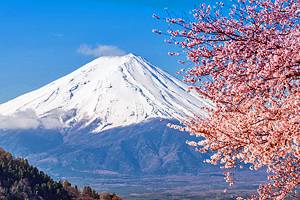 Japan Vacation Ideas: Japan offers no end of jaw-droppingly beautiful scenery. No trip should therefore skip the iconic Mount Fuji, easily accessible from Tokyo and its many attractions. If your itinerary doesn't allow a visit to the mountain, you can at least catch a good look at it as you whizz past on a high-speed Bullet Train to destinations such as Nagoya.