From Tokyo to Mount Fuji: 4 Best Ways to Get There
We may earn a commission from affiliate links ()
Japan's highest volcano and most beloved mountain is a popular destination for visitors. But getting to Mount Fuji from Tokyo can be tricky and often requires transportation changes and several hours of travel.
Most people visiting Mount Fuji are actually heading to the mountain's 5th Station, located at an altitude of over 2,300 meters above sea level. This is Mt. Fuji's best lookout point for non-climbers, from where you'll get a direct view of the snow-covered summit and the surrounding mountains.
Whether you're looking for speed, convenience, amazing views, or extra stops along the way, here are the best ways to get from Tokyo to Mount Fuji.
Note: Some businesses may be temporarily closed due to recent global health and safety issues.
1. From Tokyo to Mount Fuji by Private Tour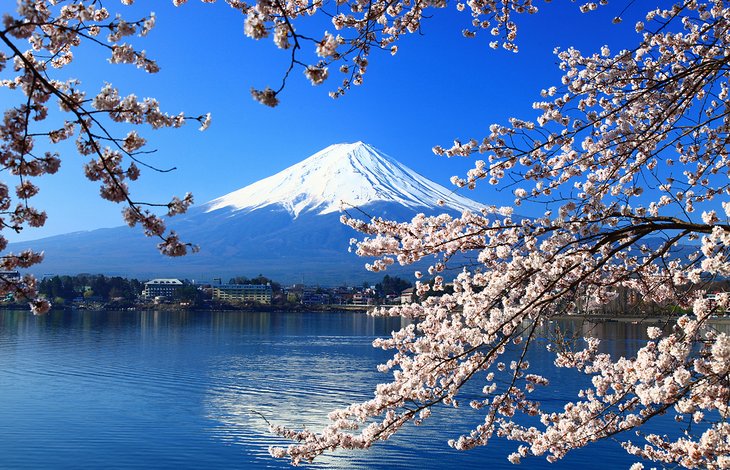 For the ultimate Mt. Fuji experience, nothing beats a tour you can design on your own so you can decide where to go, how long to spend in each place, and when to get back. Even better, the tour can be organized for a single person or a small group, depending on how many people you're traveling with.
The nine-hour-long Mt. Fuji Private One-Day Tour by Chartered Vehicle from Tokyo starts right at your hotel's door, where a limo or van will take you and your group to Mt. Fuji's 5th Station, Lake Kawaguchi, and nearby attractions.
You decide how long you spend in each place — if you're unsure, the driver will recommend options, such as heading to Komitake Shrine for unobstructed views over stunning blue Lake Yamanaka and stepping on the observation deck at Mount Tenjo (reached after a 400-meter ascent via the Kachi Kachi ropeway cable car) for panoramic views of Mt. Fuji.

The driver will bring you back to your hotel at the end of the day.
2. From Tokyo to Mount Fuji by Bus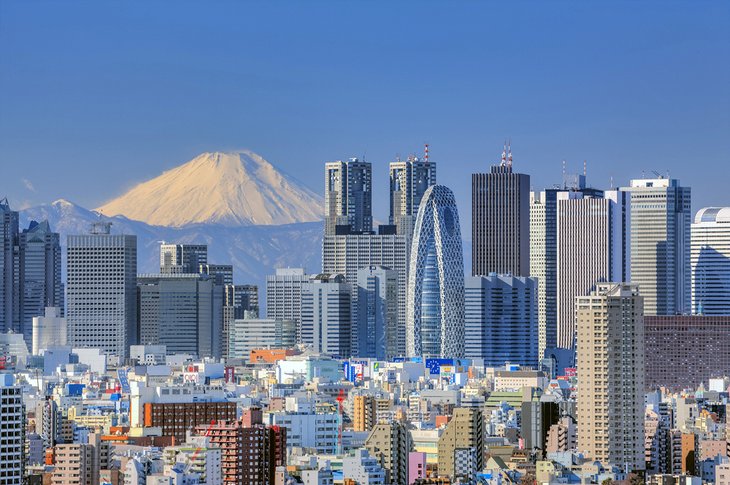 The easiest and cheapest way to reach Mt. Fuji from Tokyo is by bus — but you'll miss out on some of the stunning views along the way.
Tokyo (and greater Tokyo) has several bus stations, so it's important you head to the right one when planning a trip. Most visitors leave from the main Tokyo station just because it's easier to reach and less complicated to maneuver.
From here, you can catch a direct bus between 6:20am and 9:20pm to the Mt. Fuji area. Depending on traffic, the journey takes between 2 and 2.5 hours. Keep in mind that there are more buses in the morning than in the afternoon, so plan well.
These buses take you to the broader Fuji area and offer four main stops there: Kawaguchiko Station (well-known for its lakes and easy hiking trails), Fuji-Q Highland (where you'll find a world-famous thrill-ride amusement park), and Lake Yamanakako station. Where you get off depends on what you want to explore, but keep in mind none of these stops is exactly at Mount Fuji itself.
To get to the Fuji Subaru Line 5th Station — the lookout point and Mt. Fuji Basecamp, from where all the hikes that follow the Yoshida Trail up the mountain start — you'll need to take a second bus. Just get off at Kawaguchiko Station and grab a local bus for an additional 50-minute ride. Local buses run every hour and are usually marked, so you won't miss them.
If you're traveling to Mount Fuji during climbing season (July to mid-September), there's a direct bus from Shinjuku Expressway Bus Terminal (located in Greater Tokyo, outside the city center) to the 5th Station. The journey takes 2.5 hours, and the buses fill up quickly, so it's better to make a reservation in advance on the Highway-buses.jp website.
3. From Tokyo to Mount Fuji by Train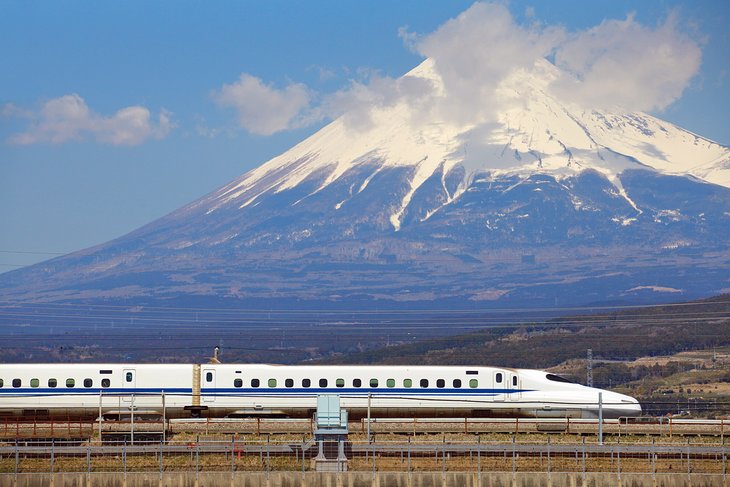 There are regular year-round trains from Tokyo to the Mount Fuji area. And while trains cost more and take an hour longer than buses, they also offer stunning views of mountains and lakes along the way.
The best train option available is the Fuji Excursion Limited Express train, which runs from Tokyo's Shinjuku Station (considered the world's busiest railway station) to the Kawaguchiko stop. Please keep in mind that once you get off there, you'll still need to grab a local bus if your final destination is the Subashiri 5th Station.
The Fuji Excursion Limited Express train departs from Shinjuku only in the mornings, twice on weekdays and three times on weekends, starting as early as 7:30am. The return trips are not very late, with the latest train departing from Kawaguchiko Station at 5:38pm on weekends. This means you won't have much time to explore upon arrival and will have to plan everything well to fit all the sights into the limited time slot.
There are a number of additional train connections that can get you to the Fuji area, but all require switching along the way, plus a bus at the end. If you have your heart set on taking the Shinkansen (bullet train) while in Japan, this might be the right time. The bullet train doesn't take you to Mt. Fuji's 5th Station, but it will take you to a nearby area with some of the best views of the mountain.
Using your JR pass (Japan Rail pass), board the Tokaido Shinkansen train in Tokyo and travel to Odawara Station. Here, switch to a local Hakone Tozan train and get off at the Hakone-Itabashi station. The Fuji's Five Lakes park lies at the northern base of Mount Fuji and offers some of the best views of the mountain.
4. From Tokyo to Mount Fuji by Group Tour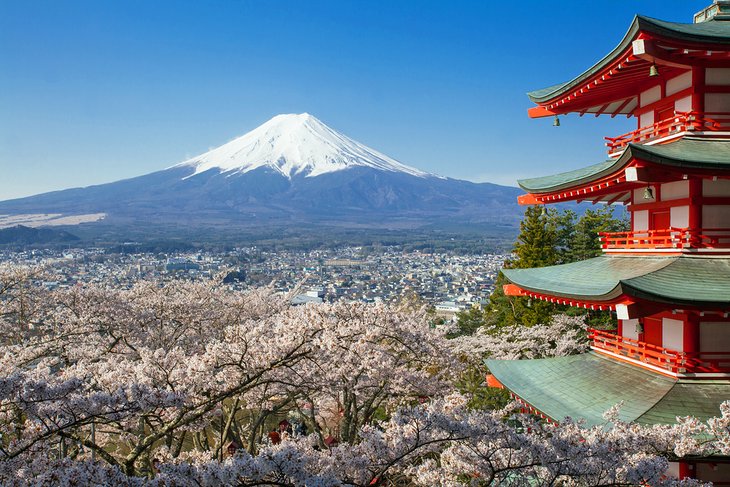 If you want to experience more of Japan's stunning natural beauty in one day, a tour that combines Mt. Fuji with a stop at Aokigahara forest might be a good option.
The Mt. Fuji Aokigahara Forest and Cave Exploring from Tokyo tour starts at 8:30am at a central pickup point in Shinjuku City, Tokyo's buzzing commercial center and "Skyscraper District." From here, the van will head straight to Mount Fuji's 5th Station, where you will have some time for pictures and a quick bite at the local restaurant.
From here, the tour continues on towards Aokigahara Forest, also known as the Sea of Trees. The unique forest of thick, mossy green trees grows on hardened lava left behind by Mt. Fuji's last eruption in 864 CE. Local legend says the area is haunted and spirits roam the forest's depths once the sun sets.
The final stop on the tour is Narusawa Ice Cave, a 153-meter-long lava cave covered in surreal ice formations.
The van will then drop you off in front of the Fuji-Q Highland Amusement Park, where you can wait for a local bus (ticket included) to take you back to Tokyo.
More Related Articles on PlanetWare.com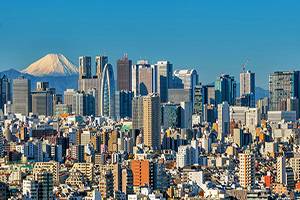 What to See and Where to Stay in Tokyo: Tokyo is worth taking the time to explore. With so much to see and do, it can seem overwhelming for new visitors. Hit the ground running with our list of the top attractions in Tokyo. But first, plan out your accommodation with our article on Where to Stay in Tokyo. This guide provides insight into the best areas of the city for visitors to stay and also offers hotel recommendations in different price ranges.