11 Top-Rated Tourist Attractions in Sapporo
The largest city on Japan's northernmost island of Hokkaido, Sapporo offers many great reasons to visit. The city is a popular place to visit for events such as the famous Sapporo Snow Festival. One of Japan's largest winter events, this fun festival attracts more than two million visitors every winter (the city's year-round tally of visitors now surpasses 14 million).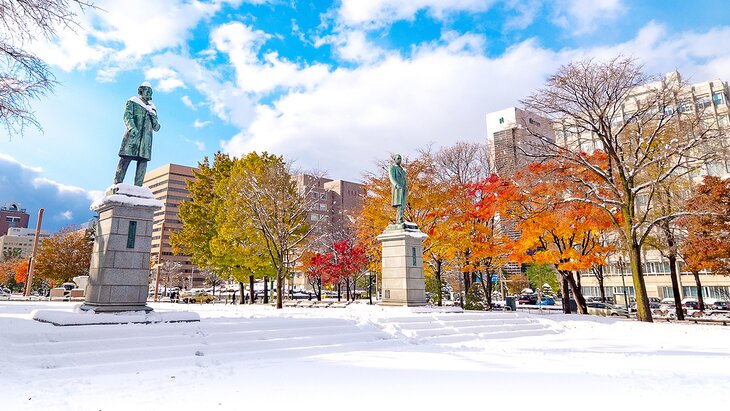 In addition, the city regularly hosts important international sporting events, as well as major political gatherings, such as G8 Summits. Sapporo also plays a role as a major cultural destination and is home to some of Japan's best-known culinary dishes, theatrical and musical events, as well as points of interest and attractions such as museums and lovely parks that are well worth including on your Japanese itinerary.
Find the best places to visit with our list of the top tourist attractions in Sapporo.
1. Odori Park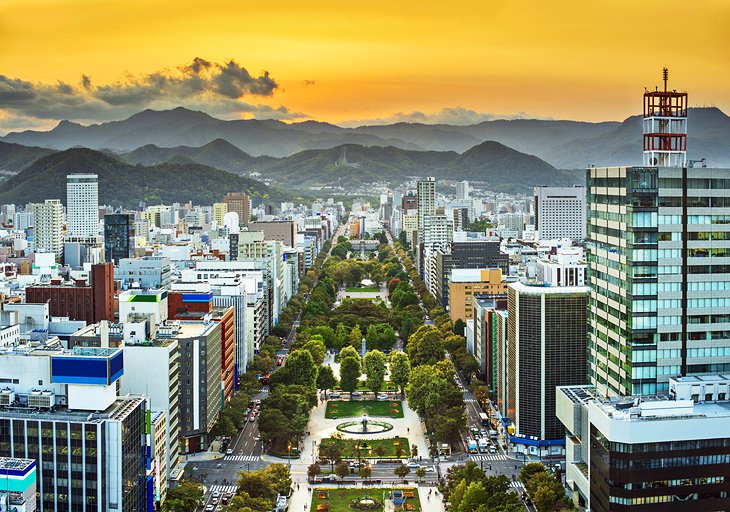 Highlights: Art sculptures, fountains, gardens, and easy access to Sapporo's many museums and galleries
Odori Park (Ōdōri Kōen) is an oasis of green in Sapporo's downtown core that slices through the city. It stands in stark contrast to the high-rises and offices around it, and serves as the best place from which to begin exploring this dynamic destination.
Not unlike the many broad avenues typical of European cities like Paris — its name in fact translates literally as "large street," which it once was — this delightfully wide one-and-a-half-kilometer-long stretch of park features a broad open space with gardens, fountains, and art sculptures. It also connects many of the city's most interesting attractions and things to do, such as the Sapporo TV Tower and various museums and galleries, as well as shopping and entertainment districts.
Odori Park also serves as an important venue for cultural events, including the spring Sapporo Lilac Festival and the always-popular Sapporo Snow Festival. It's also close to the underground shopping area and business district of Sapporo.
Address: 7 Chome Odorinishi, Chuo Ward, Sapporo, Hokkaido 060-0042
2. Hokkaidō Shrine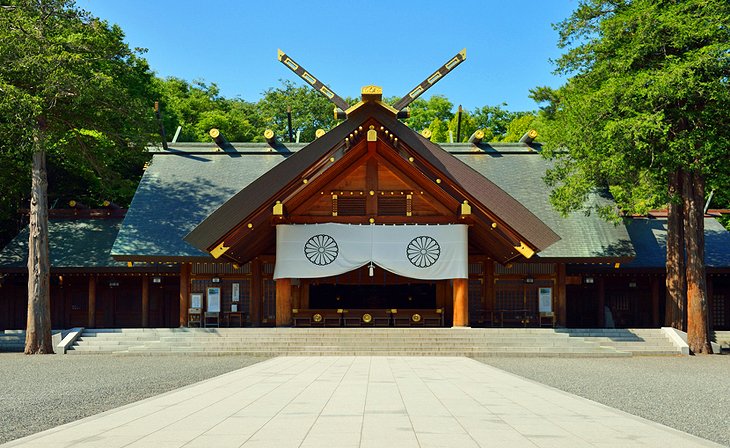 Highlight: An important Shinto shrine that hosts the Sapporo Festival every June
Built in 1871, the Hokkaidō Shrine (Hokkaidō Jingū) is one of the country's most important (and visited) Shinto religious sites. Located adjacent to Maruyama Park, the shrine became even more popular after it was dedicated to the soul of much revered Emperor Meiji in 1964.
The site is massive, and in addition to the huge temple building, it consists of a large garden replete with cherry blossoms, a big draw when they are in bloom each spring.
Another favorite time to visit is New Year's, when special celebrations and festivities are conducted, or during the annual Sapporo Festival every June, when long parades of traditionally dressed revelers visit the Hokkaidō Shrine and pay homage to their ancestors and the spirits of the country's most revered religious leaders.
Address: 474 Miyagaoka, Chuo Ward, Sapporo, Hokkaido 064-0959
3. Mount Moiwa Ropeway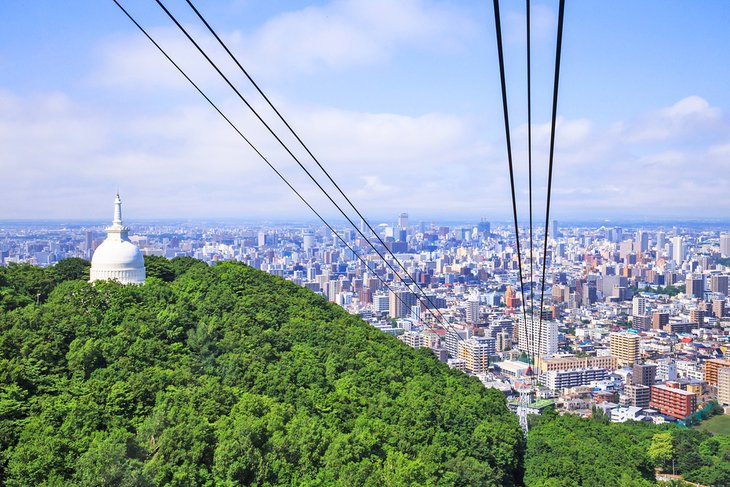 Highlights: Fantastic views over the city from an observation deck, as well as an on-site restaurant and planetarium
Towering high above Sapporo, the 531-meter-tall Mount Moiwa (Moiwa-yama) is the most visited of the many hills surrounding the city due largely to the ease with which its summit can be reached. While a popular destination for walkers, by far the most-frequented option is to take the aerial tramway.
Mount Moiwa Ropeway (Moiwayama Rōpuwe) travels most of the way up the mountain before visitors transfer to a cable car that takes only minutes to reach the summit's Upper Station. Here, you'll not only be treated to great views over the city from the station's observation deck, you can also stop at its on-site restaurant or enjoy a show at its planetarium. It's an especially pleasant journey to make at night when the city far below is lit up.
Come winter, the Mount Moiwa Ski Resort lures snow sports enthusiasts from far and wide for its many fine slopes, all of them easily accessible from Sapporo's city center.
Another hill of interest is Hitsuji-ga-oka (the hill of sheep) located to the southeast of Sapporo and also offering beautiful views over the city.
Address: 5 Chome-3-7 Fushimi, Chuo Ward, Sapporo, Hokkaido 064-0942
4. Jozankei Onsen Hot Spring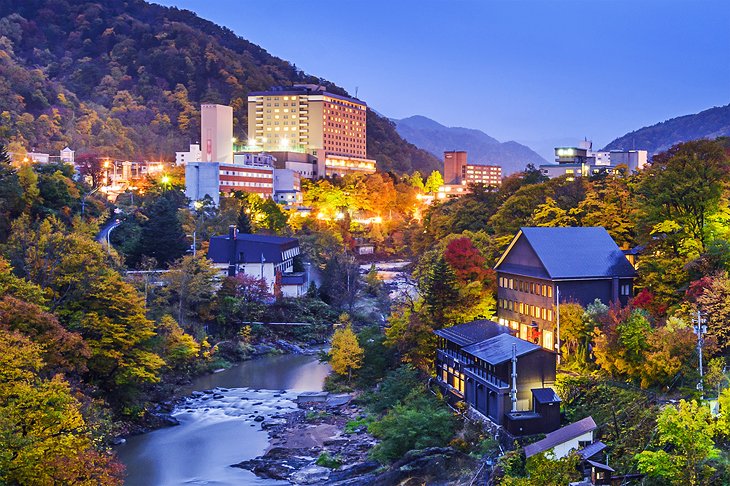 Highlights: Mineral waters with alleged healing powers that have drawn visitors since the 19th century.
Less than an hour's drive from Sapporo is the spectacular Jozankei Onsen Hot Springs. A trip here is a great summer or winter excursion that is well worth the time, especially if it can be combined with a stopover at one of the area's many fine spa hotels.
Tucked away in a scenic valley with mountains adding to the spectacular scenery, the mineral waters of these famous hot springs have attracted many visitors from Sapporo and beyond (up to two and a half million per year) since 1866. The big draw? The curative and restorative qualities of its sodium chloride-rich waters.
All told, Jozankei Onsen boasts some 56 hot springs pouring out an estimated 8,600 liters of water per minute at temperatures between 60 and 80 degrees Celsius, much of it now easily accessed thanks to the many spas and resorts that have sprung up here.
Afterward, a fun thing to do is explore the area's many scenic walking trails, taking in such beautiful spots as the Shiraito-no-taki Waterfall, the Nishikibashi Bridge, and the crag of Futami-Iwa.
Address: Minami Ward, Sapporo, 061-230
5. Maruyama Park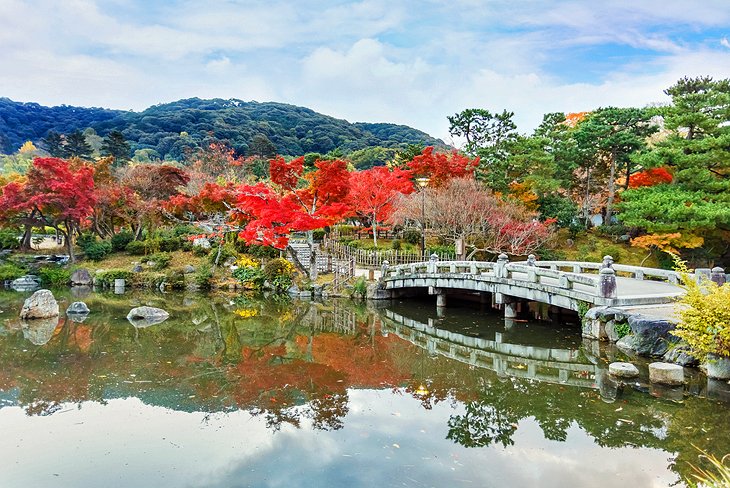 Highlights: Spring and autumn bring bursts of color, whether from the cherry blossoms or the reds and golds of the autumn leaves.
On the west side of Sapporo is Maruyama Park (Maruyama kōen), a multipurpose natural area popular with visitors year-round. In spring, the park's 226-meter-high hill comes alive with the stunningly beautiful blooms of its more than 1,700 wild cherry trees.
In autumn, it's the turn of the many maple trees to show off as their leaves change into a cavalcade of reds and golds. The area is also popular among bird-watchers, who flock here from all corners of Japan.
Winter, too, is not without its own beauty. When heavy snowfalls carpet the park, it's turned into a playground for winter sports enthusiasts. At this time of year, the focal point here is the nearby Okurayama Ski Jump Stadium. Built for the 1972 Winter Olympics, it's still regularly used to host ski competitions.
Other points of interest include the Ōkurayama Crystal House with its shopping and restaurant, and the Winter Sports Museum, an interesting museum about the Winter Olympics and related sports. The park also boasts a small zoo, the Sapporo City Maruyama Zoo, home to a variety of native and exotic animals.
Address: Maruyamacho, Higashiyama Ward, Kyoto 605-0071
6. Shikotsu-Tōya National Park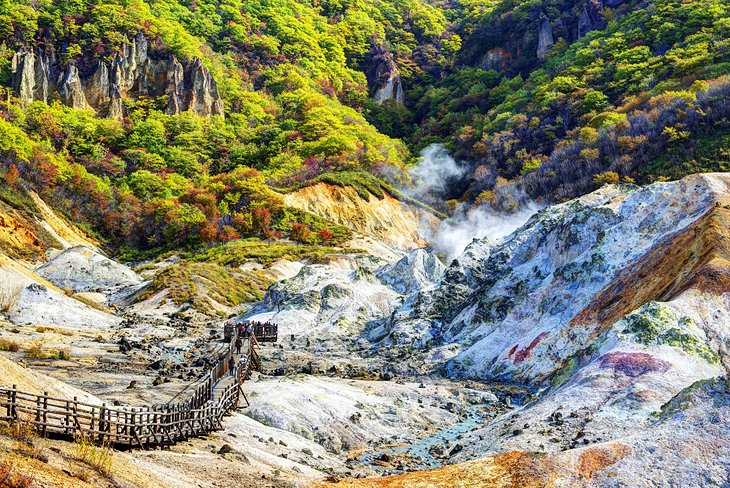 Highlight: The 1,893-meter-tall Yotei volcano, with a four-hour hike to the summit craters
The Shikotsu-Tōya National Park (Shikotsu Tōya Kokuritsu Kōen) near Sapporo contains in its three separate parts a wide range of beautiful volcanic landscapes, along with many crater lakes and hot springs. The largest section of the National Park lies at the very gates of Sapporo, making it an ideal day trip just an hour's bus ride away.
A highlight is the 1,893-meter-tall Yotei, an extinct volcano that towers above the town of Kutchan. The town, in fact, serves as a good base for those wanting to make the four-hour climb to the three summit craters known as the Father, Mother, and Little Cauldrons.
Also worth seeing is the Nakayama Pass and crystal-clear Lake Toya, a circular lake so warm, it can't freeze over even in the severest of winters. The lake also boasts a popular health resort, Toyako-onsen. Another highlight is Showa-Shinzan, a still-active volcano, which came into being only in 1945.
7. Moerenuma Park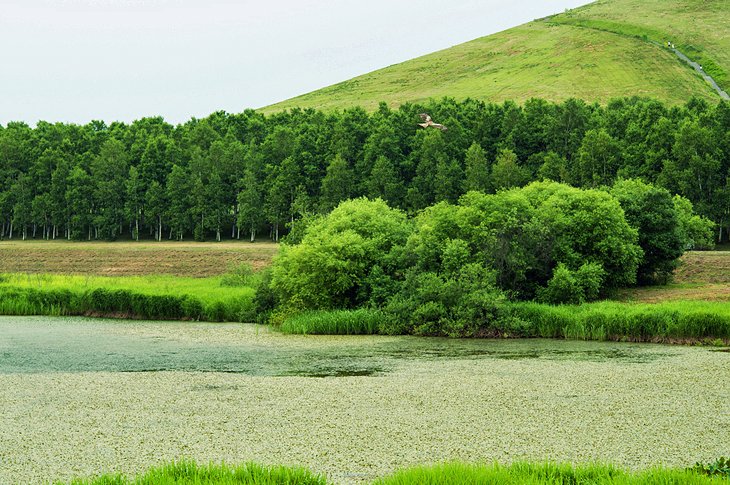 Highlight: A massive glass pyramid that houses an art gallery, a restaurant, a shop, and workshops
In the Higashi-ku suburb of Sapporo, the open spaces and sculptures of Moerenuma Park (Moerenuma Kōen) make for a fun diversion from the hustle and bustle of the city center. Opened in 2005 and 17 years in the making, this inspiring municipal park covers a vast area that is chock-a-block full of sculptures big and small. Many of them also double as playground equipment large enough (and perhaps even meant for) adult visitors.
Visit in spring, and you'll see the splendor of the Forest of Cherry Trees, its 3,000 specimens providing an incredible palette of color. The most notable landmark is a huge glass pyramid known locally as Hidamari. This attractive structure houses an art gallery along with a scale model of the park, workshops, a restaurant, and a shop.
Other highlights include the large stainless steel triangle known as the Tetra Mound and, dominating the site, the massive 62-meter-high Mount Moere with its views over Sapporo. Try to plan your visit to coincide with one of the park's regular musical or theatrical events. In winter, activities include sledding and cross-country skiing.
Address: 1-1 Moerenumakoen, Higashi Ward, Hokkaido 007-0011
8. Sapporo TV Tower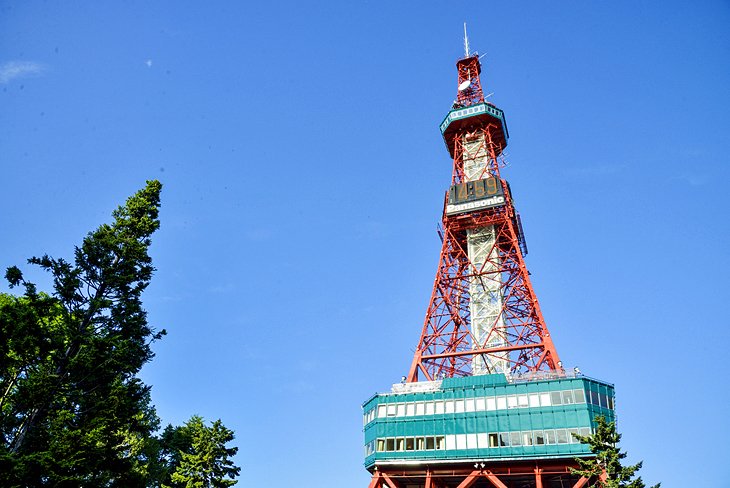 Highlight: An observation deck with sweeping views over the entire city of Sapporo.
Built in 1957, the 147-meter-tall Sapporo TV Tower (Sapporo Terebi-tō) remains one of the city's most visited landmarks. Easily accessible from Odori Park, the tower offers superb views over Sapporo from its observation deck, as well as from its restaurant.
In addition to on-site stores, the tower also houses an interesting exhibit on the ground floor relating to the structure's history, along with access to a large underground shopping precinct. A highlight of the tower's exterior are the large digital clocks installed in 1961.
At night, it's certainly pleasant enjoying a meal at one of the many traditional food outlets close by as you admire the tower's illuminations.
Address: 1 Chome Odorinishi, Chuo Ward, Sapporo, Hokkaido 060-0042
9. Former Hokkaidō Government Office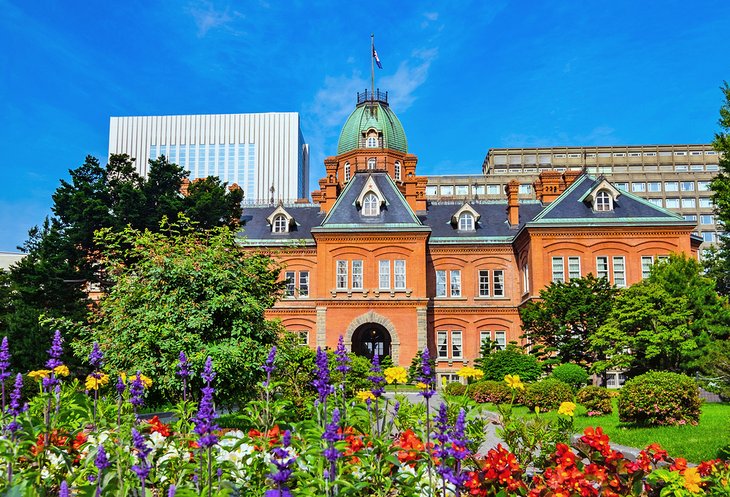 Highlight: Impressive grounds that include splendid gardens and a pond
One of Sapporo's most obviously western-influenced landmarks, the splendid Former Hokkaidō Government Office was built in 1873 to house the offices of the predecessor government that once watched over the island's affairs.
Later extensively restored after a devastating fire, it now offers exhibition space and serves as a tourist center for the city and is well worth a visit for both its interior décor and its bright red-brick exterior.
Impressive in size, the structure includes some two-and-a-half million bricks sourced locally and houses a collection of important paintings and other artworks, along with furniture and displays dealing with the building's important place in the history of the region.
Afterward, be sure to visit the splendid gardens and pond, especially when in use as a venue for musical and theatrical events.
Address: 6 Chome Kita 3 Jonishi, Chuo Ward, Sapporo, Hokkaido 060-8588
10. Sapporo Clock Tower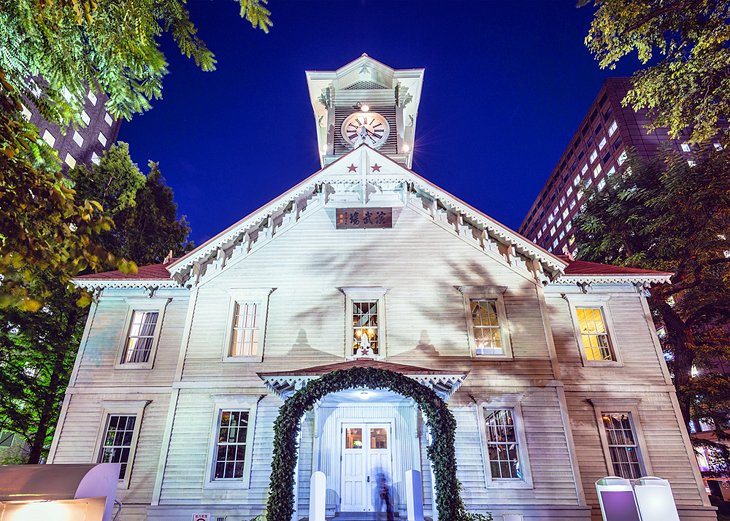 Highlight: A still-functioning historic clock, as well as a museum dedicated to the history of the region
Another of Sapporo's surviving western-influenced structures is the city's famous Clock Tower (Sapporo Tokeidai). Built of wood and closely resembling the kind of colonial-style building common to many US small towns - a fact owed in part to the Americans involved in the planning of the city - the Clock Tower is a must-see on any visit to Sapporo.
In addition to the still-functioning and chiming clock, other highlights include an interesting museum detailing the history of the region with a particular focus on farming. The facility is also used frequently for musical and theatrical productions, as well as community events and workshops.
Address: 2 Chome Kita 1 Jonishi, Chuo Ward, Sapporo, Hokkaido 060-0001
11. Sapporo Science Center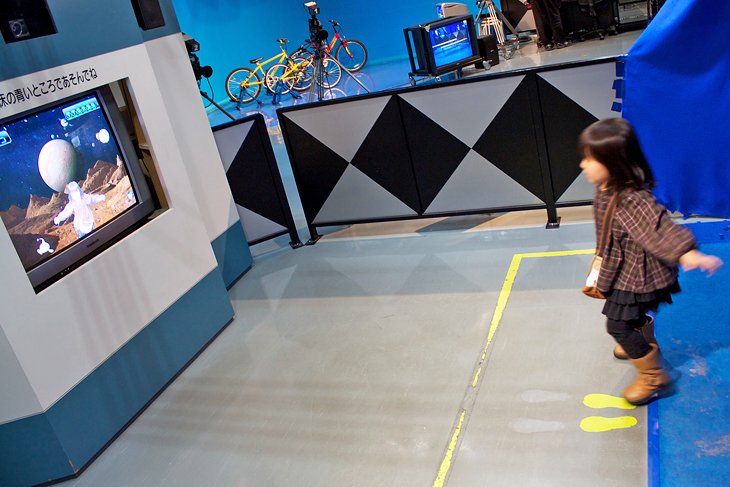 Highlights: A virtual universe, weather displays, and a planetarium with a 4D depiction of the stars and planets
A great place to visit for those traveling with children is the Sapporo Science Center. This modern facility includes more than 200 displays and exhibits, many of them hands-on and interactive, covering the natural and man-made worlds.
Highlights include a virtual universe, displays related to weather, and a huge globe with the northern hemisphere projected onto it. A must-do is to visit the refurbished planetarium, which walks you through a fascinating 4D depiction of the stars and planets surrounding us.
Also worth a visit is the nearby Sunpiazza Aquarium, which offers an up-close look at local saltwater fish, as well as displays of seals, penguins, and a fun touch pool.
Address: 5 Chome-2-20 Atsubetsuchuo 1 Jo, Atsubetsu Ward, Sapporo, Hokkaido 004-0051
Tips and Tours: How to Make the Most of Your Visit to Sapporo
Shoulder Season in Sapporo: If you're able to visit outside the peak summer months, you should certainly consider a shoulder-season visit to beautiful Sapporo. The top things to do during a winter visit to Sapporo include enjoying the Christmas and New Year celebrations and festivals. The always popular Sapporo Snow Festival (Sapporo Yuki Matsui), held in February, is the big one and includes spectacular ice sculptures and plenty of fun activities. Must-do experiences for those with an adventurous spirit include ice fishing and skiing
Enjoy Local Culture: Sapporo has done a fine job of preserving its rich history and culture, with a variety of immersive experiences available to ensure visitors leave having had a taste of the "real" city. Highlights include staying in traditional-style Japanese inns, which serve excellent authentic food; dressing up as Geishas; and enjoying the country's famous tea ceremonies.
Explore Hokkaido: Sapporo is a great base from which to explore the many wonderful sights of Hokkaido, Japan's most northerly island. A good place to start your adventure is the picturesque coastal city of Otaru, an easy 30-minute train ride away. You'll be rewarded with fine architecture, great traditional arts and crafts, and authentic regional cuisine (try to find a spot overlooking the city's canal). Another good place to venture out to is the Historic Village of Hokkaido, an attraction reminiscent of the "frontier" days of the mid-18th century.
Map of Tourist Attractions in Sapporo
Sapporo, Japan - Climate Chart
Average minimum and maximum temperatures for Sapporo, Japan in °C
J
F
M
A
M
J
J
A
S
O
N
D

-1

-9

0

-9

3

-4

8

1

13

6

16

11

20

16

23

18

21

12

15

5

8

-1

3

-6

PlanetWare.com
Average monthly precipitation totals for Sapporo, Japan in mm.

36

36

53

91

107

122

160

198

173

114

81

51

Average monthly snowfall totals for Sapporo, Japan in cm.

37

34

33

7

0

0

0

0

0

0

5

22
Average minimum and maximum temperatures for Sapporo, Japan in °F
J
F
M
A
M
J
J
A
S
O
N
D

31

15

32

16

37

24

47

34

55

42

61

51

68

60

73

64

69

54

59

41

47

31

37

22

PlanetWare.com
Average monthly precipitation totals for Sapporo, Japan in inches.

1.4

1.4

2.1

3.6

4.2

4.8

6.3

7.8

6.8

4.5

3.2

2.0

Average monthly snowfall totals for Sapporo, Japan in inches.

15

13

13

2.8

0

0

0

0

0

0

2.0

8.7
Sapporo sits on Japan's northern island of Hokkaido and is blessed with four distinct seasons. It's certainly the snowiest of Japan's islands and thus is a big destination for ski travel. But every season in Sapporo has something beautiful to offer.
Peak season in Sapporo is December, January, February, and March, when the ski season is in full swing. The Sapporo Snow Festival is held during this time of year, too, which is a week-long event showcasing elaborate ice sculptures. Temperatures are certainly cold, though, so pack accordingly. Temperatures drop in December to 2 degrees Celsius. The average high in January is -1 degrees Celsius. Sapporo's average temperature in February is 0 degrees Celsius, and the average high in March is 4 degrees Celsius.
Outside of ski season, the other best time to visit Sapporo is April for Hanami. Hanami is the time of year in Japan when visitors come to look at the flowers in full bloom, particularly the cherry and plum blossoms. Sapporo's peak cherry blossom season is at the end of April, and the average high is 11 degrees Celsius.
Sapporo in October and November are also good times to visit thanks to the changing of the leaves. The fall foliage in Sapporo is breathtaking, with reds, golds, oranges, and yellows. The average high in October in Sapporo is 16 degrees Celsius. In November, the average high in Sapporo is 8 degrees Celsius.
More Related Articles on PlanetWare.com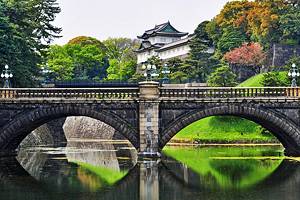 On the Way: Given its location in the extreme north of Japan, travelers are provided with a unique opportunity to split their journey up and experience other great cities along the way. A good choice is Tokyo, the country's capital and the hub for many connecting flights to Sapporo (it's an easy 1.5-hour journey). Must-sees here include the Imperial Palace, the superb National Museum of Nature and Science, and, of course, Mount Fuji, to name but a few.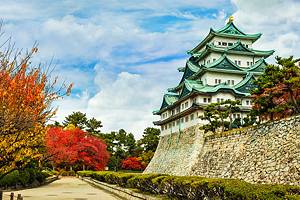 Japan Vacation Ideas: There's no shortage of wonderful places to visit and must-see points of interest in Japan (you'd do well to plan more than a single trip here). A few favorites include the magnificently preserved historic cities of Kyoto and Nagoya, with their many fine temples and shrines; Hiroshima, famous for its peace parks and memorials; and the many attractions of Osaka, a delightful place to explore for its historic castle and modern museums and galleries.