9 Top-Rated Day Trips from Osaka
Thanks to its extremely advanced public transport networks, Japan is a paradise for day-trippers. In Japan, a two-hour high-speed rail journey covers the same ground that in North America would take up to double that time.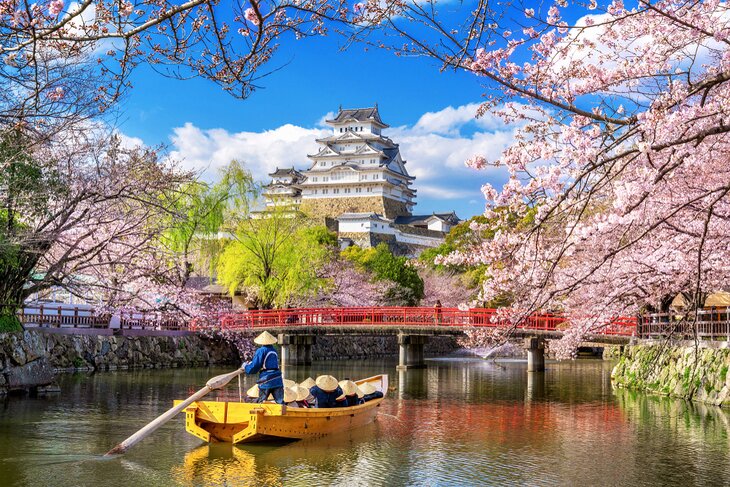 And the attraction-rich city of Osaka is no exception. One of the country's largest cities, Osaka is one of the best places to visit on the south coast of western Honshu for those seeking an excellent jumping-off point to destinations near and far.
A popular day trip itinerary will include a visit to Kyoto, famous for its numerous temples and palaces, as well as the majestic Nijo Castle. Other big cities within an easy commute by train are historic Nagoya, two hours east of Osaka, and Hiroshima, 2.5 hours by rail to the west (or four hours by road).
And for those seeking quieter, more rural locations, Osaka doesn't disappoint either. It's also close to popular countryside attractions such as Meiji-mura Village, an excellent open-air museum highlighting a historically important period in Japanese culture, and Mount Koya, a must-visit religious center in the hills south of the city.
Like so many of the world's top travel destinations, many of the attractions and top things to do in and around Osaka are busy during the warmer months. If traveling in the quieter shoulder seasons such as fall or winter is a possibility — the countryside looks amazing with a fresh December snowfall — you won't be disappointed.
Plan your sightseeing adventures with our list of the best day trips from Osaka.
1. Temples and Palaces of Kyoto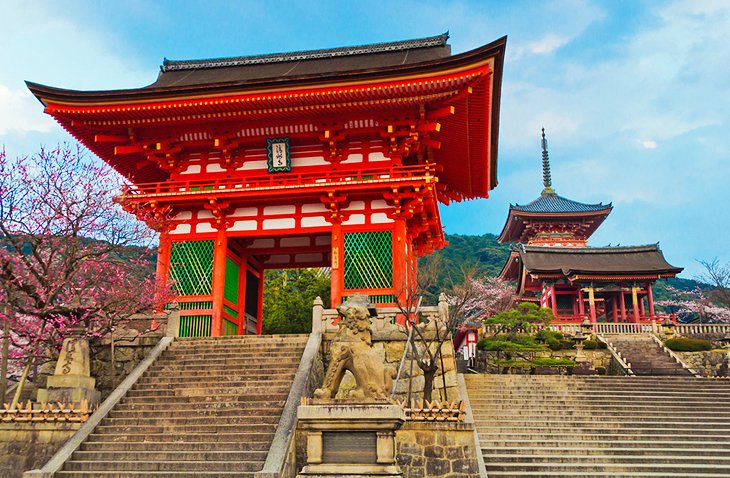 Highlights: Fine art galleries, museums, UNESCO World Heritage Sites, historic streets, and the 14th-century Golden Pavilion
Less than an hour by high-speed rail from Osaka's downtown core, Kyoto boasts enough temples and historic sites to keep you busy until the last train back to your hotel. One of only a handful of major Japanese cities to escape devastation during WWII, Kyoto attracts upwards of 10 million visitors each year. Most of them are here to explore the city's magnificent historic streetscapes, much of which were laid out more than a thousand years ago.
In addition to its numerous fine art galleries and museums, Kyoto also has one of the country's highest densities of temples. One of the most famous is Kiyomizu Temple. This UNESCO World Heritage Site is perched high up on the Otowa Mountain overlooking the city, and is accessed by quaint Teapot Lane.
On the way up (or down), be sure to linger at the wonderful small shops and craft stalls along the way to pick up some quality traditional souvenirs. Highlights include the spectacular Main Hall, founded in AD 790 and now used as a stage for temple dances and ceremonies and where you'll find some of the best views over the surrounding area.
Other Kyoto attractions of note include the beautiful 14th-century Golden Pavilion, with its exquisite gold leaf exterior; the 17th-century Nijo Castle; and the even older Imperial Palace, built in AD 794.
A great way to experience some of these top things to do is on the Day Trip by Bus to Kyoto and Nara. This full-day guided tour also visits the Kyoto Imperial Palace, as well as Kinkaku-ji Temple, and includes a traditional Japanese lunch. It also includes the Arashiyama district, a round-trip bus fare, and an English-speaking tour guide.
Accommodation: Top-Rated Places to Stay in Kyoto
2. Nara's Big Buddha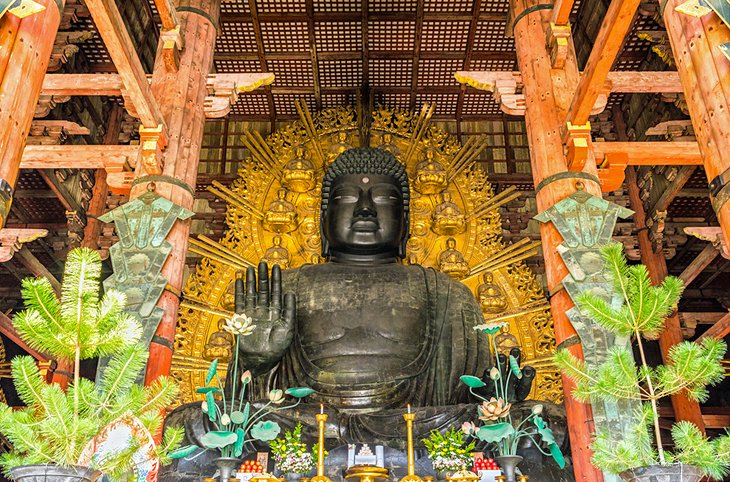 Highlights: Sections of the city that have been completely undisturbed by time, as well as Seven Great Temples dating back centuries
Just 40 minutes east of Osaka — and on the way to Kyoto — the beautiful old city of Nara has long been at the center of Japan's rich cultural heritage.
Unspoiled thanks to its being spared the devastations of WWII, this easy-to-explore city boasts numerous fine examples of traditional Japanese architecture, seen everywhere from its many important historic temples and palaces to the humble homes and workshops dedicated to centuries-old crafts and trades.
One of the highlights of a visit to Nara is exploring its old districts on foot. Many of the quaint streets you'll find here lead to such iconic structures as the magnificent Kofuku-ji Temple. Built in the 7th century, the temple is famous for its tame deer.
Probably the most visited of the Seven Great Temples of Nara, however, is the majestic Todaiji or Great East Temple. Built in the 8th century, this stunning temple is famous for its large bronze statue of the Great Buddha, Daibutsu, cast nearly 1,300 years ago. Other features of note here include the two-story Great South Gate, supported by 18 columns and guarded by two eight-meter-tall statues.
A convenient way to see the highlights of Nara is on the Day Trip by Bus to Kyoto and Nara, which also takes you to the best sights in Kyoto.
3. Historic Himeji Castle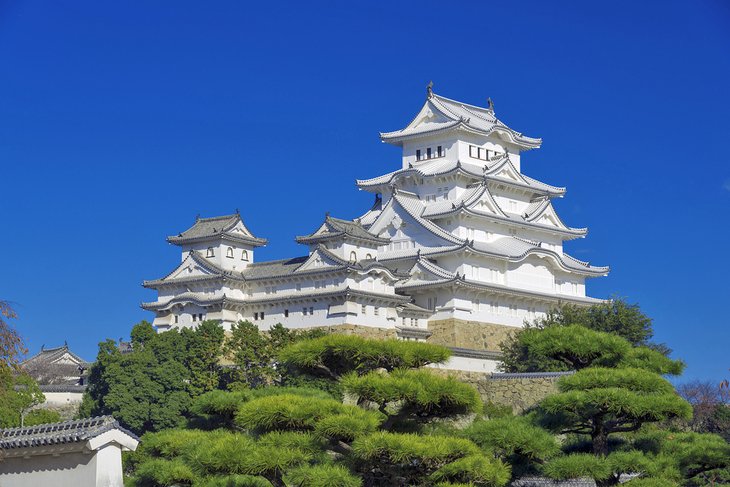 Highlights: A city with Japan's first UNESCO World Heritage Site, which boasts a five-story main keep with spectacular city views
A little more than an hour west of Osaka, along the pleasant coastline of the Harima-nada Sea, is the historic city of Himeji. Here, you can easily spend the best part of a day exploring the magnificent Himeji Castle. This stunning structure is the largest fortification in Japan and one of the country's first historic sites to be granted UNESCO World Heritage status.
Built in the 14th century and often referred to as Shirasagi Castle, or "White Heron Castle" - a nickname given by locals for its white exterior walls, which they claim resemble the outspread wings of a white heron - the attraction consists of some 80 buildings, most of them open to the public.
The highlight, however, is the castle's tallest point, the five-story-tall main keep (be sure to make the interior climb all the way to the top for the amazing views over the city and surrounding countryside). When you're done exploring, spend at least a little time shopping for souvenirs in the many interesting shops at the bottom of the narrow, meandering paths heading up to the castle.
Expect to do plenty of walking here, so carry water and wear comfortable shoes. Also, to save time with admissions and tickets consider the services of a professional tour company with guides.
Address: 68 Honmachi, Himeji, Hyogo 670-0012
4. Historic Hiroshima and Miyajima Shrine Island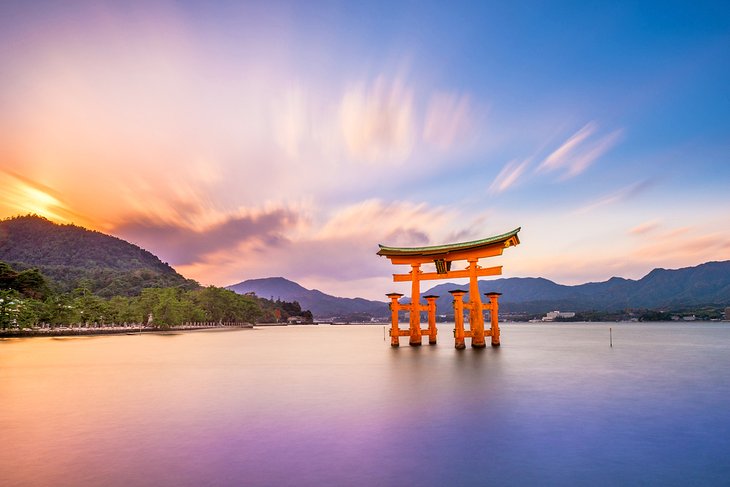 Highlights: The site of the world's first nuclear attack is now a bastion of peace, hope, and remembrance with museums, parks, and memorials.
Just under three hours west of Osaka by high-speed train - long enough to enjoy one of Japan's greatest inventions, the always-fresh Bento quick meal - is historic Hiroshima. This bustling city has numerous sites dedicated to that fateful day in August 1945, when it was devastated by the world's first nuclear attack. These include attractions such as Hiroshima Peace Memorial Park, which is home to the Peace Memorial Museum, the famous Memorial Cenotaph with its Flame of Peace, and the Atom Bomb Dome.
One of the must-see attractions is Hiroshima Castle. Built in 1593, it's home to an excellent museum dealing with the region's rich history. Of the city's many temples, the best known and most popular is the Itsukushima Shrine, located a pleasant ferry trip across Hiroshima Bay on Miyajima, also known as Shrine Island. Be prepared to spend the best part of a day here exploring the temple's many buildings, the majority built over water and connected by bridges.
A great way to explore the best this city has to offer travelers — especially for those limited on time and who want to see as much as possible as easily as possible — is to look into a formalized tour. The Hiroshima and Miyajima Day Tour from Osaka covers the top points of interest in both locations, handling all admissions and travel details. (Hot Tip: Try to time your visit to coincide with one of the temple's many festivals or traditional dance events.)
5. Kurashiki's Bikan Historical Quarter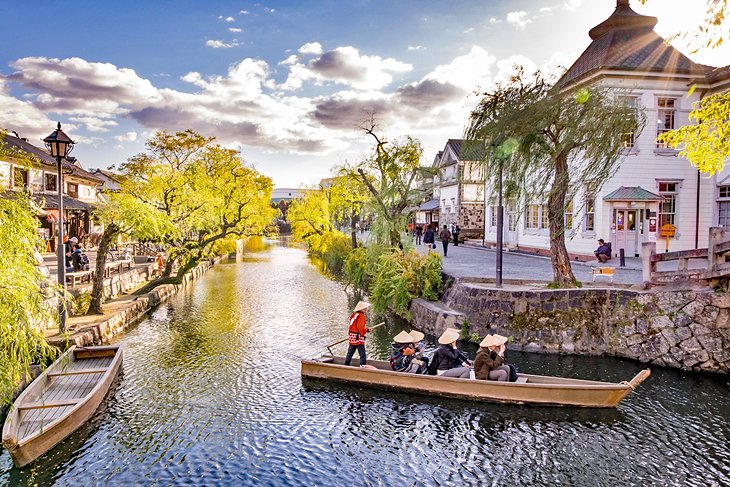 Highlights: A step back in time with some of Japan's best-preserved historic buildings, plus modern museums and restaurants
Located a two-hour rail ride west of Osaka, the city of Kurashiki makes a great stopover for those on a full-day trip (or overnight stay) to Hiroshima. Head straight from the train station to the Bikan Historical Quarter. Here you'll be rewarded with a chance to explore and enjoy some of the best-preserved historic buildings in the country, many now serving as boutique shops selling art and crafts, or restaurants offering delicious traditional meals (yeah, sushi!).
If time permits, jump on one of the many small people-powered boats that ferry tourists around the pretty canals crisscrossing the old town. Also worth a visit is the excellent Ohara Museum of Art. Featuring artworks from some of the most revered European painters, such as Monet and El Greco, it's a very pleasant, quiet way to pass an hour or two.
Other notable attractions include the Archaeological Museum, with its displays of cultural artifacts, and the delightful Japan Rural Toy Museum with its unique collection of children's playthings from the 1600s to modern times. Wondering when to visit Kurashiki? Autumn is a particularly beautiful time of year to visit due to the splendid fall colors - and smaller crowds.
Address: Honmachi, Kurashiki, Okayama 710-0054
6. Mount Koya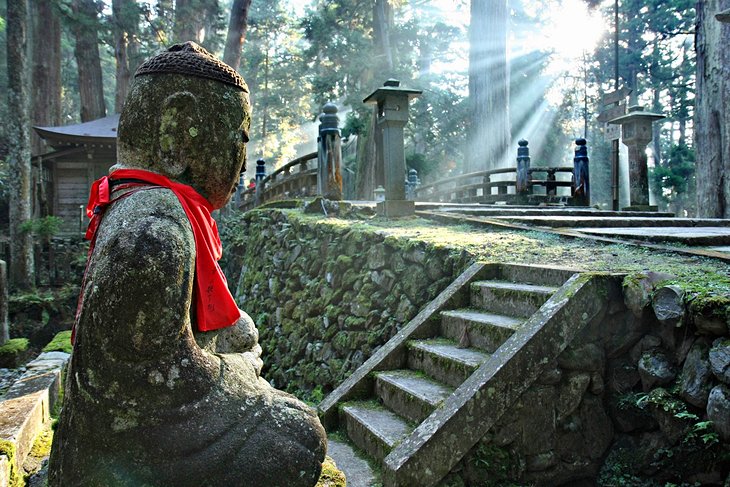 Highlights: One of the most sacred sites in Japan, home to the first Shingon temple in the country
A two-hour drive south of Osaka (and one of those rare occasions when a car will get you there faster than public transit) is Mount Koya, also known as Kōyasan. It's a windy route, but one that provides an excellent opportunity to see some of this region's magnificent hill country up close.
Once in Mount Koya, you'll be rewarded with an opportunity to explore one of the most important religious sites in Japan, and certainly one of the most extensive. Much of the area is in fact dedicated to a branch of Buddhism known as Shingon, founded in Japan around AD 800, when its founder, Kobo Daishi, built the first small temple here.
Today, a substantial town has been built up around this historic site. Much of it caters to the many pilgrims who travel from across the country to pay homage at the temples and the gravesites of the monks buried here, an often colorful display due to the many bright red scarves left as tokens of respect.
Expect to spend the best part of a day exploring this picturesque community, with its more than 100 temples and shrines, including the most visited, Kongobuji. With advance planning, visitors can book a night's stay in the temple lodgings, a unique experience that is highly recommended for adult travelers (be sure to check availability and book in advance).
7. Kobe Port Tower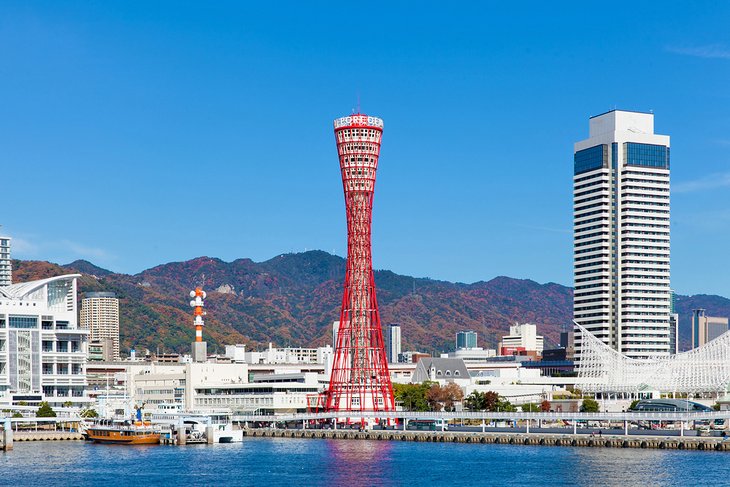 Highlight: Japan's sixth largest city boasts the impressive 108-meter Kobe Port Tower.
An easy 30-minute commute west of Osaka is the major port city of Kobe, the sixth largest city in Japan and a fun place to visit.
The best place to start your Kobe adventure is in the city center, then enjoy the short stroll from the station through the shopping and business district to the port. Here, you'll find the architecturally appealing Kobe Port Tower. This must-visit tourist attraction stands 108 meters tall and is notable for its red steel construction. It opened in 1963 and, as its name suggests, overlooks Kobe's bustling port area.
Kobe Port Tower also has an observation deck with superb views over Osaka and Kobe Port and, like its sister tower, is lit up at night. For a special treat, enjoy a meal in the tower's revolving dining room, consistently ranked as one of the top restaurants in Osaka.
Address: 5-5 Hatobacho, Chuo Ward, Kobe, Hyogo 650-0042
8. Meiji-Mura Village Museum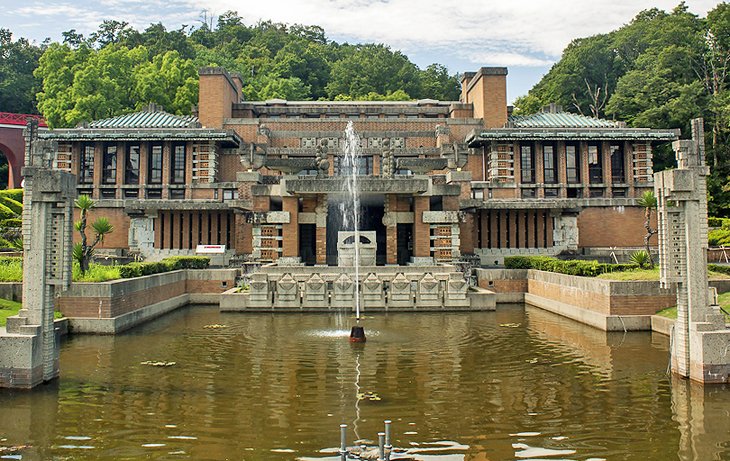 Highlights: Historically preserved buildings that date back to Japan's Meiji village create a rare opportunity to step back in time.
About 2.5 hours east of Osaka (and just 24 kilometers north of Nagoya, making it possible to combine these two excellent attractions into a single trip) is Meiji-mura Village Museum. This rewarding day trip is especially good for those wanting to learn more about Japan's rich culture and history.
Located in the town of Inuyama, Meiji-mura is almost as much a theme park as it is an open-air museum and offers many fun and educational experiences. Highlights include its numerous well-preserved buildings dating back to Japan's prosperous Meiji period from 1868 to 1912.
The village comprises some 60 or more buildings relocated here from across the country, and a stroll through its streets can take a few hours, so be prepared to take your time. Highlights include a visit to an original post office, a former palace, a bathhouse, and even a prison.
Of particular interest to many visitors is the influence Western architecture had upon the design of so many buildings from this period, most noticeably in the old Imperial Hotel designed by famed American architect Frank Lloyd Wright. A highlight for kids is a chance to ride on preserved trains, buses, and even a streetcar from this important period of Japanese history.
Speaking of kids, if time allows, head over to the nearby Little World Museum of Man. This fun theme park allows kids to explore cultures from around the globe, and perhaps best of all, dress up in a variety of traditional outfits from around the world.
Address: Inuyama, Aichi Prefecture 484-0000
9. Nagoya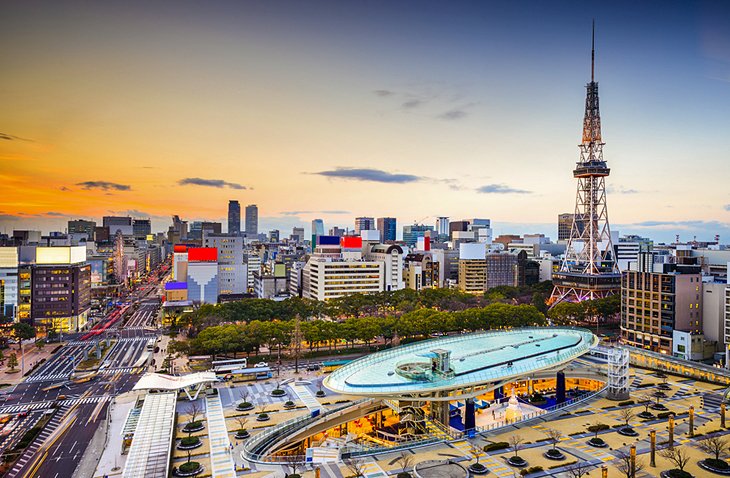 Highlights: Japan's busiest port, home to a castle, gardens, and many preserved temples
A two-hour journey by rail northeast of Osaka is the busy port city of Nagoya. Owing to its access to the Pacific Ocean, Nagoya is the busiest port in Japan and is known across the country for its many traditional industries, in particular those focused on ceramics and textiles, which have been around for more than 900 years.
A variety of tours are available to these factories and workshops, each of which offers a unique view into both past and present manufacturing methods.
Other points of interest in Nagoya include the city's lovely 6th-century castle, as popular for its huge main tower as it is for its expansive gardens. It's also a city of many well-preserved temples, one of the nicest of which is the Atsuta Shrine.
Tracing its roots as far back as the 1st century, this splendid Shinto temple has long held an important place in the country's culture due to its connection to Japanese royalty. Ask your tour guide to point out the royal insignia found here, one of only three locations in the country where this emblem has survived.
Be sure to also allow time to get in a little shopping here, and afterwards grab a bite to eat in one of the many steakhouses or sushi bars.
Map of Day Trips from Osaka
Best Time to Visit Osaka
With a mild climate year-round, you'll find that it's great to visit Osaka any time of year. But the best times to visit Osaka are certainly in the months of March, April, May, October, and November.
March, April, and May are springtime in Osaka. Halfway through March and into April, the city comes alive with plum and cherry blossoms. High temperatures in Osaka in March are an average of 14 degrees Celsius. In April, the average high in Osaka is 20 degrees Celsius. Early April is prime cherry blossom season, so expect a large number of crowds. May is absolutely perfect weather in Osaka at 25 degrees Celsius. Most of the crowds have left by May, as well.
October and November in Osaka are peak leaf-peeping seasons. The weather in October is an average high of 23 degrees Celsius, with sunny and warm days. By November, the leaves will be at their most colorful, and temperatures drop to an average high of 18 degrees. Mid- to late-November is when you'll see the leaves at their best, but remember that this will also bring significant crowds.