17 Best Parks in New York City
New York may be best known as a concrete jungle (where dreams are made of...), but the city is also home to hundreds of square miles of green space, as well. That's right – New York City has approximately 1,700 parks scattered across the five boroughs.
In fact, visiting the parks of the city is one of the greatest pastimes enjoyed by residents. If you've ever passed through Central Park's Sheep Meadow on a summer afternoon, you'll likely see hundreds of residents having picnics, throwing frisbees, attending a rousing performance of Shakespeare in the Park, or simply soaking up the rays.
New Yorkers cherish their parks. When you live in a city that runs 24/7, everyone craves a quiet oasis to call their own.
From the biggest park in NYC to the most iconic, and even a brand new park, we've selected a few that can't be missed. Get outdoors with our list of the best parks in New York City.
1. Central Park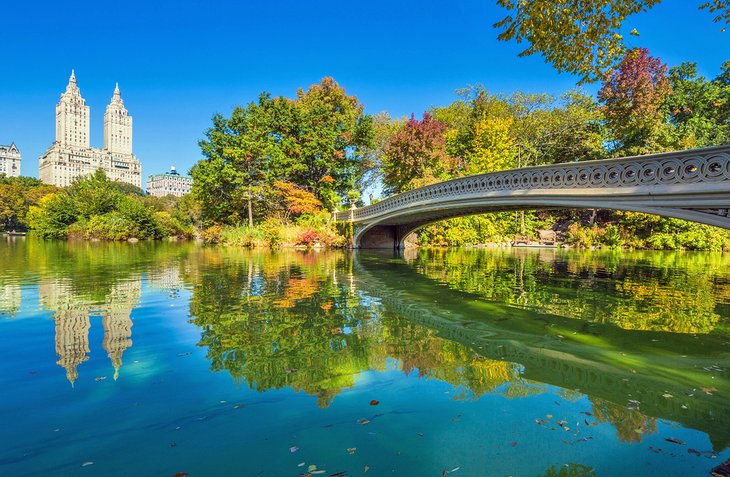 Can you really say you've been to New York City without visiting Central Park? Most locals would answer with a resounding, "no."
Arguably the most recognized park in the city, or maybe even the world, Central Park takes up 840 acres right in the heart of Manhattan. It was one of the first American parks to be designed using landscape architecture, as well. That's right: the park is manmade.
The park was designed by Frederick Law Olmsted. This brilliant landscape architect was also responsible for designing parks around the country, including the Niagara Reservation in Niagara Falls; the Biltmore Estate in Asheville, North Carolina; Stanford University's campus; the University of Chicago Campus; and the landscape around the United States Capitol building, among many other projects.
While it may not be the biggest park in NYC, it certainly is one of the most beautiful. Today, it has acres of grassy meadows, gentle hills, rocky cliffs, fountains, a zoo, lakes, and even a castle. Every New Yorker has a section of the park that feels like their own little special place of calm in an otherwise nonstop city.
First-timers to Central Park cannot miss visiting Sheep Meadow, a 15-acre meadow near the southern end of the park. This sprawling, tree-fringed open space is the preferred backyard to thousands of local New Yorkers. Once the weather hits light-jacket weather (and then all the way through the month of October), the meadow is absolutely humming with everyone from picnickers and sunbathers, to martial arts students, circus contortionists, sports enthusiasts, and everyone in between.
Tip: If you're visiting in the summer months, you'll want to check the schedule for Shakespeare in the Park, held in Central Park and one of the biggest attractions in New York City.
2. Riverside Park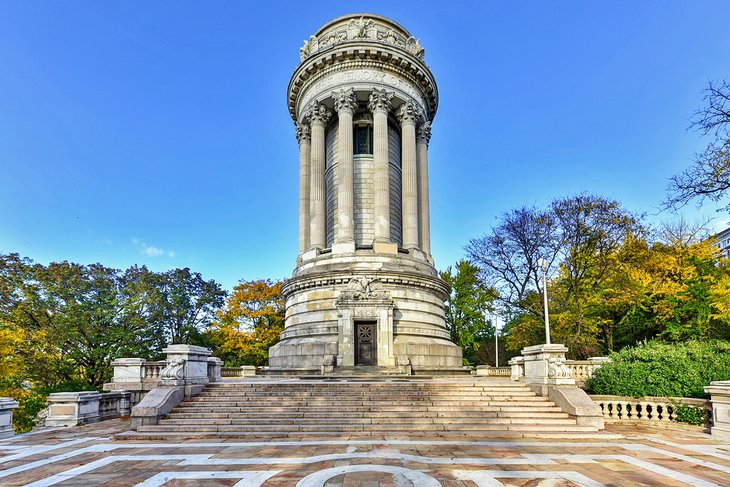 For sweeping views down the Hudson River, the choice has to be Riverside Park, one of only eight scenic landmarks designated in New York City. The park stretches for four miles from 59th street to 158th street, lined with stately trees, historic buildings, and peppered with playgrounds for families.
The first plans for the park were drawn up in the 1870s by Frederick Law Olmsted (of course!) and Calvert Vaux, the same people who designed Central Park (and a few other parks to be mentioned here, as well). Some of New York's most notable landmarks can be found here, as well, such as Grant's Tomb and the Soldiers' and Sailors' Monument.
3. Bryant Park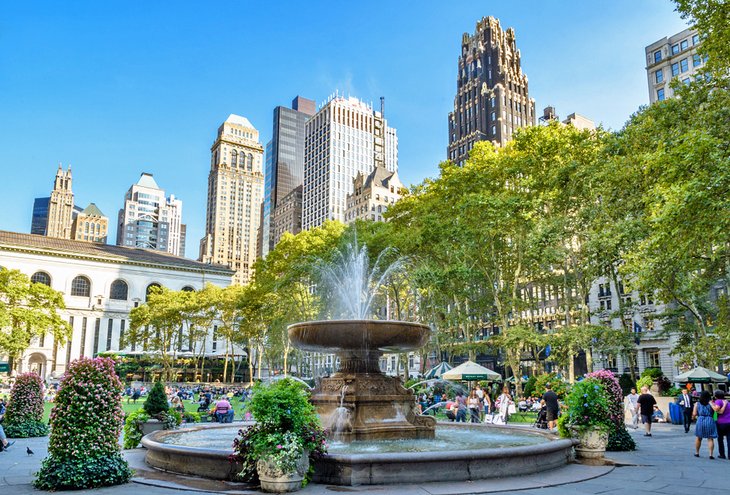 Bryant Park is, without a doubt, the beating cultural heart of Midtown Manhattan. A respite surrounded by office buildings, just steps from Grand Central Station and the New York Public Library, Bryant Park is a meeting ground for New Yorkers at any time of day.
Each year the park hosts more than 1,000 activities. Ice-skating at Winter Village is one of the top things to do in NYC in winter. In summer, enjoy free summer movies on the lawn, endless entertainment, pop-up performances, and plenty of tables for outdoor dining. Bryant Park is one of New Yorkers' most treasured pockets of the city.
4. Washington Square Park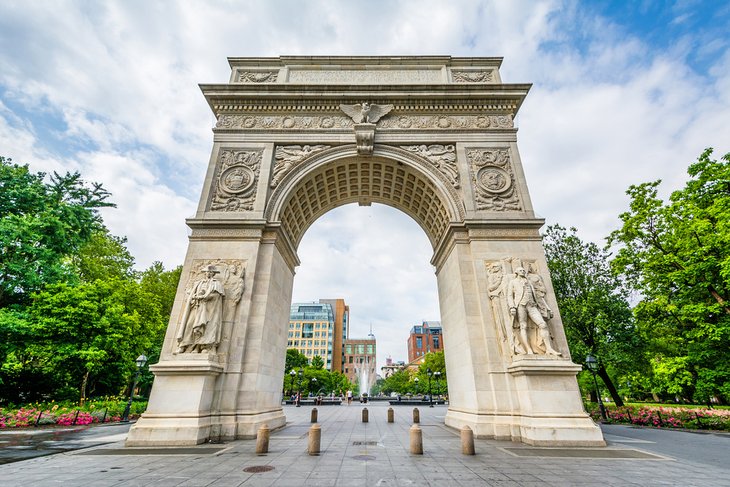 If it's cool or controversial, it probably started in Washington Square Park. For decades, this nearly 10-acre park in Manhattan's Greenwich Village has been the epicenter for counterculture and creativity. Marked by the iconic white arch, which honors George Washington, Washington Square Park is steeped in New York City history.
In the late 18th century, the area of Washington Square Park was a potter's field, which is a burial ground for the poor, criminals, and victims of illness. As it transformed into a park, it became a center for the Beatnik movement and, later, the hippies.
Today, it remains just as culturally significant, and is the central meeting point for New York University. Don't forget to check out the corner of the park that remains a battleground for diehard chess enthusiasts.
5. The High Line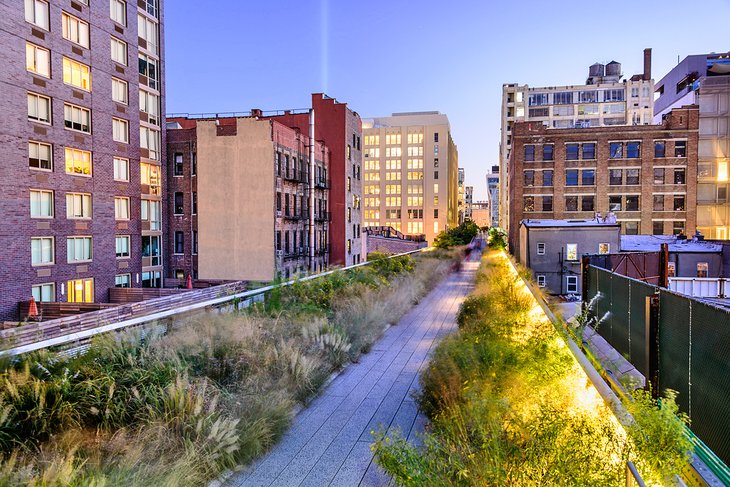 It was never meant to be a park. But that's part of the charm of New York's High Line park, now one of the top attractions in the city.
In the 1920s, the city created an elevated rail line to help protect pedestrians from freight trains that used to make deliveries up and down 10th Avenue. After the rise in trucking in the 1980s, the High Line railroad track fell into disuse. For decades, it sat unused until the early 2000s, when Mayor Michael Bloomberg approved the elevated rail line to be transformed into a pedestrian park.
Today, the renovated track is now a walkway lined with green space, pop-up food stalls, and sun loungers. Visitors can walk from Gansevoort St. in the Meatpacking District to West 34th Street. It's about a mile and a half long and passes through some of New York City's most historic neighborhoods.
6. Inwood Hill Park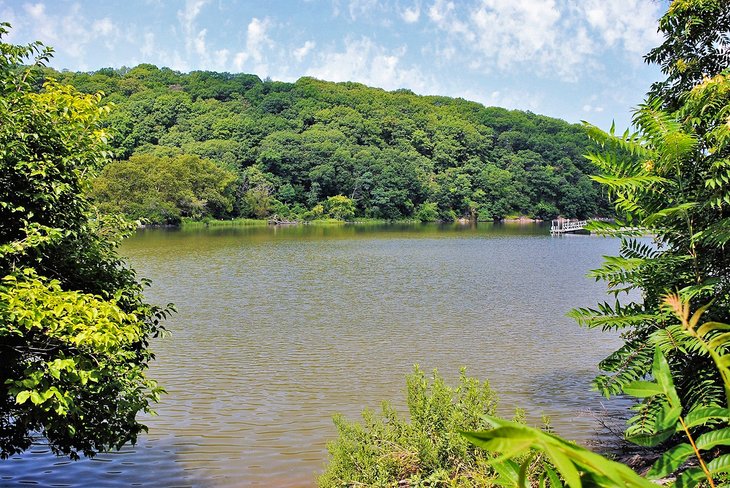 Perched on the very northern tip of Manhattan sits this stunning slice of New York City green space. Inwood Hill Park is a trip through New York City's past. No, its real past. We're talking prehistory here, with caves, valleys, and ridges that all resulted from glacial shifts over thousands of years.
Much of the park has remained pristine since the island of Manhattan was settled by Europeans in the 17th and 18th centuries. Today, it's a haven for hiking and biking along the Hudson River. It's a great spot for friends and families, as well, with playgrounds, dog parks, and areas for barbecuing. Not to mention, it has spectacular views down the river.
7. Tompkins Square Park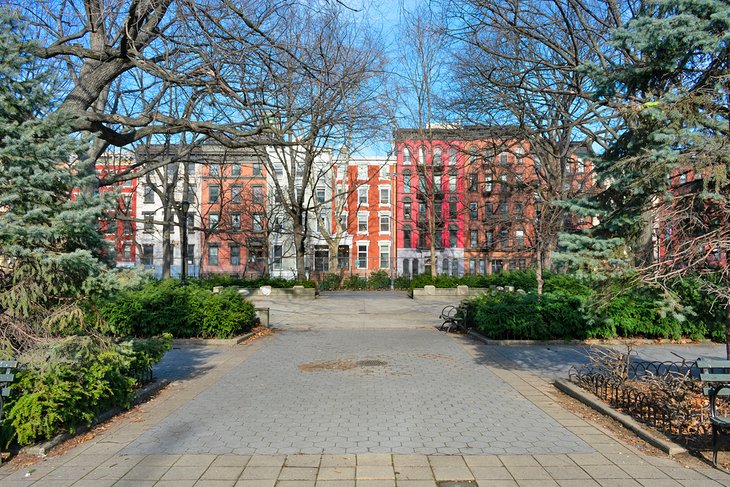 Back in the 1970s and 1980s, and even into the 1990s, New York City's reputation was wildly different. It was not a safe city, and there were neighborhoods that lead the way in terms of crime. Alphabet City and the East Village were two of these neighborhoods, separated by Tompkins Square Park.
But as is sure to happen, over time these neighborhoods attracted artists and creatives, who eventually transformed them into what are now two of the most coveted areas in the entire city.
Gorgeous brownstones, historic tenements-turned-renovated condos, cafés, restaurants, and vintage boutiques are the fabric of the community now, all of which center around this 10-acre park.
Pack a picnic, or simply pick a bench, and spend the afternoon enjoying what used to be a veritable No Man's Land of New York City.
8. Prospect Park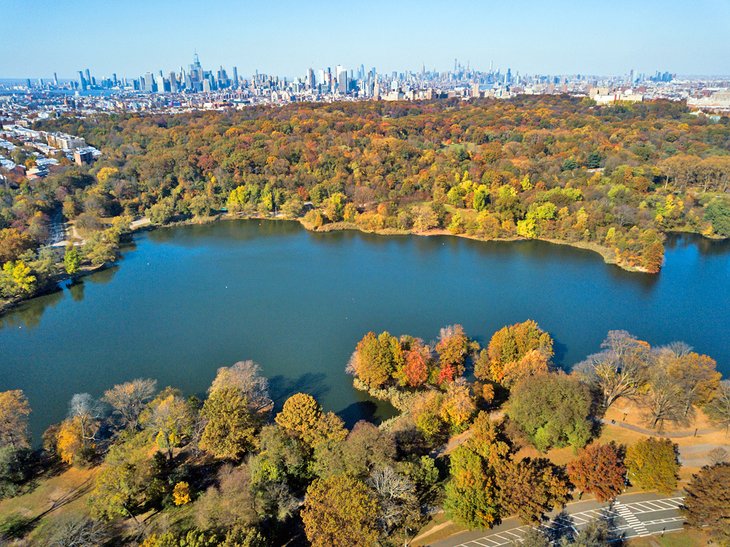 Sprawling across 585 acres in Brooklyn is the sister park to Manhattan's Central Park. Prospect Park is the crown jewel of Brooklyn, beloved by all its residents.
It was designed by the same architectural team behind Central Park: Frederick Law Olmsted and Calvert Vaux. From the impressive Soldiers' and Sailor's Memorial Arch at Grand Army Plaza to the expansive Long Meadow, and everything in between, there is so much to explore within this green oasis.
The park is also flanked by some of Brooklyn's most historic neighborhoods, where gorgeous brownstones stand as they have for more than a century. The park also has the Prospect Park Bandshell, which holds performances from top-billing names all summer long.
One of New York's most beloved food truck events, Smorgasburg, even has a pop-up location near Prospect Park. The outdoor food market opens on Sundays in the park, filling a more than 60,000 square-foot-space with 50 of New York's best vendors. Bite into everything from Jamaican beef patties to Vietnamese banh mi, Tijuana tacos, ice cream, and so much more. Bring a blanket and then select the perfect patch for your next-level Sunday picnic.
The 55-acre Prospect Park Lake is another oasis of calm and, quite possibly, the most peaceful place to visit in Brooklyn.
Read More: Best Things to Do in Brooklyn
9. Brooklyn Bridge Park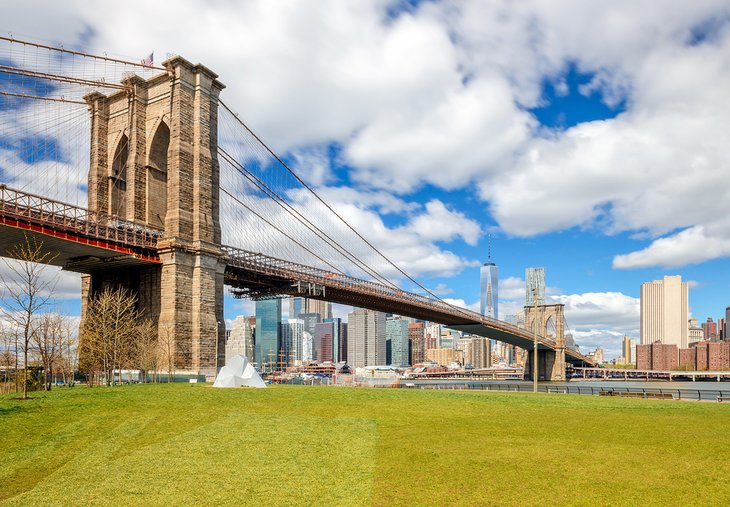 Tucked in the shadows of New York City's oldest suspension bridge is Brooklyn Bridge Park. A favorite vantage point from which to gaze over lower Manhattan, Brooklyn Bridge Park is an idyllic spot for waterfront views, picnics, free movies, kayaking, and outdoor fitness classes.
The park is packed with gardens, playgrounds, basketball courts, and even a sandy beach area at Pier 4. A seasonal ferry shepherds visitors over to nearby Governors Island, which has its own share of green space to explore.
10. McCarren Park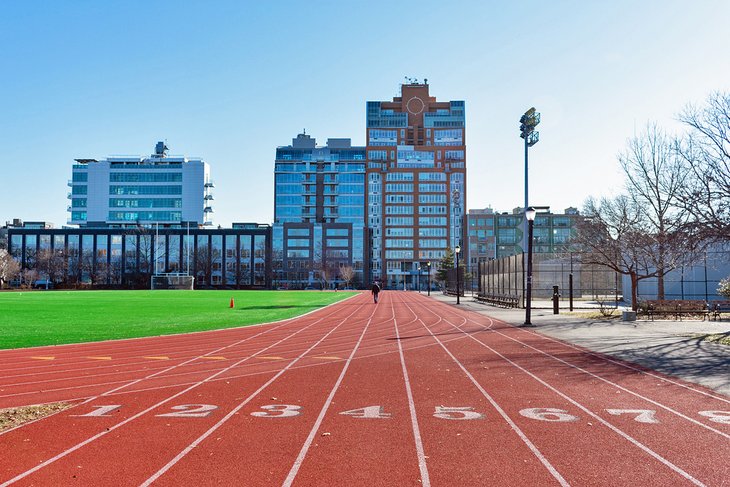 Separating the neighborhoods of Greenpoint and Williamsburg, McCarren Park is the summer hangout in Brooklyn. McCarren Park has held many uses throughout its lengthy history, from the early 20th century, when it was outfitted with its athletic facilities, to 1914, when it became the site of Brooklyn's first children's farm, where kids could tend to their own plots of land.
Today it is equipped for a season's worth of games, from kickball courts to soccer fields, baseball, bocce, handball, basketball, tennis, and running paths. The 35-acre park is also home to the McCarren Park Pool and Play Center, a free outdoor pool that is beloved by locals and visitors alike.
11. Fort Greene Park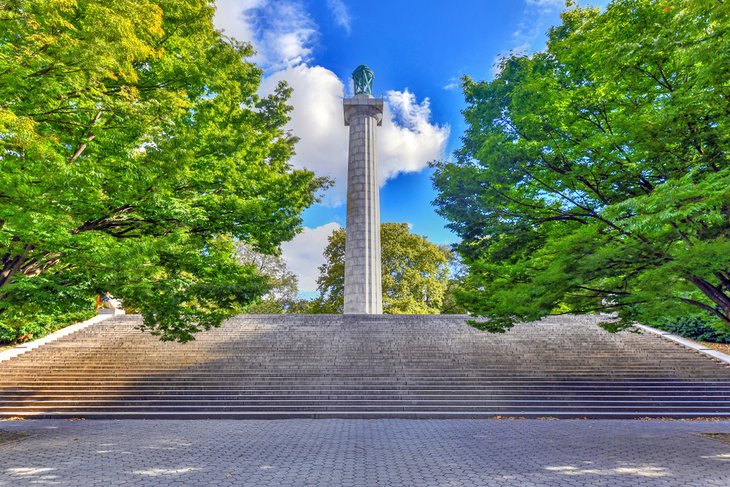 While Fort Greene isn't the most well-known neighborhood in New York City, its park is one of the most easily accessible. Fort Greene Park was the first designated park in Brooklyn in 1847 (at the request of Walt Whitman, believe it or not). It, too, was designed by Frederick Law Olmsted and Calvert Vaux.
The 30-acre park sits at the edge of Downtown Brooklyn, surrounded by centuries-old brownstones and buildings. In fact, Fort Greene Park was a post of the Continental Army during the Revolutionary War. Today, it is a bustling neighborhood park with fields, playgrounds, grassy hills, and complimentary workout areas.
It sits just off Atlantic Avenue-Barclays Center subway station, which receives nearly every subway line in New York City.
12. The Hills at Governors Island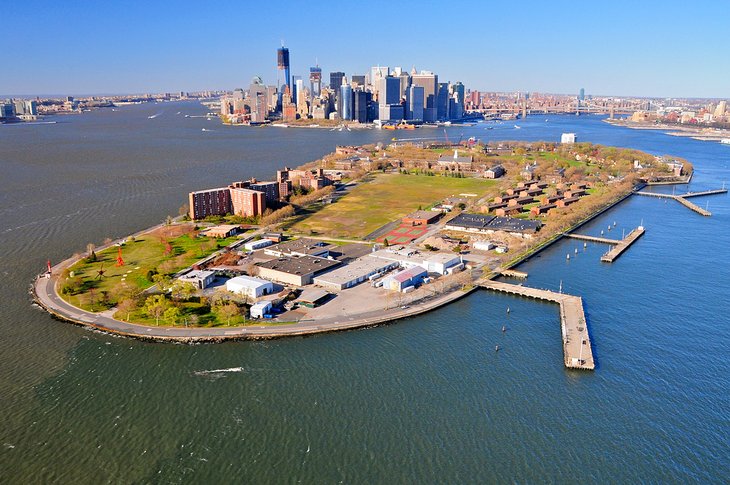 A quick ferry ride from Manhattan or Brooklyn puts visitors on the shores of Governors Island. The island sits on 172 acres in New York Harbor, and offers a complete escape from the nonstop energy of New York.
The Hills slope 70 feet above sea level and give fantastic views of the Statue of Liberty and the Harbor. They are a relatively new feature to the park, rising up like gentle peaks to offer different vantage points. There's even one called Slide Hill, which has four slides that offer a fun way to get down. Slide Hill is home to New York's longest slide, at 57 feet.
13. Hudson River Park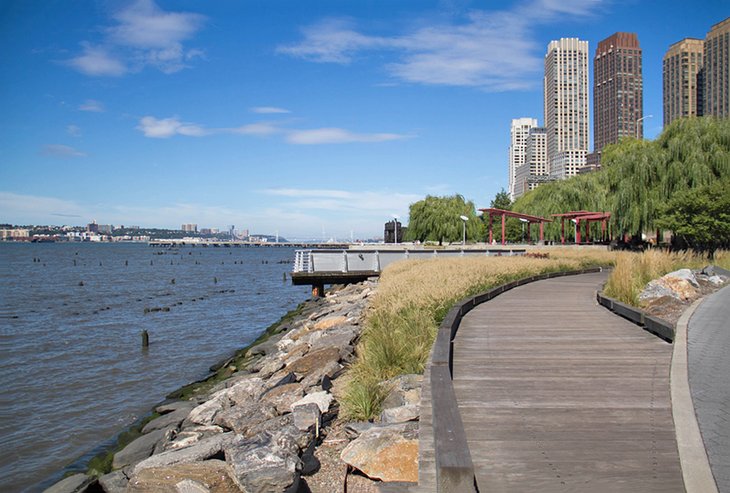 From Manhattan's southernmost tip all the way to midtown stretches this spectacular waterfront park and promenade. Hudson River Park spans 550 acres, more than 400 of which are on the water.
Boathouses provide jumping-off points from where visitors can kayak, sail, or paddleboard. On dry land, the park offers mini golf, a carousel, historic walking tours, dog parks, and more.
Bring a blanket and sprawl out on one of the public lawns, or try your skills on the flying trapeze. Yes, there's a trapeze school overlooking the river, as well.
The park is also scattered with a variety of quick bite places and restaurants, so you won't have to leave the park perimeters in order to make it an entire day.
14. Flushing Meadows - Corona Park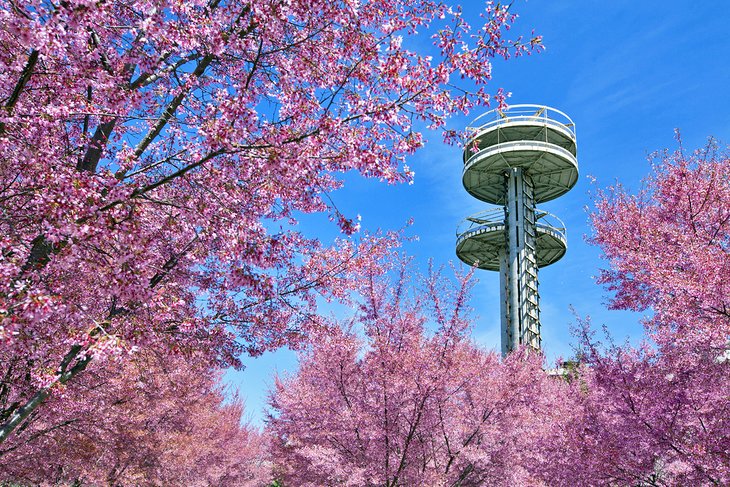 The borough of Queens tends to sit a little off the trodden tourist trail. But if you're looking for New York's roots, they are firmly dug deep in Queens. Flushing Meadows-Corona Park is one of the best places to visit in the borough to get a taste of local life.
The park is the second largest park in the city at 1,255 acres, and home to Citi Field, where you can catch a Mets game; Arthur Ashe Stadium for tennis; Queens Botanical Gardens; the Queens Museum; a par-3 golf course; lakes; pits for barbecuing; and more.
There's also the Unisphere structure, put in place for the 1964 World's Fair, which was hosted in the park, as well. You'll probably recognize it from the original Men in Black movie, too.
Read More: Top Things to Do in Queens
15. Astoria Park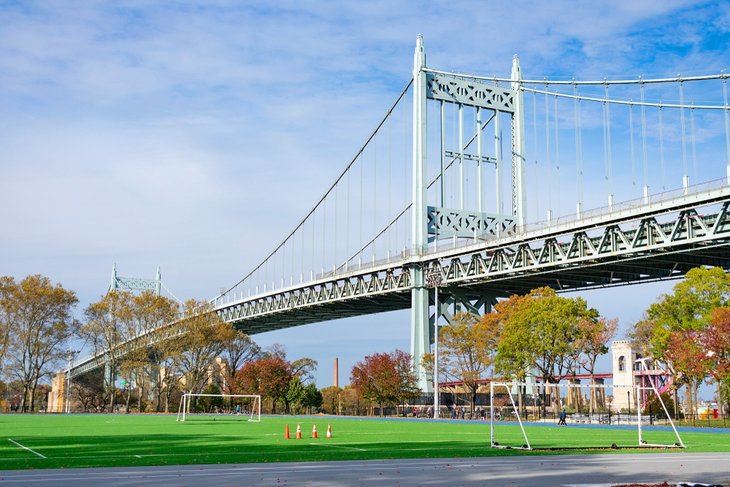 Astoria Park sits on the northwestern corner of Queens in the neighborhood of, you guessed it, Astoria. From the western edge of the park, visitors can gaze over the skyline of midtown Manhattan.
Astoria Park comes alive in summer, from its public pool (the largest and oldest in New York City), to its running track, free movies in the park, sprawling meadows, and other things to do. It's a hub of activity for locals, as well as visitors from other boroughs and abroad, who come to catch a peaceful break outdoors.
16. Pelham Bay Park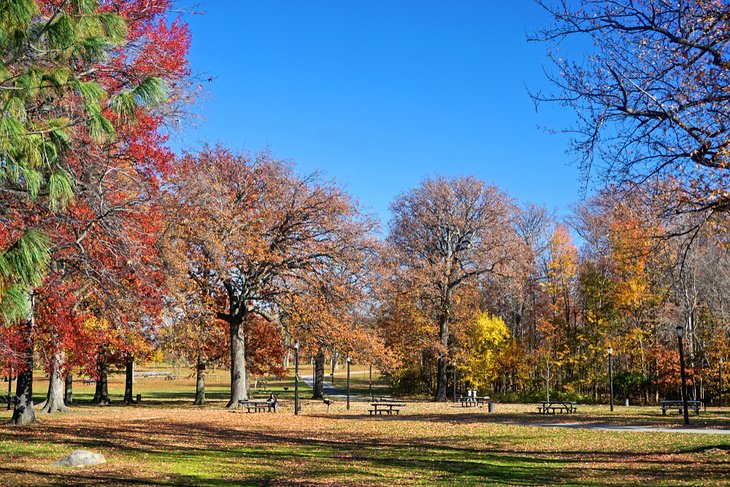 One of the oldest inhabited sections of the island, Pelham Bay Park was once the home of Dutch settlers who landed in what was now the Bronx in 1625. Over time, the parcel of land that is now home to the park has played a significant role in New York history. In 1888, a swath of Bronx land was acquired for the purpose of creating parks, of which Pelham Bay was included.
Today, the park is more than three times the size of Central Park, and is officially the biggest park in NYC. There are miles of hiking trails, a beach, historic homes, golf courses, and 13 miles of saltwater shoreline along the Long Island Sound.
Read More: Best Things to Do in the Bronx
17. Little Island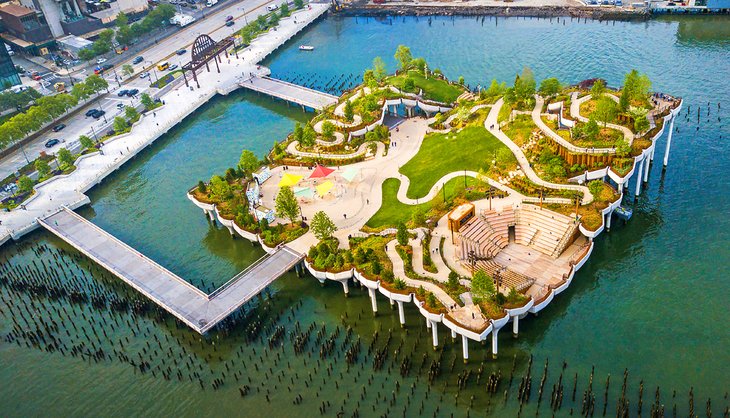 Are you looking for a new park in NYC? Look no further than Little Island, officially the newest park in NYC as of 2021.
The latest warm-weather hot spot in the city, Little Island is a new public park located in Hudson River Park, known for its unusual, modern design and epic views, plus a calendar of programming that includes everything from theater and music to comedy and art workshops.
Little Island sits perched atop what used to be Pier 54. In the 19th and 20th centuries, the pier was the docking station for the British Cunard-White Star line, which is from where luxury liners would make their transatlantic crossings. In fact, in 1912, the survivors of the Titanic made their landing at Pier 54.
In the 1980s until the present day, Pier 54 was one of the main hubs for New York's LGBTQ community, where it held numerous Pride events, including the annual Dance on the Pier. It opened as Little Island in 2021 as an elevated green space that sits perched atop white, futuristic pillars. It has meandering pathways, plenty of grass to sprawl on, and some of the very best views in the entire city.
Map of Parks in New York City