19 Best Cities in New York
We may earn a commission from affiliate links ()
While most visit the Empire State to catch some of that one-of-a-kind, New York City vibe, this East Coast gem boasts so much more than its largest, noisiest, and most iconic metropolis. From Long Island City's mini MoMa to Lake Placid's tranquil beauty to Ithaca's perfect mix of nature and culture, New York state boasts a long list of great cities to explore, and they are all packed with exciting tourist attractions.
No matter what you fancy – from eating good food to antiquing to hiking, you'll find it in lovely New York state. Go skiing in the Adirondack and Catskill Mountains, swim in the Finger Lakes, or mow down on excellent dishes in foodie-friendly Rochester. Love to shop? You can practice some retail therapy in each of the best cities on this list, with the best city for shopping being the Big Apple, of course.
Choose the perfect places to visit with our list of the best cities in New York.
1. New York City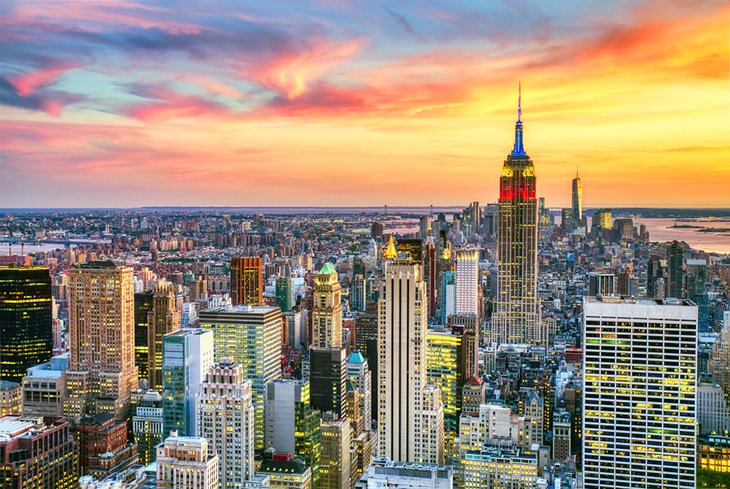 The proverbial apple of New York State's eye, Manhattan is the most popular tourist destination, not to mention one of the best places to visit in New York State. It's also one of the best cities in New York and, arguably, the world.
It's in New York City that you'll find literally everything your heart desires – from the rarest antique cufflinks to the most delicious entrée to grace your lips.
The Big Apple also offers unbeatable museums. The Metropolitan Museum of Art, Guggenheim Museum, and American Museum of Natural History are three of the best museums in New York City.
You can run laps in Central Park, get lost in the Ramble, watch the sea lions perform at the Central Park Zoo, catch a show on Broadway, admire the view from atop the Empire State Building, board the Staten Island Ferry to see the Statue of Liberty close up, and shop till you drop on Madison or Park Avenue. Head to SoHo for more eclectic finds among the bespoke shops and galleries.
2. Lake Placid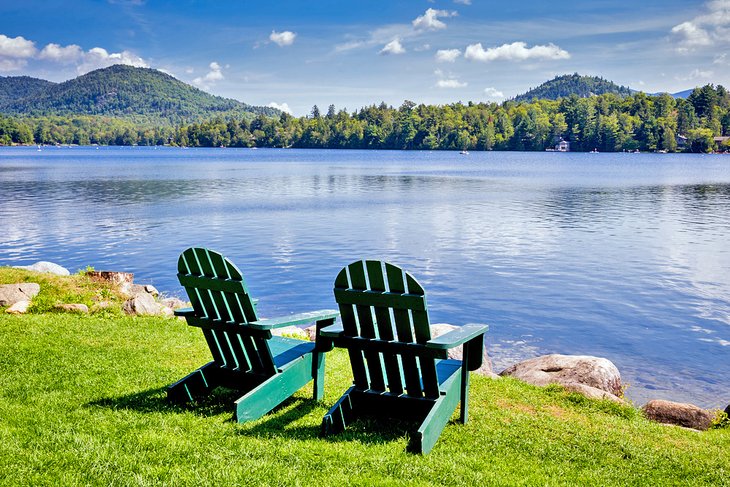 Technically more of a village than a city, Lake Placid is perhaps the most beautiful town in New York State. If you're looking for a scenic spot to eat good food, shop in small boutiques, and spend the day skiing down hills or kayaking on a lake, Lake Placid is the place to be.
Lush forests and giant, craggy mountains replace the tall skyscrapers found in bigger cities (ahem, Manhattan). The cacophony of horn-honking and shouting is traded for serene sounds of snow falling or birds chirping in trees. With such a tranquil and stunning backdrop, Lake Placid is the place where worries melt away. No wonder it was chosen to host the Winter Olympics in 1932 and 1980.
Not surprisingly, the top things to do in Lake Placid are Olympic based. We dare you not to hold your breath while watching young skiers practice jumping and flying (as far as the length of a football field) at the impressive Olympic Jumping Complex. In the center of town, you'll find the massive Olympic Center. It boasts skating rinks and a museum dedicated to past Olympic athletes.
The Olympic Sports Complex is an amazing place. This is where bobsled, luge, and skeleton events take place. The best part? You don't have to be an athlete to participate. Sign up for a turn on the track or jump on the soon-to-be-opened, Lake Placid Mountain Coaster, which is a bit more controlled.
3. Buffalo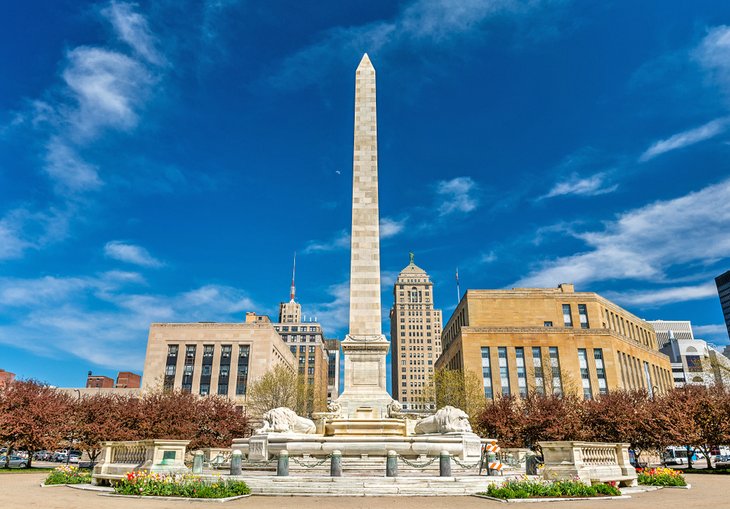 For years, Buffalo has had a bit of a bad rap. Once an economic powerhouse (it literally got its power from Niagara Falls), this big city in New York fell upon hard times, which resulted in empty buildings and a few less than stellar areas of town.
Today, those times are far behind this bustling city, the second largest in the state. Architectural masterpieces by Frank Lloyd Wright, HH Richardson, and Louis Sullivan have been restored, and its professional sports teams entice fans to visit from across the country.
Located on the shores of Lake Erie, Buffalo attractions include inspiring art galleries and museums, a vibrant entertainment scene, and fabulous restaurants. Keep the kids happy with a trip to the Buffalo Zoo. Try the city's namesake chicken wings and add a trip to the Buffalo and Erie County Botanical Gardens to your sightseeing itinerary.
Discover more about the city's brief history as a leader in the auto industry at the Pierce-Arrow Museum. And if you're an art lover, hit the Albright-Knox Art Gallery.
4. Ithaca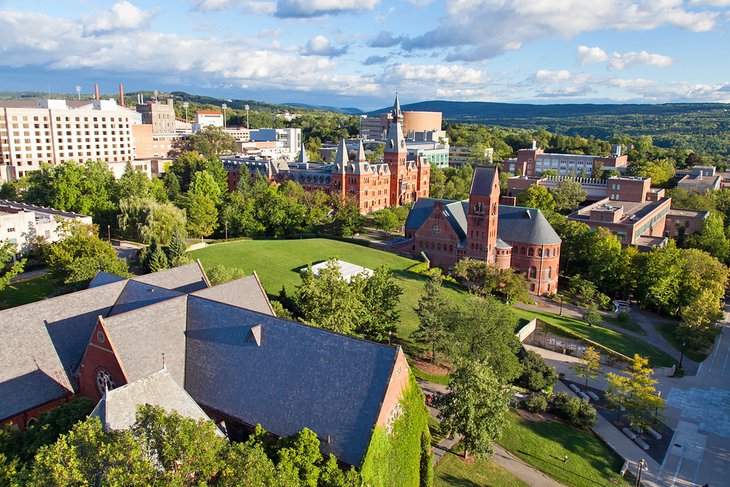 Ithaca offers visitors a truly inclusive vacation filled with shopping, entertainment, academia, and some of the most gorgeous scenery in the state. This fun college city is set on the stunning southern edge of Cayuga Lake, the largest of New York's Finger Lakes. A tranquil city, so beautiful, your camera will quiver with excitement, you'll want to spend days, not hours, in this picturesque spot.
Ithaca is most notably home to Ivy League Cornell University and Ithaca College. Imagine being surrounded by deep gorges and cascading waterfalls as you hit the books. Not a bad backdrop to help quell exam worries.
Feeling stressed? Hit the lake on a paddleboard, head out for a hike, or try your hand at fishing. No wonder the city's slogan, "Ithaca is gorges," is stuck on bumper stickers everywhere.
As a college town, you can expect to be amazed by Ithaca's bevy of impressive museums and art galleries. Cornell's historic clock tower and Johnson Art Museum draw visitors, as do the city's Museum of the Earth, Sciencenter, Cornell Lab of Ornithology, and Cayuga Nature Center.
5. Saratoga Springs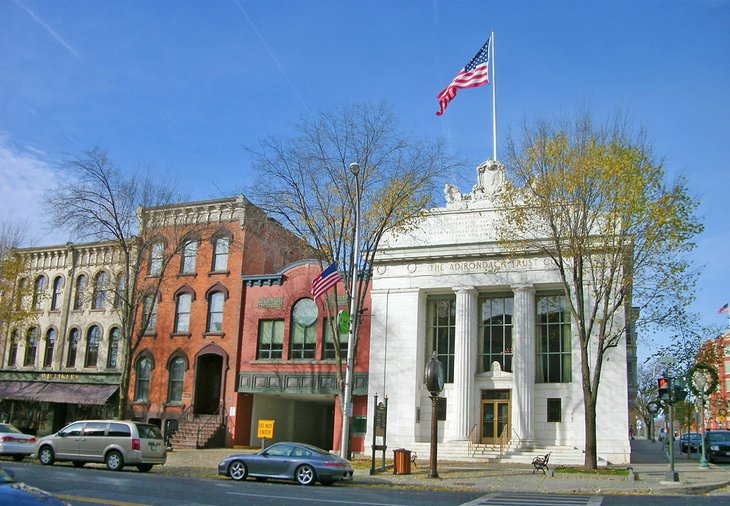 Want to feel young again? Take a dip in the waters of Saratoga Springs. Believed by the Mohawk and Iroquois tribes to have healing powers, the waters from the springs in this pretty city in New York were once thought to cure diabetes, heartburn, and kidney ailments, among others. While none of these claims have been proven, they did help turn Saratoga Springs into a top New York State tourist destination by the 19th century.
Today, visitors get a chance to test these theories themselves at the Roosevelt Baths & Spa, located in Saratoga Springs Spa State Park. Not a fan of spas or the hefty price tags that often accompany a visit? You can find nearly 21 mineral springs among the top tourist attractions in the city.
6. Rochester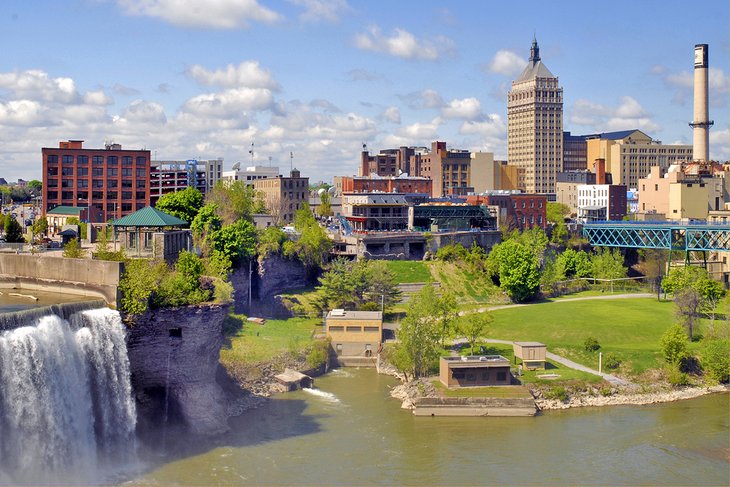 Rochester is a city built for fun, especially if you're a kid. First off, it boasts a thundering, 96-foot waterfall (a.k.a. High Falls), one of the best waterfalls in New York state. If you ever want to feel small, stand next to this beauty!
Next up on the list of fun things to do in Rochester is visit the youthful and super fun Strong National Museum of Play. Who wouldn't want to visit a museum dedicated to toys and games? This awesome spot even boasts the National Toy Hall of Fame and World Video Game Hall of Fame.
Seabreeze Amusement Park is another winner with families, as is the expansive Seneca Park Zoo and Rochester Museum & Science Center.
Traveling without little ones in tow? You'll have a blast at the historic homes, George Eastman Museum, and Highland Park. Head out for a hike, admire the nearby waterfalls, or play a round of golf. You won't get bored. We promise!
7. Niagara Falls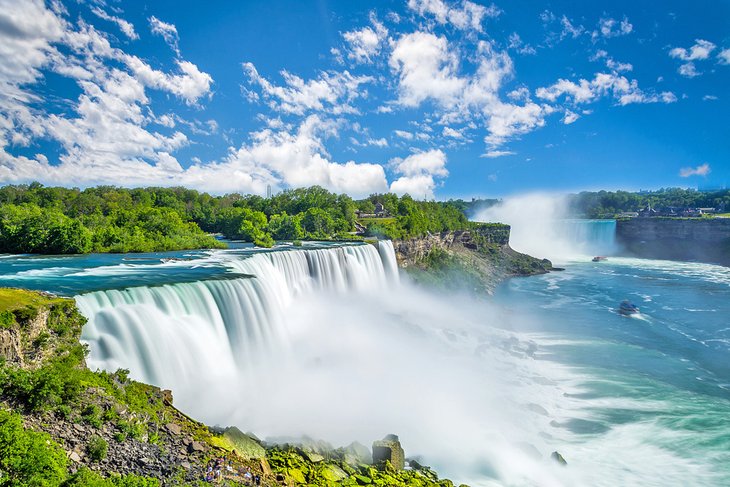 Pretty much everyone has heard of Niagara Falls. A cool, 150,000 gallons of water plunge over this famous landmark waterfall every second. Yes, you read that right. Every SECOND! Everyone should really see these exceptional falls at least once in their life.
While the Canadian Niagara Falls is deemed to have the best view of the watery wonder, the American city of the same name offers a quieter, more resplendent experience. It's been touted the "Honeymoon Capital of the World" for good reason.
Obviously, the main tourist draw is the remarkable falls. Whether you take a boat tour to the base, visit the Cave of the Winds for a wet and up-close view of Bridal Veil Falls, or book a helicopter tour to view the falls from above, you won't be disappointed by the amazing opportunities for sightseeing in this small, yet impressive city in New York.
8. Syracuse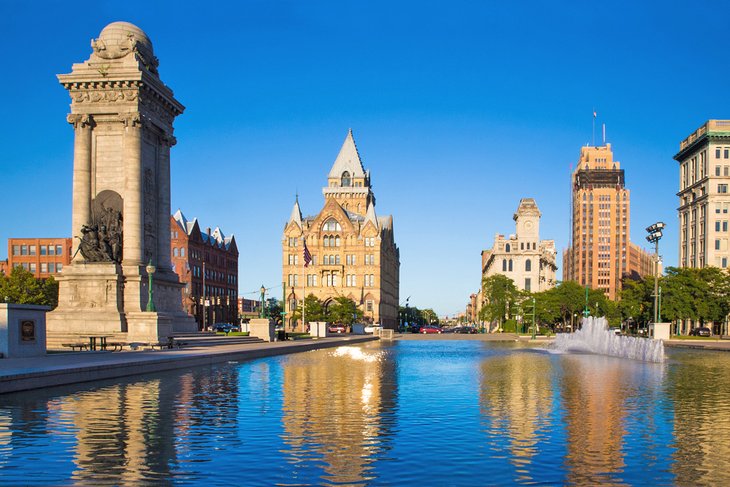 The fourth largest city in New York state, Syracuse boasts all the impressive elements of a big city: interesting museums (i.e. the Erie Canal Museum and the Milton J. Rubenstein Museum of Science & Technology), good restaurants, and boutique shops. It's also home to the 43-acre Rosamond Gifford Zoo, which offers enough indoor attractions to make it a good bet for keeping kids entertained in all types of weather. With so many great tourist attractions on offer, it's no wonder Syracuse is deemed one of the best cities in New York.
The downtown core features shops, cafés, and restaurants, as well as beautiful historic buildings that have been lovingly restored to evoke the simpler days of old. Outdoorsy folks may be more taken with Onondaga Lake Park, Clark Reservation State Park, and Hiawatha Lake, where they can swim, fish, boat, climb cliffs, or hike through the woods.
9. Albany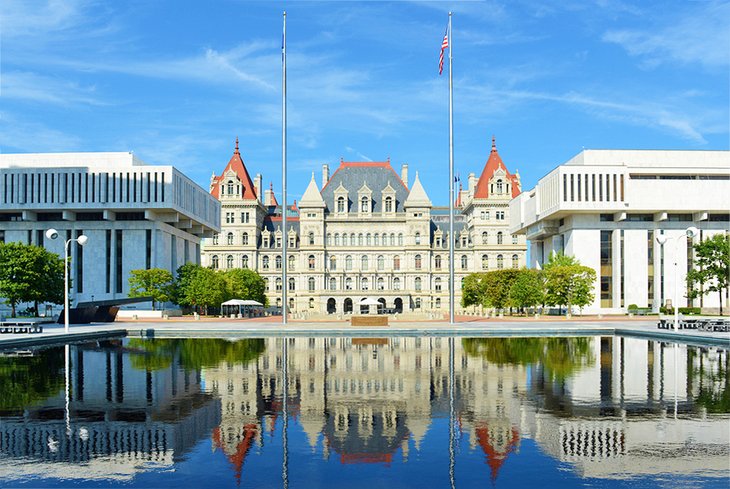 Beautiful Albany is a historic haven mixed with modern architectural marvels (we're looking at you, The Egg and Empire State Plaza). The New York State Capitol is perhaps its most famous structure, a majestic building set atop State Street Hill. It took over 32 years to build this masterpiece during the late 1800s.
Walking around the city's streets is like traveling through a history book. You'll spot remarkable homes, churches, and other noteworthy buildings peppered throughout. Don't miss the incredible New York State Museum. It's been deemed the oldest state museum in the U.S. and sits in the most unique and striking building. It is also one of the top attractions in the Hudson Valley.
10. Yonkers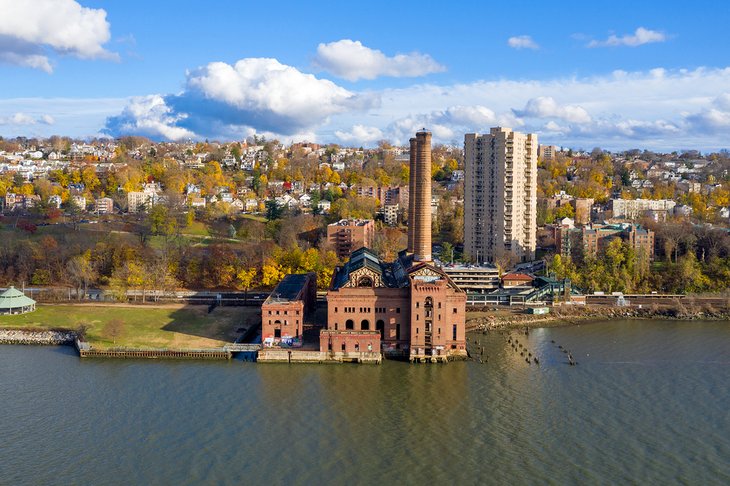 Yonkers is the fourth largest, and one of the best, cities in New York. Set on the east bank of the Hudson River, this New York City neighbor is a commuter haven for those with Manhattan-based jobs.
In addition to falling asleep without the cacophony found in the big city, Yonkers offers its residents (and visitors) views of both the river and Palisades so stunning, they've inspired many a work of art.
Its most famous residents have included, Ella Fitzgerald, Jon Voight, W.C. Handy, and Mary J. Blige. Elisha Otis designed the first "safety" elevator here in 1853.
11. Binghamton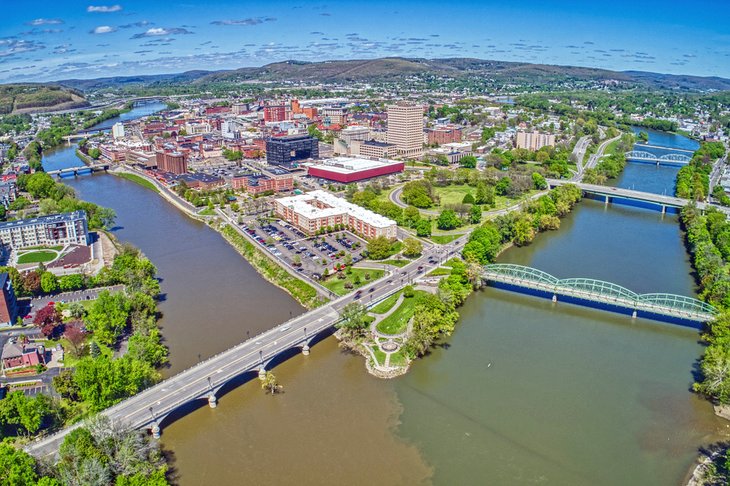 Science and technology buffs will love Binghamton. Touring its streets, you can virtually feel the creativity seep into your soul. This is the city where IBM was born, not to mention the technology behind virtual reality.
Binghamton is at the meeting place of the Chenango and Susquehanna rivers. Creative thinkers from the mid-1800s built a 97-mile canal, the Chenango Canal, to join Binghamton to Utica. Today, visitors can hike along the five-mile Towpath Trail and visit the self-guided museum in nearby Hamilton.
The Phelps Mansion Museum (once home to successful businessman and mayor, Sherman D. Phelps) is a grandiose, 19th-century masterpiece that begs to be photographed. Inside, you'll get a glimpse into what life was like in the gilded era.
12. New Rochelle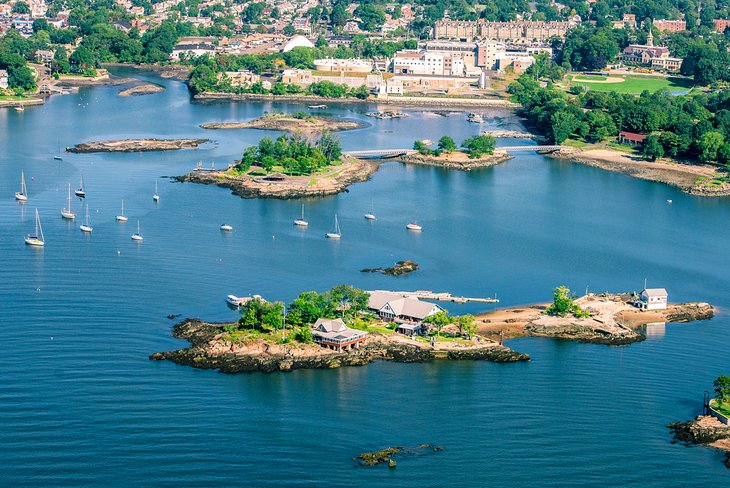 Located about 25 minutes from midtown Manhattan, New Rochelle is another popular city in New York for commuters. It's also one of the oldest communities in the state. Nestled in Westchester County, you'll find vast waterfront estates lining the Long Island Sound, and historic homes peppering the streets of this seventh-largest city in New York.
The downtown is charming and features enough local shops and restaurants to help you while away at least a few hours. In warmer months, sailboats and other watercraft bob their hellos from the New Rochelle Harbor.
Visiting Glen Island Park is one of the best things to do in New Rochelle, especially during summer. Bring beach gear, as you'll want to park yourself on the soft sand for an entire afternoon. The park is housed on a 105-acre island that is reached via drawbridge.
13. Schenectady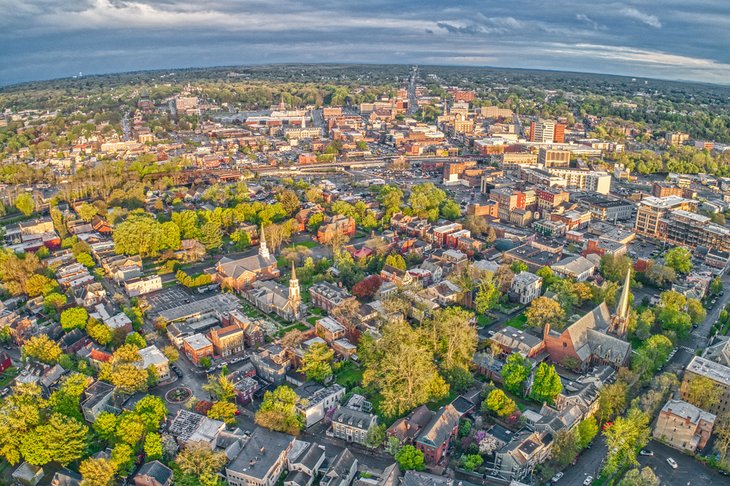 A small city in what is known as the "Capital Region" of upstate New York, Schenectady sure knows how to pack a lot of fun within its borders. From top restaurants to impressive tourist attractions to a charming historic district, there is no lack of fun things to do in this popular city in New York.
Catch an evening show at Proctor's Theater. The well-lighted heart of downtown, this iconic spot has hosted live concerts, musicals, plays, dance performances, and so much more inside its historic walls.
The Schenectady County Historical Society always has something interesting planned at its three area sites. The Mabee Farm Historic Site, Museum & Library, and Brouwer House Creative are all worth a visit.
14. White Plains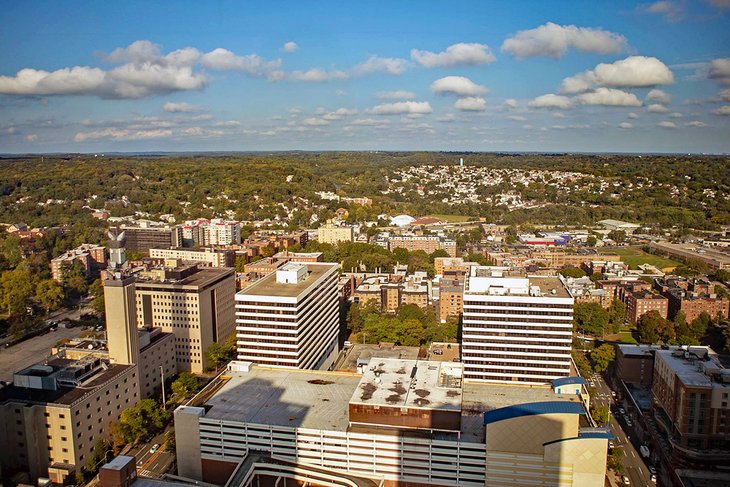 No matter what you're looking for, you'll find it in White Plains–from fine dining to upscale shopping to farmers markets to golf to skating, this vibrant city in New York has it all. A mere 35 miles from New York (just over an hour by car if you hit traffic), this inner suburb is one of the main cultural hubs of Westchester County.
ArtsWestchester is the place to visit if you're hoping to unleash your inner Picasso. Get inspired by the unique art exhibitions and performances of everything from music to dance.
Cranberry Lake Preserve, on the other hand, will help you get lost for a while. A 190-acre park, this serene spot is the perfect place to unwind and appreciate nature.
15. Montauk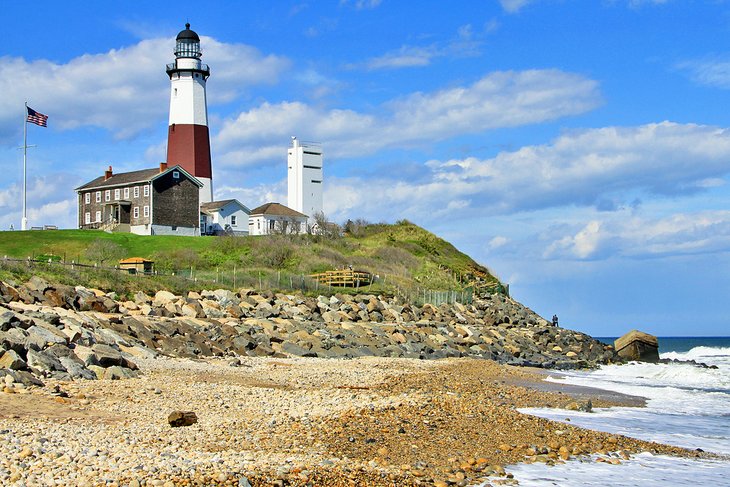 Talk about idyllic. Montauk is the place where worries disappear. Flanked by the shimmering Long Island Sound, spotted with sandy (yet slightly pebbly) beaches, and overflowing with charm, this lovely slice of heaven is a weekender's dream destination. It's located on the eastern tip of the South Fork in East Hampton.
A laid-back, seaside haven, the small city of Montauk is a popular summer destination, especially for frazzled New Yorkers looking for an escape. Popular things to do in Montauk include beachin', seal watching in Montauk Point State Park, swimming, visiting the iconic Montauk Lighthouse, and eating lots and lots of delicious food.
16. Long Island City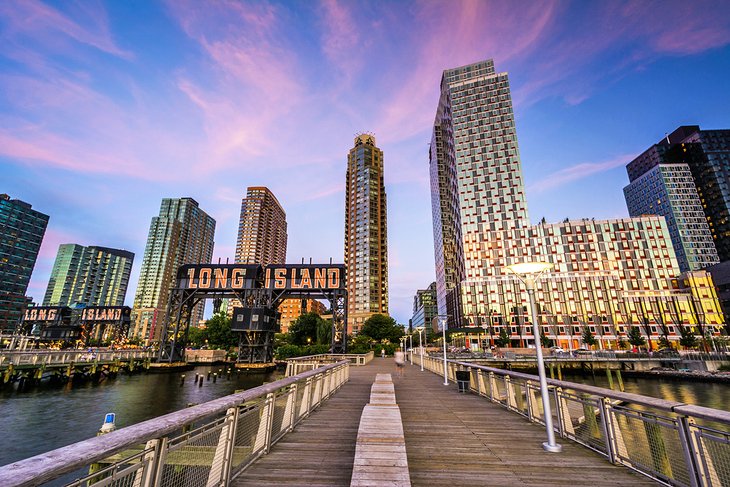 Long Island City is the Big Apple's smaller, quieter cousin, which technically resides in one of its boroughs: Queens. To get here, hop on the G train from Brooklyn, or the W, N or 7 trains from Manhattan.
Gantry Plaza State Park is one of the city's main attractions. It offers visitors a place to stretch out, walk, run, play basketball, or sip on a coffee. The best part? All this is done with an incredible backdrop of the New York City skyline and 59th street Bridge.
17. Poughkeepsie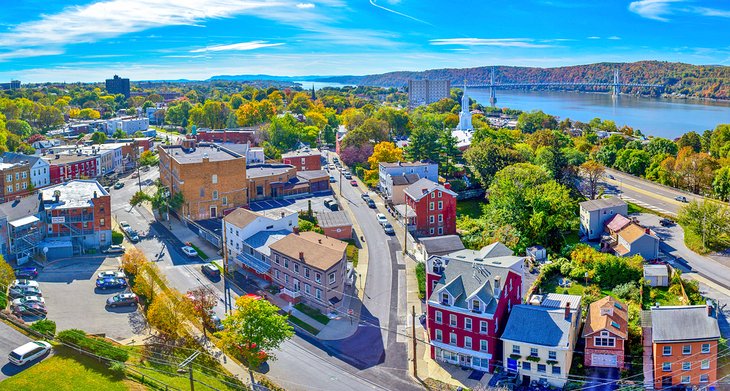 The largest city in the Hudson River Valley, Poughkeepsie is a keeper (sorry, we had to) filled with interesting things to do. Once home to Franklin D. Roosevelt, it's also a hub of historical significance. Tourists flock here to visit his prior house and the FDR Presidential Library and Museum. They're located in Springwood, a suburb where the iconic president was once based.
Even more popular than FDR's house, though, is the outstanding (and super long) Walkaway Over the Hudson (or Walkway, as it's known to locals) attraction. The world's longest footbridge, the Walkway was first built as a railroad in 1889. It was rebuilt after a fire destroyed the tracks in 1974 and opened as a State Historic Park in 2009. You can't beat the views of the Catskills and Hudson Highlands from this gorgeous spot, which hovers 212 meters above the Hudson River.
While in town, be sure to visit the expansive and picturesque Locus Grove Estate, a museum and nature preserve featuring an Italian Villa built in the mid-1850s.
18. Mount Vernon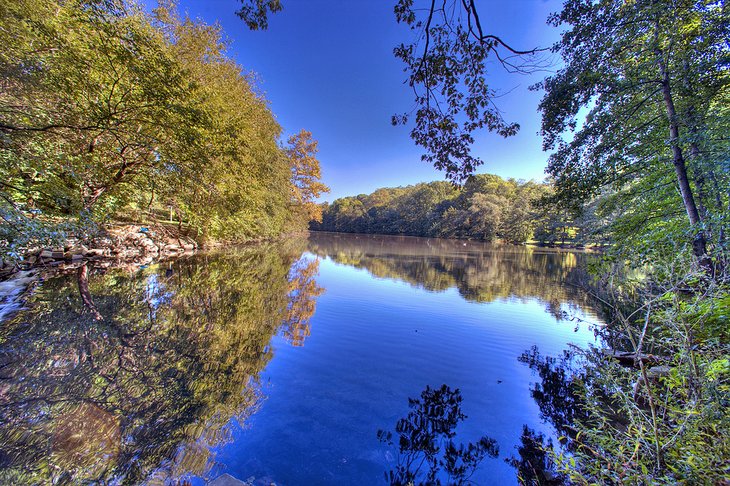 Mount Vernon hugs both the Bronx and Hutchinson Rivers, offering its guests plenty of opportunities to enjoy pretty water views. Also situated in Westchester County, this fun city in New York is just north of the Bronx and technically considered an inner suburb of New York City. As such, it's also one of the most populated cities in New York state.
Mount Vernon's most popular tourist attraction is the Saint Paul's Church National Historic Site. Used as a hospital for British military during the American Revolutionary War, this iconic spot is the most visited site in the city. If you're looking for food, cute shops, and quaint cafés, head downtown.
Those hoping to enjoy a little nature with their city experience should take some time out for a hike or picnic in Hunt's Woods or Willson's Woods Park. The latter boats access to swimming, fishing, plenty of green space, and a water park.
19. Cooperstown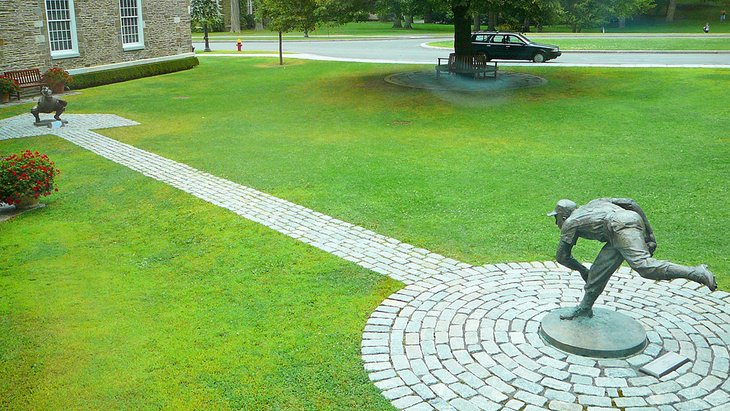 You'll want to spend at least two days in charming Cooperstown. Most notable as being home to the National Baseball Hall of Fame, this small city in New York is a hit with baseball aficionados and children of all ages.
Catch a game at Doubleday Field, which some have dubbed the birthplace of baseball. Then knock it out of the park by treating your kids to a day riding bumper boats, driving go-carts, and playing mini golf at Cooperstown Fun Park. Cool off with a dip in Ostego Lake, where you can fish, boat, or kayak.
More Related Articles on PlanetWare.com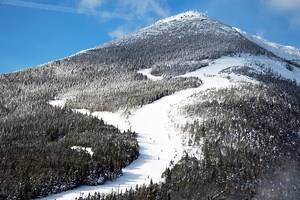 Get Outside in New York State: It's easy to stay active and enjoy the outdoors in New York. With a bevy of beautiful lakes in which to swim, kayak, and fish, you'll be set for summer. In winter, head for the hills and hit the slopes at the numerous first-rate ski resorts. You're assured outdoor fun in every season.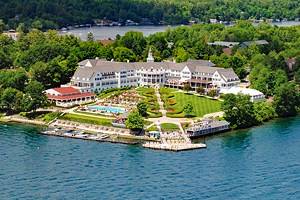 Where to Stay in New York: Now that you know where you want to go, it's time to figure out where you'll stay. From top-notch luxury to more affordable small-town inns, you're sure to find a perfect place among these top resorts in New York State. Looking to spend more of your time checking out the scenery of the Adirondacks and Catskills? Try one of these lovely resorts in upstate New York.