12 Top-Rated Things to Do in the Finger Lakes Region, NY
We may earn a commission from affiliate links ()
The Finger Lakes region of New York State is captivating during all seasons. Whether you're hoping to hike behind a waterfall in spring, swim in a freshwater lake during summer, soar over fall's kaleidoscope of colors in a hot-air balloon, or swoosh down mountain slopes in winter, you'll find a bevy of fun things to do in the Finger Lakes.
Comprising 9,000 square miles of impeccable landscape (we're talking rolling hills; crashing waterfalls; and deep, rugged gorges), the Finger Lakes is named for the eleven narrow lakes that spread out like, well, fingers across this central, northwestern area of the state.
With so many exciting activities to choose from, it can be tough to decide where to go first. Plan your itinerary with our list of the best things to do in the Finger Lakes Region of New York.
1. Appreciate Nature at Watkins Glen State Park, Watkins Glen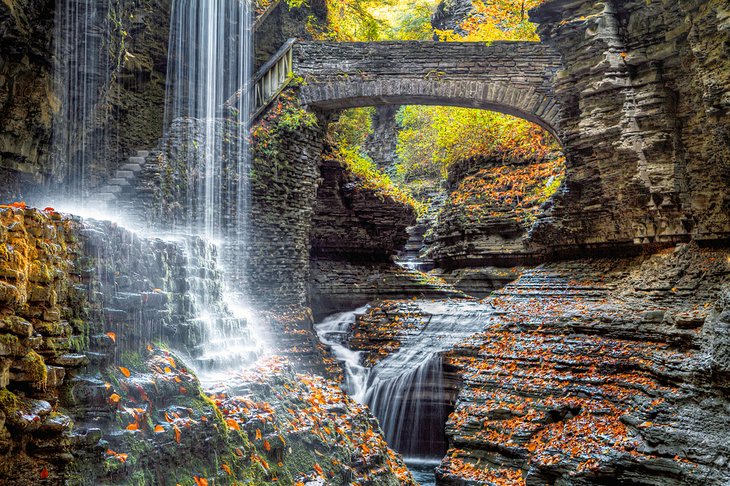 If you're looking for an Instagram-worthy backdrop for your next selfie, head to Watkins Glen State Park. Dubbed the "most famous of the Finger Lakes State Parks," this natural beauty is exquisite. While only two miles long, this overachieving wonderland packs 19 waterfalls, 200-foot cliffs, and verdant forest into its lush borders.
Unseasoned hikers will love the multiple trails that snake their way through the park. The Gorge Path is one of the most popular. It makes its way under, over, and behind waterfalls, providing jaw-dropping views with very little effort required. The Rim Trail offers the best gorge vistas. Insider's tip: The paths can get slippery when wet, so be cautious.
There's so much to see here that we wouldn't blame you for wanting to extend your stay. Book a campsite to make good use of your time in the park. The kids will love the large swimming pool and nearby fishing opportunities in Seneca Lake and Catherine Creek.
2. Take a Dip below the Falls at Buttermilk Falls State Park, Ithaca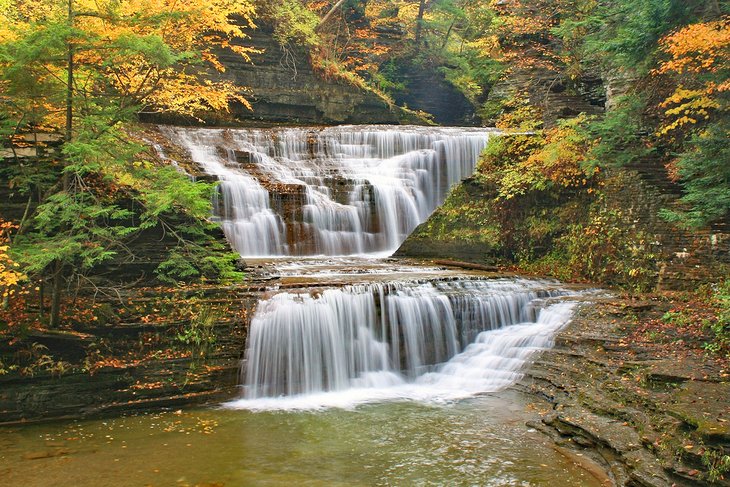 There's nothing boring about a waterfall, especially if you're viewing the spectacular cascade in Buttermilk Falls State Park. The park is home to 10 waterfalls. The most impressive is the park's namesake, Buttermilk Falls, which flows serenely into Cayuga Lake, one of the best lakes in New York.
Luckily for those who don't favor lengthy, steep hikes to see a waterfall, Buttermilk Falls is located just off a path set close to the parking area. As one of the best waterfalls in New York, you'll want to have a camera at the ready.
The park's other falls are also impressive. Seeing them will require good walking shoes and longer hikes – some between one and three hours. Not into hiking? No worries. Buttermilk Falls converges in a swimming hole, which has been beloved by park goers for centuries. There is also a sandy beach, rock pools, playgrounds, playing fields, picnic areas, a campsite, and cabins on-site.
3. Soar above Letchworth State Park in a Hot-Air Balloon, Portageville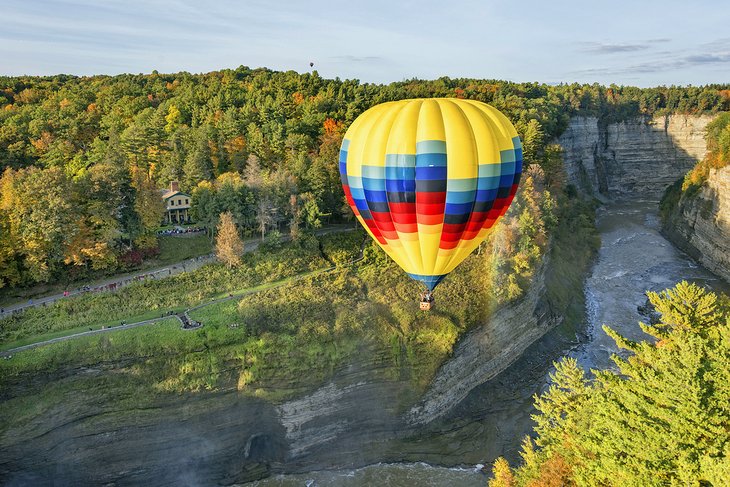 There are few things more romantic than soaring in a hot-air balloon, hovering high above a dramatic waterfall as it crashes down a stunning gorge. While these unforgettable experiences don't come cheap (we're talking close to $1,600 for a private, one-hour ride for five), they are one of the best things to do in the Finger Lakes Region.
A pass over the craggy gorge and cascading falls of Letchworth State Park is guaranteed with every ride in this area. Known as the Grand Canyon of the East, this spectacular park boasts impressive cliffs (some are over 600 feet tall) and three massive waterfalls (known as the Upper, Middle, and Lower Falls). Viewing them from above is literally breathtaking.
Insider's tip: Since the flights are dependent on weather, the safest time of year to enjoy a hot-air balloon ride in the Finger Lakes Region of New York is during June, July, and August.
Genesee Falls Balloon is one of the best hot-air balloon companies in New York. Named after the Genesee River that flows through the giant gorge of Letchworth State Park, this friendly organization works with the wind to find the right (and safest) flight plan each day. The flights take place either at sunrise or two hours before sunset.
4. Spot the Animals at the Montezuma National Wildlife Refuge, Seneca Falls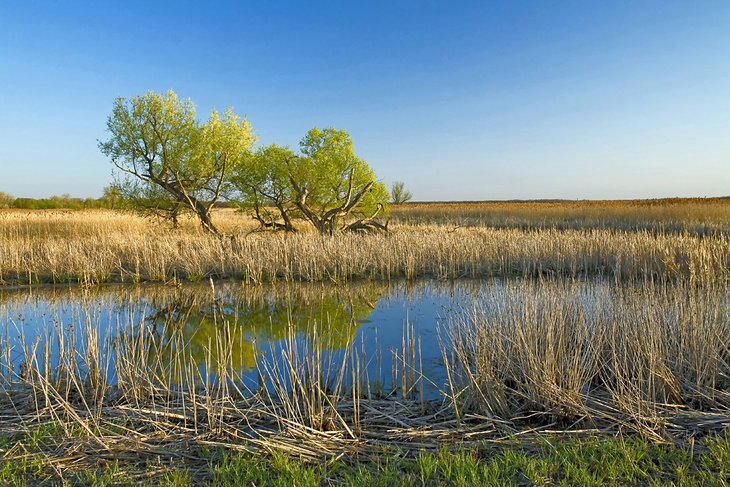 Bird-watchers, raise your binoculars! The vast Montezuma National Wildlife Refuge lies in the heart of one of the Atlantic Flyway's most active flight zones. It is also a designated Audubon Important Bird Area, which means you're guaranteed to spot a wide variety of interesting creatures.
In fact, this 9,809-acre wonderland is home to so many animals, it's hard to guess which type you'll see next. You're sure to spot something amazing here, from turtles to bears to muskrat to waterfowl. Head slowly along Wildlife Drive, a 3.5-mile route that is perfect for those who'd like to find a vast array of creatures.
Established as a breeding ground and refuge for wildlife and migratory birds in 1938, this expansive area lies 30 miles west of Syracuse and 40 miles north of Ithaca. While bikes aren't allowed here, visitors are free to hike the trails, fish, or boat at one of three designated sites, and enjoy the view from beside the multiple pools, Esker Brook and the Benning Marsh.
Insider's tip: The telescope at the Main Pool Observation Tower provides one of the best wildlife viewing opportunities in the area.
Address: 3395 Routes 5 & 20 East, Seneca Falls, New York
Official site: https://www.fws.gov/refuge/Montezuma/
5. Have an Adventure at Greek Peak Mountain Resort, Cortland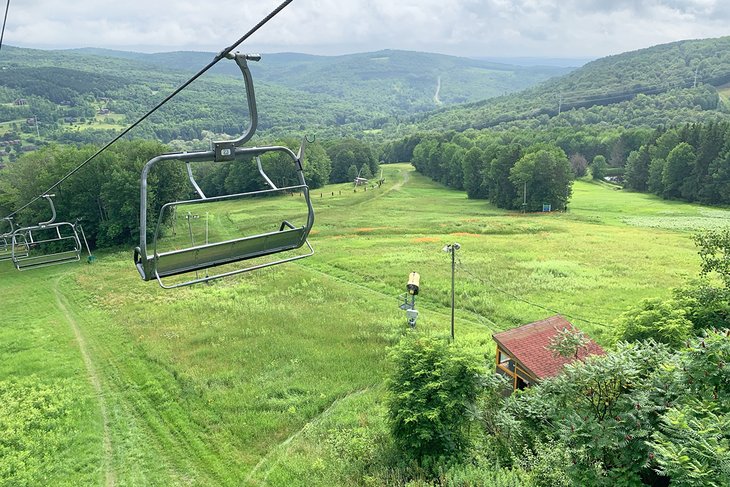 If you're an avid fan of excitement, you'll love Greek Peak Mountain Resort. Packed with invigorating activities, their outdoor Adventure Center has everything you'd want for a fun-filled day the whole family will enjoy.
Race downhill on the Mountain Coaster; climb through the trees on the high ropes Aerial Challenge Course; fly through the air on the Zip Line Tour; jump in the inflatable bounce house; mountain bike down wooded trails; ski, snowboard, or snow tube in winter; or marvel at the majestic views from a chair lift on the Scenic Sky Tour. There's also a Eurobungy attraction to test your nerves.
There's so much to do that you'll want to carve out a whole day (or better yet a long weekend) for your stay. No matter the season, you'll be thoroughly entertained at this energizing resort. As for eating, the on-site Trax restaurant is a perfect spot to take a load off and enjoy a tasty lunch or dinner either indoors or outside on an expansive patio boasting picturesque mountain vistas.
When you've exerted so much energy your feet feel like lead, head across the street to Hope Lake Lodge. A charming wood cabin-like retreat, this is one of the best resorts in the Finger Lakes for families, and their beds are so comfy, you'll fall asleep as soon as your head hits the plush pillow.
Once you've recharged, head to the on-site Cascades Water Park. Large waterslides, a wave pool, kids' splash playground, and the requisite water dumping bucket are here, as is access to the outdoor pool and an indoor/outdoor hot tub. Although geared to the younger set (those under 10 will enjoy it most), a fun time can be had by all. Plus, there's a small café, perfect for a quick lunch or snack break.
Address: 2000 NYS Route 392, Cortland, New York
Official site: https://www.greekpeak.net/
6. Ski at Bristol Mountain Ski Resort, Canadaigua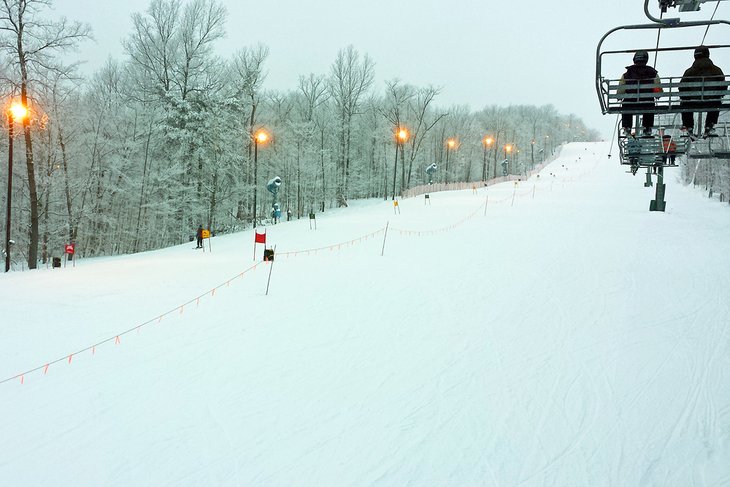 If you're lucky enough to visit the Finger Lakes during winter, there's no excuse not to hit the slopes. Whether you're a skier, snowboarder, or a lodge warmer, there is plenty of fun to be had at Bristol Mountain, one of the best ski resorts in New York.
Famed for having the highest vertical rise (1,200 feet) between the Adirondack and Rocky Mountains, this 138-acre ski resort is a must for winter sports lovers. In addition to its 38 slopes and trails that challenge skiers and snowboarders of all levels, Bristol Mountain is home to three kilometers of Nordic trails popular with cross-country skiers.
Two high-speed quad lifts make the trip back up the mountain more efficient, while a top-notch snowmaking system ensures well-covered runs between November and April. Night skiers are rewarded by lights on 97 percent of the runs.
Sign up for ski lessons if you're hoping to perfect your form. When your energy begins to lag, grab a bite at one of the two base lodges or the Morning Star Café, which is located mid-mountain.
Rent your equipment at the on-site shop, Bristol Ski & Sport in Rocket Lodge.
Address: 5662 Route 64, Canandaigua, New York
Official site: https://www.bristolmountain.com/
7. See the Falls at Robert H. Treman State Park, Ithaca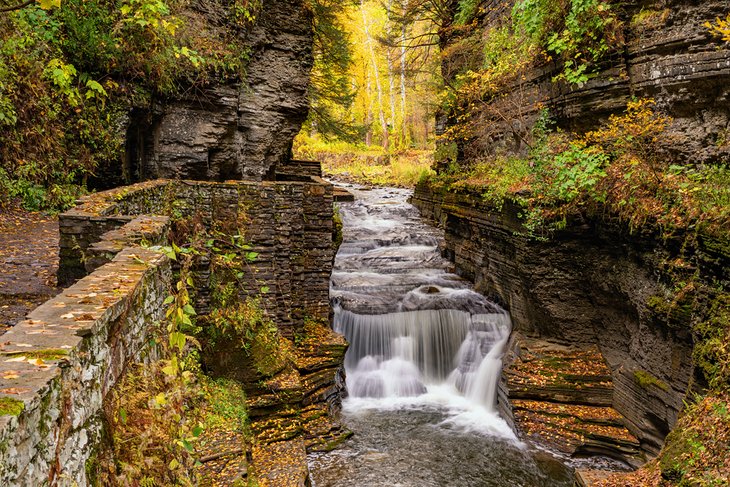 If you're a waterfall afficionado, you can't miss Robert H. Treman State Park. Home to 12 spectacular falls, this 1,000-acre park is a wonderful spot to bathe in nature. At 115 feet in height, Lucifer Falls is a must-see, as is the dramatically rugged Enfield Glen gorge.
Six trails meander through nine miles of the area, taking visitors on a relaxing trip through dense woodlands, jagged rock walls, and of course, the beautiful cascades. No wonder this has been dubbed one of the best national state parks in New York.
Visiting in the height of summer's heat? Cool off with a dip, or jump off the diving board at the stream-fed and most scenic, Lower Falls (a.k.a. Enfield Falls). They're open to visitors during these months, and there's a lifeguard on duty during peak hours at this time.
Address: 105 Enfield Falls Road, Ithaca, New York
Official site: https://parks.ny.gov/parks/135/details.aspx
8. Go Camping at Taughannock Falls, Trumansburg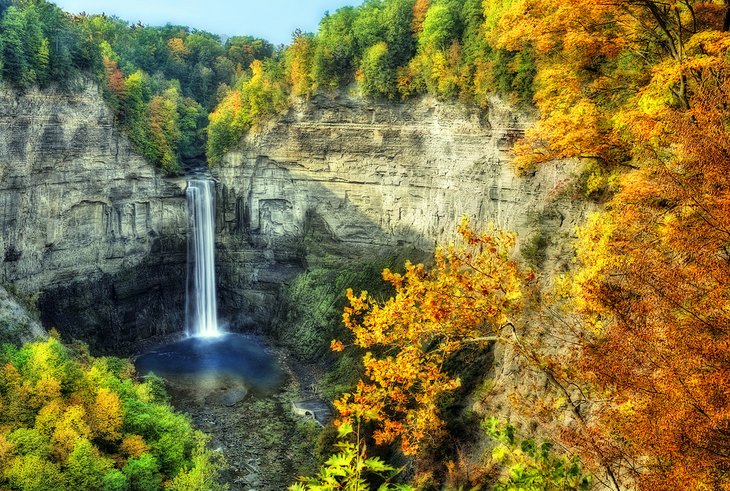 While there is a variety of fantastic resorts in the Finger Lakes Region, there's nothing quite like falling asleep under a ceiling of stars. Pitching your tent (or hooking up your RV) in a spot of unsurpassed beauty is exhilarating, so it's no wonder so many people choose to go camping in the magical Taughannock Falls State Park near Ithaca. Not a fan of roughing it? No worries. The park offers cabins for those who prefer to glamp.
Pronounced "tuh-ga-nick," the falls themselves have carved a giant, 400-foot-deep gorge over the last few hundred years, and they plunge over 215 feet (three stories higher than Niagara Falls). It's not surprising that visiting them is considered one of the best things to do in the Finger Lakes Region.
While swimming isn't permitted in the gorge, you can enjoy a lifeguarded splash during the summer at the park's glistening Cayuga Lake. Multiple hiking trails lead visitors through the park, whether they're biking, walking, or cross-country skiing. The easiest is Gorge Trail, a 0.75-mile walk that follows Taughannock Creek and ends at the base of the falls.
A marina, boat launches, boat rentals, a beach, playgrounds, showers, an ice-skating rink, and grills are all available on-site.
Address: 1740 Taughannock Boulevard, Trumansburg, New York
Official site: https://parks.ny.gov/parks/62/details.aspx
9. Hit the Water at Skaneateles Lake, Skaneateles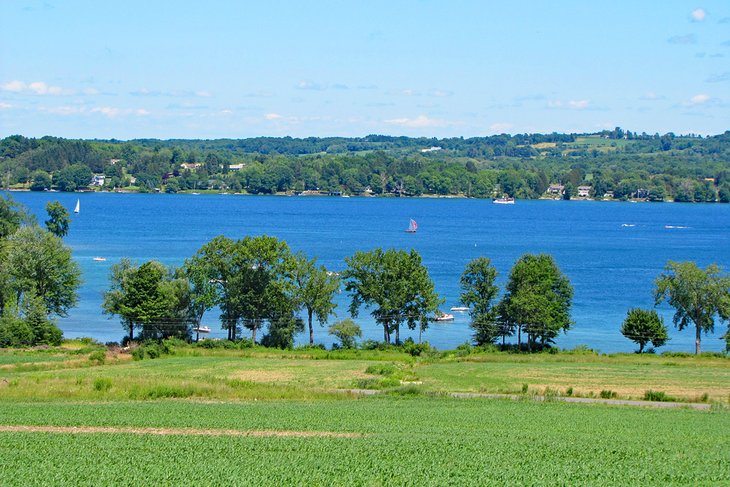 What's a trip to the Finger Lakes without a water-based experience? Whether you're a fan of canoeing, sailing, kayaking, or fishing, there are plenty of opportunities to hit the lake in Skaneateles (pronounced "skinny-atlas").
There are all kinds of things to do in Skaneateles, an adorable town sprinkled with nature trails, tasty restaurants, eclectic shops, and a lavender farm. Spending time on the glistening lake, though, is by far the most fun way to spend a day in this northeastern New York haven.
Don't have a boat of your own? Head to the Skaneateles Marina to rent everything from a motorized boat to a canoe to a kayak to a stand up paddleboard. They're available to rent for a half-day, full-day, five-day, or seven-day term.
If you'd rather someone else do the driving, book a lake cruise with Mid-Lakes Navigation Company. They offer guided sightseeing tours and moonlight cruises from June through September.
10. Step Back in Time at the Harriet Tubman Home, Auburn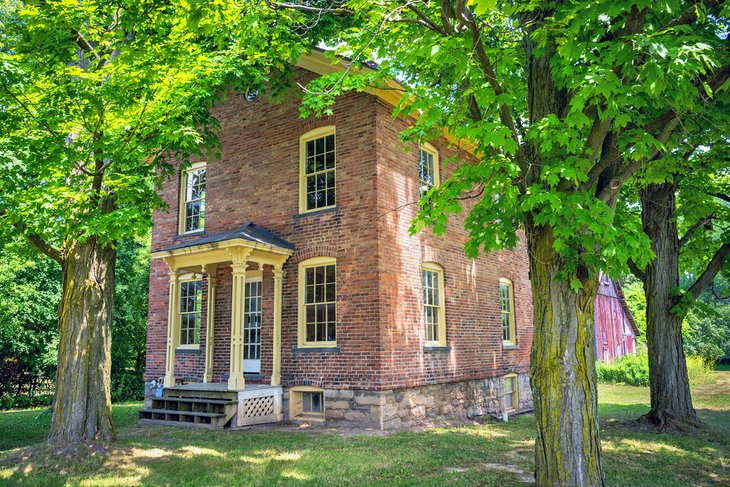 The Harriet Tubman National Historical Park was established in January of 2017. Its main tourist attraction is the former home of Harriet Tubman, an escaped enslaved woman whose courage and determination helped her to lead nearly 70 enslaved people to freedom prior to the Civil War.
A political activist, Harriet was a hero abolitionist who later served as a spy and scout for the Union Army during the Civil War. Today, an independent non-profit organization run by the African Methodist Episcopal Zion Church manages the Harriet Tubman Home.
Guided tours provide more intimate glimpses into Harriet Tubman's life and values. Visitors will find a few of her relics, as well other items tied to the Underground Railroad. The house has been dubbed a "gift to America and to all freedom-loving people."
Address: 180 South Street, Auburn, New York
Official site: https://www.harriettubmanhome.com/
11. Be a Kid at the Strong Museum of Play, Rochester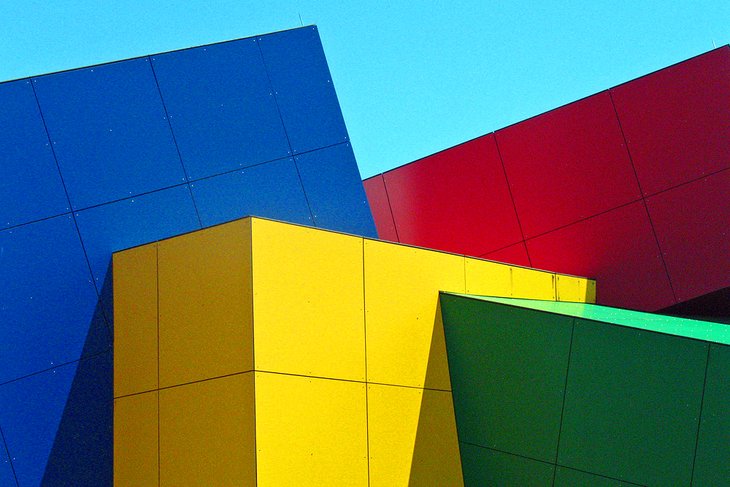 Whether you're five or 75, everybody loves to let loose, and what better place to do so than in a museum dedicated to the art of having fun? The Strong National Museum of Play features everything you'd hope for in an interactive play center: a video game hall of fame, a toy hall of fame, archives of game show history, a dance lab, a carousel, and train, just to mention a few.
Automobile lovers of all ages will enjoy the Build, Drive, Go exhibit, which outlines the history of vehicles ranging from planes to trains to boats to trucks. A physics area called the Test Track allows visitors to try various methods to speed up their cars, while the Big Build offers large blocks to help guests create any building their imaginations can envisage.
Aquariums, a butterfly garden, and rock-climbing wall are also on-site. Don't miss the uber interactive Field of Play exhibit, where you can walk through a gigantic kaleidoscope, pretend to drive a drag-racing car, and space out in the jellyfish jungle.
12. Hike the Cascadilla Gorge Trail, Ithaca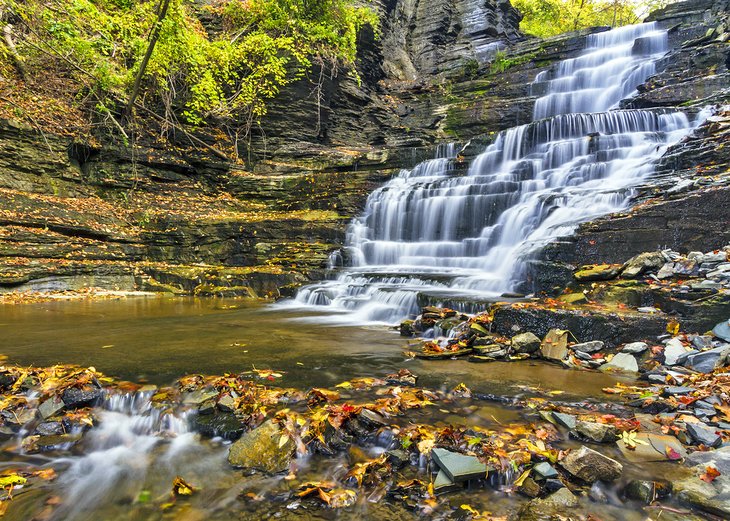 The stunning Cascadilla Gorge Trail makes it easy to escape the hustle and bustle of city life. Located in the heart of Ithaca, this lovely respite is easily reached from the Cornell Campus (near Oak and College Avenues) or from Treman Triangle Park.
Run by the Cornell Botanic Gardens, this natural haven spans just over a mile (1.3 miles, to be exact) and connects downtown Ithaca to the Cornell campus. As soon as you enter, the city's cacophony melts away, replaced by the relaxing sound of water tumbling down rocks.
Home to multiple waterfalls ranging in height from eight to 80 feet, the gorge follows Cascadilla Creek, which drops 400 feet along its route. You'll want to have a camera at the ready, as the picturesque views beg to be captured.
If you're looking for solitude, head to the northern upper section of the trail. It's much quieter, as the students who cut through the park tend to stick to the lower gorge section, which is peppered by the dramatic falls.
Address: Cornell Campus (behind the Schwartz Performing Arts Center) or Treman Triangle Park (off Linn Street)
Official site: https://cornellbotanicgardens.org/location/cascadilla-gorge/