10 Top-Rated Attractions & Things to Do in Syracuse, NY
We may earn a commission from affiliate links ()
Located in the beautiful Finger Lakes Region, Syracuse is one of Upstate New York's most wonderfully preserved cities. The compact downtown is a treasure trove of restored buildings and historical sites.
Things to do in Syracuse range from shopping, dining, exploring the museums, sightseeing, and enjoying nature in the city's parks, to seeing a game – the Orange football and basketball teams are a big draw here.
Many of the main attractions are downtown, but just a short drive away is Destiny USA, the fifth largest shopping mall in the United States. A thirty-minute drive from Syracuse will take you to the beautiful village of Skaneateles, known as a summer retreat for some of the rich and famous.
For ideas on how to spend your time, see our list of the top things to do in Syracuse.
1. Wander around Downtown Syracuse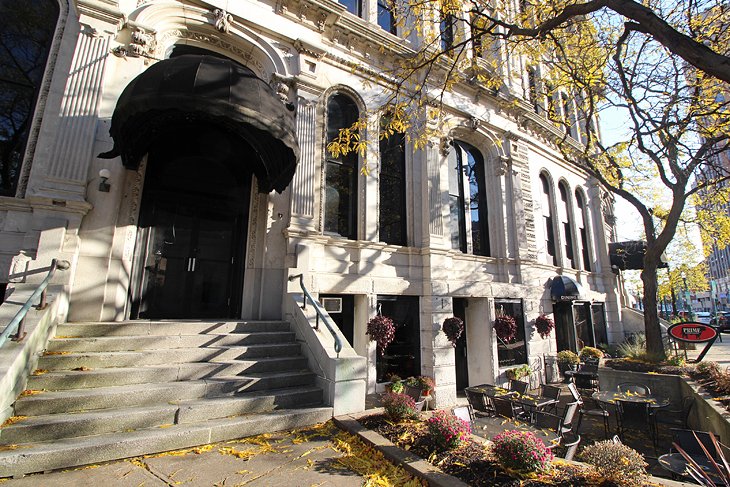 Downtown Syracuse is a delightful area of beautiful old Neoclassical and Gothic buildings, many of which have been wonderfully restored. Take a stroll among these architectural marvels and give some thought to what life would have been like here a 100 years ago, when the streets were water instead of asphalt.
Although it may be hard to imagine, at one time, the Erie Canal ran through the downtown, along what is now Canal Street. You can learn more about the city's history by popping into the free Erie Canal Museum, where you can see photos of what this area looked like during the canal days.
You'll also find some of the best restaurants, shops, and hotels located in the city center. Compact and easy to navigate with pleasant public squares, this is a nice area to spend an afternoon walking around and seeing some of the attractions.
Downtown parking is easy and cheap at the multilevel Warren Parking Garage at 345 South Warren Street. On street parking is also usually readily available.
2. Visit the Erie Canal Museum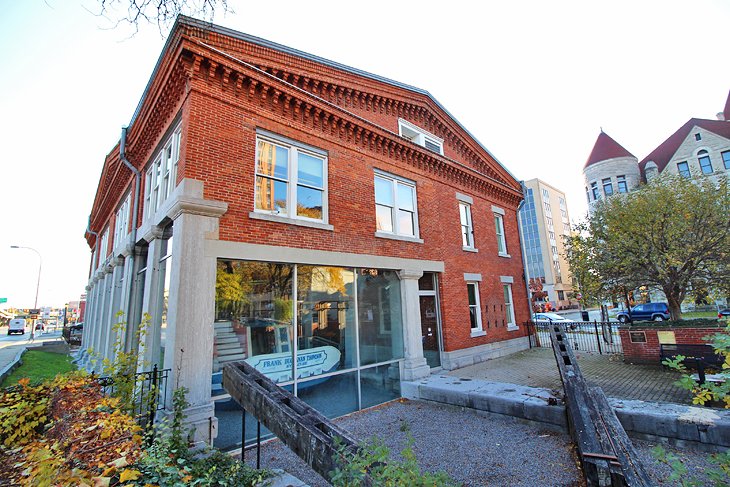 One of Syracuse's free attractions, this fascinating museum traces the development and operation of the 363-mile canal running from Buffalo to Albany. Dating from 1825, the canal was one of the first mega projects in the United States, costing over seven million dollars, roughly 115 million in today's dollars.
Engaging exhibits show how the canal was built over an eight-year time span, and historical photos show Syracuse with canals, where today you will find paved streets. One of the most interesting aspects of the museum is the perfectly preserved 1850 weighlock building, complete with a replica canal boat that you can tour.
Part of the museum building is built over remnants of the original canal. In another section is memorabilia and other original items dating back to the construction of the canal. The museum also has exhibits on the general history of Syracuse, and an interesting exhibit on the musician Elizabeth Cotton, known for American folk songs like Freight Train.
Address: 318 Erie Boulevard East, Syracuse, New York
Official site: https://eriecanalmuseum.org
3. Museum of Science and Technology (MOST)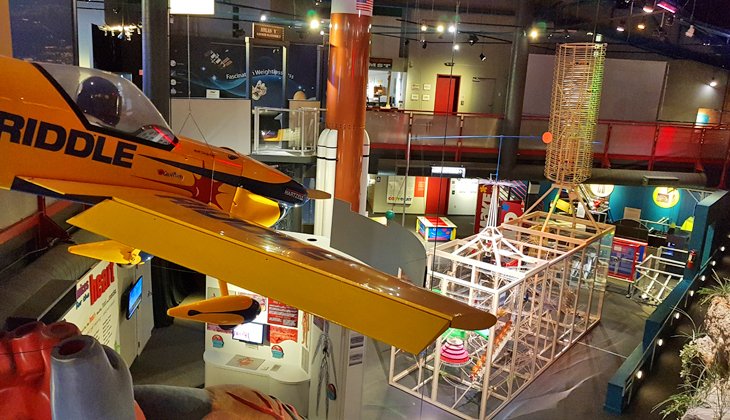 Right downtown and housed in a historical building is the Museum of Science and Technology, known locally as the MOST. The facility offers an exciting variety of exhibits and things to do. The permanent exhibits include areas that will appeal to children and others that will appeal to adults, including the Science Playhouse, Earth Science Discovery Cave, through to the Lockheed Martin Flight & Space exhibit.
Tucked away on the upper floor is Toothpick World, with two Guinness World Records, including the tallest toothpick structure and largest toothpick displays. The tallest buildings in the world have been created with toothpicks at a 1:164 ratio.
The museum also hosts impressive temporary exhibits to keep things interesting and is home to a planetarium and an IMAX theater, showing the latest widescreen features.
Address: 500 S. Franklin Street, Syracuse, New York
Official site: www.most.org
4. Dine around Syracuse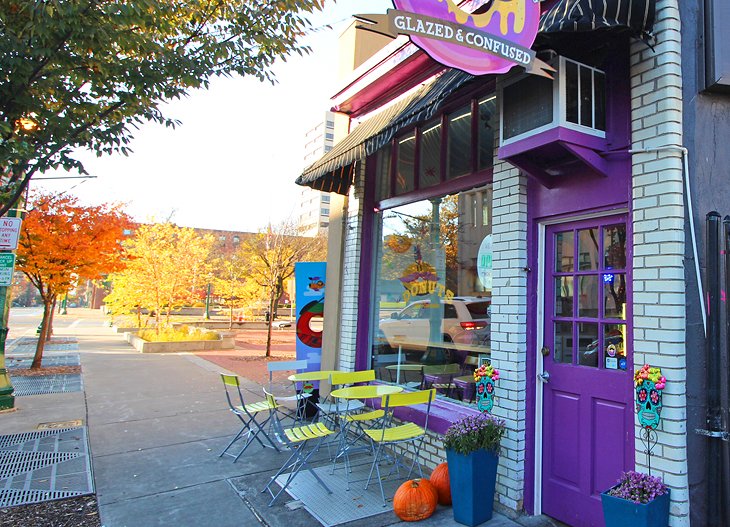 Downtown Syracuse has a fun and eclectic selection of great restaurants that will appeal to practically everyone's tastes for every meal of the day. You could start your day off with a breakfast at Funk & Waffles for a unique take on this morning treat, or indulge your sweet tooth by enjoying a donut at Glazed and Confused.
A fun lunch option with a mid-century modern charm is Modern Malt, featuring a selection of savory meals and outstanding milkshakes served complete with the traditional metal mixing cup.
For a lively night out with a taste of history, be sure to stop in at Pastabilities, a happening Italian restaurant housed in a restored 19th-century building. Here, you'll find some of the city's best pasta, made fresh daily.
5. See the Animals at the Rosamond Gifford Zoo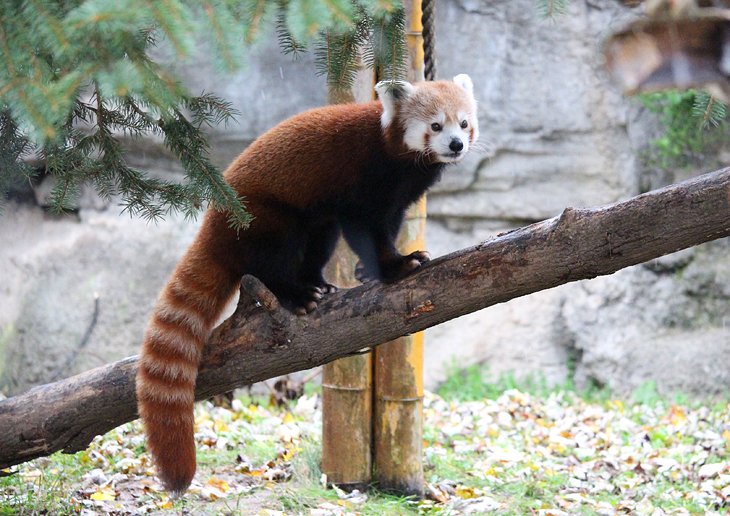 Set in lovely Burnet Park, the Rosamond Gifford Zoo is a 43-acre facility with both indoor and outdoor exhibits. The indoor exhibits make the zoo a good option even on cold or rainy days, with plenty to see from behind a glass wall. Indoor exhibits are to your left as you enter the main lobby and include monkeys, meerkats, and lions, as well as special attractions the zoo may be featuring.
Outside, a trail loops past outdoor enclosures. If you take the left loop past the Primate Park, you'll soon come to penguins swimming and splashing in their large pools complete with below-water windows.
Other highlights along the trail are wolves, buffalo, camels, mountain goats, tigers (including one that may surprise you), elephants, bears, and giant Steller's Sea Eagles, in addition to many other interesting animals along the way.
This zoo is a breeding facility for tigers and elephants, and you can see elephants either in indoor or outdoor space. Also popular is the petting zoo featuring domesticated animals like goats and sheep.
Address: One Conservation Places, Syracuse, New York
Official site: www.rosamondgiffordzoo.org
6. Go Shopping at Destiny USA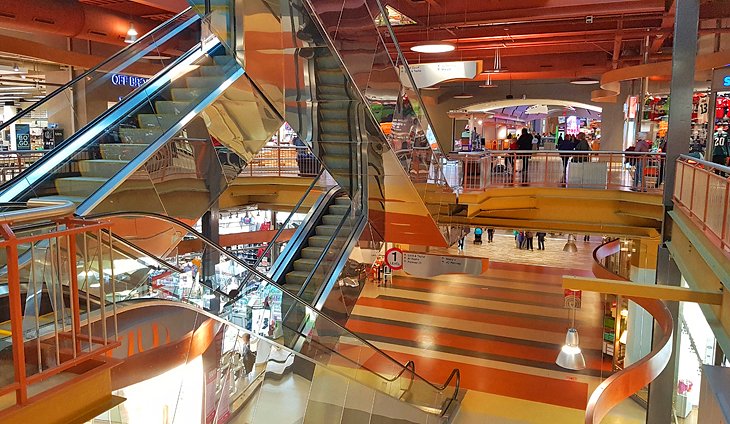 Located near the Inner Harbor area of the city, Destiny USA is a massive shopping and entertainment complex. This is the 5th largest mall in the United States and regularly sees over 25 million visitors a year. Destiny USA is a perfect place for family fun or serious shoppers.
The facility has three distinct sections: a traditional mall with mid and upmarket stores; an outlet mall of famous brands; and an entertainment area with restaurants, a comedy club, and an adventure area complete with an indoor go-kart race track and rope walk suspended high above the lower floors.
Address: 9090 Destiny USA Drive, Syracuse, New York
Official site: www.destinyusa.com
7. Green Lakes State Park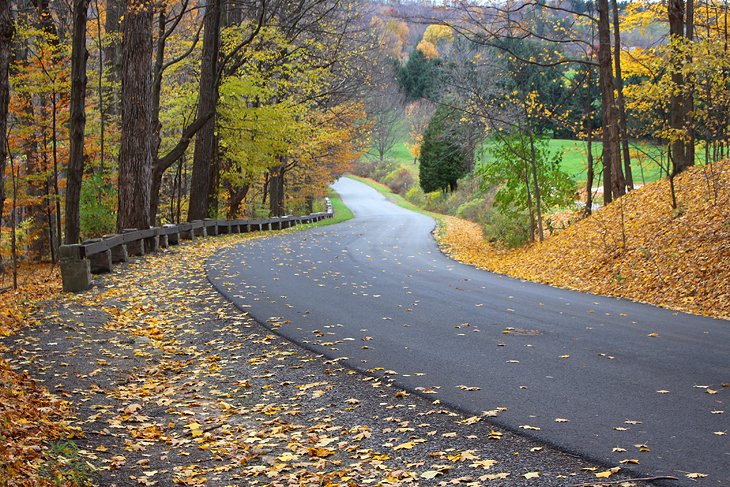 A short drive from Syracuse is Green Lakes State Park, another of the city's great outdoor gems. This large park features two spectacular glacial lakes, known for their unique blue-green color. Round Lake is a designated National Natural Landmark. Wide beaches attract large numbers of visitors on hot days. Boat and canoe rentals are available in the park, but outside watercraft are not allowed on the lakes.
Surrounding Round Lake and Green Lake are rolling hills with old growth forests. An extensive 10-mile hiking trail system is laid out along the shores and through the forest, where wildlife spotting is frequent. The park also has a renowned 18-hole golf course designed by Robert Trent Jones. Across the road is the historic Erie Canal towpath trail that runs for miles.
On a ridge overlooking the water are a number of beautiful picnic areas with large trees. For a longer stay, there is a campground, which includes seven cabins and 142 campsites.
Address: 7900 Green Lakes Road, Fayetteville, New York
Official Site: https://parks.ny.gov/parks/172
8. Take a Day Trip to Skaneateles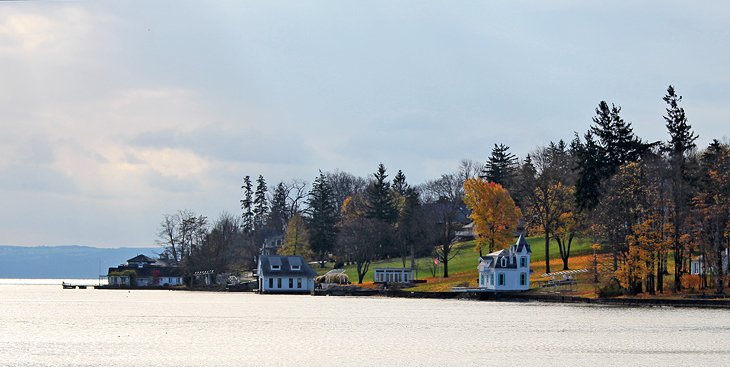 Only 30 minutes from downtown Syracuse, the uniquely named town of Skaneateles (pronounced "skinny atlas"), is set on Skaneateles Lake and has a long history of being the summer playground of the rich and famous. Imposing mansions line the shoreline and have commanding views out over the water and surrounding countryside.
The quaint downtown area is home to small shops and restaurants in restored 18th-century buildings. Enjoy a pleasant stroll along the main street and then wander out on the pier. You might even see a movie star or a famous athlete.
Read More: Things to Do in Skaneateles
9. Stroll around Clinton Square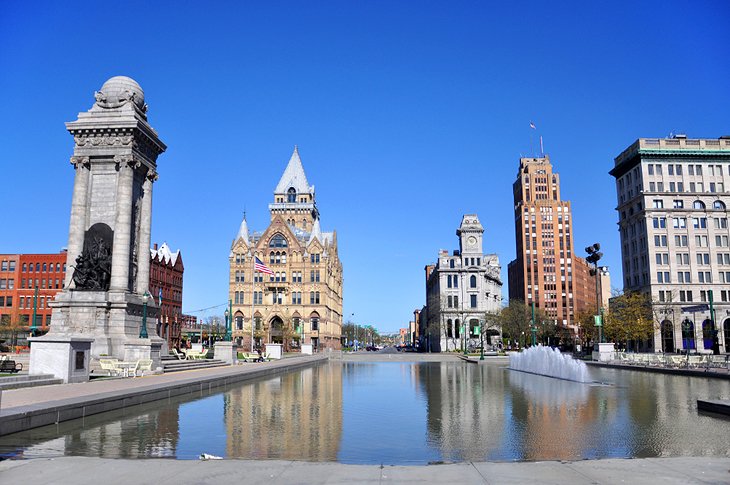 Located right in the center of Downtown Syracuse, Clinton Square is a wonderful public park noted for its fountains in the summer and an ice-skating rink in the winter. The square is named after DeWitt Clinton, who was instrumental in developing the Erie Canal. In fact, until 1925, the canal ran right through the center of town and through the square.
Clinton Square is backed by some very impressive 19th-century buildings, including the Clinton Exchange, the Gridley Building, and the Syracuse Savings Bank. Also located at Clinton Square is the Soldiers' and Sailors' monument. After Thanksgiving each year, a giant Norway Spruce tree is decorated with lights and ornaments and transformed into the city's Christmas tree.
10. See a Show at the Landmark Theatre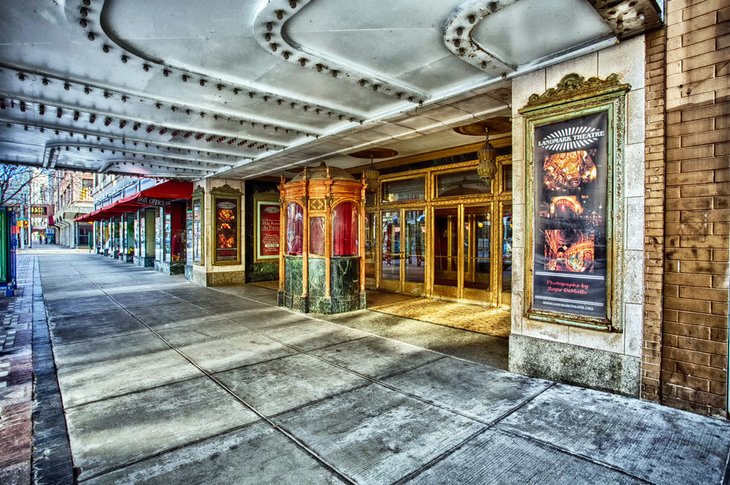 This classic old gem has been the heart of the performance arts in Syracuse since 1928. Intricate and ornate, the theater retains its classical, if somewhat faded elegance. Over the years, famous performers have graced its stage, ranging from Jerry Seinfeld to the latest Broadway shows.
Listed on the National Register of Historic Places, the theater is about to enter it's next phase with a renewed lease on life. A brand new replica of the original marquee will be going up in 2022. The new marquee will have brighter lights and high resolution video monitors. Inside, the wonderful old seats will be replaced with new, updated versions that will still maintain the historical look and feel of the originals.
Where to Stay in Syracuse for Sightseeing
The best place to base yourself in Syracuse is in or near downtown, which includes the area around Syracuse University. This will put you close to the major attractions, the Carrier Dome stadium, as well as restaurants and shops. Alternatively, staying in the Inner Harbor area is perfect if you are here to enjoy Destiny Mall or are simply in town to catch a game.
Luxury Hotels:
Ideally located in the city center and full of history is the Marriott Syracuse

Downtown

. Housed in a wonderfully restored building dating from 1924, the property features modern rooms with marble bathrooms and boasts two restaurants.
The Hotel Skyler Syracuse, Tapestry Collection by

Hilton

, is a smaller, historic boutique hotel. Formerly a temple dating from 1921, the property is a member of Historic Hotels of America and the city's first LEED Platinum hotel. This eco-chic hotel is well located on the grounds of Syracuse University and is an ideal place to stay while visiting the campus for a sporting event or exploring nearby downtown. Be sure to check out the beautiful stained glass in the lobby area.
Also located just steps from Syracuse University and close to downtown is the Sheraton Syracuse University Hotel & Conference

Center

. Rooms here are spacious and comfortable, and the hotel has a wide array of amenities including a fully equipped gym and indoor pool. The Sheraton also offers a complimentary shuttle to or from Hancock International Airport.
Mid-Range Hotels:
The brand new Aloft Syracuse Inner

Harbor

is less than a mile from the Destiny USA mall. Rooms here are modern and chic and have views out over the newly restored inner harbor. The contemporary lobby has a dining area, pool table, and lots of comfortable chairs in front of a large fireplace, perfect for mingling with other guests. The hotel also offers a free shuttle within a five-mile radius, which will take you to the mall, downtown, or the stadium.
In the heart of downtown Syracuse, the Jefferson Clinton

Suites

is a wonderfully restored hotel in a building dating from 1927. Most rooms are suites and feature large windows. Staying here will put you in the center of all the action and close to some of the best restaurants in town.
Budget Hotels:
Located in the heart of downtown is the Quality Inn & Suites

Downtown

. This hotel offers spacious suites, a free hot breakfast, and is excellent value for this location.
You can save money by staying a bit farther out from the city center. One of the best options if you don't mind driving is the Red Roof

Inn

. This pet-friendly hotel has clean and comfortable rooms with flat-screen televisions.
More Related Articles on PlanetWare.com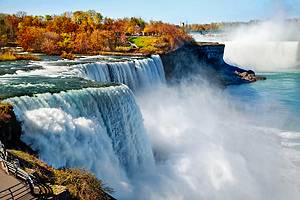 Upstate New York: For more trip planning ideas in Upstate New York, see our articles on Things to Do in Rochester, just an hour away, and Top Attractions in Buffalo and neighboring Niagara Falls. All of these make great getaways any time of year.