12 Top-Rated Things to Do in Kingston, Ontario
Author Bryan Dearsley lives in Ontario and visited Kingston most recently in the summer of 2022, and enjoyed a fun-filled walking tour of the city.
Affectionately known among locals as "Limestone City," a title it earned for the building material of choice used in the construction of its many stately 19th-century homes, Kingston has much to commend it to international travelers and day-trippers alike. You'll find interesting things to do here throughout the year.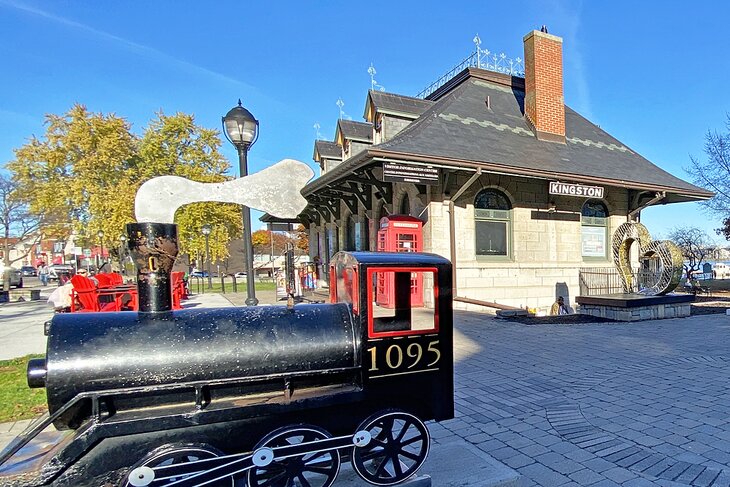 The city has a long and rich history. It even served as Upper Canada's capital for a few years before this honor was bestowed on Ottawa. Historic places to visit in Kingston include old fortifications and public buildings. The Rideau Canal, a once-vital transportation link to Ottawa and the interior of Ontario that is now busy with recreational boating traffic.
To learn more about the history and the many tourist attractions available in this beautiful region of eastern Ontario, be sure to read through our list of the top things to do in Kingston, Ontario.
1. Visit Fort Henry National Historic Site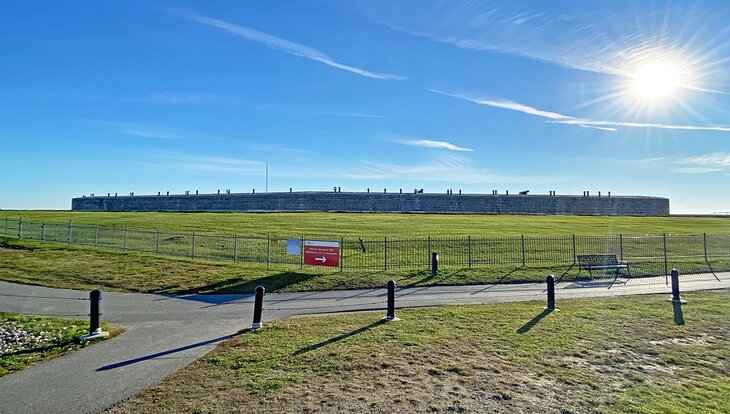 Commanding an elevated position on Point Henry and overlooking the Cataraqui and St. Lawrence Rivers, Fort Henry National Historic Site should most certainly be at the top of your Kingston travel itinerary.
Named after a former Lieutenant-Governor of Quebec, it was built on the site of an earlier fort constructed during the war with America in 1812. The impressive fortifications you see today were constructed in the 1830s and for decades served to protect Kingston's Royal Naval Dockyard and the mouth of the Rideau Canal connecting Lake Ontario to Ottawa.
Since its opening as a "living museum" in 1938, the fort has become a popular tourist attraction, providing visitors with an authentic taste of life during the early 1800s and the strategic importance of the fort. It was granted UNESCO World Heritage Site status in 2007.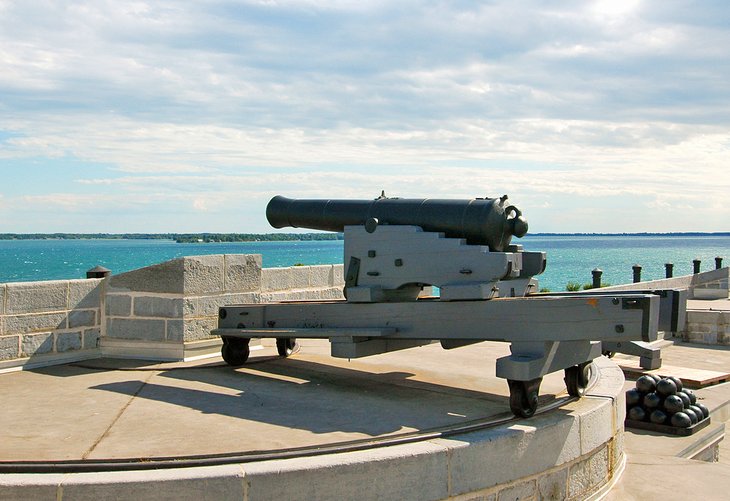 Its informative uniformed staff, known as the Fort Henry Guard, re-create the lives of the fort's former occupants and their trades through demonstrations and guided tours. Self-guided tours are also available.
In addition to these displays of trades and crafts from the period, staff provide historical military re-enactments and drills, including the thrilling Garrison Parade. Other highlights for families include the chance to enroll kids in an authentic Victorian schoolroom experience, including period costumes and lessons.
If visiting in August, check out the fort's famous Sunset Ceremony, a popular event in Kingston that includes music and artillery demonstrations. It also offers a variety of fun seasonal programs, too, including a Halloween "Fright Night."
Fort Henry is open seasonally, late May through early September, with additional dates for special events.
Address: 1 Fort Henry Drive, Kingston, Ontario
2. Experience Life behind Bars at Kingston Penitentiary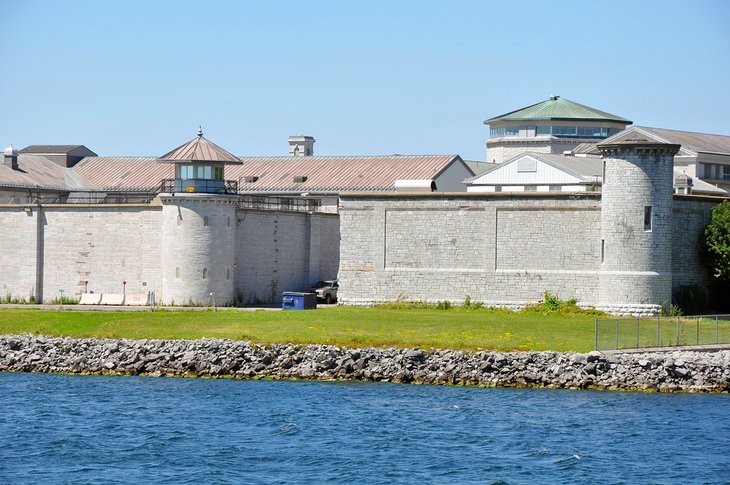 A fortress designed to keep people in, rather than out, Kingston Penitentiary is another must-visit tourist attraction. Built in 1835 as a maximum security prison, it was, at the time of its closure in 2013, the world's oldest serving prison to have been in continuous use.
Now a museum, "Kingston Pen" offers a fascinating glimpse into the lives of prisoners, as well as prison guards, from the 1800s to the late 1900s. A variety of great guest experiences are offered here, including informative guided tours.
Offered in numerous languages, the extended tours are a good option. Lasting two and a half hours and not recommended for kids, these in-depth tours take in the main cell dome and various work areas, as well as the gym and hospital. Along the way, you'll learn about conditions at the time, along with famous inmates, escapees, and prison riots.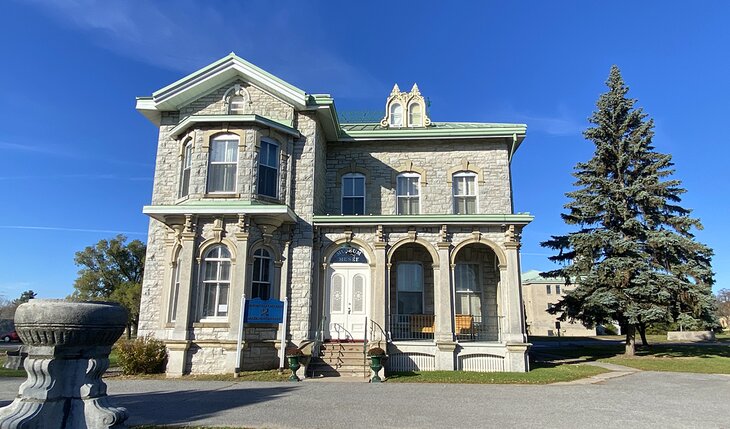 Located adjacent to the penitentiary, and well worth a visit, is Canada's Penitentiary Museum. This fascinating attraction features displays and artifacts related to many of Canada's top prisons. It's notable for its location in the historic former home of the Kingston Pen wardens, which was built in 1870.
Address: 560 King Street W, Kingston, Ontario
3. Wander the Kingston Waterfront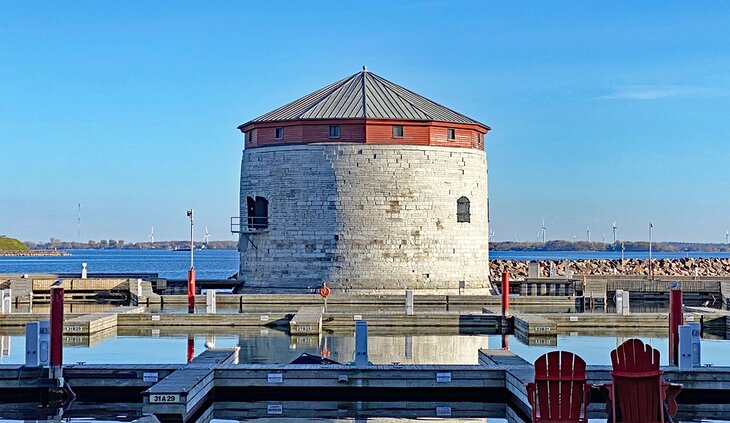 Stretching for eight kilometers along the city's Lake Ontario shoreline, a visit to Kingston's waterfront is a must. Much of this attractive area consists of parkland and level trails connecting some of the city's top attractions, including City Hall, Murney Tower, the Kingston Visitor Centre, and historic Engine 1095.
In addition to Confederation Park, the city's central waterfront green space, you should include Lake Ontario Park on your Kingston waterfront itinerary. Though a few minutes' drive from the historic downtown area, it's a great place to enjoy a picnic and let the kids blow off some steam in the adventure playground. A number of great beaches are also available on the waterfront, most notably Breakwater Park Beach.
Those who enjoy their fun on the water, rather than just looking at it, are also well catered to. In addition to its great sailing and fishing on Lake Ontario and the St. Lawrence River, Kingston has become a hot spot for canoeists and kayakers wanting to explore the beautiful Thousand Islands area under their own steam.
Rentals of equipment, along with paddleboards, are available from vendors along the waterfront, including Ahoy Rentals located behind the Pumphouse Steam Museum.
Location: Waterfront Pathway, Kingston, Ontario
4. Explore the Thousand Islands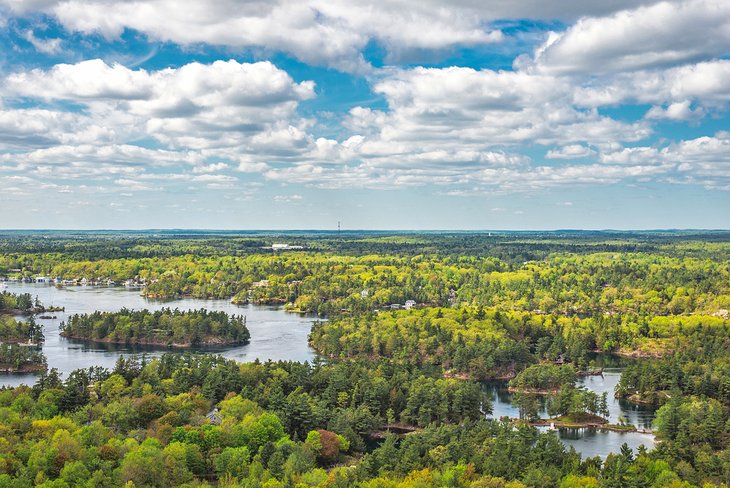 Located a short drive or boat ride from downtown Kingston, the Thousand Islands are one of Ontario's most popular tourist attractions. Straddling both the Canadian and US sides of the mighty St. Lawrence River, this beautiful area actually consists of more than 1,800 islands of all sizes, many of them home to huge cottages belonging to wealthy elites from both sides of the border.
Formed from the worn down tops of once-tall mountains, the channels and waterways around these islands can be explored aboard pleasant sightseeing cruises, private boat rentals, or, in the case of some of the largest islands, even by car.
A great place to begin your exploration is from Thousand Islands National Park, an unspoiled area of quiet bays and tree-lined granite islands that can easily be reached by car from Kingston. From here, rent a canoe or kayak and enjoy a peaceful paddle, get in some wildlife spotting, and then retire for the night in the park's cozy cabin accommodations.
Alternatively, hop aboard the famous Wolfe Islander III ferry, which is especially popular among day-trippers. Launched in 1976, this large vessel can transport cars, as well as people to picturesque Wolfe Island, the largest of the region's many islands; it's also accessible by ferry from the U.S. side of the St. Lawrence. A variety of fun scenic cruises also depart Kingston for the Thousand Islands.
Address: 1088 Thousand Islands Pkwy, Mallorytown, Ontario
5. Learn about Canada's First Prime Minister at Bellevue House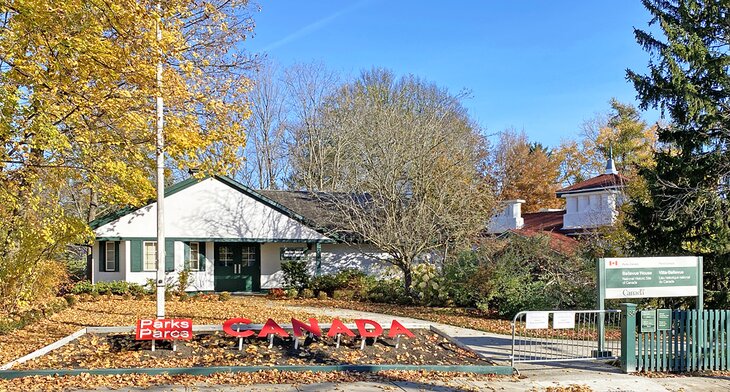 Bellevue House National Historic Site, the former home of Sir John A. Macdonald, Canada's first Prime Minister, is a perfectly preserved example of Victorian-era architecture. A highlight of a tour includes learning about the lifestyles of the fledgling country's wealthiest citizens.
Built in 1840 and Macdonald's home from 1848 to 1849, it's notable as one of the earliest examples of Italian Villa architecture in the country. It has also been preserved to look much as it did when he and his family resided here.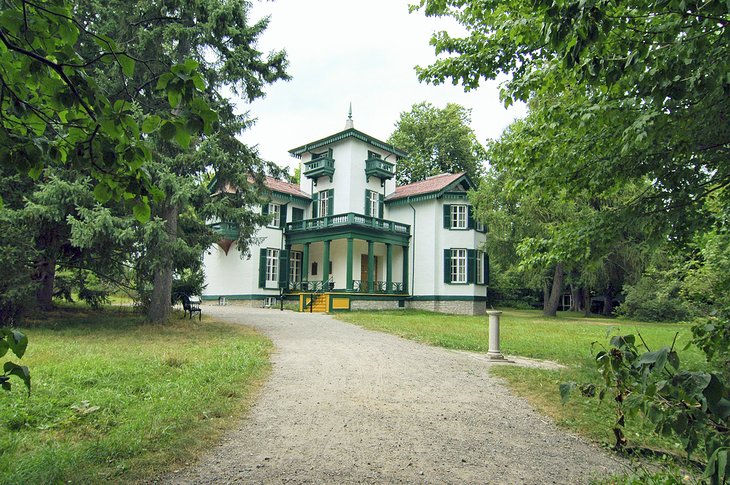 Highlights of a visit to this national monument include partaking in an informative tour led by a costumed guide well-versed in the lifestyles and history of the time, as well as exploring the grounds.
Especially lovely in spring and summer, the extensive gardens include specimens that predate the country's confederation, as well as a kitchen garden and a pleasant ornamental garden. The original orchard is also still intact.
Address: 35 Centre Street, Kingston, Ontario
6. Enjoy Nature in Frontenac Provincial Park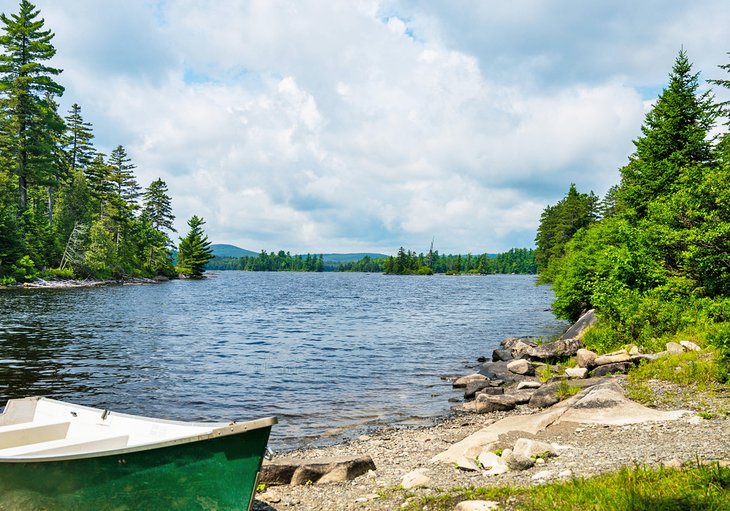 Located in the small town of Sydenham and just 40 minutes north of Kingston by car, the vast 13,000-acre Frontenac Provincial Park is a great place to visit for those who want a taste of nature.
Slated as a "natural environment park," it straddles a unique area known as the Frontenac Axis, the meeting place of the rugged Canadian Shield to the north, and the Adirondack Mountains to the south.
The park's extensive mixed forests and wetlands are framed by rugged granite outcrops, and make the perfect setting for a wide range of outdoor adventures. Popular things to do include canoeing and kayaking on North and South Otter Lakes or any one of the other 20 lakes located here. It's also popular for its extensive 100 kilometers of trails, and backcountry camping.
Visitors can also partake in guided wilderness adventures, or begin their adventure with instruction on basic survival techniques. Along the way, you might be lucky enough to see wildlife, including grey wolves, black bears, red fox, mink, and otters. Other popular activities include fishing and swimming.
The park is open year-round, with winter activities including cross-country skiing and snowshoeing.
Address: 6700 Salmon Lake Road, Sydenham, Ontario
Read More:
7. Shop, Dine, and Have Fun in Historic Downtown Kingston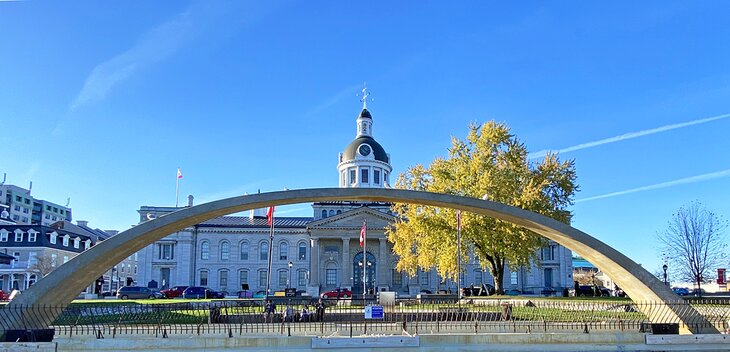 Centered around Queen and Princess Streets, two bustling thoroughfares that both begin (or end) at Kingston Harbour, downtown Kingston is easily walkable and a wonderful place to spend time. You'll find plenty of great places to stay here, many of them, like the chic Frontenac Club, within easy striking distance of key attractions.
Begin your exploration at the waterside Confederation Park, across from which you'll find perhaps the best known (and most photographed) landmark in the downtown core: Kingston City Hall.
Set overlooking historic Market Square, this wide-open public space is reminiscent of the traditional city squares of Europe and is the scene of numerous events year-round, as well as regular farmers' markets. In the summer months, free movies are screened here, while in winter, a skating rink provides plenty of family fun.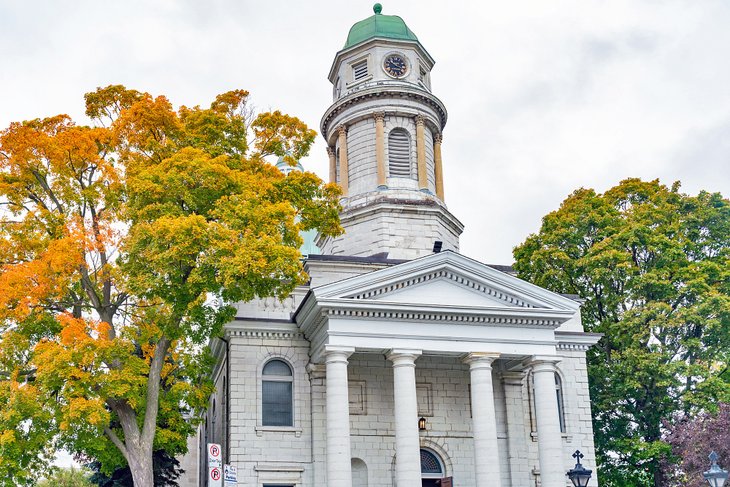 In addition to its great shopping and dining experiences, the downtown area is also home to a number of other important landmarks. These include Fort Frontenac, parts of which date back to the time of the French settlement in 1673, and two splendid churches: St. George's Anglican Cathedral (1825) and St. Mary's Cathedral (1848).
For those wanting to park their car and use public transit, the handy hop-on, hop-off "K-Pass" can be purchased at various locations around the city. It also provides access to the city's top attractions, as well as a fun Thousand Islands cruise.
8. Take a Tour of Historic Kingston City Hall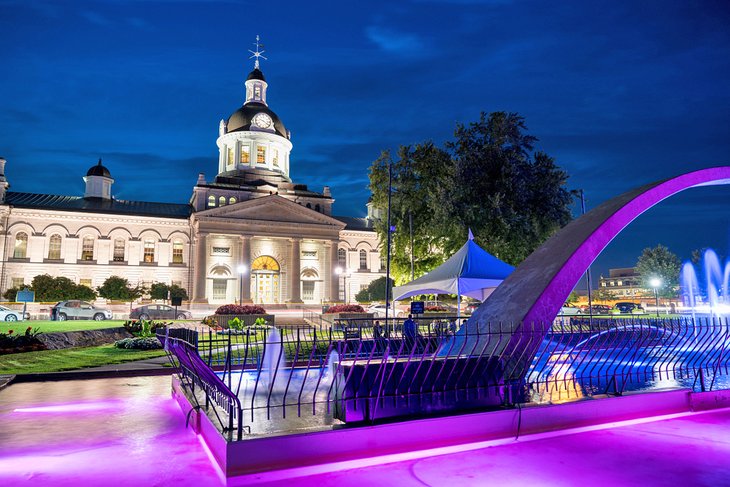 Built in 1844 when Kingston was, briefly, the seat of the Province of Canada, Kingston City Hall is now home to the city's government and is regarded as one of the most striking and important neoclassical heritage buildings in Ontario. It's also one of the biggest.
Kingston City Hall fills an entire city block in the downtown core and is just steps away from Lake Ontario. Its most notable feature is its tall dome. Like the rest of the building, this beautiful structure was designed by renowned architect George Browne.
The building's interior is equally compelling, and can be visited as part of a guided tour; these available on a first-come, first-served basis, so be prepared to arrive early. Self-guided tours are also available. Highlights of a tour include the Council Chambers and the Memorial Hall.
Afterwards, be sure to spend time exploring the city's historic Market Square and nearby Centennial Park.
Address: 216 Ontario Street, Kingston, Ontario
9. Explore History at Murney Tower National Historic Site of Canada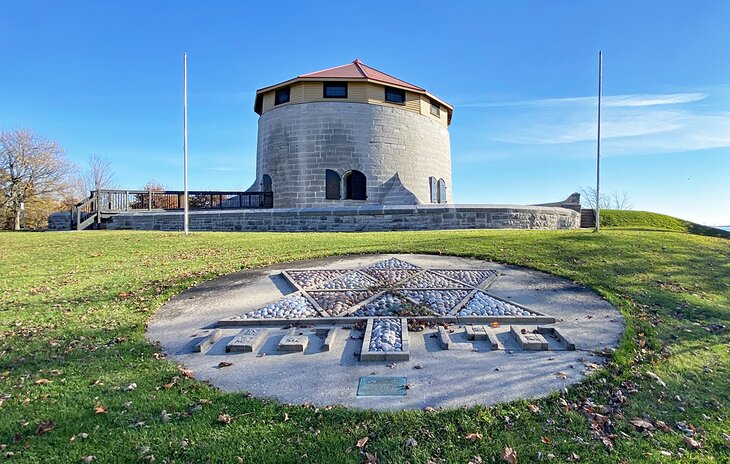 Built in 1846 in the style of the famous Martello Towers of southern England, the Murney Tower was a response by the British to growing tensions with the USA. An integral part of the Kingston Fortifications built to protect the city's Royal Naval dockyard and Kingston Harbour, as well as supply depots and the entrance to the Rideau Canal, the Murney Tower continues to dominate the shoreline.
Designed specifically to discourage American troops from setting up artillery on nearby Gardiners Island, the Murney Tower Museum became the city's first museum in 1925. Notable features include an impressive collection of weapons, including artillery, as well as artifacts and displays portraying the building's role in history.
Address: 2 King Street W, Kingston, Ontario
10. Get All Steamed up at the PumpHouse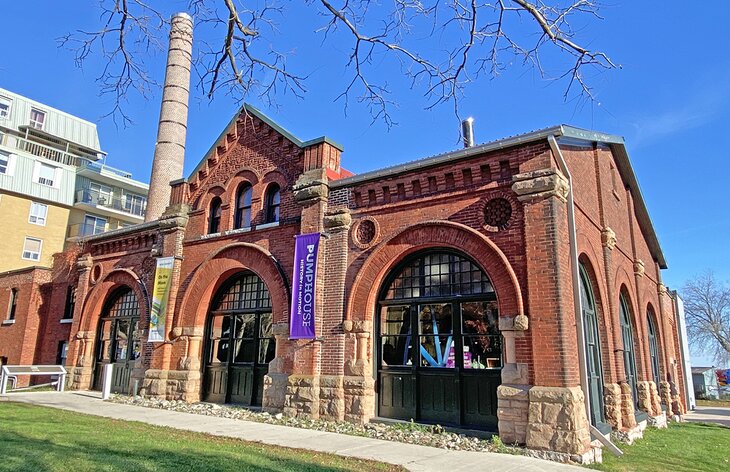 Notable as Canada's oldest original waterworks, the PumpHouse is a must-visit when in Kingston for those who get excited about old machinery — especially old steam-powered machinery. Built in 1851 in response to devastating fires and cholera outbreaks, the PumpHouse is one of only six such facilities to have survived in North America.
For close to 100 years before they were retired in favor of electric motors, the PumpHouse's engines provided fresh running water throughout Kingston, playing a major role in the city's growth and development. Opened as a museum in 2006, it offers a fascinating look at the history of building through interactive games and displays suitable for all ages.
Address: 23 Ontario Street, Kingston, Ontario
11. Marine Museum of the Great Lakes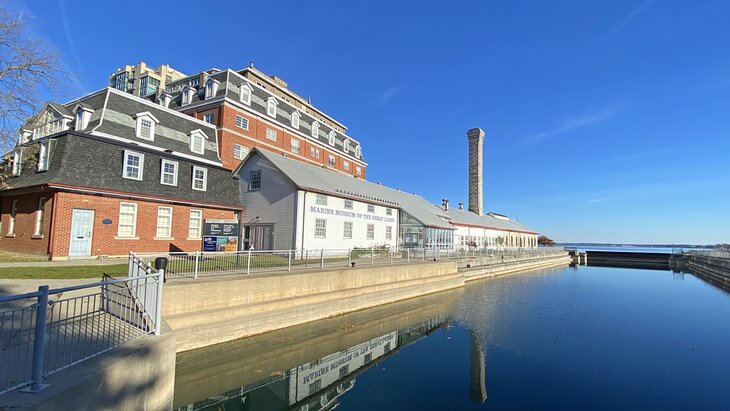 Situated adjacent to Kingston's dry dock, a historically significant structure built in 1892 to service larger vessels, the Marine Museum of the Great Lakes was founded in 1975 with a mission to preserve the city's rich marine history.
Focusing on the conservation of stories and artifacts, topics covered include everything from shipbuilding to shipping on Lake Ontario and the Great Lakes, as well as the unique position Kingston had at the mouth of the St. Lawrence River.
In addition to its collections of books, photographs, and other research material related to shipping on the Great Lakes, the museum houses fascinating displays relating to the dry dock's history.
Guided tours are available, as are workshops and educational programming. Accessible from the downtown core via the Waterfront Pathway, this interesting museum is easy to get to from Battery Park and other notable city landmarks.
Address: 55 Ontario Street, Kingston, Ontario
12. Isabel Bader Centre for Performing Arts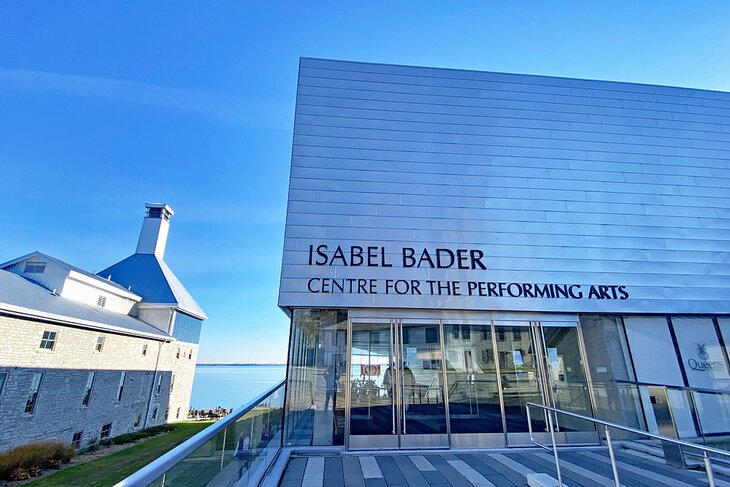 Opened in 2014 and considered one of the best concert and theater venues in Ontario, the Isabel Bader Centre for the Performing Arts offers a diverse program of arts and entertainment to visitors and locals alike.
This architecturally pleasing site is part of Queen's University, and hosts regular performances by leading orchestras and classical musicians, along with jazz and theatrical performances.
In addition to its 560-plus seat concert hall, this venue includes a 92-seat screening room for films, along with a rehearsal hall. The building's interior is also simply stunning. Constructed largely of wood finishes, it's well worth popping in for a peek, especially if you can time it to take in a show.
Address: 390 King Street W, Kingston, Ontario
Kingston - Climate Chart
Average minimum and maximum temperatures for Kingston, Canada in °C
J
F
M
A
M
J
J
A
S
O
N
D

-4

-13

-3

-12

3

-6

10

1

16

7

21

12

25

16

24

15

20

11

13

5

7

-1

0

-9

PlanetWare.com
Average monthly precipitation totals for Kingston, Canada in mm.

69

64

76

79

79

76

61

84

94

89

97

102

Average monthly snowfall totals for Kingston, Canada in cm.

46

35

28

8

0

0

0

0

0

1

13

52
Average minimum and maximum temperatures for Kingston, Canada in °F
J
F
M
A
M
J
J
A
S
O
N
D

25

9

27

11

37

21

50

33

61

44

70

53

76

60

75

58

67

51

55

40

44

30

31

16

PlanetWare.com
Average monthly precipitation totals for Kingston, Canada in inches.

2.7

2.5

3.0

3.1

3.1

3.0

2.4

3.3

3.7

3.5

3.8

4.0

Average monthly snowfall totals for Kingston, Canada in inches.

18

14

11

3.3

0.1

0

0

0

0

0.5

4.9

20