15 Top-Rated Ontario Parks: Exploring Ontario's Great Outdoors
Authors Michael and Lana Law live in Ontario and can't wait to head to the parks each summer for camping, hiking, and canoeing.
Ontario is home to an incredible landscape of pristine lakes, rivers, and forests, some of which is easily accessible via the provincial and national parks spread across the province.
In summer, families often enjoy the front country campgrounds, particularly those located on popular lakes with beaches. Ontario parks are home to many of the best campgrounds in Ontario, although the type of campground you are looking for may depend on whether you are planning a family trip or a nature getaway.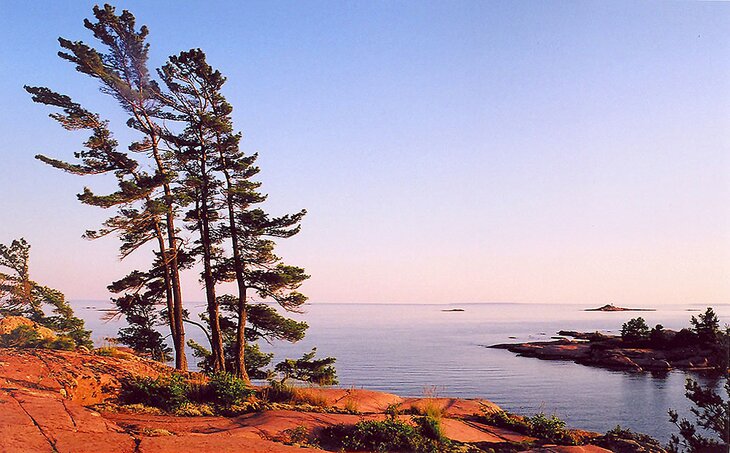 The parks are also where you will find some of Ontario's best beaches. Long stretches of sand line the shores of the great lakes, as well as smaller bodies of water.
Hikers and canoeists will enjoy the range of trails and waterways through spectacular scenery, some within an easy drive from the main cities of Southern Ontario.
Backcountry enthusiasts looking for remote wilderness adventures may want to head further afield to the areas north and west of Lake Superior in Northwestern Ontario.
For park reservations and details on current events in the parks visit the Ontario Provincial Parks or the National Parks of Canada websites.
Find the park that suits your interests with our list of the best parks in Ontario.
1. Algonquin Provincial Park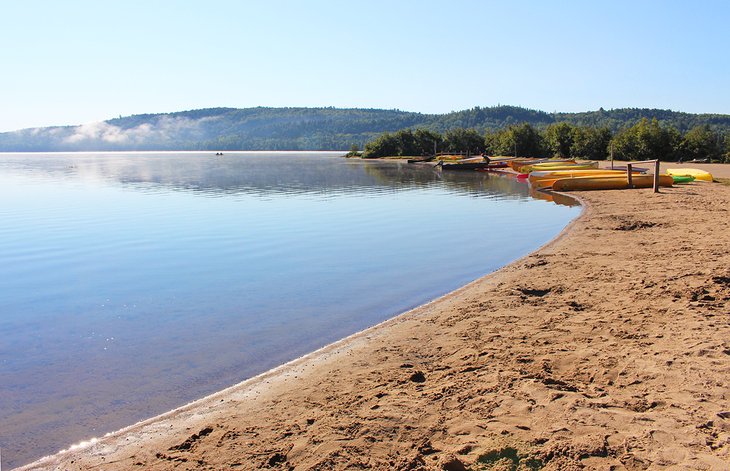 Algonquin Provincial Park, just three hours north of Toronto, offers easy access to Ontario's amazing wilderness and is Ontario's most popular park. The lakes and forests, home to black bears, wolves, moose, and deer, provide great opportunities for outdoor adventures.
Camping is a popular pastime here in summer, especially with families, and campgrounds in Algonquin book up well in advance. A majority of the best campgrounds are strategically positioned around lakes.
Hiking trails in Algonquin provide one of the best and easiest ways to explore the park and offer unique opportunities to spot wildlife. Many trails reach high ridges for views over the forest and lakes, and along the way, you may see waterfalls, streams, bogs, beaver houses, ponds, and old-growth trees.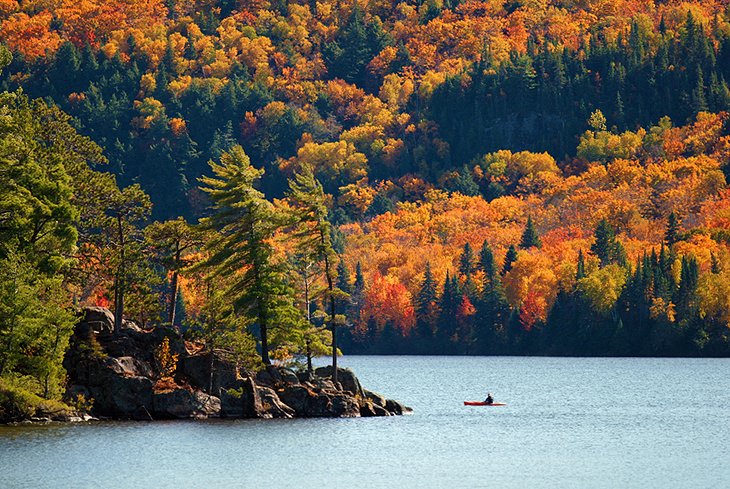 Canoeing in Algonquin is one of the park's big draws. The multitude of lakes and waterways are connected by well-maintained portages and supported by backcountry campsites, making this one of Southern Ontario's premiere parks for canoeing and kayaking. More than 1,600 kilometers of rivers and lakes are marked out for paddlers.
The park is a particular favorite in autumn, when tourists come to see the colorful display of red, orange, and yellow leaves. Another popular thing to do in the park is the Thursday night wolf howl, held only during the month of August, where you can call to wolves and listen to them howl back.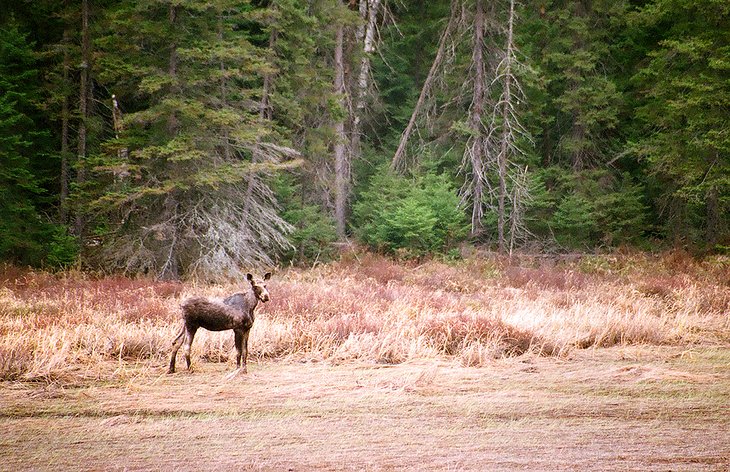 The Algonquin Art Centre, located at Km 20 near the main campgrounds in the park, is a must-see for visitors interested in nature and Canadian art. The center is housed in a beautifully restored stone building. There is also a visitor center with all the latest information on the trails and campgrounds.
If you are looking for accommodation near the park, a good place to base yourself is in the town of Huntsville. For a resort experience, try the lakeside luxury Deerhurst Resort or the more mid-range Hidden Valley Resort, Ascend Hotel Collection. Both of these are on the eastern edge of Huntsville, offering easy access to the park.
2. Killarney Provincial Park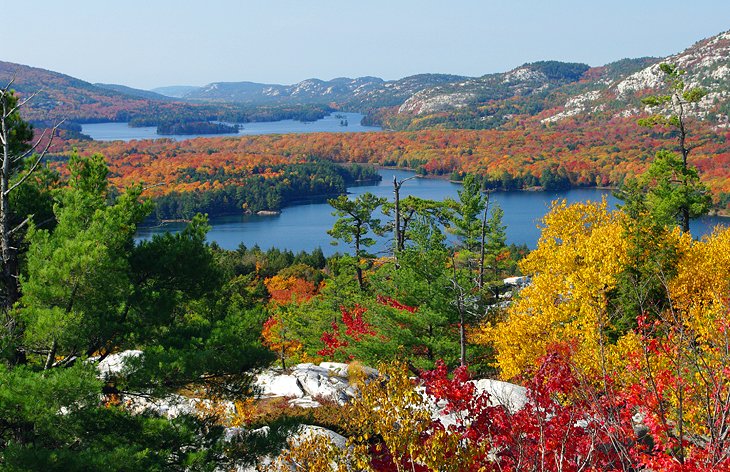 Killarney Provincial Park is one of the true gems when it comes to Ontario parks. It's a little more remote than places like Algonquin, but well worth the effort of getting here. Set along the shores of Georgian Bay and encompassing countless small lakes, Killarney's landscape is unique among Ontario parks. The signature feature is the La Cloche Mountain Range. Made of white quartzite, the mountains are a shockingly white color.
Equally impressive and contrasting with the green trees, cobalt blue water, and white mountains, are the stunning, pink granite cliffs that form the shores on some of the lakes. Some of the sights here have been immortalized in paintings by members of The Group of Seven, Canada's most famous artists. One member in particular, A.Y. Jackson, was instrumental in persuading the government to establish the park.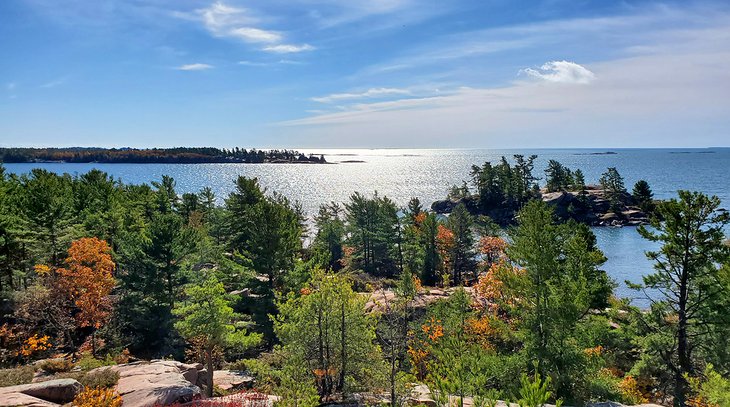 Hiking trails in and around Killarney Provincial Park are spectacular and varied. Short hikes lead to the shores of Georgian Bay, others to the white peaks of the La Cloche Mountains or to dramatic lookouts. You can even catch a short boat shuttle and hike around George Island. Wildlife here is prevalent, with plenty of opportunities to see bears, fox, deer, moose, and beaver. This is especially true on morning hikes or if you are camping in the park.
Killarney Provincial Park is right outside the quaint little community of Killarney, about a 4.5-hour drive from Toronto, or one hour south from Sudbury.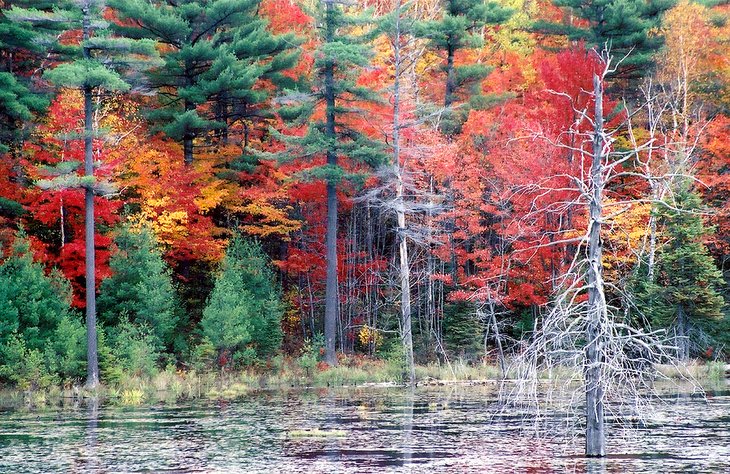 For the absolute best experience, stay at the Killarney Mountain Lodge. This rustic lodge has been undergoing upgrades for a couple of years and is now a mix of posh and traditional, and rooms come in a variety of prices depending on your budget and taste. They also have a seasonal pool and all-inclusive packages.
3. Bruce Peninsula National Park & Fathom Five National Marine Park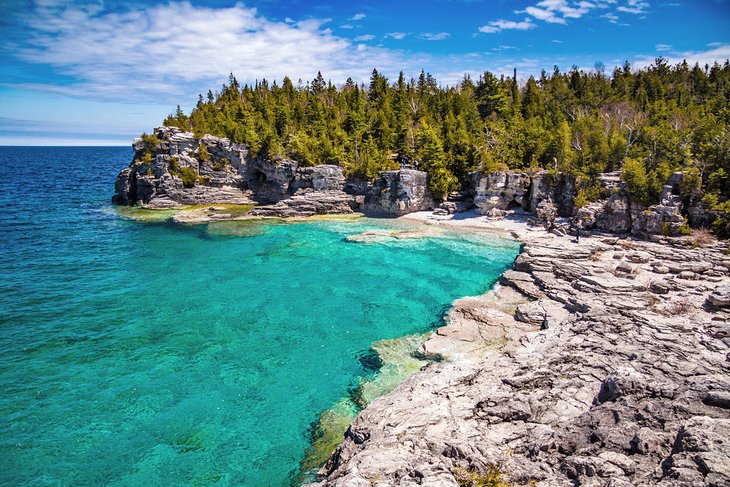 Just outside Tobermory, on the shores and waters of Georgian Bay, are Bruce Peninsula National Park and the Fathom Five National Marine Park.
You'll be impressed when you visit Bruce Peninsula National Park, with its dramatic cliffs, coves, and beaches. Hiking, walking, camping, swimming, and playing in the water are the most popular things to do. The park is also home to very rare orchids and all kinds of wildlife, especially amphibians.
Many people come to this park specifically for a camping trip. The Cyprus Lake Campground offers front country campsites, which is what most visitors are looking for. If you are looking to do some hiking, backcountry campgrounds are also available along the Bruce Trail.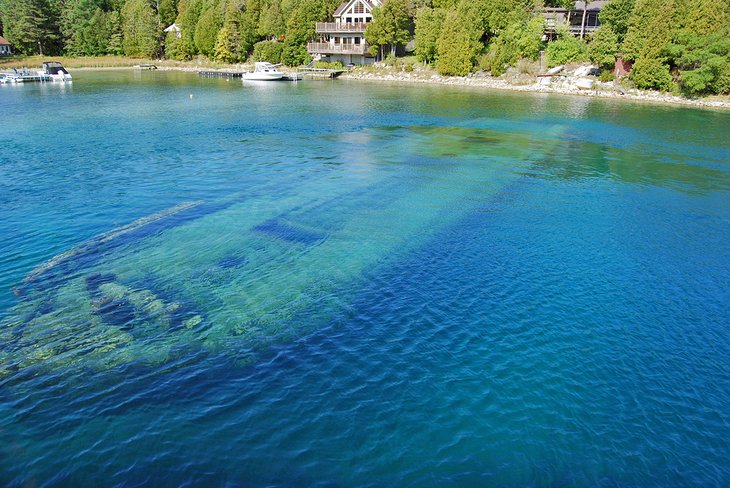 Fathom Five National Marine Park, offshore from Tobermory, is the site of more than a dozen shipwrecks. Known also for extraordinarily clear water, the park is a hot spot for divers and underwater photography.
Another unusual attraction in the area is the Flowerpot, a huge rock pillar in the shape of a vase, located on Flowerpot Island. Glass-bottom boat tours cruise over the remains of sunken ships and drop visitors on Flowerpot Island, where you can hike along the shores and around the island. Tours leave from Tobermory, a picturesque little fishing village with half-timbered houses at the northern tip of the Bruce Peninsula.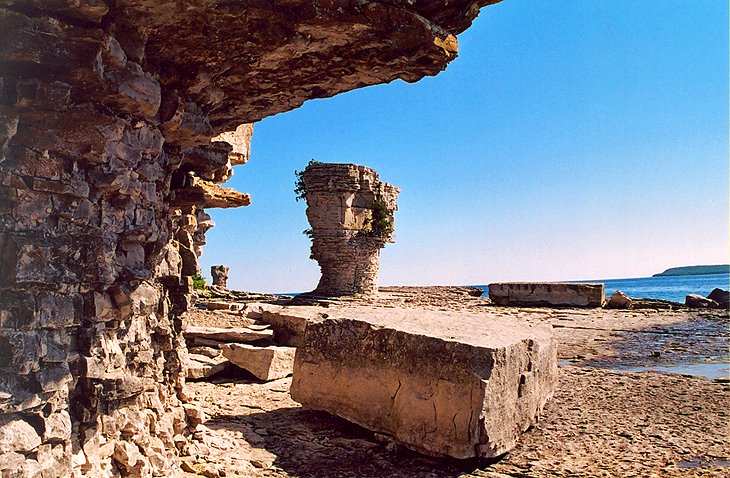 Due to the seasonal nature of tourism in the area, many of the retail establishments here are only open during the summer months. The town has several good motels with reasonable rates, some of which close in the off season. It's advisable to book in advance during the summer months. Adventure the Bruce Inn is a good option, with updated rooms, cabins, a hot tub, and lovely grounds.
Tobermory is also the terminus of the Chi-Cheemaun ferry that crosses Georgian Bay from Manitoulin Island.
4. Bon Echo Provincial Park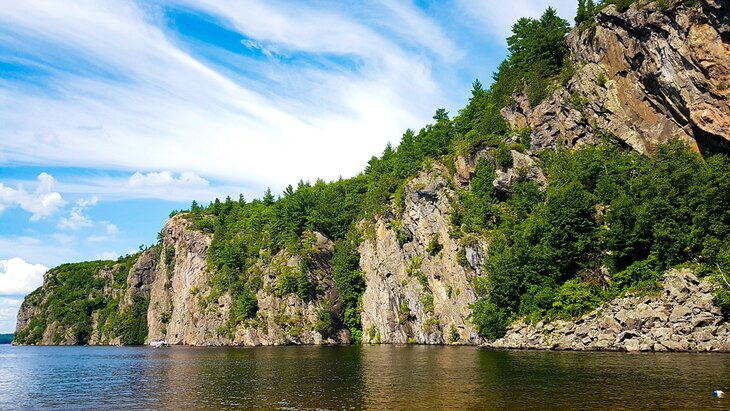 Bon Echo Provincial Park is a popular park with a large campground, sand beach, and a stunning setting. This is a summer favorite with families and groups. The main campground on Mazinaw Lake looks across to the 100-meter-high cliffs of Mazinaw Rock, the park's key attraction.
Kayaking and canoeing, particularly along the base of the rock face, which contains some 260 native pictographs, are very popular activities.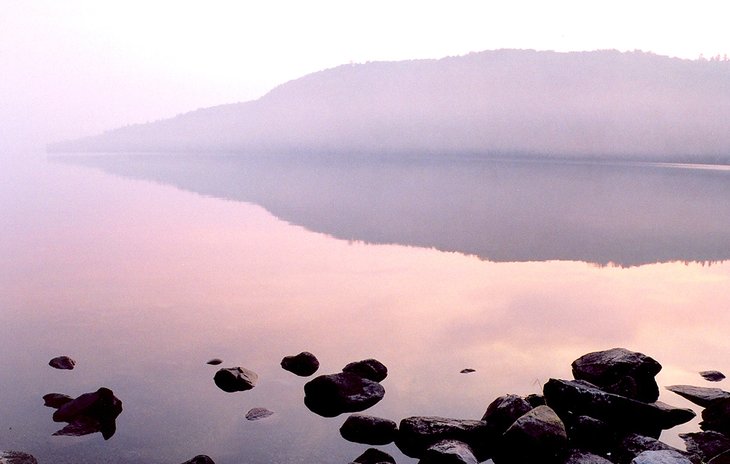 You can also take a tour boat from the campground and walk up a long set of stairs and a path to the top of Mazinaw Rock for extensive views over the whole area. The tour boat also continues on to other points of interest, including the native pictographs.
On rainy days, some of the highlights of the boat tour are the waterfalls cascading down the huge rock face. Accommodation options in the area, outside of camping, are extremely limited.
5. Quetico Provincial Park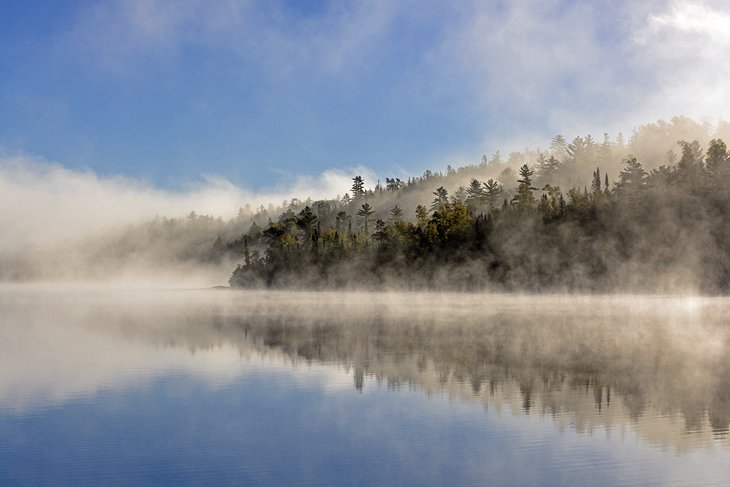 In the remote northwestern portion of Ontario, about 160 kilometers west of Thunder Bay, lies Quetico Provincial Park. This is the place to come if you're looking for an incredible paddling experience. The pristine lakes and forests of Quetico offer a much different experience than the parks in Southern Ontario, with a vast, open wilderness that sees far fewer visitors. Wildlife is plentiful, fishing is excellent, and the backcountry experience here is truly backcountry.
This area extends over more than 4,500 square kilometers and is, for the most part, accessible only by boat, float plane, or canoe. A highway does run through an area of the park providing access to a campground, but this is only one small portion of Quetico. The park is part of the Boundary Waters Canoe Area of Superior National Forest in Minnesota.
Many outdoor adventure groups from both Canada and the United States come to the park for multi-day paddling expeditions. If you don't know this area, it's best to tackle this type of trip with the help of a local outfitter and find out what options are available. Some outfitters will even fly you into a remote lake, from where you can paddle out. Most outfitters are based in or near the town of Atikokan.
6. Point Pelee National Park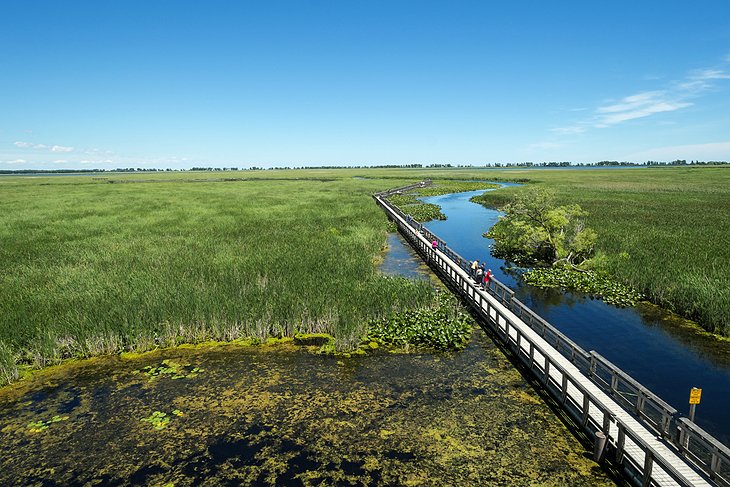 Point Pelee National Park is at the southernmost point on the Canadian mainland, forming an almost triangular peninsula, which juts out into Lake Erie. The latitude here is the same as Rome and Northern California. Long stretches of beach line the shore, but the park is most famous for being a resting place on the flight path of many migratory birds.
Point Pelee National Park has been named a "Wetland of International Significance" by UNESCO. As a result, it is extremely popular with birders, who can stroll the extensive boardwalks running through marshland, wander along the beaches, or even kayak through the wetlands. The most popular time to visit the park is during the spring and fall migration period. Point Pelee is also known for the large number of Monarch butterflies that move through the area each fall.
The closest town to the park is Leamington, where you can find a reasonable selection of hotels. Just five minutes from the park, the Best Western Plus Leamington Hotel & Conference Center is a good choice, with an indoor pool.
7. Lake Superior Provincial Park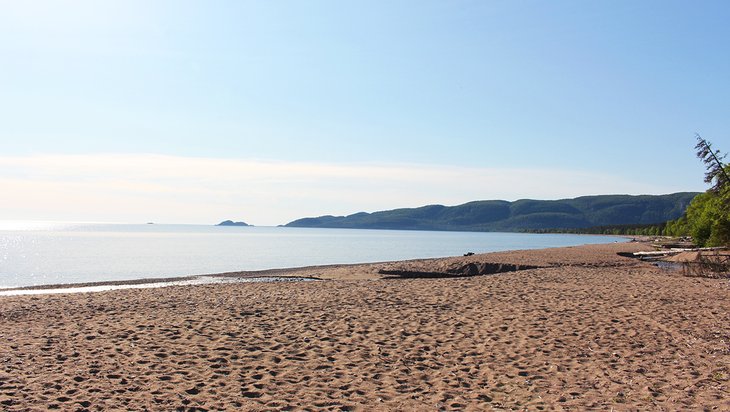 Along a lonely stretch of the TransCanada Highway (Highway 17), on the north shore of Lake Superior, is the rugged wilderness of Lake Superior Provincial Park. Beautiful soft-sand beaches line sections of Lake Superior, and smaller inland lakes lie at the base of pine covered hills and sheer cliff walls, where you can often spot loons in summer. This park is far from any major cities or towns and surrounded by vast wilderness that stretches on seemingly endlessly to the north and east.
People come here in the summer to camp along the beaches, kayak or canoe, hike, visit Native pictographs, and soak up the tranquility. The park has several campgrounds, most of which are focused around the beaches along Lake Superior.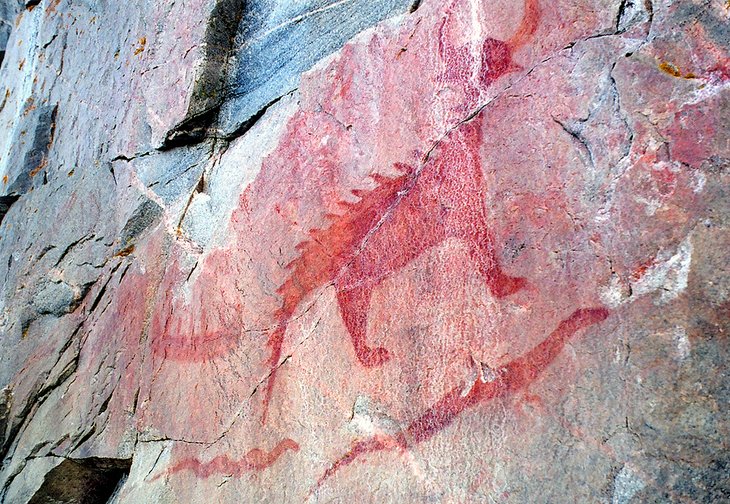 One of the key points of interest in Lake Superior Provincial Park are the Agawa Rock Pictographs that line a huge cliff wall along the lake. A short hiking trail leads to the water's edge at the base of the cliff, but visitors can only walk out along the shoreline to see the pictographs on calm days when there are no waves.
Another great stop is Old Woman Bay. You can pull in here off the main highway to stretch your legs on a huge section of beach and look out to a dramatic cliff wall across the bay. Picnic tables and restrooms are located here.
If you aren't looking to camp in the park, the best place to base yourself is in nearby Wawa, at the north end of the park, where you can find a selection of hotels and some restaurants. Hotels are often pricey here during the summer months but the Mystic Isle Motel is a good budget option.
8. Killbear Provincial Park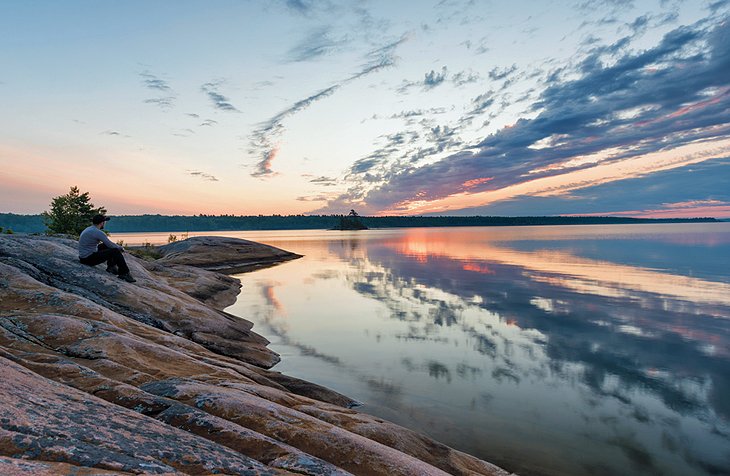 On a point of land jutting into Georgian Bay, not far from the town of Parry Sound, Killbear Provincial Park is a fun, family-oriented park, with beaches and beautiful rocky shorelines, typical of the Canadian Shield. The park has seven campgrounds, and most people come here specifically to camp.
Children can play in the shallow water while adults lounge on the beach, and older kids can make use of the six kilometers of trails for hiking or biking. Photographers will find plenty of inspiration from the rocky points, windswept pines, and tranquil sunsets.
9. French River Provincial Park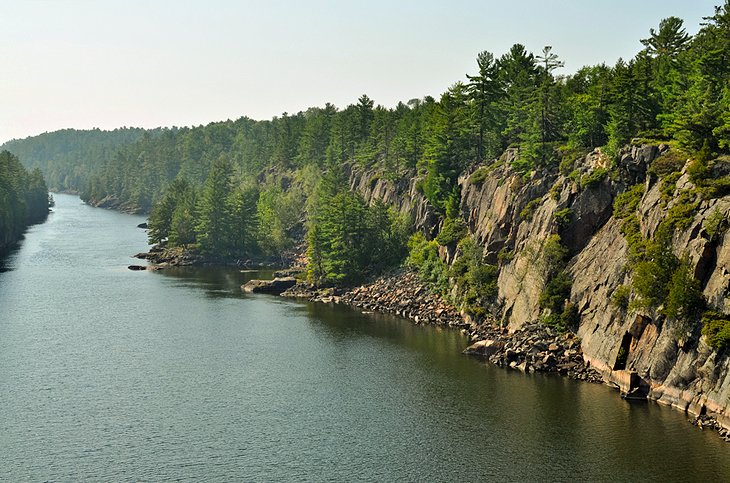 French River Provincial Park covers an area along the French River reaching down to Georgian Bay. This area is almost all backcountry and accessed mainly by boat or canoe. It's a particularly popular area for canoers and kayakers, and great for a weekend canoe trip. Campsites spread out along the river and on the islands in Georgian Bay.
This scenic river, a 112-kilometer-long waterway between Lake Nipissing and Georgian Bay, is about an hour's drive south of Sudbury, or three hours north of Toronto. There is an impressive visitor's center off Highway 69 with views over a section of the river and a nearby pedestrian bridge that crosses over the river.
Historically, the French "Voyageurs" and missionaries, Samuel de Champlain among them, plied these waters as far back as 1620. Today, the river is very popular with canoeists, anglers, and outdoor enthusiasts. There are numerous fishing and recreational resorts along the river. Some of them are boat or floatplane access only and offer complete packages for fishing, kayaking, or canoeing.
10. Georgian Bay Islands National Park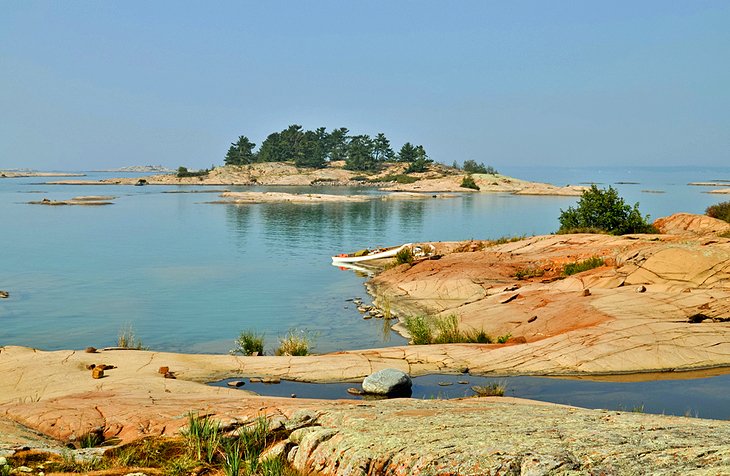 The delightful islands of Georgian Bay are part of the Canadian Shield and were shaped by the last Ice Age. This paradise of some 30,000 small islands has long been a magnet for boaters, outdoor enthusiasts, and artists such as Tom Thomson and the "Group of Seven." In 1929, some 59 of the archipelago's islands were designated as a national park.
Still virtually unspoiled, they can only be visited by boat. The park's DayTripper boat takes visitors to Beausoleil Island. The trip takes just 15 minutes each way. On the island, you can swim, hike, bike, or simply enjoy a day on the beach. Boats depart from Honey Harbour and run from Victoria Day (late May) to Thanksgiving (mid October).
11. Sandbanks Provincial Park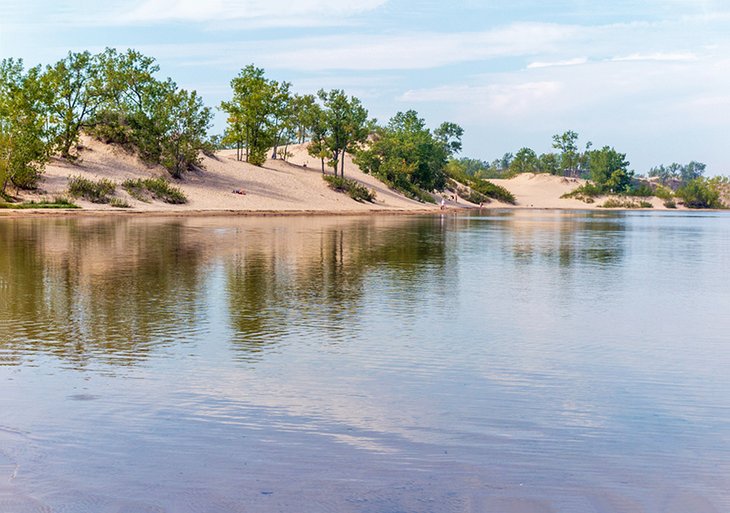 Imagine a massive sand dune that descends directly into clear blue waters and that's what you'll find at Sandbanks. Just a couple of hours' drive east of Toronto, Sandbanks Provincial Park makes a great summer getaway destination, with beaches, picnic areas, and camping.
In addition to the sand dunes that flow into the lake, two other beaches stretch along Lake Ontario with level ground and shallow waters, just perfect for families with small children.
Off the beach are six hiking trails that allow you to get some exercise and possibly see some wildlife. The forests near the beach are also an excellent place to add species to your bird sighting checklist.
12. Petroglyphs Provincial Park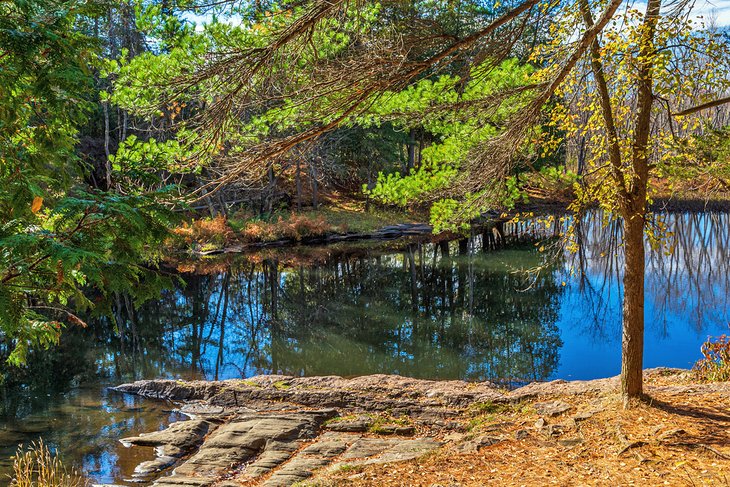 Northeast of Peterborough, Petroglyphs Provincial Park has more native rock carvings than anywhere else in Canada with about 900 that are between 500 and 1000 years old.
The rocks that contain the carvings have been covered over with a glass enclosure to protect them from the elements. They are all concentrated in this one small area, making them particularly easy to see. Visitors can walk through this building as well as the visitor center, which is full of information on the drawings.
13. Wasaga Beach Provincial Park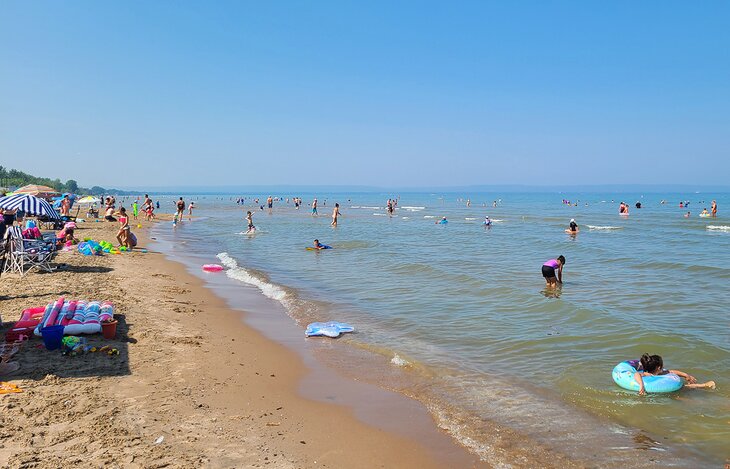 Wasaga Beach Provincial Park is home to part of an incredible beach that has been officially recorded as the longest freshwater beach in the world. Miles and miles of golden sand await you and your crew.
Depending on how busy you want your beach experience, be sure to choose your access points carefully. You'll find the most pristine beaches within the boundaries of the provincial park, while the most action and fun is located right in front of the boardwalk in the center of town.
The park isn't all about the beach, though, walking trails wind their way through the forest, while the Nottawasaga River is perfect for a quiet canoe ride. For a bit of history, check out the Nancy Island Historic Site, which showcases a critical naval battle in the war of 1812.
14. Pinery Provincial Park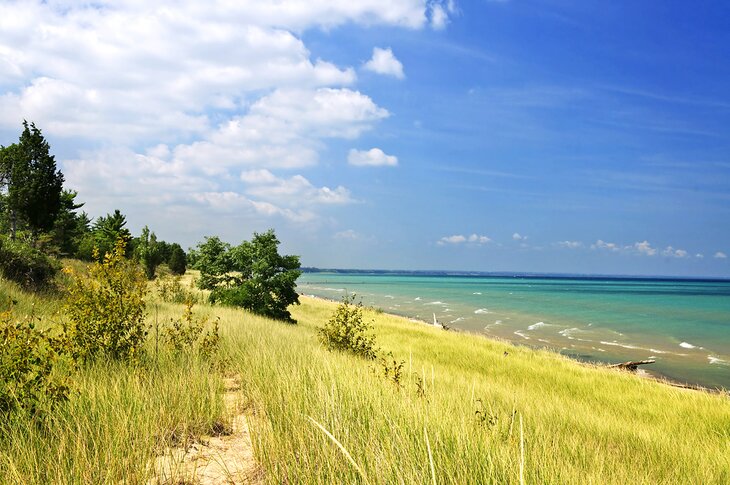 Pinery Provincial Park, one of the best parks on Lake Huron, has been a favorite of summer travelers for generations. Warm, shallow waters wash up along the shores of the 10-kilometer-long beach, making this the perfect place to loll away a fine July afternoon with friends and family.
Back from the beach, set among the pines, is a huge campground with both electrical and non-electrical sites. When you aren't sitting on the beach or roasting marshmallows by the fire, consider a 14-kilometer bike ride or walk along one of the 10 walking trails.
15. Sibbald Point Provincial Park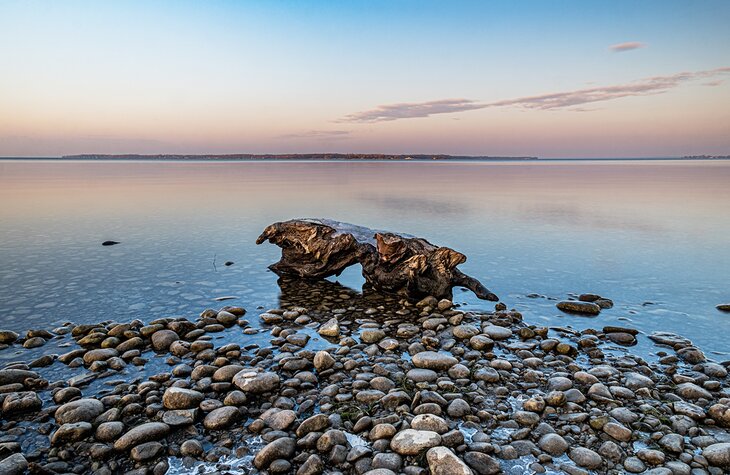 One of the closest Provincial Parks to the city of Toronto, Sibbald Point enjoys a prime waterfront location on Lake Simcoe. Easily reached in under an hour, this park has everything you could need for a fun family weekend in nature, except a long drive.
The long, wide beach on Lake Simcoe's shores has a designated swimming area, and in the summer, the water warms so wonderfully that lolling about in the shallows becomes a favorite pastime.
Back from the water are large green spaces and lawns, perfect for a game of soccer or throwing a Frisbee. In this same area, you'll also find washrooms, picnic tables, and barbecues.
Throw the camping gear in the car if you want to do more than a day trip. Over 600 campsites in 10 different campgrounds ensure that you'll have a chance of securing a site even on the busiest of summer weekends.
Map of Ontario Parks: Exploring Ontario's Great Outdoors
Practical Tips
Reservations for campsites in many of the provincial parks are accepted up to five months in advance. The best locations, particularly during the peak summer months are booked out very early. Some parks, such as French River, do not accept reservations and campsites are available on a first-come first-serve basis. There is a fee for advance reservations.
The most desirable campsites in a campground, typically waterfront sites or those with views, are considered premium sites and are more expensive than those rated regular. The least popular are rated low and are the least expensive sites.
Yurts are available for rent in some parks. These are on-site tent-like structures with a circular wooden base and fully outfitted with bunk beds and barbeques. There are generally very few of these per park and they should be booked well in advance.
Visitors who are not camping can pay a day use fee or buy a seasonal permit for unlimited day use. Some of the most popular parks also have on-site canoe rentals available.