11 Top-Rated Resorts in the Adirondacks
Located in the northeastern corner of New York State, the beautiful Adirondack Mountains are one of the region's top tourist attractions and home to several of New York's top ski resorts. It's also where you'll find some of the state's best hotels and resorts.
Given the region's natural beauty and ruggedness, it's perhaps no surprise that many of the best places to stay focus on an authentic American lodge-style of accommodations. This is certainly true of top locations such as The Whiteface Lodge and Lake Placid Lodge, both located in the historic village of Lake Placid and appealing to those who enjoy a little luxury with their outdoor experience.
Also worth considering are the Mirror Lake Inn Resort & Spa, also in Lake Placid, and The Point on Saranac Lake, both of which offer a high-level of quality and elegance.
Find the best place to stay for your next mountain vacation with our list of the top resorts in the Adirondacks.
1. Lake Placid Lodge, Lake Placid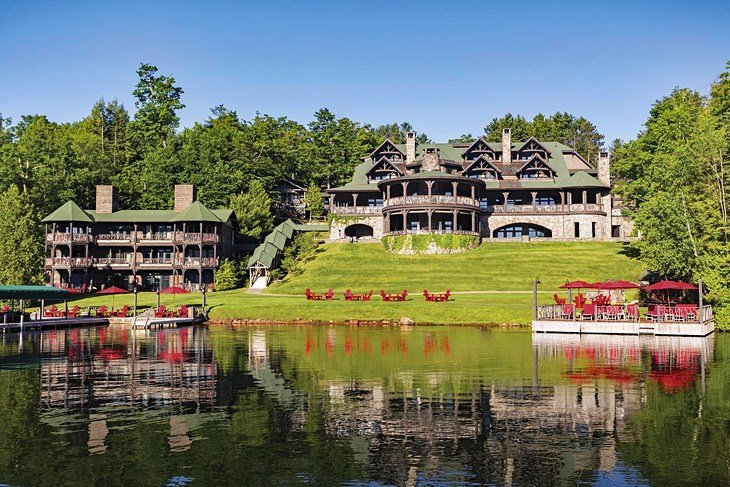 Accommodation: Lake Placid Lodge
The sumptuous 5-star Lake Placid Lodge is a fine luxury property that offers an authentic Adirondack vacation experience. Built in traditional wilderness lodge fashion, with rough-hewn beams and plenty of stone features, this charming lodge-style accommodation is a member of the prestigious Relais & Châteaux luxury group of hotels.
Its excellent suite-style accommodation options are definitely upscale, and can, in some cases, be combined to make even larger multi-bedroom units. A popular choice are the lodge king rooms. These deluxe units feature king beds, spacious bathrooms with separate bathtubs and showers, as well as real woodburning fireplaces. They also feature furnished balconies. (Accessible rooms are available for those with mobility issues.)
In addition to its large meeting and conference rooms and indoor activities, such as cooking and arts and crafts classes, the lodge also makes full use of its natural setting to provide plenty of outdoor fun. Highlights include water-based activities such as fishing, paddleboarding, canoeing, and kayaking, as well as wildlife interactions. And in winter, guests can enjoy such fun activities as dogsledding, snowshoeing, and skiing.
Regular family movie nights are also hosted. Feeling peckish? Enjoy a meal in the on-site restaurants, including both fine- and casual dining options.
2. The Point, Saranac Lake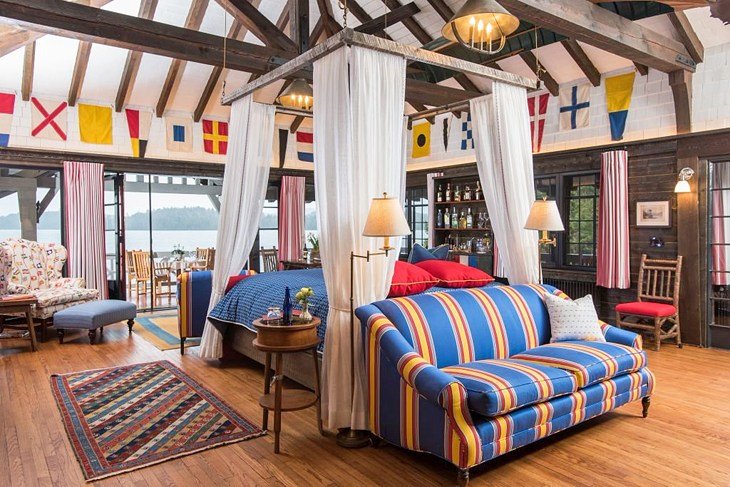 Accommodation: The Point
Considered one of the most stylish vacation addresses in the Adirondacks, the elegant adults-only The Point on Saranac Lake should be on everyone's bucket list of must-visit destinations - and be sure to add the words "romance" and "Boathouse" in brackets after the resort's name.
This plush 5-star resort's most requested accommodation, The Boathouse literally sits atop the lake above the resort's boat storage. Notable features include a large master bedroom with a four-poster canopied bed, a spacious bathroom with a bathtub big enough for two, plus a pair of twin beds hanging from the ceiling of the huge wrap-around deck. Adding to the luxury (and the romance) are a large fireplace, a dining table for two, and plenty of comfy spots to relax.
When not lounging about in your comfortable quarters, head out for a day of fishing, waterskiing, or boating (or a little of all of them). Other sporting activities available to guests include tennis, croquet, or badminton. Use of canoes and kayaks are included with your stay, and barbecues are provided.
3. The Whiteface Lodge, Lake Placid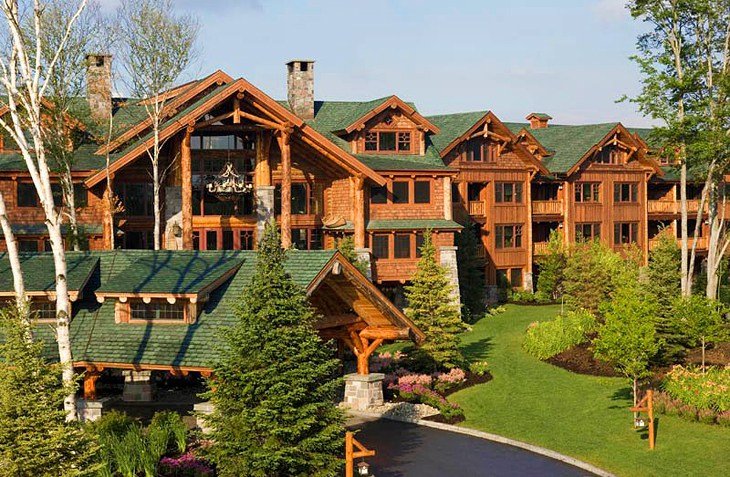 Accommodation: The Whiteface Lodge
Just a few minutes' drive away from the village of Lake Placid, the 4-star Whiteface Lodge blends in well with the natural surroundings thanks to its rustic log construction. The emphasis is very much on luxury experiences, from world-class amenities that include a full-service spa and fine dining in its splendid restaurants, to the inclusion of its very own movie theater.
Also available for guests to enjoy are a fitness center, heated indoor-outdoor swimming pool, and hot tubs. There are also tennis courts, a games room, campfires, and even an ice-cream parlor to sample during your stay.
A popular choice of accommodations at The Whiteface Lodge are the spacious one-bedroom units. Designed with a nod to the region's past, these elegant units come with separate bedrooms with king or queen beds plus a pullout queen-sized sofa bed in the expansive living area. They also boast large bathrooms with jet tubs, and custom-made furnishings and accessories. (If available, ask for a suite with a fireplace.)
4. Mirror Lake Inn Resort & Spa, Lake Placid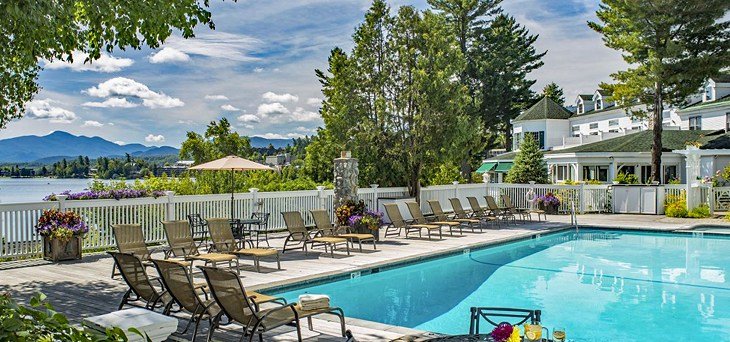 Accommodation: Mirror Lake Inn Resort & Spa
Another excellent 4-star choice for a Lake Placid getaway, the elegant Mirror Lake Inn offers a variety of luxurious accommodation options. A popular option are the bright and airy "Lookout Rooms." These exquisite suites come with two queen beds, tile flooring throughout, and huge windows offering superb views over the lake or mountains. They also feature a separate seating space that can be closed off from the bedroom area.
Better still for larger families are the 1,200-square-foot family suites. These spacious units cover two levels and boast three bedrooms, two-and-a-half bathrooms, a full-kitchen, and a large living room with a cozy fireplace.
The amenities consist of a large, heated indoor swimming pool with its adjoining hot tub and sauna, along with a fitness center. There are also a variety of dining options from which to choose, most including kid-friendly menu items. Be sure to try the resort's afternoon tea experience.
Golfers are granted privileges at the nearby Whiteface Club, while skiers and snowboarders are just steps away from the slopes.
5. High Peaks Resort, Lake Placid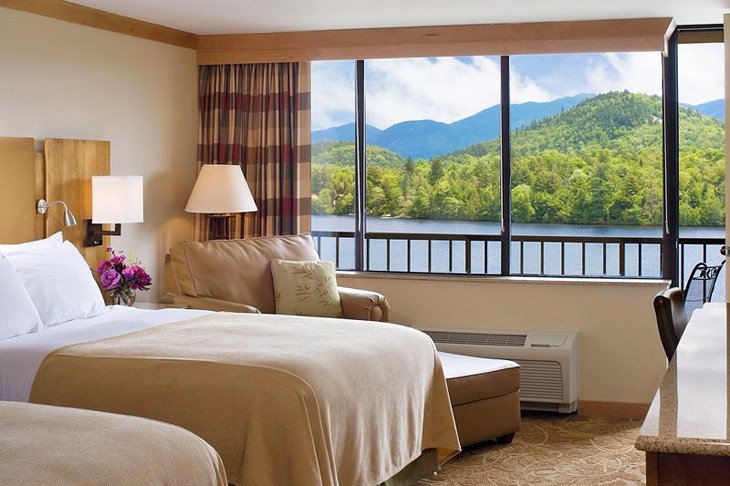 Accommodation: High Peaks Resort
Consisting of three distinct - and distinctive - vacation properties, the 4-star High Peaks Resort is located in the very heart of historic Lake Placid. Whichever building you stay in, you won't be disappointed: the accommodations are of a high-quality and comfortable, each with a décor and design that reflects its Adirondacks roots.
A great choice for couples and families alike are the spacious one-bedroom suites. These spacious units each come with a good-sized private entrance area, a large living room, plus a wet bar with mini-fridge and microwave. They also feature a dining area and two private furnished balconies.
On-site amenities include a large state-of-the-art fitness center, and an impressive four swimming pools (two indoor, two outdoor). Kayaks and paddleboards are available for guest use. Casual and fine-dining restaurants are also available.
6. The Sagamore Resort, Bolton Landing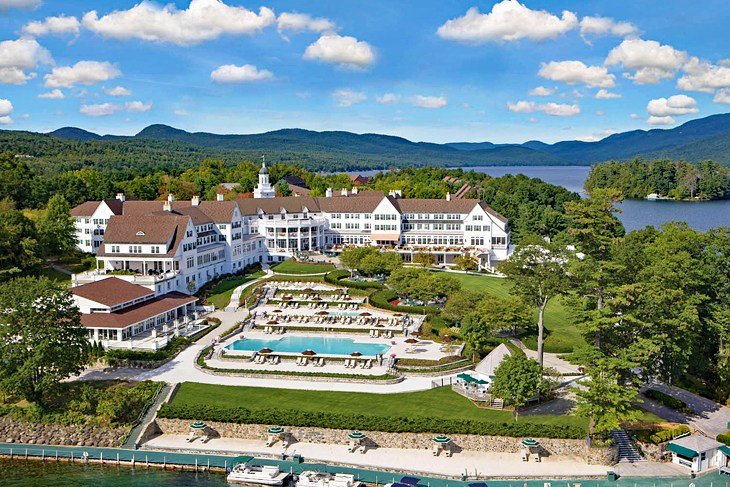 Accommodation: The Sagamore Resort
Constructed in 1883 and carefully restored to maintain its charm and character, the elegant 4-star Sagamore Resort on Lake George remains a popular Adirondack getaway destination. Highlights of a stay at this 70-acre resort include its casual and fine-dining establishments, a heated swimming pool and having plenty of space to spread out and relax.
It's also a great fishing spot, and canoes and kayaks are available for guest use. Other highlights include a reproduction touring vessel offering trips across the lake, as well as a spa, tennis courts, and a championship golf course.
The resort consists of 137 rooms and suites, each boasting Adirondack-themed décor. Expect standard features to include quality furnishings, spacious marble-accented bathrooms with separate bathtubs and showers, pullout sofa beds, and balconies (some with lake views).
For a truly luxurious stay, book into "The Castle." This stunning 2,000-square-foot vacation home comes with no less than six bedrooms and four bathrooms. Other features include five gas fireplaces, a full kitchen, dining and living rooms, and superb lake views.
7. Garnet Hill Lodge, North River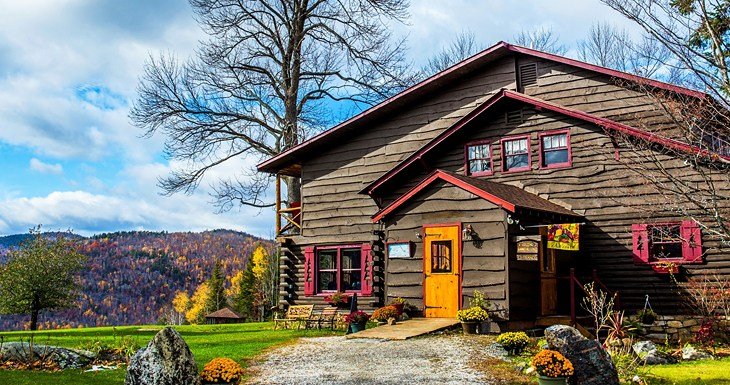 Accommodation: Garnet Hill Lodge
A popular back-to-nature destination for couples and families alike, the 3-star Garnet Hill Lodge looks every bit as if it has always been a part of the landscape. This historic, rustic lodge has in fact been offering quality Adirondack vacations for decades and continues to attract guests year-round for such activities as cross-country skiing and snowshoeing, hiking, biking, and white-water rafting. Best of all, use of the resort's canoes, kayaks, and bikes is included with your stay.
On-site amenities include a restaurant with lake views (be sure to try the fish and chips). Their hearty breakfast is complimentary.
A variety of accommodations are available, including two standalone cabins set in the surrounding woods. Other popular choices include the traditional log house rooms with good-sized marble bathrooms and glass showers. If available, be sure to request a lake view.
8. Golden Arrow Lakeside Resort, Lake Placid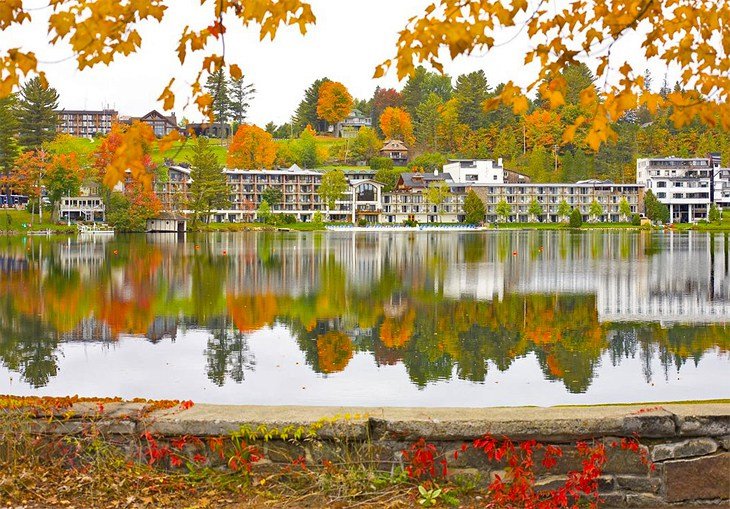 Accommodation: Golden Arrow Lakeside Resort
Highly regarded for its respect for the environment, the family-owned Golden Arrow Lakeside Resort in Lake Placid offers guests a modern take on the traditional Adirondack resort vacation. A highlight of a stay is relaxing on this 3-star resort's private sandy beach or hopping aboard a rowboat, kayak, paddleboat, or canoe (paddleboards are also available).
Other amenities include a large, heated indoor swimming pool with adjoining hot tubs, steam bath, and sauna, as well as a well-equipped fitness center. There's also an on-site restaurant offering casual food.
A great choice for families are the two room Algonquin Suites, which can sleep up to five guests. Features include a master bedroom with a king bed, a living area with a pullout couch and authentic wood-burning fireplace, HDTV, and a private balcony. They also come with a mini-fridge, a microwave, Keurig coffee maker, and a spacious bathroom with a jet tub. Larger two-bedroom units are also available.
9. Crowne Plaza Lake Placid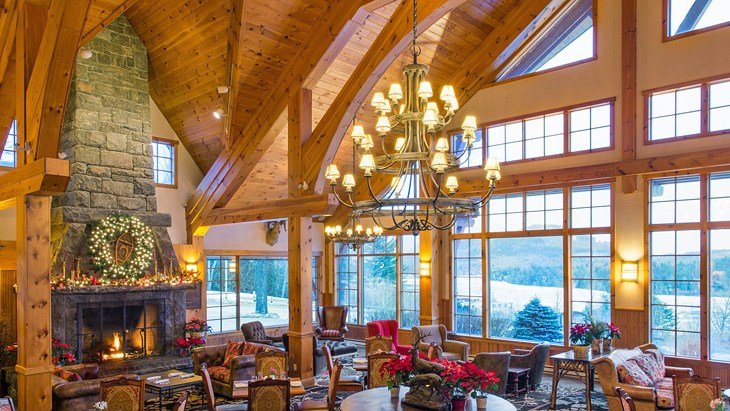 Accommodation: Crowne Plaza Lake Placid
The 3-star Crowne Plaza Lake Placid is a great choice for those seeking a high-end vacation location in the Adirondacks. The amenities are top-notch and include a state-of-the-art fitness and wellness center, an indoor heated swimming pool plus hot tub, and on-site dining.
Its lakeside location is a real draw, with inspiring views from pretty much everywhere, including at the hotel's fire pits, where guests congregate each night.
The accommodations are equally high-quality, and include a number of accessible units for those with mobility challenges. Options include king or double queen beds with upgraded mattresses and bedding, work desks, HDTVs, and spacious bathrooms.
10. The Alpine Lodge, North Creek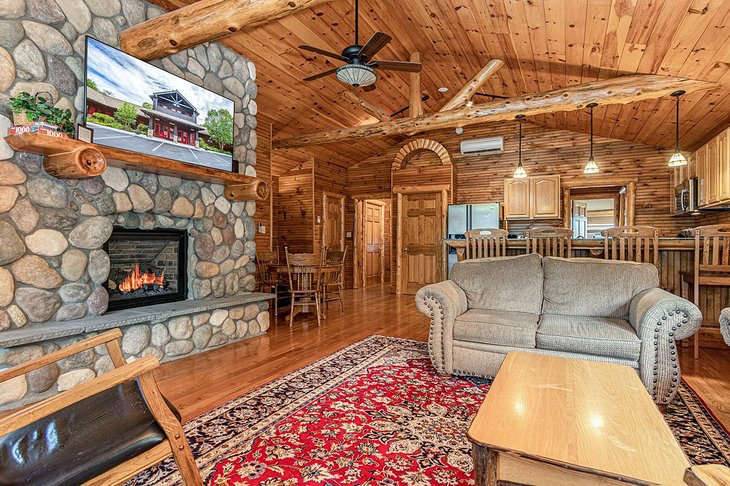 Accommodation: The Alpine Lodge
The Alpine Lodge in North Creek was constructed in the Adirondack Great Camp style. Just a five-minute drive to Gore Mountain, which is a popular winter ski destination, Alpine Lodge is also within walking distance of downtown North Creek's shops and restaurants.
The 3-star hotel has a mix of rooms and suites, including family rooms. The most expensive rooms here come with Jacuzzis and wood stoves that create a romantic ambience. The decor throughout is mountain chic with lots of polished wood, giant area rugs, and cozy leather couches.
If you are driving an electric vehicle, there is a charging area on-site. Other amenities include kids' play equipment, an outdoor fireplace, a picnic area, and 24-hour check-in. While there is no on-site restaurant, there are a number of choices within walking distance.
11. Hotel Saranac, Curio Collection by Hilton, Saranac Lake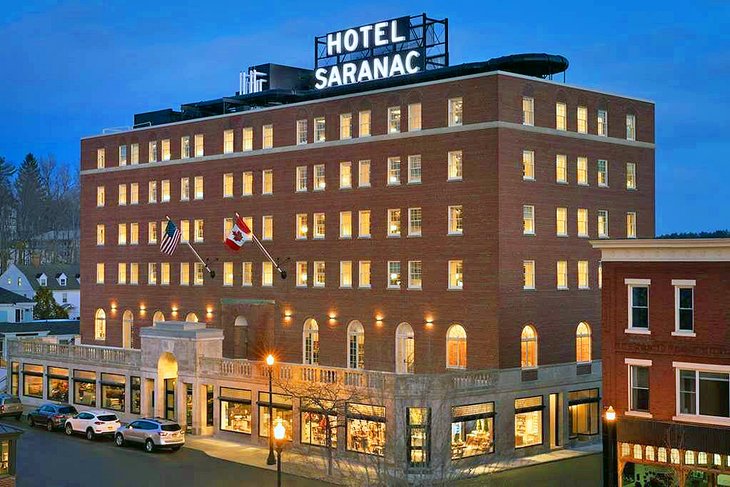 Accommodation: Hotel Saranac, Curio Collection by Hilton
Recently renovated, the Hotel Saranac, Curio Collection by Hilton is a landmark property in Saranac Lake Village. Today the 3-star hotel has a modern look inside that doesn't forget its historic roots.
Rooms and suites feature fun retro ski lodge decor with lots of bright pops of color, as well as crown molding and quartz vanities. Make sure to heck out the Great Hall, which was inspired by a 14-century Italian palace and designed as a central meeting place for guests and locals.
Amenities include a spa for a full range of pampering services. Grab a bite to eat at Campfire Adirondack Grill, which was designed to look like one of the old Great Camps. It serves locally sourced comfort food. There is also a fitness center on-site. A shuttle bus service to nearby outdoor attractions is available. Parking is free.