12 Top-Rated Tourist Attractions in Gatineau
Known as Hull until 2002, Gatineau is a French-speaking city located just across the Ottawa River from the city of Ottawa. There is a fine view from Jacques-Cartier Park over to the Parliament buildings, the Rideau slopes, and other major features in Ottawa.
Gatineau is Quebec's fourth-largest city and home to some of the province's best museums, parks, and other attractions. In particular, the city's large Gatineau Park has been a favorite with Canadian prime ministers such as William Lyon Mackenzie King.
The area is also known for its extensive history, with numerous archaeological sites revealing that First Nations peoples inhabited the region as far back as 6,000 years ago.
Learn about the best places to visit in this culture-rich city with our list of the top things to do in Gatineau.
1. Canadian Museum of History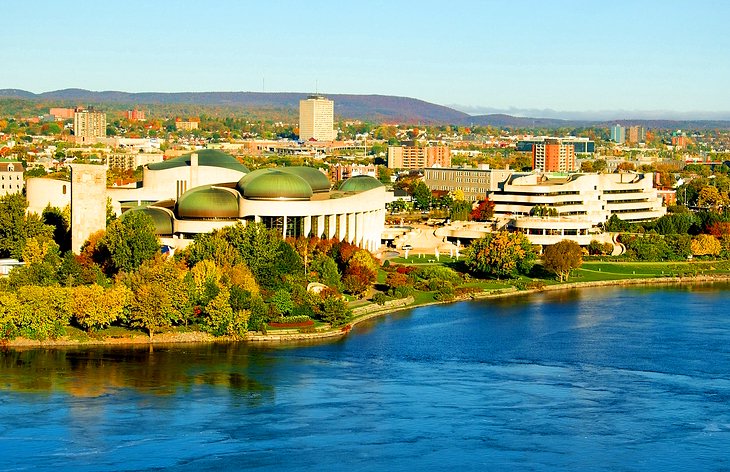 The magnificent Canadian Museum of History stands on the Gatineau riverbank, opposite Ottawa's Parliament buildings, and a wall of windows looks out to Parliament Hill. Its architect, Douglas Cardinal, wanted its flowing lines to call to mind the immensity and diversity of the Canadian landscape.
The museum's collections hold more than a million artifacts, many of which are on display in the First Peoples Hall, Canada Hall, and Grand Hall.
The Grand Hall is dedicated to the First Peoples of Canada's Pacific Coast, an exhibit which showcases the longhouses and totem poles of Pacific Northwest native cultures within a breathtaking six-story open exhibition space.
First Peoples Hall is dedicated to the native peoples, including the Métis and Inuit peoples. Exhibits combine artifacts, reproductions, images, and multimedia presentations, which cover all aspects of these cultures, from creation stories to daily life.
Canada Hall explores the history and cultures of Canada throughout history, divided into three sections that focus on early Canada, the colonial era, and modern-day Canada. Exhibits include religion and spirituality, social change and conflict, sports, agriculture and fishing, trade, and more.
There is also a special exhibit of the Canadian Stamp Collection where philatelists can see more than 3,000 historic stamps and learn about their creation and context.
The museum also hosts a variety of traveling exhibits from museums around the world, as well as providing online exhibitions and resources. Every Sunday, the museum offers special events for younger visitors, including demonstrations and hands-on projects.
The museum is also home to the Canadian Children's Museum, which is full of hands-on activities and things to do for kids.
Address: 100 Laurier Street, Gatineau, Québec
Official site: www.historymuseum.ca
2. Gatineau Park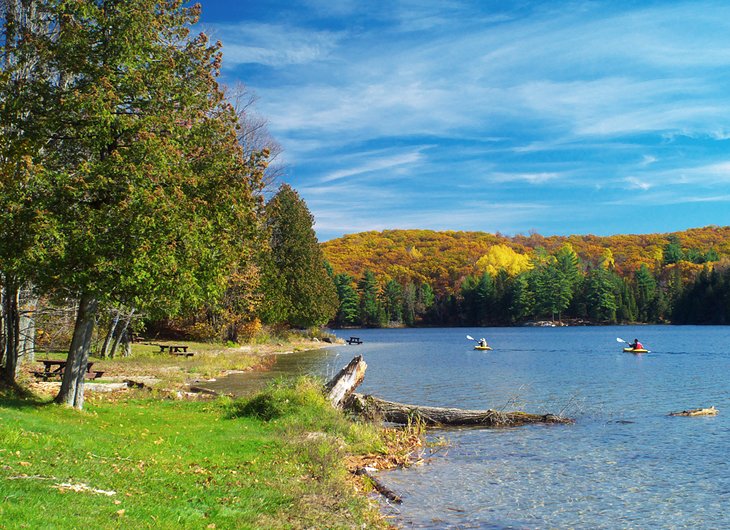 Part of the Canadian Shield, Gatineau Park is a hilly woodland and lakeland district near the Gatineau River. Some places are set aside for outdoor activities such as camping, jogging, walking, riding, swimming, fishing, cycling, and downhill and cross-country skiing.
Footpaths through the southern part of the park make for an especially beautiful walk in the autumn, when the leaves change colors.
There are also a number of sightseeing attractions within the park. Lusk Cave is a marble cave that is open to the public for underground tours, while the Mackenzie King Estate is the grand historic residence of the former prime minister. The official summer residence of the prime minister of Canada is on Lac Mousseau, also known as Harrington Lake, in the center of Gatineau Park.
Address: 33 Scott Road, Old Chelsea, Québec
Official site: https://ncc-ccn.gc.ca/places/gatineau-park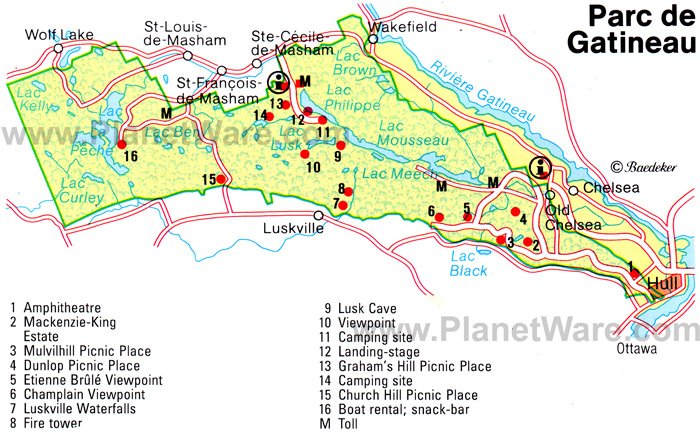 3. Canadian Children's Museum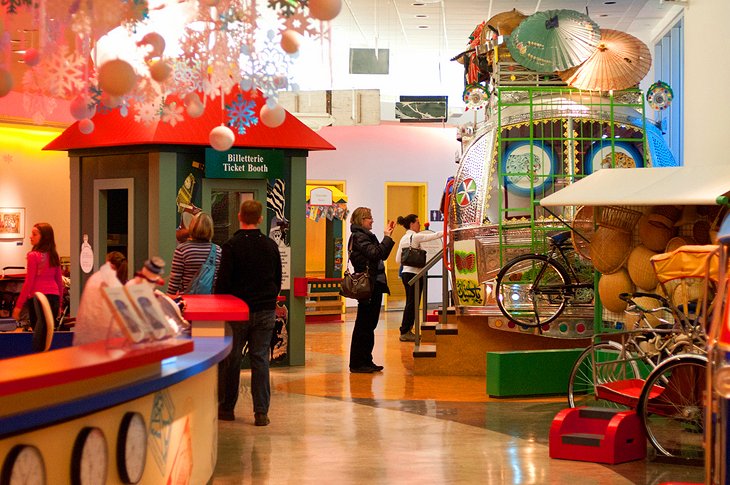 In this enchanting museum within the Canadian Museum of History, children can discover the world's most remote corners. The museum's focus is on getting kids excited about exploring the world, and its "The Great Adventure" exhibit does just that. Kids are able to "visit" countries from around the globe to learn about their cultures and the everyday lives of those who live there by using costumes and props.
Kids can get on a bus in Pakistan, camp out in a traditional Mexican home, and then hop on a rickshaw in Thailand in one afternoon - and still have time to check out Nigeria and India before dinner. Through interactive play, exhibits encourage imagination and hands-on learning for kids up to 14 years old.
Address: 100 Laurier Street, Gatineau, Québec
Official site: www.historymuseum.ca/visit/childrens-museum
4. Mackenzie King Estate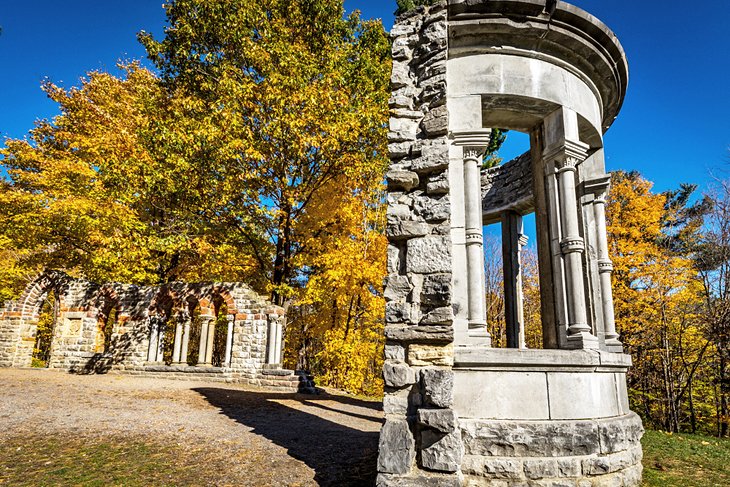 The country estate of Canada's longest-serving prime minister, William Lyon Mackenzie King, can be found in the heart of Gatineau Park. The estate includes several cottages on a lakeshore, which are open to the public and contain a variety of exhibits exploring the property's history and the life of the prime minister.
In the main house, Moorside, visitors can enjoy afternoon tea or a meal in the dining room while admiring memorabilia from the Mackenzie King days. The park is laced with walking paths, and there are romantic gardens with picturesque ruins, which are frequently used as the backdrop for weddings and special occasions.
Tourists can get a guided tour of the estate and learn more about its history.
Official site: https://ncc-ccn.gc.ca/places/mackenzie-king-estate
5. Leamy Lake Park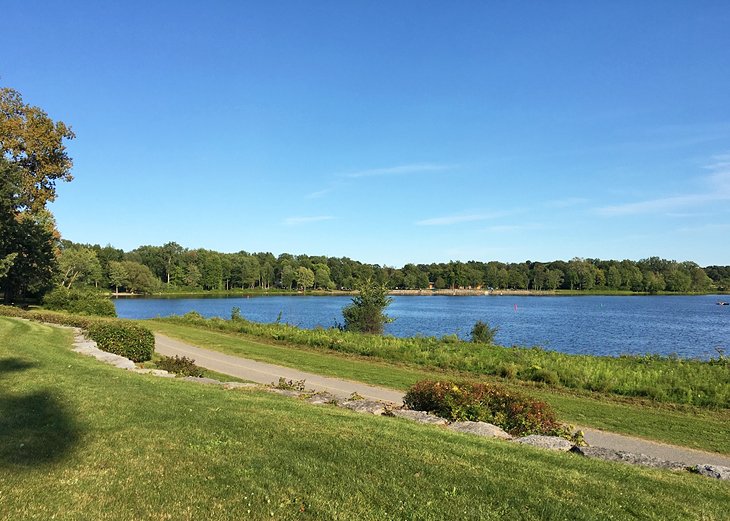 Leamy Lake Park is a 174-hectare natural space, which surrounds Lac Leamy, a body of water accessible by boat via navigation channel from the Gatineau River. Summer tourists can enjoy the spacious beach, which has public facilities and lifeguards in-season, as well as concessions, a picnic area, volleyball courts, and a playground.
The park is also popular with bird-watchers and contains many walking trails and paths, but perhaps its most remarkable features are its numerous archaeological sites, with artifacts from indigenous peoples who inhabited the land for more than 5,000 years before Europeans arrived. Among items recovered here in the park are pottery, tools, and items made from local copper.
Leamy Lake Park is also home to the Wright-Scott House, the farm established by the founder of Hull colony, Philemon Wright. Excavations at that site have uncovered more artifacts, these originating from the 19th century, including dolls, housewares, and religious artifacts.
Official site: https://ncc-ccn.gc.ca/places/leamy-lake-park
6. Skiing in the Gatineau Hills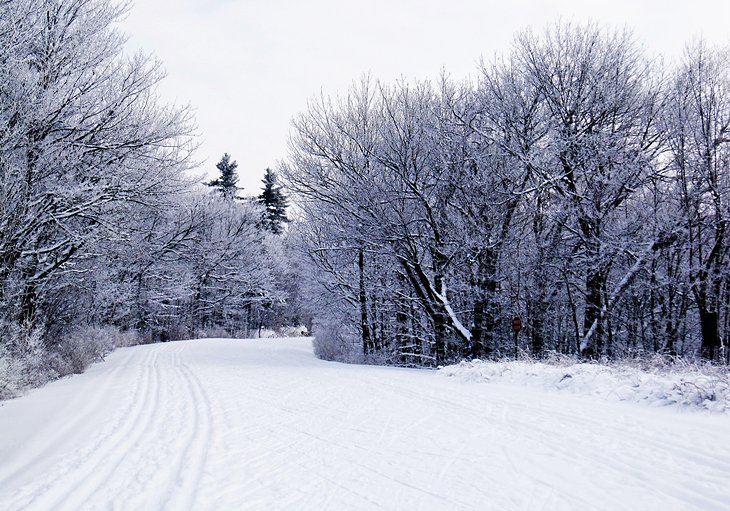 At the foothills of the magnificent Laurentian Mountains are the Gatineau Hills, an area that is home to numerous cross-country skiing trails, as well as downhill ski areas. While there are public trails throughout Gatineau Park, the Nakkertok Nordic Centre maintains 80 kilometers of groomed cross-country ski trails, including several that are lit for night skiing.
Downhill skiers and snowboarders can enjoy excellent conditions at Camp Fortune Ski Aerial Park, which features 24 runs of varying difficulty, from beginner to expert. Half of these are lit for night skiing, and two lodges provide plenty of room to warm up or relax between runs. The park also has an excellent terrain park, and offers ziplining in the summer.
Thrill-seekers looking for double-diamonds should head over to Vorlage ski hill in nearby Wakefield, where nearly all trails are blue and above.
7. Jacques Cartier Park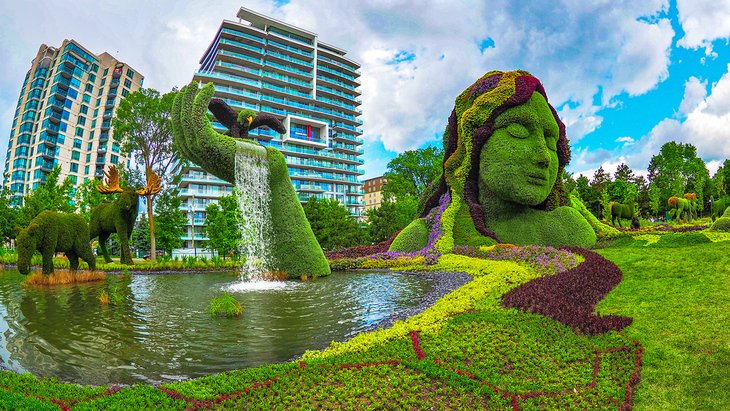 Situated on the banks of the Ottawa River, Jacques Cartier Park becomes the outdoor venue for many events and festivals throughout the year. Canada Day celebrations take place here, as does Winterlude (Bal de Neige), when the park is transformed into a snow playground.
The park is also home to two historic buildings, including Maison Charron, which was built by Philemon Wright in the early 19th century and now serves as a cultural education center during the summer. The second is the 1892 Gilmour Hughson Building, one of the last remaining riverside lumber industry buildings.
Note that this Gatineau park is easily confused with a larger national park of the same name near Québec City.
Official site: https://ccn-ncc.gc.ca/endroits/parc-jacques-cartier
8. Gatineau Hot Air Balloon Festival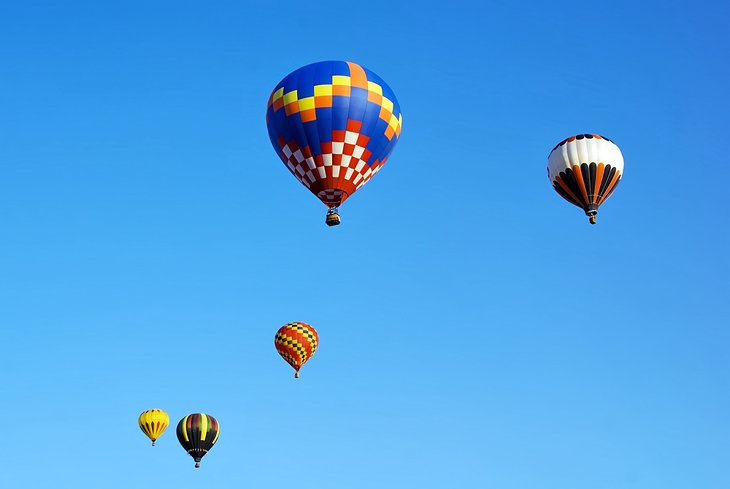 Held each year in early September at Gatieneau's Bale Park, the Gatineau Hot Air Balloon Festival fills the city with balloonists and spectators. This massive festival is known for the spectacular variety of creative and unique balloons of varying shapes, sizes, and designs, which take to the sky.
Spectators can sign up for a hot air balloon ride during the festival or make reservations for a ride any time of year by calling ahead.
In addition to the balloons, the festival offers a ton of family-friendly activities and things to do, including entertainment, amusement park rides and kiddie play zones, fireworks, classic cars, and shopping.
Location: Bale Park, Gatineau, Québec
Official site: www.montgolfieresgatineau.com/en/
9. Belvédère Champlain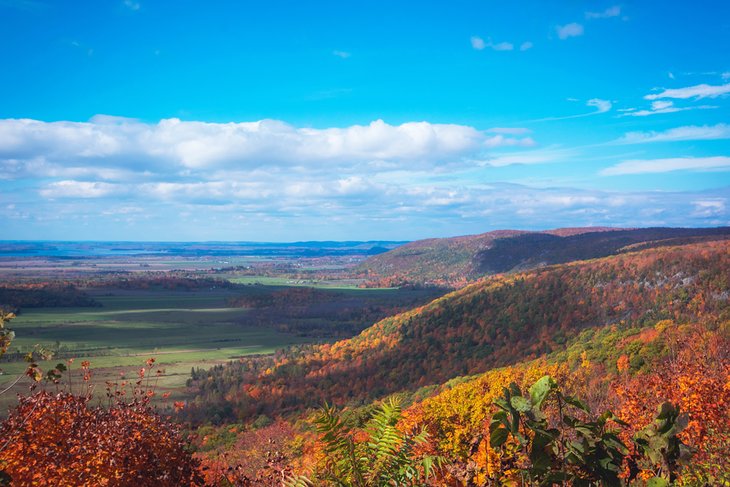 The Belvédère Champlain, also known as Champlain Lookout, sits about 26 kilometers from the Gatineau Park entrance and provides a wonderful view over the Gatineau hills. Especially in autumn, the orange-and-golden slopes cut a sharp contrast as they meet the rolling farmland in the Ottawa and Gatineau river valleys.
The lookout sits at the top of the Eardley Escarpment, just off the Champlain Parkway in Gatineau Park. The Eardley Escarpment is home to many of the park's most at-risk plant and animal species, some of which are only able to live here because of the unique microclimate created by the southern exposure of the massive ridge.
10. Moulin de Wakefield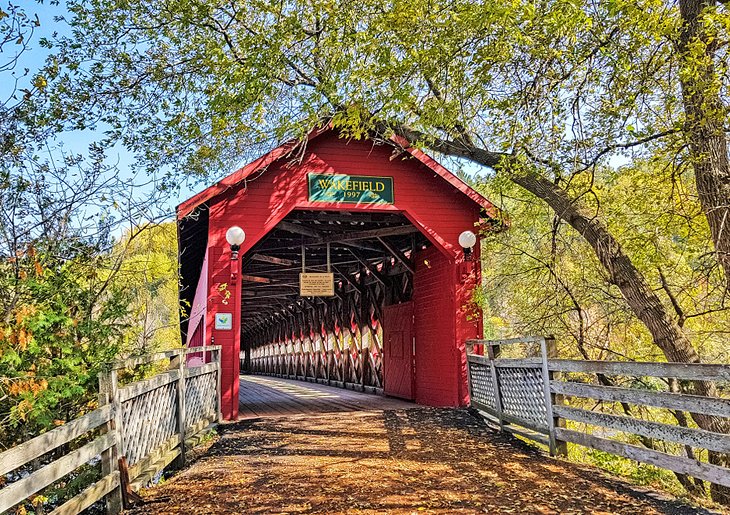 The Moulin de Wakefield stands about 40 kilometers north of Gatineau (Highway 105) above the River Pêche, just before it joins the Gatineau. Built in 1838 to mill flour, it has been restored to working order and now operates as the (much more glamorous) Moulin Wakefield Mill Hotel and Spa.
Other historic attractions in the area include a steam train and the pedestrian-only Wakefield Covered Bridge.
The village of Wakefield is also home to the Fairbairn House Heritage Center, with historic and cultural exhibits, educational programs, craft workshops, and events. Summer outdoor activities in Wakefield include spelunking at Laflèche Caves, horseback riding, and bungee jumping, and winter activities include cross-country and alpine skiing, dogsledding, and "fat biking" on snow.
Address: 60 Mill Rd, Wakefield, Québec
Official site: www.wakefieldmill.com
11. Vintage Wings of Canada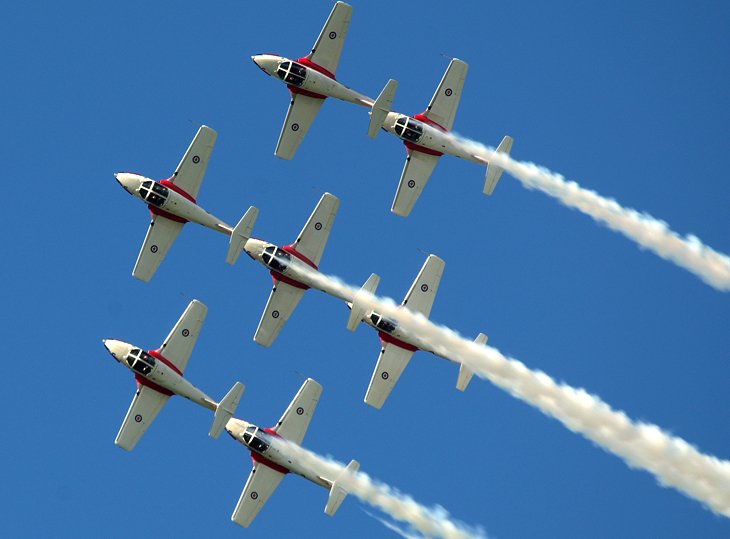 Although not open to the public all the time, Vintage Wings of Canada provides guided tours of the hangar on Saturdays or by appointment, introducing visitors to their collection of historic and rare aircraft.
In this 1.5-hour tour, tourists will learn about each craft's significance while enjoying stories and anecdotes. Among the collection are military and civilian craft, including WWII-era Spitfires and a Hawker Hurricane, a Canadair Sabre cold-war fighter jet, and a 1932 Fox Moth that was first owned by the Prince of Wales.
The Vintage Wings of Canada Foundation is dedicated to the restoration of vintage aircraft, and each of its planes are in full working order thanks to members and volunteers. They also present spectacular air shows and host special events throughout the summer months.
Location: Ottawa/Gatineau Airport (CYND)
Official site: www.vintagewings.ca
12. Take an Amphibious Sightseeing Tour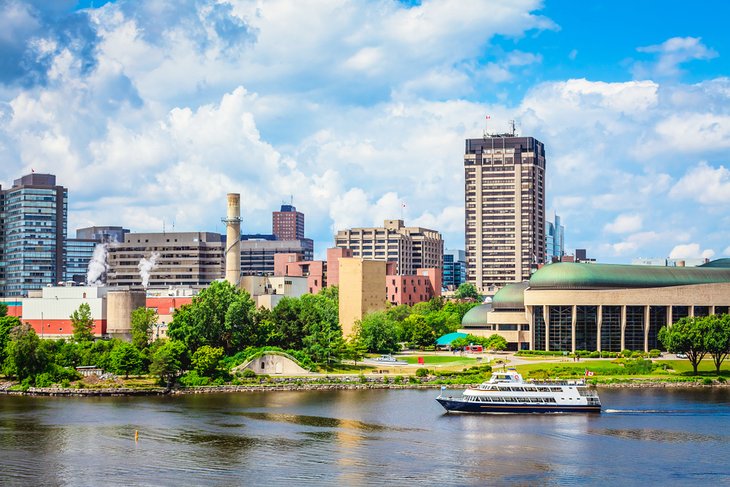 The one-hour Ottawa City Tour by Land and Water gives tourists the chance to see highlights in both Gatineau and Ottawa – and in between. Tourists board the "amphibus" in Ottawa, and after admiring major landmarks including the National Gallery of Canada and Parliament Hill, the bus slides into the river.
The cruise to Gatineau gives passengers the opportunity to see the landmarks from a new perspective before emerging on the other side to admire attractions like Gatineau Park and Gatineau City Hall.
Map of Things to Do in Gatineau
Gatineau - Climate Chart
Average minimum and maximum temperatures for Gatineau, Canada in °C
J
F
M
A
M
J
J
A
S
O
N
D

-6

-15

-5

-14

2

-7

11

1

19

7

24

13

26

15

25

14

20

10

13

4

5

-2

-4

-11

PlanetWare.com
Average monthly precipitation totals for Gatineau, Canada in mm.

51

51

56

66

76

84

86

89

84

74

81

74

Average monthly snowfall totals for Gatineau, Canada in cm.

46

41

27

7

1

0

0

0

0

3

19

54
Average minimum and maximum temperatures for Gatineau, Canada in °F
J
F
M
A
M
J
J
A
S
O
N
D

20

4

23

6

35

19

51

33

65

45

74

54

79

59

76

57

67

49

55

38

40

28

25

12

PlanetWare.com
Average monthly precipitation totals for Gatineau, Canada in inches.

2.0

2.0

2.2

2.6

3.0

3.3

3.4

3.5

3.3

2.9

3.2

2.9

Average monthly snowfall totals for Gatineau, Canada in inches.

18

16

11

2.6

0.2

0

0

0

0

1.1

7.5

21
More Related Articles on PlanetWare.com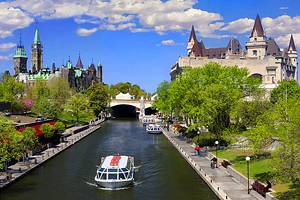 Gatineau's Neighbors: Divided by the Ottawa River, the cities of Gatineau and Ottawa can be conveniently visited during the same trip. The Parliament Buildings overlook the river toward Gatineau, and Canada's capital city of Ottawa is home to numerous historic and cultural attractions, including several fine museums like the National Gallery.
The city is situated at the edge of the province of Ontario in its easternmost region, around 4.5 hours from Toronto, Canada's largest city.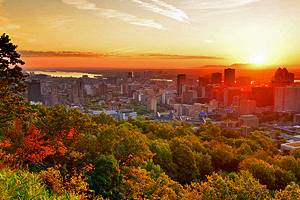 Exploring Québec: The incredibly diverse and immense province of Québec stretches from the southernmost regions, where Gatineau borders Ottawa, to the far north, reaching toward the Northwestern Passages, almost to the Arctic Circle.
The province is most densely populated along the route of the St. Lawrence River, and the historic capital of Québec City is situated on its banks where the waterway narrows. Montreal, which sits less than an hour north of the New York state border, has several excellent museums and historic landmarks, including the Parisian Old Montréal district, which is home to top tourist attractions including the Old Port and Notre-Dame Basilica.